AUTHOR : Kenneth Johansen
PUBLISHED : 2019-02-27 12:50
Huawei Watch GT – The fitness tracking smartwatch
Tweakers also need to stay in shape. And combining workout and self monitoring with gadgets is the perfect match. We have tested Huawei's new Watch GT smartwatch made specifically for our active nerdy lives.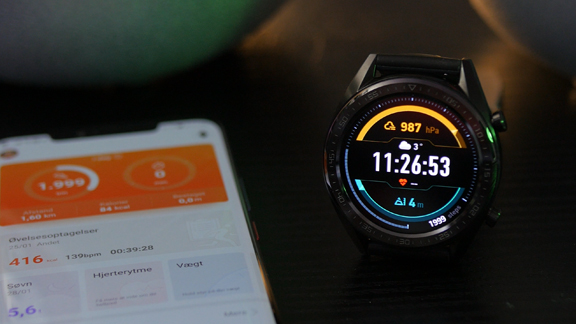 The smartwatch sales continue to grow, with a staggering 60 percent increase last year in the United States.
The possibility of tracking your fitness and training is a major part of this success, and Huawei is now trying to enhance that functionality even further. Launched just a few days ago in the US, their fitness tracking smartwatch Watch GT has already gained a steadfast position in other regional markets.
So, it is with a good deal of anticipation that I put on my running shoes and head out into the world Forrest Gump style with the new Huawei Watch GT assistant on my left arm.
It is hard to ignore that Apple is way above its competition in terms of smartwatch sales. Their Apple Watch hasn't always received pure accolades from reviewers, but it has set a standard for how to be the smartphone's extended right hand, giving you easy access to information and functionalities on the fly.
The limitations on the Apple Watch tend to revolve around the difficulty of use due to the small touch screen. For a lot of people, the steep price has also surely cooled their curiosity.
Personally, I have leaned on Samsung S3 for my Android phone, due to the plentiful apps, adjustments, etc. Even though I have been generally pleased, I have ended up using it for checking notifications and tracking my workout – and not much else.
Huawei has seemed to pick up on that use pattern. Their new Watch GT is basically fitness tracker with a watch overlay and not the opposite we have been accustomed to. They have trimmed the fat – third-party apps and all kinds of bling have been cut. In return, Huawei has made a great effort to boost fitness and workout functionality.
The operating system on the sports smartwatch is Huawei's own LiteOS. This is a step away from Google's WearOS which has been the standard on former Huawei smartwatches. The move to its own system allows Huawei to focus on what's important in this precise model. This, among others, results in prolonged battery life. I will return to that later.
First look
In terms of appearance, you have two options to go with: The sporty Graphite Black look with a black watchcase and a black silicone strap, and the Saddle Brown classic gentleman look with a silver finish watchcase and a brown leather strap. As you can see from the picture, I'm no gentleman. I chose the sporty version.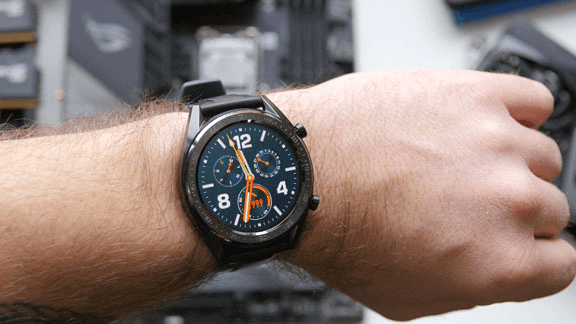 Besides the appearance, both watches are the exact same in terms of features and dimensions. And if you have your own watch strap, you can easily change it.
Speaking of dimensions, the watch is 1.83" (40.6mm) wide and 0.42" (10.6mm) high and features a 1.39" AMOLED touch screen. The details on the display are sharp and easy to read, and the touch functionality works without hassle.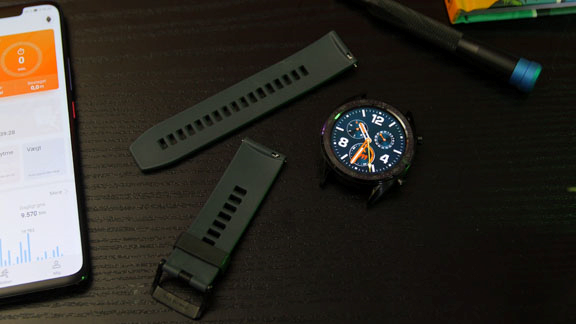 Furthermore, the side of the watch contains two old-school buttons, and the underside features wireless charging and Huawei TruSeen 3.0 heart rate sensors. These should be more precise than the standard through new sensor technology and inbuilt algorithms that should improve over time. It this is technobabble or real is hard to say from a first look, but no worries, I will Sherlock Holmes my way to the one true answer.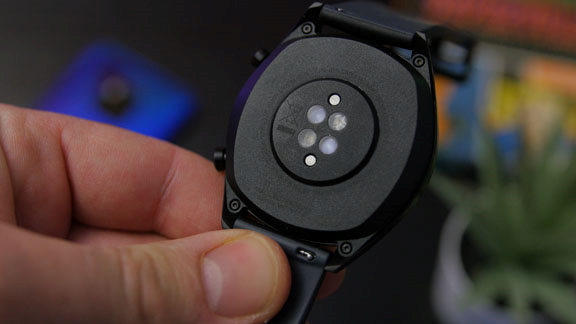 We are also presented with an internal GPS which uses three satellites to give exact positions of your running, walking, and shopping trips.
You can personalize the watch face with 13 different dials and displays which contain multiple styles and readily accessible information.
To enhance the workout focus, the clock connects to your phone through the Huawei Health app. Through this, you synchronize your workout stats, adjust settings, and update the firmware. If you get the app, you can use the sports watch on both Android and iOS, so no limits here (we ignore Windows Phone users here, sorry guys, but your phone is dead).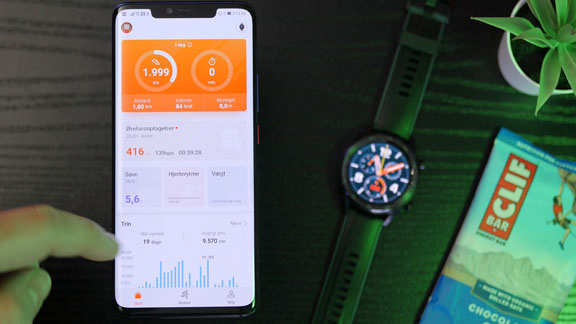 Besides the training functionalities, you get a bunch of basic features, such as weather forecast, alarm and timer, and notifications displaying callers, messages, and Instagram likes. You can't reply, though. You'll have to pick up the old phone if you want to interconnect with your friends or the online community.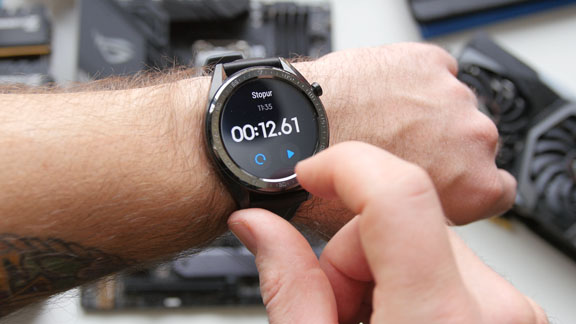 A common smartwatch routine is charging. I have had to recharge my Samsung watch two or three times a week. And to be frank, it has been a source of mild irritation. Huawei has once again tapped into my brain and come up with a solution: up to 30 days of battery life, depending on use, naturally.
According to Huawei, the 30 days are possible if you just use the notifications. If you constantly measure your heart rate and activity, this battery life drops by 97 percent to a mere 22 hours. That's a plunge if I ever knew one. Huawei's own estimate on average battery life is about two weeks if you use the heart rate and fitness features an hour and a half a week.
Let's test it
I've been using the Huawei Watch GT for a couple of months now. And as I've mentioned earlier, this watch does fit well with my usage.
In general, I'm happy to receive notifications without having to reach for my pocket, and the fitness and workout features really work. The Huawei Health app offers a bunch of training schedules if you need a bit of inspiration, spanning from 3-mile runs to a marathon.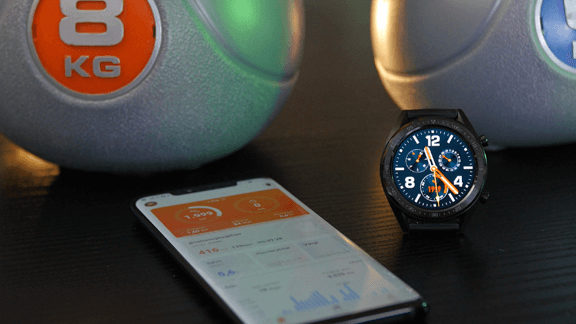 Otherwise, you can set your own form of exercise and adjust your goals, such as time, distance, or calories burnt. Everything is tracked and synchronized with the Health app on your phone where looking at results and comparing training sessions.
One thing that didn't work that well, that was the heart rate sensor. It seemed to have trouble getting useful data during exercise. I was constantly on either of the extremes on the scale, and I can confidently say that my real heart rate was neither beating like I was a chased rabbit and nor was I dead. I hope.
The prime suspect here is my gorilla arm that has a history of causing issues for optical sensors. Other reviewers have obtained results that are more in line with other fitness trackers. In other words, you might get accurate results, but if you are a hairy dude – or girl – this is something you should be aware of.
I wasn't ready to shed my fur for science, so I don't have any comparison. But my Samsung watch has the same issues, so something tells me that arm-based heart rate monitors and I are not the best match.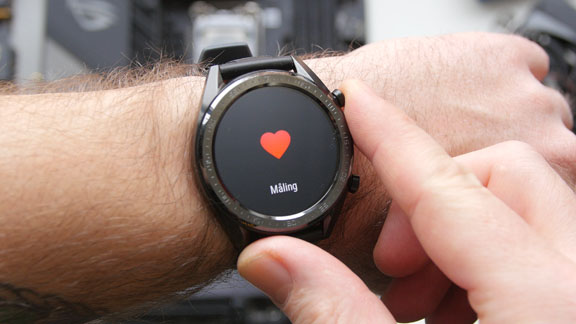 However, the other features work well. Things like the pedometer, GPS, etc., all work great and have all been adequate to my taste.
For many of us, one of the best aids in staying fit is keeping track of our general activity level. Huawei Watch GT also helps you monitor your sleep patterns, not only measuring sleep hours, but also deep sleep, and so on.
Personally, I like keeping an eye on those things over time, and thanks to this smartwatch and the Health app I'm able to do just that. I can also mention the option to set an hourly reminder to stand up and move your body if you've been idle for too long.
All in all, Watch GT gives you some good options in keeping your life a little healthier and more active.
During testing, I've been particularly impressed by the battery. My use has included notifications, alarm clock, and tracking my one-hour training sessions three to four times a week. The battery lasted on average somewhere between two and three weeks – a sizeable improvement from my normal Samsung watch which requires a visit to the charger every two or three days!
Battery life is tapered a good deal by the GPS during running sessions as it needs power. But in general, I can approve the battery capacity, and that alone has caused me to lean towards the Huawei Watch GT instead of my old Samsung Gear S3 despite its greater functionality.
Price
You can get the graphite black sporty version of Huawei Watch GT for $199.99. That's the one I tried. If you want the gentleman look with a saddle brown leather strap, you'll have to pay $30 more. This is slightly cheaper than the Samsung Gear S3 that I have used as a baseline here, and about $130 less than the cheapest Galaxy Watch. And a lot less than what you have to cough up if you want an Apple Watch.
Conclusion
In brief, I have had a good time testing the sporty Huawei Watch GT. It has met my smartwatch needs.
But there are limits, however, although these seem completely deliberate from Huawei's part. If you want a little bit of everyday functionality, like music control, Google or Apple Pay, or any kind of third-party apps in general, this watch is not for you.
This is a sport and fitness watch all the way through. It tracks your activity, heart rate, sleep pattern, and so on. And here, it shines. The battery life is also worth a mention. You will probably need to charge it 2-3 times a month. That's it. And that's impressive!
So, all in all:
Good:
Fantastic battery life
Good price
Good options in tracking fitness and training
Less good:
The heart rate monitor doesn't like hairy arms