AUTHOR : Lasse Kristensen
PUBLISHED : 2019-08-20 09:24
Philips SpeechOne professional headset for dictation
Everybody knows Philips. They are one of the biggest manufacturers of audio devices in the world, and today we're going to have a look at one of their newest products called Philips SpeechOne.
The SpeechOne is a wireless headset that offers great comfort, a long range of fancy features, and an innovative and different design. The headset provides professional studio-quality audio with the option of recording and it has been designed with speech recognition as a fundamental feature. In terms of materials, it features an antimicrobial surface, and the semi-modular design philosophy makes it possible to swap out the ear cushions depending on one's needs.
In the video below, we take a visual tour around the SpeechOne: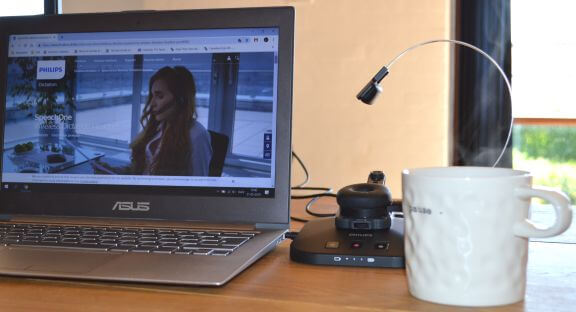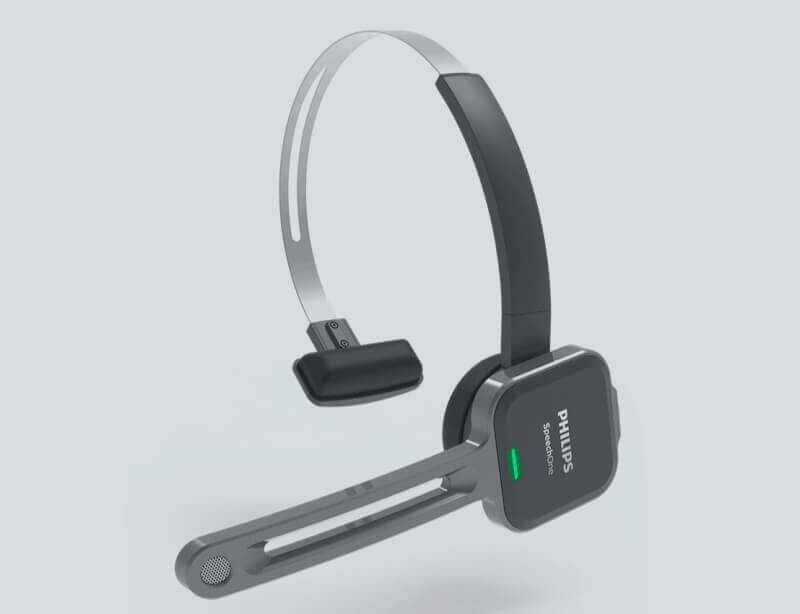 Briefly put, the Philips SpeechOne is the perfect tool in the professional work environment, for those that find speech recognition applicable to their daily tasks. The choice of materials is high quality, and the microphone and accompanying software recognizes everything you might throw at it. The Philips SpeechOne makes it possible to approach daily tasks in a different way by alleviating the need for sitting and typing all day.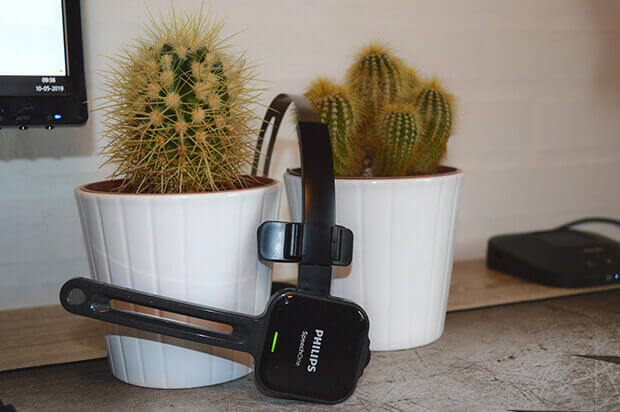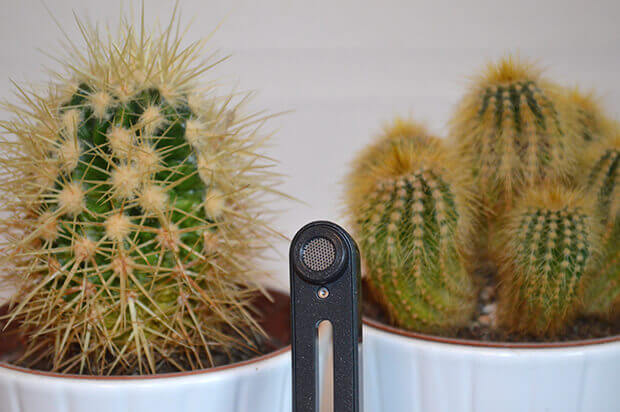 As with many other professional solutions within audio and productivity, the Philips SpeechOne comes in your simple classic brown box, with an illustration of the Philips SpeechOne on the front. However, it comes with a fair chunk of accessories, including a dock that doubles as a charging station, various cables and parts for the headset. We'll dive into these shortly.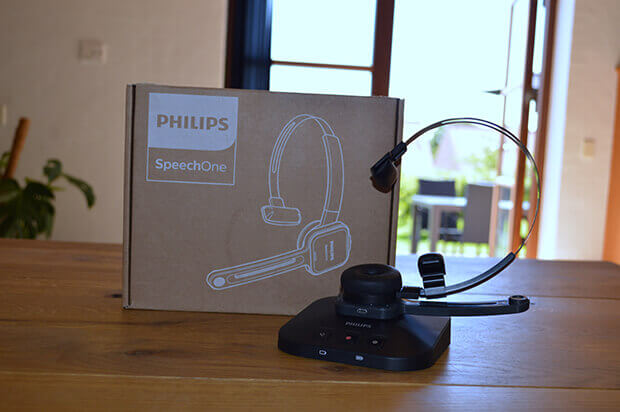 What's In the Box?
SpeechOne Wireless Dictation Headset

Docking station

SpeechExec Pro Dictate

USB cable

Neckband

Attachment clips

Magnetic ear cushion

Two magnetic head cushions

Quick start guide

Specification:
Recording:
Microphone type: electret condenser microphone

Microphone capsule: 10 mm

Characteristic: uni-directional

Frequency response: 150 - 15000 Hz

Signal-to-noise ration: > 70 dBA



Sound:
Speaker diameter: 23 mm

Acoustic frequency response: 300 - 7500 Hz

Speaker output power: > 200 mW
Additional:
Technology: 2.4 GHz ISM Band

Modulation: 8-FSK

Operating range: up to 5 m / 16 ft (in clear view)

Battery type: Li-polymer built-in battery

Battery capacity: 260 mAh

Battery lifetime: up to 12 hours of recording

Standby time: > 100 hours

Rechargeable: wireless via docking station or micro USB cable

Charing time (wireless): 80% after 60 min, approx. 2 hours for full charge

Certifications: CE, FCC, C-Tick

Temperature: 5 °C - 45 °C / 41 °F - 113 °F

Material: high-class polymers with antimicrobial additive

Headset dimensions: 155 mm x 150 mm x 140 mm

Headset weight: 81 g

Docking station dimensions: 120 mm x 120 mm x 32 mm

Docking station weight: 395 g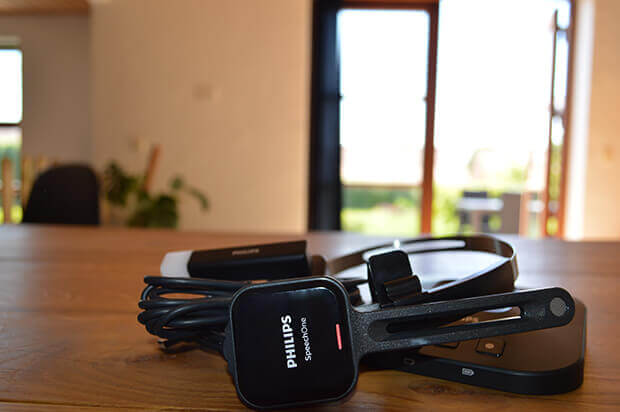 Design:
The design of the Philips SpeechOne headset is rather simple. The design philosophy here is one of simplicity and functionality, and it's easy to comprehend and appreciate this approach to the aesthetics by Philips. The SpeechOne features a microphone placed on a boom arm, and a single speaker. The headband of the SpeechOne is made out of metal, and if you don't fancy the headband it can be swapped out with a flexible neckband that goes behind the head and around the ears.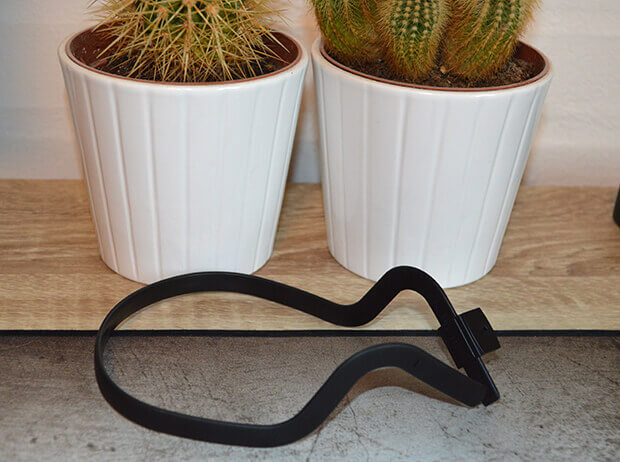 The microphone is 360 degree adjustable, which means that the headset can be worn on both the left and right ear. It can be positioned in different ways without getting in the way. The speaker itself is semi-modular which means that parts of it can be unmounted. The rubber cushion on the speaker module can be replaced. It's mounted by three small, but very strong magnets. This allows for another person to use the headset, which is a huge benefit in terms of hygienics.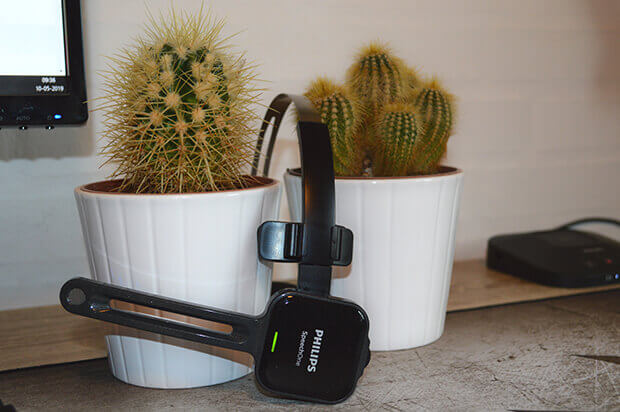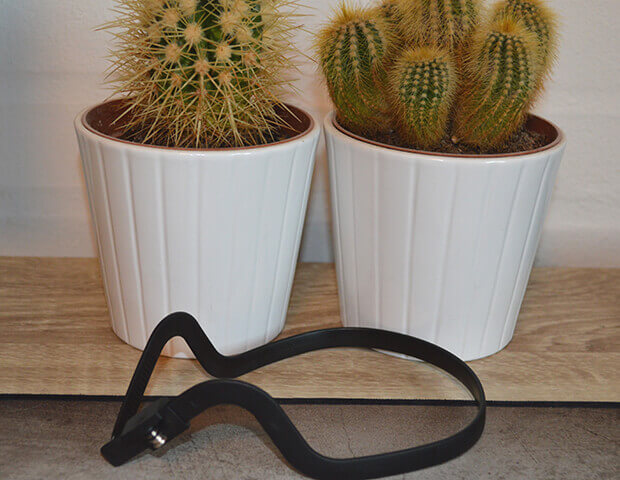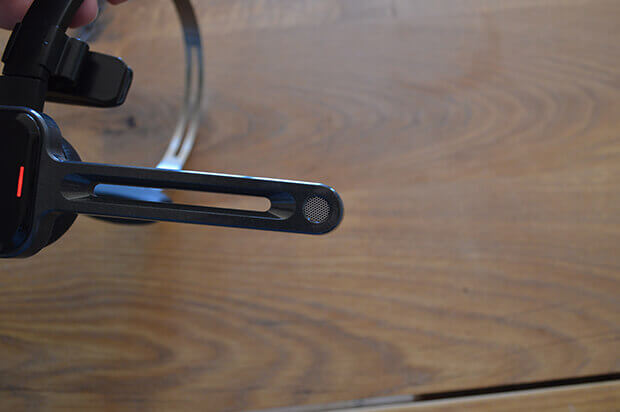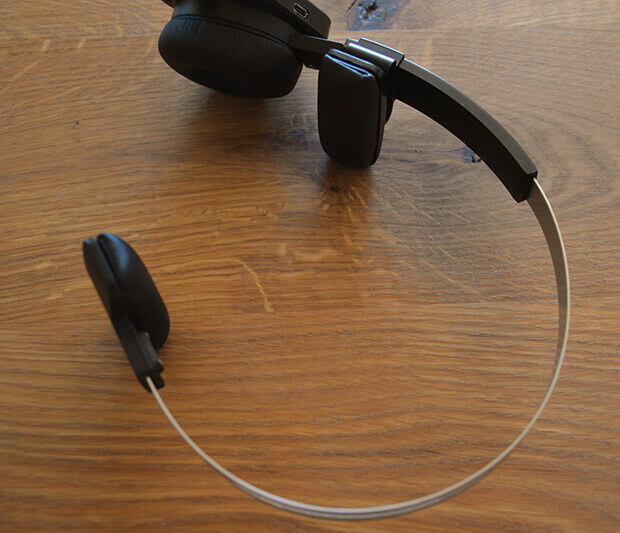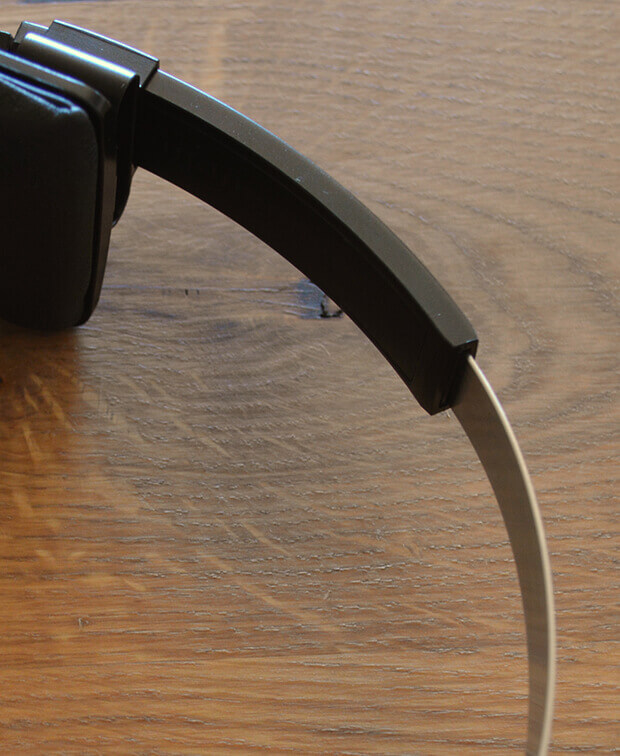 As a note for our Danish readers, the SpeechOne headset features Danish localization with Danish speech and speech recognition via the Philips SpeechExec software. However, it requires that it is paired with Dragon NaturallySpeaking, which we've covered in previous dictaphone reviews - including models from Philips.
The SpeechOne can be configured to 10 different languages that will provide guidance when pairing with other devices, but also inform of battery status and range notifications.
The speaker module with the boom arm and microphone can be unmounted, as can be seen below, and can be mounted on the neckband instead, for a different fit, if you're in need of a different wearing style. When the SpeechOne is not in use, it can be placed on the docking station, which has wireless charging. This is probably one of the coolest features of the SpeechOne, which also separates it significantly from other contenders that either feature the same feature package, or price. It's a really nice feature to have in your daily routines. It's definitely not a need-to-have, but at the same time, it's probably one of the most underrated nice-to-haves. If you've dabbled with wireless charging on your smartphone, this is most likely something that you can relate to. Of course, you can also charge the unit the old fashioned way with the accompanying micro USB cables, but why take a step back now that Philips has helped us move two steps forward.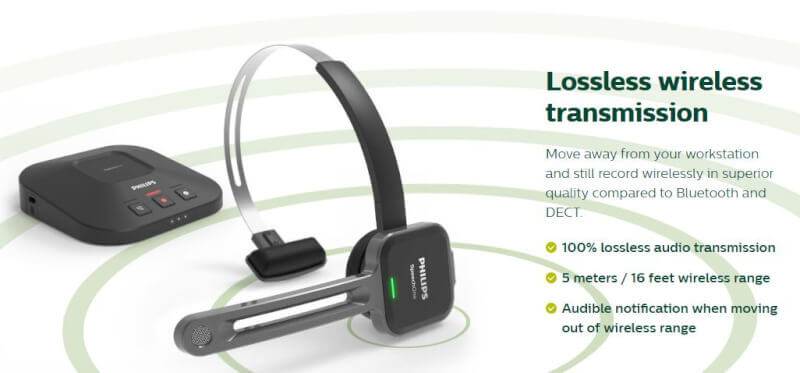 The docking station can be locked with a kensington lock, if needed. Other than that, a status light is also included, which can be mounted on all surfaces, e.g. on your monitor, allowing for others to see if you're available (green light) or currently busy (red light). This is yet another nice little, but very useful, feature if you're working with dictation, speech-to-text or if you're in the middle of a conversation. Do so undisturbed.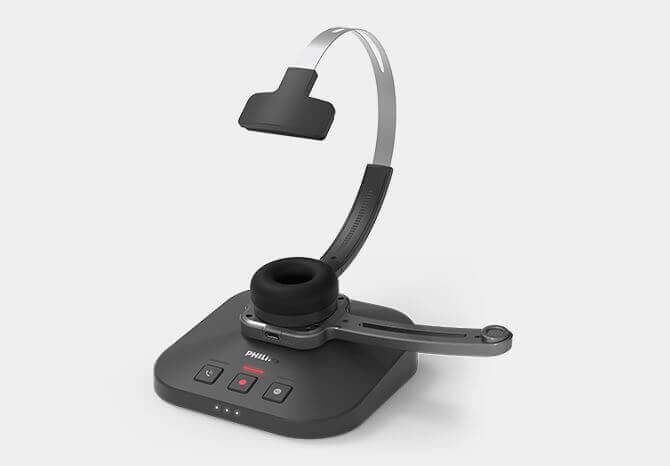 The SpeechOne is equipped with a noise cancelling microphone with a very high level of precision, which means that it records with crystal clearness and 100% losslessly. In theory, it should be better than both standard Bluetooth and DECT technology, which is common alternatives when it comes to dictation and speech-to-text. It's curious to see Philips go in a different direction instead of going with what is widely held as industry standards.
The SpeechOne operates in the 2.4 GHz ISM band, and it uses a multi-channel frequency hopping technology with 8-FSK modulation. There's a sampling rate of 44 kHz, at 16 bit, which makes it comparable to CD-quality. The docking station and SpeechOne feature separate audio and data channels, which reduces latency, and the headset only works one-to-one, which means that it can only connect to one device at a time. The SpeechOne is designed to work with both Bluetooth, WiFi and other 2.4 GHz devices that are CE, FCC (etc.) certified.

When the headset is in use, it communicates with the Philips SpeechExec Pro software, which is simple to use and navigate through. At the same time, it features some more advanced options as well.
Philips markets their SpeechOne headset as the perfect dictation solution for various professionals such as doctors, lawyers and other professionals that might benefit from a speech-to-text tool, or simply from the crystal clear audio quality during meetings.
The SpeechOne headset is extremely lightweight with its less than 100 g when worn. It's very comfortable to use, and it can be worn for several hours without becoming discomfortable. On a full charge, it will give you up to 12 hours of recording. The battery isn't that big, but it's a small price to pay for the improved comfort and the wireless charging that you get in turn. It's hard to stay mad when you get great comfort, wireless charging, crystal clear sound at the price of "just" 12 hours of operating time. This should leave you with a functional headset for an entire working day, and the two hours of recharging that it needs can be done overnight.

On the rear of the headset there's a scroll wheel for both recording and volume control.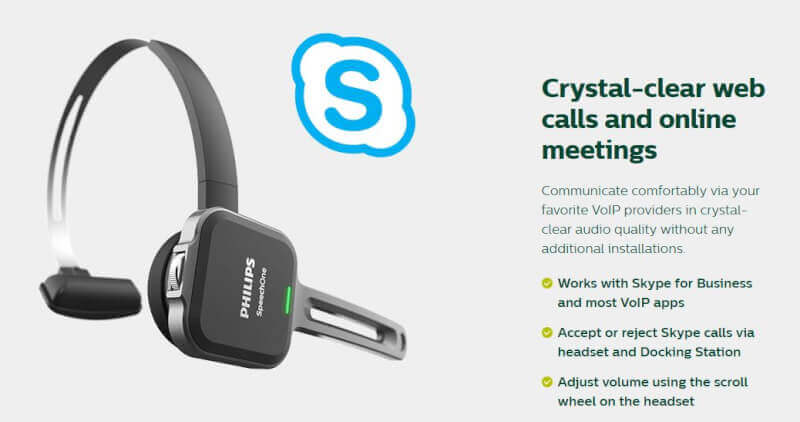 The docking station is heavy and solid. It's shaped as a truncated pyramid and features three buttons on the front. The first button is to answer calls, the second is for start and stop a recording, and the third is for controlling your status light. Below the buttons, there are three diodes that indicate the battery status of the headset.
On the back, there are various connection options for different equipment, including the status light that we mentioned earlier, but also other Philips accessories. Aside from using the headset for dictation, it also supports Skype for Business.
SpeechExec Pro:
The Philips SpeechExec Pro software is commonly bundled with Philips dictation units, and is also included in the box with the SpeechOne headset. It's a really good offering since this software is quite powerful and user friendly. It's intuitive to navigate through, after just minutes of use.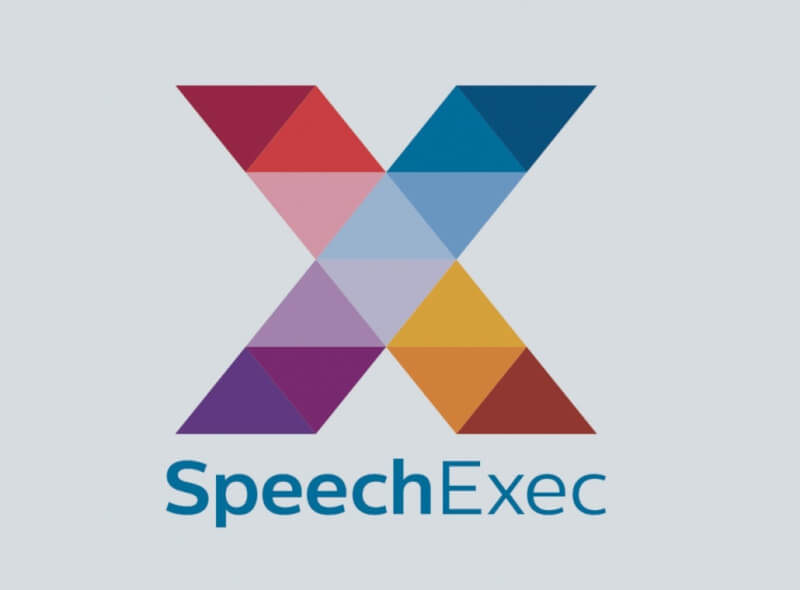 Recording is so simple. You speak into the SpeechOne, and it parses the sound to SpeechExec Pro, which then can perform speech-to-text, within the proper software. An important caveat here is that Dragon NaturallySpeaking requires a separate license to be purchased, unless you buy one of the larger bundles, in which it may be included.
Sound:
The speaker sound of the headset is nothing to boast of, when compared to other units that we have tried. However, do keep in mind that this headset is not designed for music listening, but rather to create audio. The microphone is where the SpeechOne really shines. The SpeechOne is for him or her that strives towards high levels of productivity in everyday life. That's exactly what you'll be able to achieve with the Philips SpeechOne headset. The speaker sound is satisfactory, especially given its relative small size.
The headset features a condenser type microphone, which is something we don't see all that often on these types of headsets. Condenser microphones are typically reserved for more expensive microphone units that have a single purpose: audio quality.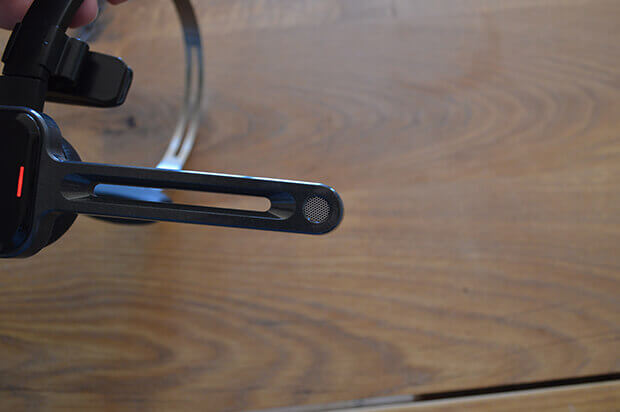 So, the microphone is the really key feature here. A condenser microphone is based on an electric capacitor, and is most commonly used in recording studios for professional recording. It has a higher sensitivity than the regular dynamic microphones that we commonly find on gaming headsets. The microphone has a uni-directional recording pattern, which means that it will record the sound coming from the direction it is pointed. So, once worn, it will capture the sound coming from your mouth perfectly.


Price:
Unfortunately, this headset cannot be found on Pricerunner, but the Philips SpeechOne can be found priced at around $490. Whether this price is warranted is up to you, however, we have no hesitations in recommending this as a very good product at its current pricing.
Conclusion:
The complete package of the Philips SpeechOne includes the Philips SpeechExec Pro software, so it's hard not to be excited. The SpeechOne features an attractive design and a build quality that cannot be questioned. It feels solid, and looks nice and professional, and it feels just as professional to use. I have no doubts that the Philips SpeechOne headset can handle day-to-day work use, and still feel as nice to use on day 100 as it did on day one. It is, in other words, the headset of your dreams, if you do dictation, Skype for Business and other tasks that require professional studio-quality audio.
There's no doubt about what Philips' philosophy is when it comes to the SpeechOne. It needs to be light, simple and at the same time feature the best hardware possible. Philips' trademarked sound technology is lossless and both clear and crisp. Both in terms of volume and tonal reproduction. It works perfectly with speech recognition as well. In fact, this entire review was written with the speech-to-text feature of this headset, after which I only did a proof reading.
Philips manages to impress with this all-in-one package, which the SpeechOne headset, the dock and the status light comprises. There's no doubt that the Philips SpeechOne headset is one of the best headsets, of not the best headset within the market of speech-to-text and dictation. On the basis of this review, we can conclude that we are dealing with a headset with a magnificent microphone, great fit and ergonomy, in part due to the light weight, but also due to the flexibility of having two different wearing styles. As such, the Philips SpeechOne is the top candidate of 2019, in terms of office headsets.
We therefore have no hesitations in recommending this headset to people that make use of dictation and speech-to-text, or people who spend a lot of time in Skype for Business meetings on a daily basis. We wrap up this review by awarding the SpeechOne headset a perfect score of 10, along with our Great Product Award, as it is a complete headset for audio work, with a fantastic build quality and a handful of nice features that we would have a hard time doing without, once gotten used to.
Pros:
Cons:
Score: 10 out of 10 + Great Product Award