AUTHOR : Patfigs
PUBLISHED : 2019-03-05 10:48
ASETEK LAUNCHES GAMING ACADEMY AT COMPANY HQ
Press release: Aalborg, Denmark, March 3rd 2019 — At the company capital markets update, Asetek has just announced that they will be showing more attention to gamers around the World. To highlight this, we have made a top of the line gaming/esports academy at our company HQ in Aalborg, Denmark. The Academy features high-end Alienware Aurora PCs and top-notch Razer peripherals for the FPS enthusiasts. The Academy will also feature no less than 5 racing simulators, with Alienware Aurora PCs and F1 Esports certified gear from Fanatec.
As part of a new strategy, to get back in touch with our roots, we will be focusing our efforts on enthusiasts and gamers around the World. We want to show that we are still the company who brought cutting edge products, such as the Vapochill and Waterchill to enthusiasts and gamers who wanted the very best. In our efforts to achieve this, we have dedicated a room at our HQ to gaming and Esports. Allowing ambitious young gamers, the opportunity to become the Esports stars of tomorrow.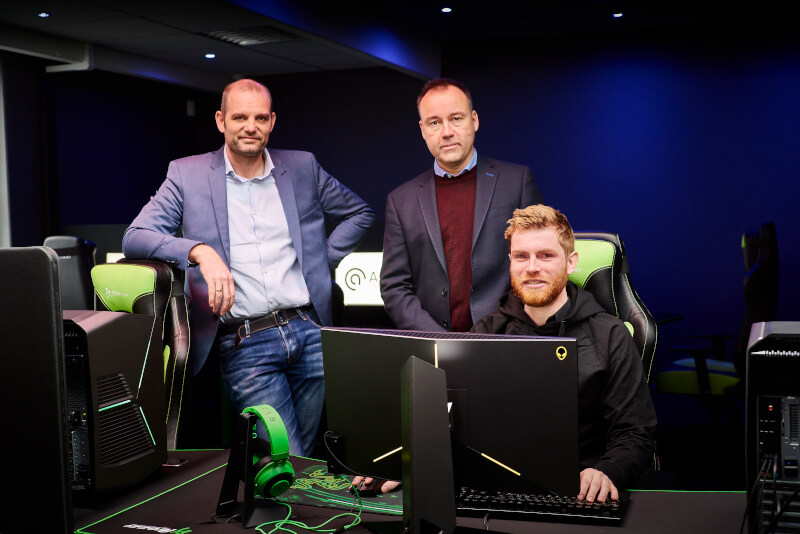 Asetek Esports Academy is packed with amazing gear.
We have partnered with Alienware, to have only Aurora R8 machines featuring 9900K CPUs and 2080 OC GPUs. All the gaming rigs feature liquid cooling natively, made by Asetek.
Furthermore, Razer has generously sponsored gear for the aspiring gamers, providing Razer Huntsman Elite, Deathadder Elite, Nari Ultimate, and everything else they could need in the peripheral space.
Comfort and proper posture are not underestimated either – the FPS gaming rigs are equipped with the best chairs from Swedish Arozzi.
The academy features racing simulators with the latest in Esports racing equipment from Fanatec; including DD-2 wheel bases, Clubsport V3 pedals and real Recaro racing seats.
The entire facility is equipped with a state-of-the-art fiber-optic internet connection.
More than gaming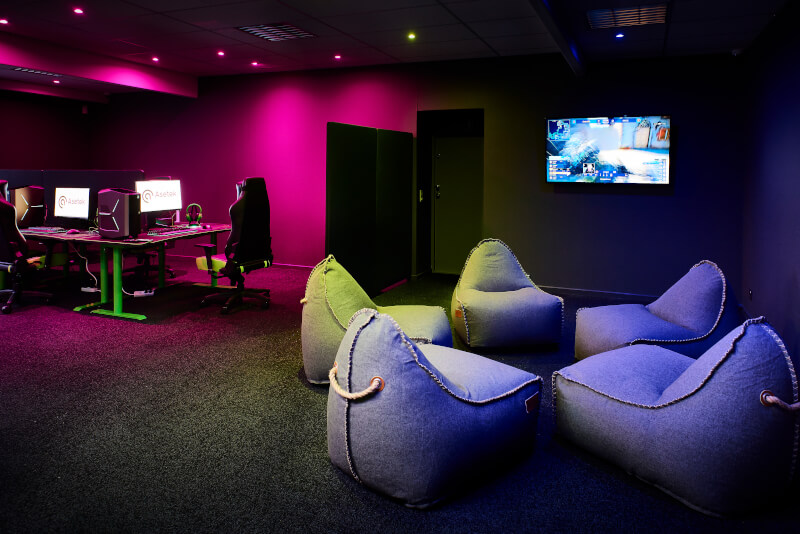 Asetek Esports Academy will also feature a lounge section, fully equipped with luxurious SACKit chairs in contemporary Scandinavian design. A large flat screen TV for tactical reviews, Esports tournament watching and general leisure will make sure that players at Asetek Esports Academy are provided with both the knowledge and comfort to excel.
The academy will not only be home to aspiring gamers, but also Asetek employees looking to have a bit of gaming fun. The academy will be the venue for finals of upcoming Asetek Esports tournaments (TBA), Overclocking sessions and much more. In the future live-streams will be featured and you will be able to play against Asetek's Technology Evangelists online in featured sessions.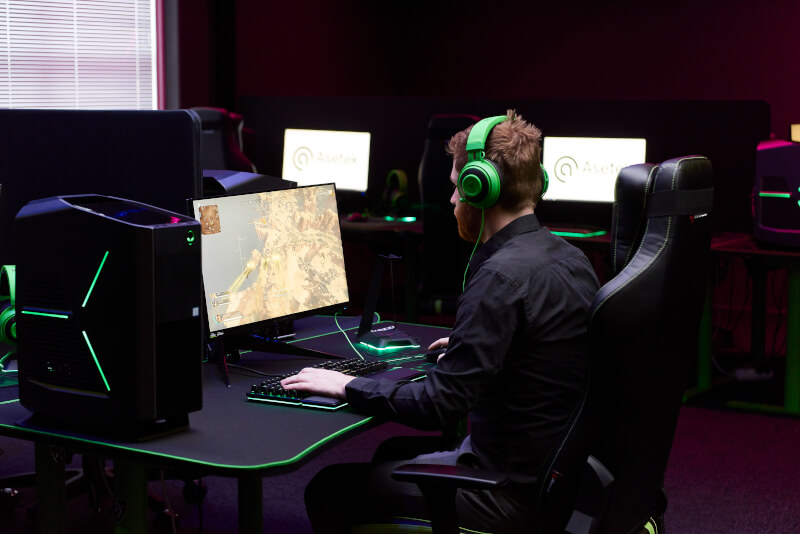 Ensuring the competitive edge
At Asetek we know that having the right gear is important. We also know that skill will not do it on its own, you need passion, persistence and prowess.
To that end we will help our Eathletes in not just their skills-oriented training, but also make sure that they are focused on physical exercise as well as mental toughness.
Not just the Academy…
We have also relaunched our website with a more contemporary design and an increased focus on our core audience, enthusiasts and gamers.
A brand new community is being built, featuring blogs written by our resident enthusiasts, Esports tournaments, guides, tips & tricks and much more.