AUTHOR : Berleburg
PUBLISHED : 2020-01-04 19:12
noblechairs HERO Black Edition
Back in 2018, my colleague, Michael, reviewed a gaming chair from German noblechairs, which received a fine score and a couple a fine remarks as well. It's now 2020 and noblechairs are ready with a refresh of this exact chair. The name is HERO Black edition, and it is covered in a completely new fabric. Exactly what that is and what other features this chair hides, we'll have a look at today!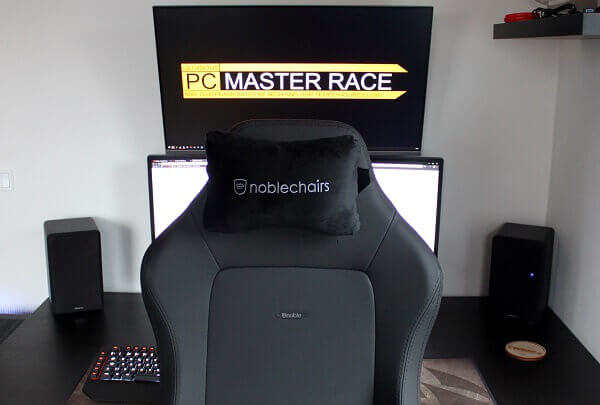 Specifications and Features
As always, I've dropped by the manufacturer's website (noblechairs.com) in order to procure some data on this chair for you. The product page is filled with information on the HERO Black Edition gaming chair, so I've just included the most important info and listed them below. There are also two images that briefly go over the new materials that have been used on this chair, as well as some information that explains how this is an improvement over your typical gaming chair fabric.
Specifications:
Integrated adjustable lumbar support

Enlarged backrest and seat

4D Armrests with soft PU coating

Extensive cold-foam upholstery

Robust steel frame

Breathable covering

Vibrant colour scheme

Quiet 60 mm casters

Safety Class 4 gas lift

Office chair certified in accordance with DIN EN 1335

Wide-angle tilt mechanism

Stylish air channels

Filigree stitching

Reclining function: max 11°

Adjustable backrest angle: 45° (90° to 125°)

Manufacturer's guarantee: 2 Years

Total weight: 30 kg

Maximum load: 150 kg
Materials:
Steel (frame)

Cold foam (inner cushioning)

Vinyl / PU hybrid leather (cover)

Aluminium (base)

Polyurethane (armrests)

Nylon, Polyurethane (casters)

Memory foam (headrest)

Velour (cushions, side strips)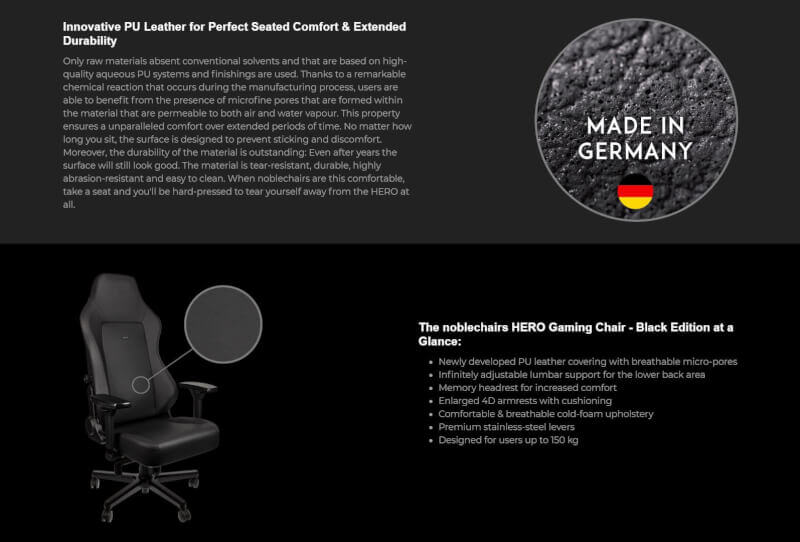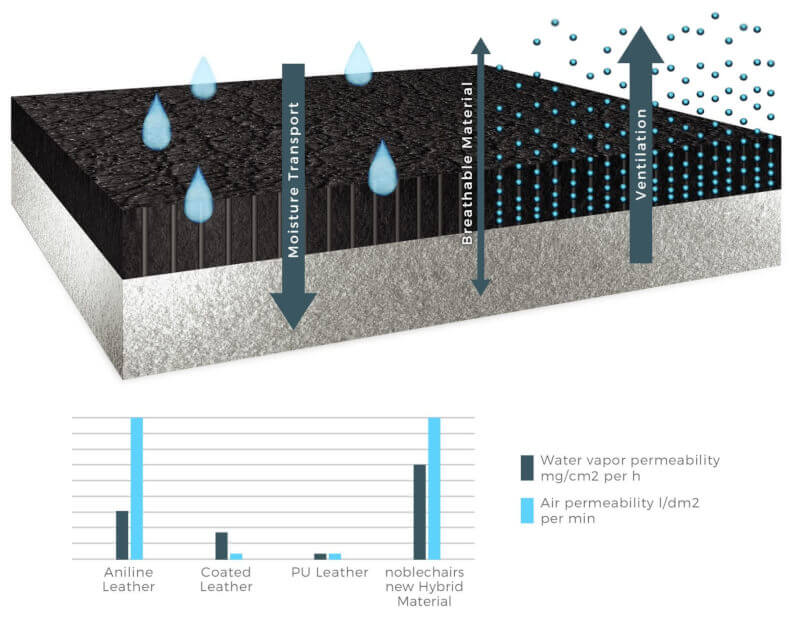 Unboxing and Assembly
Normally, I'd take you through the entire unboxing and assembly process of the noblechairs HERO Black Edition chair. However, since we already have done just that with our review of the previous 2018 model, I've decided to not spend too much time on this since it is identical to what we saw previously. The HERO Black Edition chair comes in a large and heavy box that weighs more than 30 kg. When we open it, we find all of the various parts safely packed in plastic, foam and bubble wrap in order to protect them during transport. noblechairs has done what it can to ensure that the package will arrive safely, as we can tell from the pictures below.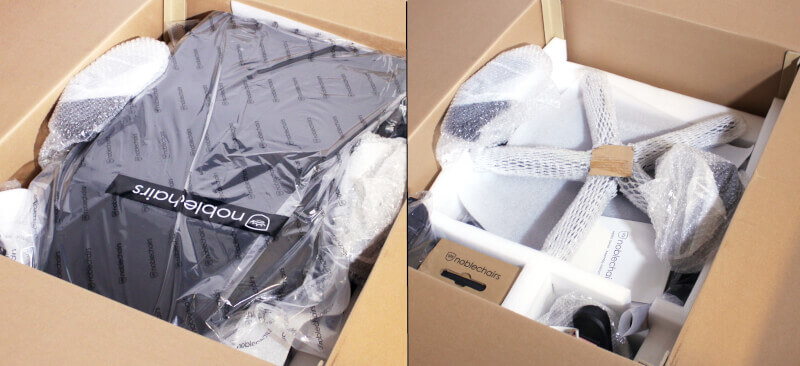 As mentioned, we won't be covering the assembly process of the HERO Black Edition in this review. If you would like a detailed walkthrough of this, I'd recommend that you check out Michael's review of the previous version of the HERO chair. You can find it here. It's in Danish, though, but you should be able to get a good overview anyways. Still, I'd like to share some snippets from the assembly guide that comes with the chair. The guide is really simple, manageable and accessible. All of the included parts are listed, and you are taken step by step through the entire build. This makes it really simple to build one's HERO Black Edition gaming chair. So while you check that out, I'll get the chair ready.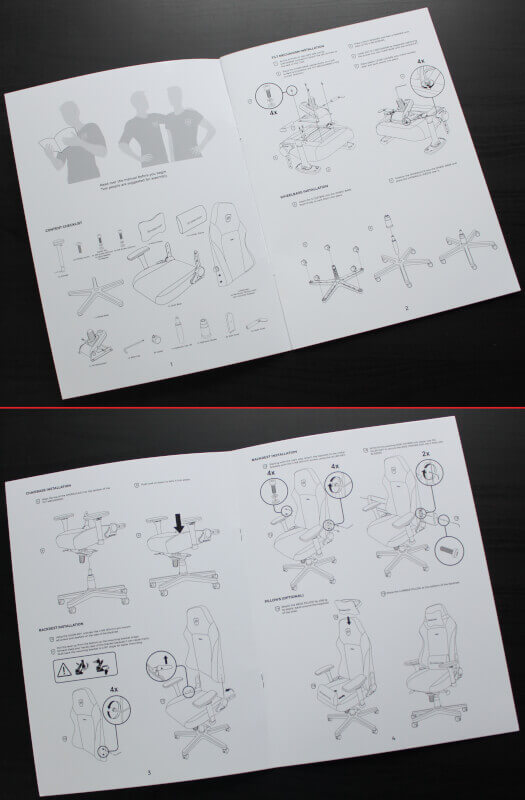 An Overview of the noblechairs HERO Black Edition
Having assembled the HERO Black Edition gaming chair, the next step is of course to go over its design and to cover all of its features. As the name "Black Edition" might suggest, we are dealing with a chair that is completely black. This makes it quite subtle to behold, but it still looks really nice. On the image below, you get a good look at the chair, and at first glance it might look like any other gaming chair on the market. But that is far from the case. Let's get in closer and inspect some of the details of the HERO Black Edition gaming chair.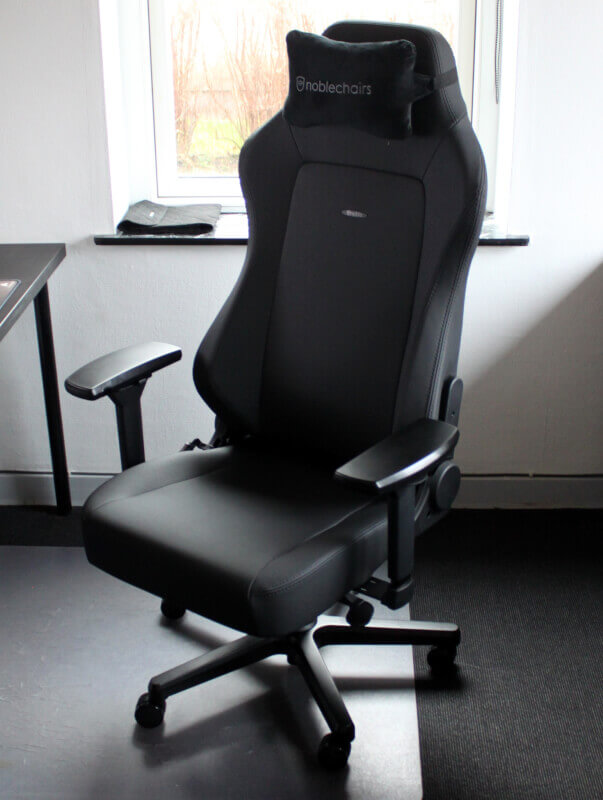 If we start at the top, more specifically the neck/head rest area, we find the noblechairs logo embossed into the PU leather surface.
As mentioned in the specifications, the Black Edition chair from noblechairs makes use of the new PU / Vinyl hybrid leather which should be more breathable, durable and highly abrasion-resistant compared with earlier versions of this material. noblechairs mentions that the HERO Black Edition chair is as close to real leather as possible, which is quite impressive. As we can see, the surface is very beautiful, and it's really nice to touch as well. You'll just have to trust me on this one.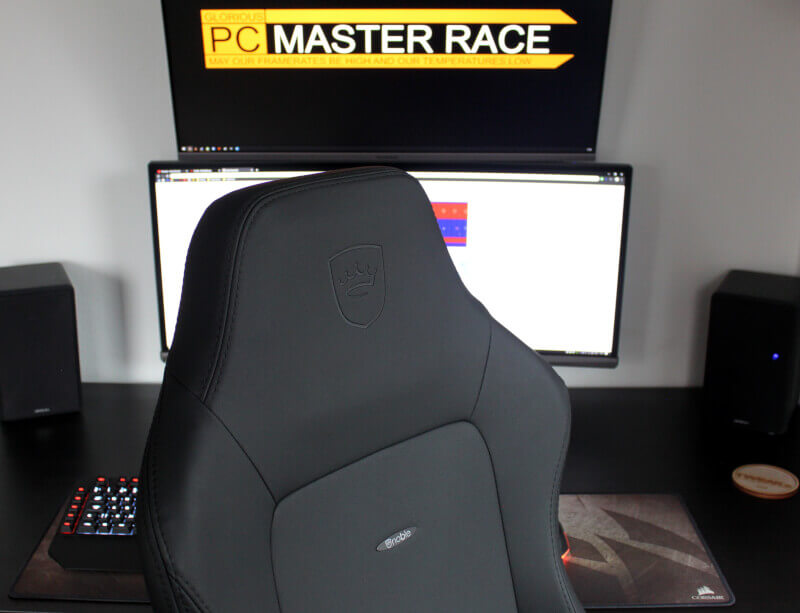 As with any other high-end gaming chair, the HERO Black Edition also comes with a nice velour neck pillow that can easily be attached. It provides better support when leaning all the way back, and it's very comfortable. It's the same great quality as we see with other chairs, for instance Secretlab. Also note the subtle noblechairs logo on a plaque on the backrest, a bit further down. It's a nice little detail that goes well with the overall subtle design.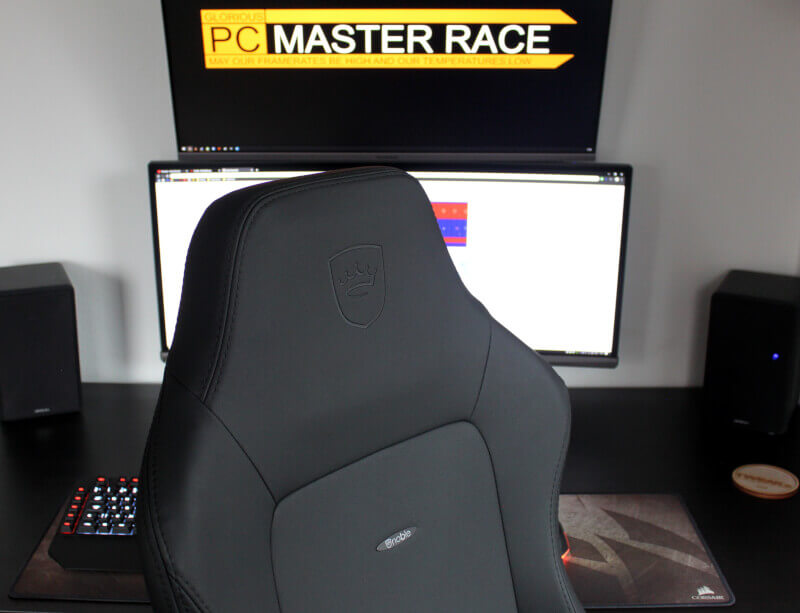 Let's move on to the armrests. If you are already familiar with the armrests of other, more expensive, gaming chairs, there's nothing new to report here. We get the popular 4D armrests, which means that they can be adjusted in four axises via some buttons or handles. Compared with other models of gaming chairs (I've tested quite a few now), the build quality of the armrests on the HERO Black Edition seem to be of better quality. Several metal parts have been used, rather than plastic, which we normally would see.
The handles on the sides of the HERO Black Edition, that allow you to move the armrests up and down, are made in metal. This makes them robust and nice to touch. The sound that it makes, when you move the armrests up and down is also very satisfying. The same cannot be said, though, about the surface where you arms will rest. The quality seems fine, but I did notice a lot of rattling when moving the armrests from side to side, which is a shame. I didn't experience this when testing the TITAN gaming chair from Secretlab. It might be caused by the many metal parts inside the armrests. However, the size of the armrests is good and they can be adjusted to one's liking.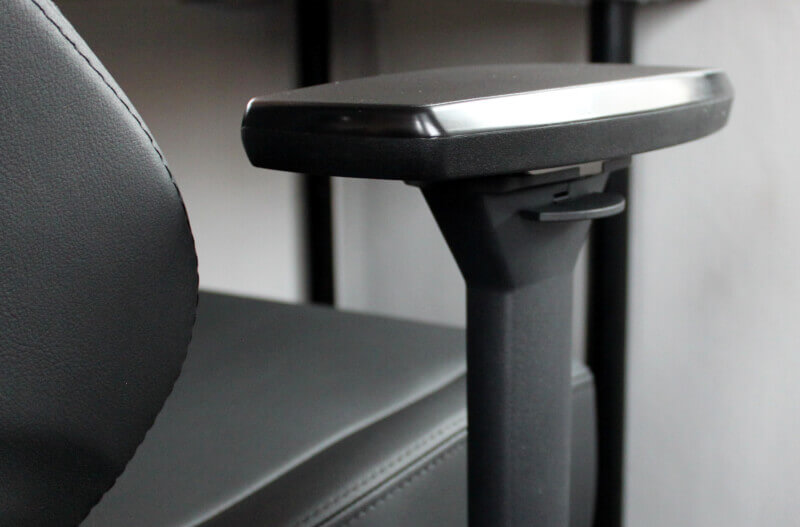 Another thing that can be adjusted to one's needs is the integrated lumbar support in the backrest. As is the case with other high-end gaming chairs, it's possible to adjust the hardness of the lump in the lower-back area. This is simply done by turning the small knob that is located on the right side of the backrest. It moves in small clicky intervals. Pretty straightforward.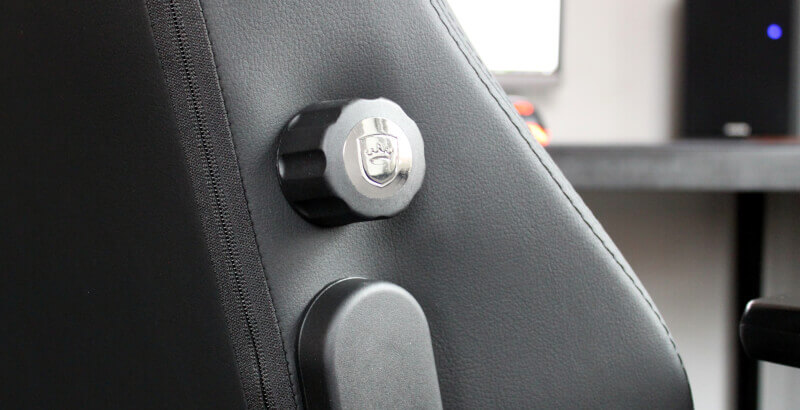 While on the subject of the backrest, it can of course also be adjusted so that you can sit upright, or lean all the way back if you're watching a movie or just need to relax. Adjusting the backrest is done with the small lever that can be seen on the image below. Pull it up and lean forward or backward, and the backrest will adjust accordingly. Again, noblechairs has made this lever in metal, as well as the middle part of the knob mentioned above. It's the small details that count. Apart from the adjustment options that we've covered so far, you of course also get two levers at the bottom, beneath the seat pan. One for adjusting the chair up and down, and one to lock the tilt of the chair. More on that later.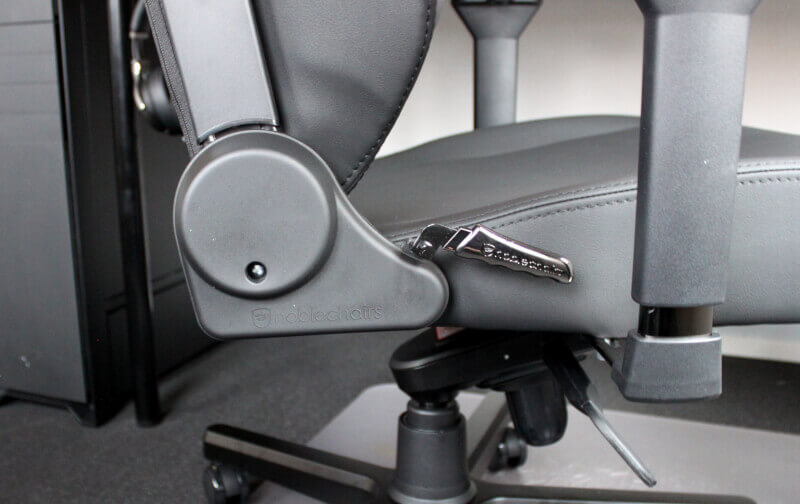 Even though the chair itself features an integrated and adjustable lumbar support, the HERO Black Edition comes with an additional lumbar pillow made with the same velour material as the neck pillow. Personally, I'm not that big of a fan of these types of pillows, but on the other hand, I'd rather have it included in the box rather than to be missing it later. Where many other chairs feature a different color or fabric material on the seat pan, compared to that of the backrest, that is not the case with the HERO Black Edition. It features the same PU / Vinyl hybrid leather material all over the chair. This contributes to the subtle yet awesome design and allows for your entire body to breathe more freely.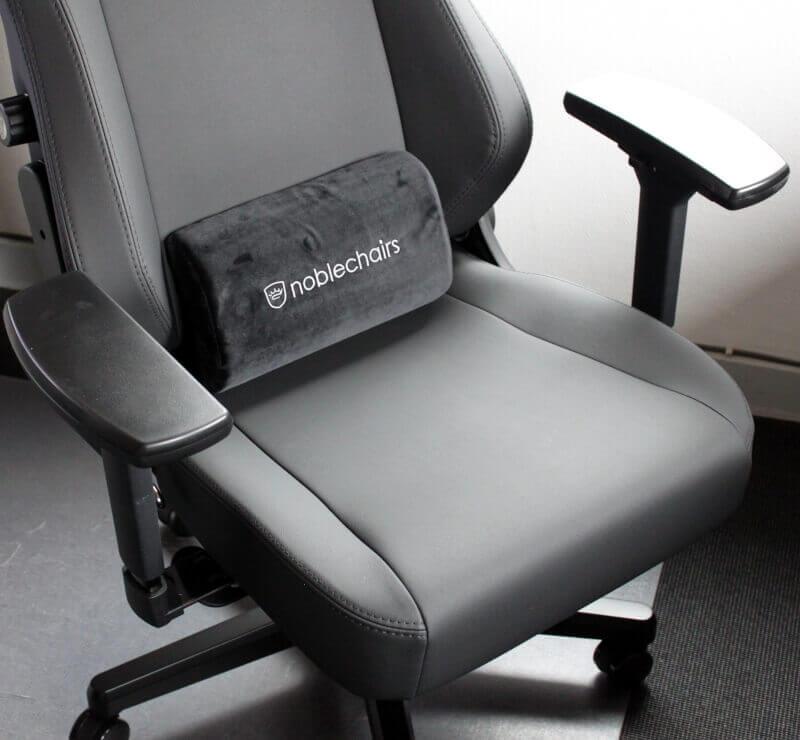 At the wheelbase of the chair we find five durable Ø 60 mm wheels. These will, along with the wheelbase and the rest of the chair, support a maximum weight of 150 kg, whereas most of the competing models will only support up to 130 kg. This is quite impressive and is indicative of the build quality of the HERO Black Edition in general.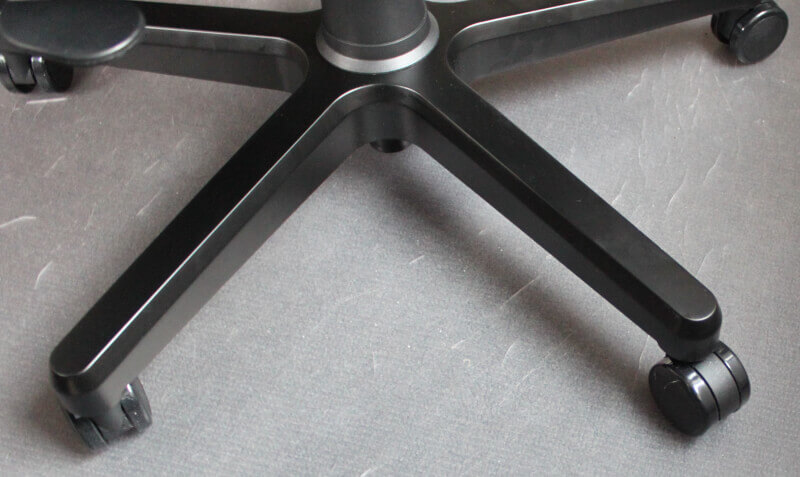 We've now more or less covered all areas of the HERO Black Edition chair from noblechairs. Before we move on to the actual test, in which I will share my thoughts on the overall user experience of it, I'll throw in a final image of the chair from where it will be staying over the course of 2 to 3 weeks while I test it.
Use, Comfort and Comparison
As usual, testing a chair can be a bit difficult. Well, in the sense that in order to do it properly, it will take some time. You basically have to use it, and all of its features, on a daily basis for an extensive period of time. Luckily, given the nature of my work for Tweak and innate interest for PC gaming, I already do spend a fair amount of time in front of my PC every single day. So in that sense, it isn't really difficult to test the HERO Black Edition from noblechairs - it just takes a bit of time. On a side note, it's also very important to sit well, and more importantly, correctly, when you spend a lot of hours in front of your PC, in order to avoid pain and discomfort in your body.
Ever since I tested the TITAN chair from Secretlab, it has been my daily driver in my office. As I also mentioned in my review of it, it is the most comfortable and nice gaming chair that I have ever tried. This is something I still consider to be the case today. But what happens when I push it aside and replace it with the HERO Black Edition from noblechairs? There's only one way to find out, and that is to start using it and to spend a lot of hours in front of my PC in it.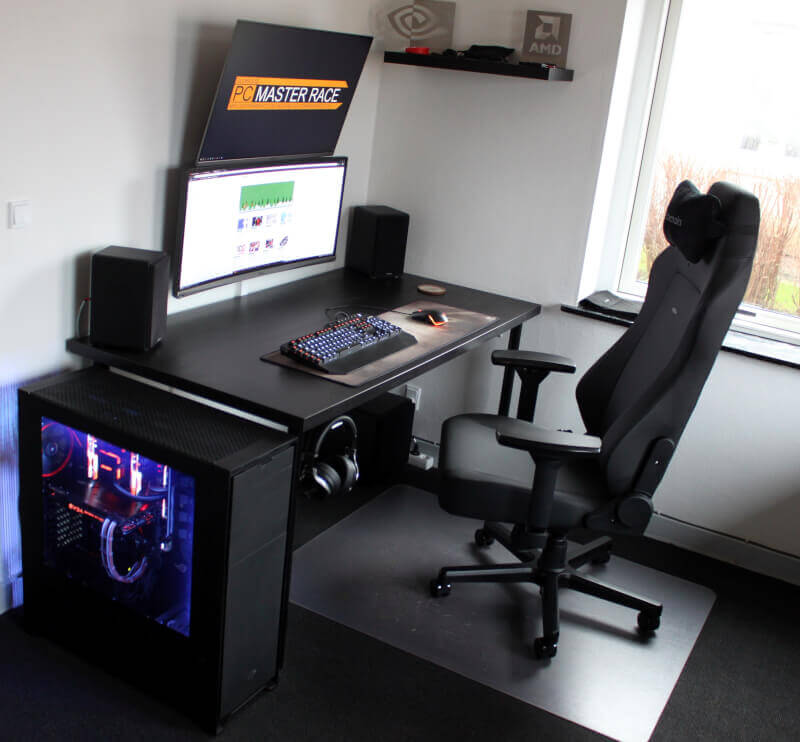 The HERO Black Edition chair features identical adjustment options compared to the TITAN from Secretlab. This made it easy for me to get used to it and to adjust it to my preference. In terms of backrest and seat pan, these two chairs are also pretty much identical, both in terms of size and shape. The HERO Black Edition is the largest series of chairs that noblechairs offers, which is also evident with its support of up to 150 kg. The cold-foam upholstery on both chairs is rather hard, which is also what I personally prefer. This gives you good comfort without sinking into the chair. The large size and wide backrest also means that even larger persons will be able to sit correctly without feeling that one's shoulders are squeezed together or pushed forward, which is a problem with regularly sized and cheaper chairs in general. Here, I speak from my own personal experience.
Another feature that the HERO Black Edition has in common with the TITAN from Secretlab is the integrated lumbar support. By turning the knob on the side, the hardness and intensity of the integrated lumbar support can easily be adjusted. With the implementation used on the HERO Black Edition, it's really easy to turn the knob all the way if one doesn't want any support at all. It works really well, and it's a feature that all chairs should offer, in my opinion. It is probably not the cheapest system to incorporate in a chair, and therefore we only see it in high-end models for now. noblechairs also includes the additional lumbar pillow, but in my case, it went straight into a drawer and was never once used. I'm tired of these pillows that don't have the right size or fit anyways, and won't stay in place where they should.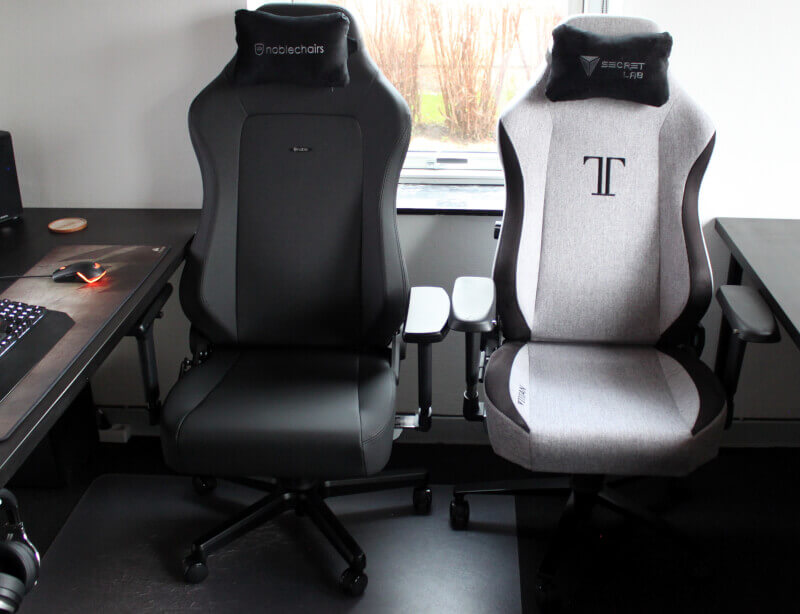 You'd think that we've now covered every aspect of the HERO Black Edition, and the use of it, but not quite. There's still a couple of features that deserve mentioning. For instance the tilt mechanism that allows for the chair to the tilted all the way back without having to adjust the backrest (see the image below). Here, the backrest is in the same position as on the first image of it, at the start of the test section. Only the seat pan has been tilted backwards. If you so desire, these positions can be locked, as depicted below, by using the lever underneath the seat pan, opposite the height adjustment lever.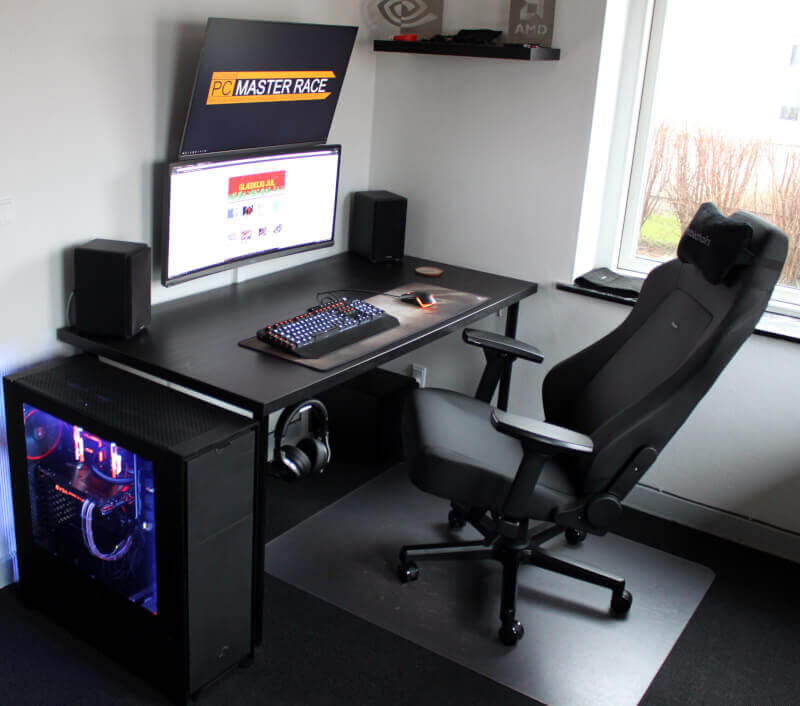 It is of course possible to leave the seat pan completely level, and merely adjust the backrest backwards (or even both). It's up to you, but the HERO Black Edition certainly gives you lots of options. The armrests also feature endless options, but as I also mentioned in my review of the TITAN chair from Secretlab, I don't personally use the armrests much since I prefer getting in closer to my table and then place my arms directly on the table instead.
Still, the armrests of this gaming chair are in the top of the scale in comparison to what I've previously seen and tried. The surface of them is soft and comfortable, without it being too much. There's plenty of adjustment options: height, forward/backward, inward/outward. In other words, you can adjust them exactly to your own personal preference. However, I feel that I should once again mention the quite annoying rattling sounds that you'll encounter when adjusting the armrests, which makes them sound poorer in quality than they actually are, which is a shame. Let's wrap up the test section now and move on to a quick look at the price and then my final thoughts.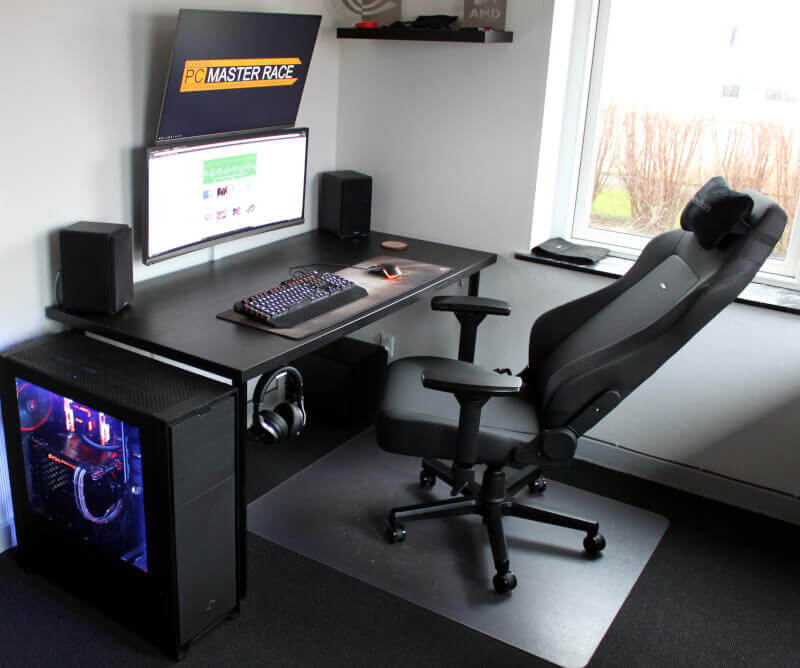 Price
At the time of this writing, the noblechairs HERO Black Edition is priced at €449.90, which is quite a hefty price for a gaming chair. However, there should be no doubt that the HERO chair from noblechairs is among the big boys when it comes to gaming chairs on the market. I've had the pleasure of looking at quite a few chairs, and competing chairs such as the TITAN from Secretlab does an equal, if not better job, in some areas, in my opinion. With that said, the HERO Black Edition gaming chair is really nice and offers the feature set and quality that you'd expect from a chair in this price range.
If you want all of the details on the HERO Black Edition from noblechairs itself, you can pay its website a visit. Simply click here and you'll be taken directly to the website that contains all the details on this awesome chair.

Conclusion
Alas, we've arrived at the end and it's time to reflect on the HERO Black Edition from noblechairs. As I've already mentioned, we tested the predecessor of this chair, and it received a fine score and some nice comments too. With this version of the chair, noblechairs has introduced its new PU / Vinyl hybrid leather material, which is nice to look at but also to touch. It's very breathable and durable, and it comes as close to real leather as you can get - according to noblechairs, at least. With black on black, the HERO Black Edition is a very subtle and nice chair to look at, and be stealing the attention if whatever room it will be placed in.
As with any other chair from noblechairs, the assembly itself, along with the instructions are top notch, and the same applies to the build quality. The HERO Black Edition oozes of quality no matter where you look or where you touch it. The only negative remark I have is concerning the armrests, when you move them from side to side. The rattling noise makes them sound cheap. Compared to my TITAN chair from Secretlab, the armrests are also a bit loose, which is a shame. There's an abundance of adjustment options with the HERO Black Edition. Just as you'd expect of a chair in this price range. The lumbar support, backrest, seat pan and armrests can all be adjusted independently of each other, which is also how it should be. On top, you get the soft velour pillows for both your neck and lumbar.
Overall, I've decided to give the HERO Black Edition chair from noblechairs a score of 9 out of 10, as well as our Great Product award. You might wonder how come this refresh scores lower than its predecessor. Well, allow me to explain. Since my colleague, Michael,, tested the normal HERO chair in 2018, a lot has happened on the market. For instance, I got the TITAN from Secretlab. To this day, it maintains the status of being the best chair that I've had the pleasure of sitting in, even after having had the HERO Black Edition by for testing.
If I didn't have my TITAN gaming chair to compare with, the score might have snuck up on a 9.5 or even 10, as its predecessor. But given what the market has to offer today, and considering the hefty price tag as well, you really have to go above and beyond in order to beat the TITAN from Secretlab gaming chair. I've said it before, and I continue to stick with it. It's not to say that the HERO Black Edition from noblechairs is a bad chair. It's absolutely not, which this score also indicates. If you are looking to buy a high-end gaming chair in this price range, the HERO Black Edition is certainly among the heavy hitters, and should definitely be taken into consideration. No doubt!
Pros:
Nice and subtle design

Included pillows for neck and lumbar

Very easy to assemble and good instructions

High quality wheels

PU / Vinyl hybrid leather surface

Three different materials available

Lots of adjustment options

Can support up to 150 kg

Really nice overall build quality
Cons:
Score: 9 + Great Product award