AUTHOR : Berleburg
PUBLISHED : 2020-01-03 14:26
Aorus CV27Q - Curved Gaming Monitor with 165 Hz
We take yet another look at a gaming monitor from Aorus. This time, it's the curved CV27Q monitor that offers a 165 Hz panel.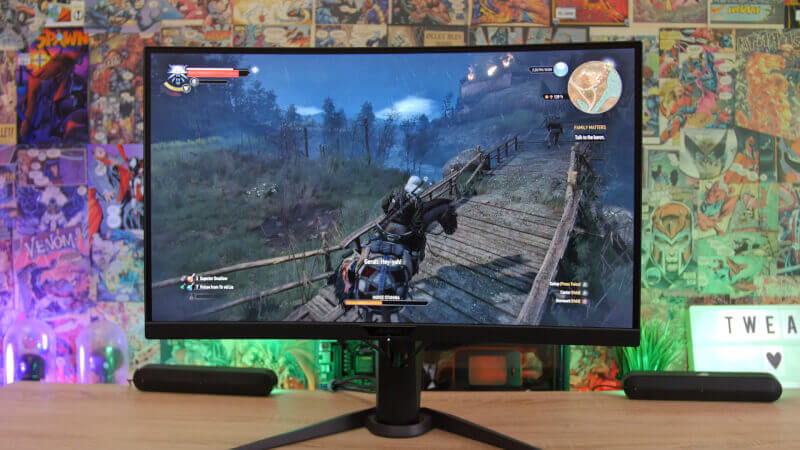 We recently had a look at the Aorus FI27Q 165 Hz IPS gaming monitor, and today we are ready with a test of a another one that comes from the same family of monitors.
Aorus calls it the first tactical monitor in the world, but they don't really explain what that entails. Either way, we'll take a good look at the Aorus CV27Q in today's review.
Check out our product video below, but please don't mind the Danish captions.
The Specifications of the Aorus CV27Q
In terms of the technical details, the Aorus CV27Q is a 27-inch monitor with a resolution of 2560x1440. The Aorus CV27Q comes with a 165 Hz VA panel and it's response time is specified to 1 ms. As was the case with the previously tested FI27Q, this response time is an MPRT benchmark, and not the traditional GtG, which means that I am a bit skeptical towards this result.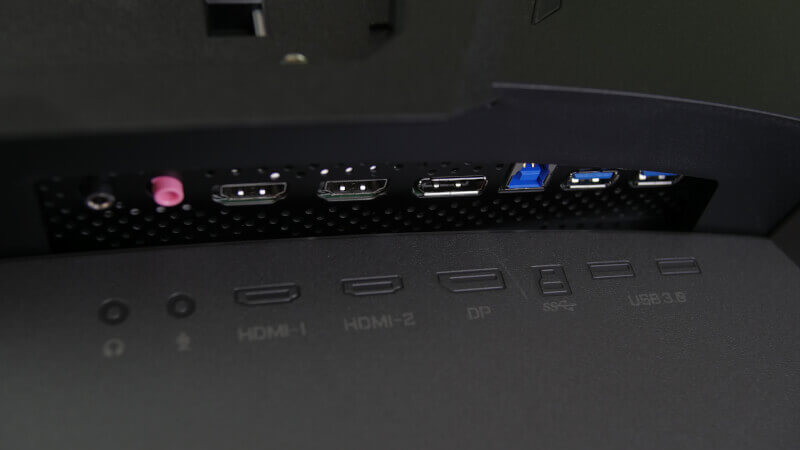 According to Aorus, this monitor offers 8-bit colors and covers 90% of the DCI-P3 color spectrum. It also comes with DisplayHDR, but only an HDR400 certification, which I'll return to later.
In terms of connectivity, the Aorus CV27Q offers two HDMI ports and a single DisplayPort. There's also audio and microphone passthrough along with a USB 3.0 hub with two ports.
The Design of the Aorus CV27Q
The Aorus CV27Q gaming monitor sports a curved design and comes with a somewhat aggressive 1500R curvature, which is slightly more curved than your typical 1800R, which is the standard of most gaming monitors of this type. It's probably not something that you'll really notice, unless you do a direct comparison, since the monitor isn't larger than 27 inches after all.
The design is relatively subtle without any bells and whistles on the front. There's a slim bezel on the top and sides, and a slightly beefier one at the bottom, which also contains the Aorus logo.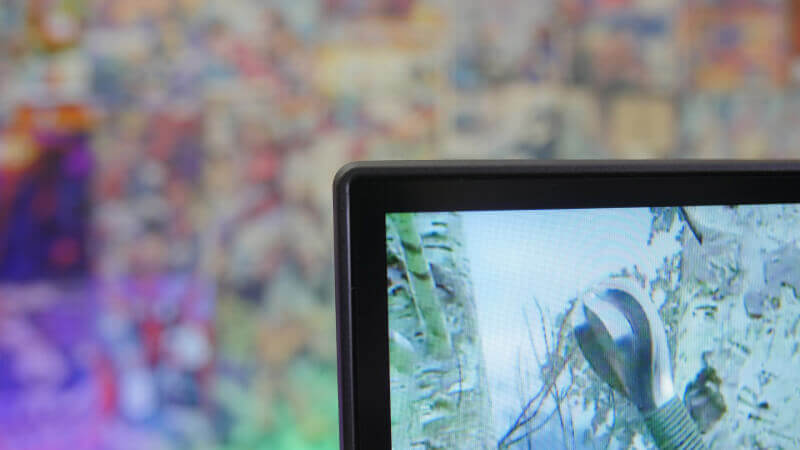 However, the image itself doesn't go all the way out to the physical frame. There's an extra border around the picture, which means that the bezel is 8 mm thick in total.
On the backside, there's a bit more to look at. You get some RGB lights that can be controlled via RGB Fusion 2.0, if you use the USB connection. This might be a somewhat redundant addition for most people, but if you have your monitor placed in a way that will leave the backside visible, it can add a bit of extra flair. So it's basically up to you, if this has any value or not.
Other than that, there's not much else to talk about. The subtle design can be seen everywhere, and is further cemented with the use of primarily gray plastic materials. Personally, I find that Aorus have struck a fine balance with their design of this monitor.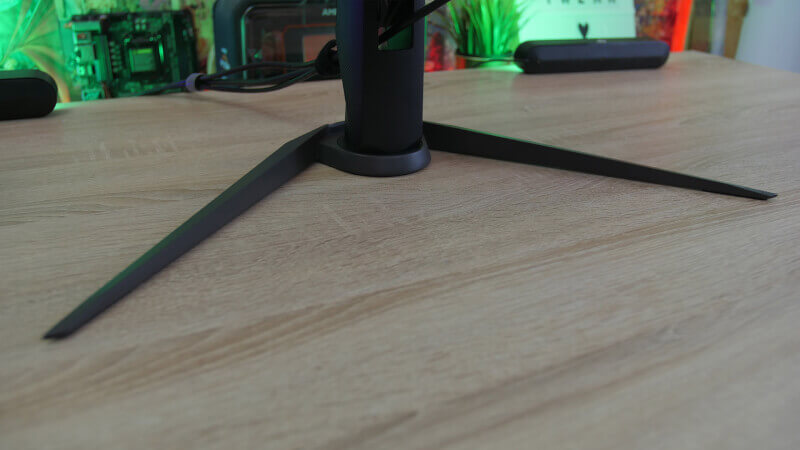 The stand for this monitor is robust and solid, and this means that the monitor sits firmly on your desk. You have the option of adjusting the height, tilt and rotation. So you have plenty of options to set up the Aorus CV27Q just as you prefer.
If you desire to attach this monitor to a wall, this can also be accomplished by using your standard VESA bracket.
So, the Aorus CV27Q is a nice monitor that is suitably subtle and doesn't scream of "gaming design" as we see with so many other monitors from the same product segment.
The Test
During my testing of the Aorus CV27Q, it has been used for normal desktop purposes, as well as, of course, a lot of gaming. The latter is of course also its main purpose.
My experience with using this monitor is a mainly positive one. However, I have a few negative remarks to make as well.
The color reproduction of the VA panel is really good. We are not at the level of IPS panels, but you still get some beautiful colors along with a reasonable black level performance. On the other hand, the use of VA panel is one of the weaknesses of this monitor, and especially so when you compare it to the Aorus FI27Q, which comes with the same specifications, but with an IPS panel as the cherry on top.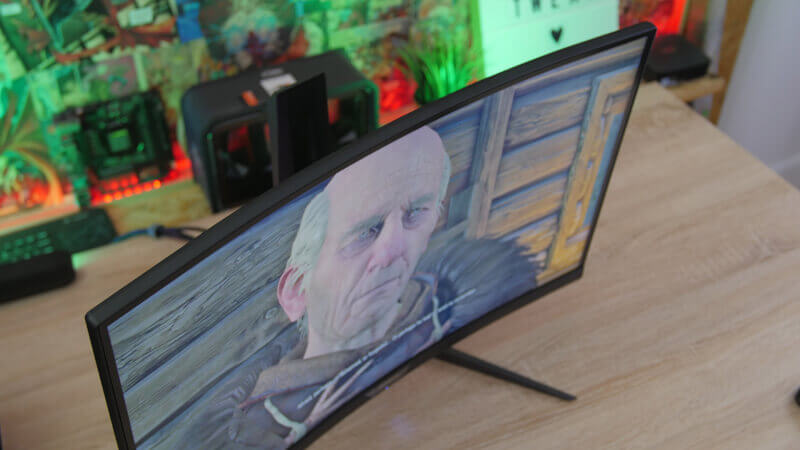 The subtle design is super nice and there are no unnecessary details on the front that will distract you from your games.
Personally, I prefer monitors that aren't curved, when we are dealing with monitors of this size. I find that it only makes sense when you have larger format monitors like ultra wide. When gaming, and sitting at an arm's length from the monitor, I don't find it to make any difference or improvement.
On the other hand, it doesn't have any diminishing effect on your gameplay experience either. So it's more up to your personal preference, whether you like it or not.
Just as it is also the case with other Aorus monitors, you control the settings of the monitor via a small joystick at the bottom of the monitor. It's easy to get an overview of the menu, which will let you adjust most things.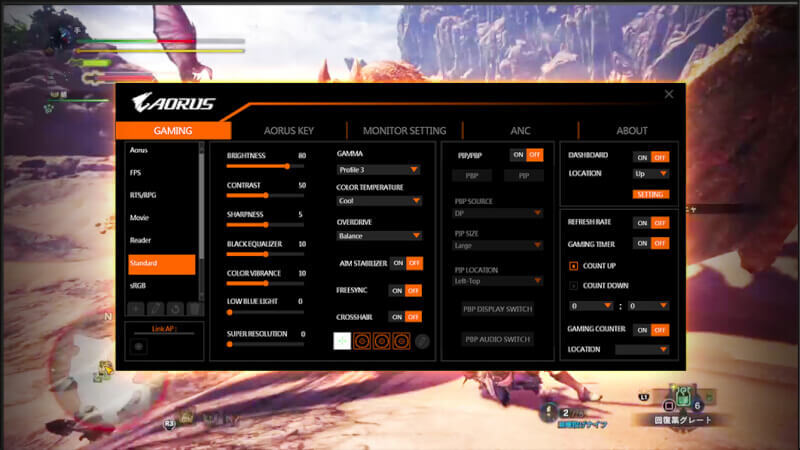 This becomes even more accessible, if you download and install the Aorus OSD Sidekick app, which lets you adjust the settings directly via your desktop and with the use of your mouse. This makes it incredibly easy to adjust the settings and to select between profiles.
It's also possible to set up your own profiles, and bind these to individual applications. This will change the profile of the monitor automatically when you run certain programs or games.
Aorus also provides further options via their Dashboard. Here, we can monitor the whole system, including CPU and GPU temperatures, and FPS counts without the need of any additional software. The added benefit of these options is that they are hardware settings, and therefore won't be recognized as third party overlays in games.
You can also enable timers, or crosshairs, if you are so inclined. But do keep in mind that the latter is by many gamers considered cheating.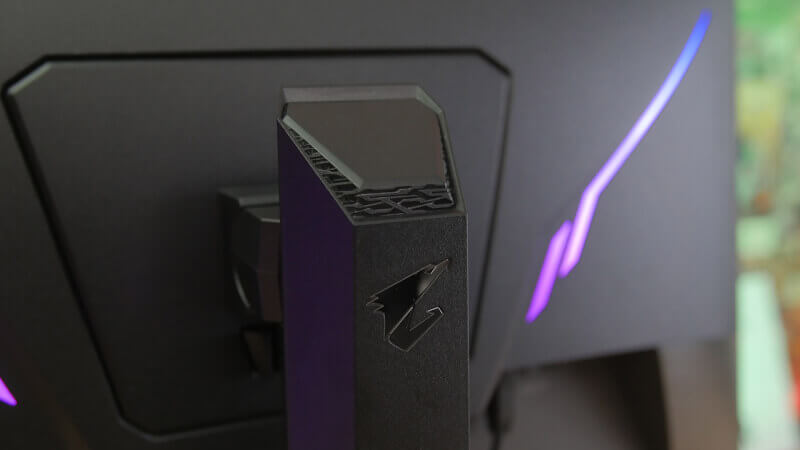 On the technical side there is also the option of Aim Stabilizer, which will help reduce some of the motion blur that you might encounter in some games. This way, you'll have a more clear image that might improve your aiming capability when gaming. It's essentially just a version of the Ultra Low Motion Blur (ULMB) technology. During my testing, it seemed to work just fine, and it was particularly noticeable when testing in Blur Buster's UFO test. It wasn't as easy to spot in actual games as things move really fast and you have to keep watch over many things at the same time.
The downside of Aim Stabilizer, however, is that you get a much darker image when it's enabled. That's because of the way that Aim Stabilizer (and ULMB) works. Between every frame, a black frame is inserted, and this leads to the overall image appearing darker. This meant that I, without a doubt, preferred having Aim Stabilizer disabled since I basically found the image to be too dark otherwise.
FreeSync 2.0/G-Sync
The Aorus CV27Q comes with FreeSync 2.0, which is really nice if you have an AMD graphics card that supports it.

Even though this monitor is not on Nvidia's list of G-Sync compatible monitors, I didn't encounter any issues making it work. It worked perfectly on an Nvidia RTX 2080 Ti card, which I've been primarily using on my testbench.
HDR
Here, my verdict is short and straightforward, and it's no different than what I said about it when testing the Aorus FI27Q. Forget everything about HDR on the Aorus CV27Q. It features HDR400, and this should, in my book, never have been an official standard of HDR to begin with. It's miles away from the HDR experience you'll get with HDR10, which you'll see on newer TVs with "real" HDR.
HDR400 lacks some of the fundamental features that makes a world of difference when it comes to HDR. There's no local dimming, no full array backlight and we are also quite far from achieving a peak brightness of 600 nits or more, which is essential when it comes to rendering high dynamic range.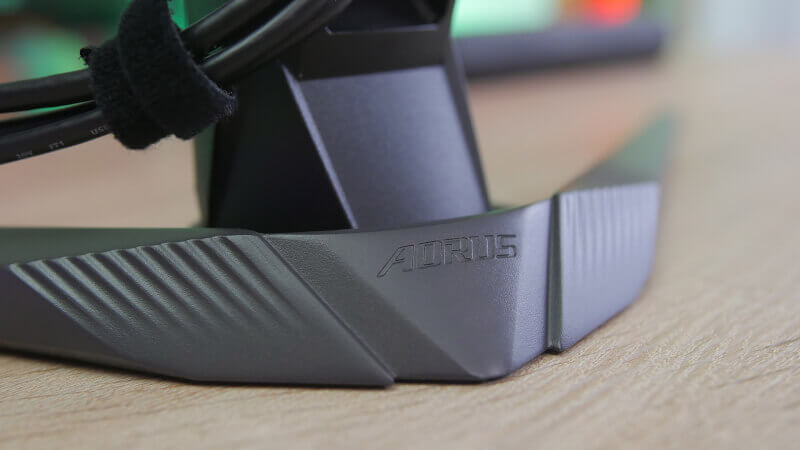 I did try out the HDR feature of this monitor, but I with no doubt find the image better when it's turned off. The feature made the image look flat and grayed out, which to me looked more boring than that of the standard version.
In my view, HDR400 is useless, and in no way improves the gaming experience. I wish they'd just retire this standard all together.
Response Time
The response time is by Aorus specified to 1 ms (MPRT), but as in most cases where you get these types of specifications, you are best off being a bit skeptical. As I also touched upon in my review of the Aorus FI27Q monitor, it gets to me that some manufacturers have started using this measurement approach and not the typical GtG method, which has been a golden standard for a long time.
This basically means that you cannot compare this monitor directly to other models, and the "optimistic" response times that the manufacturers specify are thus difficult to rely on and harder to comprehend as an average consumer.
GtG is measured by seeing how fast any given pixel can switch between two colors. MPRT indicates for how long any given pixel is visible, and that's two different things that the manufacturers are using for the same purpose, which is misleading and confusing for the consumers. If MPRT should be used, it should be done in addition to GtG so both values specified and can be compared individually.
An MPRT benchmark can also be influenced by other things, for example the use of Ultra Low Motion Blur technology, or as Aorus has dubbed it with the CV27Q: Aim Assist. As I mentioned earlier, it comes at a cost, in that it will darken the image, and you cannot use FreeSync or G-Sync at the same time either.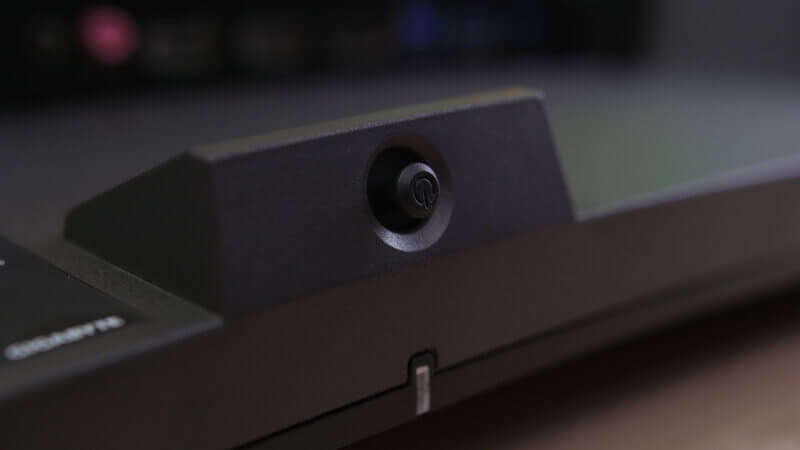 So, in order to achieve a 1 ms MPRT benchmark score, you need to make use of these tricks, and that means that you will have to let go of some other features.
I don't have the necessary tools at my disposal to measure the real response time of this monitor, but I'll add that when you look at the testing results performed by another reviewer, on this exact monitor, the GtG response time is measured to 8.63 ms during normal use.
This is quite far from the promised 1 ms that Aorus specifies. This further means that if you run at 144 Hz, or above, you'll experience that the response time won't stay within the relatively small refresh window that those high frequencies demand. This means that you might encounter some unsharp images.
Another flaw that I noticed was that the monitor, at times, will have a hard time handling high contrast images. This would then lead to some quite obvious flickering. This was most evident when I had Spotify open, but it also occurred in other situations.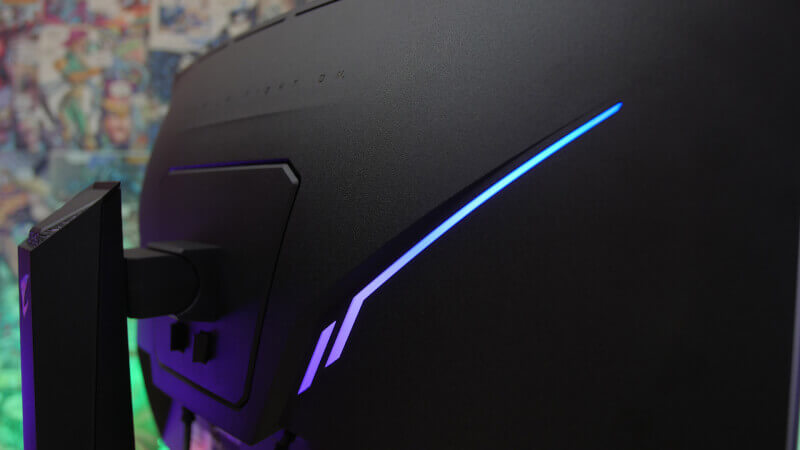 This was of course easier to notice on the desktop, and not as much when in-game, where much more happens all over the screen. Still, it's an annoyance, and especially so from the point of one having taken notice of it.
Price
At the time of this writing, the Aorus CV27Q is priced at around $429.99. It's a pretty average price for a monitor of this size and with these features. Also when comparing to similar monitors out there.
Conclusion
On the surface, the Aorus CV27Q is a reasonable monitor that packs some great features. However, it doesn't quite live up to what it promises, once you dive into it with more detail.
I love the subtle design of the monitor, and Aorus deserves great praise for their OSD Sidekick app, which makes adjusting the settings and selecting profiles a breeze on this monitor. These are no doubt some great positive aspects of the Aorus CV27Q. On the technical side, it feels a bit as if Aorus have focused on putting some great specifications on paper, but less so when it comes to the real world implementation of these.
Despite the fact that Aorus promises a response time of 1 ms, it seems that the monitor isn't really capable of meeting this specification without it having a negative impact on the image quality. The response time simply cannot keep up, and especially not at 165 Hz. This means that you get an image that looks a bit smeared out, once you have those sudden or quick movements on the screen.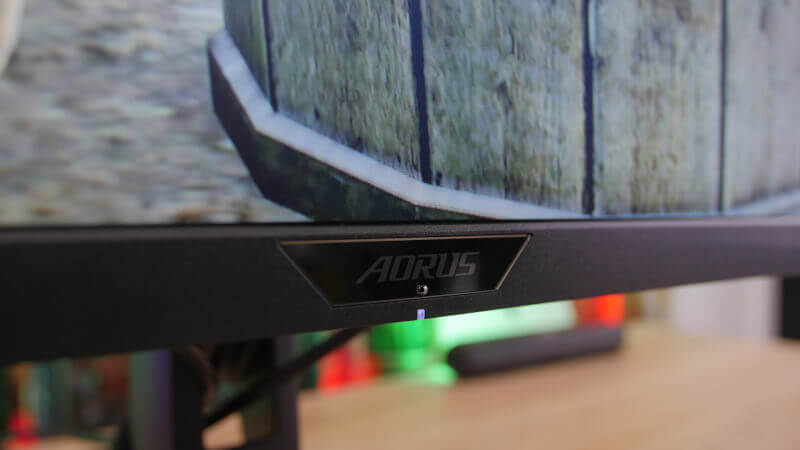 This might be something that most won't even notice, but once you have, or if you have another monitor close by to compare with, then it can be seen. This was not something that I noticed on the Aorus FI27Q monitor.
It's not something that will ruin your gaming experience on the Aorus CV27Q, but it does diminish the overall experience of this monitor, in my opinion.
This, along with the issue of flickering when dealing with high contrast images, means that the score is inevitably dragged down a bit. I am left with an impression of a monitor that does reasonably well, but doesn't quite stick the landing.
We arrive at a final score of 7 for an overall reasonable monitor that does come with a few flaws.
For just over $100 you can get the much better FI27Q monitor, also from Aorus, which does the job quite better. For a smidge more, Aorus also offers the AD27QD, which is a really good alternative.
Pros:
Cons:
Inaccurate response time

Flickering in some situations with high contrast

HDR400 implementation is pointless