AUTHOR : Berleburg
PUBLISHED : 2019-12-08 22:43
The Best Wi-Fi Mesh Networks in 2019
Got a large home with poor wireless coverage? Then a Wi-Fi mesh network might be just what you need in order to restore balance to your household. Here are some of the best Wi-Fi mesh systems available on today's market.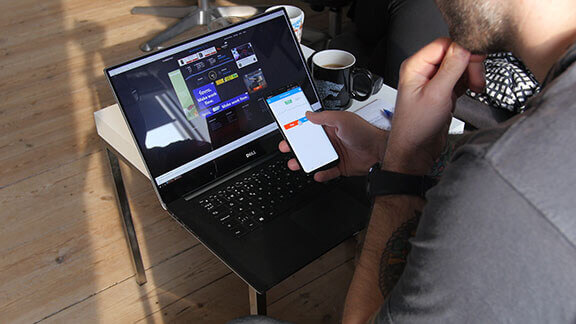 With the booming popularity of smart home devices and countless streaming services, such as Netflix and Spotify, a Wi-Fi solution that covers the entire house has become a must. Most of the new wireless routers will give you sufficient coverage in most rooms of a typical medium sized house. However, if you live in a large house, or apartment, that offers a lot of impeding walls, several floors, metal and concrete structure or whatever other structural hinderance, you'll need to make additional strides in order to establish a wireless network that will cover all corners.
Your typical Wi-Fi range extender will help you get rid of some of the dead zones, but usually at the cost of maximum bandwidth. Access points provide better bandwidth than your typical range extender, but it in turn requires a wired connection to your main router. Both of these solutions typically establish a new network SSID that you need to log on to, when moving from one room to the other.
If all this sounds too complicated and cumbersome then you might want to install a Wi-Fi system instead.
What is a Wi-Fi mesh system?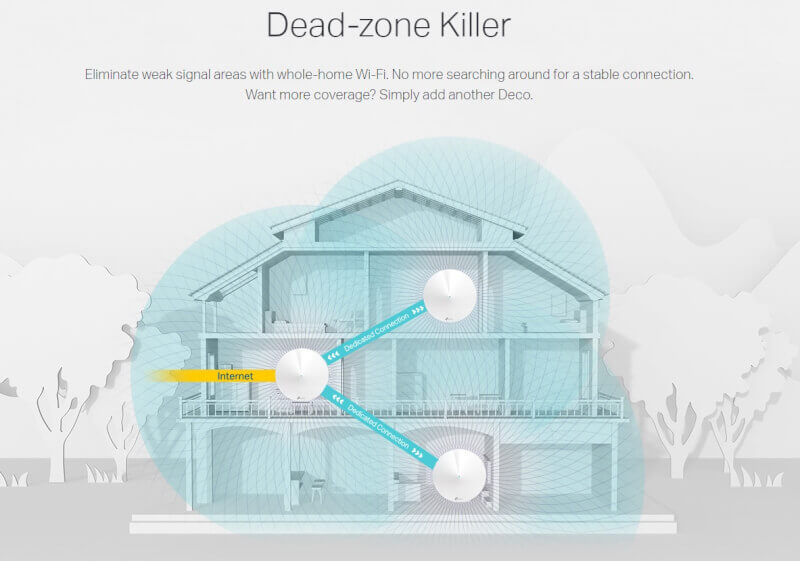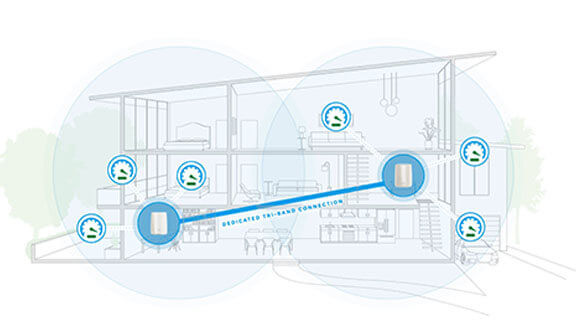 Wi-Fi systems are designed to cover your entire home with a wireless signal. It's a kind of hybrid that consists of several network components. There's the router, which connects to your modem, and also a bunch of satellite modules, also known as nodes, that you place around your house. They are all part of the same single wireless network and share the same SSID and password. In contrast to range extenders that communicate with the router via the 2.4 GHz or 5 GHz band, most Wi-Fi system nodes use the mesh technology to interact with the router and with each other. Every node serves as an intermediary for the other nodes of the system. This helps the node that is located farthest away from the router in maintaining a solid Wi-Fi connection in that it uses the other nodes to stay connected, and isn't reliant on one-to-one communication with the router. Not all Wi-Fi systems uses mesh networking. Some use a dedicated frequency band in order to communicate with the router and each node. Similar to mesh, the dedicated frequency band ensures that the standard 2.4 GHz and 5 GHz bands are available for the client.
User-friendly configuration
Setting up and maintaining a traditional wireless home network can be a scary endeavour and lead to lots of gray hair and premature wrinkles - even for the most experienced techie. Wi-Fi systems are, however, targeted at users with little to no technical experience and they can be installed in a matter of minutes. They usually come with a user-friendly mobile app that walks you through the entire setup process with illustrations that are easy to follow. The app tells you where to place every node in order to achieve optimal coverage and it chooses the best Wi-Fi channel and frequency band for optimal capacity and performance. This way, you are ensured the best possible wireless performance even when moving around the house.
Wi-Fi systems are easy to expand (often with no upper limit as to the number of nodes you can add) and to manage with your smartphone. This will allow you to deactivate the Wi-Fi access for specific devices and with the click of a button, give particular device networks priority without having to log on to a complicated network console.
Design and features
Wi-Fi systems doesn't look like your traditional setup with a router and range extenders. The router and nodes use internal antennas and are more often than not sporting a tasteful and stylish design. This obviously adds to their "wife approval factor" and will allow them to be placed out in the open and not hidden inside a cabinet or underneath a desk. They often feature at least one ethernet port that you can connect devices such as televisions and gaming consoles. USB ports, however, an uncommon sight here.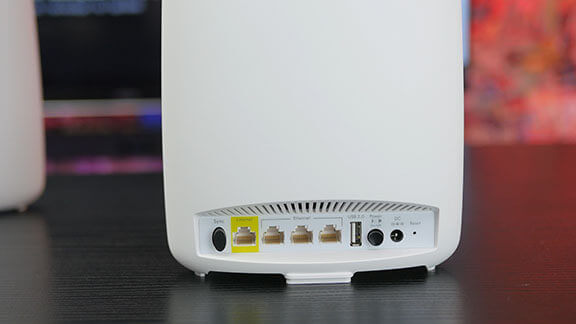 Wi-Fi systems are commonly defined as multi-band networking devices that run on the 2.4 GHz and 5 GHz frequency bands, and uses the 802.11ac wireless technology. Some models support MU-MIMO technology (Multi-User Multiple Input Multiple Output) that simultaneously streams data to multiple compatible wireless clients instead of sequentially. Most Wi-Fi systems has some sort of frequency band management that automatically switches to the least crowded frequency band in order to achieve the best performance. Usually, you also get useful features such as parental control, guest networks and device prioritization. Even though that they are designed with optimal user-friendliness in mind, they still let you configure port forwarding and wireless security settings. However, they do often lack more advanced features such as individual band management, firewall settings and wireless transfer speed settings - all are features that you usually find in a regular router. You also cannot use third party WRT firmware in order to adjust the system for improved performance and network monitoring.
This concludes our brief summary of Wi-Fi mesh networks and their most common features. The following list of Wi-Fi mesh system recommendations are based on our own testing and personal experience using them.
TP-Link Deco M9 Plus Mesh Wi-Fi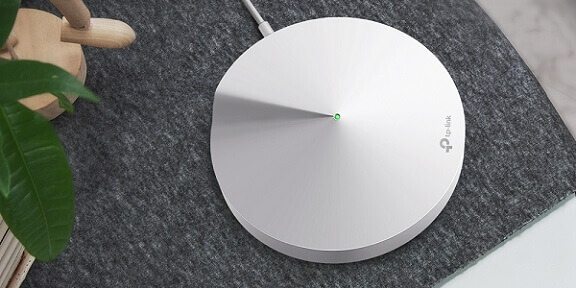 The TP-Link Deco M9 Plus system is for those of you, who own a large house, and want full coverage in every single corner, but at the same time aren't an expert on networking solutions. With the Deco app, you are taken through the entire process of setting it all up, step by step. Once you are done, you'll have access to the most common features as well as a few extra ones such as port forwarding. We also have to mention the range, and obviously also the speed that the Deco M9 Plus delivered. We've previously had a look at high-end routers from TP-Link, but this mesh system dominates all of them by a wide margin. In our tests, we measured speeds of more than 300 Mbps in the entire house, and even from outside. On top of that, the network is incredibly stable and the nodes are very discreet to look at.
Pros:
Super simple to set up via the app

Easy and simple to administer the network

Impressive coverage with good speeds

Option of connecting USB devices (huge plus)

Integrated smart hub with Alexa
Cons:
Limited advanced options (app is the only interface)

No option for wall or ceiling mounting
The TP-Link Deco M9 Plus Mesh Wi-Fi, in a kit with three nodes, is priced at around $280.
Netgear Orbi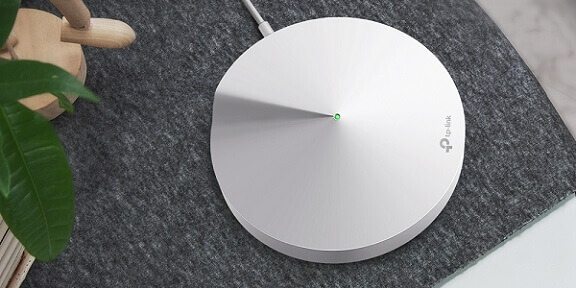 If you have a large home, Orbi is a good choice, and offers a much more capable setup compared to a regular router. It's also much better than a repeater that wouldn't be able to deliver the same speeds as the Orbi. As a Wi-Fi solution, Netgear's Orbi system is a good and solid solution. It provides good coverage and a stable wireless connection. The configuration is a breeze, and that applies to even the least experienced consumer as well. Even the most inexperienced user should be able to get things up and running very quickly.
Pros:
Cons:
High price compared to competing products

The filter option comes at an additional cost

The units are quite large
The Netgear Orbi is available in several kits. The one with 3 nodes will cost you around $349.
Google WiFi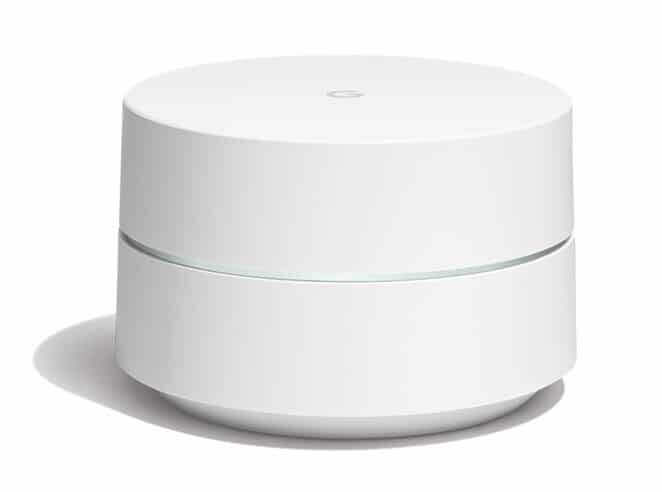 The Google WiFi kit has gained popularity and it's one of the most simple mesh solutions on the market and it comes at a very reasonable price as well.
It features automatic configuration that involves scanning a QR code and the use of Google's simple smartphone interface. It's possibly the most easy mesh system, on the market today, to get up and running. Every Google WiFi unit is equipped with a built-in Infineon Trusted Platform Module (TPM), and it updates its firmware automatically when new security updates become available. This surely is an advantage when we are all busy with other stuff in our daily lives. However, the Google WiFi does come with some disadvantages. Most noteworthy is the fact that it doesn't come with any parental control.
Pros:
Cons:
A single unit will cost you around $119, and only covers around 90 square meters (968 square ft.). Three units will cost you around $244.
Ubiquiti Amplifi HD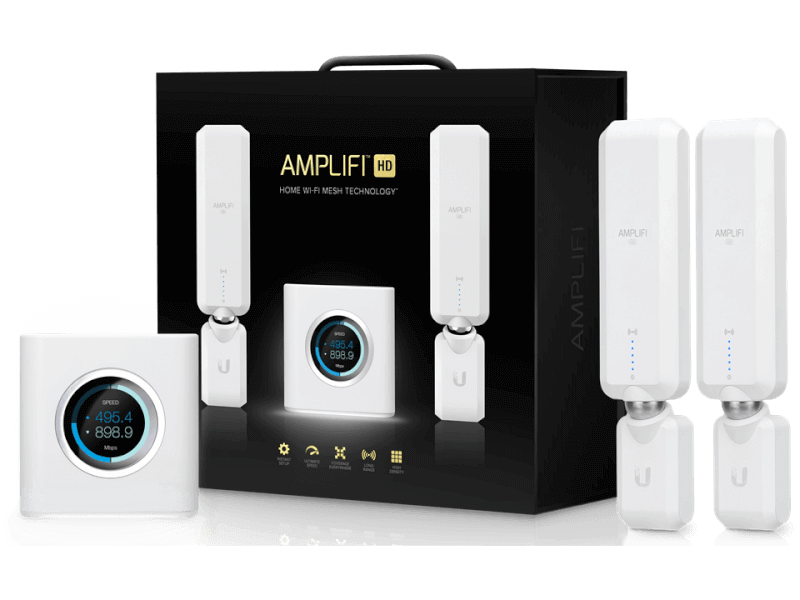 If you are the kind of person that loves the design philosophy of Apple, and enjoys having fancy gadgets in your home, without caring much about the price tag, then the Ubiquiti Amplifi HD is the perfect solution for you. Ubiquiti Amplifi HD offers fantastic coverage and a simple configuration process. It can, however, be quite an expensive encounter, but you also get a piece of tech that possesses both style and substance.
Pros:
Cons:
The Ubiquiti Amplifi HD is priced at around $300.