AUTHOR : Berleburg
PUBLISHED : 2020-01-17 23:55
Intel Core i9-10900X
Not too long ago, Intel released its latest processor series from their Core X family. ASRock has been kind enough to lend us the i9-10900X along with one of their motherboards. What this new processor has to offer, we'll find out today!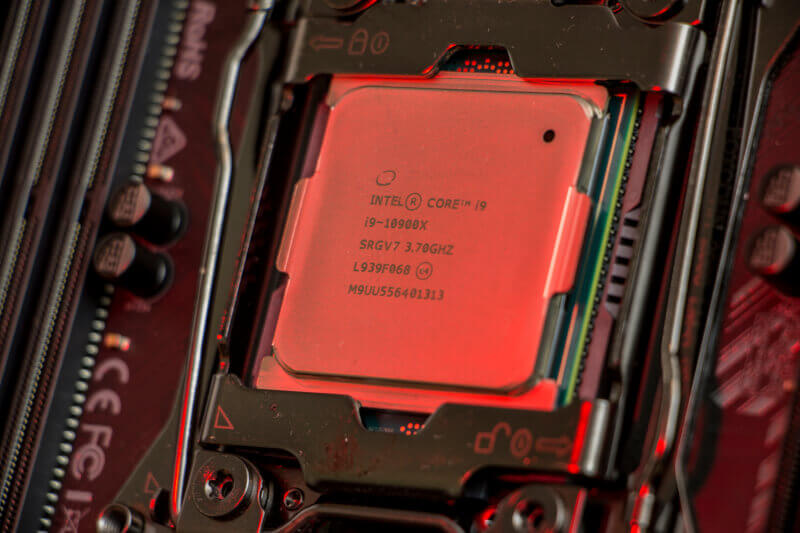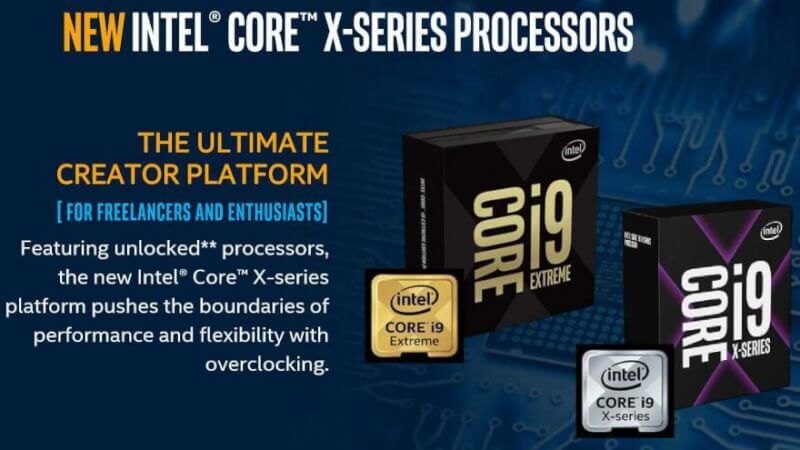 The Intel Core X series of processors belongs to Intel's HEDT (High-End Desktop) series. This is certainly also suggested by the fact that the smallest processor of this series sports no less than 10 cores and 20 threads. So, there's no doubt that these processors have been made with developers and other professionals that often use core-hungry applications, in mind, rather than your average consumer.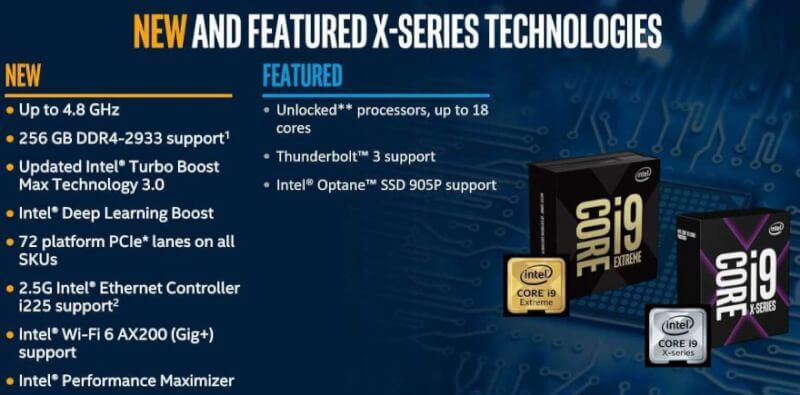 The new Intel Core X processors support 256 GB DDR4 RAM with a base clock of 2933 MHz. The clock frequency might not raise any eyebrows, but on the other hand we can throw in twice as much RAM compared to your average consumer motherboard that will most often only tolerate 128 GB of RAM. Once again, we get a clear impression that this platform is not intended for merely gaming and browsing Facebook. The entire series also comes with up to 72 PCIe lanes, and we get full support of Intel's Wi-Fi 6 technology.

Here we have the full SKU overview of Intel's new Core X processors. Our 10-core i9-10900X is the smallest of the bunch with a core clock of 3.7 GHz and a boost frequency of 4.7 GHz and an L3 cache of 19.25 MB and a TDP of 165 W. It's a feisty little fellow that will demand quite a bit of power and as such it also generates a significant amount of heat that we need to get rid of too.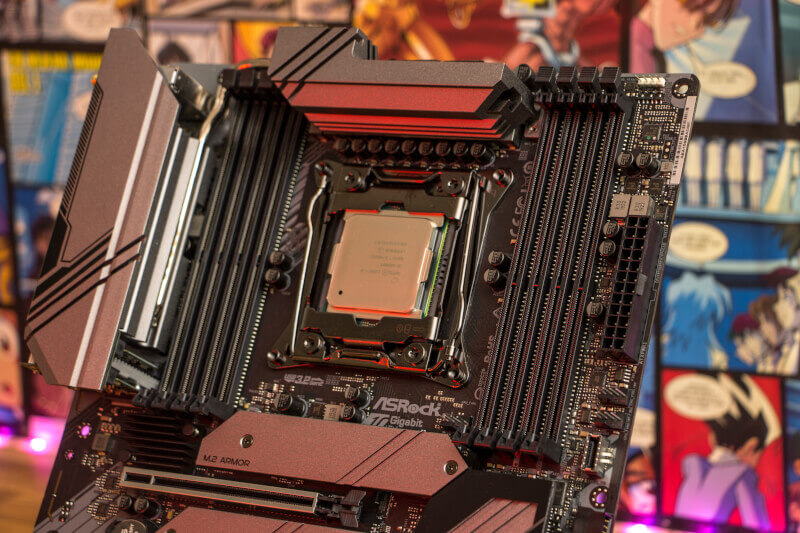 As mentioned earlier, this review of the Intel Core i9-10900X has been made possible by ASRock. It's sent the processor pre-fitted in the ASRock X299 Creator, which is an HEDT motherboard with 10 Gbps AQUANTIA network among its key features.
Read more about the motherboard by clicking here!
Test System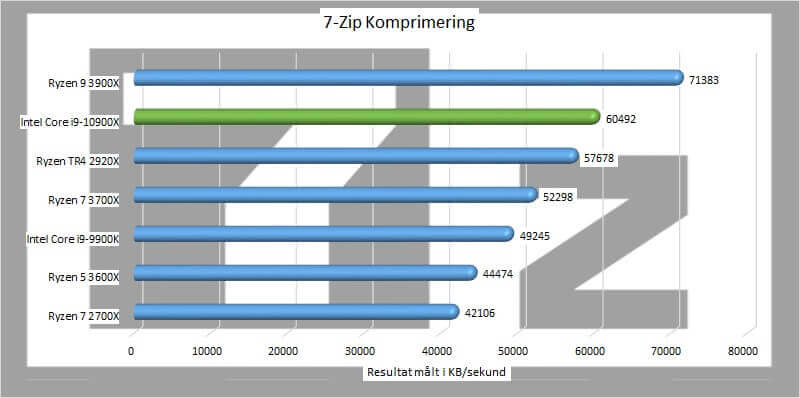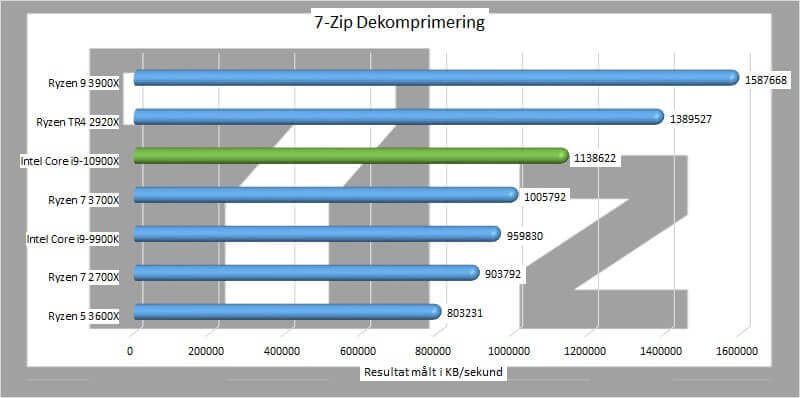 7-Zip Benchmark is a program that tests the processor's ability to handle incompressible data so that we might get an idea of how large the bandwidth is. We see some reasonable results here, despite the fact that it struggles with keeping up with the aging TR4 and of course the Ryzen 3900X, which still claims a solid lead.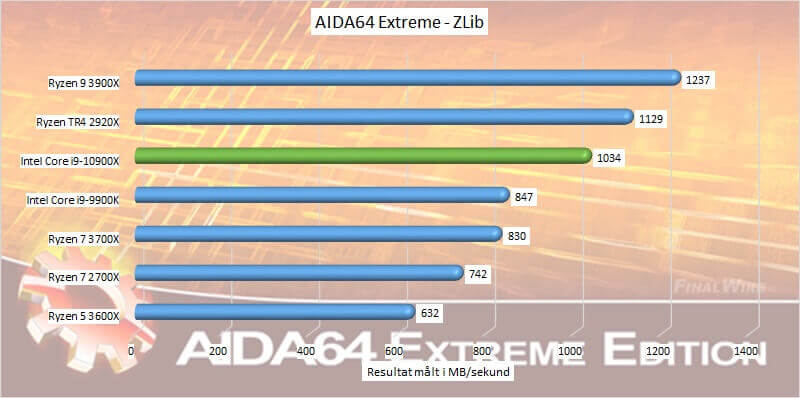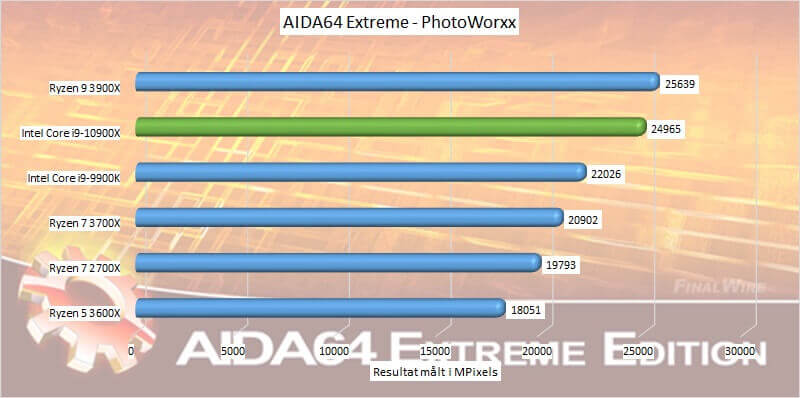 The two benchmarks in AIDA64 will test the processor's ability to handle data (Zlib) and it also shows how the processor handles the compilation of high-resolution images. The latter of which is particularly important for developers, photographers and 3D renderers. Here, the results also look reasonable.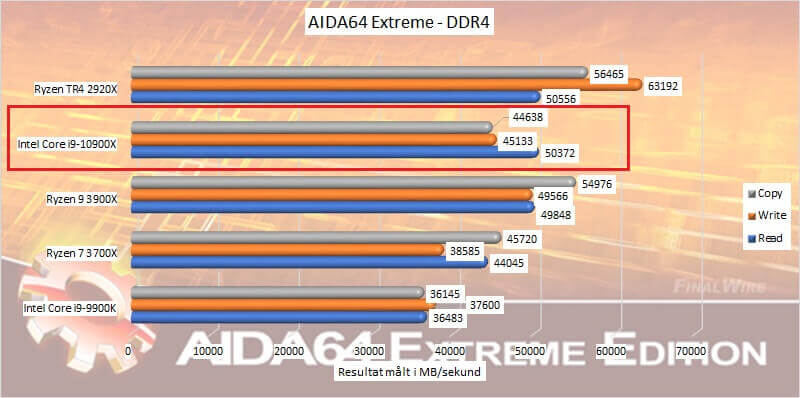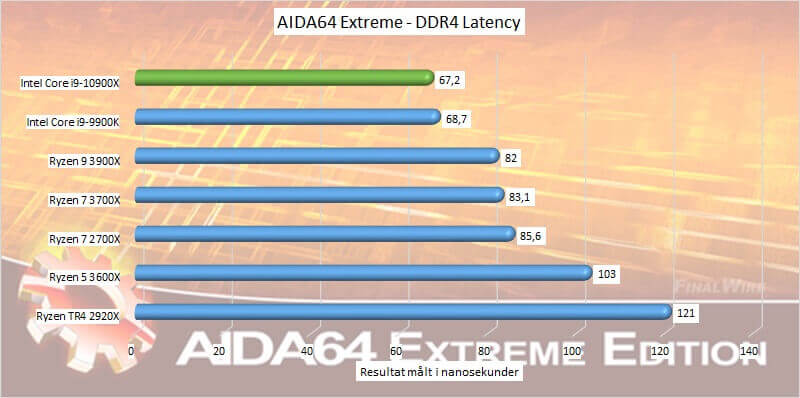 AIDA64 can also shed light on the performance of the processor's memory controller. In this case we are testing with 32 GB Corsair Dominator RAM that have been throttled down to 3200 MHz in order to match the speed of the TridentZ Royal that we've been using when testing our Ryzen processor. The i9-10900X does a good job and the result is actually quite reasonable.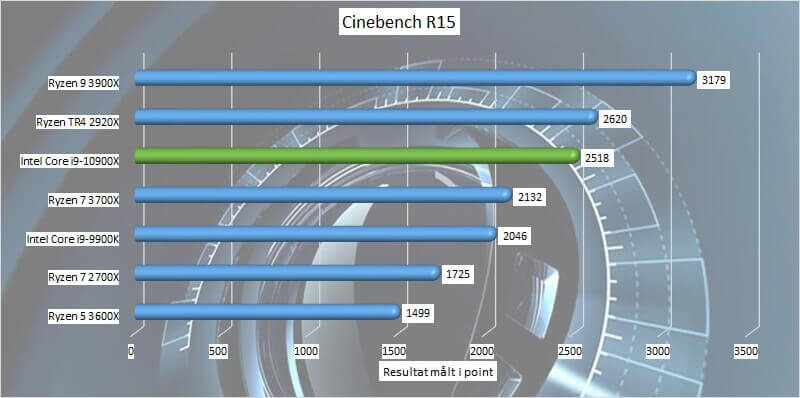 Cinebench R15 and R20 are both programs that will test the processor's ability to handle images and 3D rendering. Here, the i9-10900X does quite okay, but there's no denying that the Ryzen TR4 2920X and Ryzen 9 3900X are excellent processors that give the i9-10900X a run for the money, to say the least.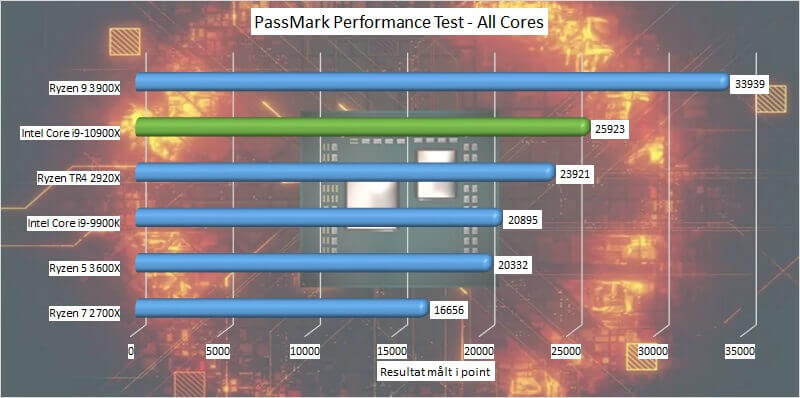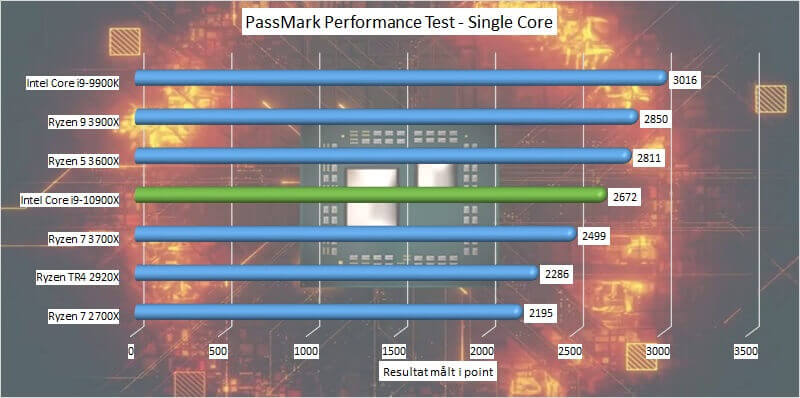 PassMark Performance Test can actually benchmark the entire system, but for this review, we've narrowed it down to the performance of the processor. The Intel Core i9-9900K is still a beast, and really hard to beat with its boost clock of 5 GHz in single core performance. The i9-10900X actually drops a bit on the list here, whilst it in the all-core test secures a really fine second place.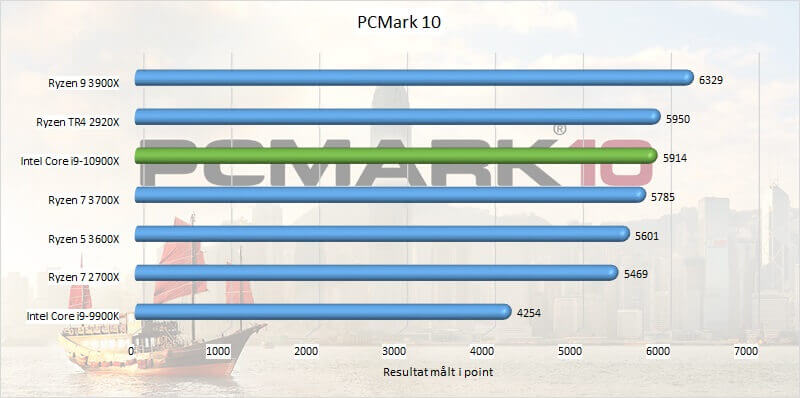 PCMark 10 is an all-round test of the system. Once again, we've throttled our RAM in order to be level with the Ryzen tests, and we also use the same graphics card. Intel's X299 chipset doesn't support PCIe Gen. 4, and therefore, we cannot test with the same performance on the SSD. Once again, we see that Ryzen claims the lead.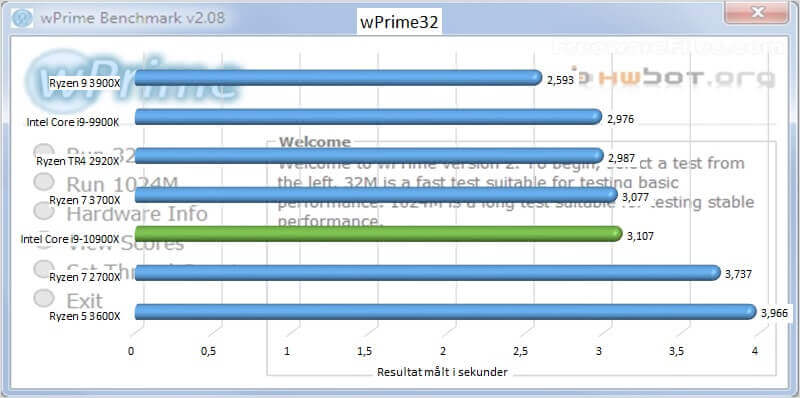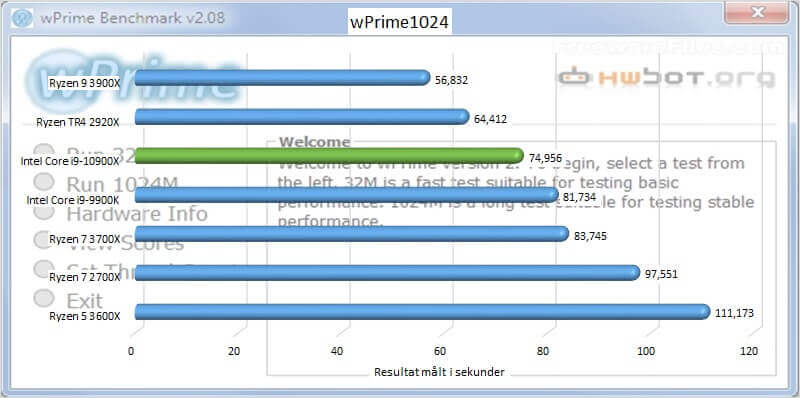 wPrime gives us an idea of how the processor handles raw data. This is done by crunching prime numbers. Here, we see that it falls a bit short, and obviously wPrime is a program that favors many cores.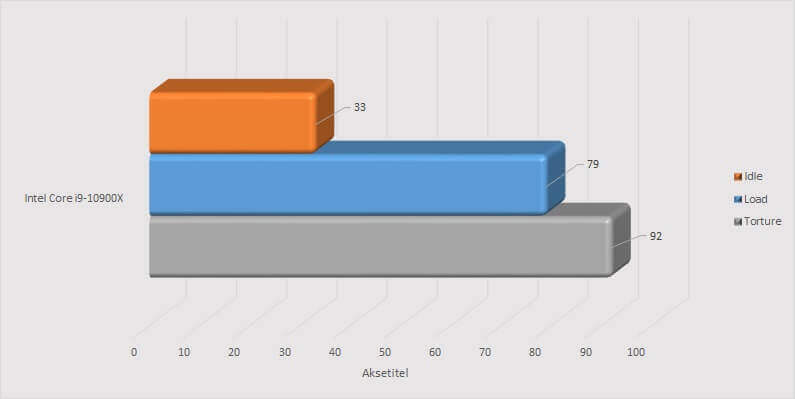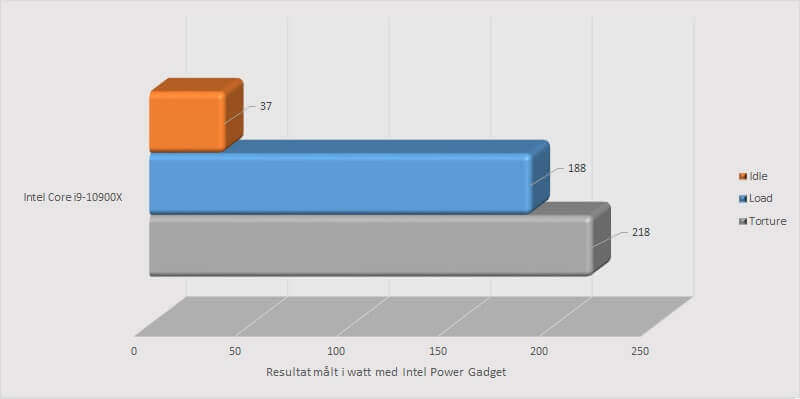 When looking at the power draw of the Intel Core i9-10900X there's no way around the fact that it's a hungry guy. The torture test has been done in Prime95, and here we clearly see just how hungry it is. This also means that we'll be needing a proper cooling solution. Luckily most motherboards today come with 4+2 or 4+4 EPS connectors. A torture test of course is not representative of everday use, and in different scenarios with different workloads, I note an average power draw of around 140 W, which topped in some of the most demanding applications at 190 W.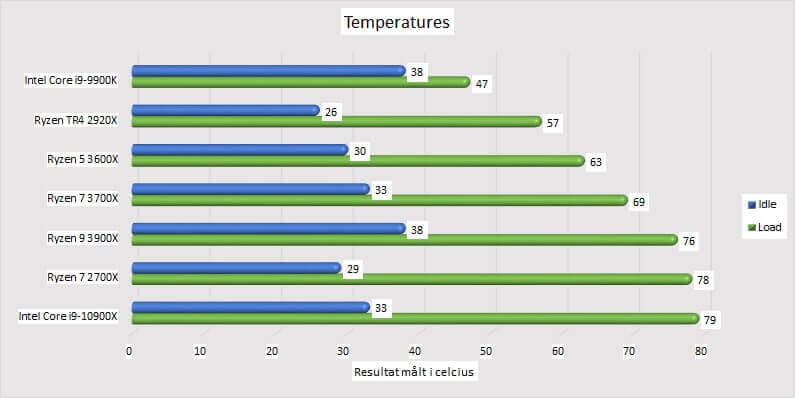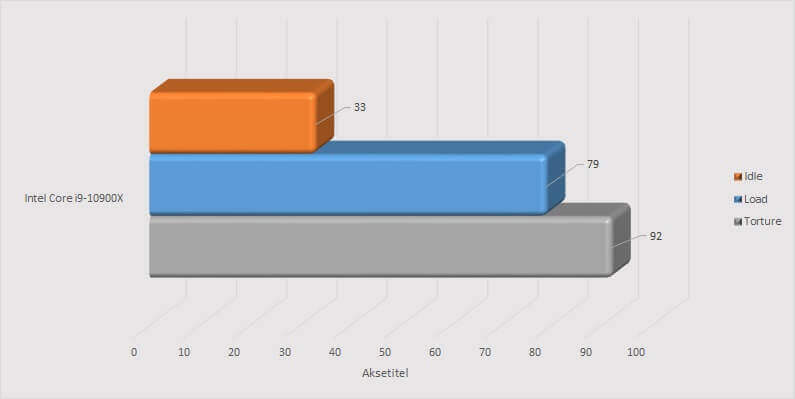 The heavy tasks of course end up generating more heat and with a Thermaltake air cooler with two 120 mm fans as cooling, our i9-10900X was put to the test during the stress test. The cooler should, on paper, be enough for up to 250 W TDP, but here it starts to show. In everyday use, it's no problem at all, but in a heavy task such as our stress test, I'd really recommend a better cooling solution.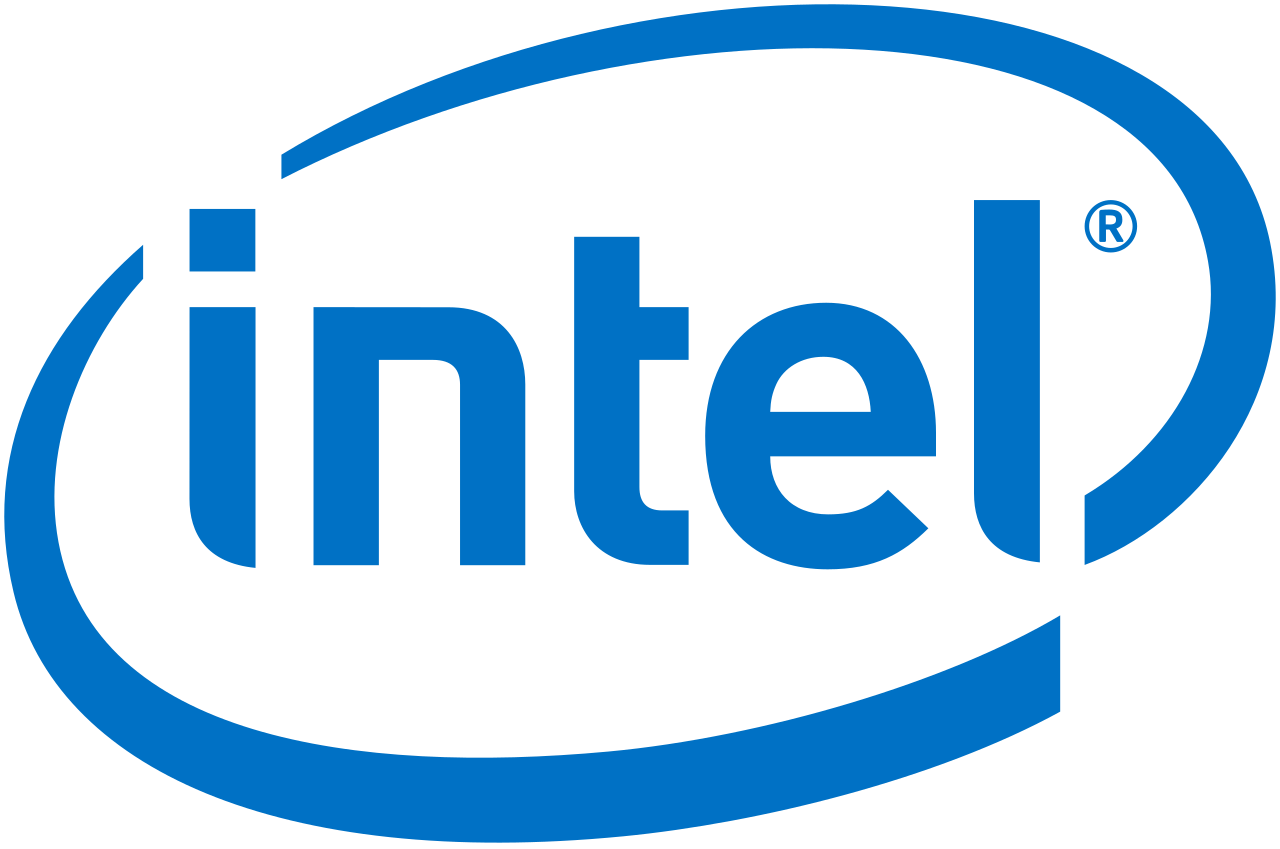 If you want to learn more about the i9-10900X, visit Intel's website by clicking the banner above.
Price
At the time of this writing, the Intel Core i9-10900X is priced at around $599.99.
Conclusion
So, is it worth it investing in an Intel Core i9-10900X? That is a question that is deeply tied to one's current situation. If you have an already aging system that needs to go anyway, and if you are looking for features such as Wi-Fi 6 and 2.5 GHz LAN controller as default, then it's a really fine choice. It performs reasonably, and it should satisfy anyone. However, given the TDP and the number of cores, my conclusion would be that it's definitely not for the average consumer.
With that said there's also the question of the price-per-performance ratio. The Intel Core i9-10900X is priced at around $600 and at that cost you get a high performing 10-core processor. The caveat is that it struggles to compete with the Ryzen 3900X and Threadripper 2920X. Especially the Ryzen 3900X makes it a really hard bargain since it can be purchased for just $493, which is more than $100 cheaper. In terms of motherboard pricing, the difference is not that big if you compare with an X570 motherboard.
Based on my experiences from testing the Intel Core i9-10900X today, I give it a total score of 7. It performs quite well, but Ryzen offers similar and often better performance at a cheaper price. For heavier workloads the X299 chipset is really powerful, and this is where this processor excels. However, if you're a gamer or just an average user then this processor surely is overkill, and especially at that cost.
Pros:
Solid performance

Wi-Fi 6 support

Intel 2.5 Gbps LAN

Powerful memory controller

The X299 chipset is a true workhorse
Cons:
Score: 7