AUTHOR : Lasse Kristensen
PUBLISHED : 2019-02-11 12:08
Olympus DS-9500 Digital Voice Recorder
Dictation is a big deal in a lot of industries, and we have had the pleasure of trying out the newest flagship from Olympus, the DS-9500.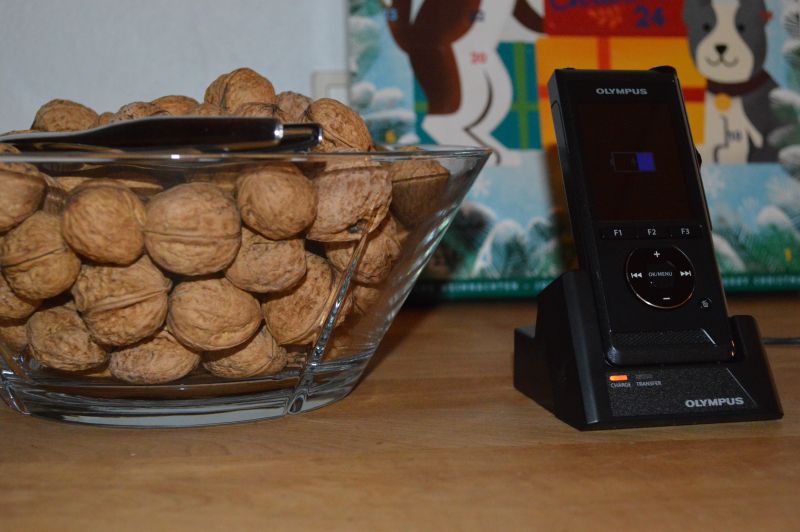 The codename for the new Olympus dictation product launch is workflow, and they have given the voice recorder in hand a simple name, the DS-9500. Later in my review, I will test that workflow to the limit.
But first a brief intro.
A voice recorder is sort of a one trick pony, but that trick can turn out to be pretty handy on more than one occasion. If you're actively looking for a dictation device, odds are that you need to take notes on the road, or that your work schedule is packed like Times Square on New Year's Eve, and you need to structure it by optimizing your workflow.
The Olympus DS-9500 has an abundance of features, enough to write (or dictate) a novel. Hence, I'll point my focus towards battery, internal and external memory, dictation encryption, portability, and the cherry on top – Wi-Fi! DS-9500 enables you to transfer files to your computer from anywhere through the ether by Wi-Fi, a functionality I have long silently prayed for. And now the Olympian pantheon have answered.
Before you'll indulge in the reading part, feel free to watch our video presentation of the Olympus DS-9500 dictaphone, showcasing some of the features.
Quick info
Dual stereo mic
10.5 hours of recording on one battery charge
2 hours charge time in the dock
Only weighs 4.1 oz including battery
2.4" TFT color display
2 GB internal memory
SD card slot
Supports DSS/PCM/MP3 file formats
First look
The Olympus DS-9500 arrives in a simple colored cardboard packaging, nothing fancy, but it is loaded with accessories. The box contains the device itself, which fits nicely into one's hands. It doesn't look like much, but the feel and use are both brilliant, especially the elegant color screen provides an excellent overview.
Besides the device itself, the box contains a USB cable, a protective carrying case, and a docking station that supports a direct LAN connection if you should choose so. Both the USB cable and the dock function as chargers, and the dock is significantly faster.
Not surprisingly, the package features a picture of the product on the outside and a lot of goodies on the inside.
What's in the box?
Olympus DS-9500 Digital Voice Recorder
Docking station
USB cable
Carrying case
User guide
Features and testing
The DS-9500 is super easy to use. In fact, make that hyper easy. It's a right-hand dictation device, as the slide switch fits the thumb on the right hand. So, if you're among the 10 % lefties, it is just normal easy.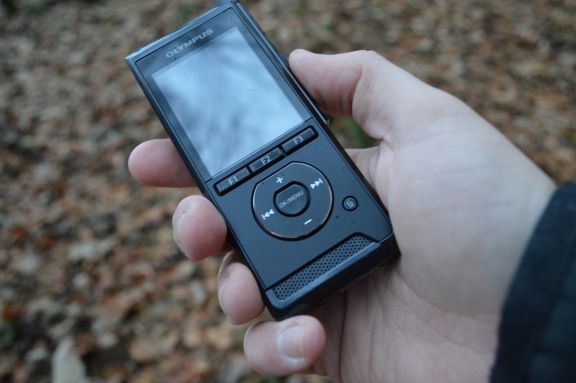 If you push the slider all the way up, you start recording, and the lower positions cover rewind, play, and stop. That's simplicity for you. If you are ready for a new recording, just click the button above the slide switch. On the backside you find the on/off button.
The front not only features the 2.4" display. You also find three function buttons, and the menu control station with navigation buttons encircling the ok/menu button. At the bottom you find a Micro-USB port and a plug that fits the docking station.
The device is durable and has been drop tested from 4.9 feet. I admit, I didn't have the guts to test that part. The housing is made of plastic. I like my unit in one piece.
The surface is covered by an alcohol resistant coating which makes the Olympus DS-9500 perfect for clinical environments where you need to sanitize it frequently.
The DS-9500 is first and foremost for the professional audience. It's for people who have a daily need to take notes and memos in the office or on the road. The hefty price tag shows that, but that doesn't mean that it's not worth it. The advanced features and options make it good value for money.
The voice recorder feels almost tiny with its 4.75 X 1.96 X 0.73-inch dimensions.
The device is built in sturdy plastic which is made to withstand a frantic alcohol treatment if you ever need to. The weight lands on a little more than four ounces, battery included, which is a rather good size in my opinion. It feels light, and it fits well in you palm.
The spectacle in the center of it all is the large 2.4" TFT color display. I'm not going to hide my excitement, this is the best display I have ever experienced on any dictation device. The 240 X 320-pixel resolution is incredibly user friendly. Everything is readable and in bright colors.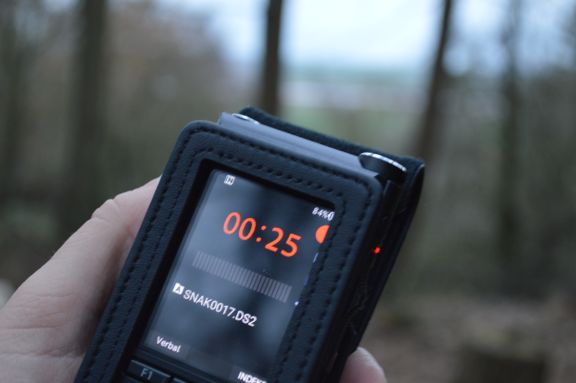 And the easy Olympus interface doesn't hurt either. The menus are simple to maneuver, and you can easily change settings, like hooking up to the WiFi connection. Like I mentioned before, you navigate by clicking the buttons below the screen.
The menu allows you to find previous recordings and edit them. The buttons feel a little rigid as you can't push them down. They react instantaneously, but they do feel a little different as you don't get that click sound gratification when pushing them. You get used to it quickly enough, and you even get to prefer that silence over time.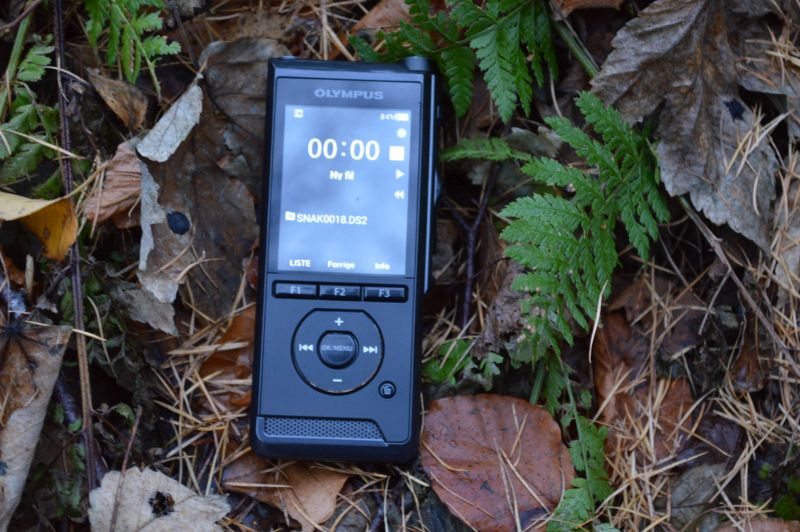 In the bottom left of the front panel you can find a tiny speaker that you can use for playback. I'm not giving it any sound awards, I'm pretty sure no one will, but it does what it is tasked to do.
The top of the voice recorder contains the most interesting part, the two stereo mics that together deliver the true value of the device. They hide behind three filters to provide the optimal recording sound. The microphones are top quality, and the capture the sound loud and clear for a crisp playback later when you need it. I can only declare total satisfaction with this part.
Next to the two mics you also find options to plug in some external input or output. This means that you can use an external microphone, headphone, or combine them both in a headset. This comes in handy if you want to record a meeting and plan to use a dedicated conference mic instead of the internal stereo mics found in the DS-9500.
You don't have to hold the device inappropriately close to your mouth for it to pick up your voice. This is a clear advantage if you sit at your work station with your hands full. Just lay it on the table, and it will still do great.
On that back you find the cover concealing the entrance to the battery cave. Here lies a 1,350 mAh Li-ion battery, which is a rather large capacity compared to other dictation devices that I have tested. Olympus have thought about every detail here, and the ability to change batteries is a great concept, as one battery can provide for up to 10.5 hours' worth of dictation.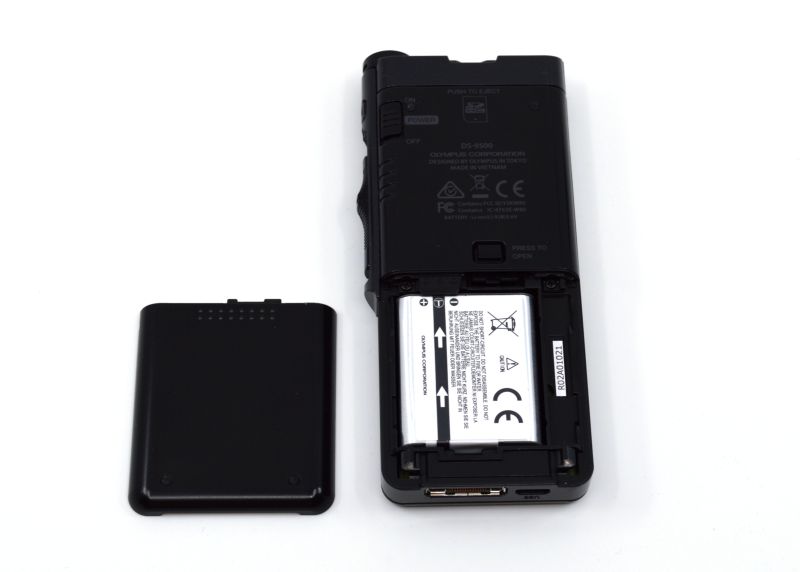 The package I received was without a license for the dictation software, but I managed to get one to test it out. The software is named ODMS R7, rather Star Waresque, and is designed for dictation workflow and speech recognition.
You can import your dictations from the DS-9500 and edit them, or you can send them directly to a recipient via email. Getting a clear view of the options is easy, even though you are not a hardcore dictationist. You need to get a separate license for transcription, as the software is split up into distinct dictation and transcription modules.
The device only features a 2 GB internal memory, but luckily you have the possibility to enhance it by adding up to 32 GB with an SD-card. This gives you plenty of room to dictate away, as the battery will stall long before the memory.
The usability of the DS-9500 is extremely easy, an even though I am nothing more than a sporadic dictator, sometimes I dictate daily, while other times I lay low, I didn't have any problems figuring this one out.
The theme song for the Olympus DS-9500 is workflow, but usability is the tune that really hits the charts, and I could easily give all my colleagues the device directly in hand, and they would know how to use it without a single direction.
I have earlier tested the Philips DPM 7000, their top model, and the DS-9500 is very similar, from the right sided slide switch, to the replaceable battery. The basic specs are equally parallel. The device itself is very approachable, and so is the software that follows. The intuitive menu makes the device accessible to both dictation newcomers and veterans alike. It is easy and logical.
The two mics rest safely behind a three-layer pop filter that eliminates grunts, moans, and breathing from the recordings, making the end results clear and crisp. The device has two microphone settings that you can choose according to the conditions. One for the quiet environment, and another for noisy surroundings.
The microphone settings are omnidirectional and directional, respectively, and both do a good job catching your voice. Each has its own perks, and are also activated differently, all according to which type of dictation you choose.
Setting 1 is for quiet environments and uses the omnidirectional microphones to capture your voice 360 degrees.
Setting 2 is for louder surroundings, and here the microphones work together to filter out noise from anywhere else than your direction.
There is also a third setting, tailored for meetings and conferences, where the sound level is automatically adjusted to equal out different voices. During my test, I have been most inclined to use setting 2 where I can walk about and dictate directly into the mic.
The DS-9500 has been given a lot of love on the hardware front, with to excellent mics and one big battery. The UI is super friendly, even my grandmother could navigate it thanks to the large display and the intuitive menu panel.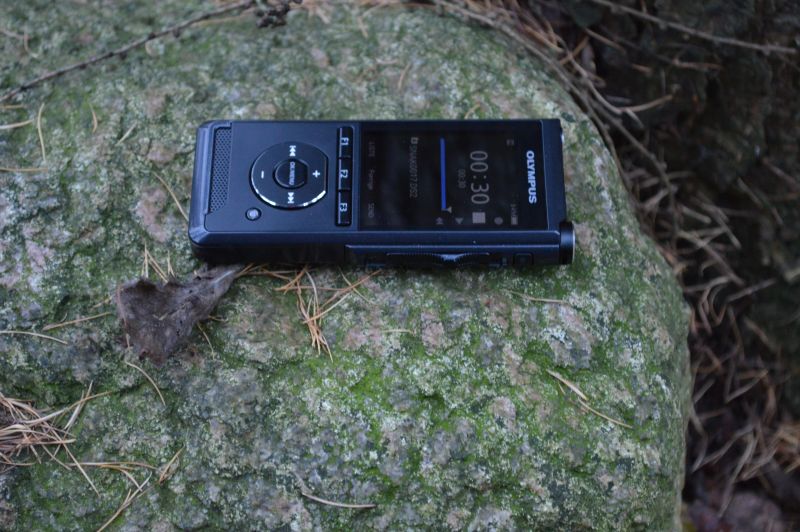 If I should find one flaw, it's got to be the plastic casing. Why is it not metal? The voice recorder can allegedly take a beating, but to me it doesn't feel solid enough, and I dared not test it out. The docking station is a great extension, especially if you frequently need to connect it to your computer.
I will absolutely recommend the DS-9500, but it does come with a hefty price tag.
Price
The price of it all, docking station and a software license included, is a solid $599. That is a steep price for a recording device, but with that price follows a lot of functionality. You pay for it, but price meets quality, and it matches similar voice recorders from competing brands.
Conclusion
Olympus DS-9500 is a digital voice recorder that does is all and has it all. The specs are world class, no complaints there. I have no trouble stating that matches the most fantastic dictation devices that we have tested, both regarding functionality and usability.
It falls short on the finish, however. It is plastic built, which feels anything but exclusive. For that price, a metal housing would be the right material. If you invest in the version with software (you can get it both with and without it), it has a lot of neat features that enhance your workflow and productivity. DS-9500 is the right partner for you if you need something that performs in every environment, no matter if you are at the office, at a meeting or anywhere in between.
You can't go wrong with DS-9500, except if all you're looking for is a streaming mic for your Twitch channel. The price is around $600, a substantial amount, so you would need to have certain requirements, as it is a considerable investment for a small piece of hardware. But it pays back with interest, and the DS-9500 passes every test.
The device arrives in a slick wrapping and is packed with top specs. A sizeable battery, a large display, and a straightforward button layout that makes any use intuitive. You can easily replace the battery, which is a giant plus, and one of the things that puts the DS-9550 in a brilliant light.
Furthermore, if you use the DSS format, the recordings are protected by a 256-bit AES encryption. An attractive feature for the target group of this product.
The cherry on top is the built-in Wi-Fi functionality enabling you to transfer any dictation wirelessly to your computer. That gives the DS-9500 an upper hand with enormous flexibility for you workday. Easy as a Sunday morning.
PC connectivity is plug and play, and the dictation software is easy to use. We configured it to import sound at first connection, and that's it. It automatically collects files that you can send on to the transcriptionist.
We round up today's test and gives Olympus DS-9500 a 9.5 out of 10 possible and a Great Product Award.
Pros:
Low weight
Top ergonomics
Slick design
User friendly
Large and clear display
Two high quality mics
Intuitive OS
Large power capacity
You can change the battery
Expansion of memory with up to 32 GB using an external SD-card
2 GB internal memory
Docking station
Wi-Fi transfer
Cons:
Plastic made, it doesn't feel solid
(Price – for some)
Specs
Wireless transfer: to networks through WLAN & email
Cabled transfer: Through LAN & USB
Dual stereo microphones suppress background noise
Triple layer sound studio pop filter
Recording modes: Dictation 1 (quiet surroundings), Dictation 2 (noisy surroundings), Conference
DSS Pro: QP [12kHz, 13.7kbps, mono], SP [16kHz, 28kbps, mono]
PCM: 22.05 kHz, 16bit, stereo
MP3: Mono (44. 1 kHz, 64kbps, mono) Stereo (44. 1 kHz, 128kbps, stereo)
Dictation status on the unit: Yes
Author IDs: Up to 10
Worktypes: up to 20
4-position slide switch
Full audio file editing: Insert / overwrite / append / cut
Internal memory
Slot for external SD card
Up to 1.5 meter (4.9 ft) shockproof
Battery: 1350 mAh Li-ion
Charging time: 2 hours with power adapter, 4 hours with USB
Safety:
Dictation file encryption (256-bit AES)
Device lock via PIN code
DLP - Data Loss Prevention Mode (USB read only mode)
WEP, WPA/WPA2 Personal / Enterprise