AUTHOR : Berleburg
PUBLISHED : 2020-05-22 10:05
Guide to the Best Gaming Chairs
Are you looking to buy a new gaming chair, but don't feel confident as to where to start looking and what to look for? Don't worry, we've got you covered with this guide, in which we'll be providing all the knowledge you'll need for your next gaming chair purchase.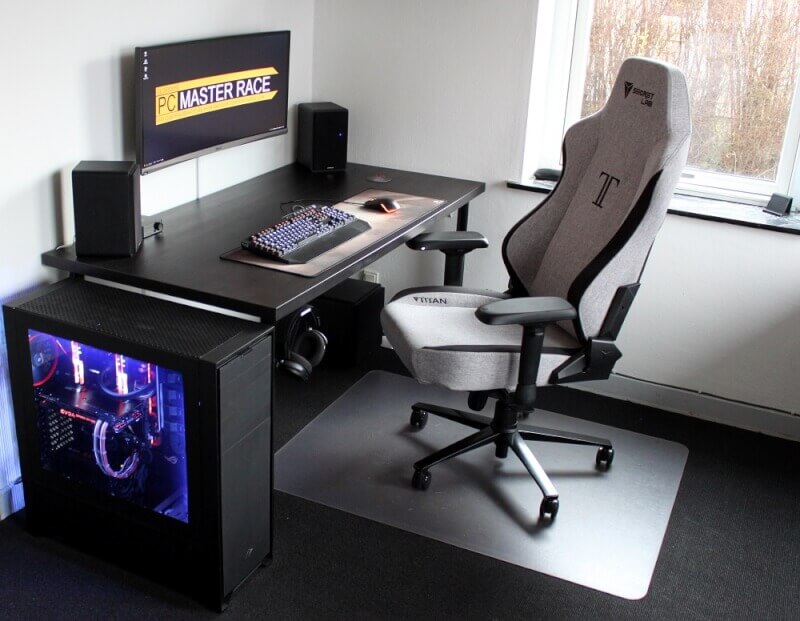 In this ultimate buyer's guide to gaming chairs, we'll be covering all of the options that you have, the features that you should be looking for, some of the various brands and a lot of other tips on chairs that are targeted at gamers. We also provide you with a checklist that will be useful to go over before you make your final decision.
What is a Gaming Chair and Who Needs Them?
Gaming chairs are specifically designed to accommodate the ergonomic needs of gamers. The designers of these chairs consider the way gamers sit, how they move and whatever other needs gamers have of their chair. These are some of the thoughts that go into designing a gaming chair that live up to the needs and requirements of gamers.
Despite these chairs being labeled "gaming chairs", they can be used by anyone and not just gamers. You will also be able to benefit from using one of these if you are:
Working at an office and want to improve your productivity
Working from home and spend a lot of time sitting down
Suffering from back pains
Impaired in terms of mobility and in need of extra support when sitting down
Spending a lot of time gaming (obviously)
Just looking for good comfort when sitting down
Different Types of Gaming Chairs
The various offerings on the market can be categorized in the following four types:
PC gaming chairs
Console gaming chairs
Racing simulator seats
Bean bag chairs
From this list, you probably already have an idea of which type is relevant to your gaming needs.
PC Gaming Chairs
PC gaming chairs are by far the most popular type and the most familiar one to most people.
These are intended for desk use, which makes them ideal if most of your gaming takes place on a PC, but also if you want a good office chair for your workstation.
Most often, they feature a 5-tipped star-shaped wheel-base with a pedestal seat on top. Among some of the other common features is the ability to turn the seat 360 degrees, adjustable armrests to ensure good wrist comfort when using mouse and keyboard and a tall backrest that will support your entire back and neck, which helps reduce tension when looking at your monitor.
Almost all PC gaming chairs will default to an upright position, but most of them can also be tilted backwards and locked into various angled resting positions.
These chairs are often incorrectly identified as racing gaming chairs because of their resemblance to car seats. However, they shouldn't be compared to actualing racing sim seats, which I'll return to later in this article.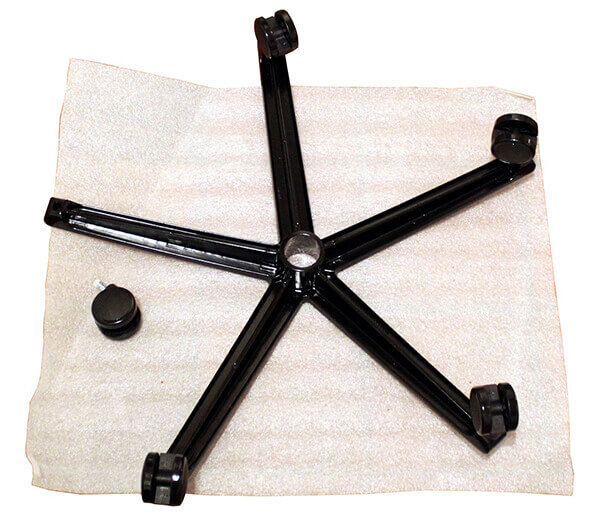 Console Gaming Chairs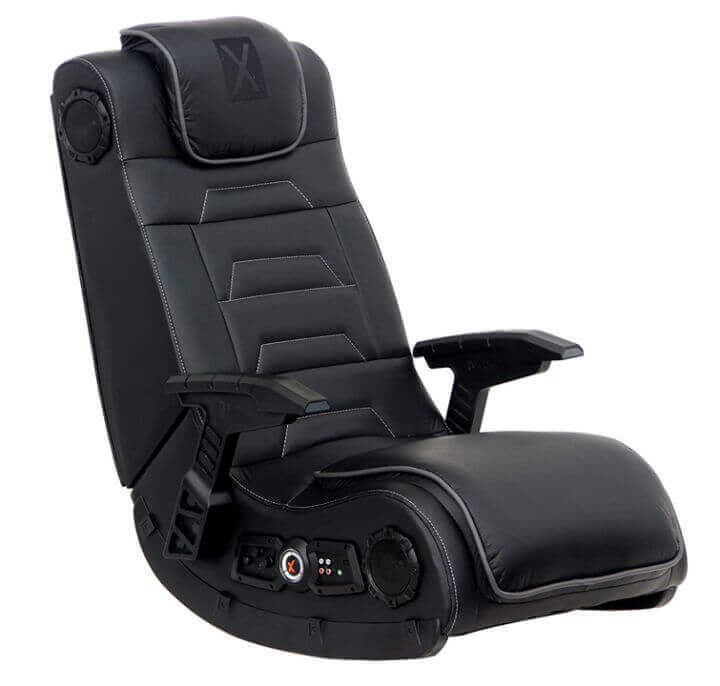 Console gaming chairs are, yes, you guessed it, designed with console gamers in mind. These come in a large variety of designs with different shapes and sizes.
With that said, the most popular console gaming chair is the "Rocker". Contrasting the PC gaming chair, the Rocket doesn't feature a pedestal seat or wheels for that matter. Instead, you get an L-shaped seat that sits directly on the floor. The curious name stems from the fact that the backrest can rock back and forth when you move. Like a rocking chair.
They are less ergonomic than PC gaming chairs and are not intended for desk use, but a lot of people find them to be more comfortable for console gaming since they allow for more relaxed and comfortable positions when gaming with a controller. In this case, the Rocker quickly becomes an interesting solution.
Often, they are also equipped with some extra tech. This could be surround sound speakers and USB ports for charging and so on.
Racing Simulator Seats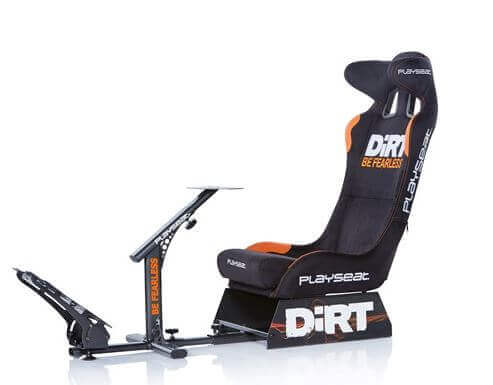 Racing simulator seats are advanced high-end gaming chairs designed specifically for racing sims. They are typically connected to a frame or a cockpit, onto which you can then mount all of your racing peripherals such as wheel, gear shifter, pedals and more.
Some racing simulator seats are ideal for casual gamers, whereas some of the more advanced models are even used by professional racers as a training solution. These technologies and advanced setups can be extremely expensive depending on the model and what you require of it. On our Facebook page, we've shared photos from fans that have installed these elaborate contraptions in their homes or mancaves.
Bean Bag Chairs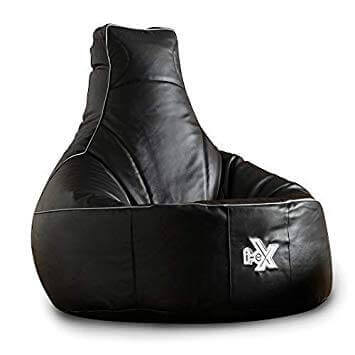 Beanbag, Fat Boy, etc. This type of chair has many names, but it's more or less the same product. Beanbags are basically large bags stuffed with foam and then padded with suede, or suede-like fabric, or microfibre. They are not specifically designed with gaming in mind, but many gamers prefer these due to their softness and comfort, and they way that they adapt to your body once you lie down in one.
Even though they are not that ergonomic or supportive, they provide the advantage of supporting a lot of different positions. The largest of these beanbags will even let you lie down flat, with lots of room to spare. Another reason that a lot of gamers pick this type of chair is the fact that they are often cheaper than the other options. However, there do exist some quite expensive versions too.
The Best Chairs on the Market are...
… pretty much impossible to define 100 percent since it very much is dependent on your personal preferences. However, there is a significant difference between cheaper and expensive gaming chairs. Many hardware manufacturers such as Cougar Gaming, Corsair, Cooler Master, MSI, and so on, have begun to create their own gaming chairs. Some of which are, no doubt, better than others. Here, the quality can often be derived from the price of it. There are also brands that only focus on manufacturing gaming chairs, but even here, we find that the quality can often vary a lot too.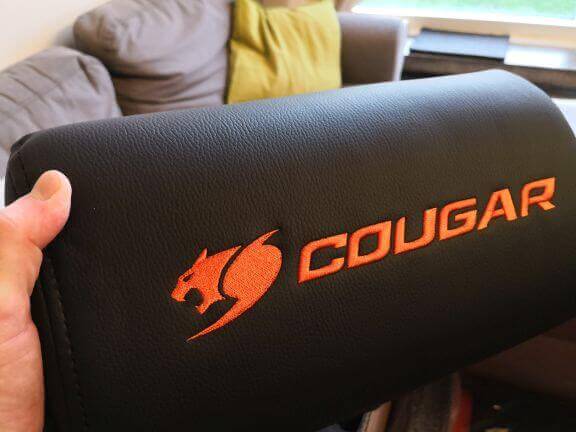 Among some of the most popular manufacturers of gaming chairs are:
DXRacer

DXRacer is one of the leading brands when it comes to gaming chairs. It is particularly popular within the gaming and esport communities. Its chairs are used by Youtubers, streamers and esport teams alike. DXRacer offers an extensive range of nice chairs that will suit any gaming setup.
DXRacer isn't the most affordable brand on the market, and it belongs to the middle price segment. However, the quality is also rather high, which makes these chairs an ideal choice for those gamers that are looking for a chair that will last for more than just one season.
At a quick glance, the various DXRacer chairs might look the same, but the chairs excel in different ways with specially developed lumbar support, higher backrests, wider seats and stronger frame for those of us that belong to the heavier weight class.
SecretLab

SecretLab is one of the larger brands on the market, and also one of our favorites, in terms of gaming chairs. It might not offer the largest range of different models, but what it lacks in options, it makes up for, in the fullest, in terms of quality.
We've previously reviewed the TITAN SoftWeave gaming chair, and awarded it the Editor's Choice Award due to its superior build quality.
SecretLab offers its chairs in a variety of fabrics, which means that the prices can vary from affordable to quite expensive, depending on what fabric material you choose. No matter if you choose PU leather or Napa leather, one thing is for sure, though: SecretLab delivers the highest class of comfort, durability and ergonomic support.
X Rocker

X Rocker is the most dominating brand within console gaming. It makes some of the best quality console rocking chairs on the market today. The chairs from X Rocker are made with regard to the particular needs that console gamers might have, which makes them the ideal choice for PS4 and Xbox gamers.
They come in a variety of designs that adapt to the specific needs of different types of gamers and gaming setups. Some of the models are foldable, meaning that they can easily be stored. Other models feature the pedestal design, which allows for more space for your legs.
Herman Miller

We have to mention Herman Miller, one of which this writer is lucky enough to be sitting in.
Herman Miller is a leading American brand that specializes in office chairs and ergonomic technologies. It isn't really a gaming brand, but Herman Miller produces a lot of various models that are perfectly suitable for gaming. Also, they have just entered into an exciting collaboration with Logitech, which means that we might see some models in the near future that are specifically targeted at gamers.
As mentioned earlier, an ergonomic design is key when it comes to gaming chairs, and especially so, if you're the type that is likely to be spending long hours in front of your computer, either working or gaming.
The only glaring downside about Herman Miller is the pricing of its chairs. However, if your budget allows you to invest in an ergonomic, high-quality chair, Herman Miller needs to be considered. Popular designs from Herman Miller include the Aeron and Embody designs.
Maxnomic/NeedForSeat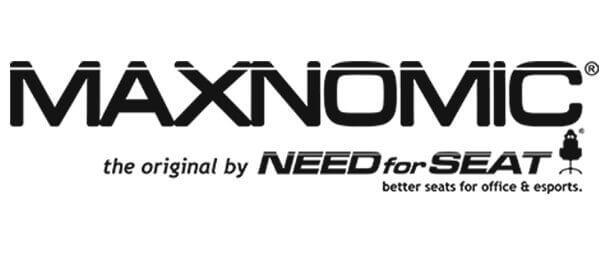 Maxnomic is another popular brand for gamers, and they are also the supplier of gaming chairs for the esport team, Cloud9. If you're a diehard Cloud9 fan you can even get one with their logo on from Maxnomic.
Similar to DXRacer, these chairs are popular on YouTube and Twitch, and they are similarly affordable and durable. One of the coolest models from Maxnomic is the NeedForSeat XL, which is a highly durable and comfortable chair that is ideal for heavier individuals.
One of the good things about Maxnomic is the sheer variety in its range of chairs. This makes it possible to find the perfect chair for you that will satisfy all of your particular needs.
Things to consider, before buying a gaming chair
We've now covered some of the basics in terms of the types of chairs, and available brands. You're now almost ready to start looking for your next gaming chair.
But before we let you go, we have a few pointers that we'd like to mention that will help you look for the right features for you. This is important since it will help you determine if a chair lives up to your particular needs and thereby offers the most value for you.
1. Ergonomics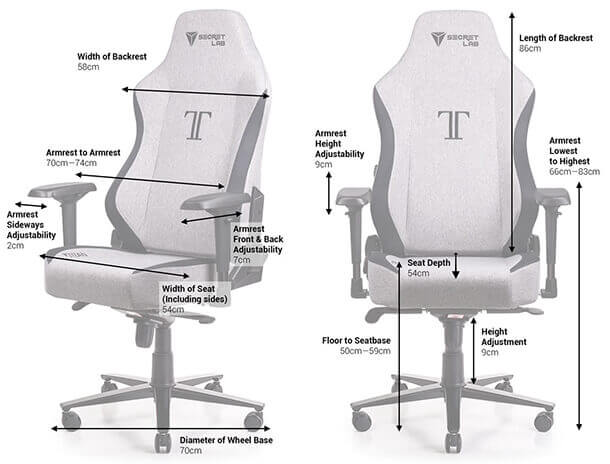 Ergonomics is arguably the most important aspect to consider when buying a gaming chair, and it's also what drives most gamers into looking for a new chair in the first place. But what is it all about?
Ergonomics is related to the way that something is designed based on a set of psychological and physiological principles that best suit the user. An ergonomic gaming chair is therefore optimized around the gamer that is sitting on it, and it rewards the user in terms of comfort and a higher level of concentration and productivity.
The technical description might seem a bit theoretical, so let's put it in a different way.
An ergonomic gaming chair helps you maintain a correct position, supports your movements, minimizes back pains and improves your reaction time when gaming. All of which are important aspects, right?
So, how do you know if a chair is ergonomically designed? There are some important ergonomic features that you must look for. Any chair that claims to be ergonomically designed must include:
A high degree of adjustability. You must be able to configure the seat height, backrest angle and armrests so that they match the dimensions of your body. The more adjustment options, the better.
Lumbar support. The best gaming chairs on the market all feature lumbar support that can be adjusted to match the curvature of your back. Cheaper chairs will include a lumbar pillow that does the job decently, albeit in a more basic way.
A tall and curved backrest with upper back and neck support.
A tilting lock or tightening mechanism that will hold the backrest in place, in order to support several positions.
There are other ergonomic features in addition to these, such as breathable mesh materials, 4D armrests (that can be adjusted in all directions) and more, but these are often exclusively seen on the more expensive chairs. Depending on your budget, you might have to compromise in regard to some of these additional features.
2. Build quality
Another thing that is important to keep in mind, before buying a gaming chair, is the build quality. The better the build quality is, the longer the chair is also likely to last. You probably wouldn't want to invest in a chair that will break or become uncomfortable after just a couple of week's use.
Again, the build quality will be closely knit to the price tag. So don't expect the world if you are browsing between the cheaper models, but do try and get as good build quality as possible.
One good place to look in order to determine the build quality is the frame. High-quality frames are made in metal, and typically in flexible steel. Tree or plastic frames are less flexible and won't hold up as well in the long run.
The base is another important one to look at. Look for wide aluminum bases. Narrower, nylon-based ones are less durable in comparison. You'll also want the wheels to be as wide as possible. The wider the wheels are, the more durable it will be. 3" or more is ideal, whereas 2" or less is less so.
The type of filling is also important. Shapeable or cold foam are used on some of the best chairs, so look for this, if you want a high-quality chair and a fabric seat won't be flat as a pancake after just a few months of use.
3. Upholstery
Most gaming chairs will be upholstered with PU leather. Real leather is expensive, and even if you might be able to get it, it will surely make a dent in your wallet.
PU leather is typically more than enough for most people. So, we recommend sticking with that since it offers the best value. Some chairs are also upholstered with synthetic material or microfibre.
When considering the type of upholstering, it is important to think about breathability. Some chairs are equipped with mesh material that helps prevent heat build-ups. The more breathable the material is, the more comfortable it will be, and the less you'll have to deal with sweat. So, if this is important to you, you should definitely consider looking for a chair with mesh material.
4. Armrests
Especially for PC gamers, armrests are important. You need good ergonomic support of your wrists and forearms. This will also increase your reaction time and, in the end, improve your skills in-game.
Most PC gaming chairs come with armrests, but many console gaming chairs do not. That's also fine since most gamers that are looking for a console gaming chair won't be using a mouse and keyboard, which makes the need for armrests substantially smaller.
The best armrests are adjustable, which means that you can adjust them to the size and height of your body. You'll be able to adjust them so that your shoulders are resting, whilst your elbows are at the right angle and your forearms are properly supported. This is key!
Armrests should at the least be height-adjustable. Ideally, they'll also be width-adjustable so there's room for you to turn your body in the chair. Some armrests are tiltable and twistable so that it is easier for you to get in and out of your chair.
5. Weight capacity and recommended height
A lot of first-time buyers of gaming chairs forget to consider this point. But it's a crucial one in order to ensure that you get it right the first time around. The recommended weight and height specifications of gaming chairs can vary a lot from model to model and you have to make sure that the one you want to get matches your body.
Gaming chairs that support the most weight are often branded as XL or something like that. The exact weight capacity varies, but the most supportive chairs can support up to 250 kg (roughly 550 lbs).
If you're in doubt, then you should inquire with the seller as to the weight capacity and recommended height to make sure that the chair fits you.
6. Compatibility with consoles
For console gaming chairs, compatibility is important. A lot of these types of chairs, especially those from X Rocker, feature various console integration options.
Some of them have USB ports that let you charge your controllers from e.g. the armrest. Some have surround sound built into the neckrest.
Some of these chairs even have haptic feedback letting you experience the movements of your in-game character via the chair. However, this feature often means that the price of the chair is rather high.
7. Dimensions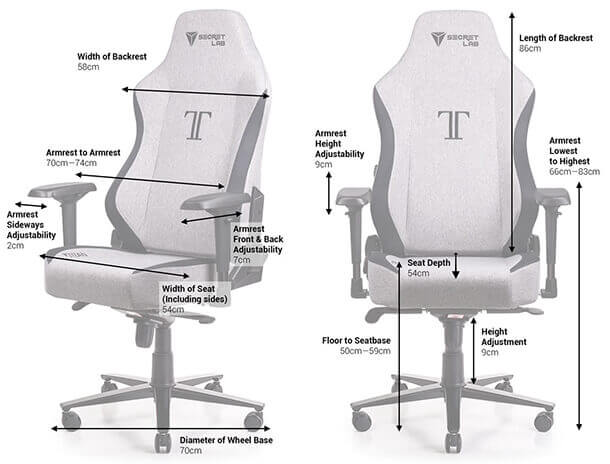 Another important factor that is often overlooked, is the dimensions of the chair. You have to make sure that the chair will fit into the space in which it will be used, but also that it will fit your body size and shape. As such, it is highly recommended that you try out the chair before you buy it, even though this might not be easily accomplished due to the distance between you and the seller.
Some chairs have narrow seats, which makes them less ideal for persons with larger thighs or behinds. Most shops will list the dimensions in the product specifications. However, if that is not the case, you shouldn't hesitate to just ask.
No chair is perfect, so you might not be able to find one that checks all the boxes. However, a good starting point would be that it at least fulfills 5 out of our 7 points.
Image credit:
Playseat® DiRT, X-Rocker, beanbagbazaar