AUTHOR : Jan Blaszkevizc
PUBLISHED : 2019-02-11 08:41
Secretlab TITAN SoftWeave
Secretlab is a company specializing in high-end gaming chairs. TITAN SoftWeave is our first experience with one of their models, and it blew us away.
The gaming chair market has lately become overly saturated with most of the well-established gaming hardware brands pitching in. Corsair, Thermaltake, etc., all have their own gaming chair ventures now.
But there are still a few dedicated gaming chair manufacturers out there, and today we welcome one of them: Secretlab.
Secretlab was founded back in 2014, doubtlessly named to raise James Bond's suspicious eyebrows. But there is not much sinister Persian kitty stroking conspiracy going on here. They make chairs, and they have in relatively short time become a major star in the business of creating thrones for the glorious pc master race.
Today we look at their top model, TITAN.
Most gaming chairs are covered with leatherette, but the TITAN version we received was a little different. It's not because Secretlab don't use their fair share of faux hide, and sure enough you can also find a leatherette TITAN gaming chair. But ours was made in SoftWeave™ fabric. As a third option, if you want to feel the warm embrace of an authentic mammal, you can upgrade to a Napa leather upholstery.
Roughly speaking, this looks like any other fabric, but there is more to it than meets the eye. It must endure endless hours of sitting. The color of it is named Cookies & Cream, subconsciously enticing you develop a nasty Orio or Ben & Jerry's addiction.
Let's assemble this chair and sit on it with our judicious behinds. First, let's look at the features.
Specs and features
Here are some real, actual, and undisputable facts about the gaming chair to entertain you, followed by an illustration with enough arrows to take down at least a couple of draugr deathlords.
Foam type: High density; Cold Cure Cut
Frame constructions: Steel
Upholstery material: Secretlab SoftWeave Fabric
Adjustable armrests: 4-Directional soft PU coated
Armrest pad size: 27cm(L) x 10cm(W) / 10.6"(L) x 3.9"(W)
Tilt lock: Yes
Hydraulics gas piston: Class 4, heavy duty
Recline: 85-165°
Lumbar cushion: Built-in adjustable
Head cushion: Included, detachable pillow
Base: Reinforced aluminum
Caster size and material: XL PU coated
Weight: 35kg / 77lbs
Recommended max weight & height: 130kg / 290lbs & 200cm / 6'4"
Guarantee: 2 years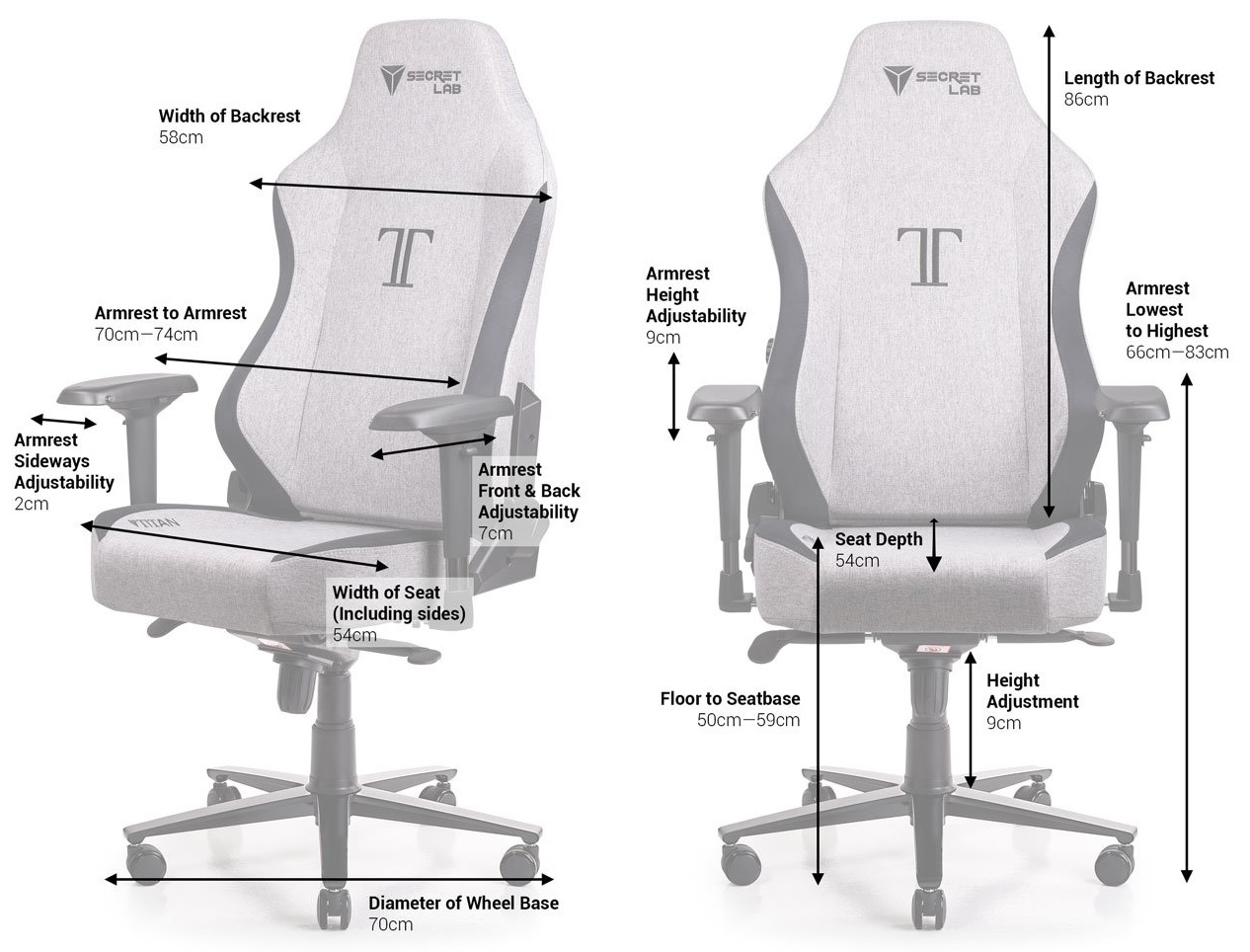 Unboxing and assembling the chair
Before we begin, I would like to offer all of you a sincere apology. I received my chair on a Friday, just before the weekend, and I couldn't find any time to assemble it other than the dark hours of Scandinavian winter evenings (#gaminglife).
Therefore, I have decided to use my Photoshop sorcery and cut out the background on these images to spare you from the grueling sight of the terrorizing free-roaming Nordic snow gnomes and the red tiles in my utility room.
To compensate this atrocity, I have doubled my effort in creating some extra crisp shots in surroundings perfectly complementing this Cookies & Cream-colored chair. (As a small teaser, they are displayed further down.) And you are permitted to print them and use them as fanboy posters on your wall!
In-the-box
Ok, we've got a box to open!
TITAN SoftWeave arrives in a colossal, heavyweight box, enough to make the UPS guy curse the gods.
Right off the bat, a giant "CAUTION" sets the mood for the rest of my unpacking. It is displayed on the seat wrapping, warning me not to pull the backrest recline lever before everything is assembled. My palms immediately started perspiring aggressively – you can never rule out that the thing will explode if pulling that lever too soon!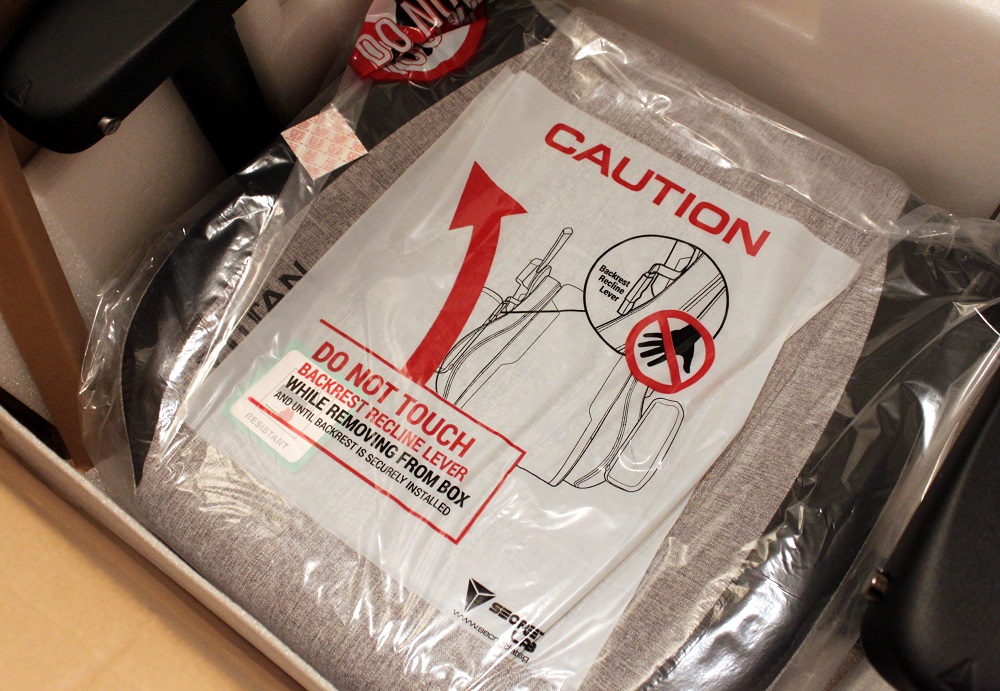 Fortunately, the chair arrives with an assembly guide which is arguably the best one you'll ever put your eyes on. All gamer chairs arrive with instructions, and I have seen a fair share through my life, but I have never seen such detailed and intuitive directions as here. Not even close. If only there were a Pulitzer Prize for assembly guides…
I don't know if Secretlab have been watching too much Dr. Phil, but the assembly is a twelve-step program from dissociated, disconnected parts to a full-grown, wholesome chair. Each step is richly described and photographed, making sure that no one is left behind in the process.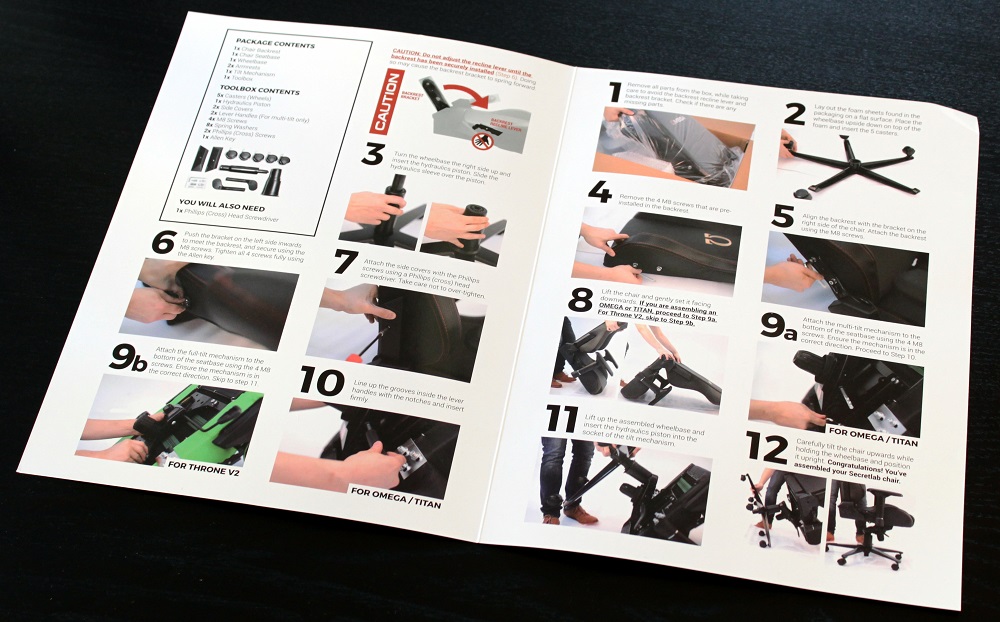 You also get an aftercare guide providing tips on how to take care of you chair, like not letting your dog eat it, or not stabbing it with a knife. I'll keep that in mind. All jokes aside, it is a good document to consult as it contains some sound advice.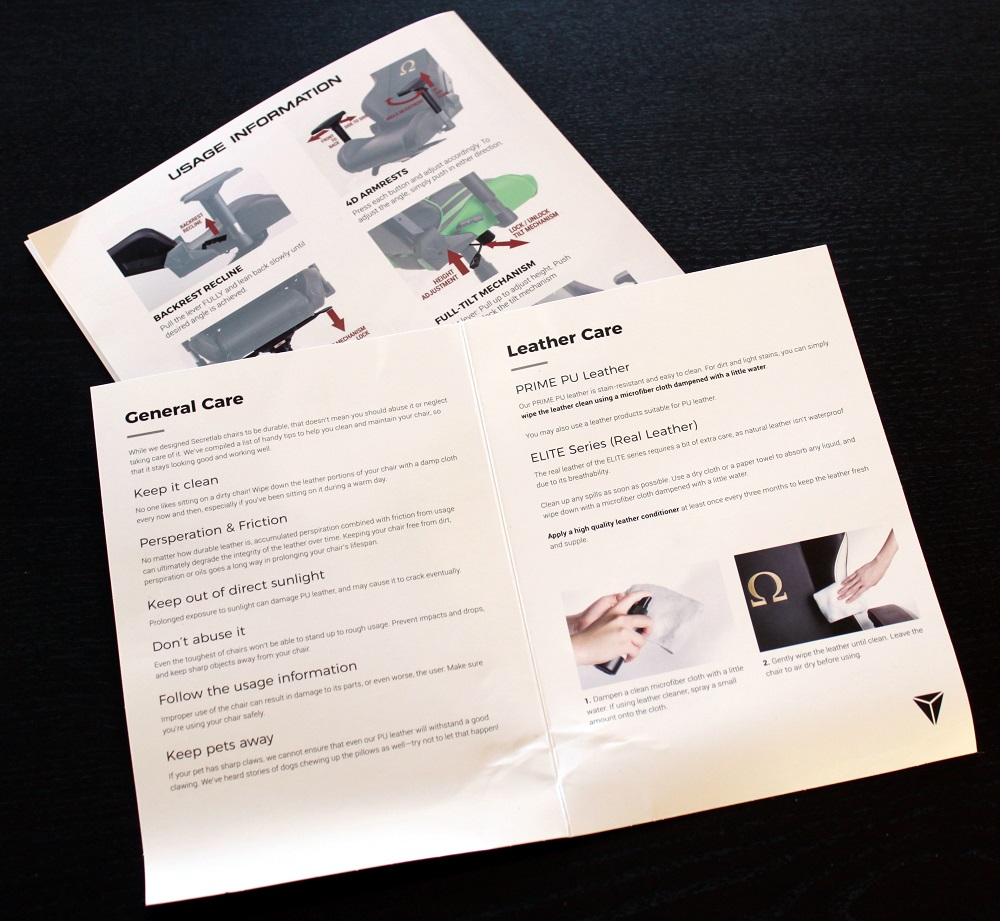 I'll give you a close-up of the assembly guide once more, just so you can get a full grasp of the details. Overwhelmingly impressive, and a great first impression.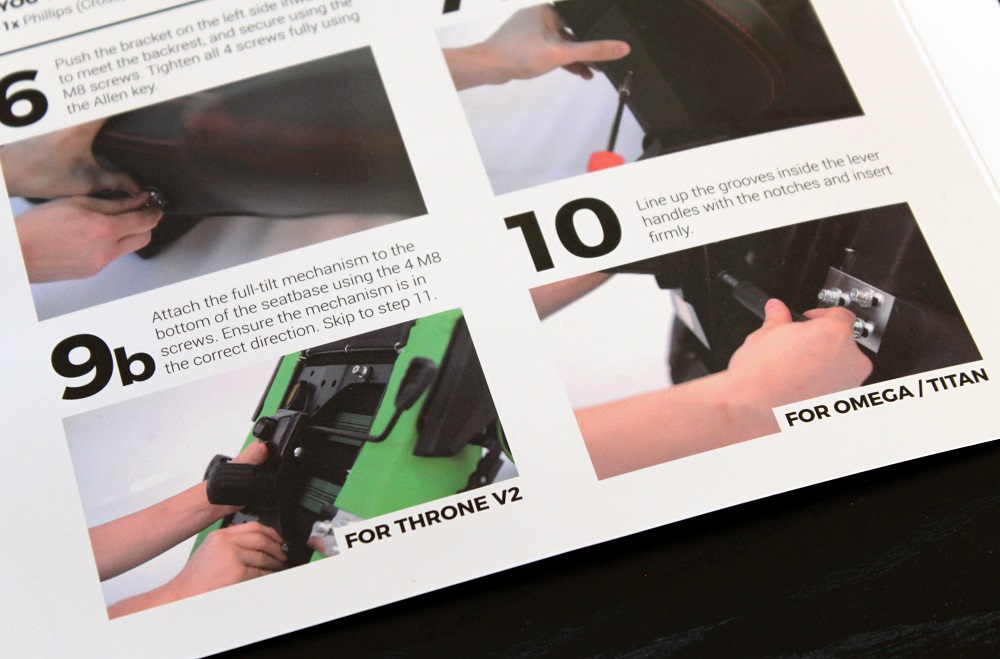 Naturally, everything you need to put every part together is included. Even the tools.
I'll close the unboxing session by displaying the parts that are supposed to morph into a complete chair.
First, here are the small parts: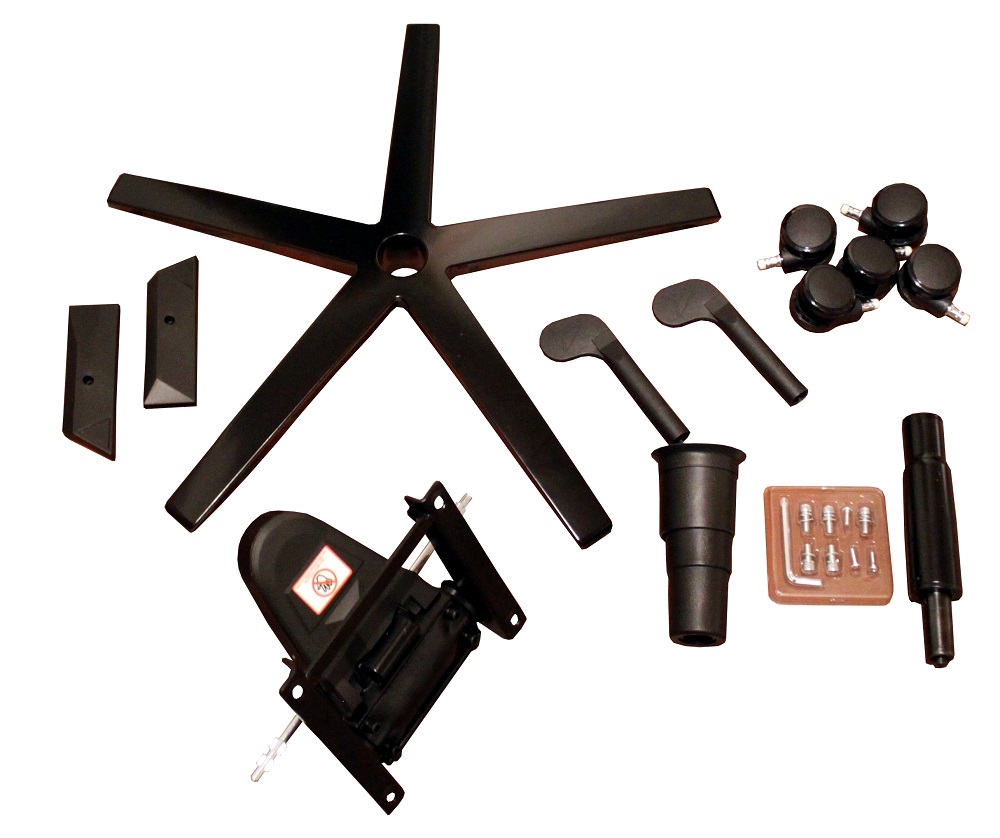 And here are the larger seating components: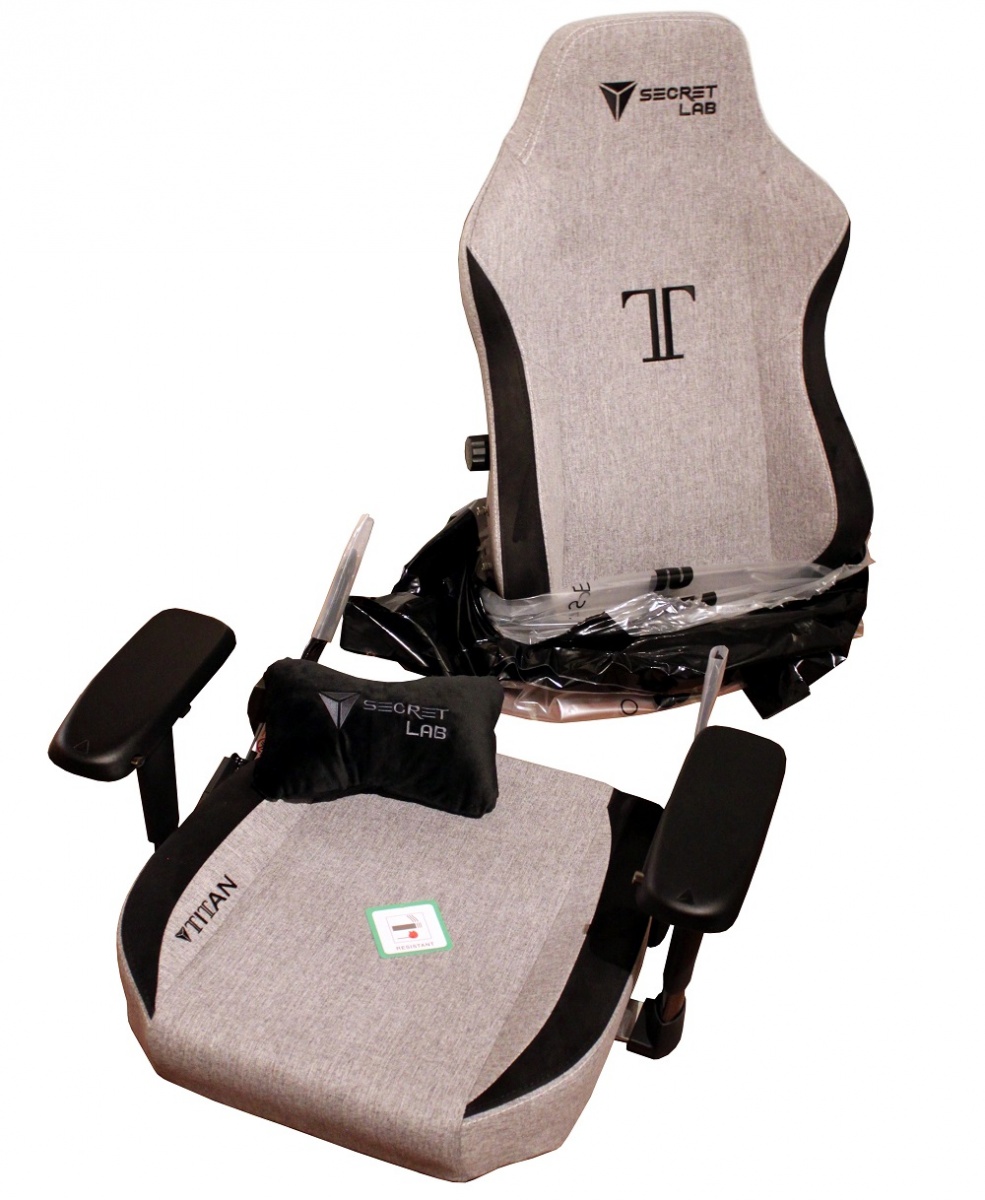 Finally, you have the head pillow and a small note comforting note reassuring that the chair is fire resistant. I can already feel my explosion anxiety dampening.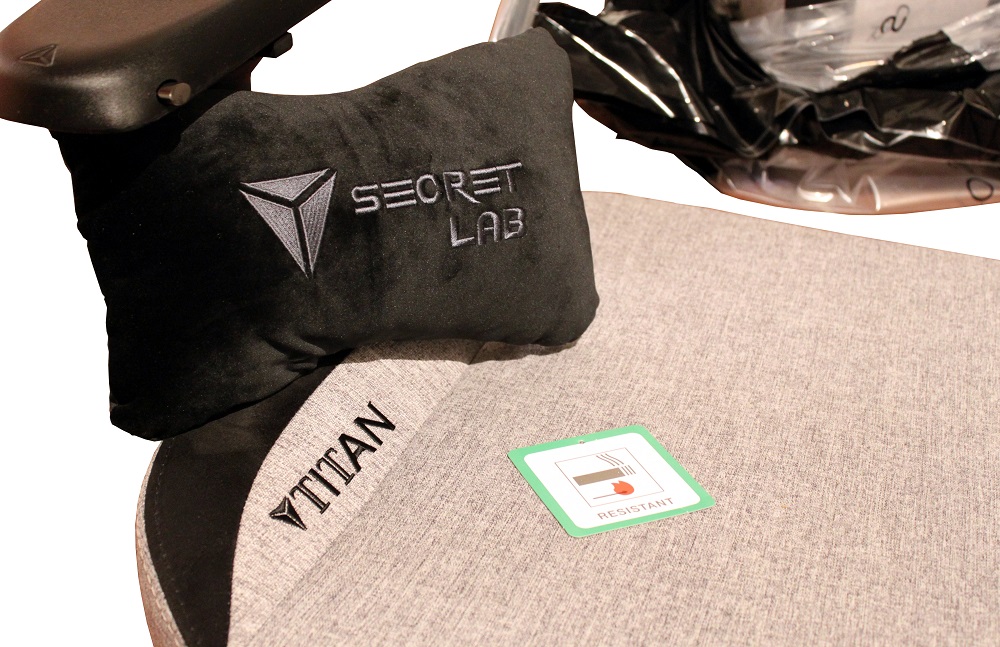 Assembling
With a complete insight on the nature of Secretlabs, the physical complexions of the TITAN chair, and the content of the box, let's go into IKEA mode and assemble the thing.
First part is attaching the casters to the aluminum wheelbase. Secretlab encourage you in the manual to use the protective foam as a support shielding your floor from any damages. This is the kind of helpful detail you get in the instructions. And I know many of you think that you would never forget to protect you floor, but some of us do anyway, and it's nice to have something like this holy book of assemblage to keep you from going astray. It's the details like this that make it superior to anything I've seen so far.
With all five casters securely fastened to the metal starfish, we turn it around and mount the hydraulic piston.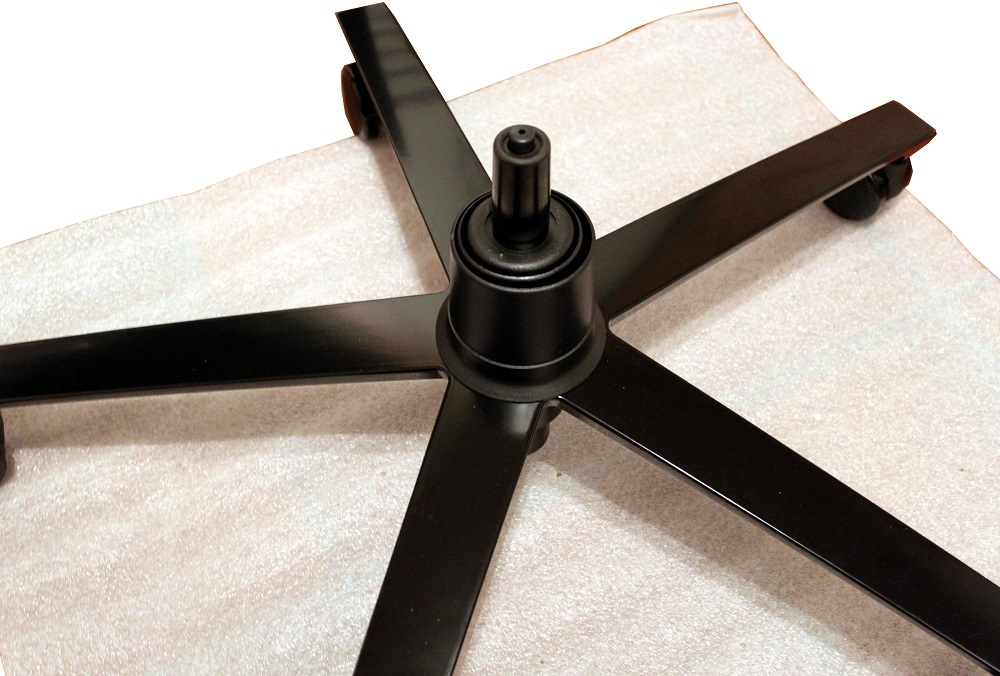 Let's put away the bottom part for a moment and focus on assembling the seating section.
The backrest has four pre-fixed screws that you need to remove to merge the backrest and seat together into one unit.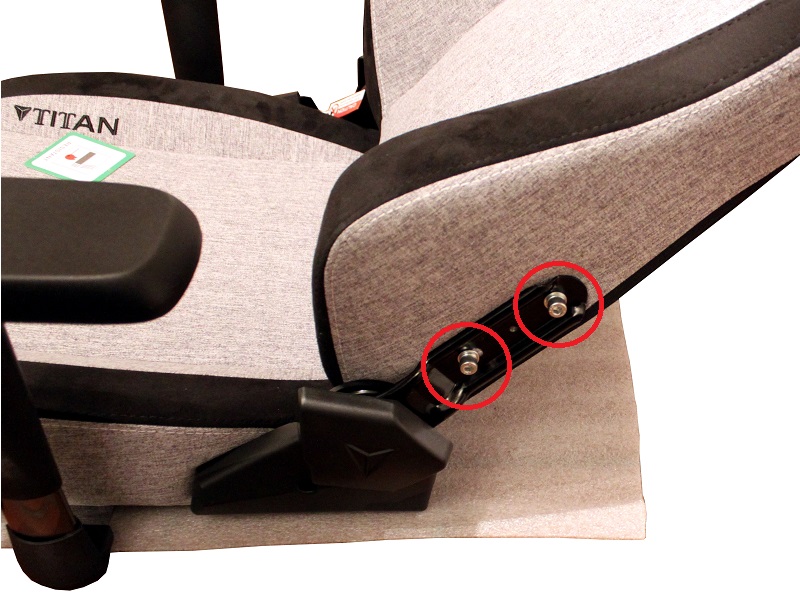 Here, it is a good idea to start on the lever side. And this is important: Do NOT touch the lever! It is spring-loaded, and it might hurt you or the chair if you pull it prematurely. Or it might explode. We don't know.
Therefore, wait until the chair is fully assembled until you touch that lever. Consider yourself warned. Again.
Once the seat and backrest are united, and the screws are re-fixed, you can attach the plastic covers that act as protection and visual aid. Unlike cheaper chairs, grooves and threads fit perfectly. This eliminates every difficulty or frustration – the quality here is impeccable!
Normally, next step would be to fit the armrests. But here the armrests are already attached to the seat. Secretlab have already started assembling without me! You only need to adjust them a little if their settings don't suit you.
So instead, let's turn the seat bottom-up. Use four screws to attach the command station that houses the tilt functionality and hydraulic controls.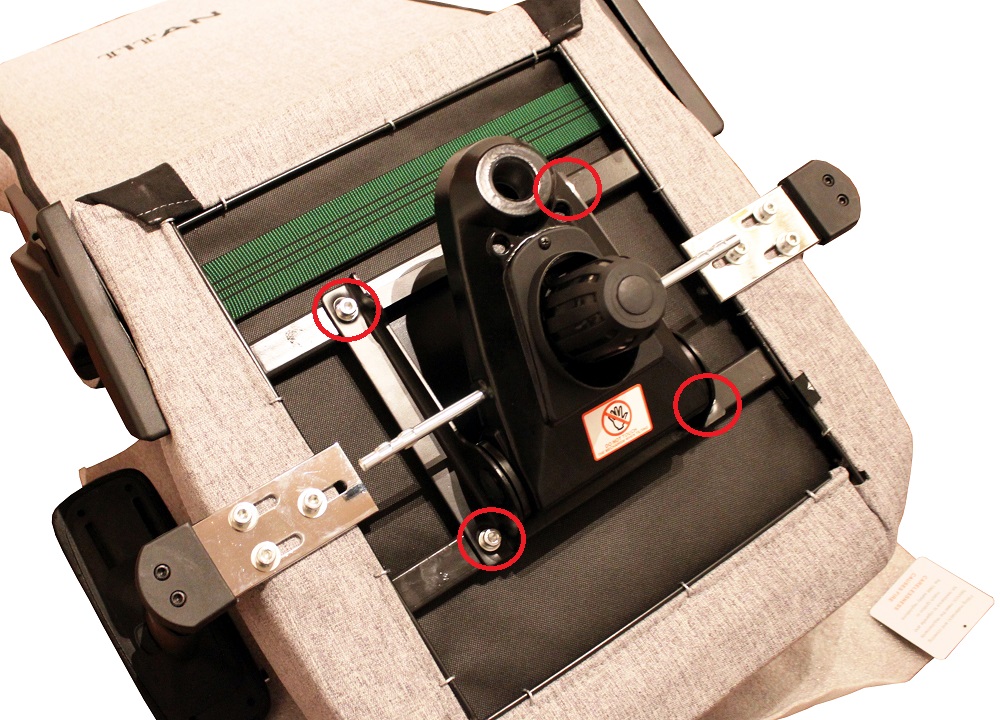 IMPORTANT! The command station underneath the seat must face the right way. Otherwise, the tilt mechanism won't function properly. So, the "keep your fingers to yourself"-sticker must turn frontwards.
Finally, attach the two handles that control tilt and hydraulics. This requires a bit of brute force, so feel free to release your inner demons.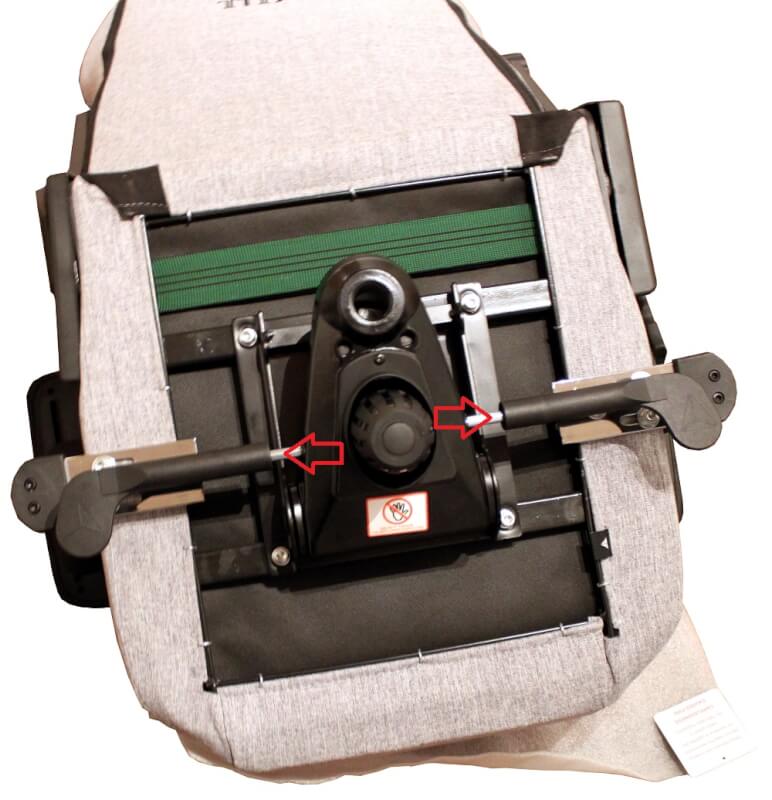 And that's about it! Mount the seating part to the hydraulic piston, and you're good to go. Or in this case, good to sit and take a well-earned rest.
The whole session took me about 30 minutes using the included tools and no help from any friends. It was a lonely weekend…
I'm sure you could shave a few minutes off using real craftsman tools and maybe getting someone to help you keeping those sweaty palms dry. Especially mounting the backrest on the seat can be a bit tricky if you're alone, but I managed to, and so can you!
First look
There's no time to rest on my laurels. The chair is now in one piece, and I promised you some neat pics of the goods. There will be RGB. I promise!
But before giving you that savory treat for the eyes, let's zoom in on some of the unique features that TITAN SoftWeave offers.
Let's start with the colors. The Cookies & Cream look is familiar to all who have ever seen a blended Oreo. And it suits my taste in every way possible.
Especially the neck rest that is completely closed and with a beautifully embroidered Secretlab logo is a pure treat for the eyes. Delicious!
The TITAN chair is also a lot bigger than other chairs in both width and height.
If we continue our tour down the right side, we meet some of the many adjustment options the chair has to offer. Here, we find the infamous do-not-touch lever that controls the tilt of the backrest. It can now be touched all you want, by the way.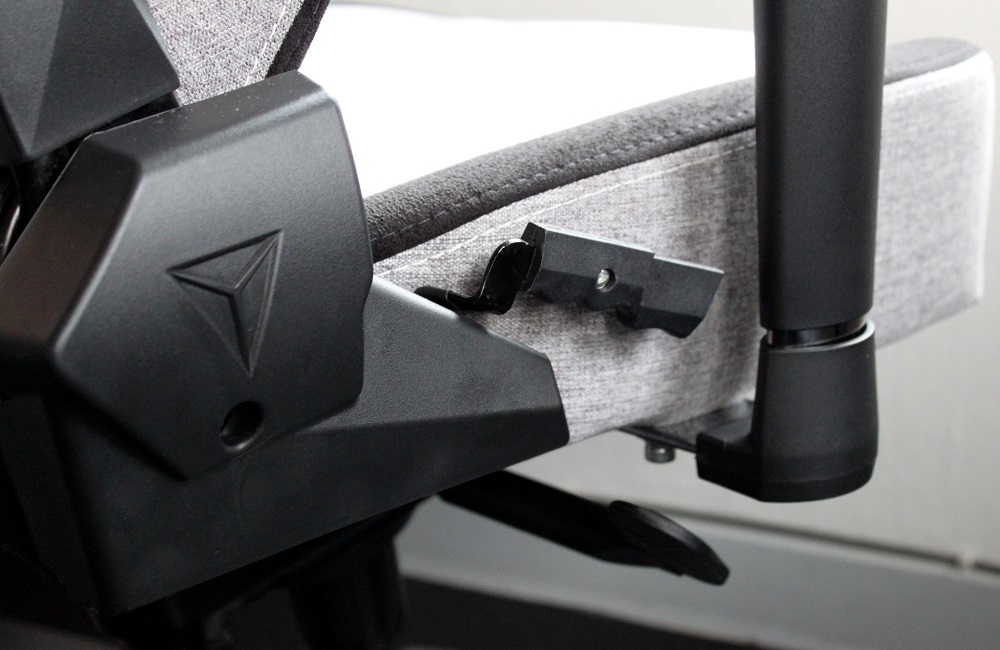 We also find a knob for adjusting the internal lumbar support. No need for extra pillows here, like you see with cheaper gaming chairs. I always stow away those pillows as the constantly end up being more uncomfortable or skidding around like another Bambi on the ice. From the get-go, the TITAN SoftWeave seems spot on!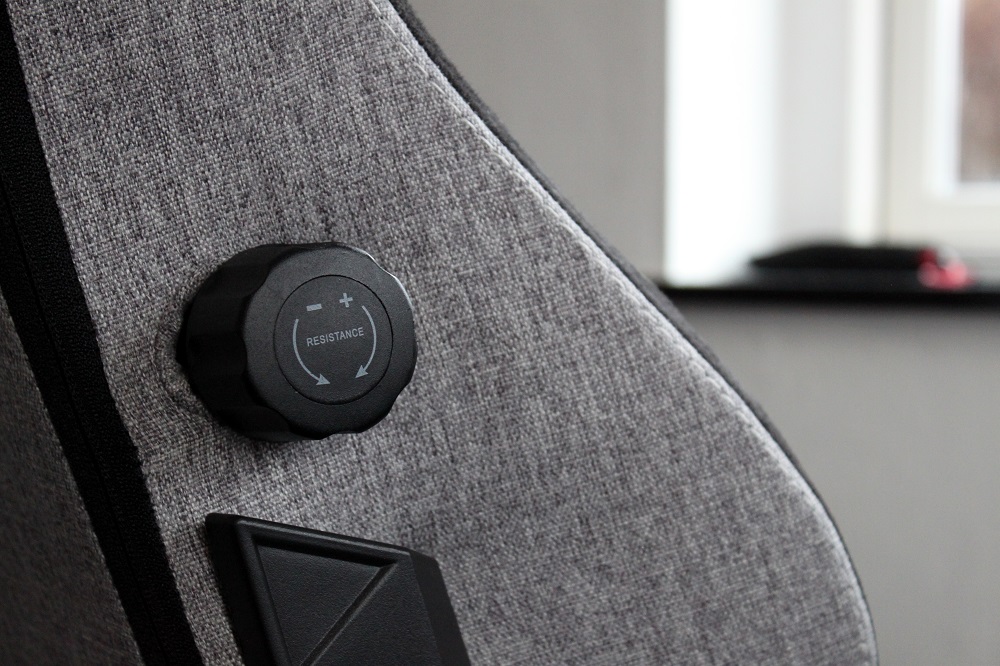 Even the armrests have received an extra dimension. Secretlab have called them 4D Adjustable Armrests. As up, down, left, right, in, and out only add up to three dimensions, they might have oversold it on this one. But you have a ton of options in adjusting height, protrusion, and width. You even have an option to loosen some screws at the bottom to add extra breadth, if the standard is not enough for you.
In short, the armrests give you the best possible options for securing your comfort perfectly. Furthermore, the surface is in a soft touch PU material which seems to be in a material that equals the quality of the rest of the chair.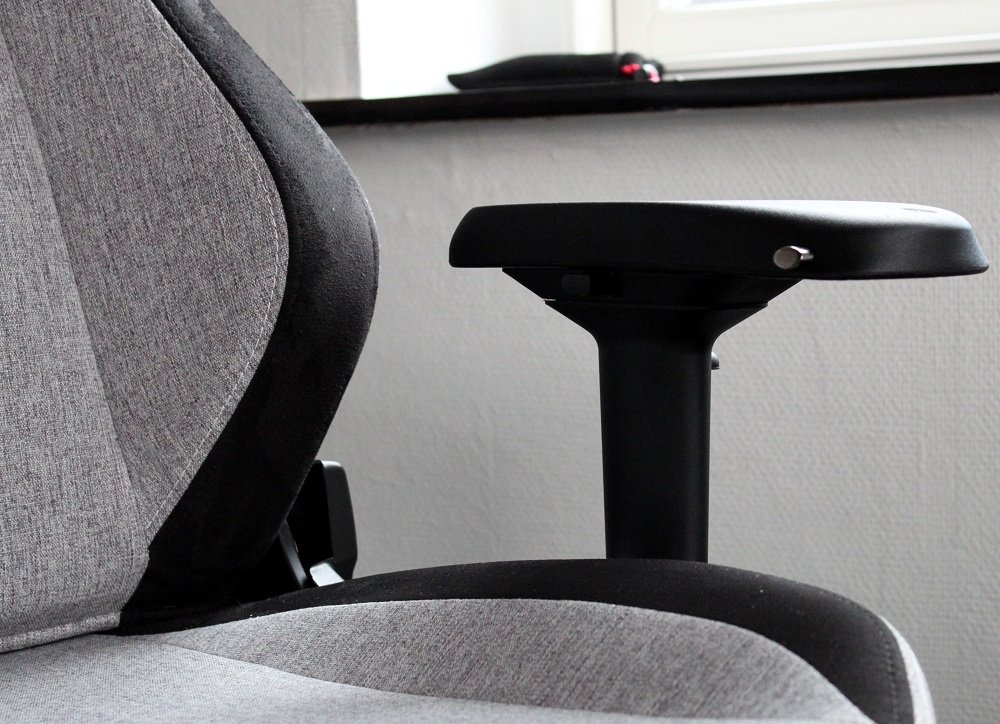 You did get a small peek at the neck pillow at the unboxing, but let's give it a closer and snuglier look. Even though it is not an integral part, Secretlab also have this one covered. The pillow is by far the softest and coziest I have ever wrapped around my neck on a gaming chair. And it is good looking too – what's not to like?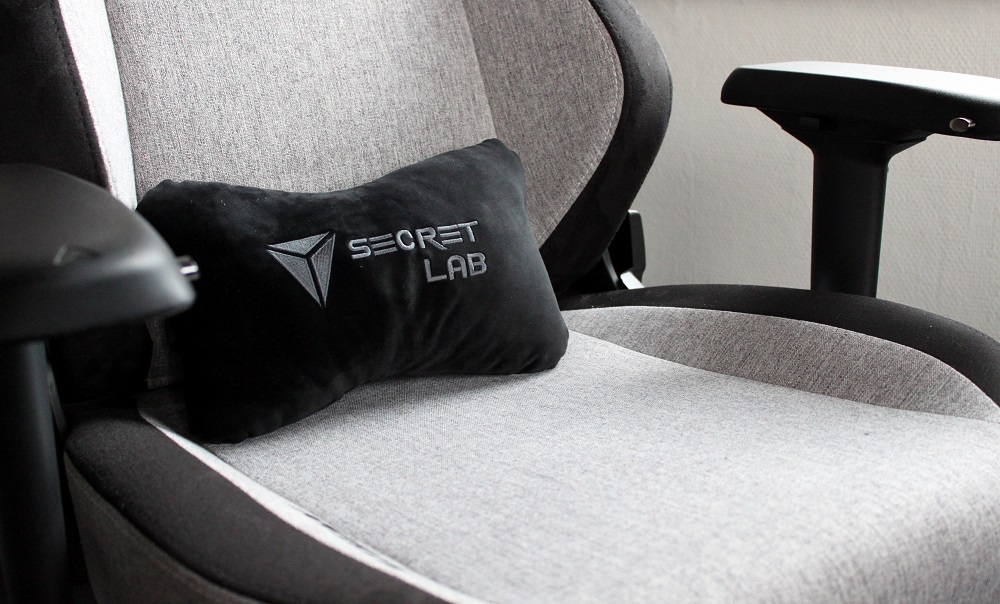 You can attach the pillow with an adjustable elastic band, and the black velour with a golden Secretlab logo looks stellar with the Cookies & Cream.
You can find a small TITAN logo on the right side of the seat, again perfectly made without even the tiniest flaw. This counts for every logo, they are all perfectly embroidered.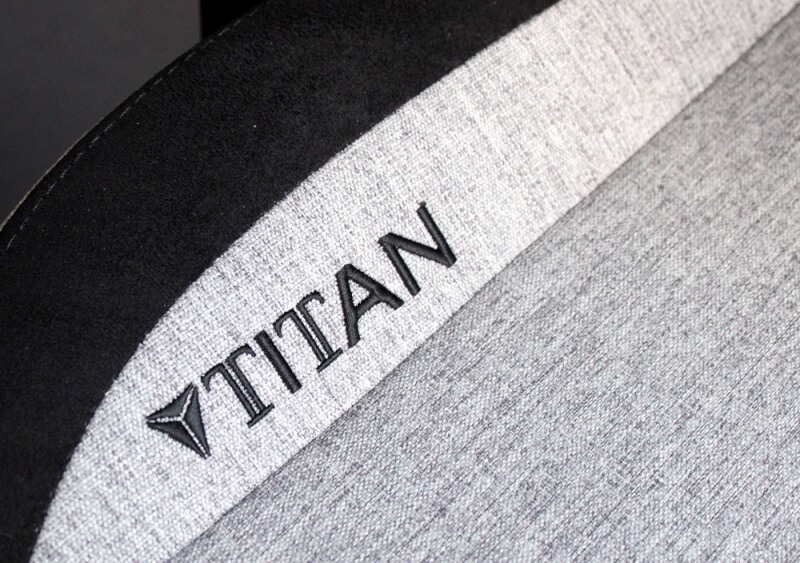 This accentuates the SoftWeave fabric, which in collaboration with the black Alcantara gives the chair a spotless finish. The fabric seems incredibly durable, and the whole product is immaculately designed without any visible defects anywhere.
On some of the cheaper chairs I have tried, you can see stitching with sloppy hems, and the screw threads can also be a little off, but on the TITAN SoftWeave chair everything fits like a glove. Design, build quality, and first impression are all spot on!
But will everything literally fall apart once I park my behind? Time to put it to the test!
Testing
Reviewing chairs is normally a backbreaking effort (forgive my pun). You must sit for hours at an end, and you need to find a way to use all the features in any way possible.
Luckily, I have made a life out of sitting down in front of a computer all day – both as a hardware tester and as a gamer off hours. This makes the chair I sit on rather important for me. Pain and discomfort can truly ruin your day. For the last year I have used an economy option, Paragon Rouge. But after a little over 12 months of loyal service, it has become old and ready for retirement. I don't sit comfortably anymore.
When this TITAN came rolling in, and I sat down and fine-tuned the adjustments, it was like all the discomfort vaporized like a Sunday morning.
There are a few reasons why.
Firstly, let me start with the padding in the seat and backrest. TITAN SoftWeave uses molded cold-cure foam that keeps its shape and is sufficiently firm while simultaneously providing great support and comfort. On my old Paragon chair, the foam padding had eventually gone on-the-brink-of-collapse soft, and the leatherette had become wrinkled lake an old faux elephant.
Secondly, the base of the TITAN chair is significantly wider than other counterparts, so you don't feel as trapped as you do in cheaper options. You can even assume lotus position without any issues.
Thirdly, the integrated lumbar support is stellar. Cheaper chairs tend to include lumbar pillows that always seem to be out of shape and skid around like they're having a tantrum. Here, you can simply adjust the lumbar support by turning a knob on the right side of the backrest, once again – spot on! Placement, support, and shape are all right in the bull's eye. You get a natural seating position with that little curve in the back that you need, unless you love backpain, obviously.
If you're close to naptime, but you really don't want to leave the chair, you can easily readjust the lumbar support and lay down the backrest. The integrated lumbar support works incredibly well, and it is without any doubt one of the major plusses.
Moving on to the next praise, we have the velour neck pillow. It is not just soft. It is baby seal fluffy and soft. When you lean back and tilt to watch a movie, this pillow is pure gold. Without it, the neck support is a little firm but still provides comfort.
The tilt mechanism allows you to tilt the chair way back, without even adjusting the backrest. Just look at the picture below. Here, the backrest is in the same position as the picture above, but the chair is tilted. I had to lock the chair in tilt position to get this shot. Luckily, the abundance of features on TITAN SoftWeave made it easy to do so. You can lock your chair in multiple tilt positions relieving you from the hazzle of finding the right tunings every single time.
The armrests also deserve a mention here. They are, after all, a major part of any gaming or office chair.
Personally, I don't use armrests too often as I prefer getting close and cozy with the table and rest my arms here. That being said, the TITAN armrests are by far the best my forearms have ever had the pleasure of meeting.
First and foremost, the surface material is nice and soft, even though it is plastic. They are also wider than on other cheaper models. Lastly, they have a gazillion adjustment options. Height, breadth, protrusion, angling – hey, they're called 4D for a reason. Even though I still have trouble figuring out what is going on in that fourth dimension, they sure take full advantage of the three others. The chair adapts to you, not the other way around. And that's how it should always be.
You have probably guessed by now that this chair has caught me a bit off guard. I had imagined it was good – but this good?
You have a ton of adjustment options giving you every possible angle, suspension, and support. Perfect for those of us who spend a little too many hours in front of our desktop.
And I haven't even mentioned the SoftWeave fabric yet. It enables your body to breathe, mitigating the sweaty back and behind syndrome that we all know too well, especially on those warm summer days.
In short, the Secretlab TITAN SoftWeave is by far the most comfortable office or gaming chair I have ever sat my a** upon. It is everything that you'd want from a high-end office chair. At the same time, is looks the part with the sassy SoftWeave fabric instead of the old leatherette gaming chair look. Where do I sign up to the fan club?
Let's continue to the price and conclusion before I start rambling even more about how much I love this chair.
Price
Sectretlab live up to their name by making the purchase of this chair available only through their own website. I might be us, but we couldn't find it anywhere else. Stealthy and exclusive indeed!
They list a MRSP of $530, but they sell it for $439 and have been doing it for a while.
Even though this seems to be quite a steep investment, you do save almost $100 – if this MRSP thing is to be trusted…
Conclusion
This is the first time that we've tested a Secretlab chair, hence I was a little unsure about what to expect. The price alone suggests that this is a high-end gaming chair, setting the bar high from the get-go.
Let's start with the opening and assembling of the chair. From the factory, Secretlab have done the main part of fitting the pieces together, and I only had to do the final steps. This pared down assembly time to a mere 30 minutes for me. This was also partly due to the impressive assembly manual which though text and pictures intuitively guided me through the whole process.
With a plentiful of adjustment options in both backrest, tilt, lumbar area, height, and armrests, you can fine-tune your TITAN chair precisely to your liking. TITAN SoftWeave conforms to you, not the other way around. Just like it should be.
Even though the cold-cut foam padding can seem a little firm at first, you quickly get used to it – and once you do, everything starts to make sense.
The build quality of TITAN SoftWeave easily exceeds anything I've tried before. The stitching was flawless with not even one crooked hem anywhere. Nothing looks anything less than impeccable. Every little detail has been cared for. You can feel this right away, especially when Secretlab spice things up with the super soft neck pillow in black velvet and silver embroidery.
Compared to cheaper chairs that normally feature a leatherette surface, the SoftWeave fabric presented here actually lets your body breath. No more sweaty backs! At the same time, the Cookies & Cream themed surface material gives the chair a unique appearance that makes it stand out – in a positive way.
Be advised that Dorito and cola stains are not that easily wiped off, so keep your munchies to the dining area. I you can't live without that daily 1,000-calorie intake in front of your computer screen, you do have leatherette and even real NAPA leather options.
I have decided to honor the Secretlab TITAN SoftWeave chair with a well-deserved 9.5 plus our coveted Editor's Choice Award. This was an easy decision.
TITAN SoftWeave is without comparison the best gaming chair I have experienced to date. It offers all the features I could imagine ever wanting in a chair that serves your behind for many hours every single day.
Even though the MRSP of $530 is a little intimidating, the TITAN chair is worth every single penny. That's all I have to say.
Secretlab TITAN SoftWeave has won the game of computer thrones in my office, and I look forward to sitting on it for many years to come. Job well done, Secretlab. You actually managed to impress me!
Good:
Fabric surface that makes your body breath
Unique design
A cornucopia of adjustment and tweaking options
Eminent build quality
Integrated and adjustable lumbar support
The neck pillow is softer than a kitten
The casters work well
Easy to assemble, impressive assembly guide
Three finishing options – PU leather, SoftWeave fabric, or NAPA leather
Less good:
The price can be intimidating