AUTHOR : Berleburg
PUBLISHED : 2019-04-13 07:13
Gigabyte GTX 1660 Ti GAMING OC 6G
It's a fresh new day, and it's time for a fresh new review. Today, we are being visited by Gigabyte and their new GeForce GTX 1660 Ti graphics card, which offers an innovative triple fan system and sets itself up as a serious contender within the middle segment of GPUs, both in terms of price and performance.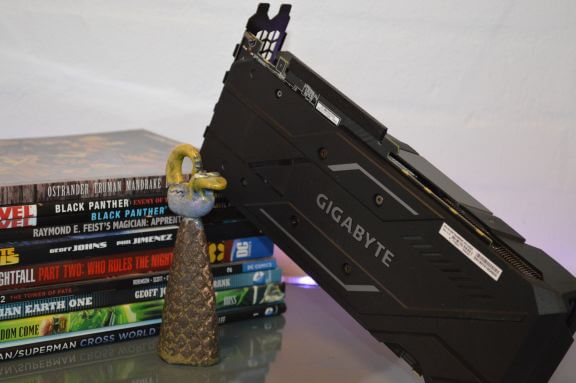 Gigabyte is a Taiwanese company, which has had a presence within the hardware market since 1986. It's one of the more familiar brands next to ASUS, MSI and other larger contenders on the hardware market. Also, they are one of our collaborators, and according to our experience, Gigabyte always delivers reasonably priced products.
Today, we'll be having a look at the Gigabyte GTX 1660 Ti GAMING OC 6G, which in the spring of 2019 is a serious contender within the mid-range segment that also hosts the GTX 1060 and GTX 1070. We are very much looking forward to test and to show you what the Gigabyte GTX 1660 Ti GAMING OC 6G has to offer in both 1080p and 1440p, which is the target resolutions of this particular card.
The card comes in a typical Gigabyte box, all dressed in black, and with the recognizable mechanical Gigabyte eye logo on the front. On the back we find the relevant product information about the Gigabyte GTX 1660 Ti GAMING OC 6G. The main selling point with the 1660 Ti is its Turing-shaders since this card is not part of the new RTX series cards featuring the Ray Tracing technology.
Box Content:
Features:
Powered by GeForceⓇ GTX 1660 Ti

6 GB GDDR 192-bit memory interface

WINDFORCE 3X Cooling System with alternate spinning fans

RGB Fusion 2.0 - synchronize with other AORUS devices

Protection back plate
Specifications:
Graphics Processing: GeForce® GTX 1660 Ti

Core Clock: 1860 MHz (Reference card is 1770 MHz)

CUDA® Cores: 1536

Memory Clock: 12000 MHz

Memory Size: 6 GB

Memory Type: GDDR6

Memory Bus: 192 bit

Memory Bandwidth (GB/sec): 288 GB/s

Card Bus: PCI-E 3.0 x 16

Digital max resolution: 7680x4320@60Hz

Multi-view: 4

Card size: 280x116.7x40.4 mm (LxWxH)

PCB Form: ATX

DirectX: 12

OpenGL: 4.5

Recommended PSU: 450W

Power Connectors: 8 Pin*1

Output: 3 x DisplayPort 1.4 (Max Resolution: 4096x2160 @ 60 Hz), 1 x HDMI 2.0b (Max Resolution: 7680x4320 @ 60 Hz)

SLI support: No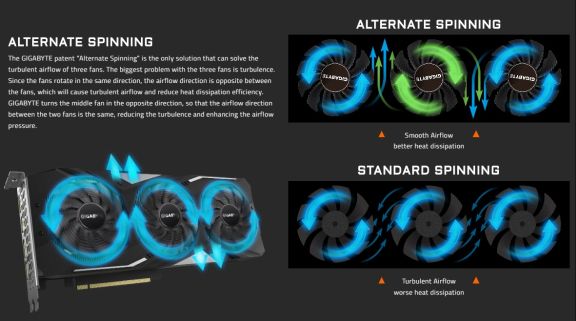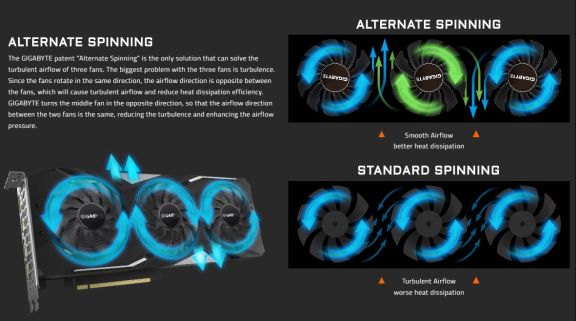 Test Setup:
Design:
Gigabyte has designed a large card with this GTX 1660 Ti. The cooler design is what immediately grabs your attention since it's different to what we're used to when looking at other cards. There's a total of three fans, of which the middle one spins in the opposite direction than the other two. This is a deliberate design choice by Gigabyte in that it according to them improves the airflow and cooling properties of this card compared to a more traditional cooling solution.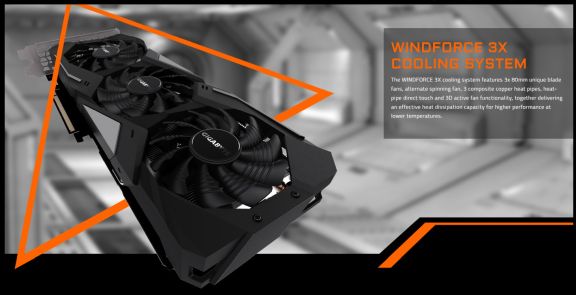 Beneath the coolers there are three copper heat pipes that are in direct contact with the graphical processor, and that distribute the heat to the fans. The GTX 1660 Ti is a large card that measures 280 x 116 x 40 mm, and it occupies two expansion slots when installed in the system. There's only one 8-pin power connector needed, so it can actually be used with more modest power supplies without any issues. There's no support of SLI, though, and given the price of this card it also makes sense. The enthusiasts that are keen on SLI would probably target larger and more powerful cards after all.
The backplate of the card is thick and sports your typical Gigabyte design. It's full cover, meaning that it covers the entire PCB. It's mainly there to strengthen the structural integrity of the card so that it doesn't sag, but the secondary function is to make the card look rad, which it manages to do quite well.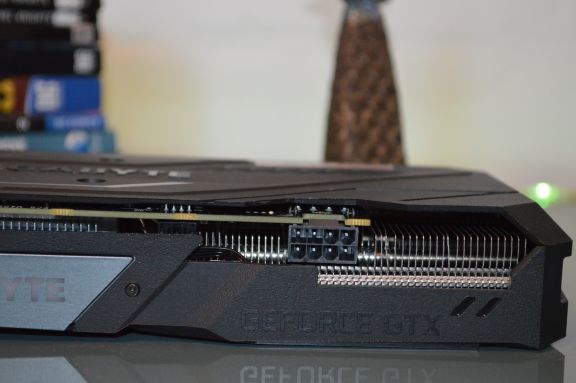 On the I/O panel there are three DisplayPort inputs, as well as a single HDMI-connector. This is pretty much standard within this price range. As such, there are none of the more advanced connection options that you'll find on more expensive cards, e.g. USB-C. The GTX 1660 Ti is equipped with RGB Fusion 2.0 and this makes it synchronizable with other AORUS devices. The lack of USB 3.1 also means that the 1660 Ti is not VR ready. But to be quite honest, this wouldn't be a card that we'd recommend for VR use anyways. In that case, we'd recommend a card within a different price range.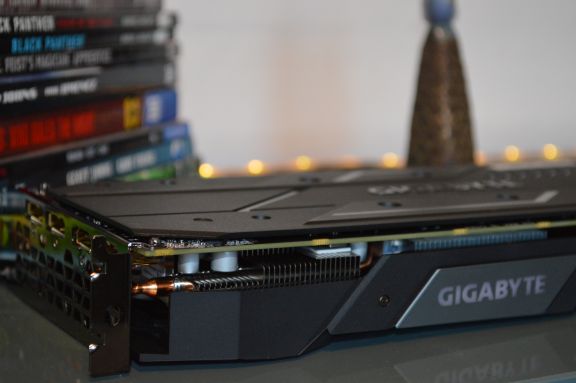 Gigabyte has dubbed their fan design Windforce 3X. It consists of three 80 mm fans that spin in alternating directions atop three copper heat pipes that are in direct contact with the graphical processor and VRAM. This ensures high efficiency at lower temperatures. This alternative approach to fan setup, according to Gigabyte, means that there is less turbulence in the airflow, and thereby the air pressure on the card can be increased.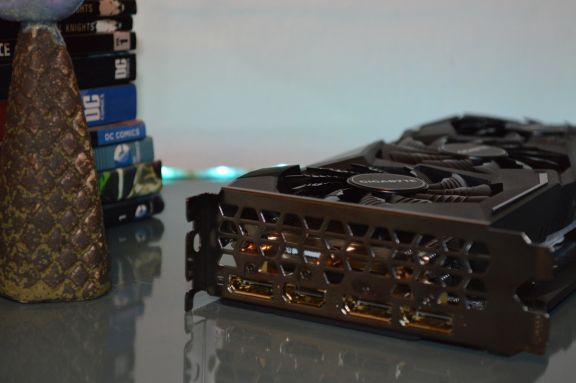 Apart from the fans that spin in alternating directions Gigabyte has also developed its own fan design that features some curved depressions that more efficiently conduct the airflow across the three copper heat pipes.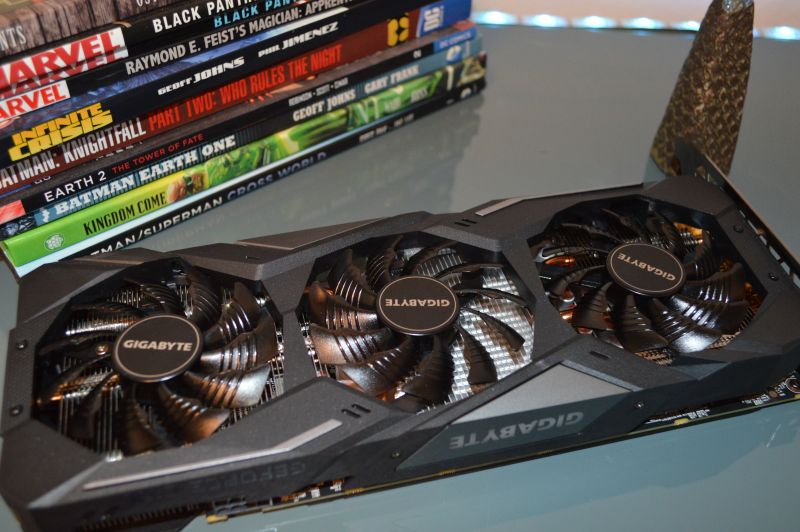 As is also the case with other modern graphics cards the fans remain idle unless the GPU is under load and active cooling is required. This means that the fans will only activate when needed, and this, in turn, makes the 1660 Ti GAMING OC 6G quiet and pleasant to use.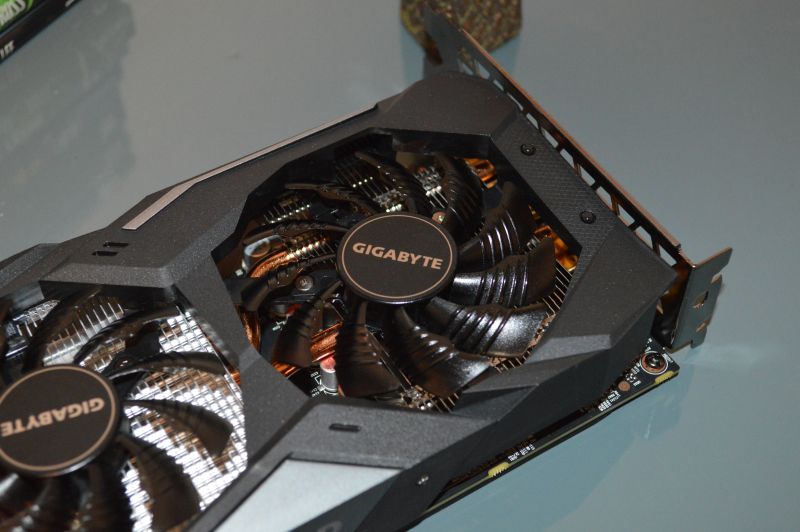 On the side of the GTX 1660 Ti is a Gigabyte logo with RGB, which can be configured in all sorts of way. The card supports the AORUS engine, and this means that it can negotiate with other AORUS devices hooked up to the system. Here, you can choose between a range of different effects and static light.
Gigabyte GTX 1660 Ti GAMING OC 6G is in need of only a single 8-pin PCIe connector, which gives it a total TDP of 225 Watt when installed in the motherboard. Gigabyte recommends a PSU of minimum 250 Watt.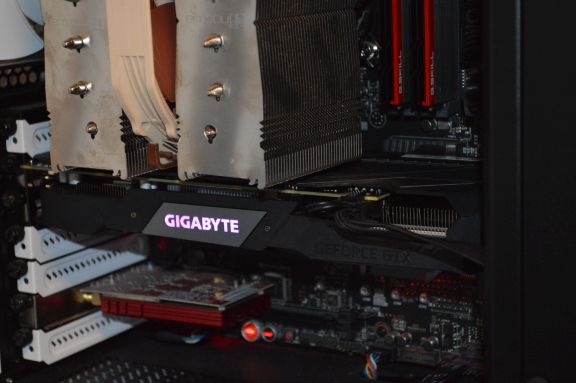 With a designated TDP of merely 120 Watt there's lots of room for potential overclocking.
The GTX 1660 Ti is built on the Turing architecture and thereby features the TU116 chip, which boasts a total of 1536 CUDA cores and 6 GB GDDR6 RAM on a 192-bit memory bus. As such, this is a card with somewhat modest specifications when compared to the more powerful RTX cards.
Test:
In our test, we've focused on 1080p and 1440p gaming since that is the resolutions that the GTX 1660 Ti is targeted for. It wouldn't make any sense to throw this card into a 4K rig. This would require a step or two up towards the more expensive and more powerful GPUs.
Test Setup:
1080p: 106 fps / 1440p: 82 fps

1080p: 97 fps / 1440p: 63 fps

1080p: 74 fps / 1440p: 52 fps

1080p: 85 fps / 1440p: 59 fps

The Gigabyte GTX 1660 Ti GAMING OC 6G surprises us in its performance. It is a very stable and decent card within its segment for both 1080p and 1440p gaming. If we imagine a system designed for AAA gaming in 1080p, then the Gigabyte GTX 1660 Ti GAMING OC 6G is a fine choice. It will offer lots of power, and as our benchmarks have shown, it is a worthy contender to the GTX 1070, and maybe even a bit more future proof, despite the less VRAM.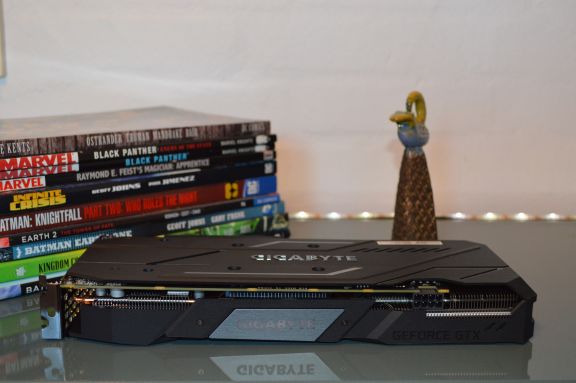 As usual, when we review graphics cards, we will be doing a bit of overclocking too. So, let's see if we can squeeze out a bit more performance from the GTX 1660 Ti.
Overclocking Settings:
GPU Clock: +100 MHz
VRAM Clock: +900 MHz
The Gigabyte GTX 1660 Ti GAMING OC 6G is decently factory overclocked, but we still managed to squeeze out an extra 100 MHz on the chip, which gave us a total rating of 1960 MHz. We will see if this, along with the additional 900 MHz on the VRAM, will give us any noticeable performance increase.
We only do game testing since this is where the overclocking really pays off. The Gigabyte GTX 1660 Ti GAMING OC 6G didn't provide us with that many more fps. We gained roughly 3-5 fps more in 1080p. This, of course, is still worth mentioning, but this certainly doesn't make that much of an impact, all in all. As such, we wouldn't recommend overclocking this card in order to gain these extra frames, since it in turn will have an influence on the lifetime of the card. With a decent factory overclock, and the solid out-of-the-box performance provided by Gigabyte, it's hard to argue for overclocking the GTX 1660 Ti GAMING OC 6G any further.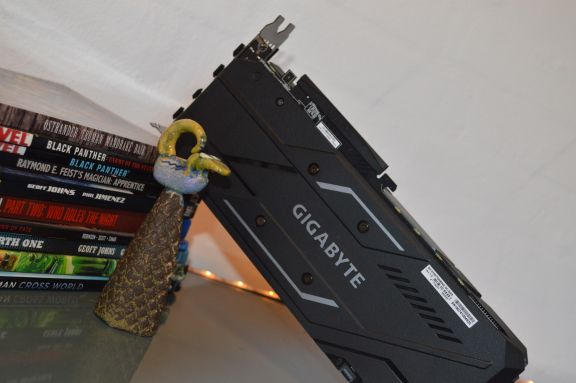 Price:
As always, we've consulted PriceRunner.dk in order to note the current pricing, and at the time of this writing (March 28, 2019), the Gigabyte GTX 1660 Ti GAMING OC 6G is priced at about $375, including shipping.
Conclusion:
The Gigabyte GTX 1660 Ti GAMING OC 6G is more of a contender to the previous generation GTX 1070, just a bit cheaper. If you compare the GTX 1660 Ti to the GTX 1070, the latter will in some games perform up to 10 fps better in average. However, we are talking about a small amount of games here. The price of the GTX 1660 Ti is a bit lower than that of the GTX 1070 and the RTX 2060. We'd definitely recommend the Gigabyte GTX 1660 Ti GAMING OC 6G over the older GTX 1070 model. Especially, when keeping future driver updates in mind. If you are looking for a card with a bit more power, at only a modest price climb, the RTX 2060 is a good choice. In terms of pricing, these two cards are not too far from each other, and the argument can easily be made that it would be worth it, going for the RTX 2060, right now, if the budget will allow for it. However, if you don't care for Ray Tracing at all, it's hard not to recommend the GTX 1660 Ti GAMING OC 6G.
The Gigabyte GTX 1660 Ti GAMING OC 6G is the third GTX 1660 Ti card that we've tested, here on Tweak.dk, and the tendency that we've noticed with MSI's 1660 Ti card is equal to that of the Gigabyte card. The Gigabyte GTX 1660 Ti GAMING OC 6G that we've tested today offers wonderful performance at its price. It's the wet dream of the true mid-range gamer, as it can run at 1080p and 1440p in high quality and at a decent frame rate.
Gigabyte, with their 1660 Ti, has managed to design a handsome card with a simple and mature appearance. It's ideal if you are not that much into colorful cards with a lot of bells and whistles. However, there's still some modest RGB to be had, and it will still play well together with the AORUS engine. The Gigabyte GTX 1660 Ti GAMING OC 6G really holds its own in terms of performance, and how it manages to deliver stable frame rates in spite of the demanding AAA titles and e-sport games of today. We've run this card through the entire course, and it manages to deliver very solid temperatures throughout the entire test. In most cases, it lies at around the 64 °C under full load. That's quite impressive.
We therefore send off the Gigabyte 1660 Ti GAMING OC 6G with a score of 9/10 and the Safe Buy award. You'll definitely not be disappointed if you are looking for a card that can deliver in AAA titles in 1080p.
Pros:
Performance equal to the GTX 1070

Cool and clean design

RGB support

Innovative 3x cooling solution that works well

GDDR6 memory

Quiet

Good performance at the price

Good overclocking potential

Low TDP with only a single 8-pin PCIe connector
Cons: