AUTHOR : Berleburg
PUBLISHED : 2019-03-21 18:23
Corsair Dominator Platinum RGB 3600 MHz DDR4
The Corsair Dominator series is a high-end lineup of RAM that we have tested on numerous occasions here on Tweak.dk. So, naturally, we are eager to also lay our hands on the most recent addition to their lineup, the Corsair Dominator Platinum RGB DDR4 RAM. Corsair has provided us with a 32 GB kit with a speed rating of 3600 MHz.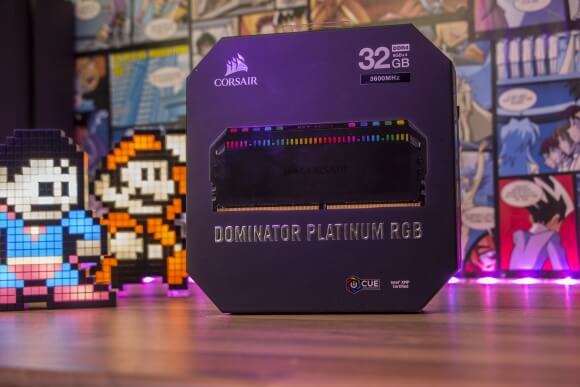 Memory Color: BLACK

LED: Lighting RGB

Single Zone / Multi-Zone Lighting Individually Addressable

SPD Latency: 15-15-15-36

SPD Speed: 2133MHz

SPD Voltage: 1.2V

Speed Rating: PC4-28800 (3600MHz)

Compatibility:
Intel 100 Series
Intel 200 Series
Intel 300 Series
Intel X299
AMD 300 Series
AMD 400 Series

Heat Spreader: Anodized Aluminum

Package Memory Format: DIMM

Performance Profile: XMP 2.0

Package Memory Pin: 288

Fan Included: No

Memory Series: DOMINATOR PLATINUM RGB

Memory Type: DDR4

Memory Size: 32GB Kit (4 x 8GB)

Tested Latency: 18-19-19-39

Tested Voltage: 1.35V

Tested Speed: 3600MHz
In terms of the packaging, nothing new is really happening here. Corsair continues the fine trend of shipping their Dominator RAM in a fine packaging, where the DIMMS are well protected during transportation.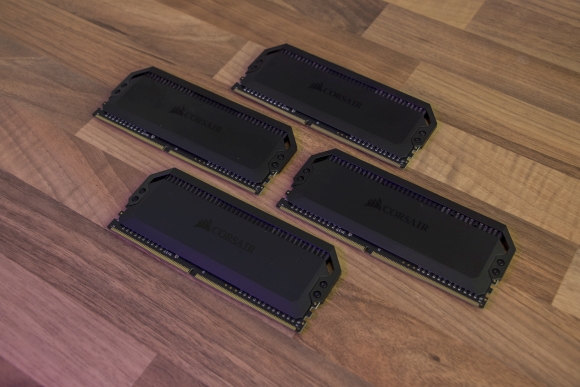 The Corsair Dominator Platinum RGB DDR4 DIMMS feature a full cover plate, that serves the purpose of expediting heat away from each DIMM. The added bonus here is that they look absolutely awesome.
Each DIMM features the Corsair logo on the front. They are each quite heavy, and between the lamellae, on the sides, you'll find a range of LEDs that, similar to the LEDs on the top, kan be managed individually.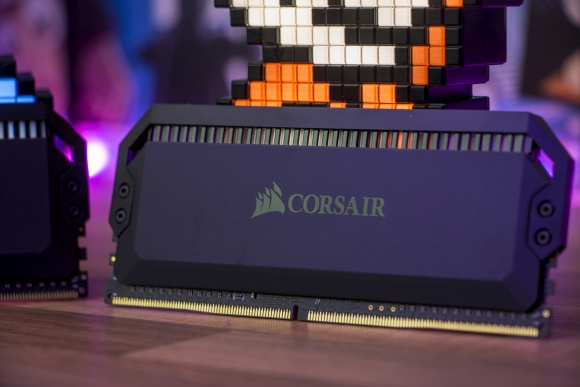 Corsair has designed each module exactly so that it will sit right up against the next, once installed. This makes the whole thing appear very raw and uncompromising.
By default, the LEDs a configured to rainbow mode, where the different colors run along the length of the DIMMS. It can all be controlled by the Corsair iCue software, in case you want to use a static color or a different effect all together.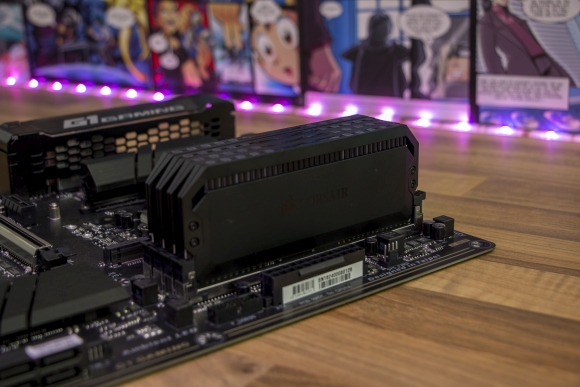 Here, we see the Corsair iCue software that, as mentioned, can be used to control the light-effects of Corsair's entire range of products that support iCue. You can see that they provide a long list of different effects to choose from. To start things, I've chosen a static color since I prefer that to a wild RGB orgy. However, should you choose to go that path, it is indeed possible to achieve true RGB madness.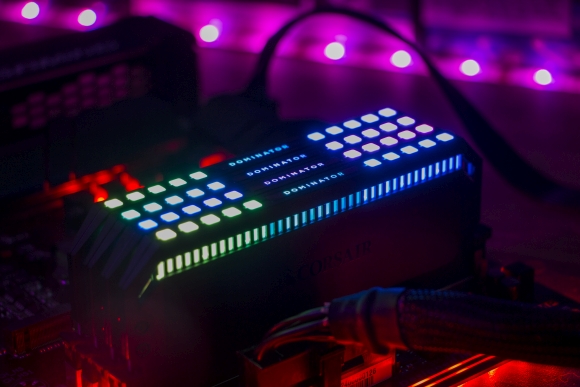 Just for kicks, we'll throw in a few more mood-pictures, in the dark, of the default light-setting that the Corsair Dominator Platinum RGB DDR4 RAM is equipped with.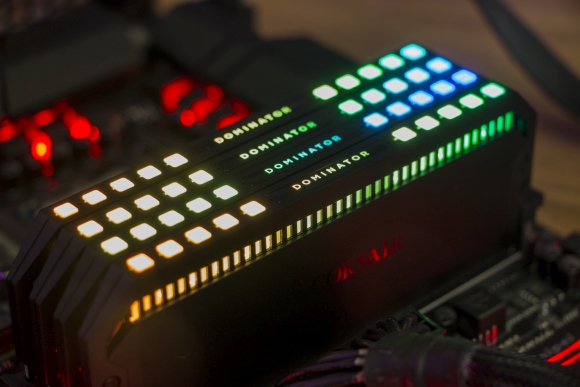 Test
During this test, I use FinalWare AIDA 64 Extreme Edition in order to benchmark the Corsair Dominator Platinum RGB DDR4 modules.
Setup:
ASUS ROG Strix X299 Gaming-E

Intel Core i9-7900X

4x 8 GB Corsair Dominator Platinum 3600 MHz DDR4 (XMP2.0 activated)

MSI GeForce GTX 1080 Ti Gaming X 11G

Western Digital Black 1 TB M.2 NVMe SSD

Samsung EVO 860 500 GB SSD

Seasonic Prime Titanium 750 W PSU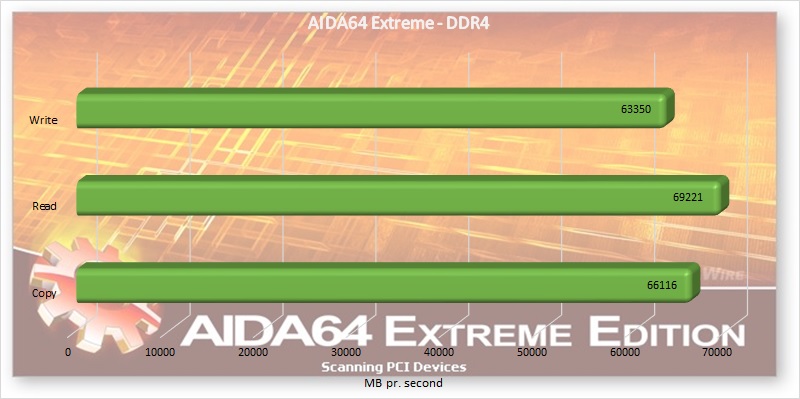 Read: 69,221 MB/sec
Write: 63,350 MB/sec
Copy: 66,116 MB/sec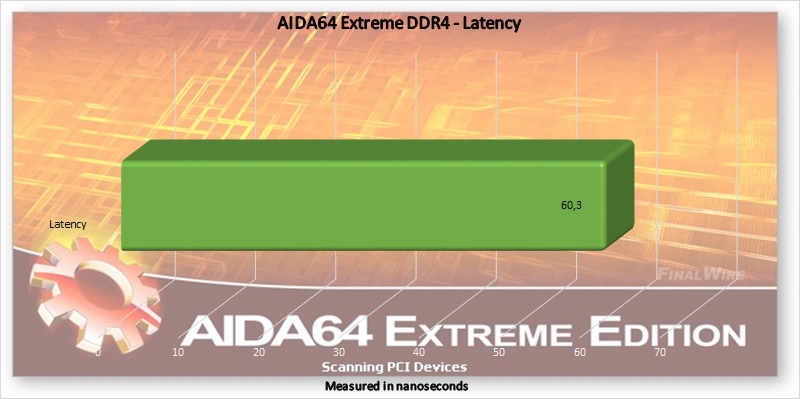 Latency: 60.3 nanoseconds
The performance of the Corsair Dominator Platinum RGB DDR4 has been very satisfying. We are here dealing with a latency that would've been even lower, if we had moved to a different system. Had we paired the DIMMs with a i9-9900K, it would no doubt have been even better. However, I aim at testing on an equal system during every review, and here, we arrive at a super result, and there's no doubt that the 3600 MHz, combined with a good set of timings, has paid off. If the timings had been even tighter, it would've been possible to push the DIMMs even further, but we prefer testing the out-of-box performance with the average consumer in mind.
Price
At the time of this writing (Mar 15, 2019), a 32 GB kit of Corsair Dominator Platinum RGB 3600 MHz is priced at around $550 and up.

If you wish to read more about the Corsair Dominator Platinum DDR4, drop by they website by clicking their banner above.
Conclusion
It's always a pleasure, and exciting, to be given the opportunity to play around with Corsair Dominator RAM, and it has certainly been no different this time with the Corsair Dominator Platinum RGB DDR4 RAM.
First and foremost, the build quality of the Dominator RGB modules is in a league of its own. The heatsink is made from a piece of heavily anodized aluminium, which has subsequently been given a black paint. The DIMMs have a significant heft to them, which feels absolutely great in hand. The matt surface is really nice. The RGBs are, unfortunately, very bright, but given that you have so many options of controlling them, they can be quieted down a bit.
The Corsair iCue software is a really user-friendly piece of software that can be used to personalize the RGBs of any Corsair product that supports iCue. The Dominator Platinum RGB DDR4 kit is of course fully supported by it, and it is with this software that you can customize the lights according to your mood.
Our benchmark of the Corsair Dominator Platinum RGB DDR4 RAM gave us some really fine results on our i9-7900X processor, and add to that some very reasonable response times of the modules.
During the entire test, it was a pleasure working with this kit, and these DIMMs certainly look great in my system. The only caveat that I can think of is the price. However, it is money well spent, if you want the best of the best, whilst also doing it in style. It is certainly possible to find the same performance output with cheaper 32 GB DDR4 kits. In this case, you also pay a bit for the Dominator brand, and if you are not building a budget machine, then these DIMMs are certainly boastworthy.
The Corsair Dominator Platinum RGB 3600 MHz DDR4 kit is therefore given a handsome score of 9/10, and on top of that our Enthusiasts Only award.
Pros:
Cons:
The Dominator brand is expensive

The LEDs are almost too bright