AUTHOR : Kenneth
PUBLISHED : 2019-02-14 15:14
Project Deathstroke – an ASUS ROG system build
Last year, we met with ASUS, and a budding idea about building a complete ROG system emerged. That budding idea came to life, and we can now unveil our beautiful new killing machine: Project Deathstroke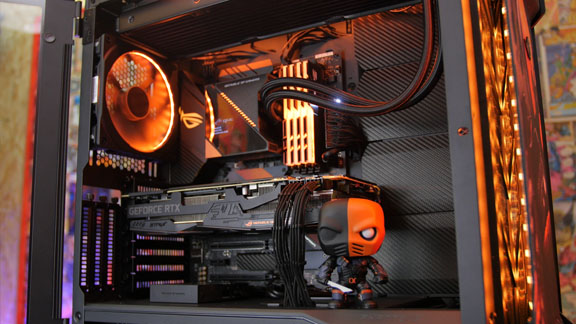 We have over the last couple of months been working on a secret project that is to change the world forever.
Now, the time has come to unveil its true identity. And behold: Meet Project Deathstroke. A high-end gaming PC built (almost) entirely of ASUS ROG hardware. And we mean bleeding-heart-bleeding-wallet high-end.
You can watch it all here:
The first seeds of this project were sown when we met ASUS last year. They asked us if we'd like to make a killer machine from their line of hardware coming out late 2018. We couldn't turn down that offer. Who could?
Little by little, ASUS have amassed a healthy hardware ecosystem for gaming, especially through their Republic of Gamers brand. In late 2018, they entered new territory when they released both a ROG Thor Platinum power supply and a new series of closed water-cooling systems, ROG Ryujin 360 and ROG Ryuo 240.
We are naturally excited to finally being able to play around with a complete ASUS build, and we're close today. Only RAM, CPU, computer case, and SSD come from other brands.
The Deathstroke build
The CPU is the powerful Intel i9-9900K, Intel's top CPU for the regular gaming consumer. It has eight cores, 16 treads, and boosts 4.7GHz out of the box on all cores, and 5GHz on two cores.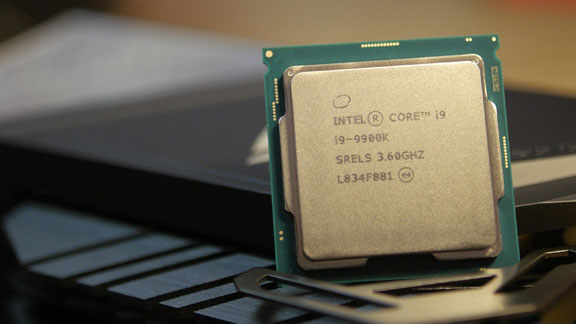 We mount the CPU on an ASUS ROG Z390-E Gaming motherboard. This is not the apex of the ASUS motherboard series, but it still holds plenty of capacity in this system together with ASUS' robust BIOS and excellent RAM support. Even if some poor soul should happen to overclock at some point.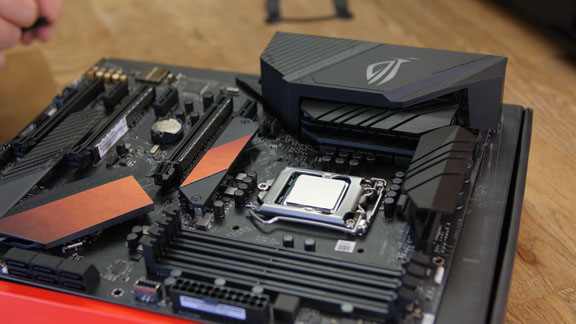 Besides having a motherboard to nurture it, the CPU also needs to chill down. For this purpose, we have chosen the new ROG Ryujin 360 AIO cooler. It features Noctua fans and a nifty LED screen on top of the pump. This is the first high-end cooler of its kind from ASUS.
Read our ROG Ryujin 360 review here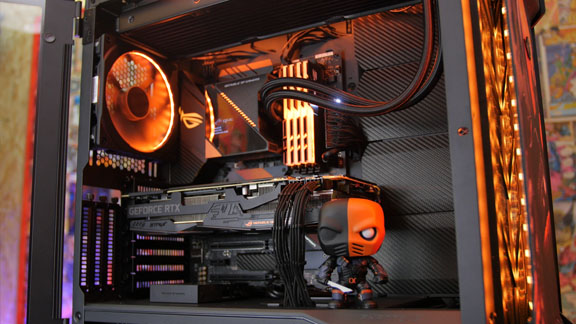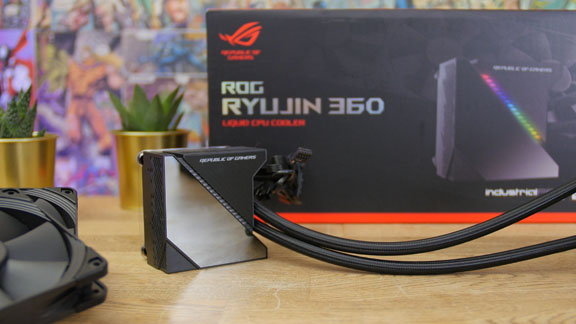 The CPU gets a powerful RAM wingman in 32GBs worth of G.Skill TridentZ RBG 3200MHz. This is due to both performance and bling: It provides a stable, high speed and a seamless integration with Aura, ASUS' software for controlling RGB light.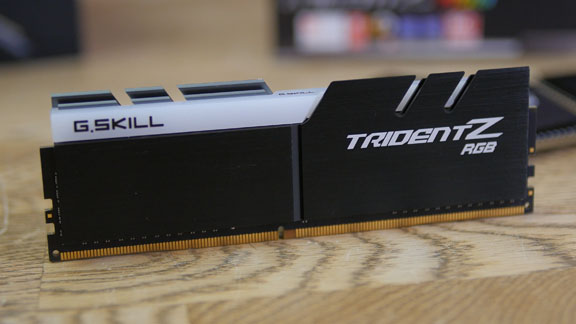 The graphics card is the top model, ASUS RTX 2080 Ti ROG Strix OC. This can undoubtedly generate some solid framerates for our gaming ventures.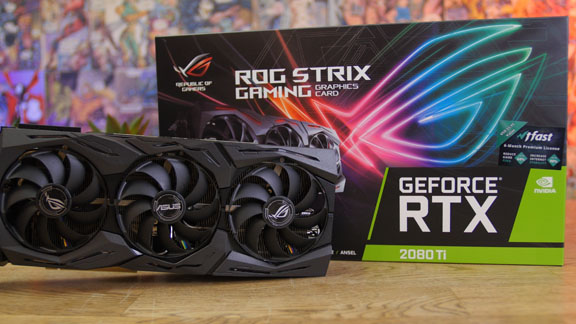 Samsung will provide the space for all our savegames and such. The system drive will be their 970 Pro M.2 NVMe SSD. Speed is not going to be an issue.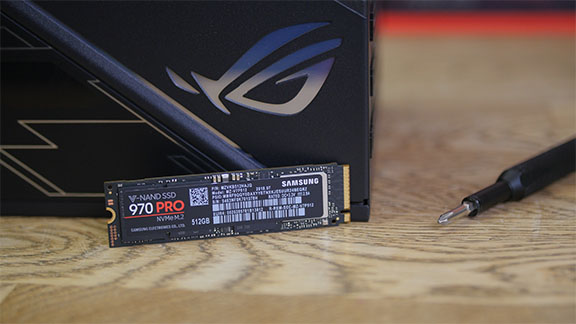 Deathstroke is powered by the new ASUS ROG Thor Platinum PSU. It provides an impressive 1200 watts, is fully modular, and is supplied with black-sleeved cables making everything look nice and stylish out of the box.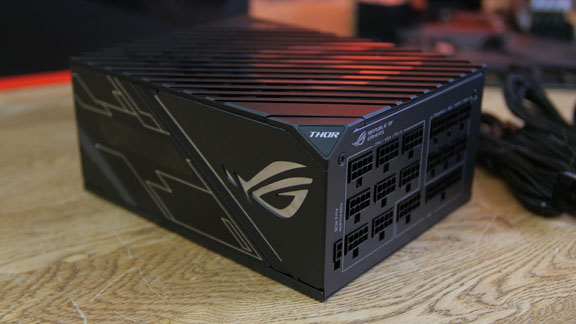 The last detail on the hardware front is a little extra bling in the shape of an ASUS ROG Aura terminal which enables us to add and control even more RGB LED lights in the system.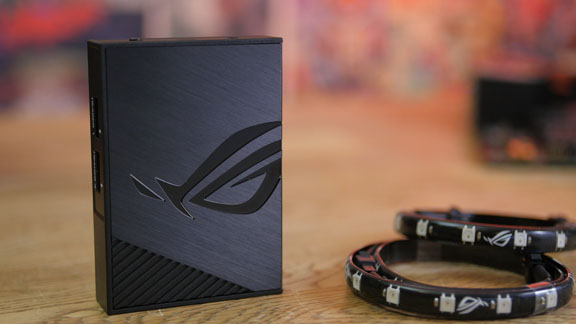 To house all this, we have selected a Phanteks EvolvX computer case, an update of the popular Evolv series with a better interior layout and improved airflow compared to older models. This case also supports custom watercooling, or even two complete systems. This project doesn't allow such a thing, but even Deathstroke might need a v2.0 update eventually, so who knows what the future might bring?
This exceptional collection of hardware would be wasted without a theme. As you might have guessed, the choice fell on the great DC supervillain Deathstroke. For the uninitiated, Deathstroke is an assassin adversary known for making the life miserable for Batman, Green Arrow, and Teen Titans. You might remember him from the Arkham games or the latest Batman movie.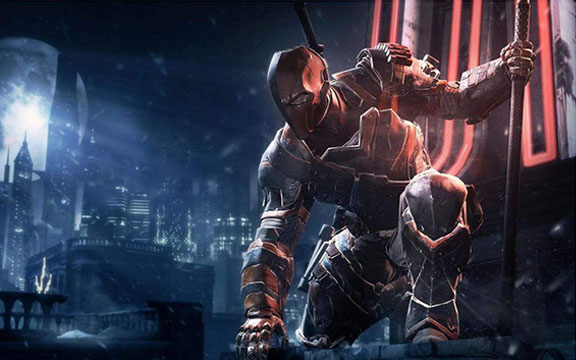 Most of the theme will be applied to the outer casing with a custom graphic vinyl coating. Some minor tweaks were done to some of the hardware, like the motherboard, fans, and SSDs, to make this theme complete. The devil lies in the details, and Deathstroke is a devil.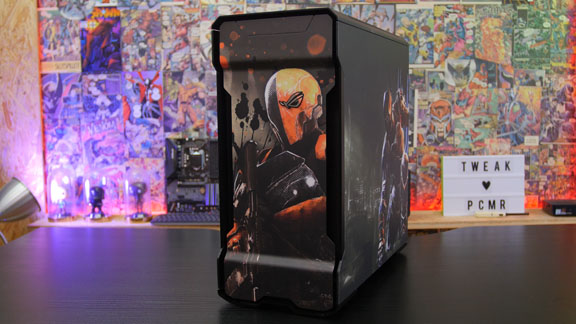 The build process was not overly complicated. Phanteks EvolvX provides plenty of workspace. Installing hardware and fitting cables was easy.
The vinyl cover on the case required more skill and equipment than we could deliver at the office, so I got help from a local sign writer called SignDOT. They made the print and applied the cover. The result speaks for itself – 100% professional and built with skill. It makes this pc stand out like a green hat with an orange bill.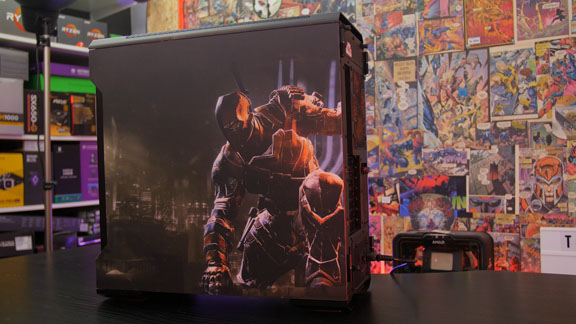 The vinyl cover, the tiny details, and the orange RGB make this a ridiculously good-looking build, if you should ask me.
To take the ASUS theme to the extremities, we have put Project Deathstroke together with an ASUS ROG Strix Flare keyboard and a ROG Gladius II mouse. Both are Aura compatible.
Finally, we have plugged in the ASUS ROG Strix XG35VQ, a 35" 100Hz ultrawide gaming monitor.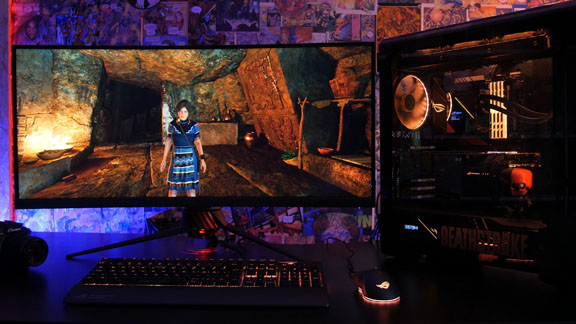 Performance
In total, Project Deathstroke is a gaming beast with some of the most powerful gaming hardware on the market. Alternatively, we could've gone with an RTX 2080 Ti GPU in SLI, but the small result on performance couldn't justify the large increase in expenses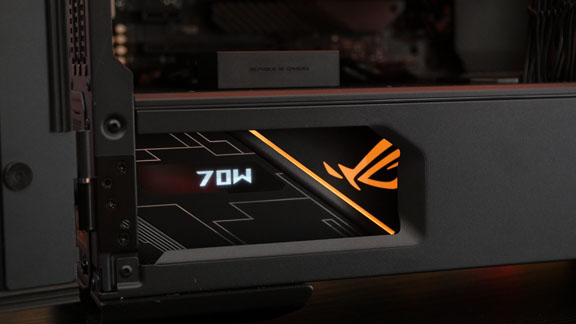 Our Deathstroke has more than enough ability to grind through everything we throw its way. Even in Battlefield V, we can run a 3440x1440 Ultra setting – with NVIDIA's RTX functions turned on – and come close to some decent framerates.
Have a look at our benchmark video to get a good overview of the performance of this monster. You won't be disappointed.
We'd like to thank ASUS for sponsoring the hardware for this complete ROG system. And a huge shout out to SignDOT who helped with the spot-on graphics and cover of this Project Deathstroke build.