AUTHOR : Berleburg
PUBLISHED : 2019-08-02 12:10
Corsair HS35 - A Headset for Multiple Platforms
Are you on the lookout for a budget headset that does a little bit of everything? Then stop what you're doing and read this review of the Corsair HS35 Stereo headset.
With the capability of connecting to your smartphone, console, as well as PC, we're here dealing with a very diverse headset that also seems to have the specs going for it. How this holds up in practical use we'll find out in this review.

Specifications and Features
We start, as always, by taking a look at the specifications. I've grabbed these from Corsair's own website and listed them below. On the added image, you can see exactly which platforms this headset can be connected to.
Type: Stereo gaming headset

Frequency Response: 20 Hz - 20 kHz

Sensitivity: 113 dB (+/- 3 dB)

Impedance: 32 Ohms @1 kHz

Headphone Drivers: 50 mm

Headphone Connector: 3.5 mm analog

Cable Length: 1.8 m

Microphone Impedance: 2.2k Ohms

Microphone Frequency Response: 100 Hz to 10 kHz

Microphone Type: Unidirectional noise cancelling

Platform: PC, PS4, XBOX One, Nintendo Switch, Mobile devices

Available Colors: Carbon, blue, red, green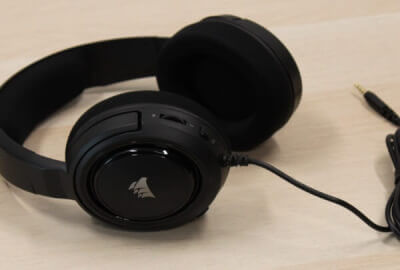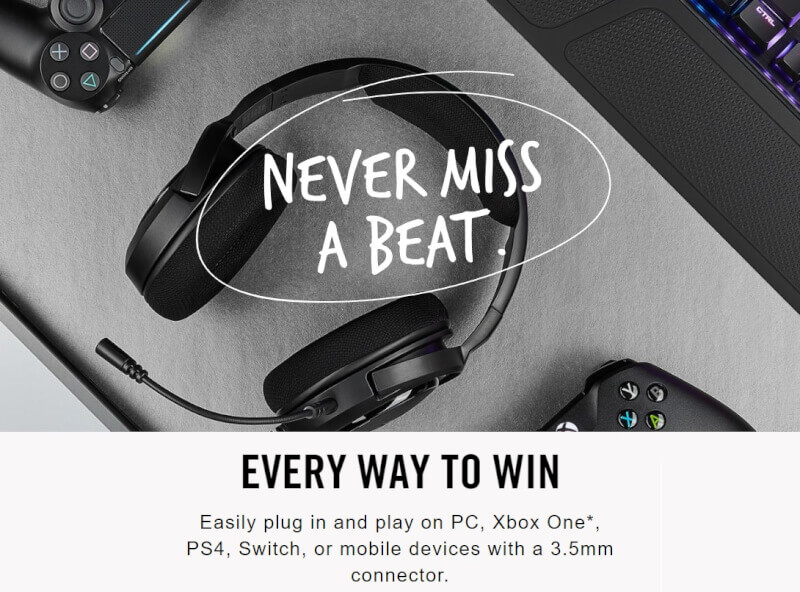 Unboxing and a Closer Look at the Corsair HS35 Stereo Headset
Let's have a look at the box that the HS35 Stereo headset arrives in. Just as we've seen it on other newer products from Corsair, it sports a yellow and black box. On the front, we find a large image of the headset itself, with the microphone and everything mounted. The various platforms that is supported by this headset is also listed here, in the top right corner.
On the rear of the box, we find the specifications and features listed in multiple languages. Since we've already been through this, we skip right on to the unpacking.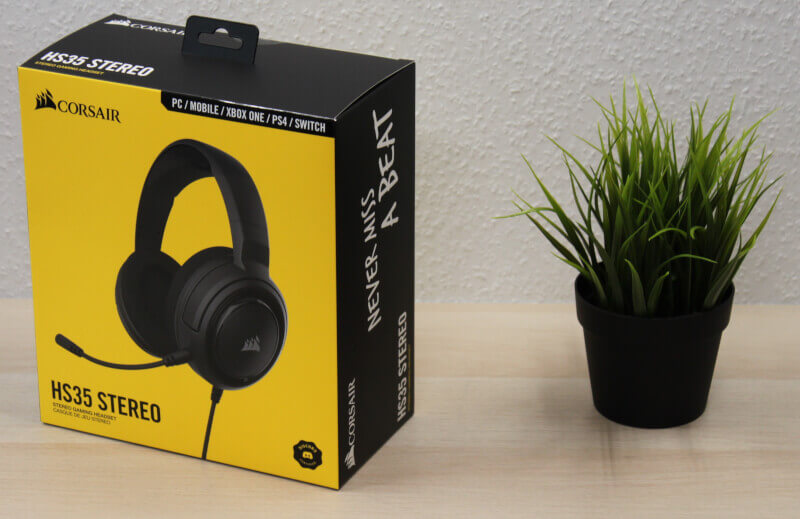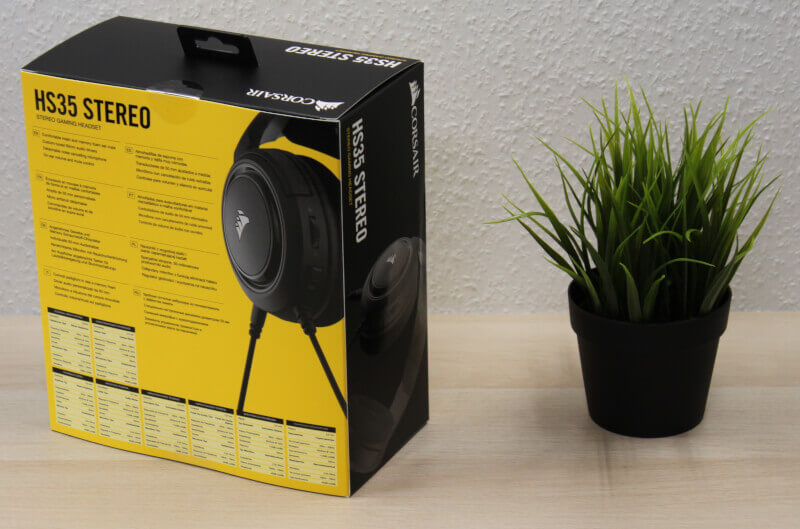 With everything out of the box, we can quickly get an overview of what is contained within it. In the box, we find:
Corsair HS35 Stereo headset

Various paper documentation

Audio jack adaptor

Detachable microphone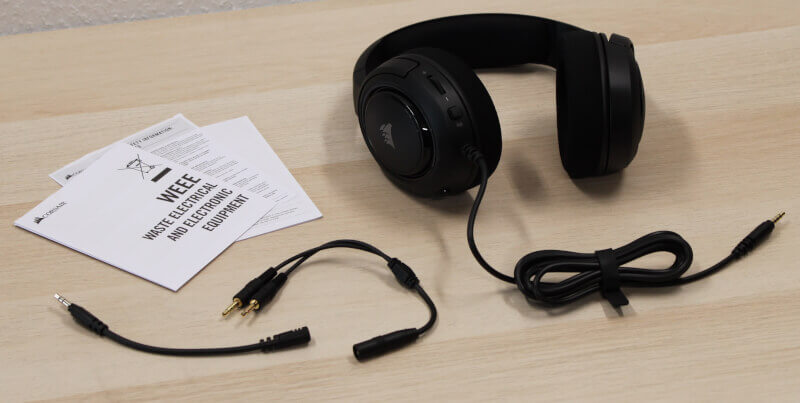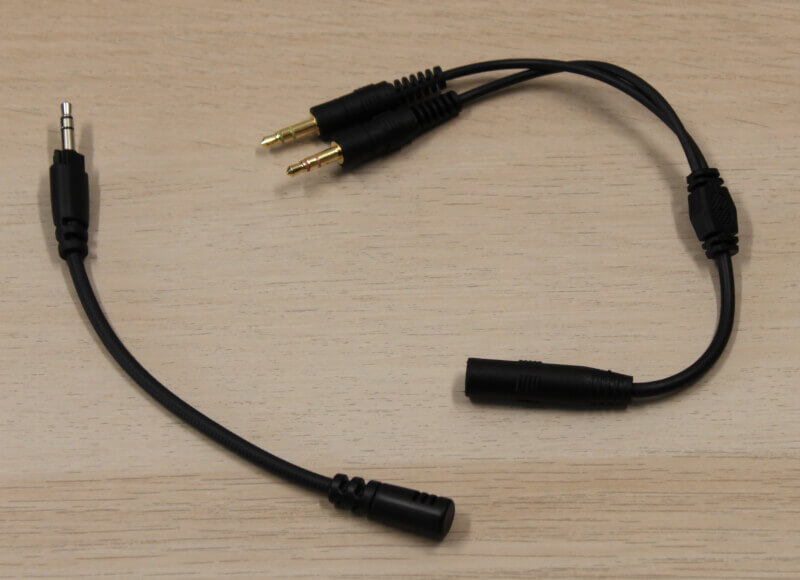 With the box and accessories put aside, let's have a closer look at the headset itself. As mentioned in the specifications, the HS35 headset comes in 4 different color variations, and we've received the neutral black called Carbon.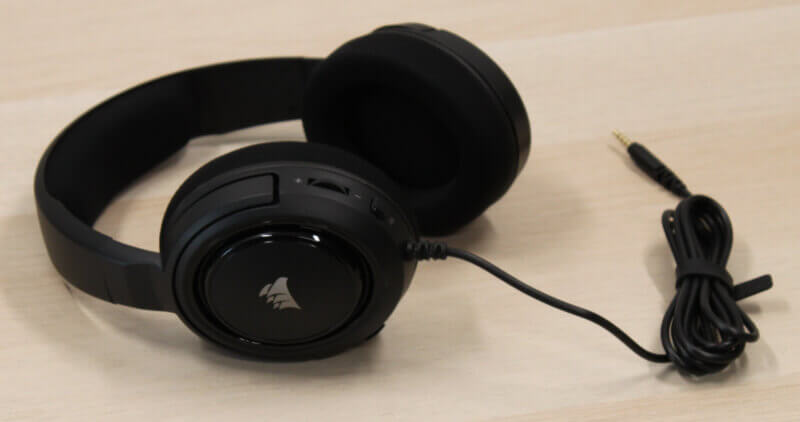 On the left ear cushion, we find the volume scroll wheel, which works independently of the playback device, which means that you should set it to maximum, if you want full control of the volume levels directly from e.g. you smartphone or computer. Below the volume wheel, we find a button to turn the microphone on and off, when it is attached to the headset.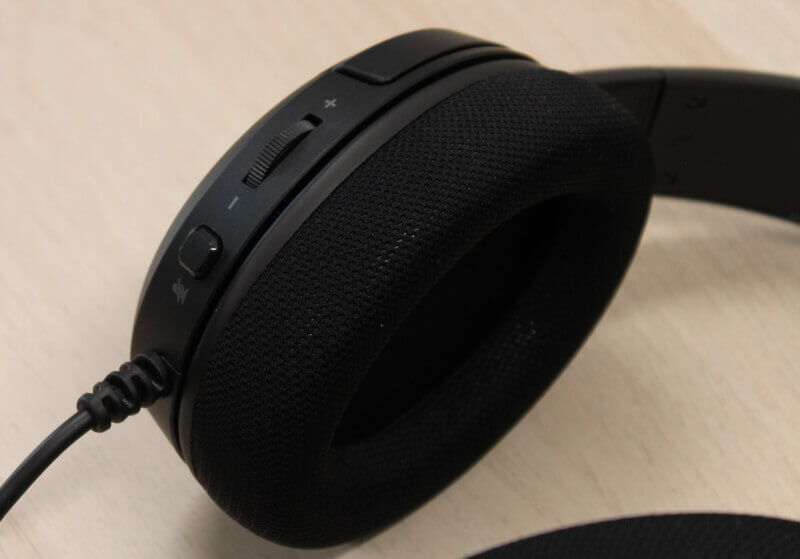 The earpieces of the HS35 headset have a decent size, and the cushions are very soft and have a fabric surface which allows for your ears to breath. However, this might mean that the bass is held back a bit compared to if they had imitated leather. We'll revisit this topic later.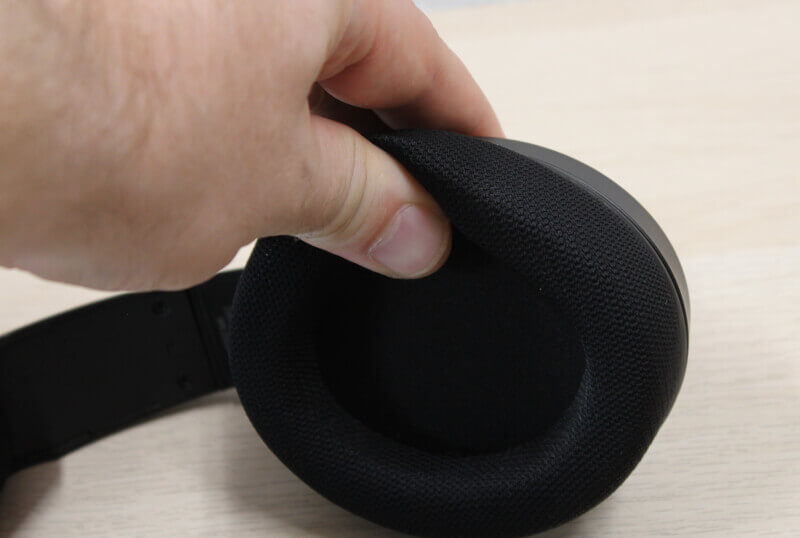 Above each earpiece, the size of the headset can be adjusted meaning that you can achieve the best possible fit on your head. The HS35 is, for the most part, made up of plastic, which in turn means that the headset feels a bit cheap. However, it actually also is quite cheap.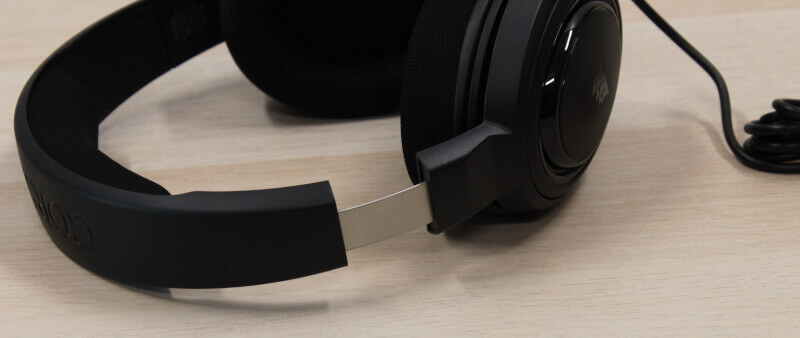 The headband features a similar cushion material as the earpieces. This gives it a similar level of comfortability. We'll take a closer look at the comfort of the HS35 in just a bit.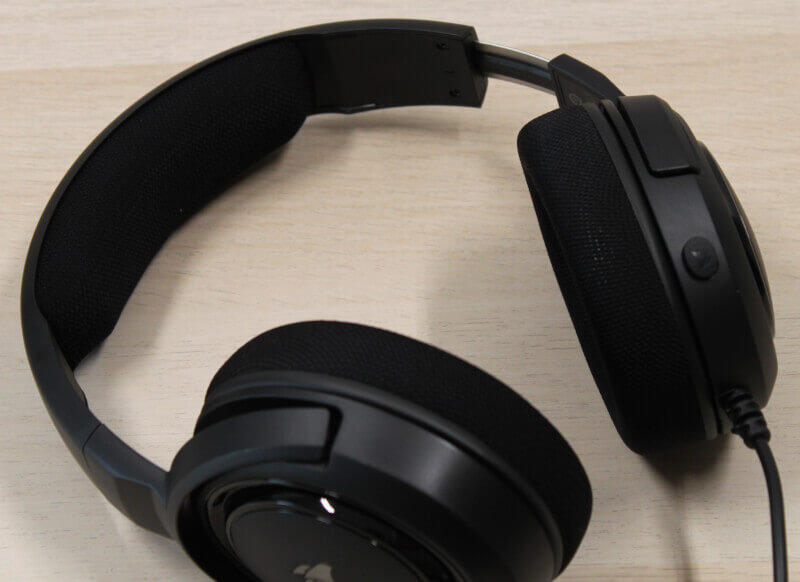 Before we get there, the headset has a trick up its sleeve. You don't have a real gaming headset unless you also have a microphone. On the front of the left earpiece there is a rubber stopper that can be removed. When that is done, we have a hole into which the accompanying flexible microphone can be inserted. Since the connector has a special shape, it means that it can only be attached in a specific way, and it then sits securely without being able to turn. This allows the user to set up the microphone correctly, just in front of the mouth. With that said, let's get on with the actual test!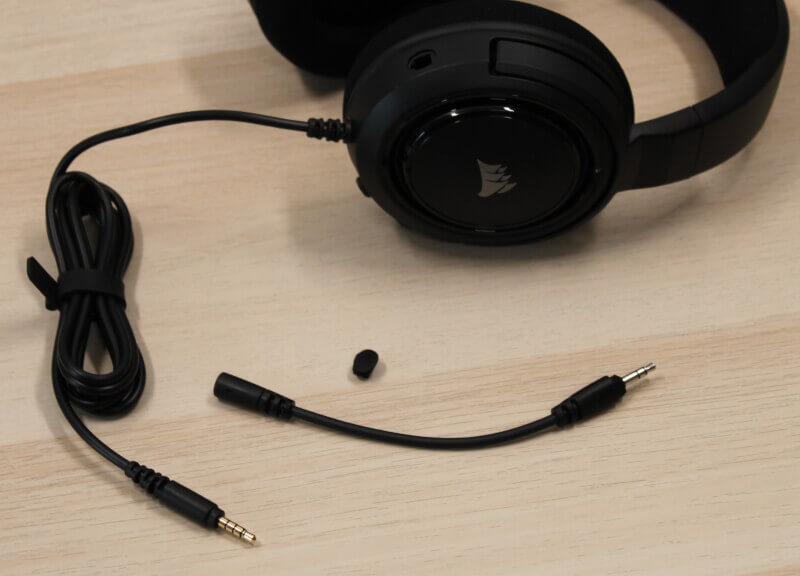 The Test - Sound and Comfort
Before we get to the conclusion, we of course have to perform the actual test, in order to evaluate the experience of equipping the HS35 Stereo headset and of course how it sounds. Since we're dealing with a headset that uses an audio jack, this means that your sound card plays an important role. For this test, I've used the built-in sound card on the ASUS Zenith Extreme X399 motherboard, which sports a SupremeFX S1220 audio chip, which belongs in the higher end of the scale. This way, we are certain that it isn't the sound card that will be limiting us when evaluating the performance of the HS35 headset. In order to achieve the most fair result of the sound of the headset, out-of-the-box, we didn't add any equalizer settings at all.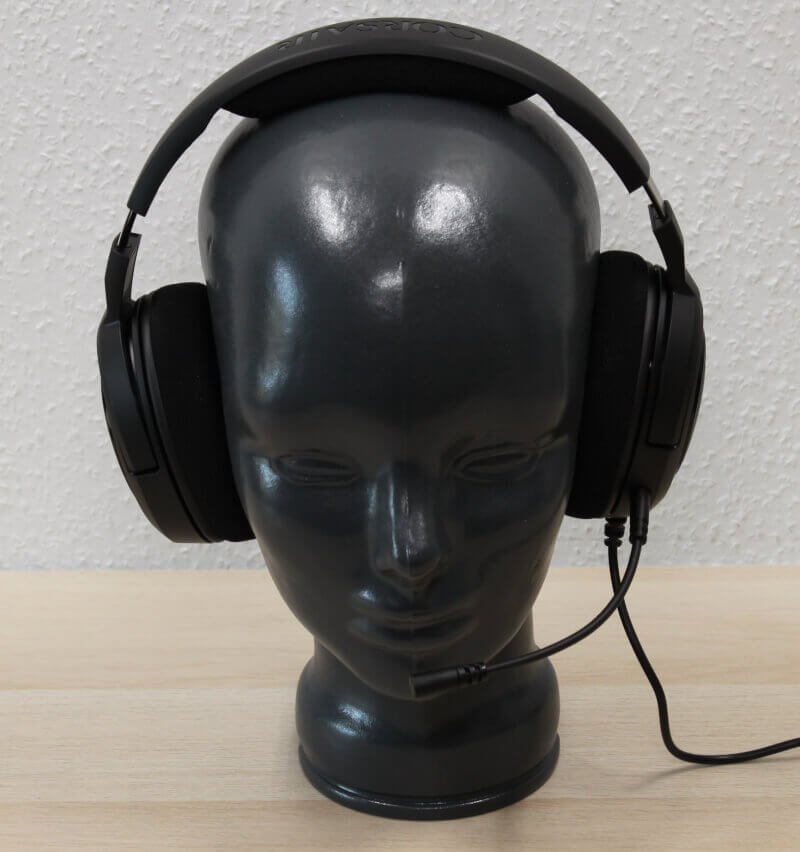 I have a pretty broad taste in music, and this of course meant that the HS35 headset was exposed to a variety of things. Everything from pop and rock to electronic music and rap was thrown at it.
I'll try to give my take on the sound that was delivered by the headset even though it is often a somewhat individual matter what good audio is. If we start with the high tones, the treble and midtones in the lower frequency range were rendered quite well. However, I couldn't help but feel that some detail was missing in the higher frequencies. Fortunately, I still have the Kraken 2019 from Razer lying around, so I had something to compare directly with. On the Razer headset, the sound stage was almost identical, but the details were better, which meant that the sound stage was both overall better and more immersive. Do keep in mind, though, that the HS35 is a cheaper headset, and even though it might be missing some details, it still sounds good in the higher frequency range.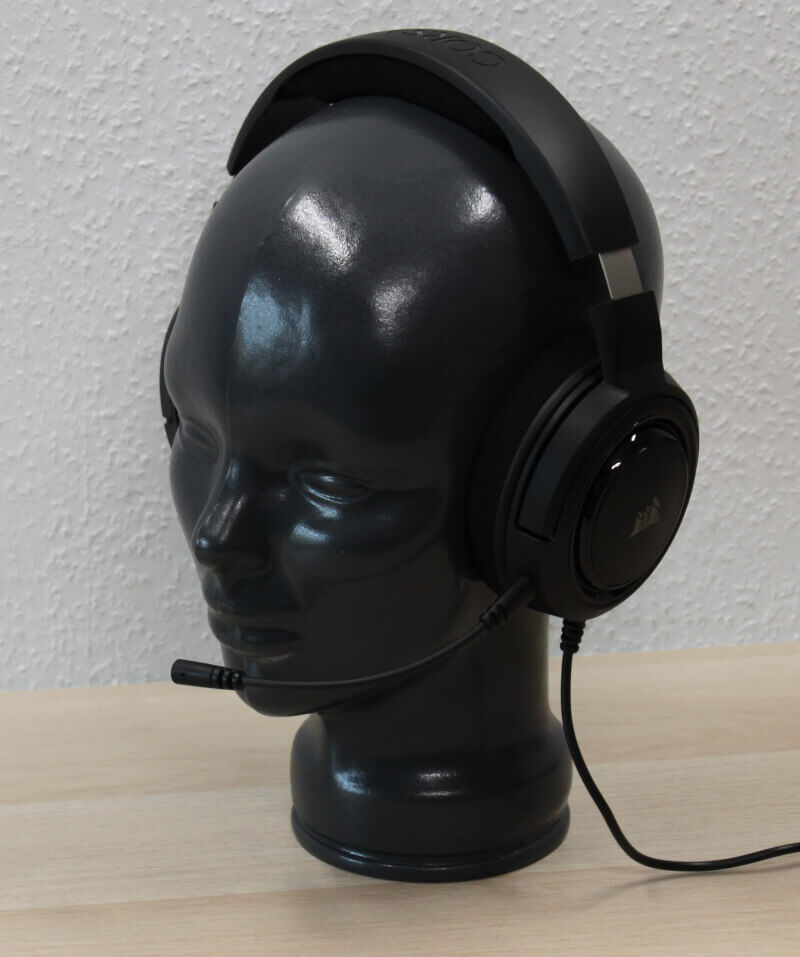 The bass was also rich, without being too dominating. Great! Here, I'd go as far as to say that Corsair has nailed it. Well done. For gaming, which arguably is the main purpose of this headset, it was also comfortable to listen to. At no time were you in doubt where the sounds were coming from in PUBG, which is a game that I've sunk quite a lot of hours into now, and as such I am very familiar with in terms of sounds. Overall, I'd say that the HS35 Stereo headset performed quite reasonably, and even though there are better options out there, you can't ask for much more at this price tag.
How about the comfort, you ask? Good sound is one thing, but what good is it, if the headset isn't comfortable to wear? Fortunately, I can report that the HS35 headset sits good on the head, even during longer gaming and music listening sessions. The large soft fabric cushions on the earpieces and headband made this a comfortable headset to wear, and it was easy to adjust the size in order to get a perfect fit. All in all, Corsair's HS35 Stereo headset is a reasonable budget product that can be used for everything. It looks nice, feels good to wear and has a reasonable sound. Really good at its price. What more can one ask?
Price
At the time of this writing, the Corsair HS35 Stereo headset can be found online for $39.99. At this cost, you get a solid headset that sounds quite nice, can play loudly and can be used on multiple platforms. If your budget is limited, the HS35 is a no-brainer, and a very good pick within this price range.
All of the details of this headset can of course be found on Corsair's own website. Click here in order to reach their website in a new tab and check out the specifics there.

Conclusion
We've reached the end of our review of the Corsair HS35 Stereo headset, and it's time to conclude. In more than one way, this headset does a surprisingly good job, even though there are two particular points that could've been improved. Let's start with these. First and foremost, the build quality. It's decent, but there's a lot of plastic parts, and the headset squeaks a bit when you twist it. At this price, though, that's something you might come to expect, but it certainly still warrants mentioning. However, what annoys me more was that the sound of the HS35 Stereo headset misses a bit of detail. Don't get me wrong, the sound is overall quite reasonable, but when compared to other headsets that I've reviewed previously, e.g. the Kraken 2019 from Razer, the sound of the HS35 Stereo headset is a bit bland. It misses that last bit of detail, and that's when comparing the two headsets on the same sound card and equalizer settings.
I'm quite critical when it comes to sound, and an average consumer that hasn't been able to compare the two headsets will undoubtedly be quite satisfied with the sound that the HS35 Stereo headset delivers. It doesn't sound bad, but just misses a bit of detail. If you're into colors, and often change between playing on a computer, listening to music on your mobile device and maybe even have a console, then this headset is a true winner since it can be used across all platforms with ease. This is a huge win in my book, and especially when considering the price. The microphone can be detached, when it isn't needed, which means that you can easily bring the HS35 Stereo headset with you on the move should circumstances ask for it. However, the cable with its 1.8 meters is a bit long and impractical for this purpose.
Overall, I give the HS35 Stereo headset from Corsair a score of 8 out of 10 as well as the Safe Buy Award. Corsair has pulled off a reasonable budget headset that sounds good for most things, and at the same time offers fine comfort. So, if you're in the market for a budget-friendly headset that can be used for everything, then the HS35 Stereo headset from Corsair is certainly worth looking at. At this price, you get a lot of value for the money.
Pros:
Comes in several different colors

Detachable and decent microphone

Audio jack adaptor included

Overall reasonable sound

Good comfort and lightweight

Can be used on multiple platforms

Build-quality is OK
Cons:
The build-quality also reflects the low price

The sound lacks a bit of detail/clarity
Score: 8 + Safe Buy Award