AUTHOR : Berleburg
PUBLISHED : 2019-09-26 15:00
Corsair Virtuoso SE - High-End Wireless Headset
In the past couple of years, the use of exclusive materials in hardware has been trending. In particular, we've seen materials such as aluminum and tempered glass find their way to consumer products. It'll probably be a while before we see the use of tempered glass in a headset, but aluminum is certainly a possibility. This is something that Corsair has focused on with the release of their new Virtuoso RGB Wireless SE headset, which we'll be taking a look at today. I dare start things off by revealing that the quality is on a whole new, and previously unseen, level coming from Corsair - and that is saying a lot!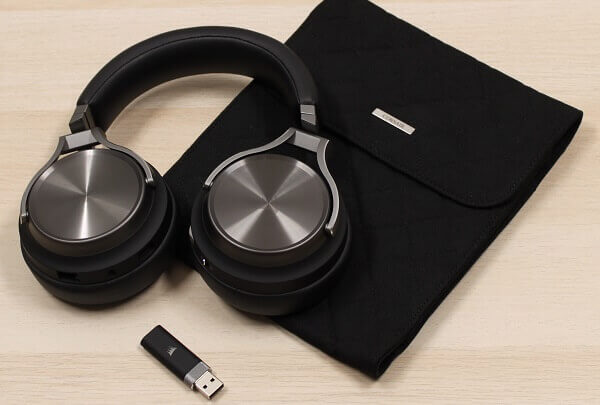 Specifications and Features
At the time of this writing, the Virtuoso SE headset cannot be found on Corsair's website due to the NDA. However, I've been provided with some specifications that I'll be listing below (including some press material that showcases some of the unique features of the headset).
Type: Wireless over-ear headset

Materials: Aluminum, plastic and artificial leather

Compatibility: PC and PlayStation

Headphone driver: 50 mm neodym

Headphone frequency response: 20 Hz - 40 kHz

Impedance: 32 Ohm @ 2.5 kHz

Headphone sensitivity: 109 dB

Connectivity: Cable, USB-dongle (SlipStream) or Bluetooth

Headphone battery life: Up to 20 hours

Headphone Wireless range: Up to 40 feed (12 m)

Software: Corsair iCUE

Headphone weight: 360 gram

RGB lights: Yes, Corsair logos

Dimensions: 70 x 100 x 195 mm

Microphone type: Omni-directional

Microphone frequency response: 100 Hz - 10 kHz

Accessories: Cables, carrying bag and microphone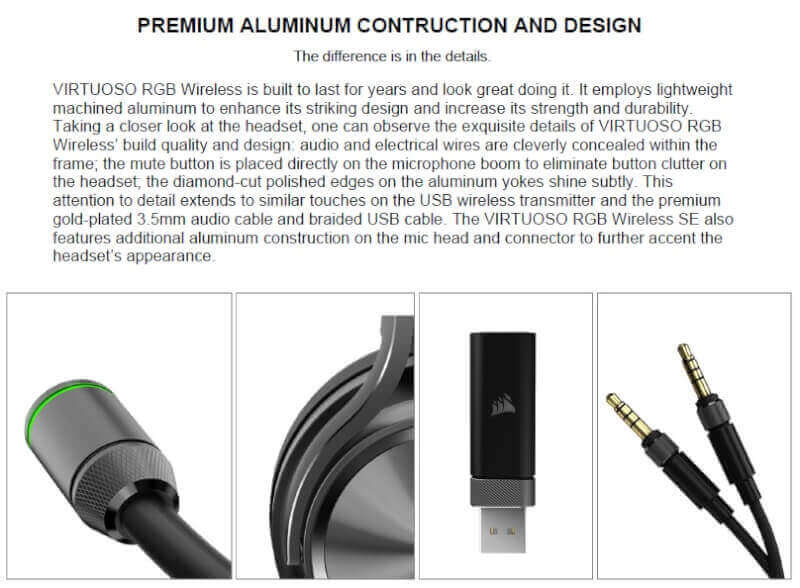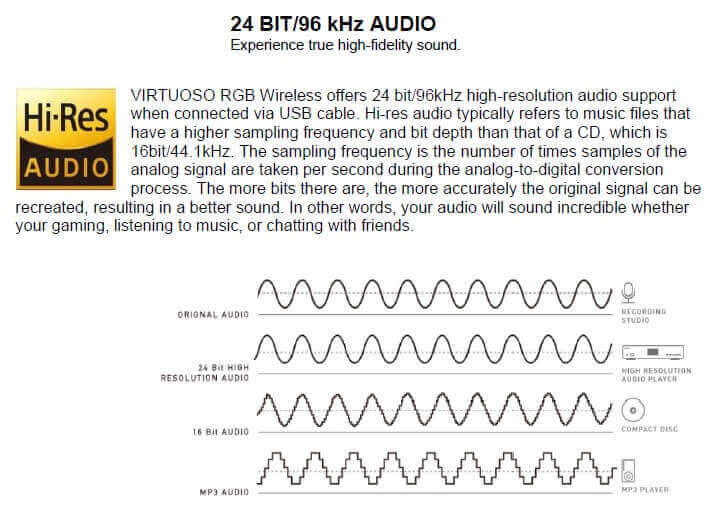 Unboxing and Overview
It's now time to unbox the Virtuoso SE headset from Corsair so we can see what goodies the set contains. In contrast to pretty much every other Corsair product, the exterior box contains no trace of the familiar yellow color. Instead, it sports a black/gray color theme, and on the front we find a depiction of the headset, including the model name and a text that mentions that it can be used with PlayStation as well.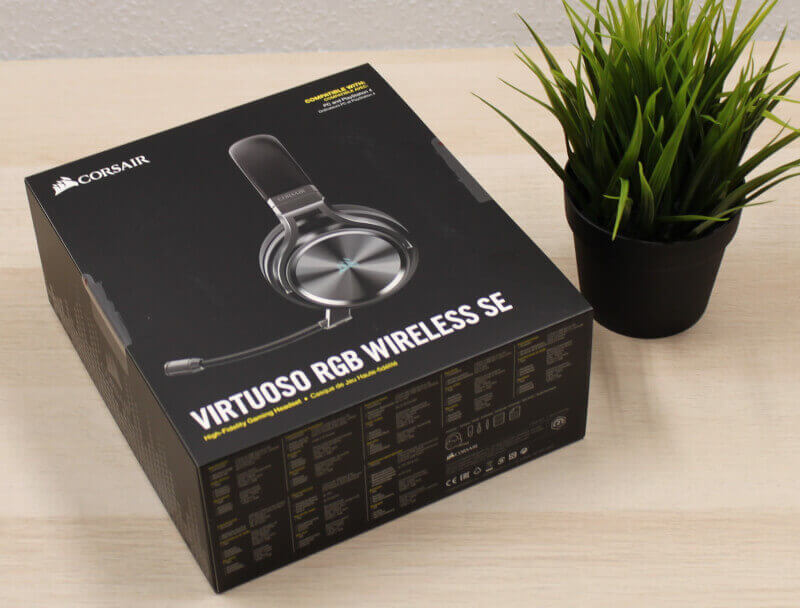 On the back, we find yet another depiction of the headset, as well as some text in various languages. This bit of text also tells us that the Virtuoso SE headset is supported by Corsair's iCUE software, their wireless SlipStream technology and is Discord certified.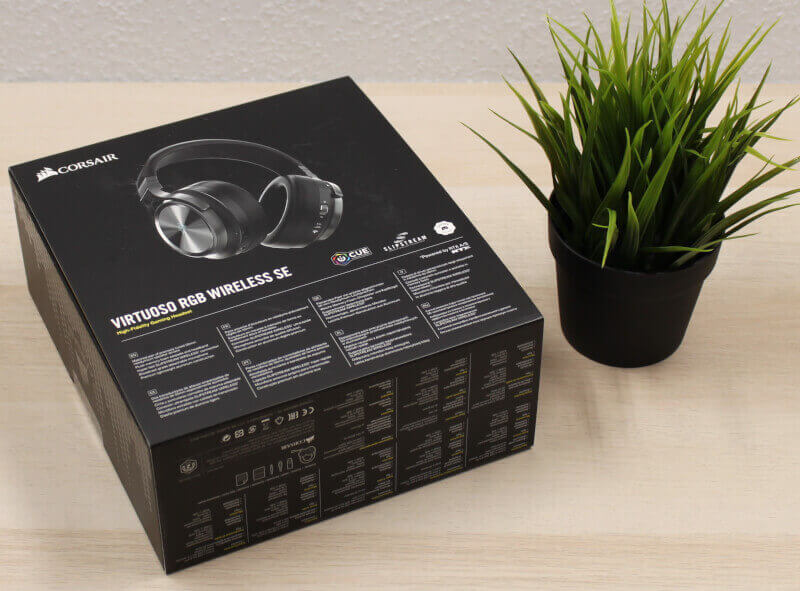 Upon removing the lid, we are finally greeted with the familiar yellow color. What also greets us is the Virtuoso SE headset, which is neatly presented on top of the other contents. Let's get everything out so we can get an overview of what is included.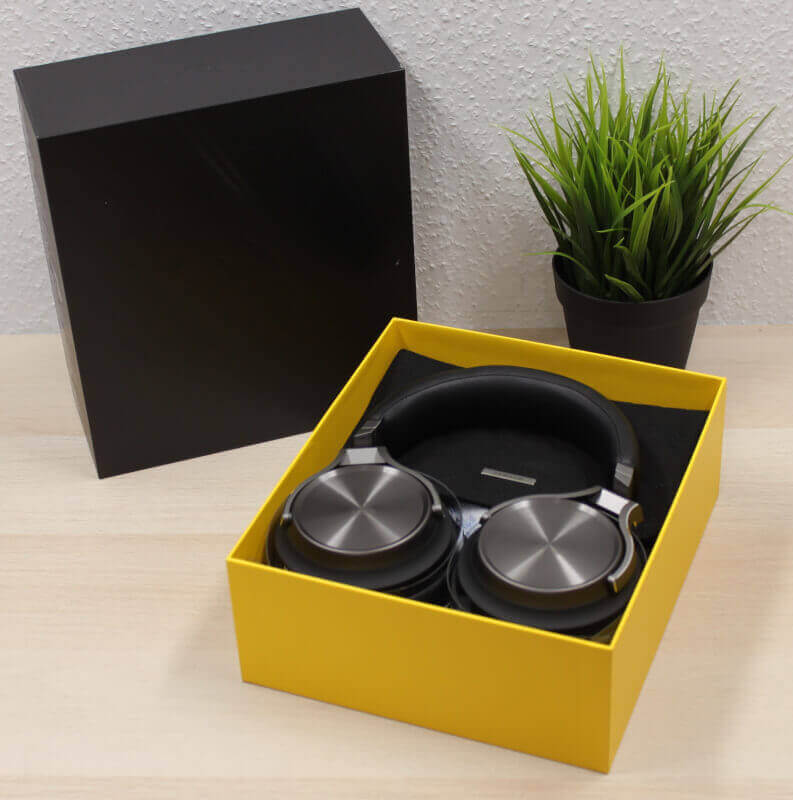 With everything out of the box, we realize how abundant the set is. I've listed all of it below:
Corsair Virtuoso RGB Wireless SE headset

Carrying bag with magnetic clasp

Various documents

USB Type-C cable for charging and cabled use

Wireless USB-dongle with SlipStream technology

3.5 mm jack connector for use with PlayStation/smartphone

Detachable microphone in aluminum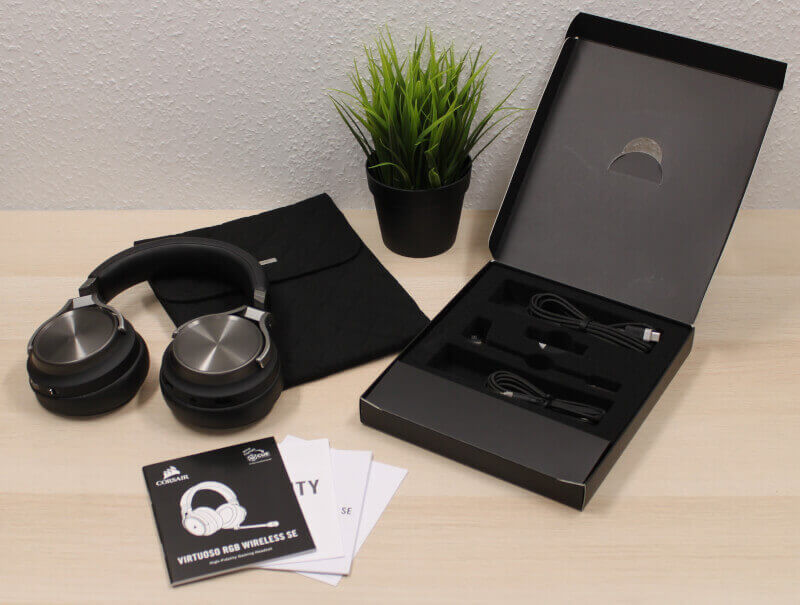 Below, I've laid out all of the accessories. We, as consumers, have become accustomed to plastic cables, but Corsair has outdone themselves with the Virtuoso SE headset by adding aluminum everywhere. This means that the cables all feature aluminum parts on the connector heads, the gray areas of the USB-dongle are aluminum, the microphone is aluminum and finally, the Corsair logo on the included carrying bag is aluminum. All this adds to an elevated look and feel of this product.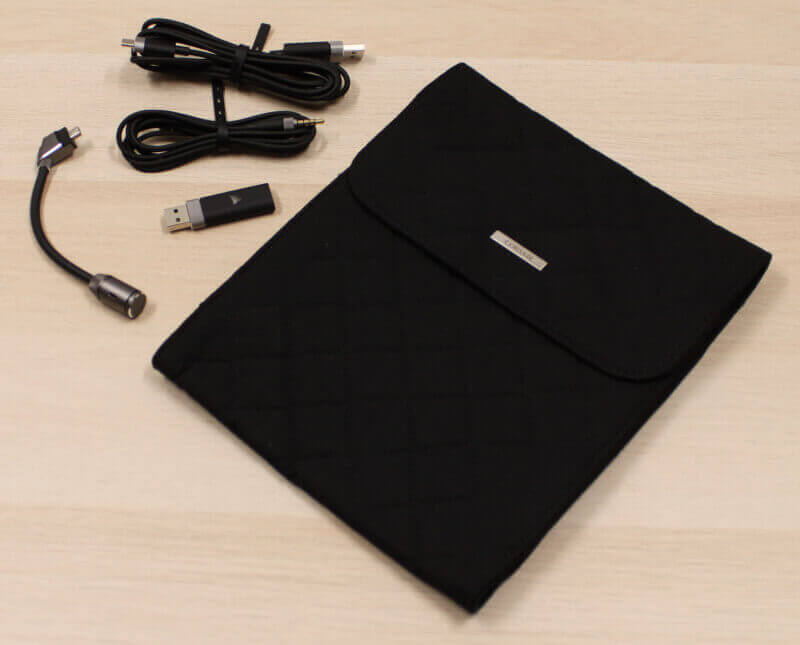 But it's far from over. Now, it's time to have a look at the Virtuoso SE headset. As with the rest of the kit, we also find a generous use of aluminum here. It looks stunning, and it adds a lot to the overall sense of build quality - and quality in general.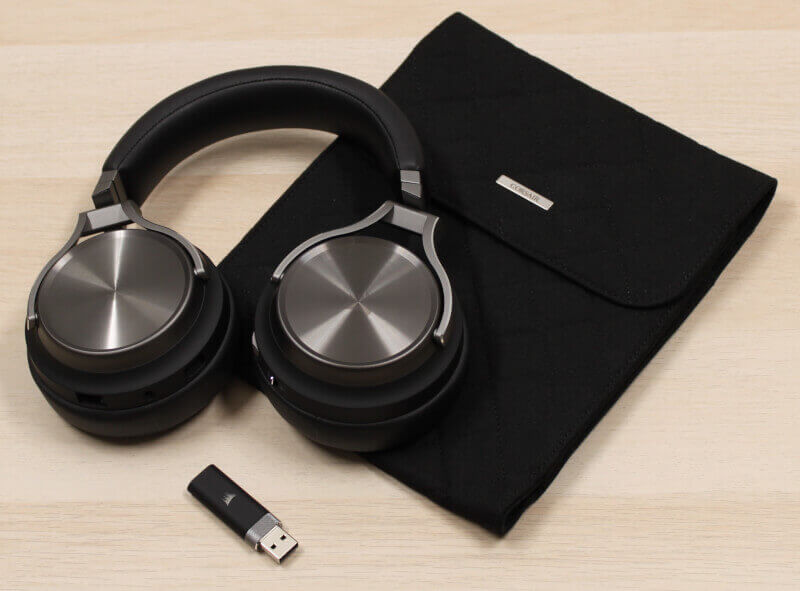 At a glance, the Virtuoso SE does not look like your typical headset from Corsair. It bears no resemblance to anything that they've previously made, neither in terms of design nor build quality. Even though Corsair's headsets, and other products, typically are fine in quality, this headset puts them all to shame. It's built as a tank, and looks really awesome, and it feels awesome too.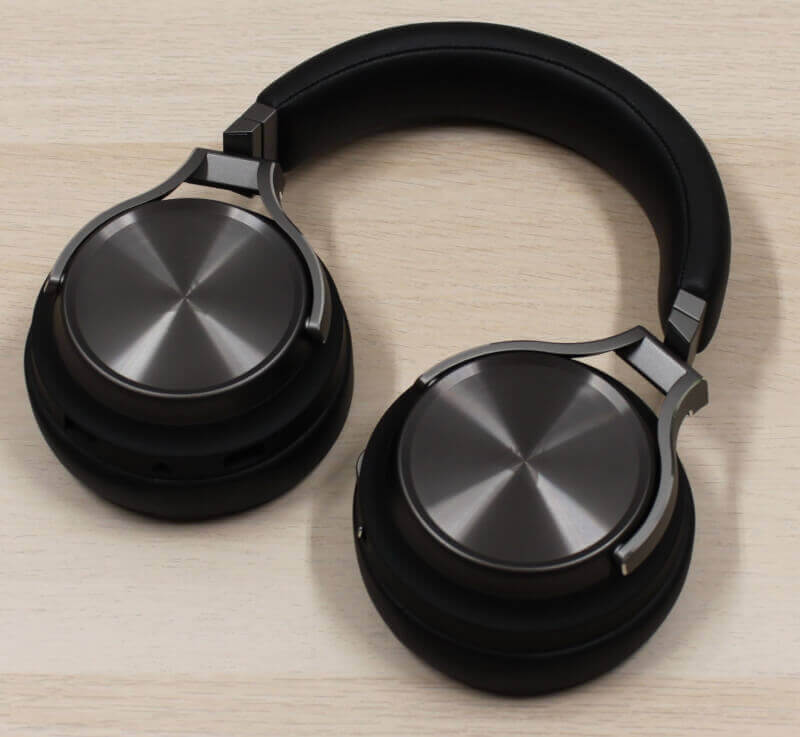 We find two large earpads that each feature a memory foam core underneath the artificial leather surface. This makes the earpads sit firmly around your ears. The earpads are deep and have a really nice size, and they'll be comfortable for anyone to use and are unlikely to press on your ears.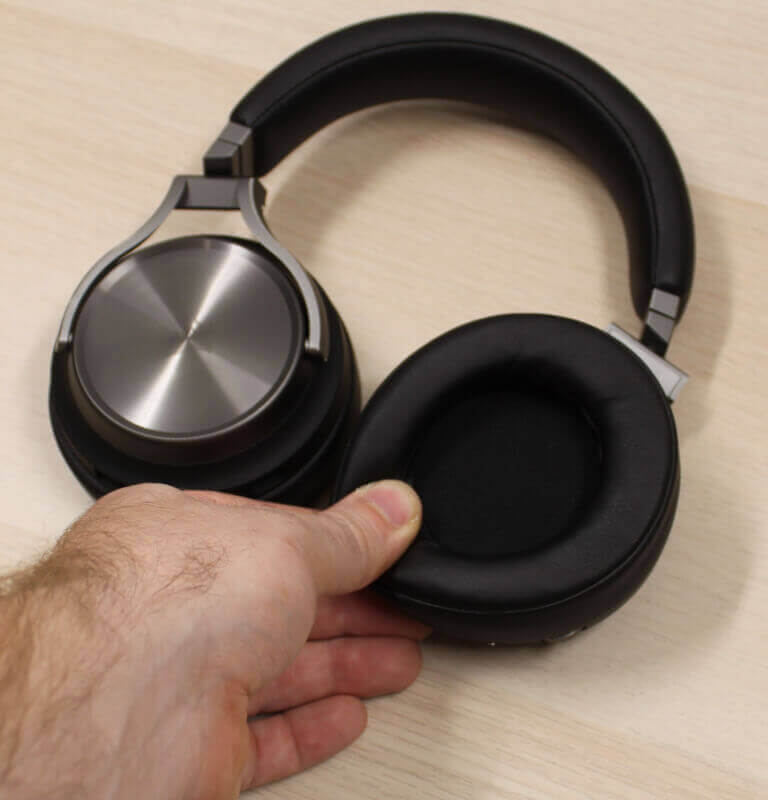 On the headband, we find the same nice artificial leather and memory foam in use, which adds to the impression of the Virtuoso SE being a highly comfortable headset. There are no other "soft" materials or areas on this headset. The rest is simply made in aluminum.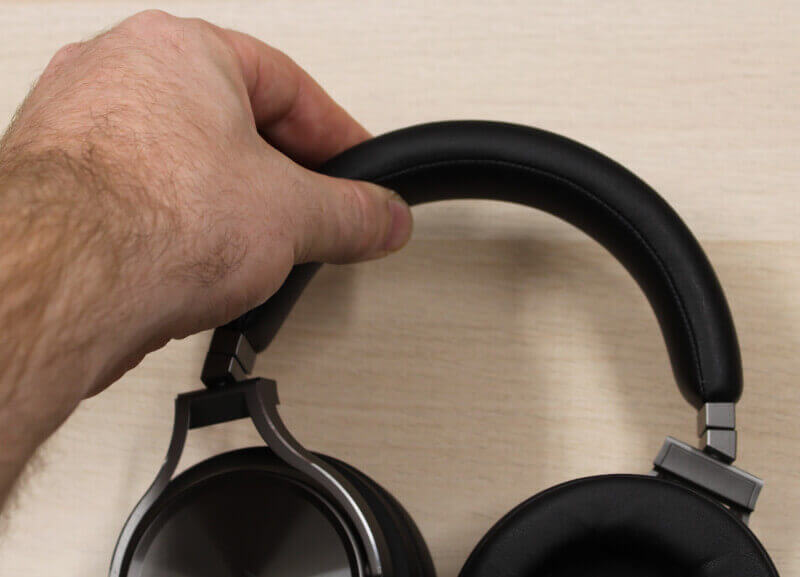 On each side of the headset, we of course find the option to adjust the size of the headset to fit all sizes of heads. Adjusting this setting is done with some solid "clicks" in the sense that it takes a certain amount of force to adjust it. This in turn means that the headset size-adjustment is unlikely to change by accident. Yet again, we find that this adds to the overall sense of quality of the Virtuoso SE.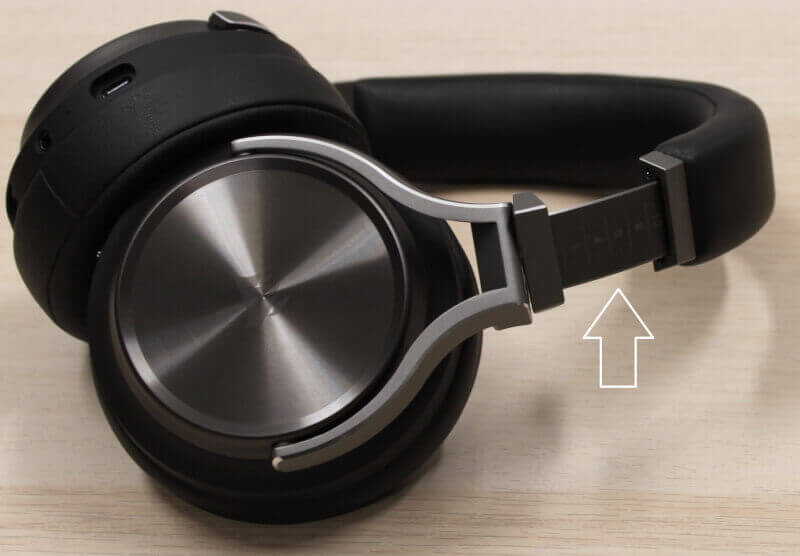 The left earcup holds all of the connection options. For good measure, do note that we added the descriptive text depicted below, and it is therefore not to be found on the actual product. On the left, we have a mini-USB port, which is situated inside an indented area. This is where the detachable microphone is inserted, and it only fits in one way. The 3.5 mm jack is used when connecting the headset to a PlayStation or a smartphone. The final, and most modern connector, is the USB Type-C port at the right. This is used when charging the headset, but can also be used for audio. It's great to see that Corsair has jumped on the Type-C train with this new headset. It makes things easier, and also future proofs the headset.
On the other earcup, we find an integrated volume scroll wheel in metal, as well as a small switch that will toggle the Virtuoso SE between cabled and wireless use. When set to "wireless", you'll need the accompanying USB-dongle that features their proprietary SlipStream technology. When set to "cabled", you can either use USB or the 3.5 mm jack connector. The "cabled" setting also doubles as the "off" switch of the headset. The volume wheel offers adequate resistance so that it won't change when accidentally bumping it with your hand. It's great to see how Corsair has got a handle on even the smaller details with the Virtuoso SE.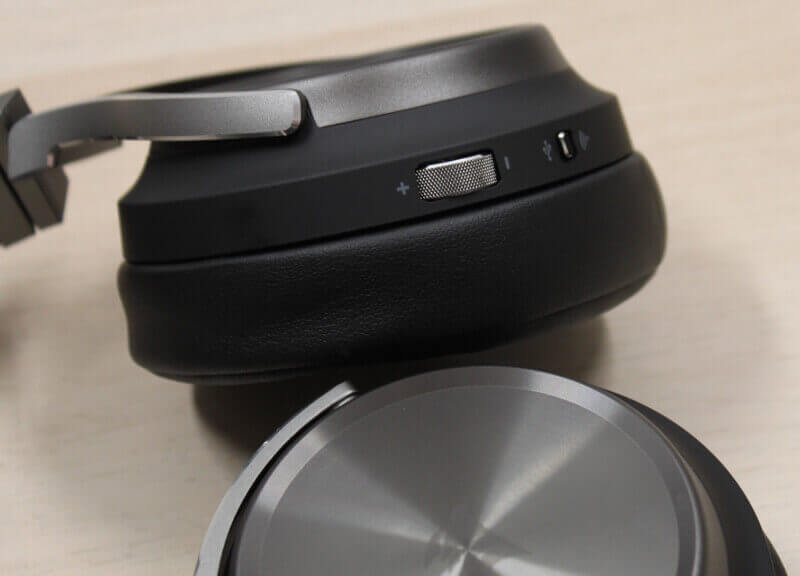 It's time to fire up the head and have a look at the software before the actual test can proceed. The Virtuoso headset actually comes in three different versions. Two "normal" ones; one is black, the other is white. On these, we find quite a bit more plastic parts, and the microphone isn't as nice as the one we get with the SE-version, which is the one that we've received. On the "normal" versions, the RGB lights shine through the plastic, but on the SE-version, Corsair has made some holes in the aluminum, which allows for the lights to shine through. You can see that on the picture below. This gives it a really cool and uniquely subtle effect. I'm really a fan of this headset so far. The build quality is by far the best that I've encountered on a gaming headset to date.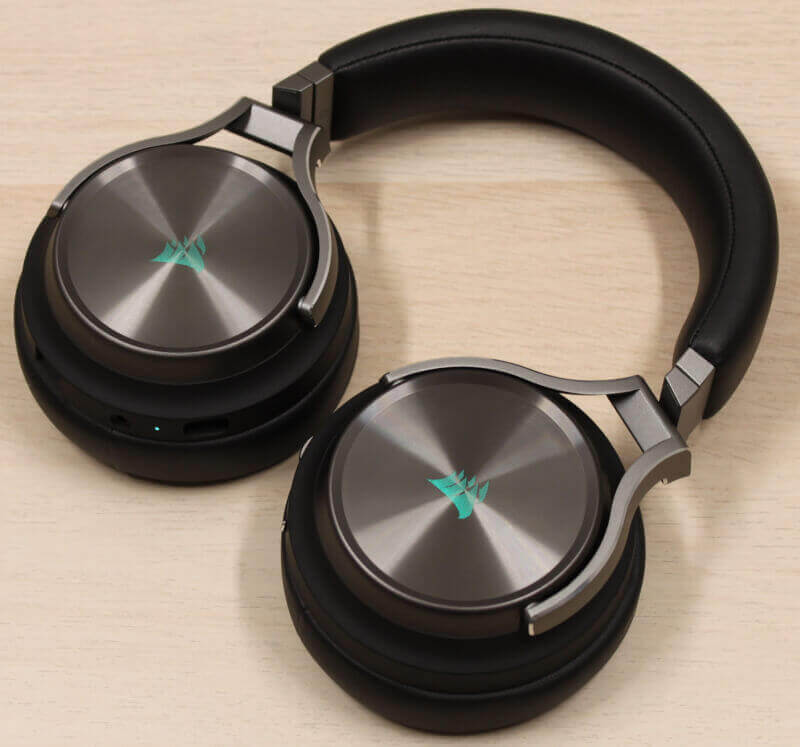 Let's get on with it. We start by charging the headset with the appropriate cable, and attach the microphone as well. Below, you can see the headset, ready for battle. But before we get around to the test, let's just have a quick look at the software, which provides us with some additional options.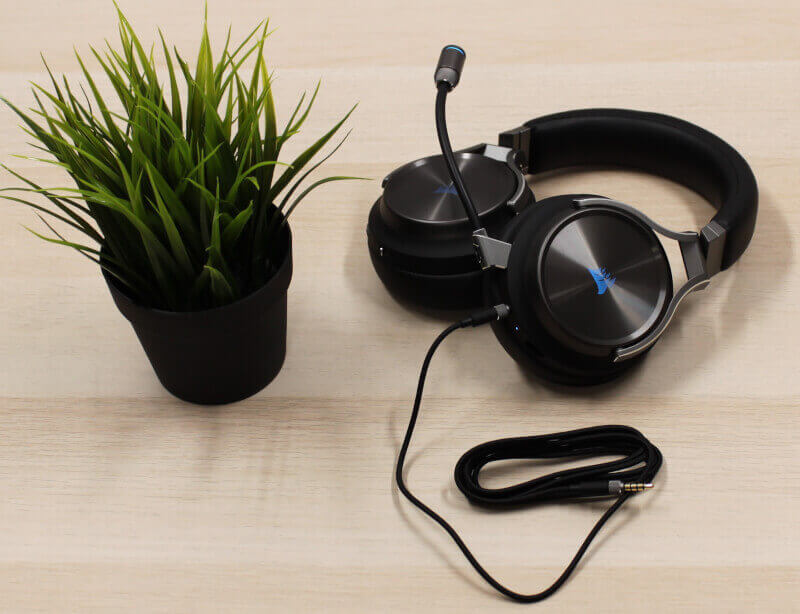 The Software - Corsair iCUE
To those of you who are already familiar with Corsair's iCUE software, there's nothing new to report here. We still find an overview of the connected products under the "Home" tab. Once you've selected the product that you wish to configure, in this case the Virtuoso SE, you are greeted with the image below. Here, you really don't have that many options at your disposal, aside from adjusting the volume of the microphone and the sidetone on the right-hand side. Additionally, you can choose between normal stereo and 7.1 virtual surround.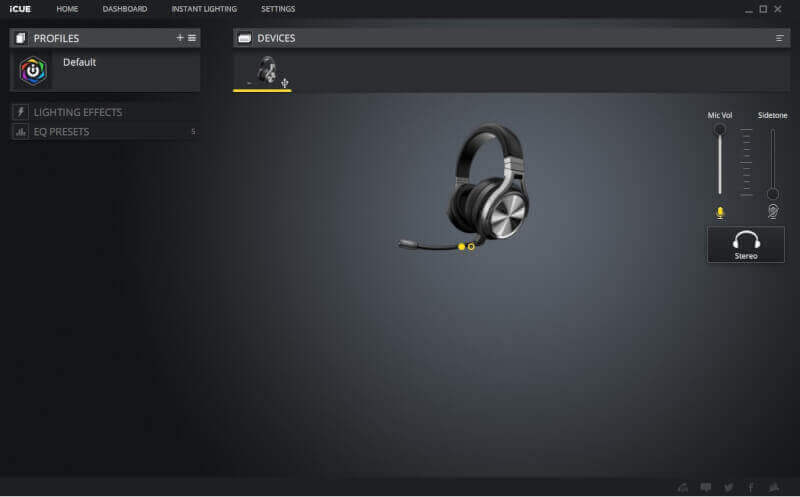 Under the menu item, on the left, called "Lighting Effects", you can adjust the light of the Corsair logos on each earcup. There's a range of different effects to choose from, and you can adjust both the speed and brightness of them. Since we are dealing with a wireless headset, you can extend the battery life by dialing down the RGB lights, or turning them off entirely. Corsair specifies a battery life of up to 20 hours with the Virtuoso SE headset.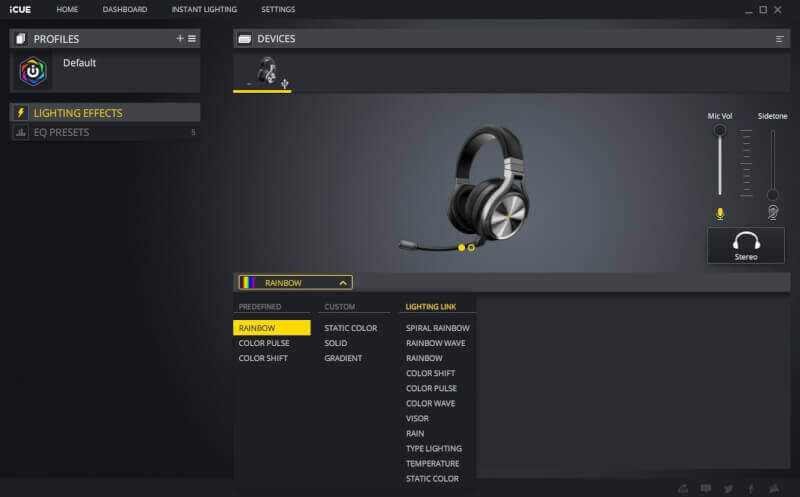 There's also a built-in equalizer in the iCUE software, which we access by navigating to the "EQ Presets" tab. Here, we find five different preconfigured profiles, but you can also create your own or even modify the existing ones. Do note, however, that any changes that you make here are not saved in the headset, but requires that the software runs in the background. One thing that I do miss with the iCUE software is a more accurate monitoring of the remaining battery life of the headset. In the Settings screen, at the very top, you can only see if the battery life is: critical, medium, high or fully charged. You can also add this information to your taskbar. I do hope, though, that Corsair will eventually provide us with the option of reading the battery life as a percentage. Maybe with a software or firmware update in the future.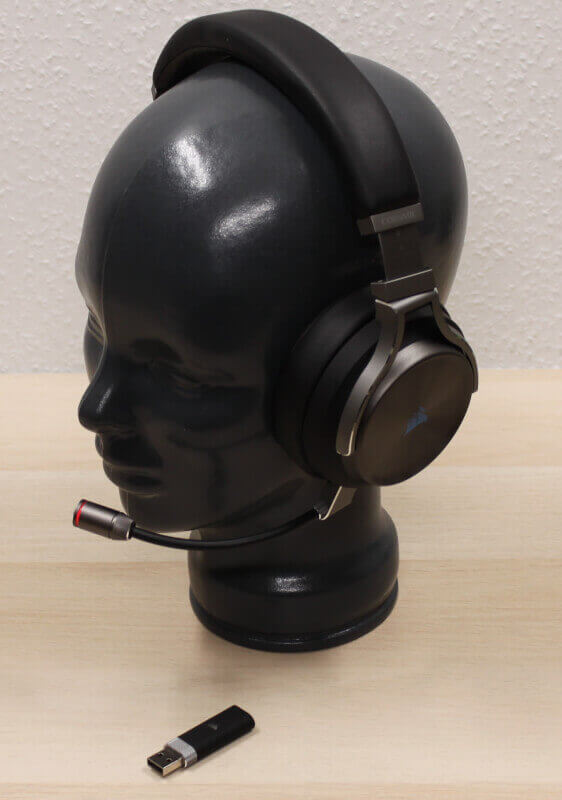 The Test
We've finally reached the point in this review where we will comment on the actual performance of the Virtuoso SE. For this test, I used my gaming desktop with the iCUE software installed, and with the USB-dongle with SlipStream technology. I work on the assumption that most, if not all, buyers of this headset plan to use it wirelessly. So this is my main focus when testing this headset. In case you decide to use the 3.5 mm jack in conjunction with this headset, the onboard sound card of your system plays a large role. So, in order to do a meaningful review, we'll stick to the USB-dongle and the wireless test without fiddling with the equalizer settings.
Before getting to the sound quality, I'd like to talk about the comfort first. When first you pick up the headset, it might strike you as a bit heavy. But compared with many other headsets, its weight of 360 g isn't that bad. The comprehensive use of aluminum of course plays a role in this regard. The earpads of the Virtuoso SE have a really nice size, which means that pretty much anyone will be able to wear it properly and comfortably. I have a rather large head myself, and I needed to adjust the size to 8/10, at which point the fit was spot on. Once they've been properly adjusted, they sit really nice on your head. The cushions are soft and comfortable thanks to the memory foam and the soft surface of the artificial leather. Due to the large size of the earpads, I also didn't experience the same heat build-up as I usually do with headsets sporting artificial leather.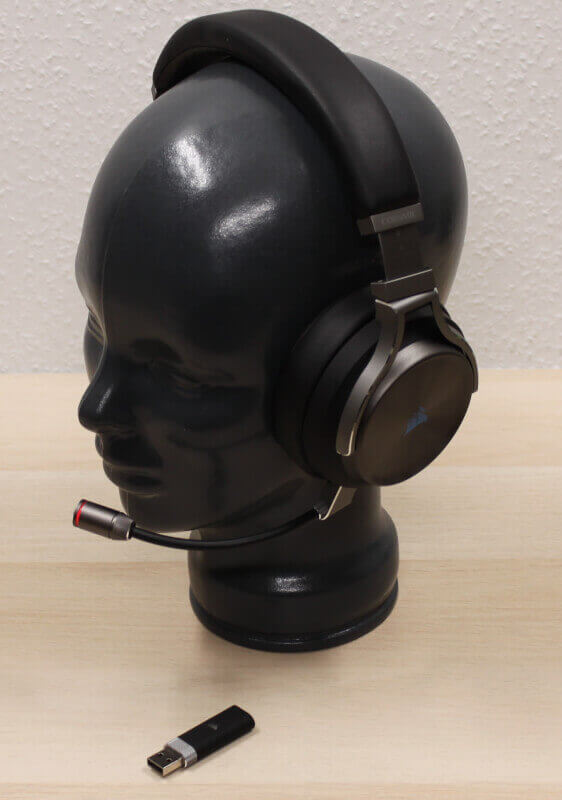 There's one thing that I'd like to remark based on my time using the Virtuoso SE headset. When the charging cable is attached, and you turn your head in a way that the cable will touch your shoulder or collar, the sound produced by this friction will be very noticeable within the earpad. It's not a pleasant sound, but at least it only is prevalent when charging the headset. Corsair could've done something to alleviate this by including a USB Type-C cable with a shorter connector in the end that goes into the headset - the one you get is pretty long. Alternatively, you could just charge your headset overnight and avoid this whole debacle entirely.
Now, let's talk about the sound quality of the Virtuoso SE. As mentioned, I tested it wirelessly only, since this will probably be what the far majority of buyers will be doing also. The test consisted of simply listening to a range of different music and of course playing some first-person shooters. Starting with the music, I have a pretty broad taste, which means that I exposed the headset to various genres like rock, pop, dance, house and electronic music. Obviously, sound and audio is a somewhat subjective matter and it can be difficult to define "good sound". However, I was left with no doubt. The Virtuoso SE played well… very well, in fact! No matter what genre I threw at it, it was rendered perfectly. I'd even venture as far as saying that the Virtuoso SE even beats some of the previous cabled headsets that I've tried on and I've reviewed quite a few to this day. This goes to show how good this headset sounds.
Corsair has also secured a hi-res certification of this head, which means that it is capable of playing at a higher bitrate and frequency range than many other normal headsets - and this is certainly noticeable when listening to music. No matter the genre, the clarity is crisp and detailed. There's a good balance between the different frequency ranges, in which we find that the treble, mid and bass are in perfect harmony. Should you still have a desire to adjust the sound stage, this is easily done with Corsair's iCUE software.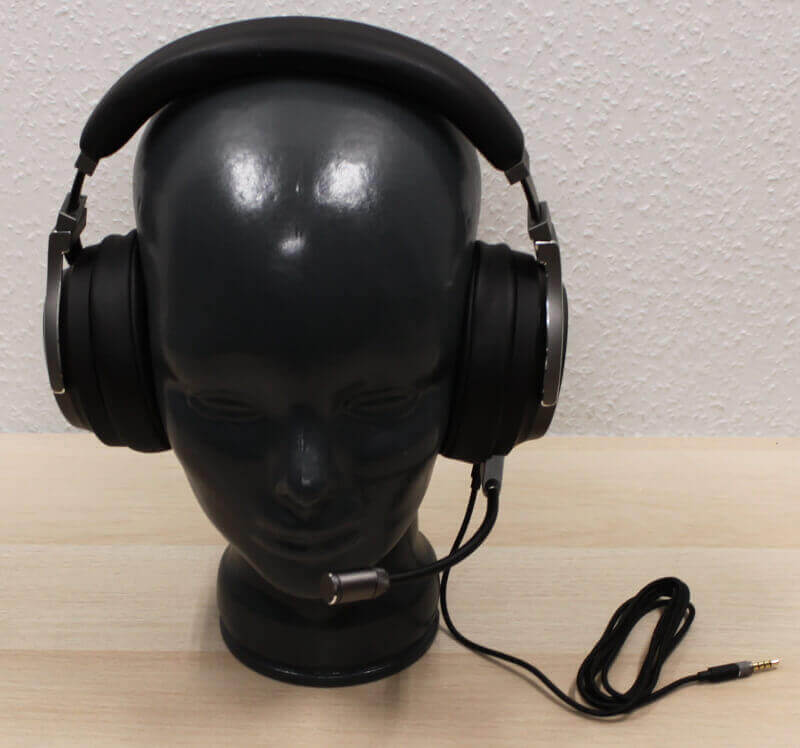 But one thing is music. What about gaming? This is, after all, a gaming headset. Well, I am happy to announce that the positive trend is carried over into the realm of gaming. I play a lot of PUBG, and as such, it was obvious to try out this headset in that game since I am deeply familiar with the sounds and audio cues of it. There was no doubt about where my enemies were located and from which direction they were coming. Explosions and gunshots sounded great and were very convincing. As with other headsets that offer virtual surround, it was briefly tried out, but quickly turned off again. I am, and will probably forever be, a fan of stereo output when playing first-person shooters.
We've now established that the Virtuoso SE headset from Corsair sits great on your head, sounds awesome in both games and music, but what about the microphone, battery life, and, not to forget, the wireless performance? If we start off with the latter, this headset uses the Corsair SlipStream technology, which is becoming a more and more common part of their product line-up. At no time did I experience any errors or oddities related to the wireless connection. It simply worked. Once you pick up the headset, and it's set to "wireless", it automatically turns itself on and connects to the USB-dongle. You're immediately good to go. The battery life, which Corsair claims to be up to 20 hours, is in part correct. It depends if you've had the RGB-lights turned on, and of course also the volume at which you run it. I didn't experience that the Virtuoso SE headset needed to be charged more often than my SteelSeries Arctis PRO Wireless headset.
Last, but not least, the detachable microphone that Corsair claims to be "broadcast-grade". If this is truly the case, I am not the one to decide. However, I can confirm that it sounds really nice, and has lots of details and richness, which is something that often is lacking on headset microphones. With its Discord certification, you're also guaranteed the best possible sound when talking with your friends via that particular application. This concludes the test section of this review. I could honestly go on for a while about how much I like this headset and how positively surprised I've been by it. But let's not indulge any further and wrap it up here by moving on to the pricing and finally the conclusion.
Price
At the time of this writing, we are still subject to the NDA, which means that there are no retailer listings of this headset to be found anywhere. However, we've been informed that the price of this headset will be around €200. This might sound like a lot for a headset, but when comparing with the other wireless headsets on the market, with a similar set of features, the price is quite frankly very fair. Headsets, such as the SteelSeries Arctis PRO Wireless, are priced at the same level, but come nowhere close to the build and sound quality of the Virtuoso SE.
You can read more about the various headsets from Corsair by clicking this link. This will take you to their website. Here you'll also be able to find the Virtuoso SE once this review goes online and the NDA has been lifted.
Conclusion
The final stretch of the review of the Virtuoso SE headset from Corsair has been reached, and it's now time to gather our final thoughts and comments. As I mentioned to begin with, this is a headset in a league of its own when compared to the other headsets from Corsair. No matter if you use the headset for music or games you'll be spoiled with a clear and well-balanced sound stage that simply sounds great. It's basically as simple as that. A lot of wireless headsets struggle to play at higher volumes, but that's also no problem for the Virtuoso SE, which can play at uncomfortably high volume levels thanks to the large 50 mm custom neodym drivers that it comes equipped with.
The aluminum construction is great, and manages to look both sexy and professional. At the same time, it makes the headset durable without its weight going off the charts (360 g). The battery life is on the same level as competing wireless headsets from SteelSeries, HyperX etc. So everything is in order here as well. You also get a very comfortable headset in the Virtuoso SE. With the large earpads and a headband that feature memory foam you have the core ingredients of a headset that will feel great to wear. Corsair's wireless SlipStream technology has also made its way to this headset, which ensures a wireless connection with that isn't error-prone. It just works, and it connects to the transmitter exceptionally fast every single time.
Aside from the Virtuoso SE headset offering great sound quality and comfort, there are also other smaller things that add to the overall experience. For one, you get a fair bit of accessories, including a carrying bag for when you are on the go, as well as all of the cables that you'd ever need. Whilst on the topic of cables, the Virtuoso SE also supports USB Type-C for charging, which is a big plus in my book. Overall, I've decided to give this awesome headset from Corsair a final score of 9 out of 10 as well as our Editor's Choice Award. Let me put it like this, my trusted SteelSeries Arctis PRO Wireless is now facing retirement on the shelf in favor of the Virtuoso SE from Corsair. With this headset, Corsair has shown what they are capable of achieving with their SlipStream technology. If this is just the beginning, there's no telling where things might go from here. This is a super cool product, which definitely should be tried out, should you have the opportunity. Over and out!
Pros:
Sounds really impressive

Features Corsair's proprietary wireless SlipStream technology

Good battery life

Exclusive build quality in aluminum

Nice comfort and fit

Good quality detachable microphone

Carrying bag included

Charging via USB Type-C

Adjustment options in Corsair iCUE
Cons:
Difficult to get an accurate read on remaining battery life

Charging cable connector is long
Score: 9 + Editor's Choice Award