AUTHOR : Berleburg
PUBLISHED : 2019-07-22 14:54
AORUS NVMe Gen. 4 SSD 2 TB
Included in our AMD Ryzen 3000 press kit, we also received an AORUS NVMe Gen. 4 x4 2 TB SSD, which means that we'll be able to try out the new PCIe Gen. 4 from the get-go.
Along with the new AMD X570 chipset, consumers are also treated with the new PCIe Gen. 4 technology, which boasts 16 GT (gigatransfers) per second. This roughly translates into 2 GB per second with the standard x1 speed. When talking PCIe Gen. 4 x4, we then have roughly 8 GB per second. So, the promised speeds from AORUS of 5 GB/s in read and 4.4 GB/s in write should be attainable.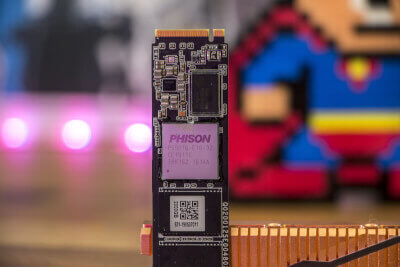 Interface: PCI-Express 4.0 x4, NVMe 1.3

Form Factor: M.2 2280

Total Capacity: 2000 GB

Warranty: Limited 5-years or 3600TBW

NAND: 3D TLC Toshiba BiCS4

External DDR Cache: DDR4 2 GB

Sequential Read speed: Up to 5000 MB/s

Sequential Write speed: Up to 4400 MB/s

Random Read IOPS: up to 750k

Random Write IOPS: up to 700k

Dimension (W x H x L): 80.5 x 11.4 x 23.5 mm

Mean time between failure (MTBF): 1.77 million hours

Power Consumption (Active) Average: R : 6.5W; W : 6.6W

Power Consumption (Idle): 21.1 mw

Temperature (Operating): 0 °C to 70 °C

Temperature (Storage): -40 °C to 85 °C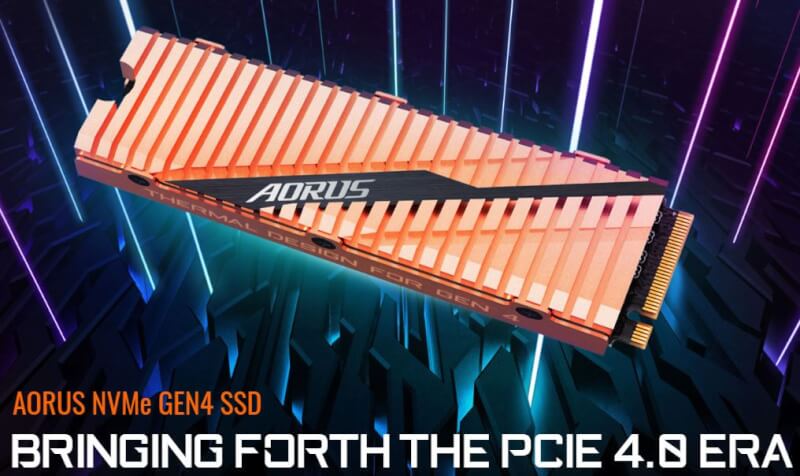 Check out our walkthrough of the X570 chipset here.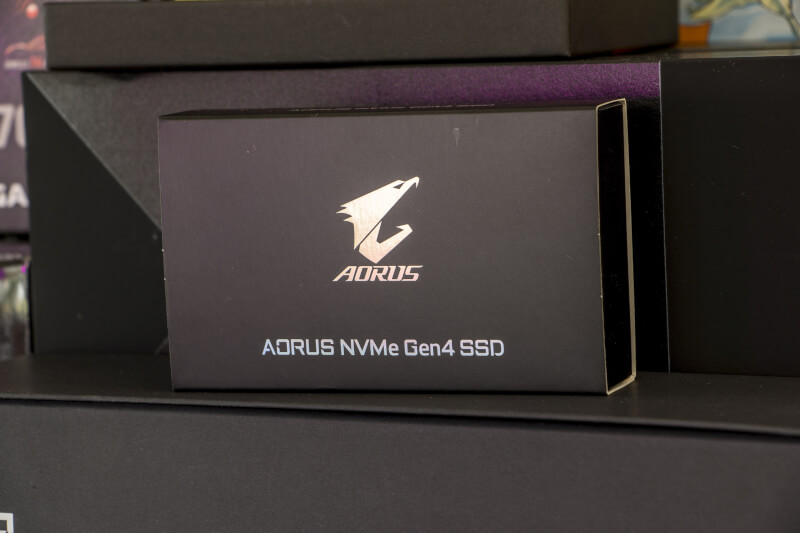 Our AORUS NVMe Gen. 4 SSD comes in a fine little black box with all of the goodies safely packed inside.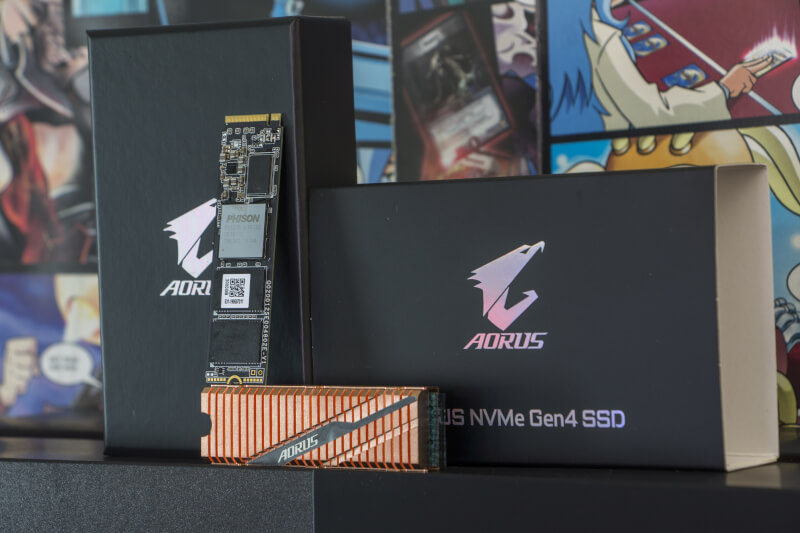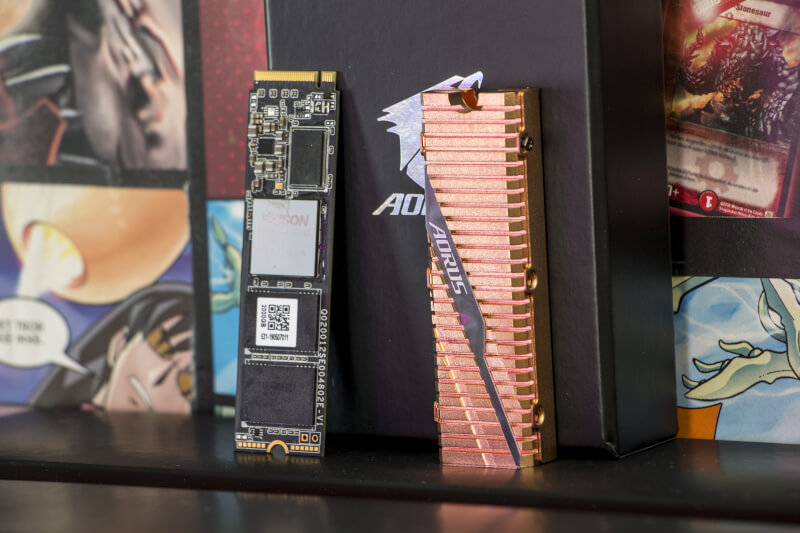 Inside the box we have our AORUS NVMe Gen. 4 SSD and a large full-cover copper heat sink that will help keep NAND chips and controllers cool during load so that we can maintain those high data transfer rates.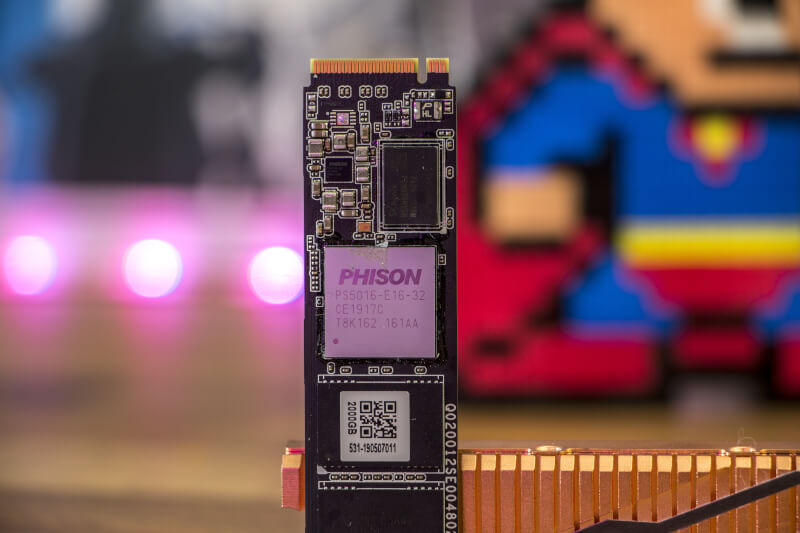 The AORUS NVMe Gen. 4 SSD is made with TOSHIBA BiCS4 96 Layers 3D TLC NAND chips that are well fast enough to deliver the promised speed. They are paired with a 2 GB DDR4 RAM cache, and everything is controlled by a Phison PS5016-E16, which is the world's first PCIe Gen. 4 x4 controller. The controller supports the NVMe 1.3 protocol, LDPC error correction and Wear Leveling, which ensures an equal wear on the NAND chips, thus ensuring that it will last as long as possible. Due to the large bandwidth on Gen. 4 x4, the controller is also capable of supporting ECC error correction at the high transfer rates.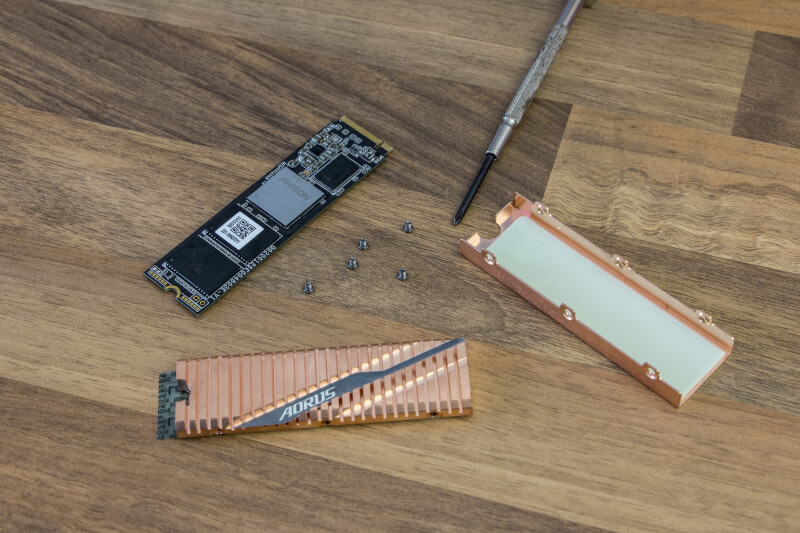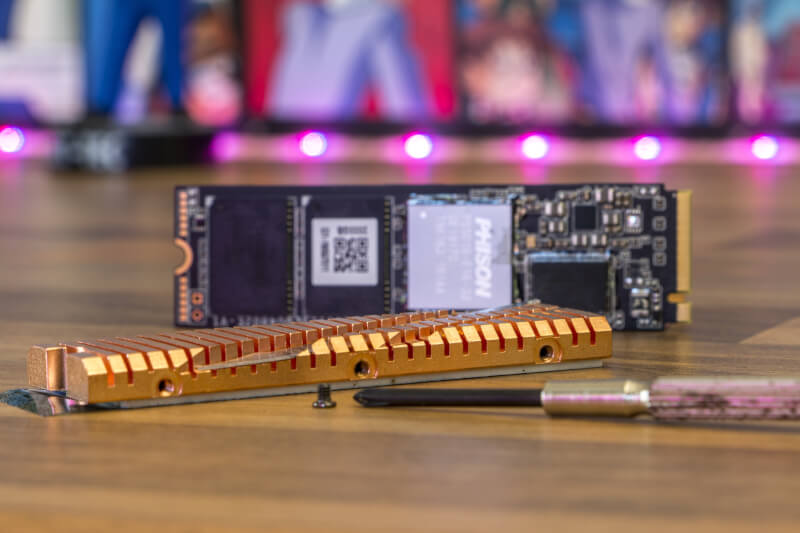 As mentioned, a heat sink is included. In order to use it, it needs to be opened (depicted above) and the SSD placed inside of it, between the pre-applied thermal pads.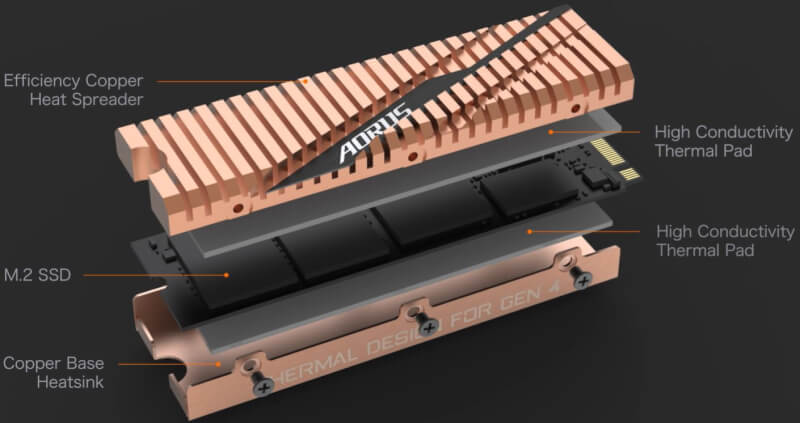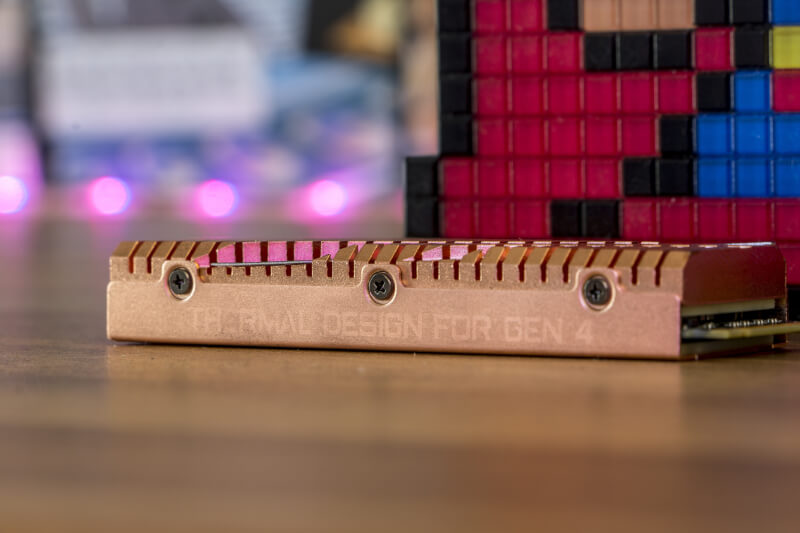 Here, you see it fully re-assembled and we're now ready to install it and continue with the test.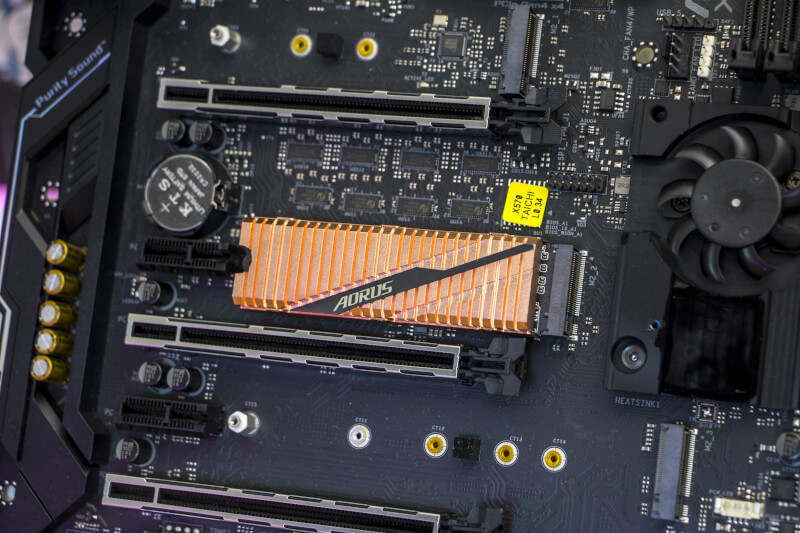 The AORUS NVMe Gen. 4 SSD is now installed on our X570 Taichi motherboard meaning that we are now ready to commence with the testing.

Test System
ASRock X570 Taichi

AMD Ryzen 9 3900X

AMD Radeon RX 5700 XT

G.Skill TridentZ Royal 3600 MHz 2x 8 GB DDR4 RAM

AORUS 2 TB PCIe Gen. 4 NVMe SSD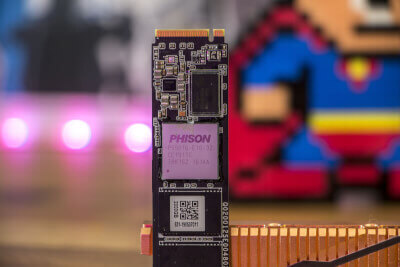 Test Software
CrystalDiskMark

3DMark PCIe4 benchmark

HWInfo64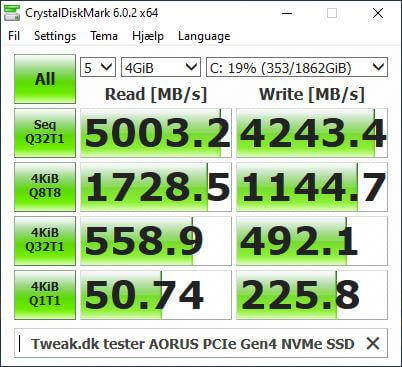 We start with CrystalDiskMark, and here, the AORUS NVMe Gen. 4 SSD goes all the way to the top, in read, and in write it dips just under the 4,400 MB that we were promised. Still, it is really fast and it bodes well for the PCIe Gen. 4 standard.
The 3DMark software has received a PCIe Benchmark that tests the size of bandwidth of an SSD on the PCIe socket. Here, I've also tested the AORUS SSD on a motherboard with Gen. 3, so that we can see the difference between the two standards. The new standard really packs a punch, and it's nearly a doubling when running with Gen. 4.
We will of course also check to see if the SSD can keep itself cool under use, and it seemed to work quite well, actually. However, we do test on an open test bench, but it still is very satisfying. I doubt that anyone would go ahead and not use the included heat sink, but we've tested it anyways in order to see if it will put the SSD under stress. However, it didn't reflect on the test results, which is quite nice.
Price
The AORUS NVMe Gen. 4 2 TB SSD can be had for the sum of $459. This is a pretty hefty sum, but on the other hand, it's a rather large SSD with PCIe Gen. 4 x4 interface.

Click here in order to learn more about the AORUS NVMe Gen. 4 SSD on AORUS's website.
Conclusion
It's been a busy period in time, in which we've performed several tests featuring the new AMD products, but that doesn't mean that you should be cheated out of a test of NVMe on the new Gen. 4 standard. But, what is the conclusion then? The high transfer rates are awesome to bring up when boasting among friends, or when you need that enormous bandwidth for heavy compiling tasks. No matter what you say, this technology packs a heavy punch, and AORUS certainly delivers what they've promised. The heat sink looks cool, and, more importantly, it works. The Phison controller is certainly put to the test, but the temperature is kept down, which means that it is nowhere near causing the SSD to throttle.
If you are considering upgrading to Ryzen 3000, after several years on an aging platform, then you should obviously pick an X570 and unlock this nice bit of technology. However, if you're still on an X470, and just want to upgrade to Zen 2, then I don't believe that the cost of upgrading to X570 can be warranted. A Gen. 3 NVMe can still produce upwards of 3,500 MB/s in data transfer rate. Do keep in mind that the price of 2 TB with the new standards is close to $500.
Still, AORUS has crafted a very nice NVMe Gen. 4 SSD with the best components that will maintain those high transfer rates on the new standard. This deserves a good score, where there's room for improvement in the time to come, once more SSDs will hit the market. Therefore, AORUS receives a score of 9 and the Great Product Award.
Pros:
Enormous bandwidth on the Gen. 4 standard

Despite the high rates, it keeps the temperature down

The heat sink looks cool

The Phison controller does its job well
Cons:
They are quite expensive at this time

We didn't quite reach the promised write speeds
Score: 9 + Great Product Award