AUTHOR : Berleburg
PUBLISHED : 2020-04-24 10:27
Corsair iCUE H115i RGB PRO XT
There is no way around the fact that PC cooling is an important part of both office desktops as well as massive gaming rigs. Corsair is one of the major players on the market when it comes to PC cooling, and in this review, we take a look at its new iCUE H115i RGB PRO XT water cooler.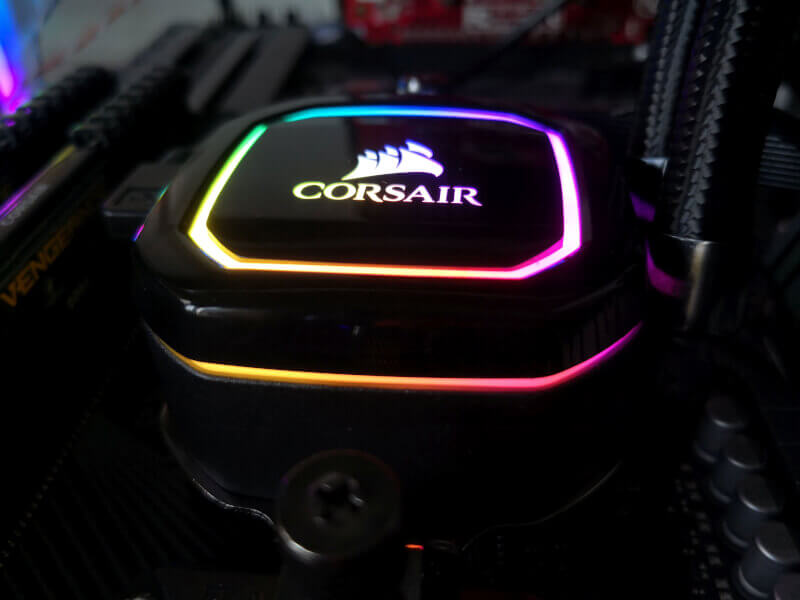 For many years, Corsair has been a renowned manufacturer of all-in-one (AIO) coolers. AIO coolers are water coolers that can be installed in your PC, and they are a whole lot easier to install than a custom water cooling loop. In this review, we'll be checking out the H115i RGB PRO XT CPU cooler, which is its newest addition to the H115i series.
First, let's look at the hard facts.
Specifications
Cooling Warranty: Five years

Cold Plate Material: Copper

Radiator Material: Aluminum

PWM: Yes

CORSAIR iCUE Compatibility: Yes

Tubing Length 380 mm

Cold Plate Dimensions: 56 x 56 cm

Tubing Material: Black Sleeved Low-Permeation Rubber

Radiator Dimensions: 322 mm x 137 mm x 27 mm

Fan Dimensions: 120 mm x 25 mm

Fan Speed: 2000 RPM

Number of Fans: 2

Cooling Socket Support: Intel 1150/1151/1155/1156, Intel 2011/2066, AMD AM3/AM2, AMD AM4, AMD sTR4, AMD sTRX4

Lighting: RGB

Radiator Size: 280 mm

Fan Model: ML series

Fan Control Method: PWM

AMD Processors Supported: Ryzen Threadripper, Ryzen, Phenom II, Athlon II, FX, A-Series, Opteron, Sempron, Athlon 64

Intel Processors Supported: Core i9, Core i7, Core i5, Core i3, Pentium, Celeron

Fan Airflow: 63 CFM

Fan Static Pressure: 3.0 mm-H2O

Noise Level: 36 dBA
We are dealing with a 280 mm cooler, which means that the radiator has a size that will support the use of two 140 mm fans. The included Corsair ML fans make use of magnetic levitation instead of an ordinary ball bearing inside the fan. This should equate to less noise and vibrations when the fan runs at higher speeds. These fans will run between 400 RPM and 2000 RPM.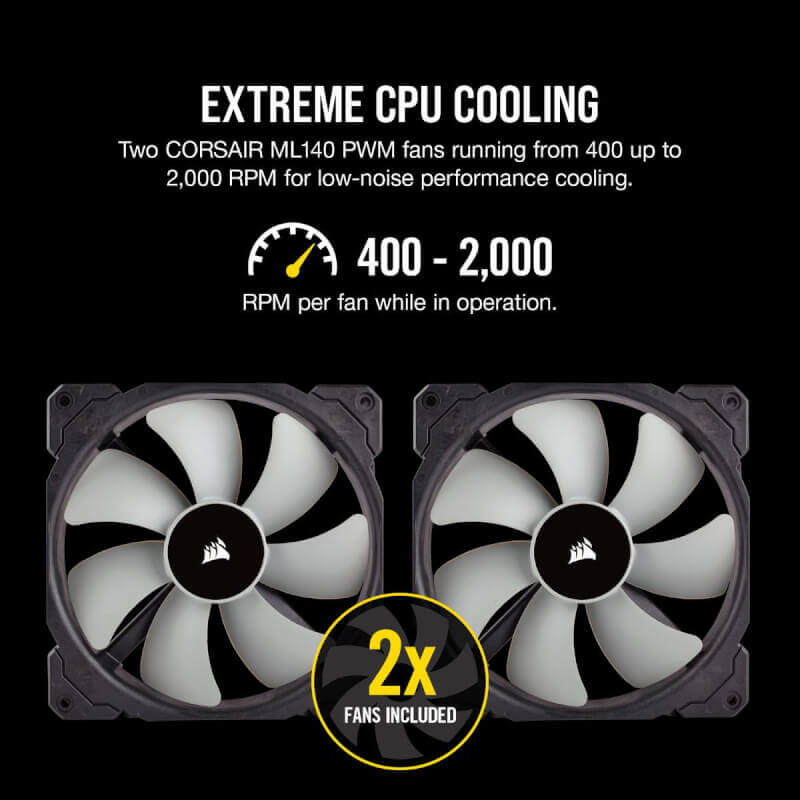 Since this is a 280 mm cooler, you have to make sure that your case will support a cooler of this size. Most cases support 120, 240 and 360 mm radiators, but a 280 mm cooler is slightly wider, which is important to note.
Packaging and Content
Let's have a look at what's important and that is what you get for your buck with this cooler. The box sports the typical Corsair colors: black and yellow. On the front, we find an image of the cooler and a note about its RGB lighting feature. The rest of the box just lists some basic information about the product such as the dimensions and supported processors. In terms of processor support, this cooler essentially supports every AMD and Intel processor produced the past 15 years. As such, unless you are using a prehistoric relic as your daily driver, you should be all good.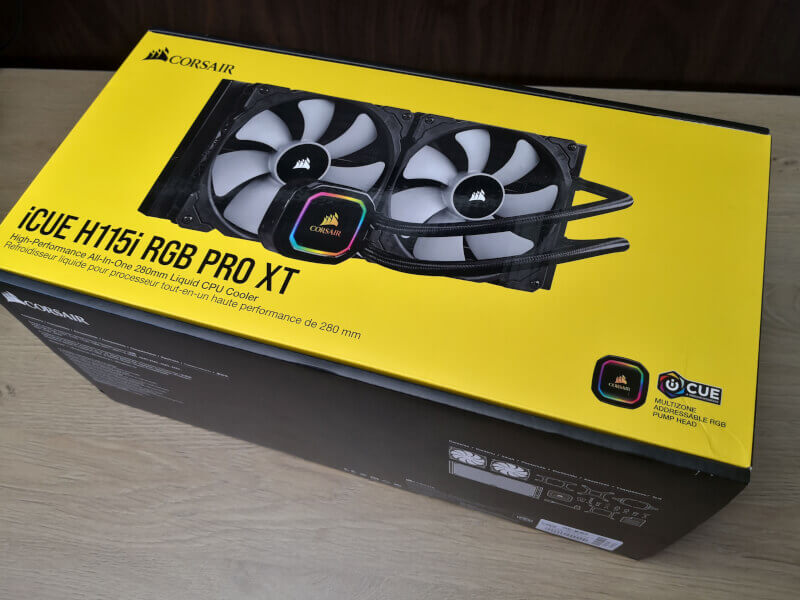 Once we get it out from its dwelling, we see the beast in all its glory. A substantial 322 mm x 137 mm x 27 mm radiator and an RGB-lit pump head with a 56 mm cold plate that are connected to each other via 380 mm dark-sleeved tubing. You also find the two ML140 fans that are black with gray fan blades, mounting brackets for various processors and motherboards, a lot of screws and a couple of cables and a manual. We highly recommend not discarding the manual up front since it will provide valuable information regarding which screws and brackets are used for your CPU and motherboard combo.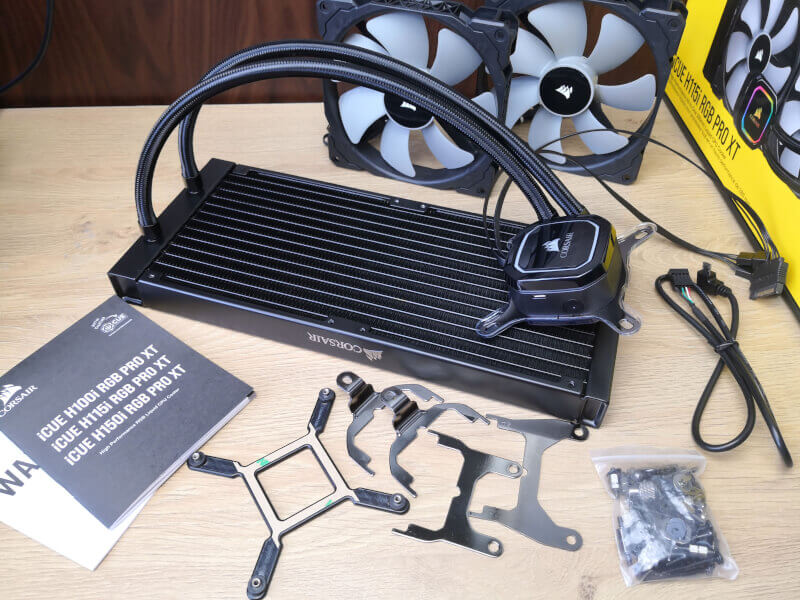 A Closer Look
Before we get to the installation, let's have a closer look at the goodies.
The cooler is black in the sense that the radiator, the pump and the tubes are completely black. This means that this cooler will fit into most builds. Unfortunately, the two included fans have gray fan blades, and would've been cooler if they too were black now that there aren't any RGB lights anyways. After all, these aren't cheap fans and therefore not some that you'd be likely to replace just like that.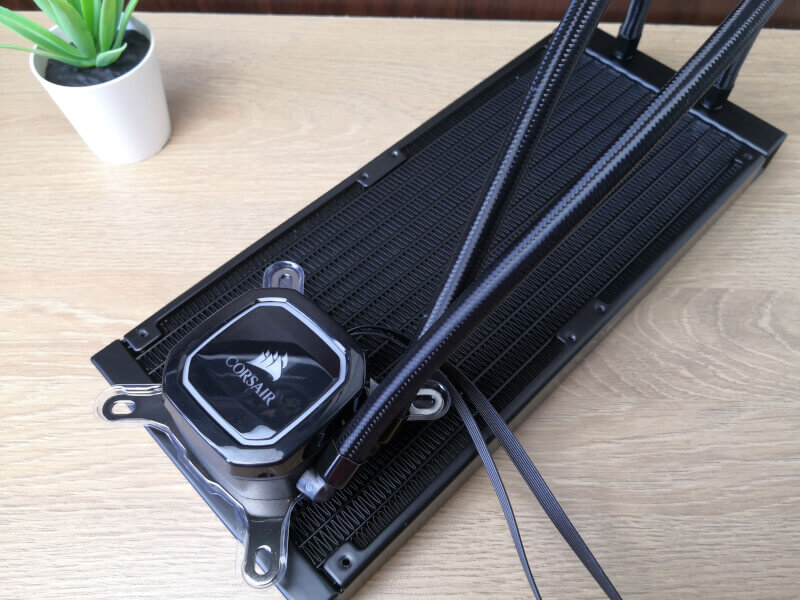 The pump has a glossy finish on the top and a Corsair logo at the center. It looks really good, but this also means that you cannot rotate the pump to your liking. So, you have only one choice of orientation if you, like myself, cannot stand a logo that is lying down or upside down. The radiator is matte black.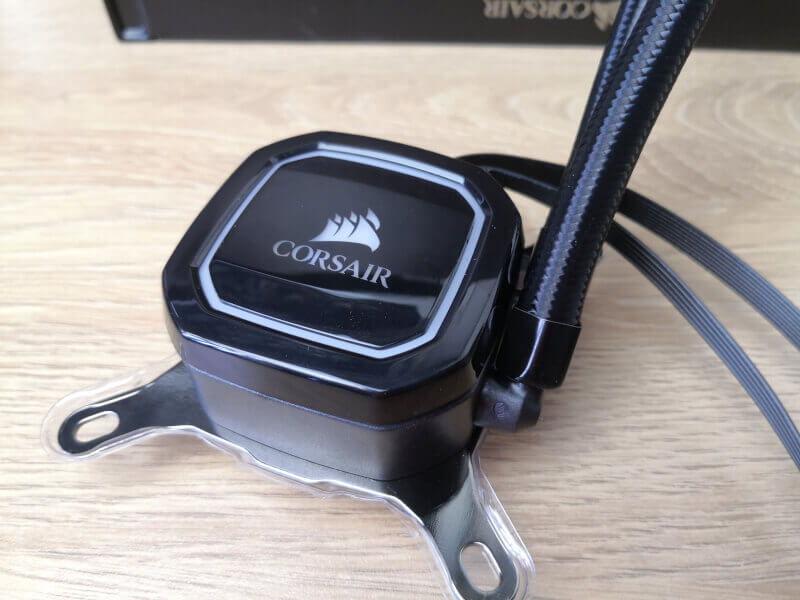 On the underside of the pump there's a large cooling plate that would even be able to pair with AMD's Threadripper CPUs. There's also some pre-applied thermal compound so you don't have to deal with that. Unfortunately, no extra thermal compound has been included. The tubes feed into the side of the pump and can be twisted to each side, which gives you a lot of flexibility compared to earlier models, where the tubes went straight down into the pump, leaving you with very little in terms of flexibility.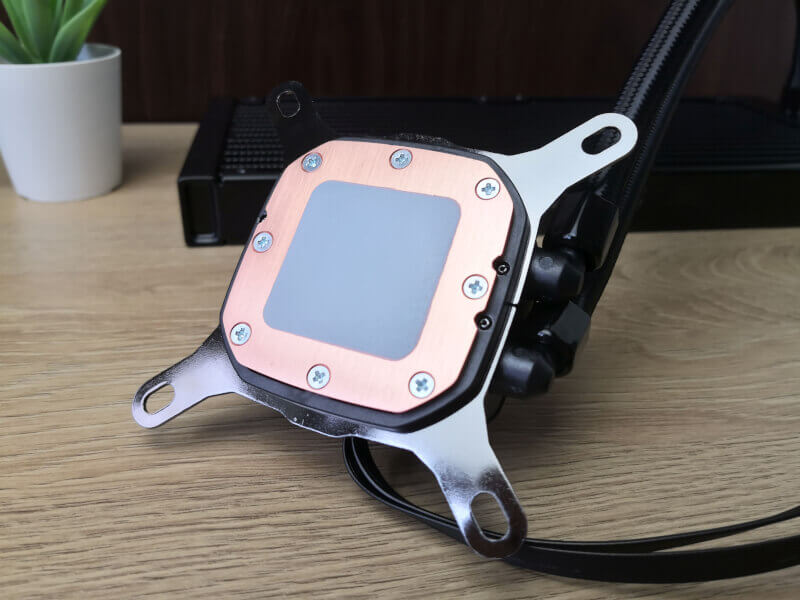 We of course also have to take a look at the RGB lighting. In this case, we only get that on the pump itself. As mentioned, we have a Corsair logo on the front-facing part of the pump, and around it we get a ring that is also RGB lit. In total, we get 16 adjustable RGB LEDs that can be controlled via Corsair's iCUE software. There's an abundance of various light modes to choose from, and you can also create your own as I've done in the image below.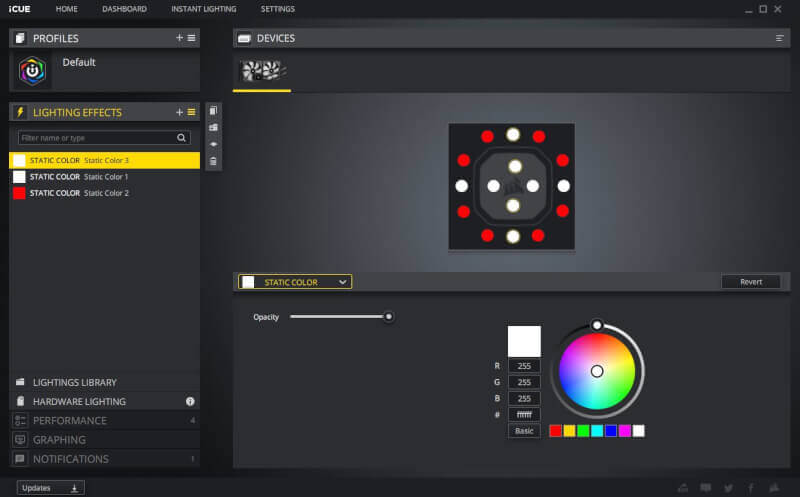 It is also using the iCUE software that you control the fan and pump speed. There are four presets to choose from: Quiet, Balanced, Extreme and Zero RPM. The first three are pretty much self-explanatory, and Zero RPM basically means that the fans are idle as long as the cooling fluid remains below 40 °C, in which case you basically have passive cooling. Only the pump will continue running since it of course needs to keep the cooling fluid flowing.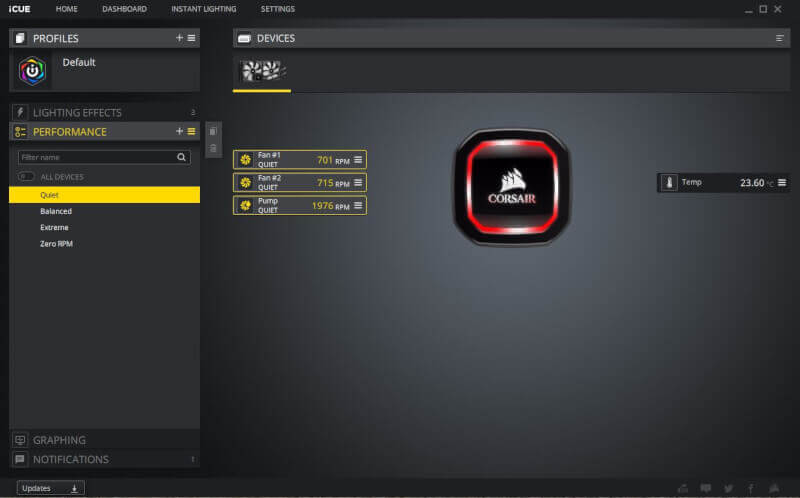 Installation
Now, let's have a look at the installation. Firstly, I attach the two included Corsair ML140 fans to the radiator.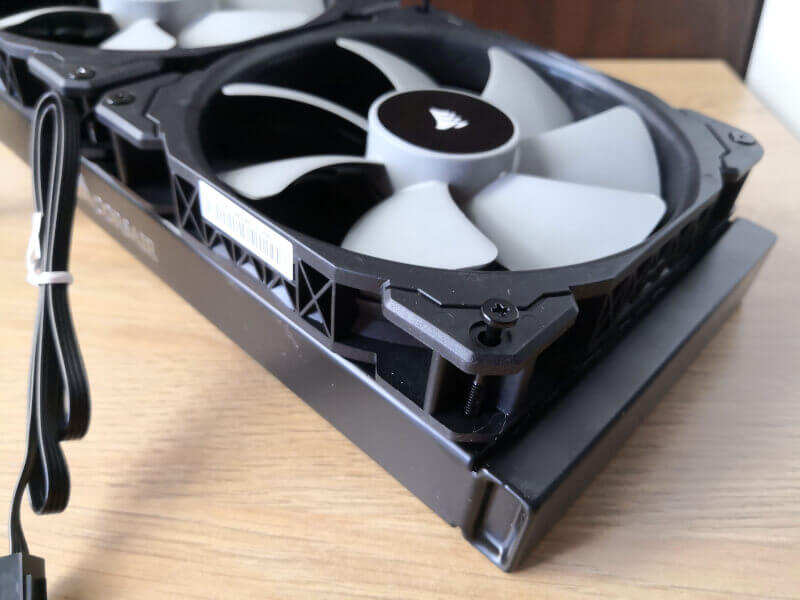 I'm fortunate to be using an AM4 platform from AMD, which means that I don't have to swap out the backplate or the brackets on the motherboard itself. However, the cooling kit comes with an Intel bracket pre-installed, which needs to be removed before we can move on. This is easily done by pulling them off from each side. It sounds simple, but it does actually require a decent amount of force. Once those two brackets have been removed, the correct AMD brackets can be fitted on by clicking them on from each side.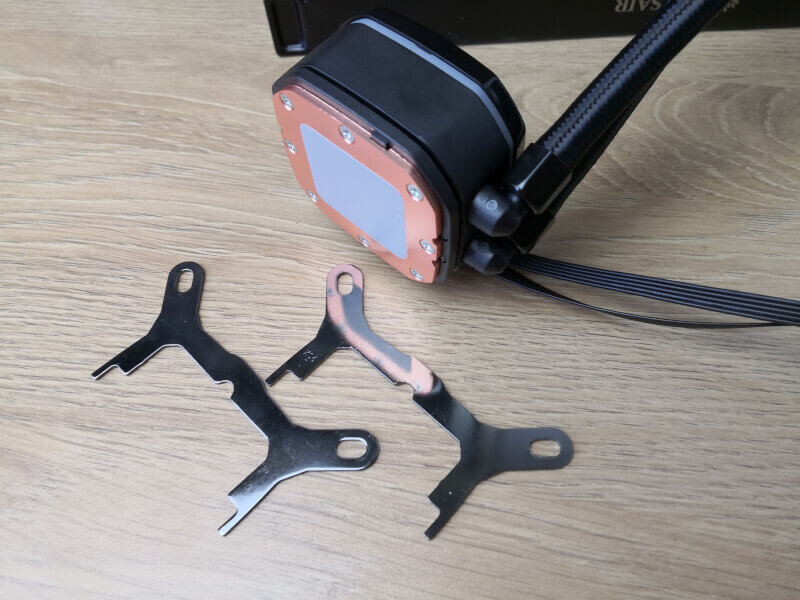 You also have to make sure to position the brackets correctly, as shown on the image below. If not, you run the risk of having the cooler not being in proper contact with the processor, thereby rendering it quite redundant.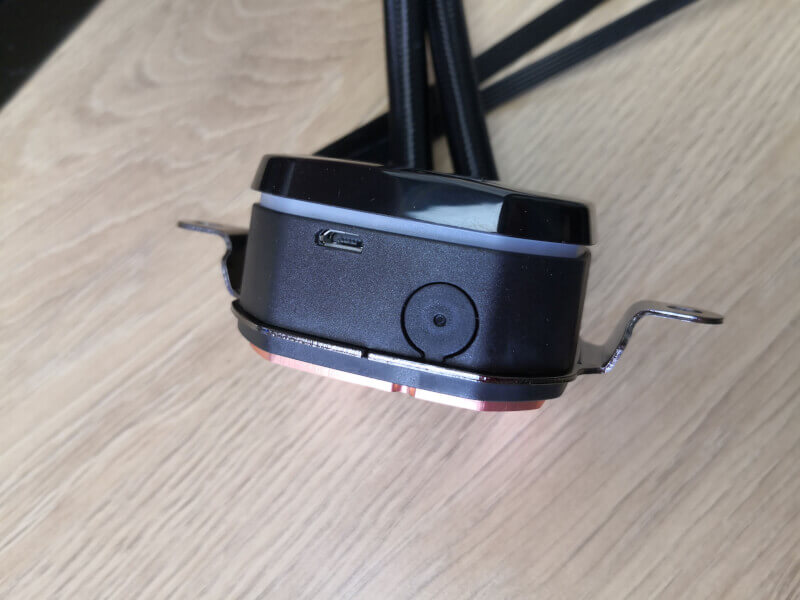 Once the brackets are in place, you add the included screws and loops.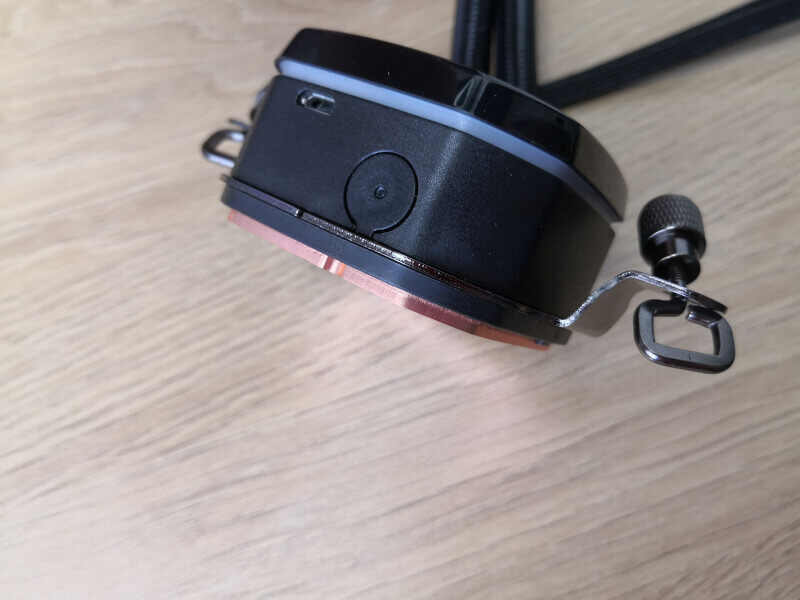 The whole thing can now simply be installed onto the default brackets that are located on every AM4 motherboard.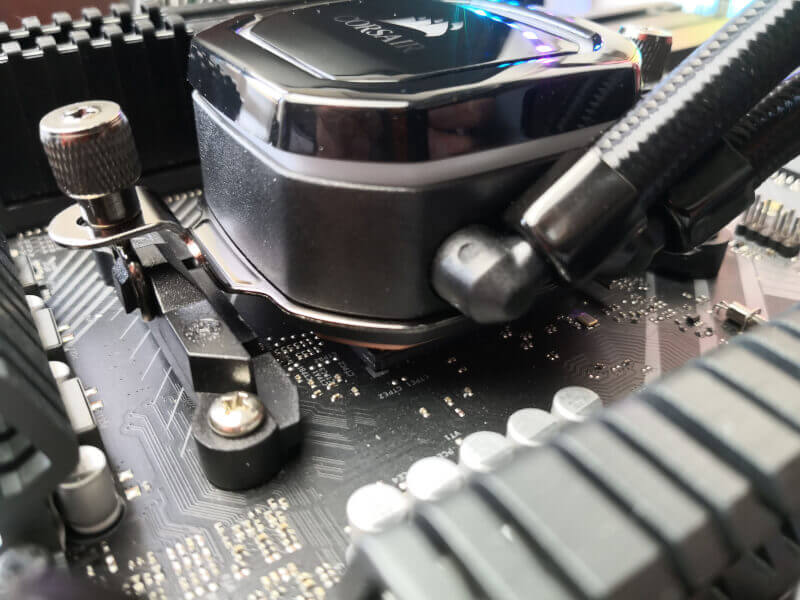 With the cooler in place, it's time to look at the cables. It's actually quite simple. The two 4-pin PWM connectors from the fans are connected to the Y-cable that is located on the pump. You then connect the two connectors from the pump to respectively a SATA power connector and the CPU_FAN header on the motherboard. That's basically it.
If you want to be able to control the cooler via the iCUE software, the included USB cable needs to be connected on the side of the pump and then to an available USB 2.0 connector on the motherboard.
That concludes the installation process.
Performance
CPU: AMD Ryzen 2700
Software (benchmark): CPU-Z
Software (monitoring): HWiNFO64
Test Procedure:
Our test procedure involves warming up the system with a CPU-Z stress test for 10/30 minutes (air/water). After that, we let it continue for 2 minutes, whilst measuring the average temperature in HWiNFO64. We then subtract the room temperature at that given time and arrive at a delta temperature in order to provide as neutral a result as possible. The fans and pump are set to run at full speed so we get an idea of the maximum performance. This should provide us with a good indication of what the cooler is capable of and whether it can handle more or less than what we throw at it.
Measurements:
Room temperature: ~26.6 °C
Fan speed: ~1600 RPM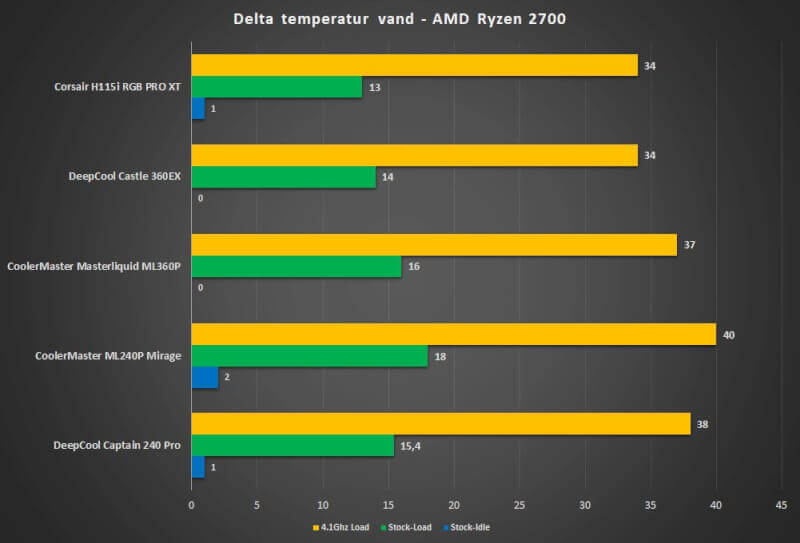 As we can detect, the Corsair iCUE H115i RGB PRO XT performs quite well in our test. The performance of the cooler is equal to, if not better than, that of some of the 360 mm coolers that we've tested, which in and of itself is very impressive.
Noise Level:
In our tests, where we let the fans run at maximum speed, we'll of course also experience quite a bit more noise compared to normal circumstances where you'd likely opt for a more balanced performance. During normal use, we struggle to even hear the cooler, and especially so when it is using the Zero RPM profile. On Extreme, which is what we used during our test, we peaked at around 34 dB at a 30 cm distance. This places the iCUE H115i RGB PRO XT in the middle of the bunch of coolers we tested in recent time. It's also quite common for smaller fans, such as 120 mm and even 80 mm, to be more noisy than larger fans. Albeit, 140 mm isn't much larger than a 120 mm, but in some cases, it can make a difference.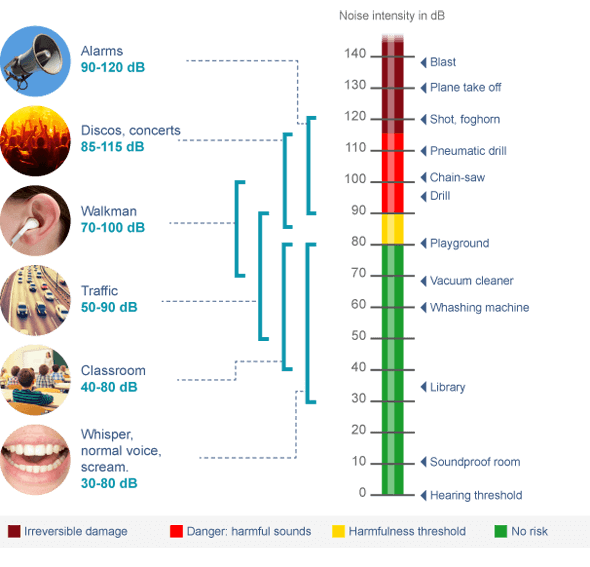 Price
Corsair iCUE H115i RGB PRO XT is priced at $139.99. This is, in my view, a quite fair price when you consider the performance of it compared to - even larger - competing products. However, the price is still substantially higher than some of the best air coolers that deliver the same level of performance, but at the same time are quieter and offer other advantages as well.
Conclusion
During this test, we've covered everything there is to cover on the cooler. The iCUE H115i RGB PRO XT is a potent cooler that with its 280 mm size performs really well, and especially so when we compare it to its larger 360 mm brethren. Our tests indicate that we basically get the same level of performance as we'd get with some of the larger coolers. The included ML140 fans are quiet, and it's an awesome feature to be able to put them completely to sleep when the temperature is below 40 °C using the Zero RPM profile.
If we look at the design, it's the RGB lights on the pump that stand out the most with its 16 individually programmable RGB LEDs. If you're not into RGBs you can fortunately turn it off completely. The fans do not offer any lighting, and I would've liked if the fans were completely black instead of a boring gray color. I'd also have preferred if the tubes were a bit shorter since they could give you some space problems if you run a smaller case with limited room.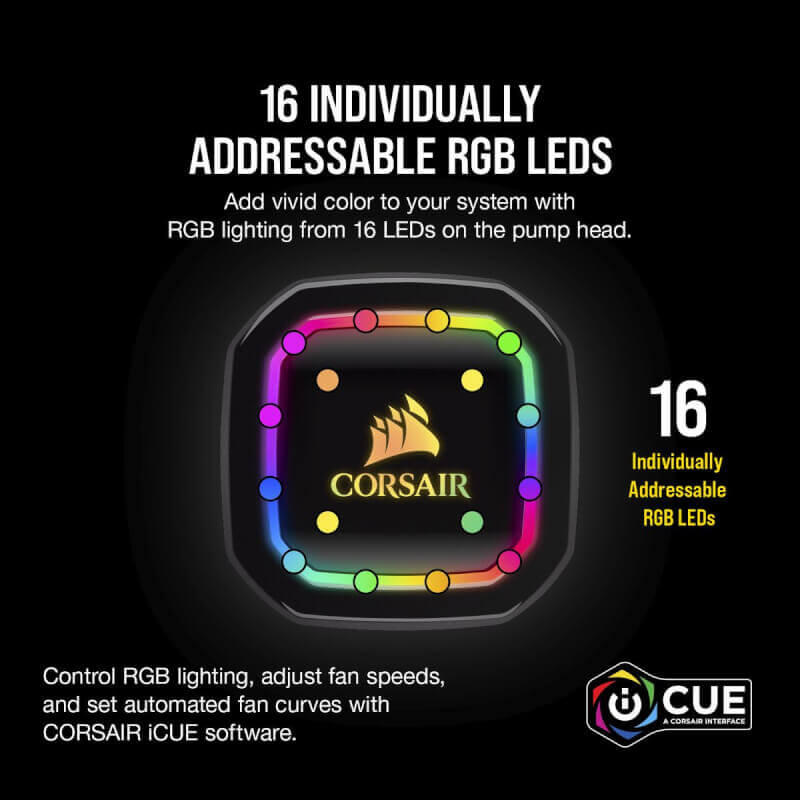 I like the idea of the fan cables going into the pump, but I would probably have preferred if they were connected to a hub on the radiator instead. It would also have been nice if these cables were hidden under the sleeving of the tubes. With the current implementation, you have to manage quite a lot of cables, and it isn't always easy to make it look good. I'm not that big of a fan of the SATA power connection since I find it annoying when anything other than SSDs and HDDs demand SATA power. However, it's way better than having me use a 4-pin molex connector which we still see from other manufacturers. That madness has to stop, and the sooner the better!
Corsair has put together a very reasonable product, and I'd definitely recommend it if you've got room for a 280 mm radiator in your case. This might be the deciding factor since it is not all cases that offer support of a radiator this size.
Corsair iCUE H115i RGB PRO XT gets a fine score of 9/10. It's a cooler that performs really well and that comes with some good fans that are very quiet during normal workload.
Pros
Reasonable performance

16 programmable RGB LEDs on the pump

Easy installation, especially on an AM4 platform

Two included Corsair ML140 fans

Zero RPM preset

Sleeved tubes

Fair price compared to competing products
Cons
Many cables that require management

Lack of fan control via BIOS or motherboard software

Tubes possibly a bit too long