AUTHOR : Berleburg
PUBLISHED : 2019-07-08 22:41
AMD Radeon RX 5700 XT
Since the NDA has been lifted, we are now able to share with you a series of reviews that we have ready. One of these is that of the AMD Radeon RX 5700 XT graphics card. This is something that we've been looking forward to, and we can't wait to show you what it is capable of.
With AMD's launch of their new RX 5700 (XT) graphics cards, we get three different models. The RX 5700, RX 5700 XT and finally the RX 5700 XT 50th Anniversary Edition. We've received the two first variants, and we'll start by reviewing the AMD Radeon RX 5700 XT.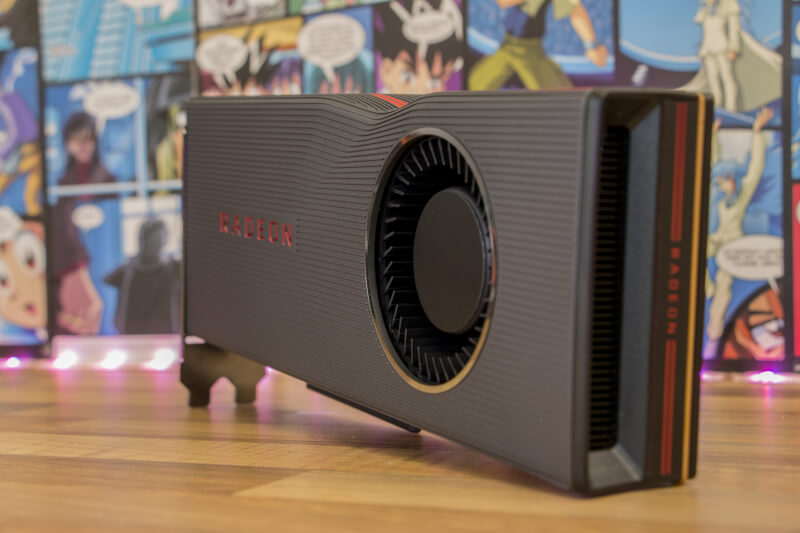 We've made a walkthrough of NAVI and the new RDNA architecture, which you'll find right here!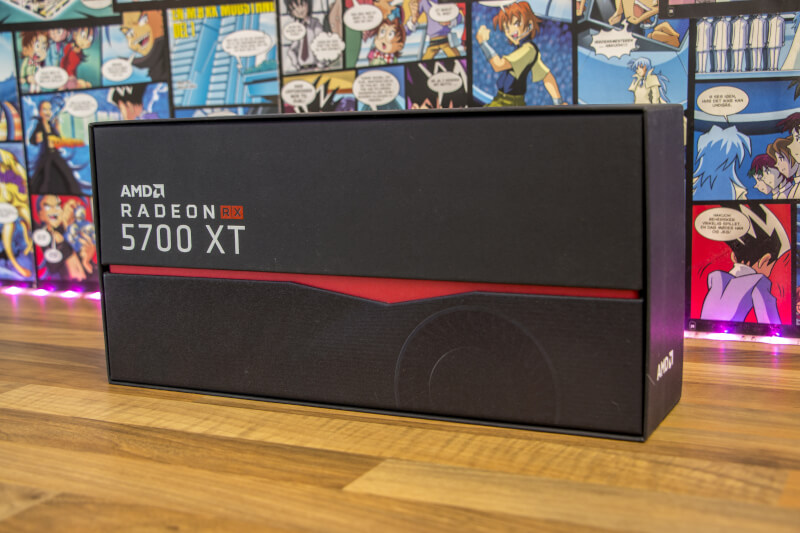 Compute Units: 40

Base Frequency: 1605 MHz

Boost Frequency: Up to 1905 MHz

Game Frequency: 1755 MHz

Peak Pixel Fill-Rate: Up to 121.9 GP/s

Peak Texture Fill-Rate: Up to 304.8 GT/s

Peak Half Precision Compute Performance: 19.51 TFLOPs

Peak Single Precision Compute Performance: 9.75 TFLOPs

ROPs: 64

Stream Processors: 2560

Texture Units: 160

Transistor Count: 10.3 B

Typical Board Power (Desktop): 225 W

PSU Recommendation: 600 W

Memory Speed (Effective): 14 Gbps

Max Memory Size: 8 GB

Memory Type (GPU): GDDR6

Memory Interface: 256-bit

Max. Memory Bandwidth: 448 GB/s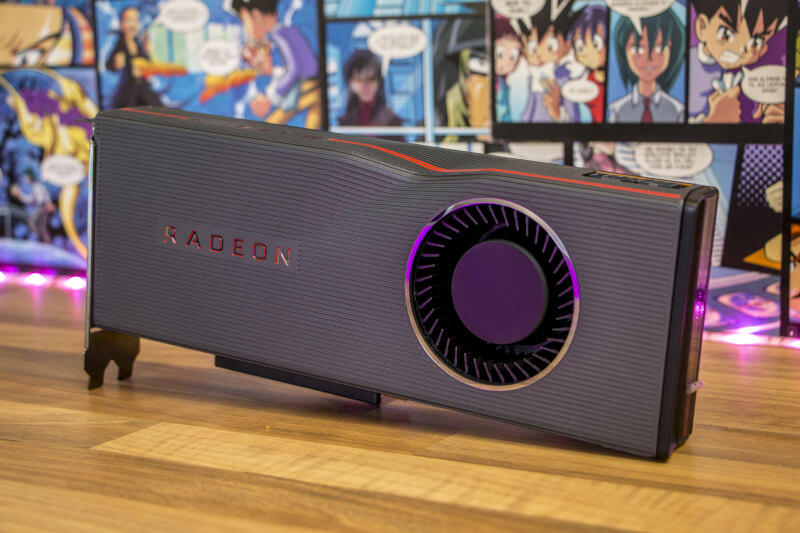 The AMD Radeon RX 5700 XT card is a blower style graphics card as we've seen it before. However, they've updated the design with stripes running down the length of the card and red details that contrast the anthracite gray design. It's a much needed and very nice update. I'm very excited to see if the new 7 nm chip die and GDDR6 VRAM will provide the desired power optimization so that the card can maintain a sensible temperature without being too noisy. Reference cards featuring a blower style cooler are notorious for being very loud.
The new card comes with 40 of the new Compute Units and PCIe Gen. 4 support. In addition, we have 64 ROPs and 2560 Stream Processors, and in total this should provide us with a really good performance. We have 8 GB GDDR6 VRAM, and AMD has as such stepped away from HBM2 VRAM, which we also noted in our Radeon VII test. The RAM are connected to a 256-bit bus, which in turn gives us a total bandwidth of 448 GB per second.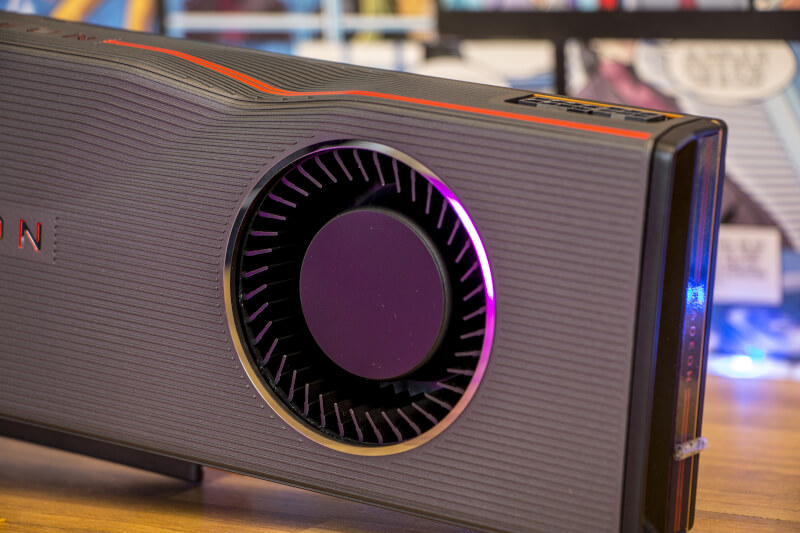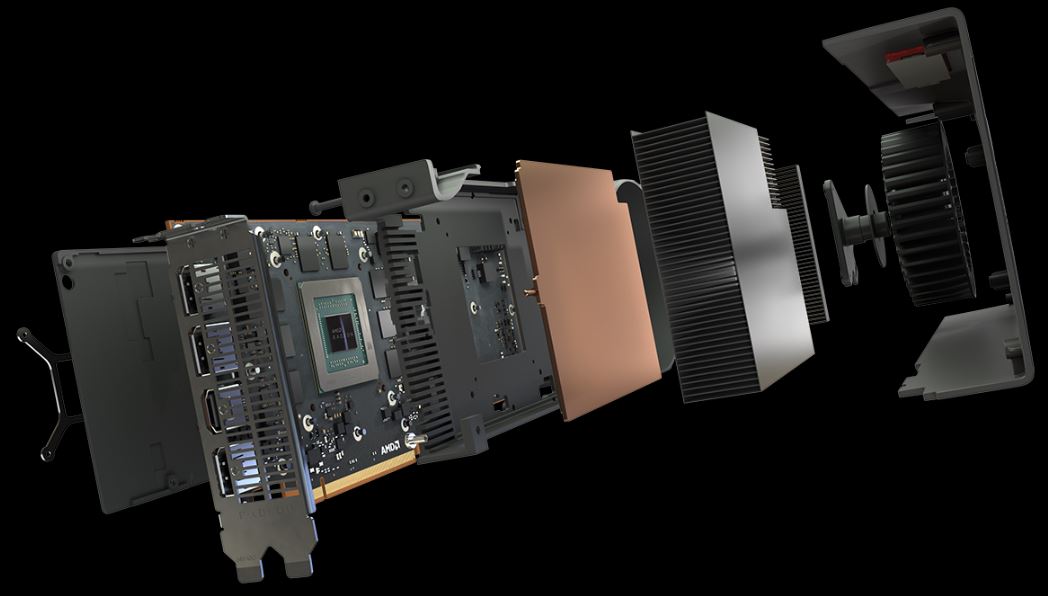 Here we see the blower style construction with a large cold plate that covers the hot parts of the card. Above it we have a row of vents with the fan at the end, which pulls air through the front of the card and blows it out the back.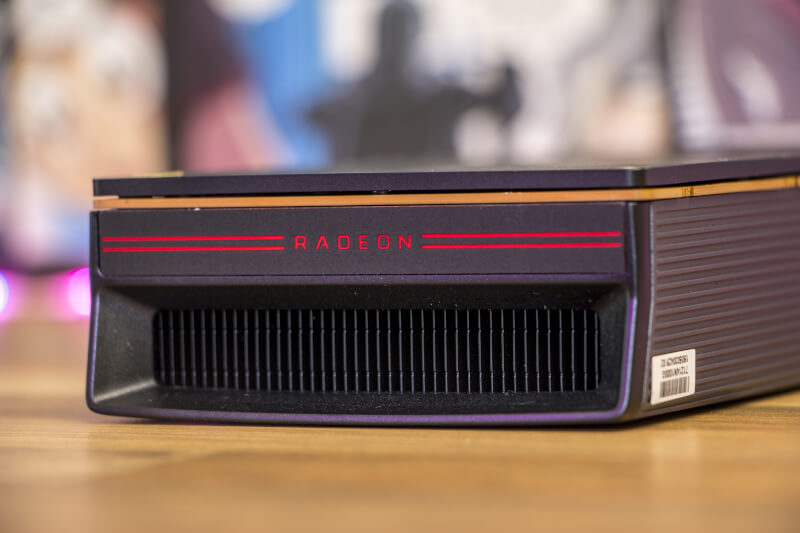 Here we see the many vents in the blower style cooler where the air is pulled in. There's plenty of room between them and therefore I am hopeful that it will do the job well. Especially with the power optimizations that AMD have focused on in their press releases.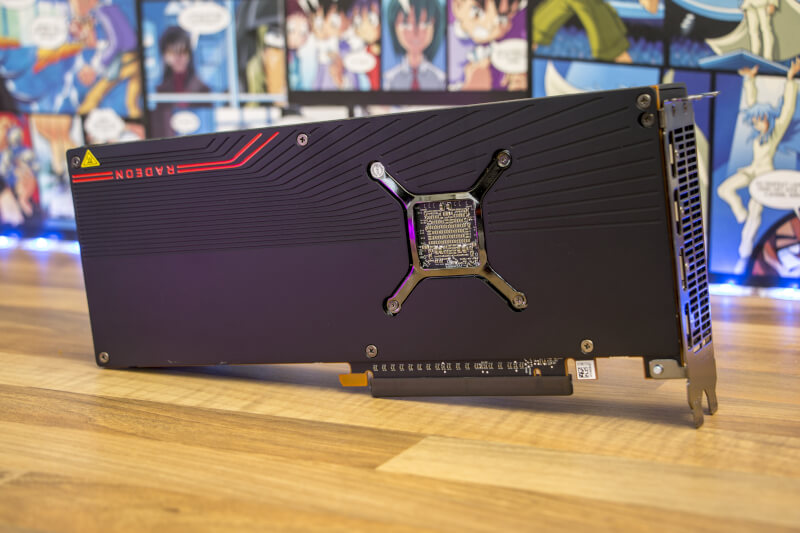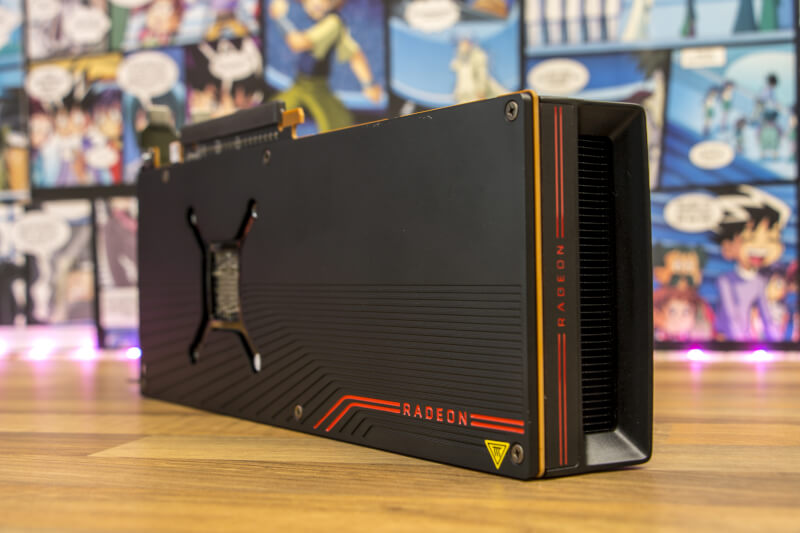 On the backside of the PCB, AMD has installed a large cold plate that covers the entire length of the card. This will without a doubt help direct the heat away from the card. The design with the stripes and the red accentuations continues here as well and I'm generally quite satisfied. I think that AMD has done a good job!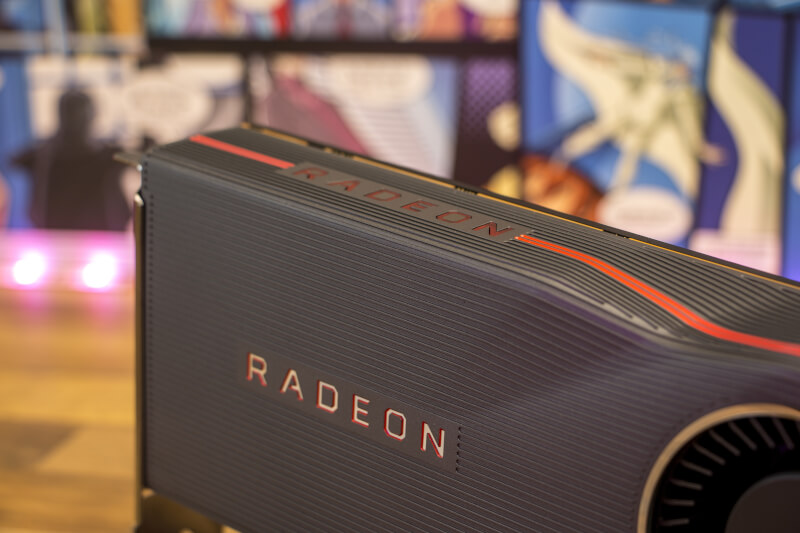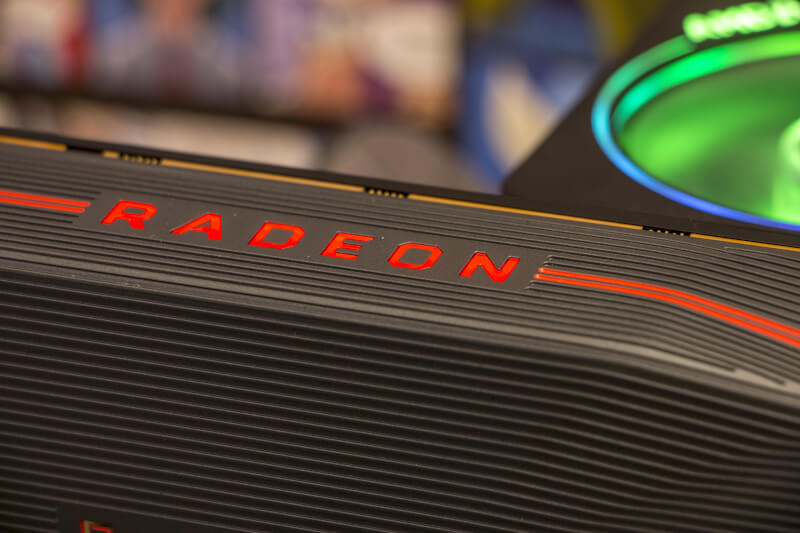 A quick glance down the side shows that AMD has significantly broken with the original reference design. It's also great with LED in both Radeon logos.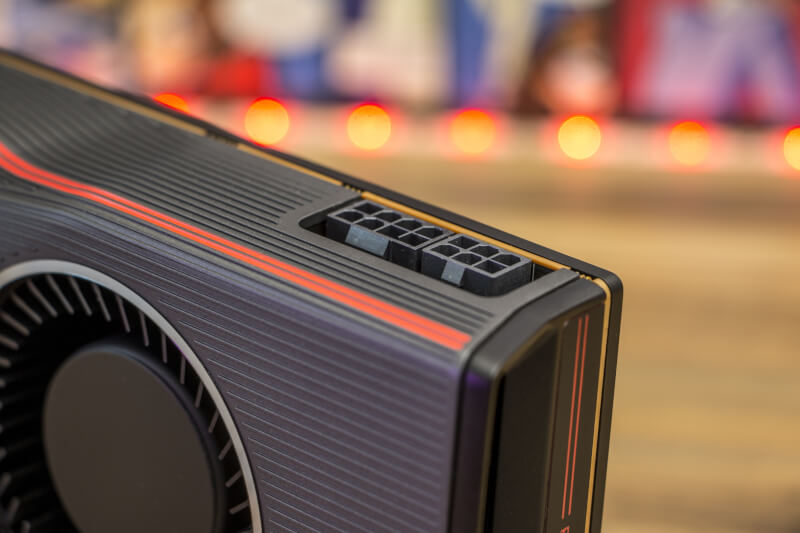 The AMD Radeon RX 5700 XT is powered by both an 8-pin and a 6-pin PCIe connector. Combined with the PCIe socket we are dealing with a card that technically can draw 300 W. AMD, however, claims that the maximum power consumption is expected to be 225 W.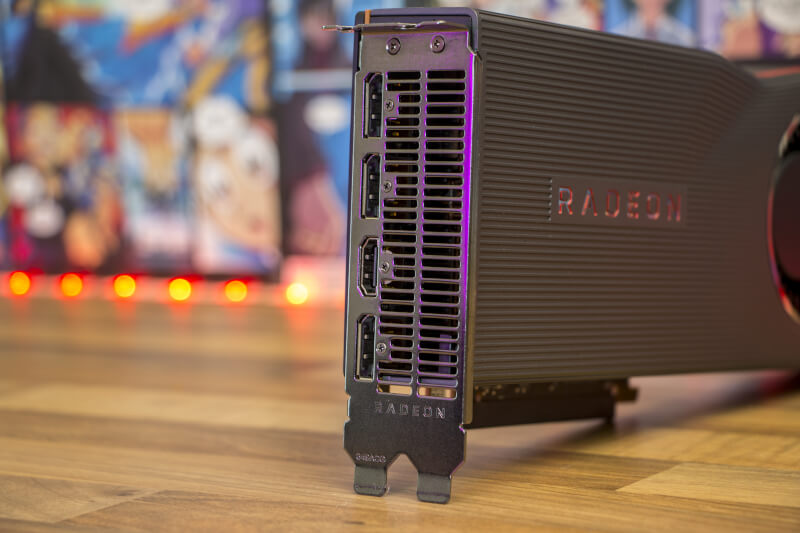 The AMD Radeon RX 5700 XT graphics card is equipped with three DisplayPort 1.4 HDR and two HDMI 2.0 ports. Apart from those, we just find the vents for the blower style cooler.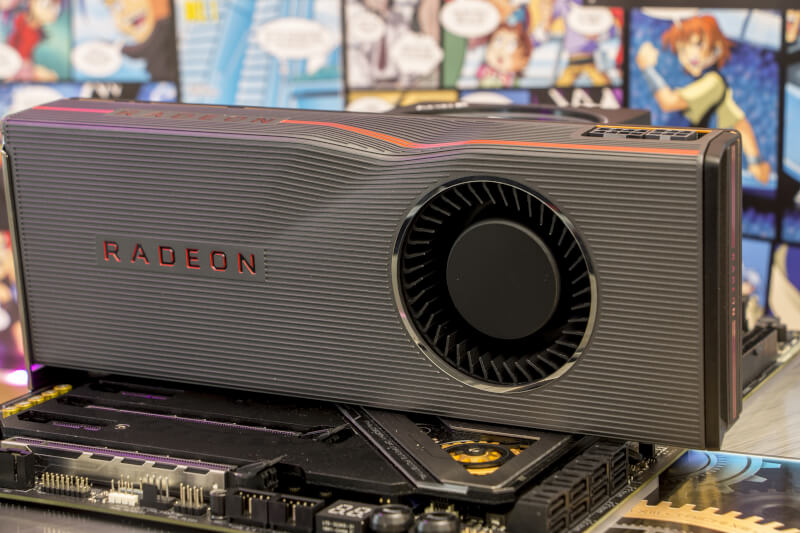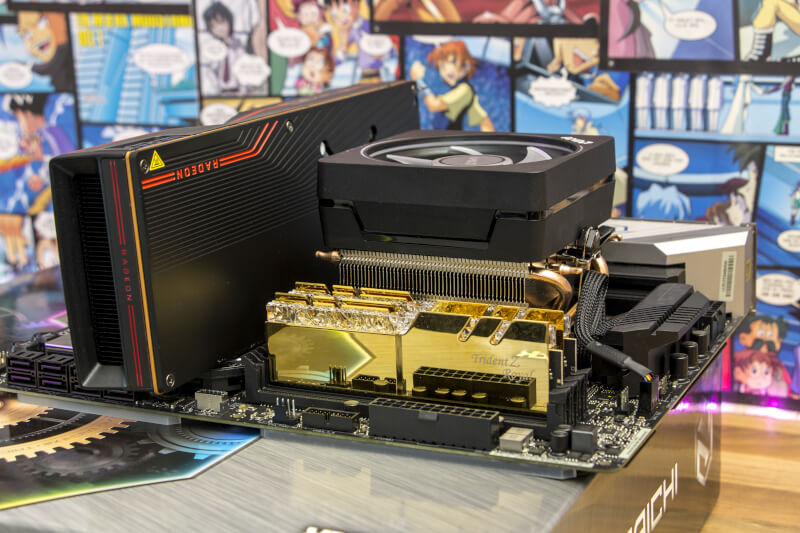 We throw the Radeon RX 5700 XT into our test system so that we can get on with the benchmarking process.
Test System
ASRock X570 Taichi

AMD Ryzen 9 3900X

AMD Radeon RX 5700 XT

G.Skill TridentZ Royal 2x 8 GB 3600 MHz

AORUS PCIe Gen. 4 2 TB NVMe SSD

AMD Wraith Prism cooler
Test Software
Game Test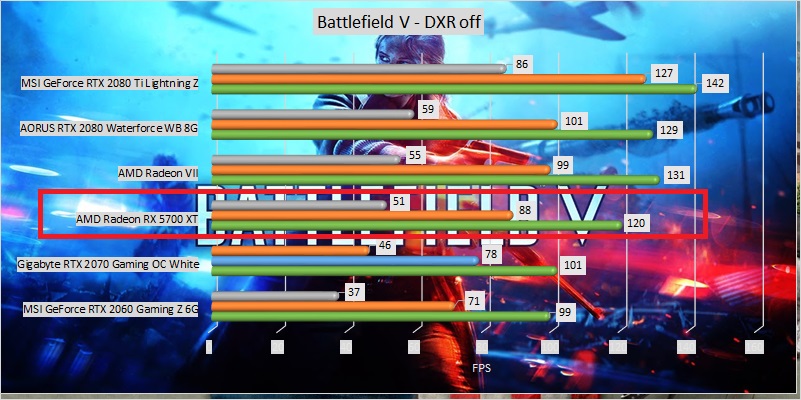 We start things off with Battlefield V, and here we see a very satisfying performance in 1080p and we note that the performance qualifies the card very well for 1440p as long as one doesn't expect 144 Hz.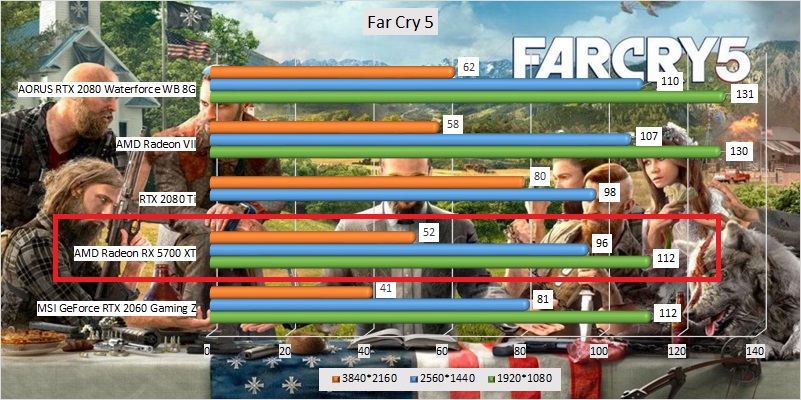 Next up is Far Cry 5, where we once again are on the hunt for The Father. Once again, we see a great performance in both 1080p and 1440p gaming.
A pattern is already starting to form in terms of the performance in various AAA games. Again, we see well above 100 FPS in 1080p and between 80 and 90 in 1440p.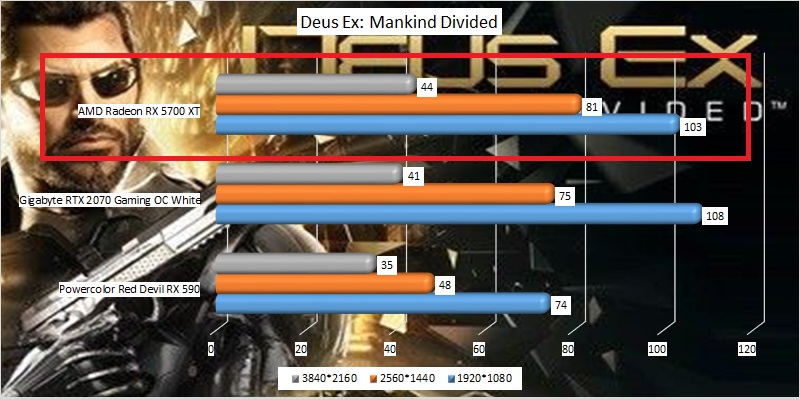 Deus Ex: Mankind Divided is a quite heavy game that puts the GPU to the test, but the Radeon RX 5700 XT does the job quite well.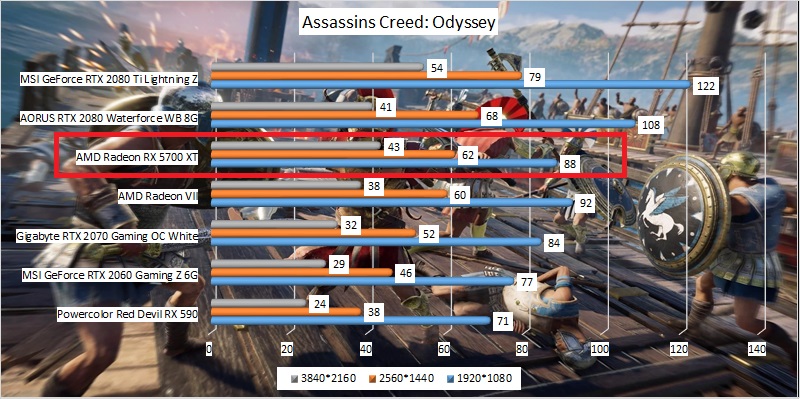 Assassin's Creed: Odyssey is another heavy game that can challenge even the best graphics card. Here, we also find ourselves below 100 FPS, but the Radeon RX 5700 XT maintains its positioning in terms of performance.
We've now tested in games, and all of them were set at Ultra settings, with everything enabled. So, as one might expect, if you were to dial down the antialiasing or some other eye candy, even more performance could be conjured from the Radeon RX 5700 XT, if one really wants to achieve those 144 FPS. In terms of performance, the card places itself above the RTX 2070 and as such, it will be interesting to see where it lies on the price scale, compared to that particular card.
Synthetic Tests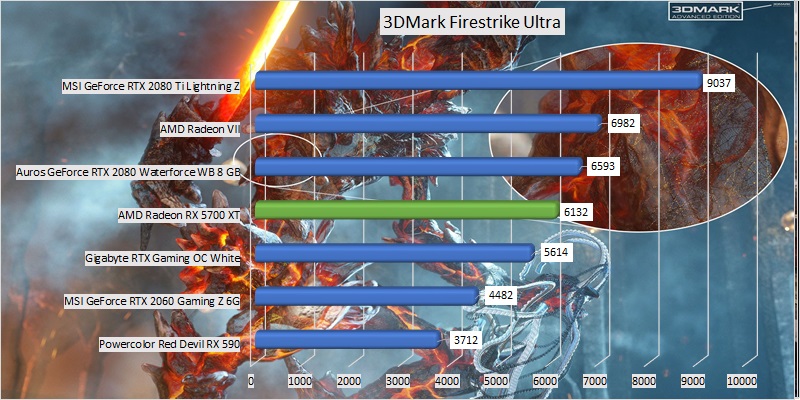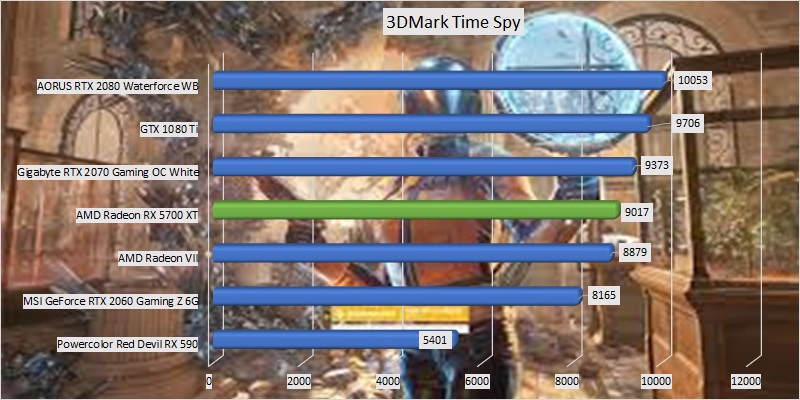 3DMark Firestrike and Time Spy both give a good impression of the performance of a card in terms of rendering capability. Here, we yet again see that the RX 5700 XT is a direct opponent to the RTX 2070.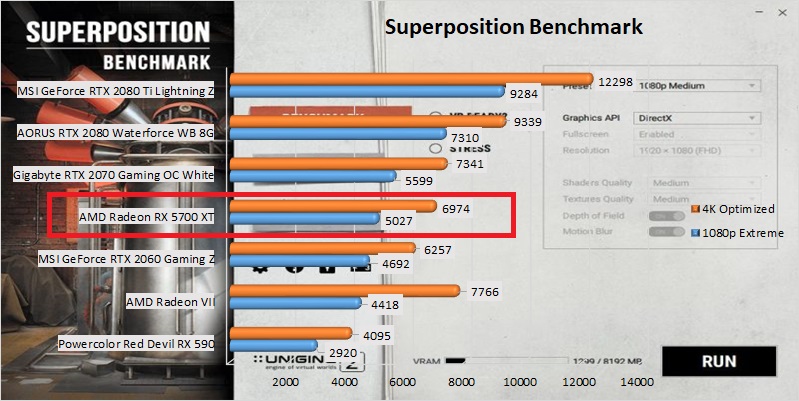 We continue with Superposition Benchmark, and we continue to see this trend, so nothing new here.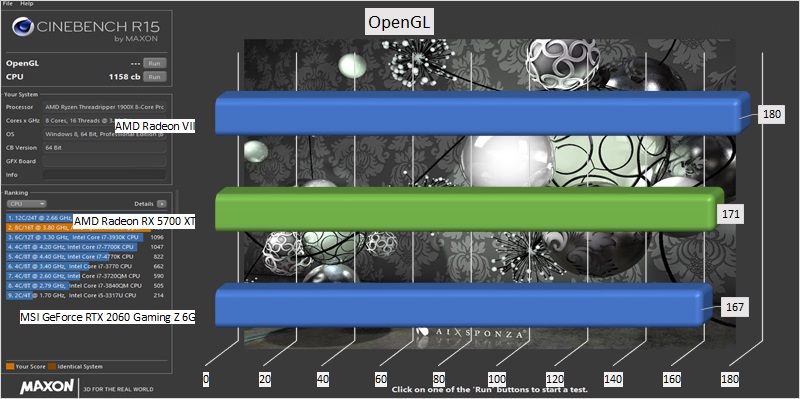 Cinebench R15 renders a high resolution image in order to determine how the graphics card responds to such a task. We get an average result of 171 FPS, which confirms that we are dealing with a card that does well in both rendering and gaming tasks.
Overall, the Radeon RX 5700 XT does the job very well, and with a bit of tweaking in the graphical settings in games, it should be possible to gain even more performance from the RX 5700 XT.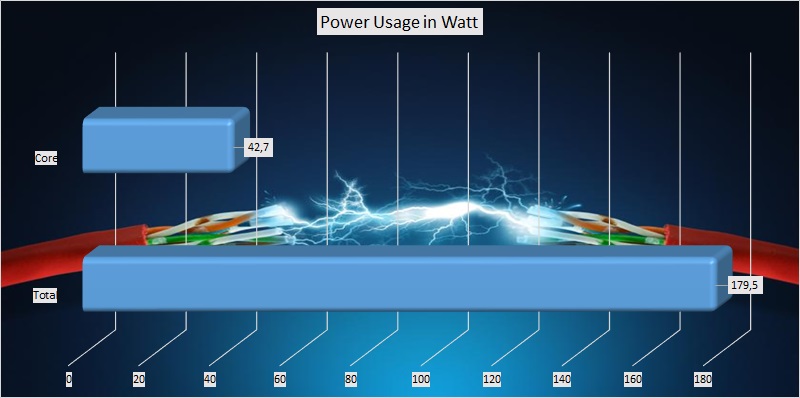 Under full load the read-out was 2060 MHz on the chip, which is well beyond the 1905 MHz specified by AMD as the boost clock frequency. This might explain why I wasn't able to overclock the card much in the first place. Since my test, AMD has released a new driver, and they recommend that you install it before attempting to overclock. So, there'll be an update to this review at a later time.
Under full load, I noted a power consumption of nearly 180 W, which is lower than the 225 W that we were informed of. However, it proves that there is plenty of overhead in terms of power consumption for a later overclock. Out of the 180 W the core drew 43 W.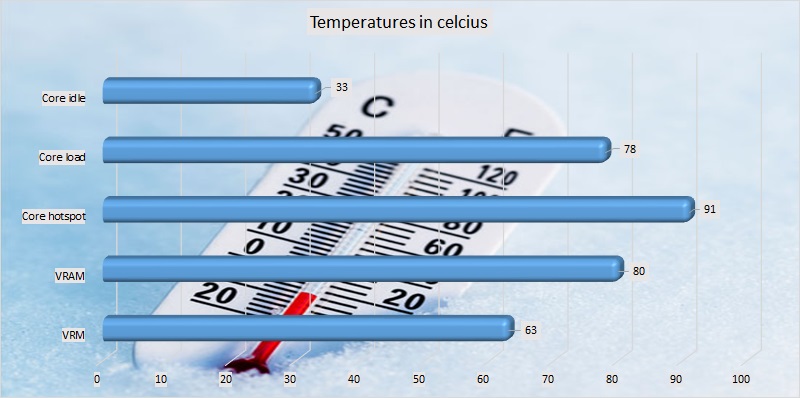 During the testing phase I of course also measured the temperatures. Here, I had a room temperature of 24 °C, which of course means that we won't go below that. We saw an idle temperature of 33 °C, which is quite reasonable considering that the card was nearly silent. However, the fan was not idle, which would have been a nice detail in regard to power efficiency. Under full load, we saw a temperature of 78 °C, which at times spiked to 91 °C right above the core. What's interesting is that the card was not nearly as noisy as I had feared due to the blower style cooler. Of course it could be heard, but it wasn't something that made the experience insufferable.
Price
The MSRP of this card is $399. Just before releasing this card, AMD decided to reduce the retail price by $50. What the cause of this was, I am not sure. One guess could be that they wanted to be competitive towards NVIDIA prior to their release of the SUPER variants of RTX cards. We'll probably never know for sure.

In case you want to learn more about the Radeon RX 5700 XT from AMD, click here!
Conclusion
We have reached the end of this review now, and it's time to gather our thoughts on the AMD Radeon RX 5700 XT and the experience I've had playing around with it for the past week. First and foremost, I want to comment on the design. I'm very happy that AMD has chosen to optimize the reference design so that it isn't as blocky and, in my opinion, dull. The blower style cooler doesn't enjoy the best of reputations, but I find that AMD has managed to create a card that is so well optimized in terms of power that the cooler easily manages to do the job whilst at the same time not becoming too noisy.
Before we received the AMD Radeon RX 5700 XT we were asked which RTX 2070 we were planning to compare it with. Therefore, it strongly suggests that it is AMD's clear intention to provide a direct competitor to this card. This also leads me to believe that AMD must have more tricks up their sleeve since this is NVIDIA's mid-range card. Our test surely also reveals that this card has managed to compete side-by-side with the RTX 2070 card. So, if that was truly their mission from the start, they've certainly managed to pull it off.
Provided that the price is going to stick, we can see that the Radeon RX 5700 XT probably will be cheaper than the RTX 2070. At least, it won't be more expensive, and at the same time, it offers PCIe Gen. 4, a 7 nm chip die and GDDR6 VRAM. So, with the RX 5700 XT comes the newest technology, good performance and fine power optimization. 180 W under full load is a great power draw in relation to the performance provided.
So, to conclude, I find AMD deserving of a great score of 9, and if the price holds up, I'd also stand by a Safe Buy Award. I find that the Radeon RX 5700 XT is a great addition to the GPU market, and I wouldn't hesitate investing in this card for a future AMD build.
Pros:
Nice updated design of the reference cooler

Fine performance vs. power consumption

The blower style cooler was nearly silent during the test

7 nm chip die

The Radeon software offers many image optimizations without much of a performance loss
Cons:
Score: 9 + Safe Buy Award