AUTHOR : Uber
PUBLISHED : 2019-05-29 19:39
MSI GeForce GTX 1660 Gaming X 6G:
Nvidia has been flooding gamers with a horde of graphics cards based on their Turing architecture. Now, yet another Turing card has surfaced within the entry-level segment: the GTX 1660.
Nvidia has been flooding gamers with a horde of graphics cards based on their Turing architecture. Now, yet another Turing card has surfaced within the entry-level segment: the GTX 1660.
The GTX 1660 comes in a variety of version fra many AIB manufacturers, but the card that we'll be looking at today is from MSI.
So, let's throw the GeForce GTX 1660 Gaming X 6G onto our test-bench and see if it is a legitimate card on today's expanding market.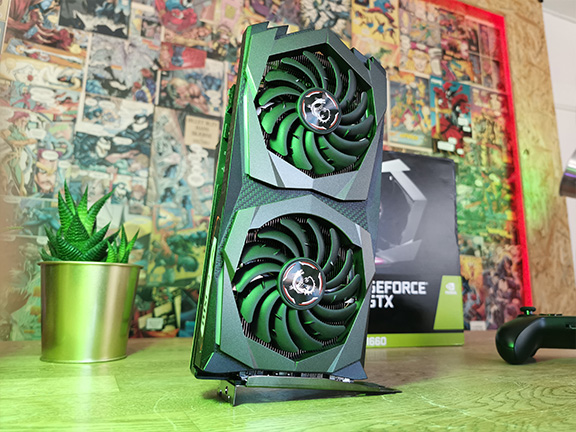 We've had a lot of graphics card through the test bench as of late, and I'm sure that most of you have already had your appetite satisfied. Therefore, we'll try to keep it short but sweet in today's review.
If you want to learn more about the Turing architecture, check out our Nvidia RTX-series Architecture Walkthrough.
A short while ago, we had a look at the MSI GTX 1660 Ti Gaming X and MSI GeForce 1660 Ti Armor OC, and we concluded that they were reasonable offerings under certain circumstances, compared to prior releases.
At the same time, the announcement of the GTX 1660 gave cause to some curiosity since we did not quite feel that the market needed further segmentation.
However, with that said, it's still going to be interesting to see the difference between these two cards. That's going to be our main motivation with today's review of the GeForce GTX 1660 Gaming X 6G.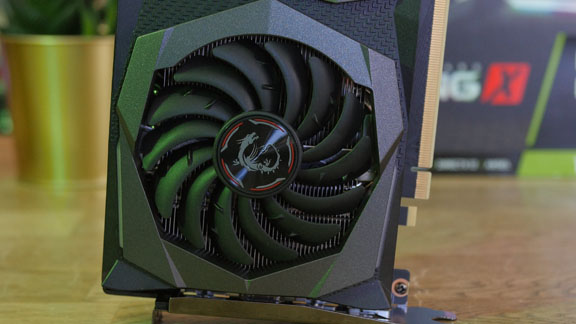 In terms of the technical specifications, the GeForce GTX 1660 Gaming X 6G from MSI boasts the new Turing architecture from Nvidia, but similar to the 1660 Ti cards, it comes without the RTX features, which is also alluded with the use of the brand name "GTX" (and not "RTX".
We get a 12 nanometer TU 116 chip, which is similar to that of the 1660 Ti, but here, the design provides you with only 1408 shader cores, compared to the 1536 shader cores of its big brother. We additionally find 6 GB RAM on a 192-bit memory bus, however, on the GTX 1660, some cost savings have been made by going with GDDR5 RAM instead of GDDR6.
MSI delivers the Gaming X version with a base clock of 1530 MHz, and a boost clock of 1860 Mhz.
If we take a look at the design, we find recognizable features also seen on other MSI Gaming-series products. In particular, the nice black and gray design with a few, but tastefully added, RGB LEDs and the familiar backplate in brushed aluminum.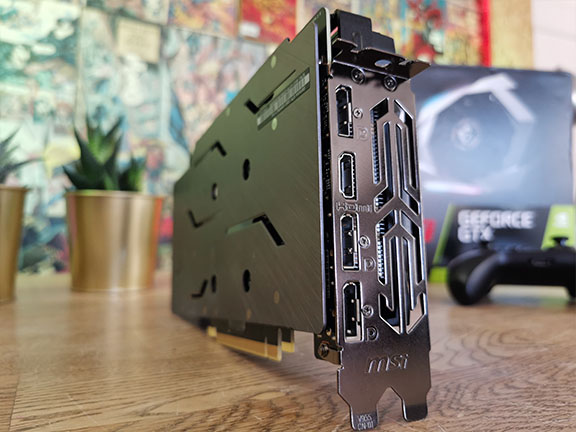 The cooler is MSI's Twin Frozr 7 with two 90 mm fans. The entire card is kept within a two expansion slot design, and it measures 247 mm in length. This makes it a candidate for smaller form factor builds. It is, however, the exact same size as the GTX 1660 Ti version.
Similar to other cards from this series, the fans are idle until the temperature reaches a certain point. In this case, 60 °C. As such, it's a relatively quiet card for day-to-day desktop use.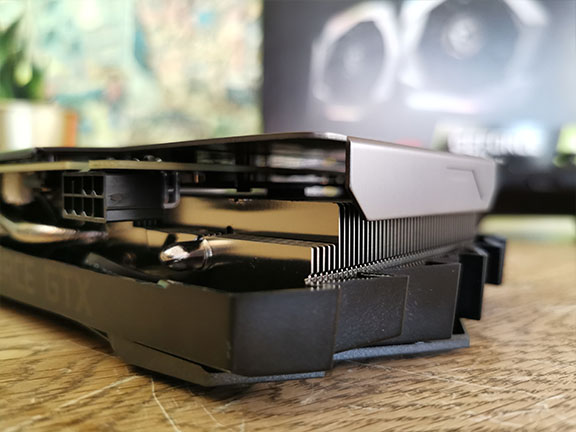 The GeForce GTX 1660 Gaming X 6G comes with three 1.4 DisplayPorts and a single HDMI 2.0b connector. It requires a single 8-pin connector in terms of power connection. The card itself draws around 130 W, as specified by MSI.
All in all, we're dealing with yet another card from MSI's Gaming-series, which I fancy a lot in terms of design.
Still, it's the performance that really matters, so let's jump right in.
The GTX 1660 Gaming X 6G was tested on my regular test bench. Under full load, the card boosted to 1935 MHz. This is slightly better than the designated boost clock provided by MSI. The increase is around 4%.
The temperature topped at 61 °C during full load. This makes the card lean towards the cooler end of the scale.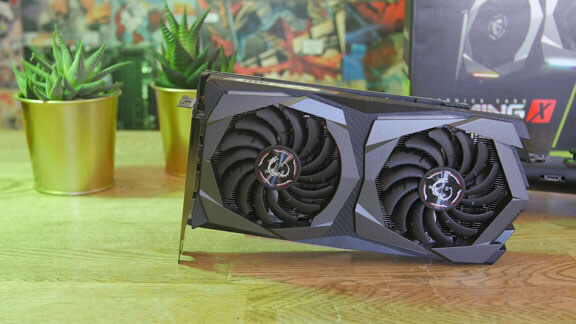 Test System:
ASUS ROG Strix Z370-I Gaming
Intel i7-8700K
16 GB Corsair Bengeance RGB Pro
GamerStorm Castle 240
SeaSonic Prime Gold 1300 W
Sandisk Ultra II SSD
BengQ BL2420U
The noise levels in the office is at around 35 dBA, and the levels produced by the Gaming X-card topped at around 38 dBA. This is certainly acceptable, and it will easily be drowned by the sounds coming from your games.
Let's jump directly to the benchmarks.
Below, you'll find a video walkthrough of my benchmark results. I provide a direct comparison to the big brother of this card, the GTX 1660 Ti, in order to illustrate the difference between the two, but I of course also add a number of other GPUs in order to provide broader comparison.
Not surprisingly, the GeForce GTX 1660 Gaming X 6G comes in at the bottom of our charts. However, the results show that the MSI GTX 1660 Gaming X 6G can perform well at 1920x1080, if you aim for the magical 60 frames per second.
The only game, in which this goal was not reached was Assassin's Creed, but that's also one of the heaviest and most demanding games in our test, and by adjusting the in-game graphical settings a bit, it was possible to achieve these frames after all.
In the lighter games such as Black Ops and Overwatch, there aren't any problems gaming in 2560x1440. However, in general, I have to stress that the GTX 1660 Gaming X card is intended for Full HD gaming, especially if you want to obtain as smooth a gaming experience as possible.
This becomes even more crucial in terms of future proofing, which is something I highly recommend that you consider before investing in a new card today.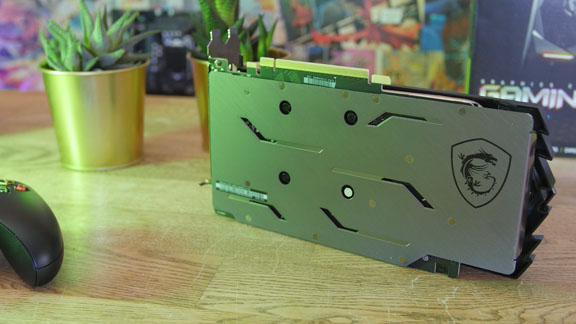 The price of a GTX 1660 Gaming X from MSI is at around $235, which is around $75 cheaper than the GTX 1660 Ti. As such, you save almost 25%, and since the performance in most games is around 20% behind too, these numbers go well hand in hand.
With the GeForce GTX 1660 Gaming X 6G model, you also pay a bit extra for the design. You will be able to find a GTX 1660-card even cheaper, if you are willing to compromise a bit in terms of design.
Based on previous benchmarks I've run, I don't expect that performance to be significantly less on the cheaper 1660 models available on the market.
With that said, the GeForce GTX 1660 Gaming X 6G from MSI is a nice card to behold, and it performs quite well at 1920x1080, and it does so almost completely silently. So, if you're looking to play in Full HD, and you also appreciate a cool design, then the GTX 1660 Gaming X 6G from MSI is a fine choice, if you're on a limited budget.
From a pure performance point of view, I'd consider if it wouldn't make more sense to go one step above. It's possible to get a GTX 1660 Ti for only a little more than what you have to pay for the Gaming X model, and that is, in my view, a small margin to cover, in order to unlock 20% extra performance.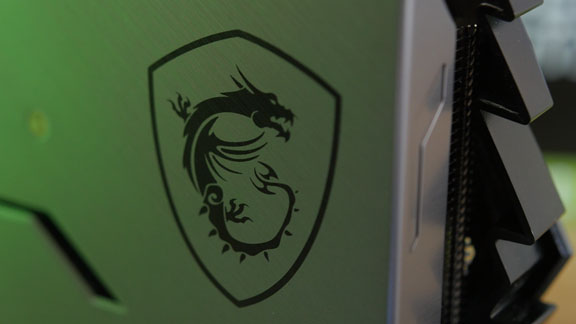 As I see it, it's the price that constitutes the greatest weakness on these types of specially designed cards in the lower end of the market. If you're only concerned with pure performance then it simply doesn't make much sense with these cards.
Unless you have a case that will put the card on display for you to enjoy aesthetically, then I'd rather spend a bit more, and get the additional performance of the GTX 1660 Ti.
In the end, it's what's rendered on the screen that you'll end up looking at the most.
Pros:
Nice design

RGB LED lights

Runs silently
Cons:
Final Score: 7 out of 10