AUTHOR : Berleburg
PUBLISHED : 2019-08-05 15:29
MSI RTX 2060 SUPER Gaming X
We've taken a look at the smaller brother in Nvidia's new SUPER series. It's the MSI RTX 2060 SUPER Gaming X version that we've had the pleasure to test.
It's not too long ago that I had a look at one of the newest installments within the Nvidia GPU market, namely, the RTX 2070 SUPER from MSI's Gaming X Trio series.
Today, we are staying within the same ballpark, but we take it a step down the ladder by having a look at MSI's RTX 2060 SUPER from their Gaming X series. We'll find out if Nvidia's update to the Turing architecture is as super as the name claims it to be.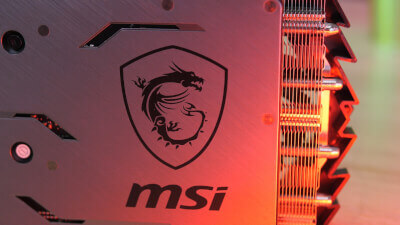 Check out our video walkthrough below (Danish), or simply keep reading.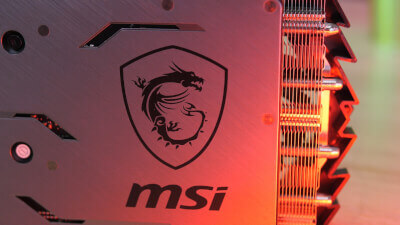 The RTX 2060 SUPER is, just as the SUPER version of the RTX 2070, an updated version of the original card. This is similar to what Nvidia has done before, but usually, Nvidia would simply have added "Ti" to the name. This time around, it's SUPER instead, for whatever undisclosed reasons. The unusual naming aside, there are also some changes to the underlying hardware.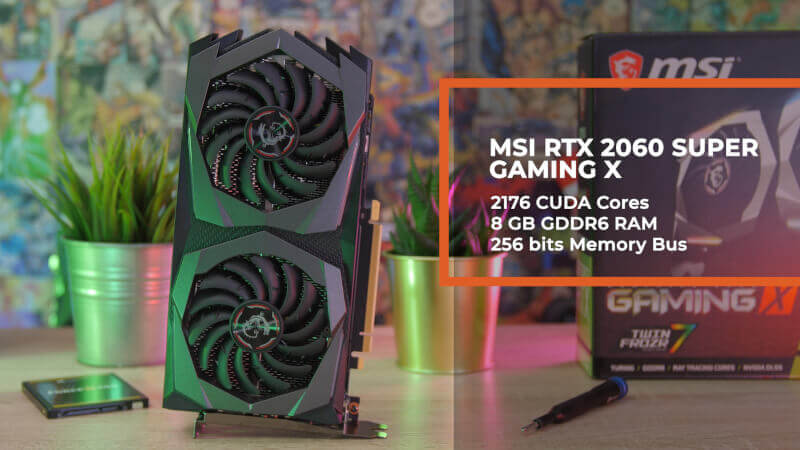 On the RTX 2060 SUPER, there haven't been made any radical changes to the chip, which is still based on the TU 106 Turing chip. We now get 2176 CUDA cores, compared to the 1920 of the original RTX 2060. The most significant change is to the RAM, which have been upgraded from six to eight GB GDDR6 RAM, which also introduces a 256-bit memory bus compared to the 192-bit bus of the original.
MSI specifies a boost clock frequency of 1695 MHz, which is a bit more than the 1650 MHz Nvidia reference specification.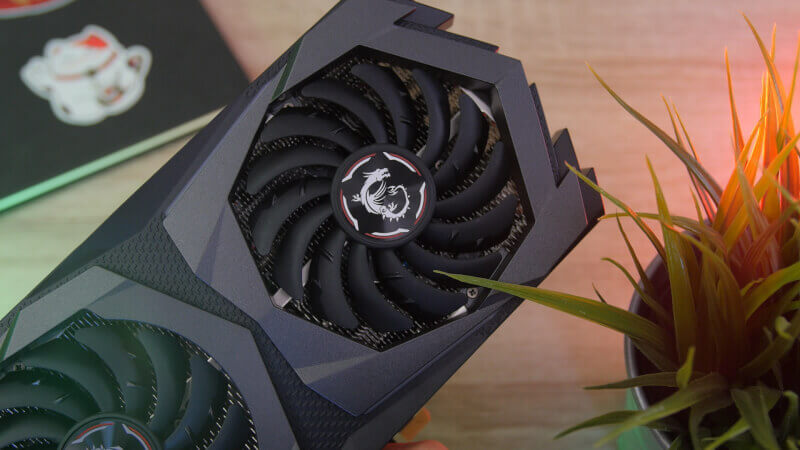 In terms of aesthetics, MSI is keeping to its style also seen on other of their Gaming series cards as of late. It's the same discrete gray and black colors accompanied by some RGB LED lights surrounding the MSI logo on the side and on the fans. The cooler is MSI's Twin Frozr 7 design, which comes with two of their Torx 3.0 fans that provide plenty of air to the underlying heat sink, which is equipped with four heat pipes. The fans turn on only once the temperature reaches 60 °C on the card, which means that there is great potential for a silent running card at those lower temperatures.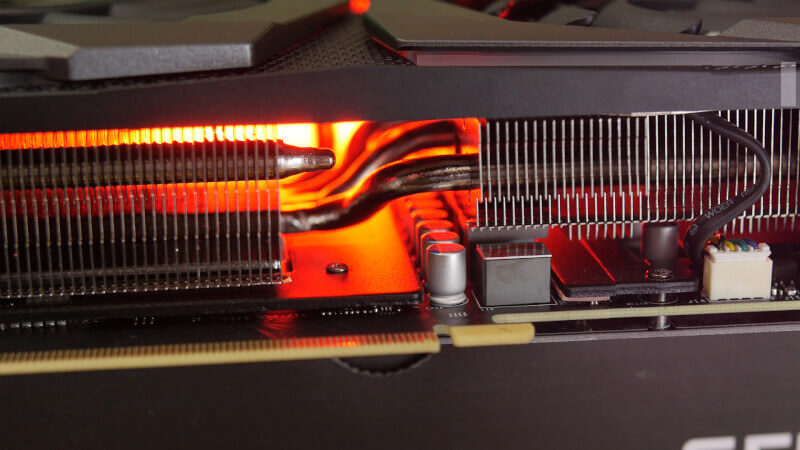 The cooler is a two-slot design, but with a total length measuring only a mere 25 cm, we are not dealing with a particularly big card. It should fit into most systems, including smaller ones. The card weights a total of 981 g, which is significantly less than its bigger brother, the RTX 2070 SUPER Gaming X Trio, which checks in at a massive 1522 g.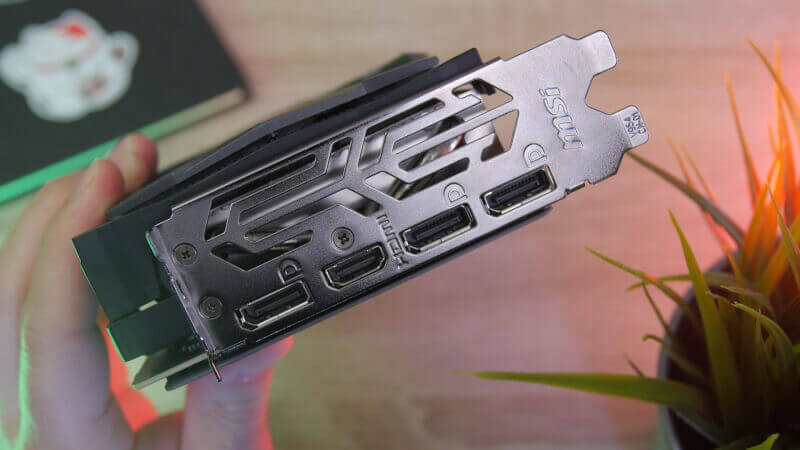 The card is equipped with a single 8-pin connector for power, and MSI specifies a power draw of 175 watts. In terms of connectivity, we get three DisplayPort 1.4 and a single HDMI 2.0b, which should settle most needs.
This version of the RTX 2060 SUPER by MSI is priced at $429.99, which is around $55 more than the standard RTX 2060 Gaming Z also from MSI. As a side note, it's also roughly $30 more than the cheapest RTX 2060 SUPER that I was able to look up. If you add $30 you can take it up one step to MSI's comparable RTX 2070 Gaming X. So, it's going to be very exciting to see where we land in terms of performance, now that the price difference is relatively small.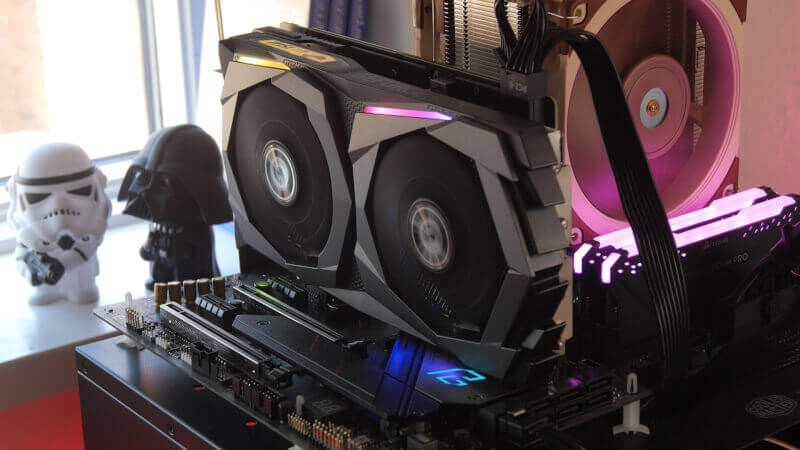 We'll jump straight to the benchmarks, where this card has of course undergone our usual test compilation. Under load, the card boosted to an impressive 1950 MHz, which is a significantly higher rate than the 1695 MHz that MSI had specified. The temperature topped at 65 °C under load, and during all of this, we experienced the card to be quite silent. However, it's not at silent as its bigger brother, the RTX 2070 SUPER Gaming X Trio. This card was around 40 dB.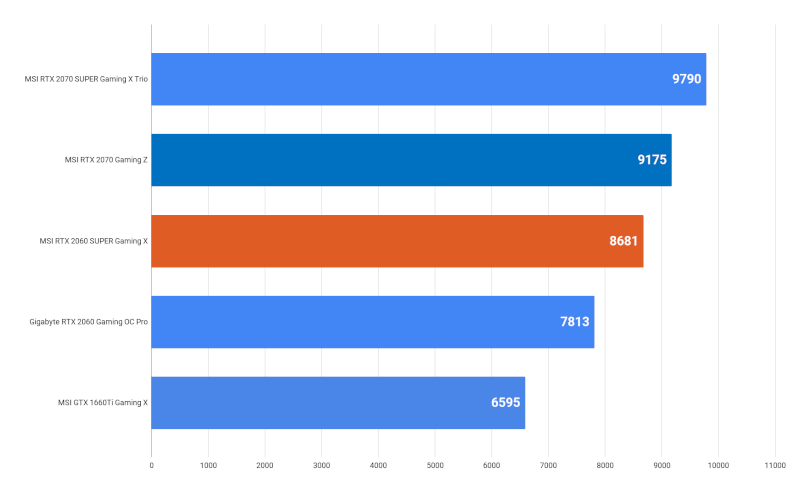 As usual, we start with the synthetic tests, and start out with Time Spy. Here, we see an expected spread of the cards that I've included in this comparison. There's a fine improvement over the standard RTX 2060, but we do not beat the RTX 2070 cards.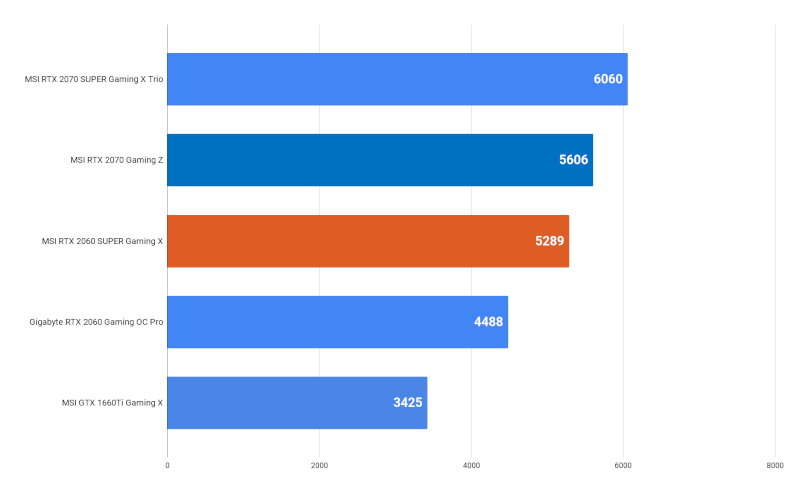 If we look at Fire Strike Ultra, the spread is identical here, but we are a bit closer to the RTX 2070 cards this time around.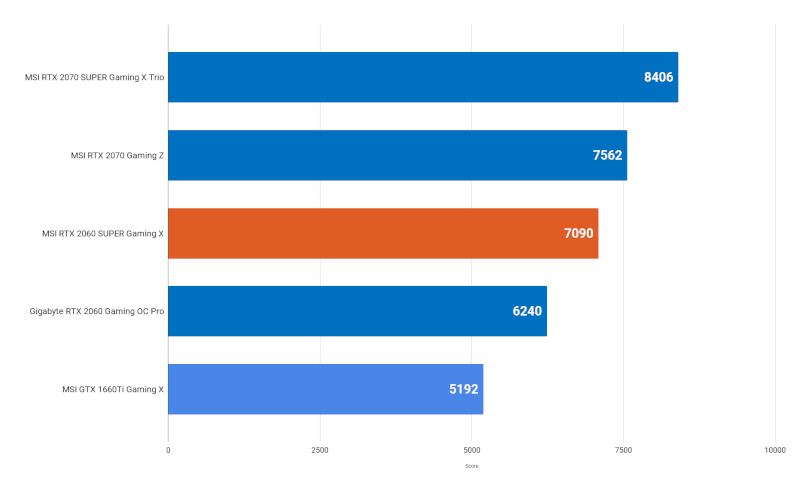 The Superposition test is the final synthetic test, and there's not much to add here since the result is similar to that of the other synthetic tests.
We move on to game tests, so we can see if we will see a similar result in performance here, compared to the synthetic test results. I've decided to only include the 1080p and 1440p results here, since these cards are not really meant for 4K gaming.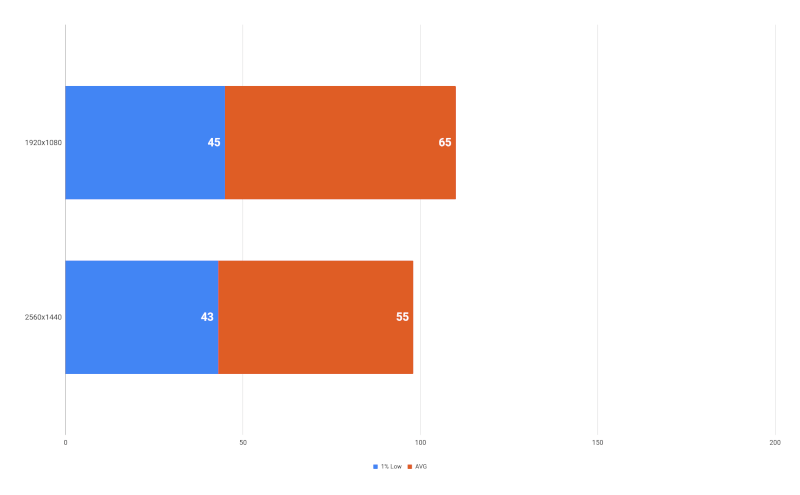 In Assassin's Creed, we manage to just get above 60 FPS, whilst at 1440p, we are a bit below. Both are still fine results in a visually demanding game.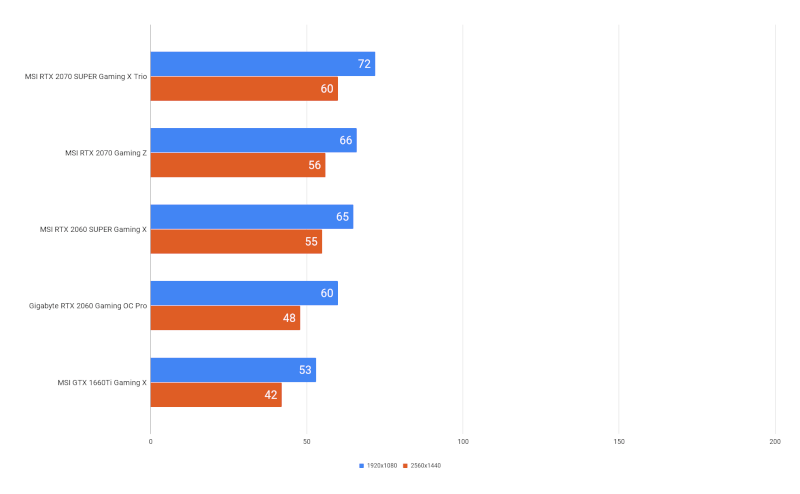 If we compare to the other cards, it once again is quite clear that you get a fine performance boost over the standard RTX 2060. Here, we can also see that we are actually neck-to-neck with the standard RTX 2070 card in pure FPS, whilst the SUPER version of course pulls away here.
So, quite a fine start for the RTX 2060 SUPER Gaming X in a real gaming scenario.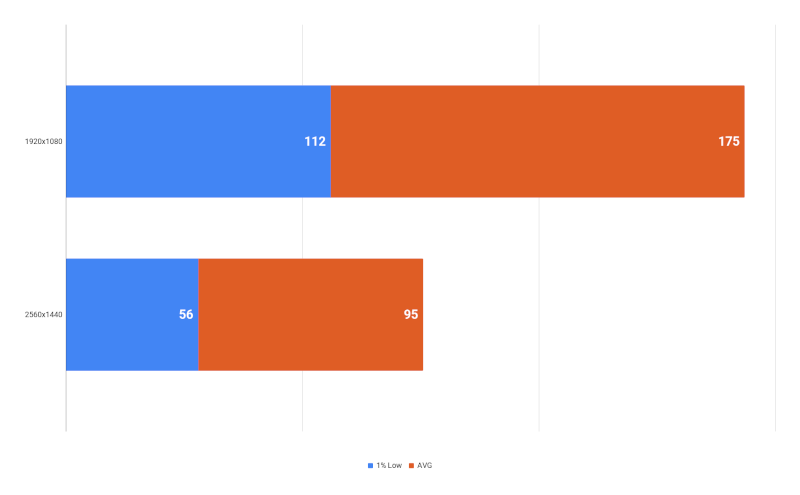 Next up is Call of Duty: Black Ops 4, which isn't as demanding a title, which can also be seen on the results, where a high refresh rate is attainable without too much hassle, in both the tested resolutions.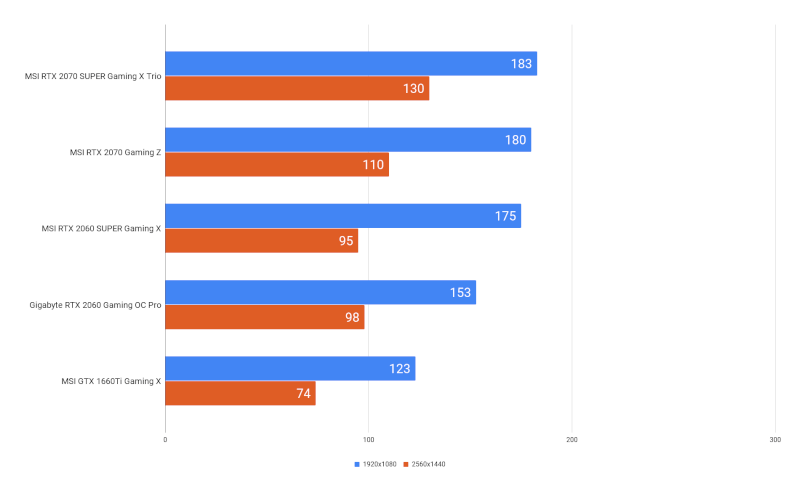 In the comparison chart, we see a result similar to the previous one. A fine jump from the standard 2060 in favor of the SUPER, and at the same time closing the gap to the RTX 2070 card. It's once again hard to complain here.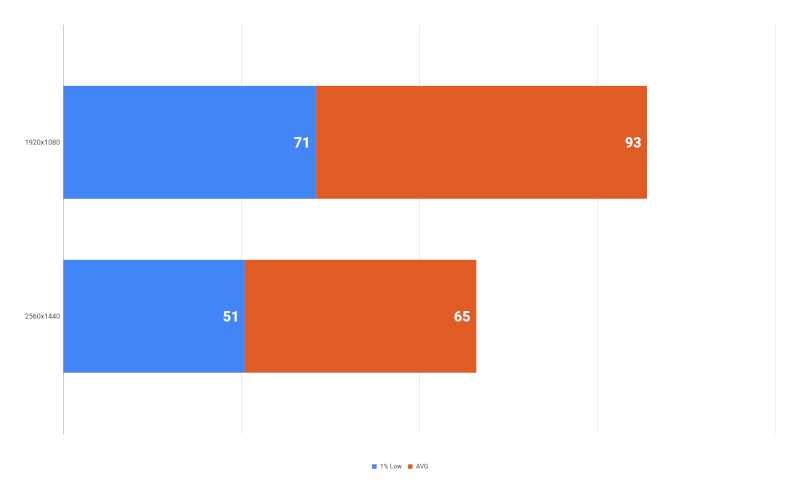 In Deus Ex: Mankind, we once again are dealing with a visually very demanding game, but none of the tested resolutions were a problem for the RTX 2060 SUPER card, which delivered solid results on both accounts. We find ourselves securely above 65 FPS in 1440p.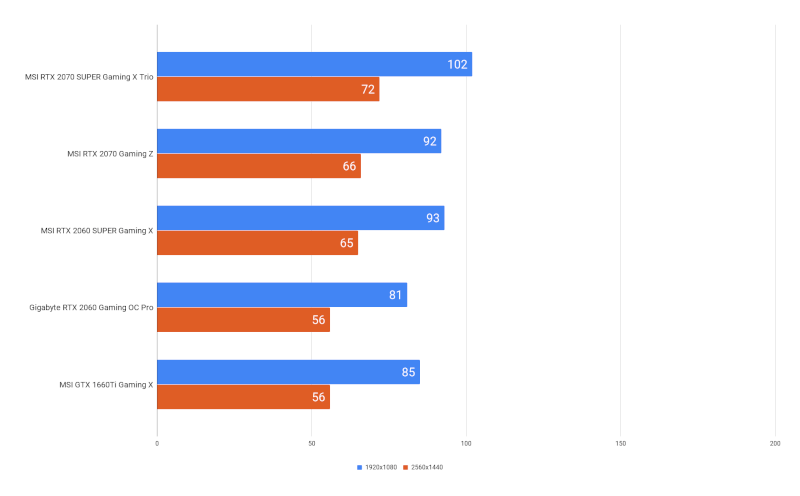 Comparing to the other cards, we yet again are neck-to-neck with the RTX 2070 card, but the SUPER is still ahead, which is to be expected. So, we maintain a status quo here with Nvidia's offerings.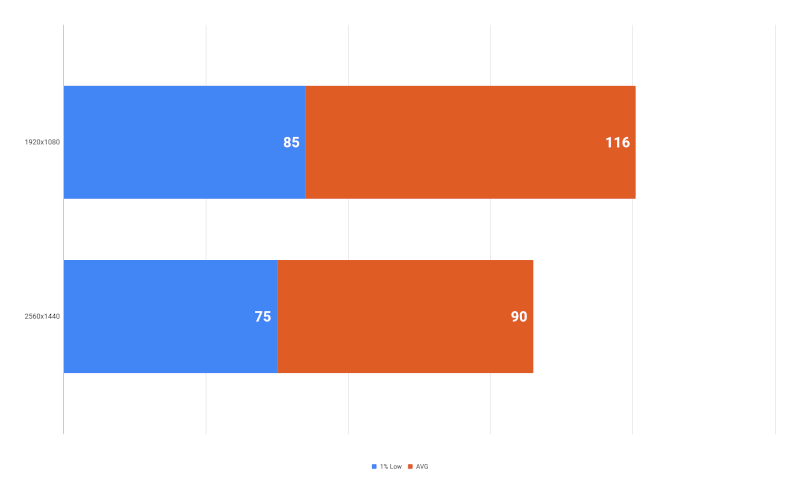 Far Cry 5 is one of the more forgiving titles in our test, which is also seen in the eventual results. We get really fine results in both resolutions. This means that there is plenty of opportunity here to take advantage of a high refresh rate monitor, if possible.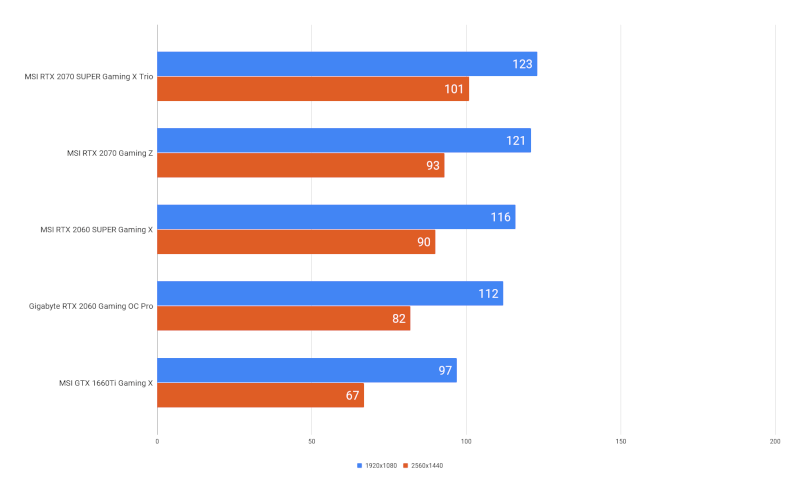 In the comparison, the cards spread out as expected, with the SUPER version right between the standard RTX 2060 and RTX 2070. We see an improvement between each card of 4% to 10%.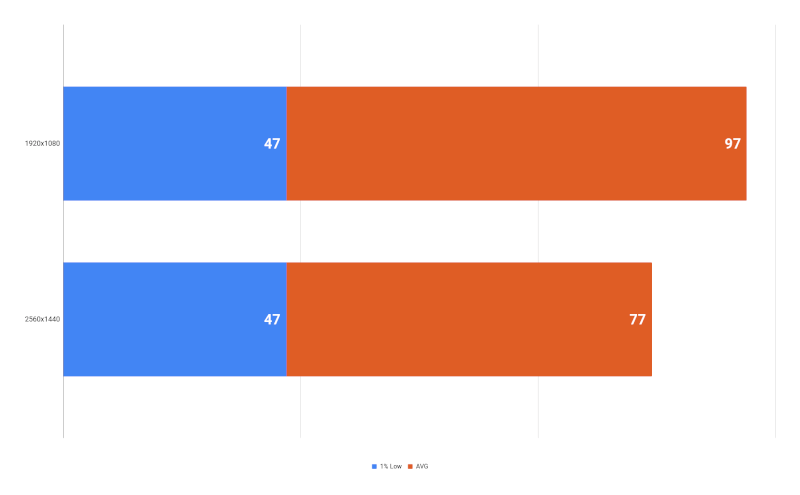 We move on to Tomb Raider, and here, we once again get solid results at both resolutions, which is great to see.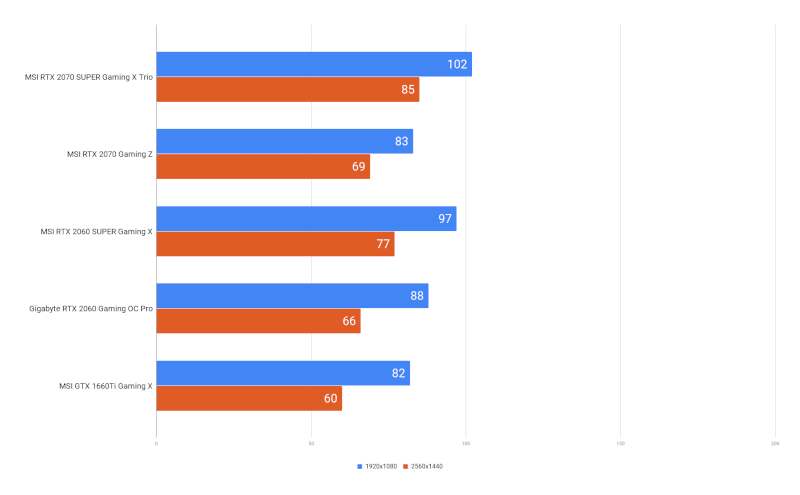 In comparison, we see that Tomb Raider is a game that is perfect for the new RTX 2060 SUPER, and it actually overtakes the standard RTX 2070 card. This is mostly noticeable in Full HD, but it's also doing very well in 1440p.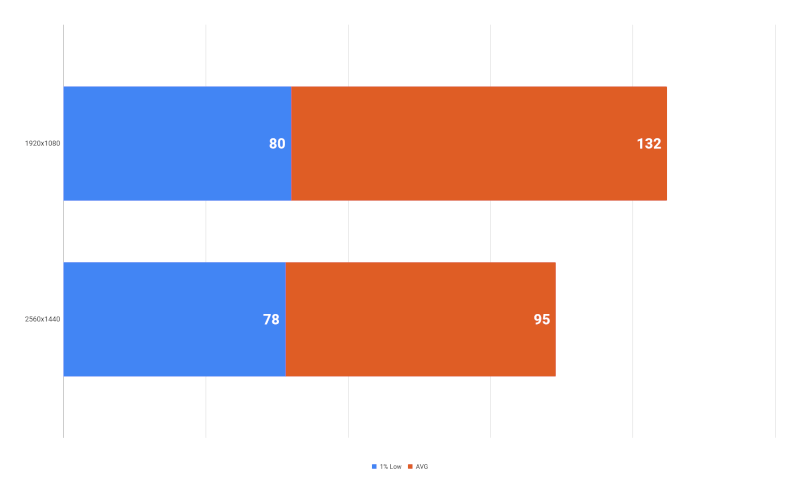 The next game in line is The Witcher 3, and again, we see super results from the new SUPER cards. It delivering a rock solid performance in terms of FPS with room for high refresh rate on both the tested resolutions.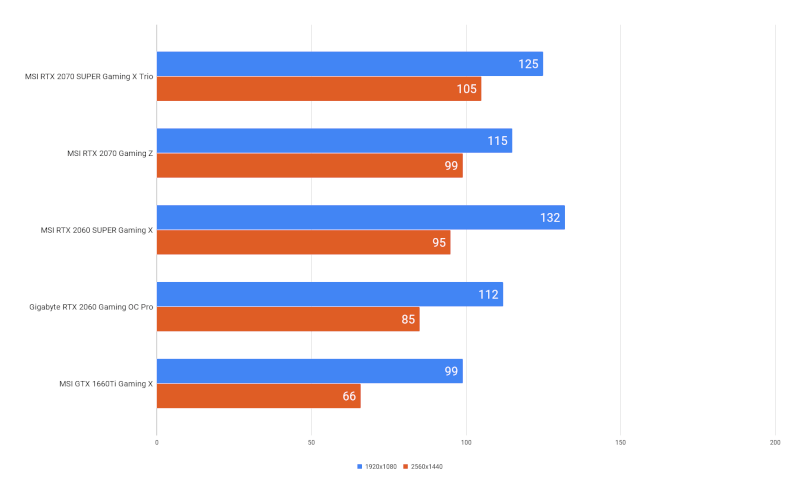 In the comparison chart, we see that the RTX 2060 SUPER is on par with the standard RTX 2070, but still sees itself beaten by the RTX 2070 SUPER.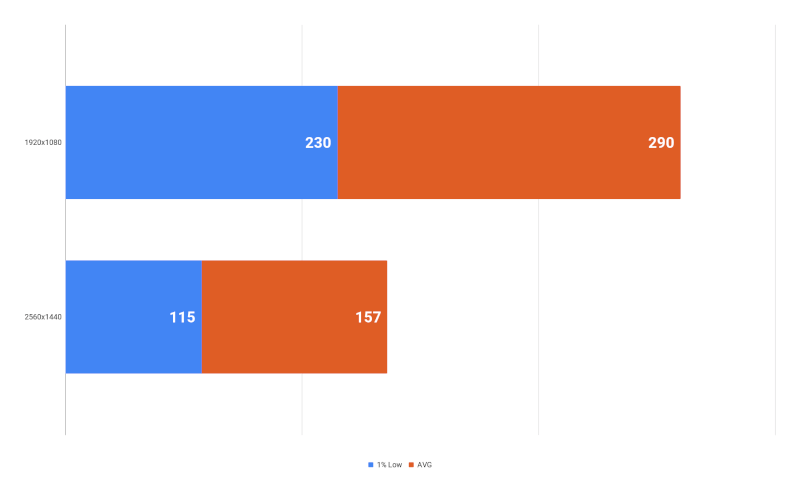 The last game is Overwatch, which, not surprisingly, offered no issues in terms of running well in the tested resolutions. In Full HD, we are close to the 300 FPS limit of the game, and in 1440p, we are way over 100 FPS. It's a game where 4K gaming would not be a problem either.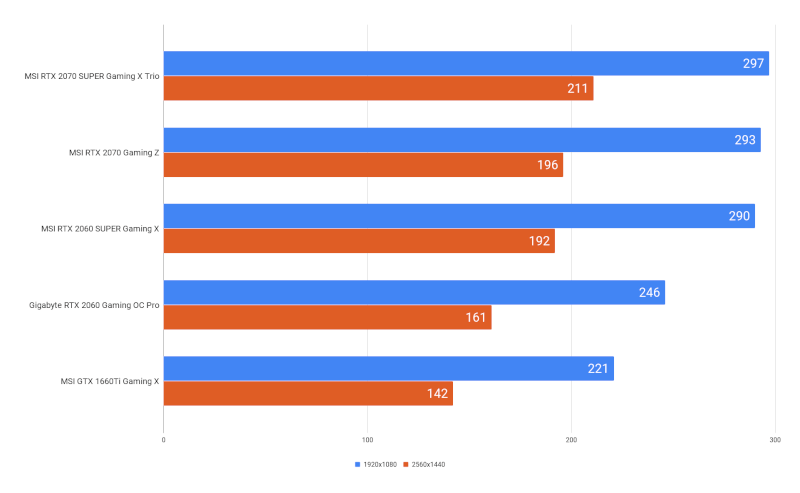 In the comparison chart, we see that the card is more or less on the level of the RTX 2070 card, and the gap to the 2070 SUPER is actually not that big. However, Overwatch is also a game that doesn't demand all that much from graphics cards in general.
That's it for all of the benchmarks, and in general I'd say that the card did really well. It's very suitable for Full HD and 1440p gaming, and in most of the games, there's enough headroom to support high refresh rate monitors. I did not include 4K results since the card doesn't really target that segment. For the curious lot out there, I can mention that I did run some tests, and with the exception of Overwatch, the results were in the 30 to 40 FPS range in 4K, in the cases that I tested in that resolution.
If we compare the price to MSI's original RTX 2060, and the same type of card as this one, the price increase with the SUPER version is around $55, which is a 14% increase. In terms of performance, you get between 3% and 17% performance improvement, depending on which games you test in, so in that sense, there seems to be a reasonable relation between price and performance here.
When the difference isn't bigger than those $55, I'd definitely recommend the SUPER version, if it is in any way possible to find that extra room in your budget. There's an across-the-board performance gain, and in most cases, the performance improvement is relatively bigger than the price increase.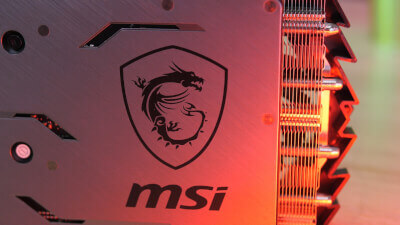 If you widen the price comparison, the overall picture changes a bit. Even though the RTX 2070 cards are quietly being out-phased in favor of the newer SUPER versions, there are still plenty of them available on the market. With the current prices, you would be able to find quite reasonably priced RTX 2070 cards, and that ends up casting a bit of a different light on the RTX 2060 SUPER Gaming X. As long as it is possible to find an RTX 2070 at the current prices, with reasonable cooling solutions, I would always pick these instead. This means that the RTX 2060 SUPER Gaming X lands within a difficult midrange price segment.
It's slightly after, and in a few cases on par with, the RTX 2070 in terms of performance, which can be found at a similar price, if not cheaper, and then the RTX 2060 SUPER card unfortunately loses, in my opinion. In a vacuum, the RTX 2060 SUPER Gaming X is a really fine card, which delivers solid performance and does so in a near silent fashion. Right now, though, you are able to get slightly better performing cards at the same price level, and then the idea with the 2060 SUPER is lost to me. Once the stock of RTX 2070 cards dwindles, this might change, and the value proposition of the 2060 SUPER with it, but it's too early to tell, as we do not know what the prices might be at that time in the future.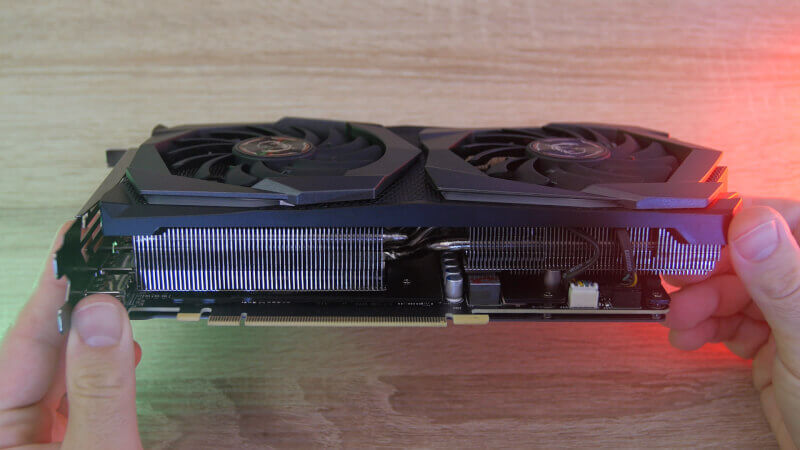 If we look to the AMD side of the market, their RX 5700 and 5700XT comes in at a price of around $349.99 and $399.99, and both of those cards perform in close vicinity of the RTX 2060 SUPER, with one right under, and one right above. As such, it is indeed a very packed price range that we find ourselves in at this time.
Right now, one might argue that an AIB version of the RTX 2060 SUPER, like the one I've looked at today provides a stronger value proposition with its better and quieter cooler, but very soon we will also get AIB versions of the RX 5700 cards, which will simply provide further competition. As it stands, we arrive at a final score of 7, for a card that, in a vacuum, performs well, with good materials and design, but which also arrives within a price segment, where other cards are able to deliver slightly better performance at a similar price.
Pros:
Nice design and super build-quality

Good performance in 1080p and 1440p gaming

Quiet under load
Cons: