AUTHOR : Berleburg
PUBLISHED : 2019-07-19 13:30
MSI RTX 2070 SUPER Gaming X Trio
Nvidia has just released their SUPER cards, which introduces a refresh of their Turing architecture. We've had a look at the RTX 2070 SUPER Gaming X Trio from MSI, and we'll be finding out if it manages to live up to its name.
Recently, both AMD and Nvidia have been hard at work bringing consumers new graphics cards. Today, we'll be checking out one of the latest Nvidia-based additions to the market, an AIB from MSI called RTX 2070 SUPER Gaming X Trio.
The SUPER cards from Nvidia do not really bring any new technology to consumers, rather, they bring with them some fine-tuning of the existing Turing architecture. They've worked with Turing for quite a while now, and this has allowed them to make a range of improvements to their cards.
The result is the SUPER series of cards, which starts with the RTX 2060 SUPER and the RTX 2070 SUPER, like the one we'll be looking at today. Later, this year, we'll also be seeing the RTX 2080 SUPER hit the market.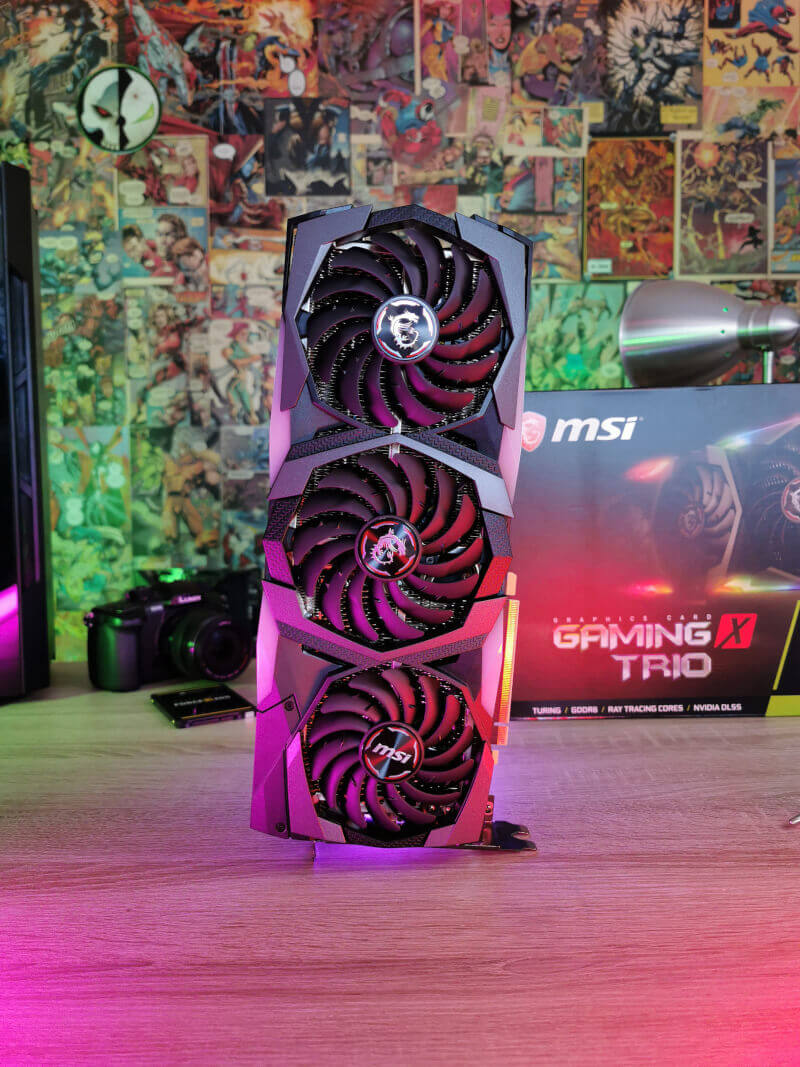 The new RTX 2070 SUPER is, as already mentioned, an update of the existing one, and in many ways, it is actually kind of a trimmed RTX 2080.
Check out our video walkthrough on our YouTube channel, or just keep reading below.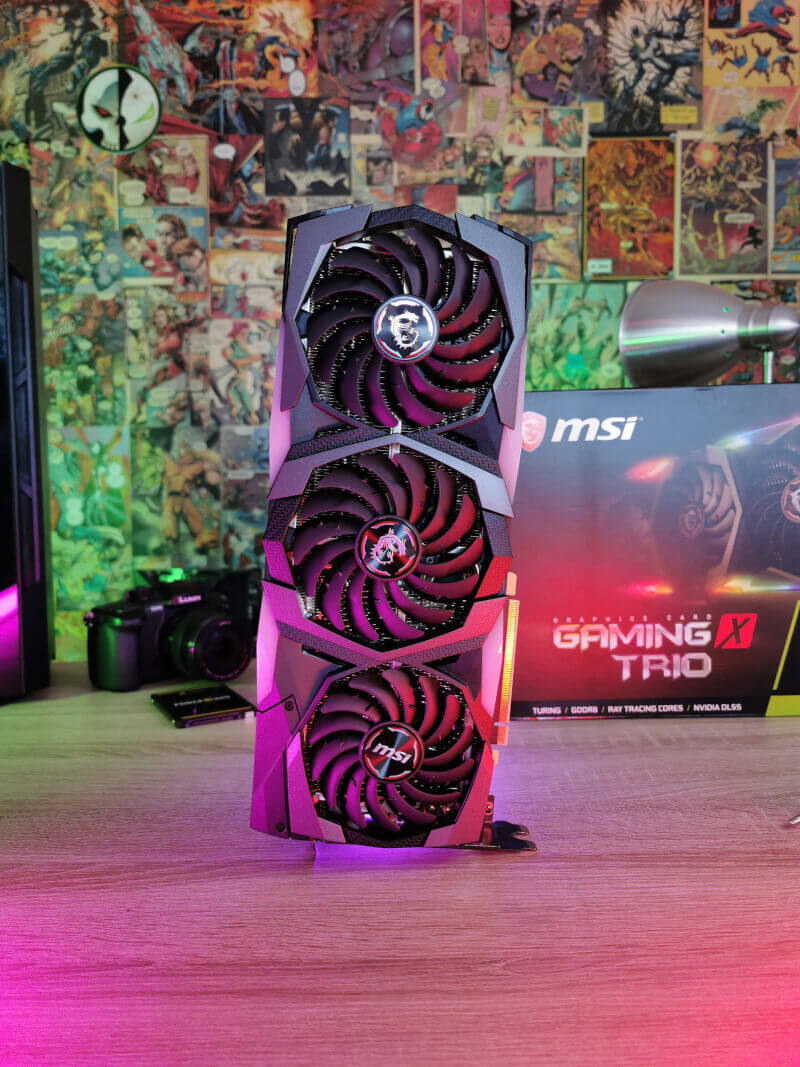 The RTX 2070 SUPER is based on the TU104 chip, which sets it apart from the original 2070 that had the TU106. Thus, the Turing chip that we find on the RTX 2070 SUPER is the same as the one on the RTX 2080.
We also get 2560 CUDA Cores, compared to 2304 of the original RTX 2070. In comparison the RTX 2080 comes with 2944 CUDA Cores, which means that we see a slight trim here. Otherwise, it's the same configuration with 8 GB GDDR6 RAM on a 256-bit memory bus. This is similar to both the original RTX 2070 and the RTX 2080.
Nvidia's standard clock speed of the RTX 2070 SUPER is specified to 1770 MHz, but on MSI's Gaming X Trio version they've added a bit, which gives us a total clock speed of 1800 MHz.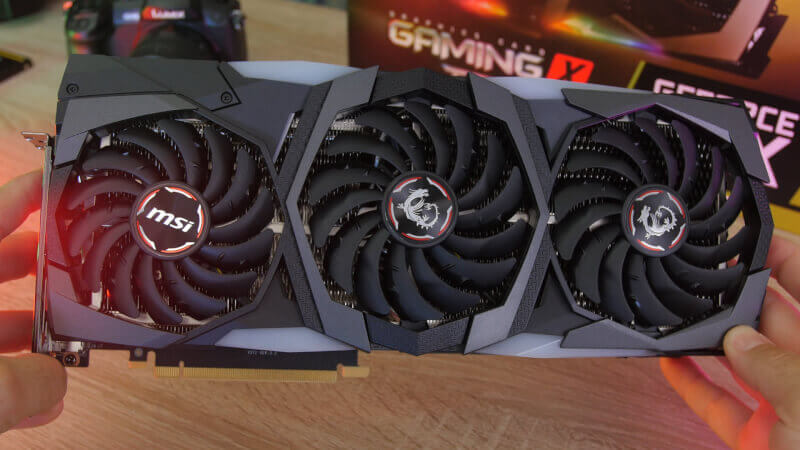 If we take a look at the card itself, it certainly brings up memories of the MSI RTX 2080 Gaming X Trio of yesteryear. MSI hasn't really changed anything in terms of design, so we get the exact same with this new card. The card is kept in subtle gray and black colors, in tune with MSI's other recent high-end offerings.
The same nice backplate in brushed aluminum has found its way to this card, and to those of you who enjoy colors and lights, there's plenty of that going on here, both on the side of the card, around the logo, as well as around the fans.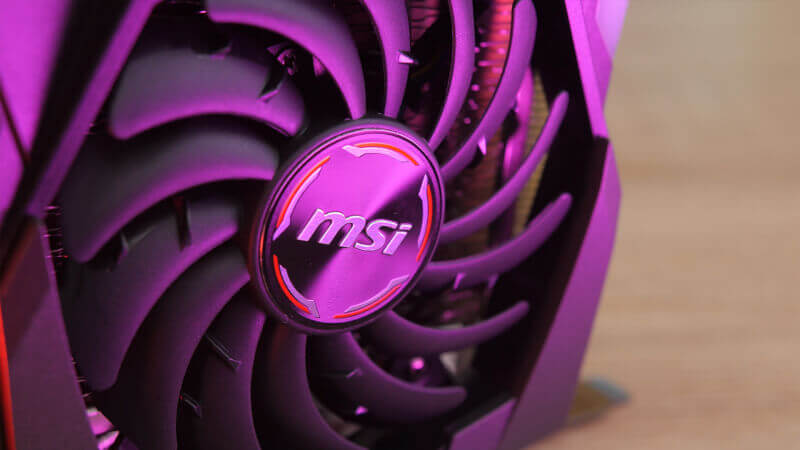 The card is kept cool using MSI's massive Trio cooler that features, to no one's great surprise, three of their Torx 3.0 fans that keep the hefty heat sink and its seven heat pipes cool. It requires that you have two available expansion slots in your system, and the card itself measures just under 33 cm in length, and weighs no less than 1522 grams.
For that reason exactly, the box contains a support for the card, which can be installed underneath the graphics card, if you are so inclined.
The card has two 8-pin connectors for power and is specified to draw 215 W. In terms of connectivity, we get three DisplayPort 1.4 and a single HDMI 2.0b.
The price of this new card is around $515, which is slightly more than the original RTX 2070. Still, it's almost $270 cheaper than the MSI RTX 2080 Gaming X Trio, with which it has a lot in common.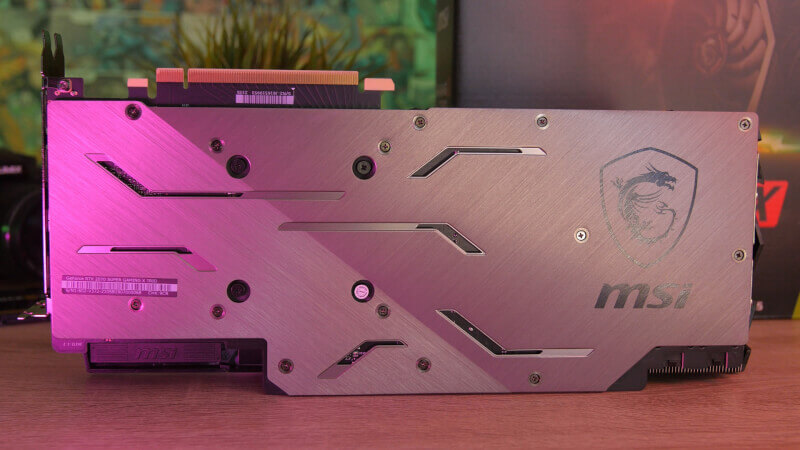 It will be interesting to see how it performs now that the pricing seems to favor the SUPER card.
Benchmarks
Under load, the card boosted to 1965 MHz during my testing, which is well beyond the specified 1800 MHz promised by MSI. This is a welcome bonus largely provided by Nvidia's GPU Boost feature.
In my comparisons, I've added a couple of other cards, which of course include the original RTX 2070 card, so that we can perform a direct comparison here. Unfortunately, I didn't have an RTX 2080 card at my disposal in order to compare the RTX 2070 SUPER to its bigger brother.
Instead, I've tested with a GTX 1080 Ti card, which is the closest I can get in terms of performance since it for the most part matches an RTX 2080.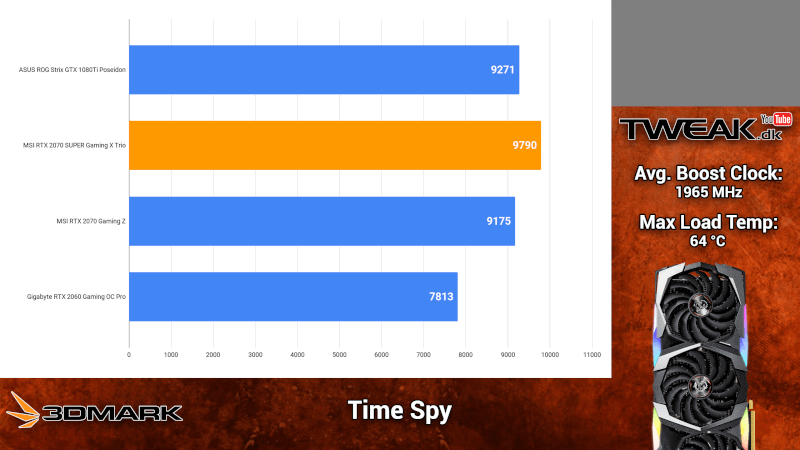 If we start with the synthetic benchmarks, we'll start with Time Spy. Here, the RTX 2070 SUPER card takes the lead. This is probably due to its new and improved RAM configuration, which tends to matter a lot in the Time Spy test. So, a favorable start for the RTX 2070 SUPER.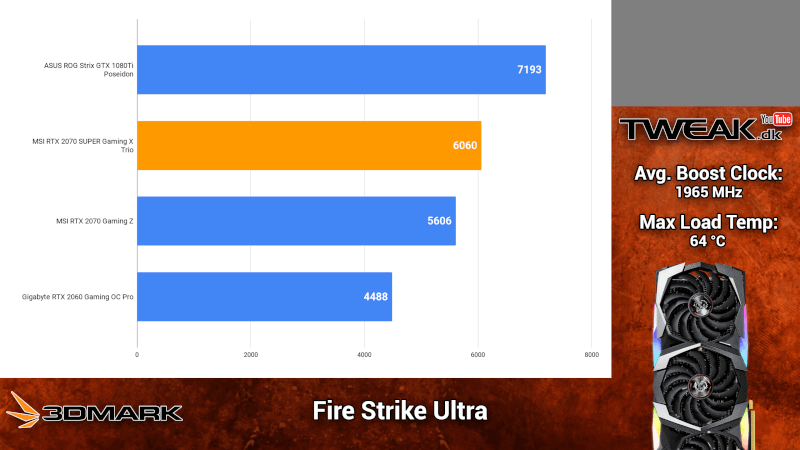 Next up is the Fire Strike Ultra test, which is one of the older ones. Here, we get a different result. We see a clear improvement in comparison to the original RTX 2070 card, but the SUPER version doesn't quite match the 1080 Ti.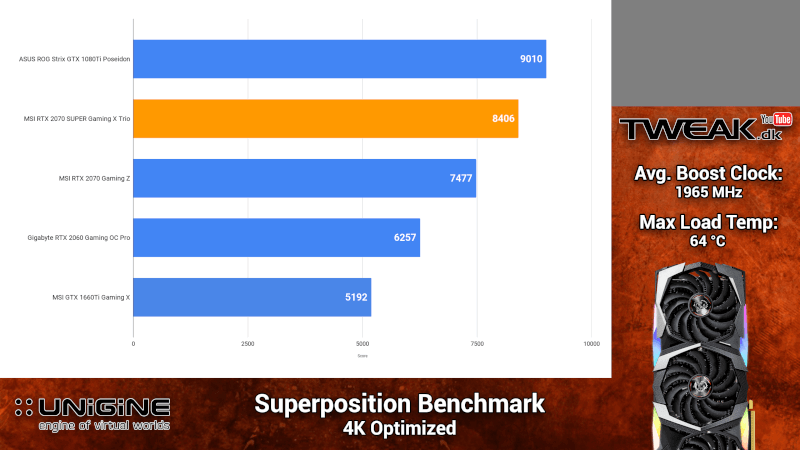 The last synthetic test is Superposition. Here, we see pretty much the same spread as we saw in the Fire Strike test. The SUPER card is well ahead of the original version, but doesn't keep up with the 1080 Ti, despite it being from the previous generation.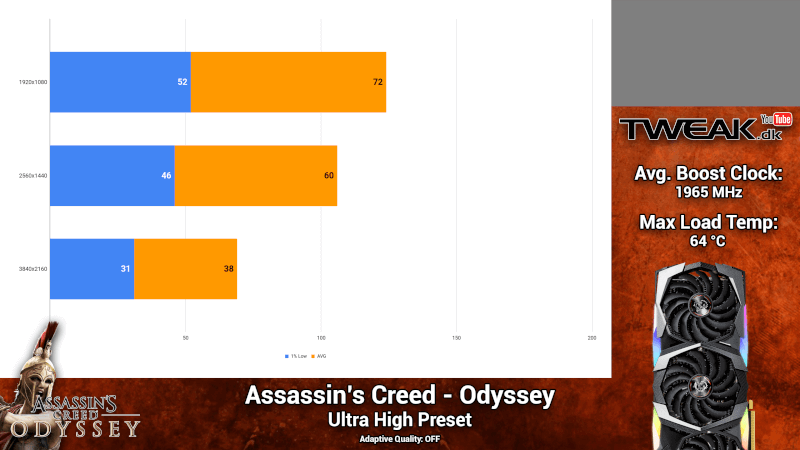 The first game test is Assassin's Creed Odyssey, which is a title that is quite demanding. The RTX 2070 SUPER does its job really well with solid results of 60 fps and above in both Full HD and 1440p.
It comes as no big surprise that 4K is a little too much for this card to handle.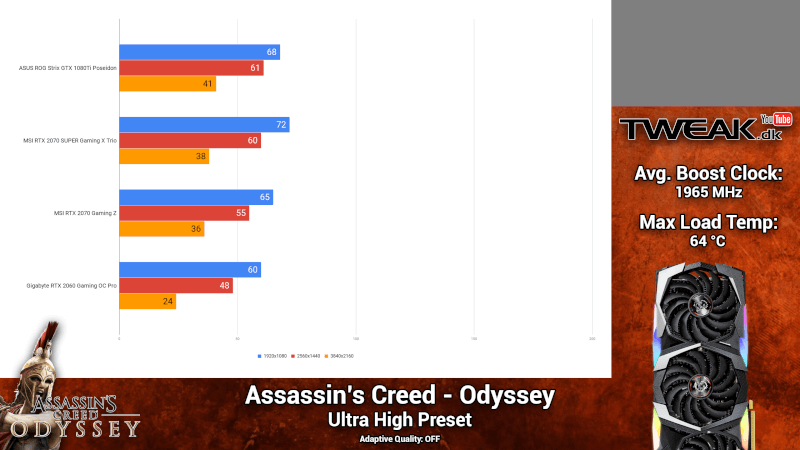 If we take a look at the comparison chart, the results come in quite close, but with the SUPER card as the victor. However, the margin to the original RTX 2070 card is slim in this particular test.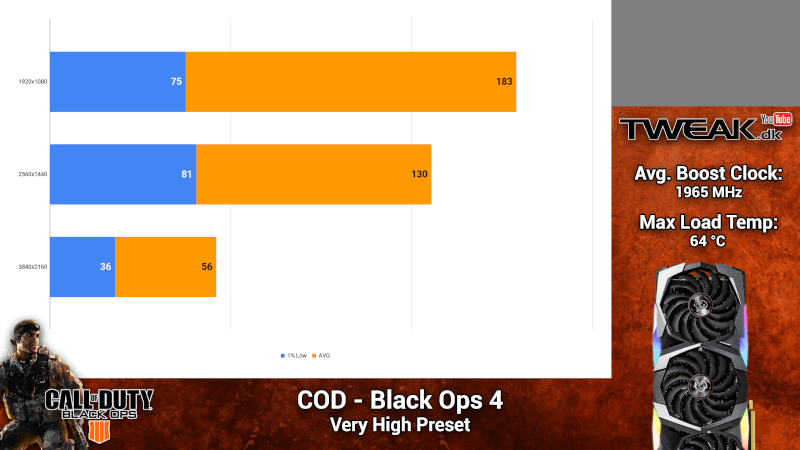 Call of Duty: Black Ops is the next game, and it's quite more forgiving in its graphical demands. Here, high frame rate gaming is not a problem in neither Full HD nor 1440p. However, at 4K, things become a bit more taxing on the system, but that's what one can expect within this price segment.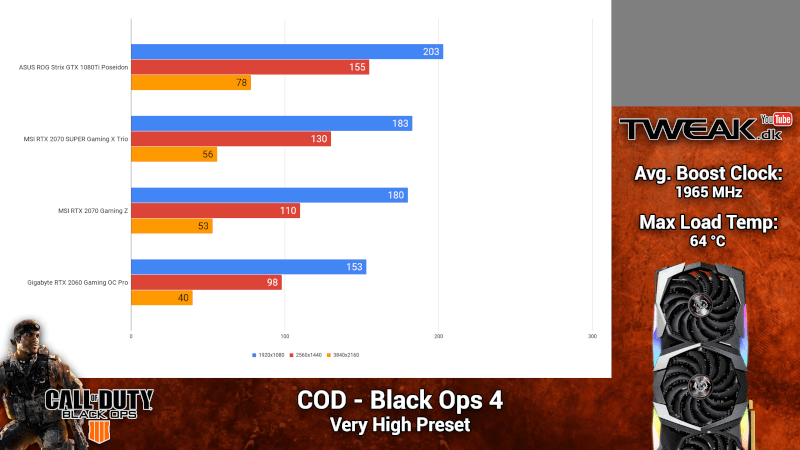 If we compare to the other cards, we can see that the SUPER card is slightly ahead of its non-SUPER predecessor, but the gap isn't big. It's so little that the difference is hardly noticeable in practice.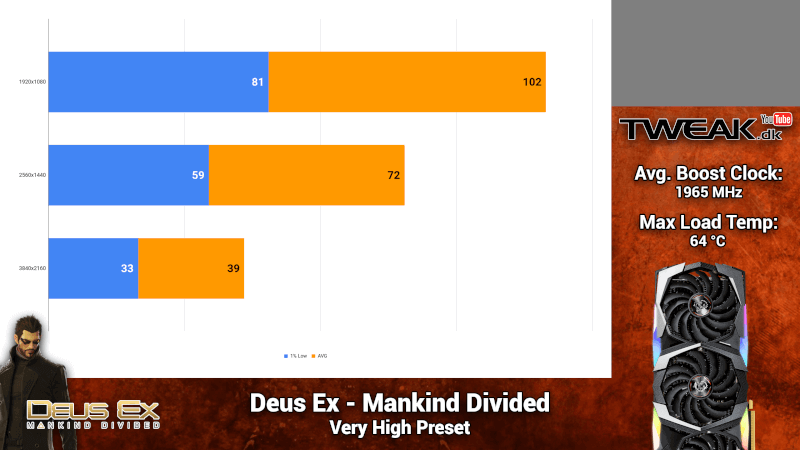 Deus Ex: Mankind Divided seems to only reaffirm the tendency so far in that we get solid performance in both Full HD and 1440p, but once we go 4K, it seems like too big a mouthful.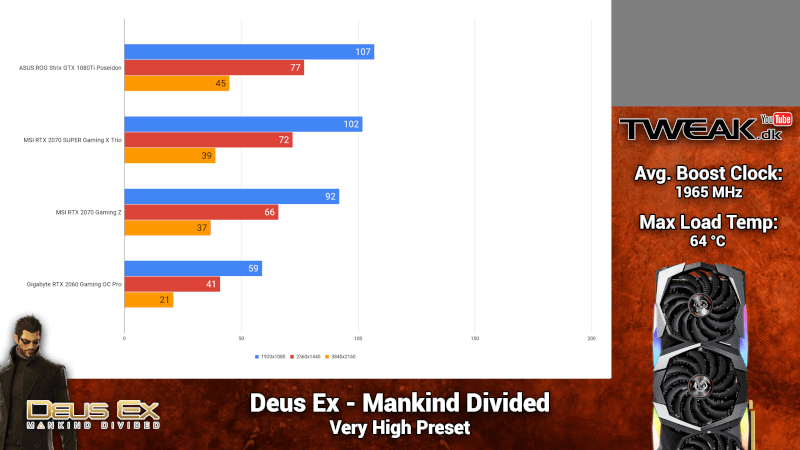 In comparison to the other cards, things are also the same here. We see a clear improvement in regard to the regular 2070 card, and we come extremely close to the performance of an RTX 2080 card. So, it's an improvement worth noticing.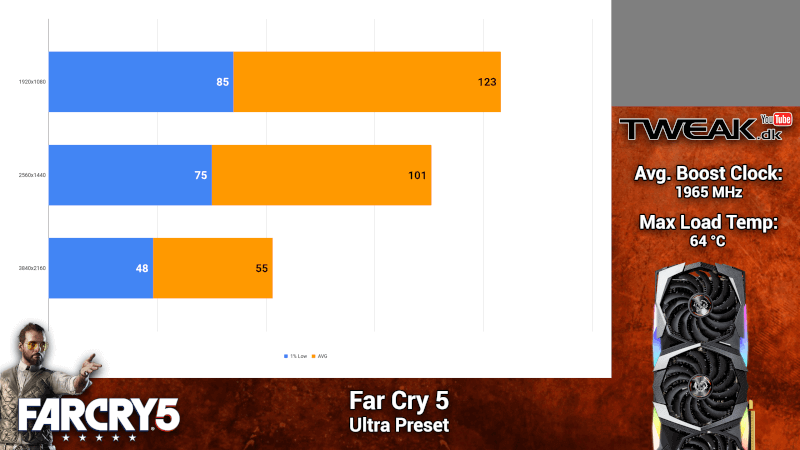 Far Cry 5 shows us some great results for the 2070 SUPER card, and here we actually are near 60 fps in 4K. It's definitely playable, and with just a few adjustments in the settings menu, and we should easily be able to surpass the magical 60 fps in 4K.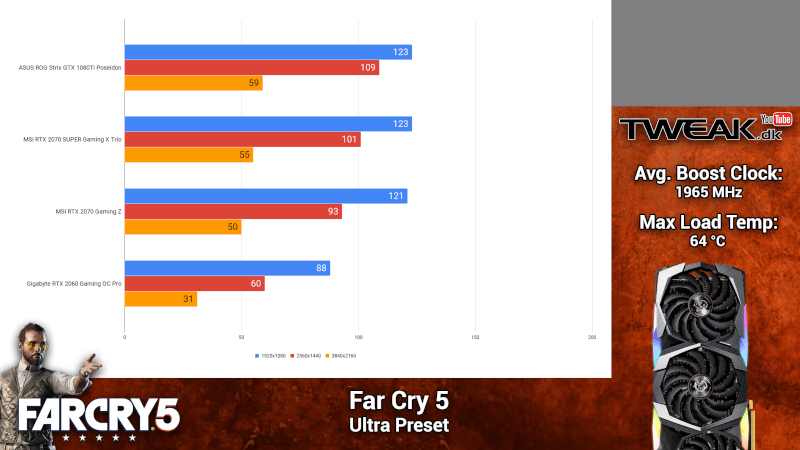 If we look at the comparisons for Far Cry, it clearly is a game that closes the gap between the contenders. It's pretty much a tie between the top three cards here. This is mainly the case in Full HD, whereas, in the higher resolutions, the spread becomes a bit more tangible.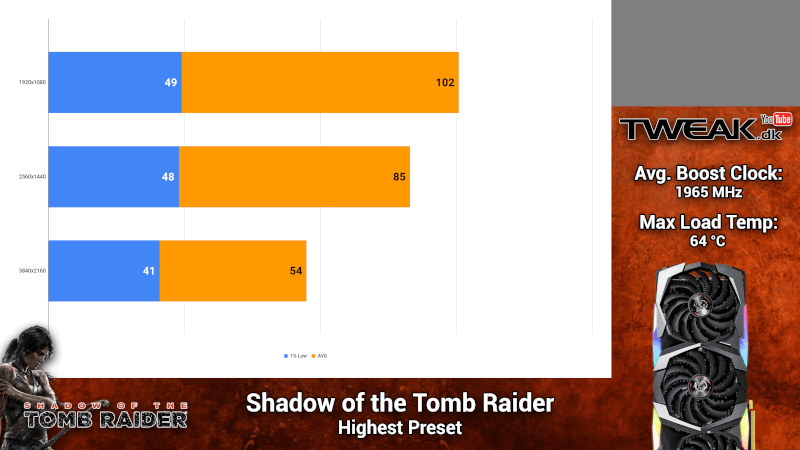 The results in Shadow of the Tomb Raider are similar to those of Far Cry. Here, the result is very satisfying in Full HD, and very close to 60 fps in 4K. With some adjustments to the game settings, 60 fps in 4K should definitely be possible.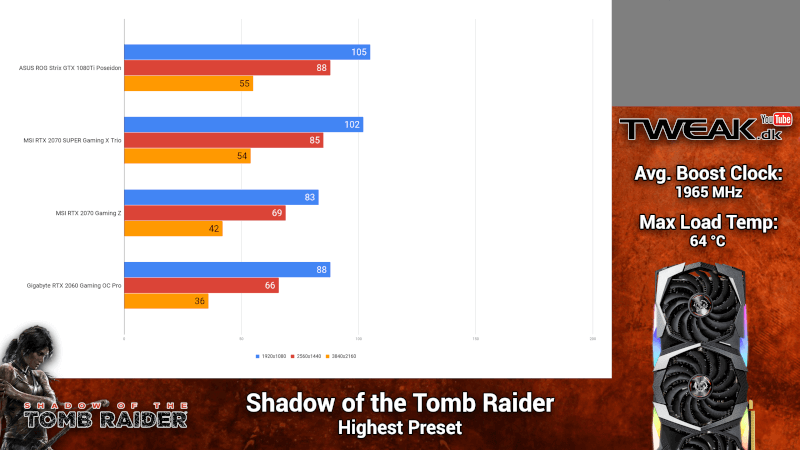 There's a bigger spread here, and we can see that the 2070 SUPER once again comes very close to closing the gap up to its bigger brother. There's also a noticeable gap down to the vanilla 2070, which is a worthy improvement.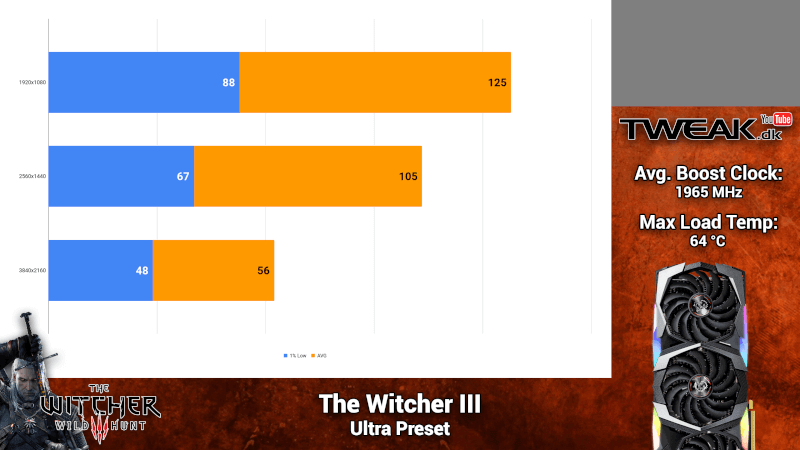 With Witcher 3 we yet again see a repetition in the results that are solid in Full HD and 1440p and very close to 60 fps in 4K. No big surprises here, compared to the previous findings.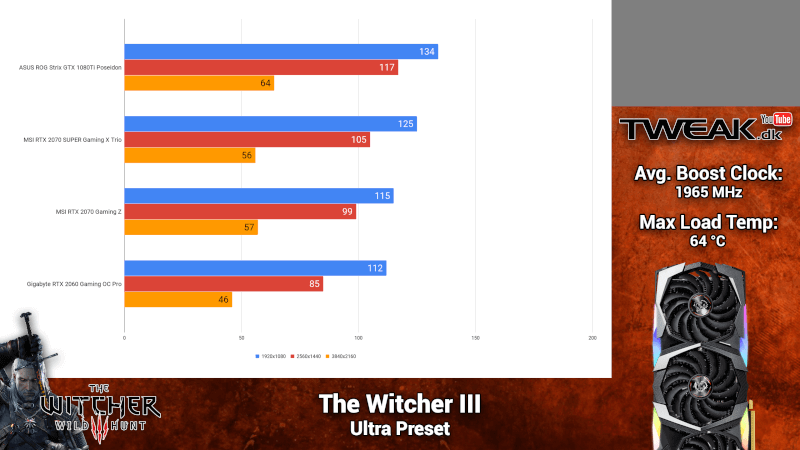 In comparison to the other cards, the spread is a bit more noticeable, and we find that the gap up to the GTX 1080 Ti, which is standing in for the RTX 2080 in this test, is a bit bigger. If you're going for Full HD and 1440p, there's still plenty to gain compared to the original 2070.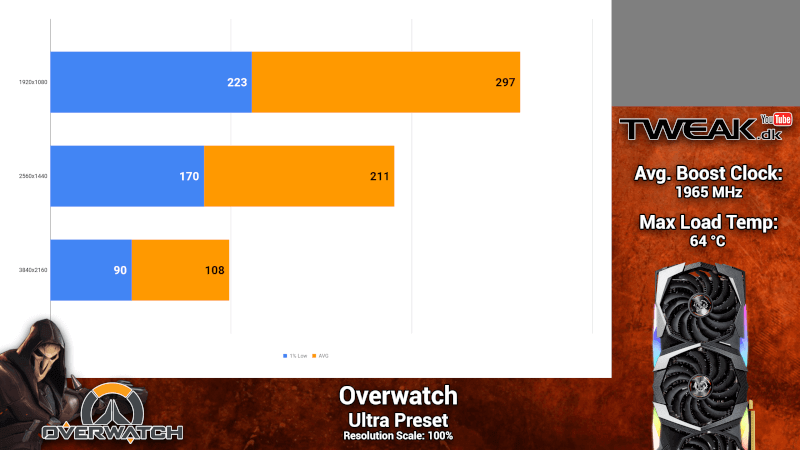 Finally, Overwatch is up next, and it's probably one of the lightest test cases in this round of testing. This is a game that favors high refresh rate gaming at all available resolutions, so we don't expect to see much else here.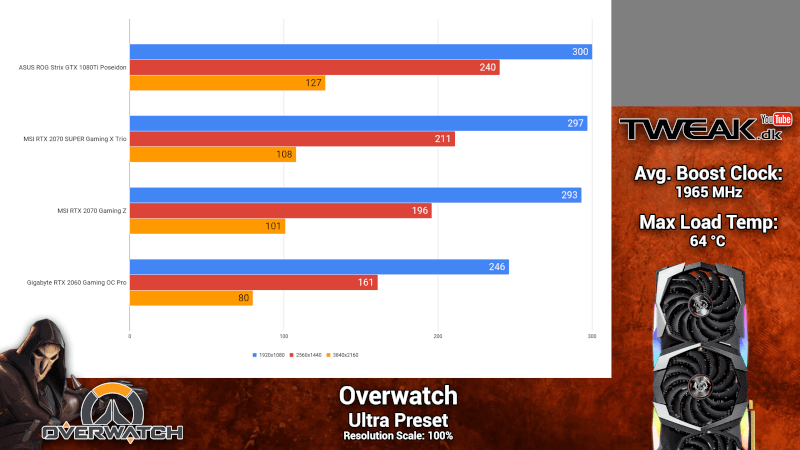 When looking at the comparison chart, we find that there's not much point in getting the larger cards if your main ambition is to play games like Overwatch, unless you of course want to play in 4K, and you belong to the minority of gamers that have a high refresh rate monitor offering that resolution. In Full HD, most of the cards are almost maxing out at 300 fps. Even though the spread is bigger at 1440p, I would argue that it is very difficult, if not impossible, to tell the difference between 200 and 240 fps.
There's no doubt that there's something to be gained with the new RTX 2070 SUPER, when compared to the previous non-SUPER card. Especially when the price, when comparing MSI's versions, is only around $50 higher.
One thing that makes the RTX 2070 SUPER stand out even more, is its performance. It comes very close at hitting the same level of performance as the RTX 2080, which is roughly $270 more expensive today, when looking at MSI's corresponding RTX 2080 version.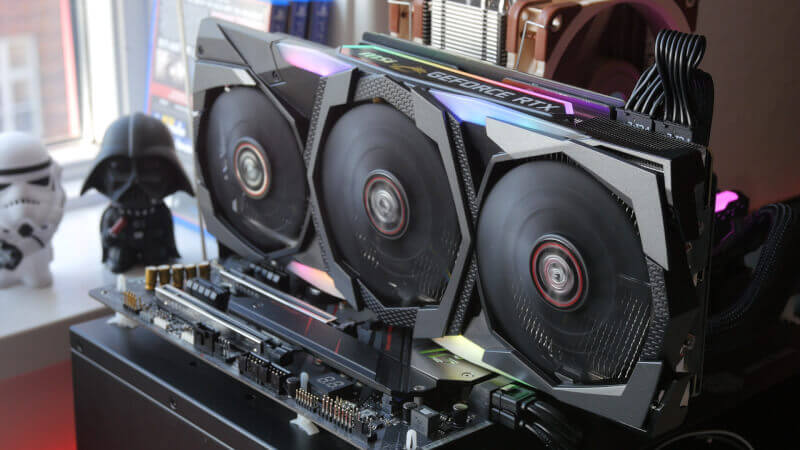 If you want this level of performance, it makes no sense looking towards the RTX 2080 cards anymore. This card definitely takes the reins with its much sharper price and minimal loss in performance.
MSI's Gaming X Trio version does the job well and in a stylish and nice looking cooling solution, which in addition gives you a nearly silent card. These things make the RTX 2070 SUPER Gaming X Trio a really solid pick when it comes to gaming in Full HD and at 1440p.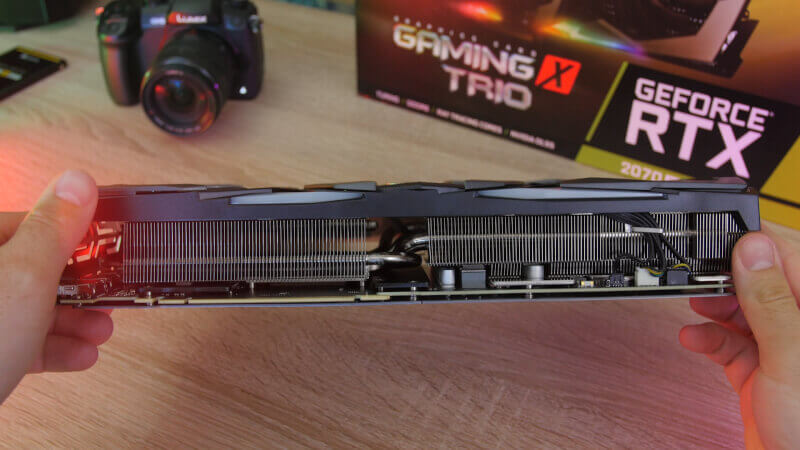 If you want to take the jump up to an RTX 2080 card, it should be added that there are other cheaper versions available that can be had for quite a cheaper price than that of the Gaming X Trio version from MSI. MSI's own RTX 2080 Ventus can be found for around $600, which makes it only somewhat more expensive.
However, if I were to make a decision today, I would still go for the RTX 2070 SUPER Gaming X Trio, since I consider the value proposition better with this card. It features a larger and better cooler, which in turn gives you a much more silent card. It is of course also a matter of taste whether this matters to you.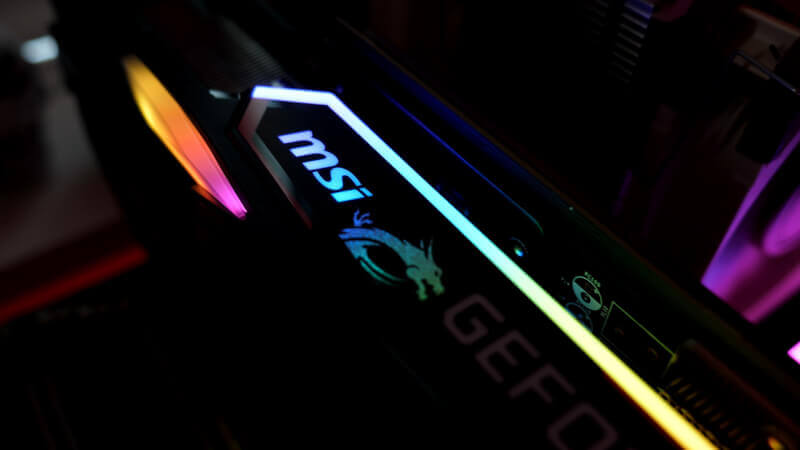 At long last, with the MSI RTX 2070 SUPER Gaming X Trio, we arrive at a final score of 9 and the Great Product Award, for a card that offers strong price-per-performance, and it manages to do so whilst looking stylish and being quiet at the same time.