AUTHOR : Uber
PUBLISHED : 2019-02-07 15:00
AMD Radeon VII – The world's first 7nm GPU
The first 7nm gaming graphics card on the entire planet Earth is here. We have had the privilege of testing it prior to release, and our verdict is here.
The NDA is cleared, and AMD Radeon VII is here. It is the world's first graphics card with 7nm architecture and HBM2 RAM.
Radeon VII arrives with a reference clock on 1400MHz, while it can clock up to 1800MHz when needed. Furthermore, it features a memory-interface bit bus on 4096 bit and 1TB bandwidth due to the new 16GB HBM2 VRAM. Finally, we have 60 Compute Units and 3840 stream processors. This gives the card the ability to deliver 13.8 TFLOPS.
The need for VRAM seems to increase every time a new AAA game is released. Therefore, the 7nm architecture is a welcome element, as it makes the GPU die significantly smaller than the former 14nm.
Unlike the Radeon VEGA 56/64 architecture, this also creates space for twice the amount of HBM2 VRAM. Besides the obvious RAM increase, we also get more bandwidth. More accurately, twice as much as on the VEGA.
All gamers ever want is a smooth gaming experience, what ever the screen size and resolution. Here, AMD claim to be the top of the line, they even claim that the new Radeon VII equals the RTX 2080. We'll find out later if that is the case.
To all of you who like to save some money, AMD have confirmed a launch bundle with Devil May Cry 5, The Division 2, and Resident Evil 2. That should be enough gaming for the next few hours…
First look
The reference design of the new AMD Radeon VII is a bit different than the blower style coolers that we are used to see from AMD and NVIDIA. The whole circuit board is covered by the heatsink that is cooled by no less than three fans.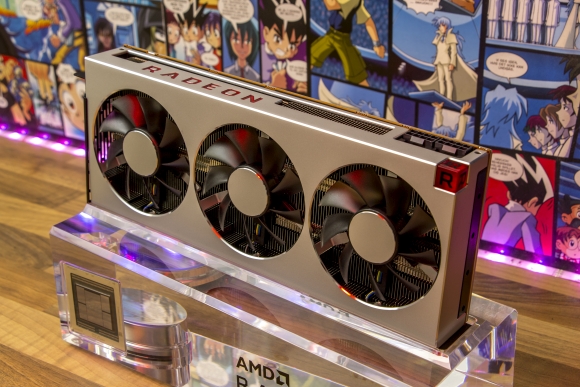 This design pleases my eye. It is both elegant and minimalistic. No showing off or RGB here, even though I know many of you hold that dear. But don't worry, once the AIBs hit the market, there will be plenty of flash and bling.
AMD have been so kind to lend us some exhibition gear for this review. Included here is a dummy design of the 7nm architecture with a chip in the middle, the four VRAM clusters distributed on both sides of the die, and the capacitors over and below the whole glory.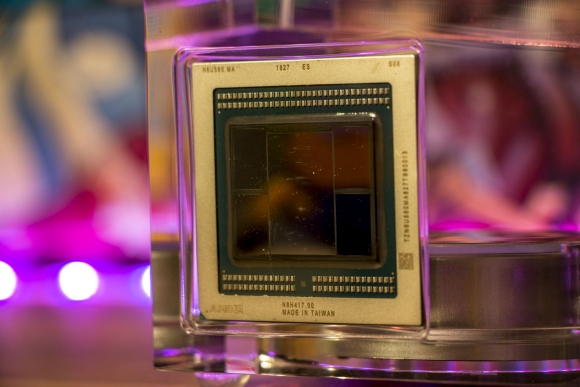 A little LED has found its way, as the tiny "R" in the corner and the Radeon brand glow red. This is not RGB, however, as there's no G, nor B here. It goes hand in hand with AMD's brand colors.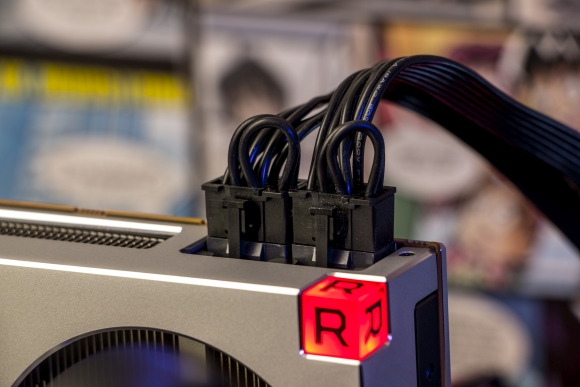 The AMD Radeon VII requires two 8-pin cards to run. This, together with the PCIe socket on the main board, gives a max TDP of 375 watts. This is quite okay for a card with the specs we see here today.
The spectacular aluminum cover on the front is fit together with a backplate that contains a lot of tiny grooves that help cooling the heated components inside.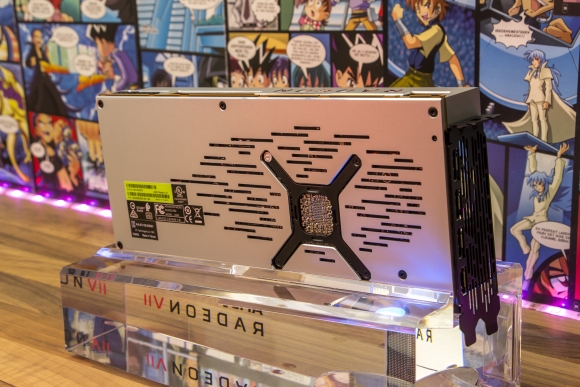 If we look at the connections, we find three display ports and a single HDMI port. Something that bothers me a lot is the absence of a USB 3.1 connector to VR. This is a standard on all newer NVIDIA cards, and a clear shortcoming in my book.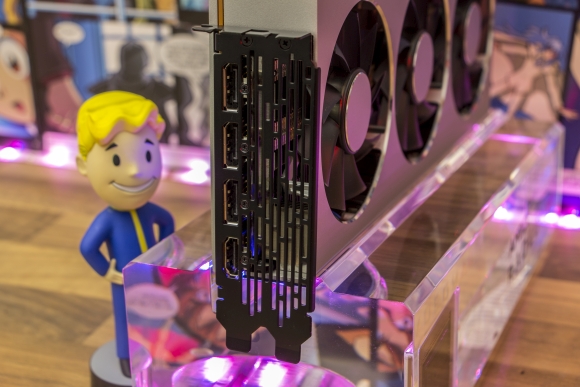 Test
Let's plug this bad boy into our setup and give it a good shake.
Before trying any benchmarks or anything, let's take a minute to enjoy the soft glow of the dampened red LED light. I'm not fond of RGB, so this is a good opportunity for me to relax. But to those of you who are RGB devotees, there will be plenty of light for you in the future when the custom AIB models hit the streets.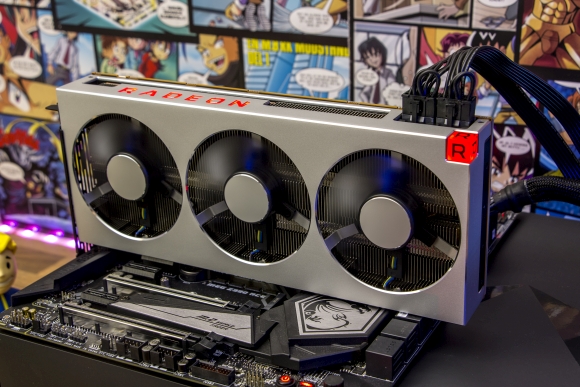 Test setup
MSI MEG Z390 ACE
Intel Core i9-9900K
32 GB G.Skill FlareX 3200 MHz DDR4
AMD Radeon VII 16 GB HBM2
WD Black NVMe SSD 1 TB
Samsung EVO 860 500 GB SSD
Kingston A400 480 GB SSD
Seasonic Prime Platinum 750 watt PSU
Asetek 240 mm AIO
Test software
Battlefield V
Far Cry 5
Shadow of the Tomb Raider
Deus Ex Mankind Divided
Assassins Creed: Odyssey
Call of Duty: Black Ops IIII
3DMark Time Spy
3DMark Firestrike Ultra
Superposition Benchmark
Cinebench R15
Blender Rendering Benchmark
LuxMark v3.1
Game tests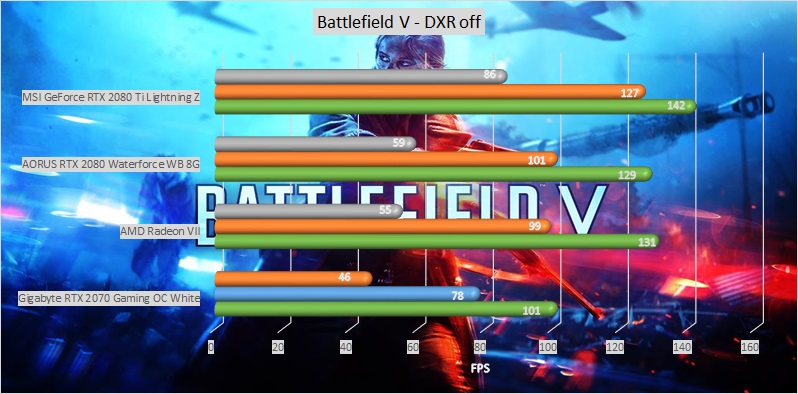 1080p: 131 fps / 1440p: 99 fps / 2160p: 55 fps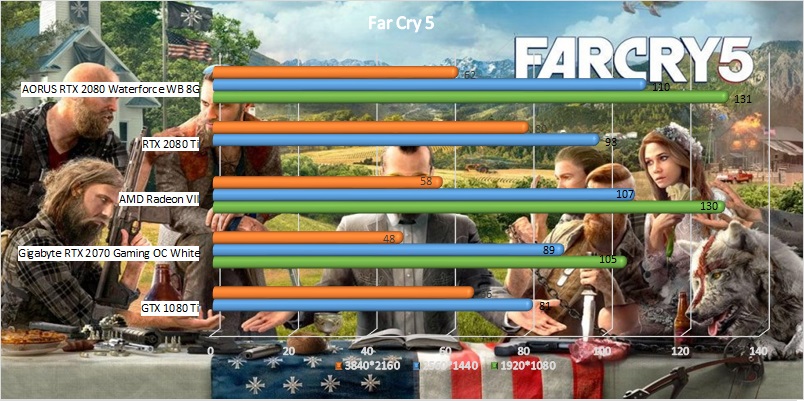 1080p: 130 fps / 1440p: 107 fps / 2160p: 58 fps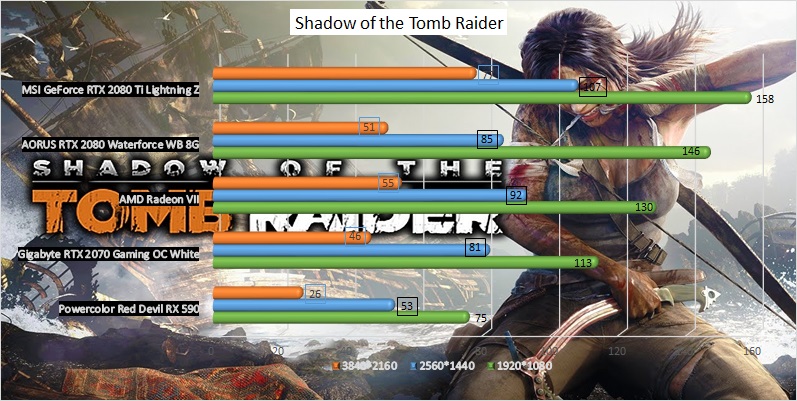 1080p: 130 fps / 1440p: 92 fps / 2160p: 55 fps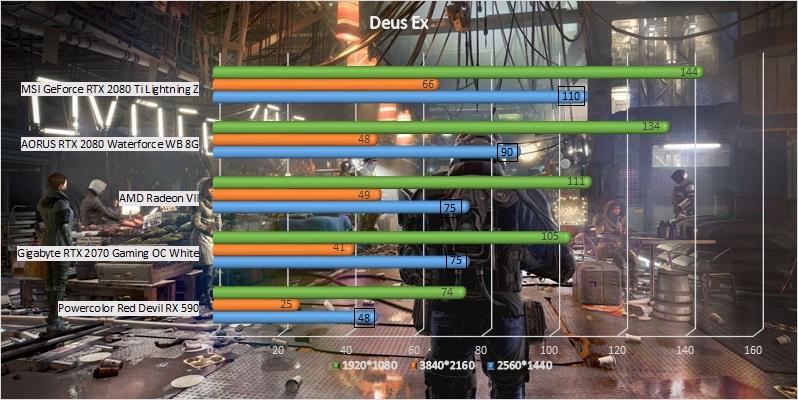 1080p: 111 fps / 1440p: 75 fps / 2160p: 49 fps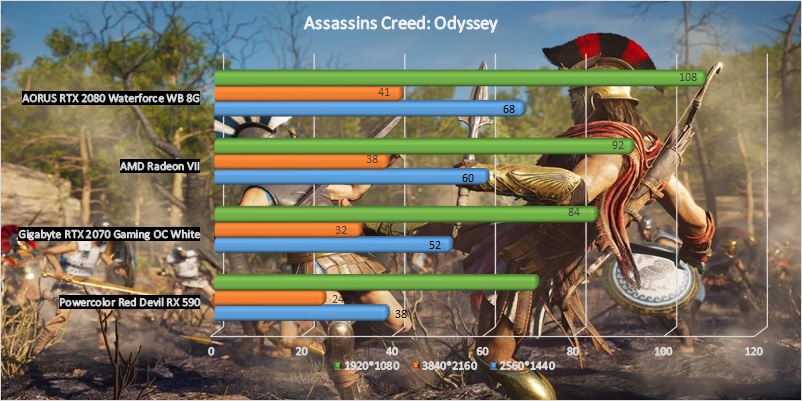 1080p: 92 fps / 1440p: 60 fps / 2160p: 38 fps
1080p: 207 fps / 1440p: 144 fps / 2160p: 71 fps
Call of Duty – Black Ops 4 is a new title in our setup. AMD implored us to do so, as the game reportedly utilizes more than 8GB VRAM. Black Ops 4 has some insane FPS, but it's not exactly impressing graphically and aesthetically speaking.
The game was tested in 1080p, as you can see, in Ultra setting, and with a GPU render scale set to 100.
Our testing of the brand-new AMD Radeon VII GPU has produced some mixed results, all depending on the requirements of the game. In general, it does provide a comparable performance to 2070, and even 2080, in AMD-optimized games. Is it a worthy opponent? That depends on the price, but more about that later.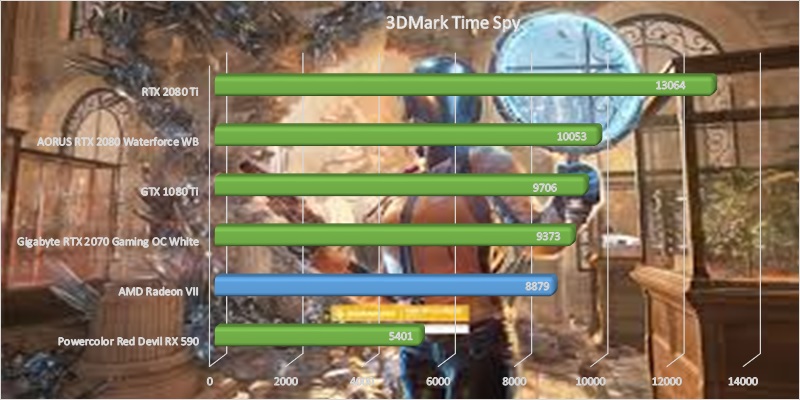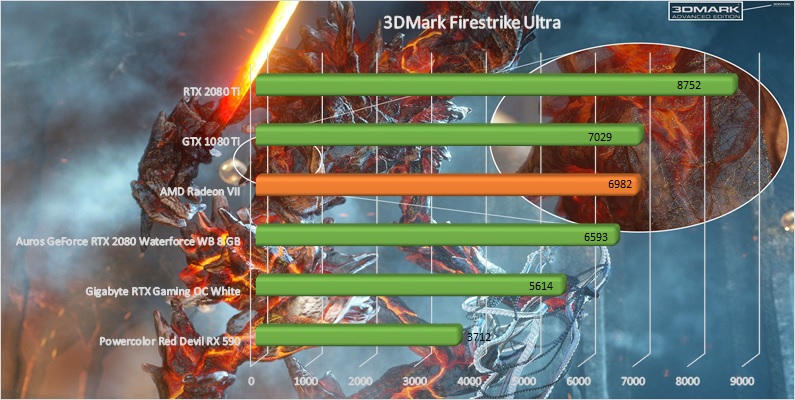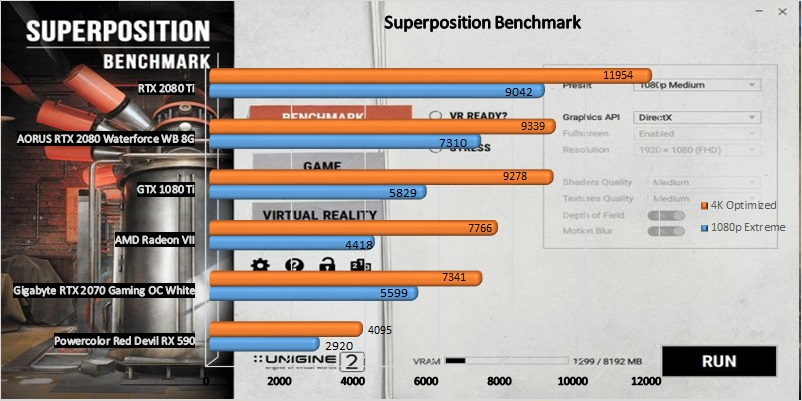 On top of testing in-game, we have also included some rendering software to emulate video- and 3D rendering performance. According to AMD's press releases, the Radeon VII GPU should also be able to do these tasks. At this moment, we have no reference to benchmark against, so you only get the numbers.
Cinebench challenges the graphics card by letting it render a 3D video to test how many FPS the card can produce for transcoding. Here, we reach 180 FBS which is not too shabby.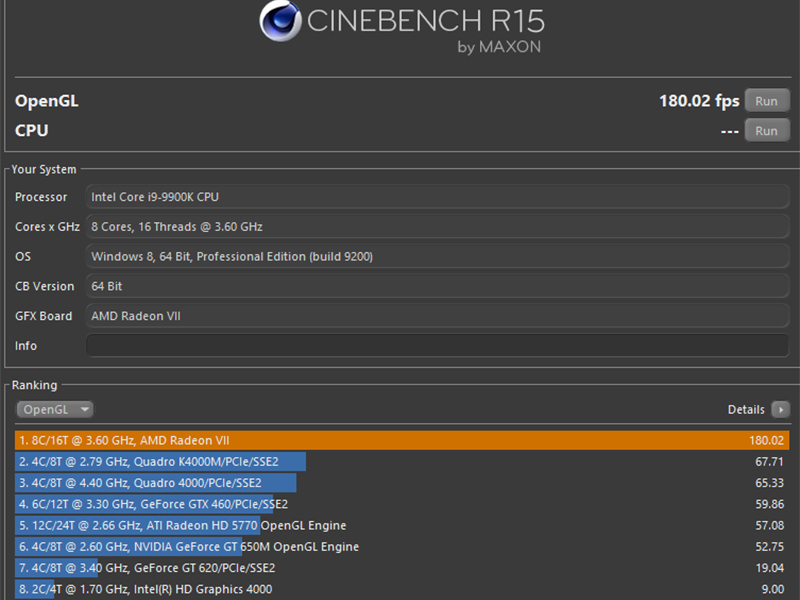 Blender is another 3D rendering software that times the computer's ability to render multiple high-definition 3D animation.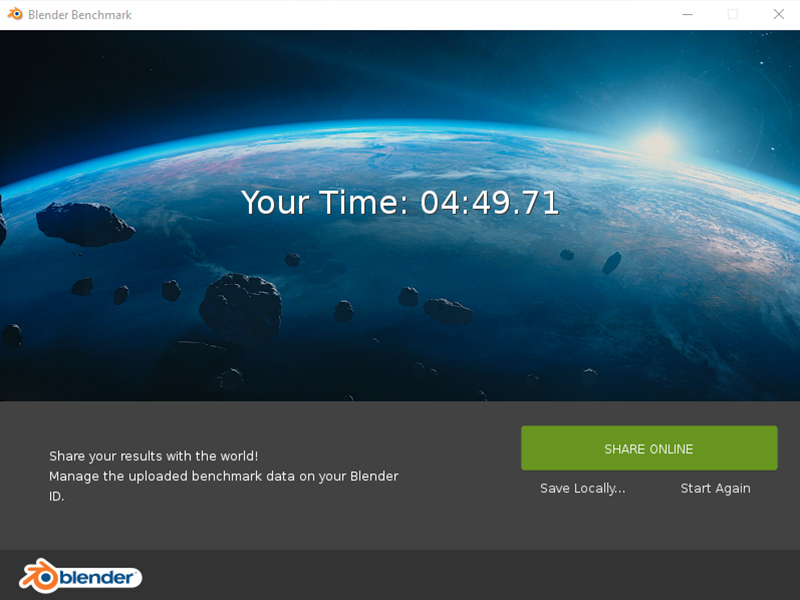 Finally, we have LuxMark v3.1 which renders the same high-definition image for 120 seconds and calculates a score based on the number of renderings. 51140 is a score that surpasses anything we have seen so far.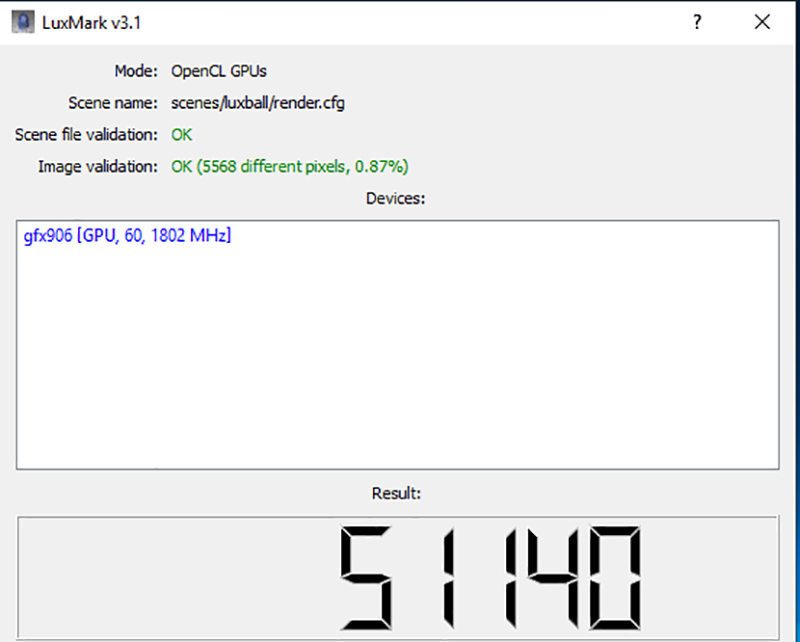 The synthetic benchmarks tell me that the 16GB HBM2 VRAM, whopping 1TB bandwidth, and 4069-bit bus make the AMD Radeon VII extremely well-suited for workstation and rendering tasks.
Overclocking
As always, we overclock when testing GPUs, and we won't cheat you out of an overclocking here. Let's see if we can squeeze some extra juice from the Radeon VII.
Overclocking settings
GPU OC Clock: +165MHz
VRAM OC Clock: +1000MHz
Officially, I wasn't allowed to overclock AMD Radeon VII via any standalone software, like, e.g., MSI Afterburner, but funny enough AMD WattMan let me clock on both core voltage, chip clock frequency, and VRAM frequency.
Actually, this is a decent overclock. Let's see if it has paid off.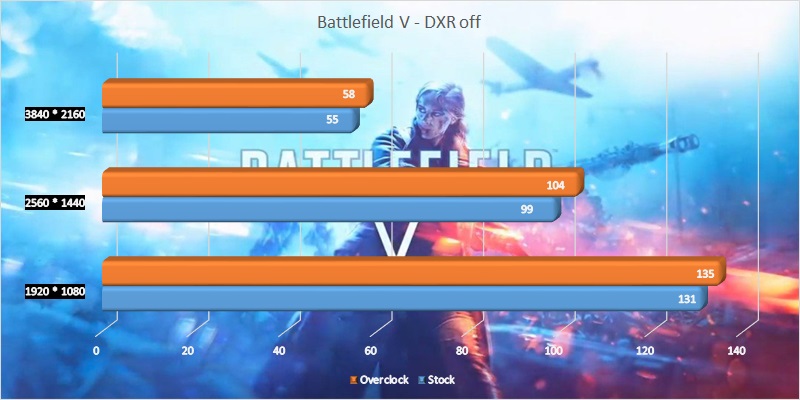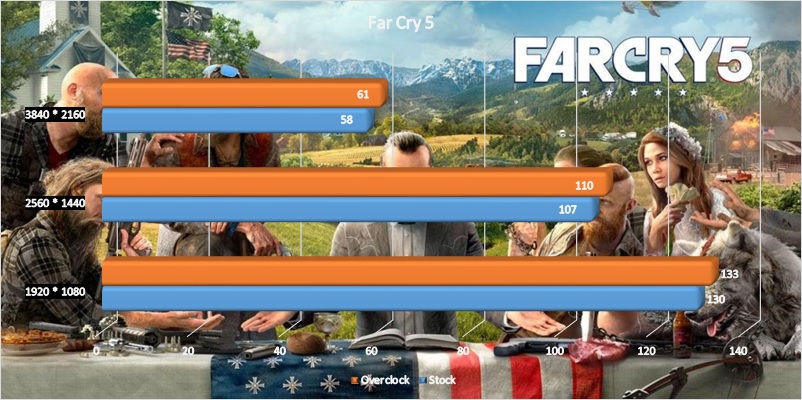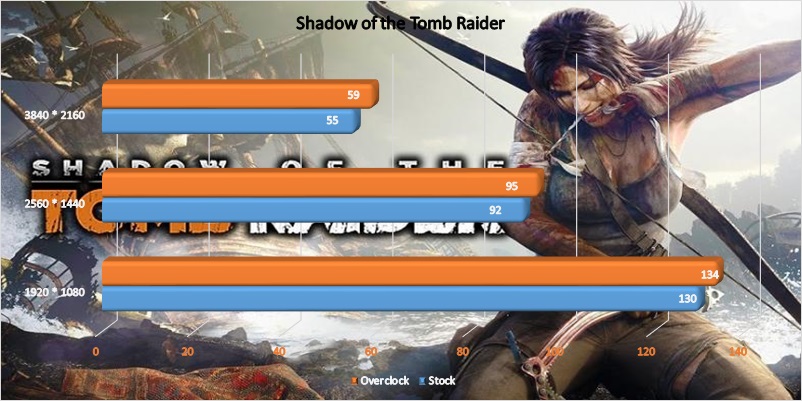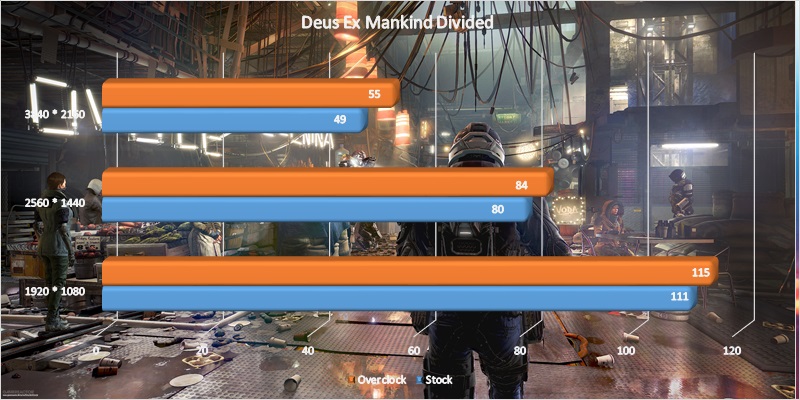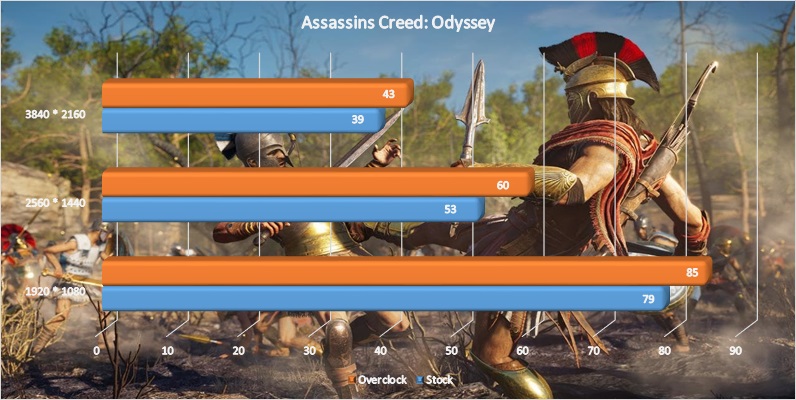 The performance boost of overclocking the Radeon VII is noticeable, but it comes at a price. The card becomes noisy.
This means that I will not, per se, recommend overclocking this reference design, neither for gaming nor workstations. The extra performance doesn't match up with the extra heat. For instance, I surpassed 100°C/212°F playing Black Ops IIII.
Price
As of this moment, we have no indications of price besides the MRSP on $699 from AMD.
Conclusion
As we received a special press product before the official release, there are a few buts to our test, as it might not be the final build.
Nevertheless, we have some conclusions, and let's start with the design.
Personally, I find the new reference design to my liking, and it is a huge upgrade from the earlier blower style coolers.
AMD have given the GPU three fans and a heatsink that covers the whole PCB. Furthermore, they have constructed both cover and backplate in pure aluminum which enhances the card and gives it a real sense of quality.
Performance-wise, it doesn't fully match the RTX 2080, as AMD otherwise have claimed in their press material. But it is close, and the price is compatible to NVIDIA's counterpart. If AMD's MRSP is to be trusted.
Generally, the card performed well in-game. Workstation or rendering tasks are different, and here the AMD Radeon VII did surprisingly well. In these kinds of tasks, you can absolutely see the extra performance from the high bandwidth and VRAM.
I must admit that, even though AMD have had a novel approach for the cooler, the card still produced more noise than I would've liked under full load. On the other hand, this resulted in temperatures below 67°C/150°F. With a custom cooling profile, you could raise temperatures with less noise.
I won't recommend any overclocking. The extra MHz resulted in a blasting 91-103°C/196-217°F full load temperature.
All in all, I will reward the AMD Radeon VII GPU with a solid 8.5 score. There is room for improvement, and there is enough room for rewarding future AIB releases, provided these offer custom clock frequencies, better drivers, and performances that fully match, or even surpass, 2080 to a larger degree than we've seen here.
But AMD deserve the credit for introducing the 7nm and HBM2 into the game. AMD Radeon VII is a genuinely solid card, and, if the price stabilizes, AMD and future AIB cards could easily deserve even higher scores.
Good:
Super design
Minimalistic, no RGB extravaganza
The new reference cooler is a good upgrade
7nm architecture has now been introduced!
HBM2 VRAM is real…
…and 16BG HBM2 VRAM on one single card
Performs well, especially for workstation tasks
Less good:
No USB 3.1 interface?
Even though the cooler is an upgrade, it is a noisy one in that
The performance doesn't quite meet the hype, even though it doesn't fall through