AUTHOR : Ronin2300
PUBLISHED : 2019-02-27 15:00
MSI GeForce RTX 2080 Ti Gaming X Trio
The new Nvidia GeForce graphics card from MSI is the new powerhouse in town. Does it meet expectations? Read our verdict here.
We've had the pleasure of receiving the MSI GeForce RTX 2080 Ti Gaming X Trio, which is the most potent Nvidia card at this point. The RTX technology, also known as ray-tracing, is a brand-new graphical process, which is meant to give us such realistic lighting, that it'll be hard to tell the difference between games and reality. Whether that is the case, remains to be seen.
We'll kick this review into gear by having a look at the technological advances of the MSI GeForce RTX 2080 Ti Gaming X Trio graphics card.
The new tech
With the launch of the RTX cards and the Turing architecture, Microsoft have been busy little bees lately. They've launched the DirectML technology for AI rendering and DirectX Raytracing (DXR) APIs, which game developers can use to get the RTX functionality up and running
NVIDIA's new graphics architecture is called Turing SM, which, besides having more cores and larger bandwidth, is also equipped with new RT Cores, allowing us up to 10 Giga Rays per second. Now, we haven't seen the RTX functionality being used yet, and are currently unable to provide judgement, but we're excited to have a go at it.
Turing introduces us to the most advanced graphical rendering in the world, known as Raytracing. A technology that we've longingly awaited since NVIDIA announced their GTX line-up was to be replaced with RTX. The new RT Cores use a brand-new process, working with APIs such as Microsoft DirectX DXR, NVIDIA OptiX and Vulkan Raytracing to create 100% realistic reflections, shadows, details and visual impressions.
Technical specifications
MODEL NAME: GeForce® RTX 2080 Ti GAMING X TRIO
GRAPHICS PROCESSING UNIT: NVIDIA® GeForce® RTX 2080 Ti
INTERFACE: PCI Express x16 3.0
CORE NAME: TU102-300A
CORES: 4352 Units
CORE CLOCKS: 1755 MHz / 1350 MHz
MEMORY CLOCK SPEED: 7000 MHz
MEMORY: 11GB GDDR6
MEMORY BUS: 352-bit
OUTPUT: DisplayPort x 3 (v1.4) / HDMI 2.0b x 1 / USB Type-C x1
HDCP SUPPORT: 2.2
POWER CONSUMPTION: 300 watt
POWER CONNECTORS: 8-pin x 2, 6-pin x 1
RECOMMENDED PSU: 650 W
CARD DIMENSION(MM): 327 x 140 x 55.6 mm
WEIGHT (CARD / PACKAGE): 1582 g / 2450 g
DIRECTX VERSION SUPPORT: DirectX 12
OPENGL VERSION SUPPORT: 4.5
MULTI-GPU TECHNOLOGY: NVIDIA® NVLINK™ (SLI-Ready), 2-way
MAXIMUM DISPLAYS: 4
VR READY: Yes
G-SYNC™ TECHNOLOGY: Yes
ADAPTIVE VERTICAL SYNC: Yes
DIGITAL MAXIMUM RESOLUTION: 7680 x 4320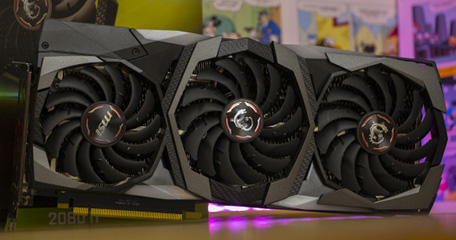 Hard Facts
MODEL NAME: GeForce® RTX 2080 Ti GAMING X TRIO
MEMORY: 11GB GDDR6
MEMORY CLOCK SPEED: 7000 MHz
CORES: 4352 Units
CORE CLOCKS: 1755 MHz / 1350 MHz




MSI has chosen to go down a new path with the new RTX cards, as they've decided to leave the well-known black and red color scheme behind in favor of a new grayish design. However, the Gaming Dragon is still here, with its red color and certain red elements remain to be found on the card.

MSI GeForce RTX 2080 Ti Gaming X Trio comes equipped with MSI's own patented Tri-Frozr cooling system with Torx 3.0 fans. If you suffer from OCD or just really love clean lines, it might jump on you, that all three fans are not the same size. A necessary evil, you could say, as there's a plastic bracket above the last one, which can be removed to allow for dual-GPU setups.

With the new RTX Cards, NVIDIA has decided to put the all to familiar SLI bridge in the grave in favor of the NV-Link system. With NV-Link you'll be served with much greater bandwidth. However, NV-Link also comes with the advantage that the cards actually acts as individual cards, opposed to SLI, which just behaved as a single card (in the sense that it rendered the same frame, and just made more of them).

The TU102 GPU chip has the following specs:
4608 CUDA Cores
72 RT Cores
576 Tensor Cores
288 Texture Units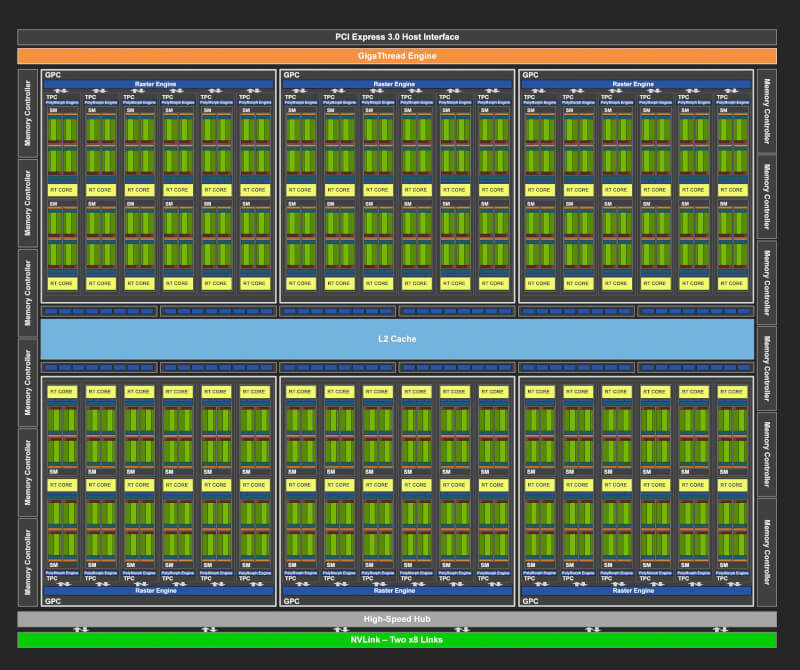 For every single memory controller, you'll have 8 ROP's and 512 KB L2 cache. In total the TU102 chip is equipped with 96 ROP units and 6144 KB L2 cache.
The new RTX cards are the first to be equipped with the new GDDR6 VRAM, replacing the former used GDDR5 VRAM. This memory is clocked at 7000 MHz, and this particular card comes with no less than 11 GB of the kind, just like the 1080 Ti had 11 GB of GDDR5.
"The Turing SM system is the first graphics architecture to take advantage of the new GDDR6 VRAM, bringing a 20% performance lift over GDDR5 VRAM"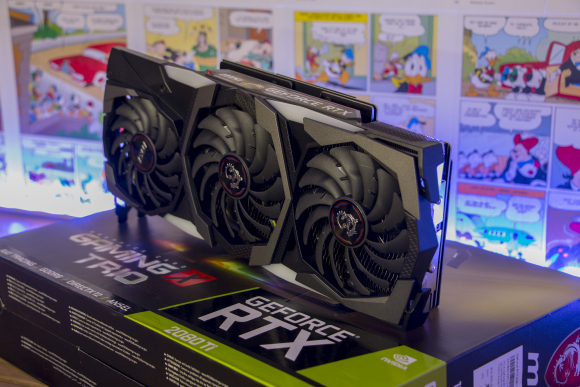 Besides a new design, new memory and the famous RTX technology this card also comes equipped with other features. Among others, NVIDIA has developed a new anti-aliasing technology to replace the current TAA, which has often limited game makers, because it has been difficult to implement properly.
Deep Learning Super Sampling (DLSS)
DLSS is basically a reiteration of TAA (Anti-Aliasing), which is a graphical way of improving a picture. The issue with TAA is that it has a tendency to be difficult for developers to implement, leading to pixel errors in complex frames. This is why NVIDIA has chosen to develop on the idea and create DLSS. DLSS basically does the same as TAA, but instead of using the TAA approach, of first rendering a final image and then collect frames; DLSS makes all these calculations in real-time and assembles a final frame in the end – with the same quality as TAA, but half the shading work.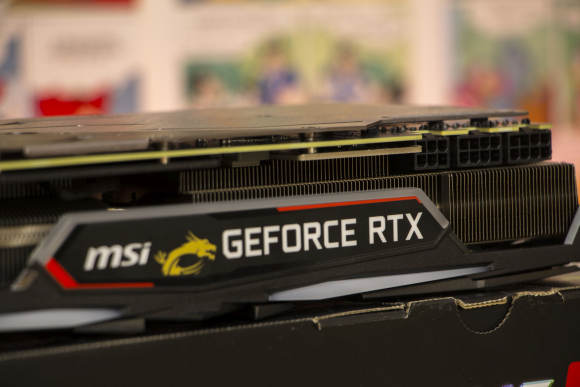 As is clearly visible here, the MSI GeForce RTX 2080 Ti Gaming X Trio is not a slim card. You have to be aware that there should be plenty of room between your PCIe sockets, if you want more than one unit.
Due to its thickness and weight, MSI has decided to include a support bracket, which can be mounted with your new graphics card. Giving support to not only the GPU itself, but also the PCIe socket.
RGB is the new black, we all now it. And the MSI GeForce RTX 2080 Ti Gaming X Trio does come with plenty of LEDs, on the front and top of the card.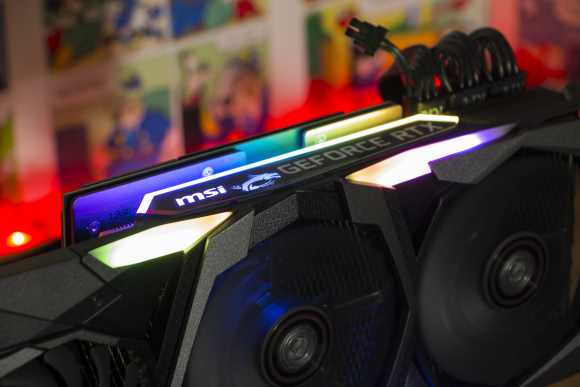 On the rear side of MSI GeForce RTX 2080 Ti Gaming X Trio, MSI has gone with a master piece of a backplate to help conducting the heat away from the card. The groves are designed to assist airflow around crucial components by letting air pass in and behind the plate.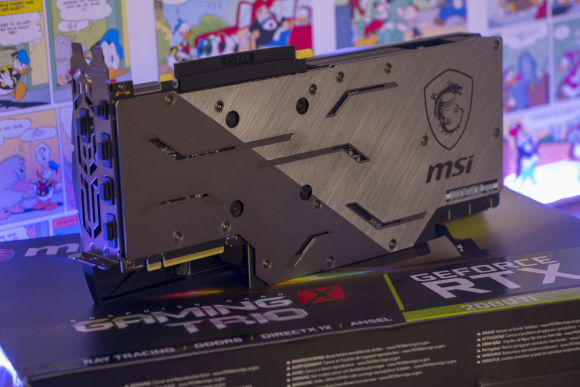 Looking at connections, the MSI GeForce RTX 2080 Ti Gaming X Trio comes equipped with three DisplayPort 1.4, one HDMI 2.0 and a single USB 3.1 Type-C port. The card will handle up to four monitors at once and it supports resolutions of up to 7680 x 4320 px (8K).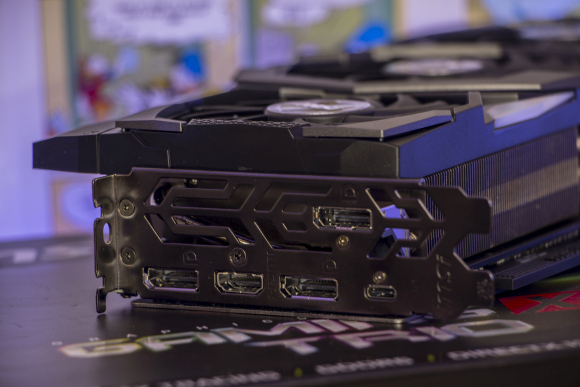 Performance of this kind comes with a price, and one of the prices you'll have to pay is power. This card draws 75 watts from the PCIe socket, and it requires a massive two 8-pin and single 6-pin connectors to perform its thing. This leaves us at a total 450-watt TDP. Officially this card draws roughly 300 watts, which gives a nice overclocking headroom.
Test
We tested on a computer with the following build:
Setup
ASUS ROG Strix X299-E
Intel Core i9-7900X
32 GB 3200 MHz Crucial Ballistix DDR4 RAM
MSI GeForce RTX 2080 Ti Gaming X Trio
WD Black NVMe SSD 1 TB
Samsung EVO 860 500 GB SSD
Kingston A400 480 GB SSD
During the test phase we've deactivated 6 of the CPU cores. We've also overclocked the remaining 4 cores to 4 GHz, to avoid the risk of bottlenecking, due to the lower clock frequencies of the i9-7900X, than its gaming counterparts, such as i7-8700K
Test software
The Witcher 3
Far Cry 5
Shadow of the Tomb Raider
Deus Ex Mankind Divided
Overwatch
3DMark Time Spy
3DMark Firestrike Ultra
Superposition Benchmark
All games and software are run in 1440p and 2160p resolutions, set at ultra with V-Sync and frame caps disabled. We've also benchmarked our current MSI GeForce GTX 1080 Ti Gaming 11 GB graphics card with the same software to compare results.
The Witcher 3 Wild Hunt is an open world adventure/role-playing game where you play as Gerald, a Witcher on the hunt for lost love.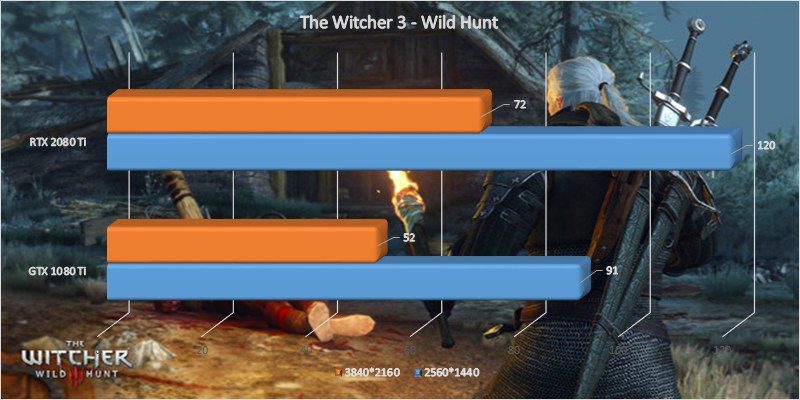 GTX 1080 Ti / RTX 2080 Ti 1440p: 91 / 120 FPS
GTX 1080 Ti / RTX 2080 Ti 2160p: 52 / 72 FPS
In Far Cry 5 you're stranded in a society where the Seed family has taken over control, and you're to hunt and kill the family in an attempt to restore peace.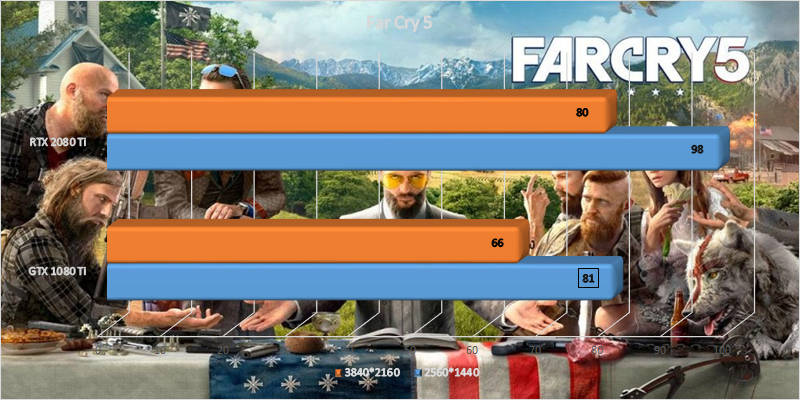 GTX 1080 Ti / RTX 2080 Ti 1440p: 81 / 98 FPS
GTX 1080 Ti / RTX 2080 Ti 2160p: 66 / 80 FPS
Shadow of the Tomb Raider is the latest game in the Tomb Raider franchise, and once again we're on adventures with the deadly and always appropriately dressed Lara Croft.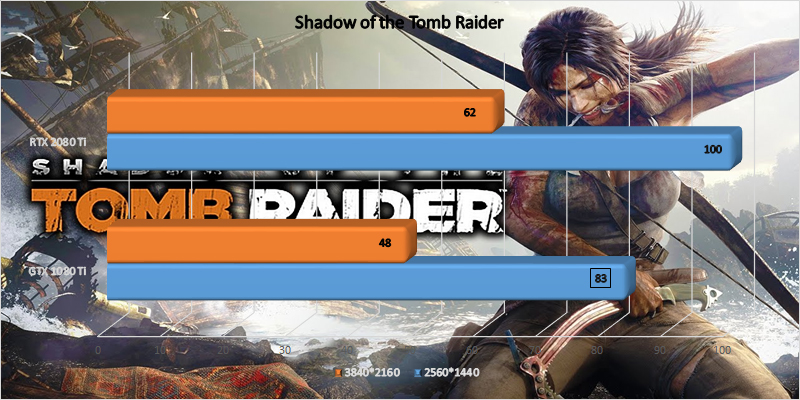 GTX 1080 Ti / RTX 2080 Ti 1440p: 83 / 100 FPS
GTX 1080 Ti / RTX 2080 Ti 2160p: 48 / 62 FPS
In Deus Ex Mankind Divided, Augs and humans live together, and Augs aren't exactly popular. You're playing as Mr. Jensen, an Aug with unreal powers. Deus Ex Mankind Divided is, just like Crysis 3, a game with a very intense graphics engine, which puts any GPU to the test.
GTX 1080 Ti / RTX 2080 Ti 1440p: 33 / 48 FPS
GTX 1080 Ti / RTX 2080 Ti 2160p: 19 / 25 FPS
Overwatch is a super intense eSports game, where fast reflexes are required once the game is on. Maps are small, and rounds are short. One team defends while the other attempts to capture. No mercy!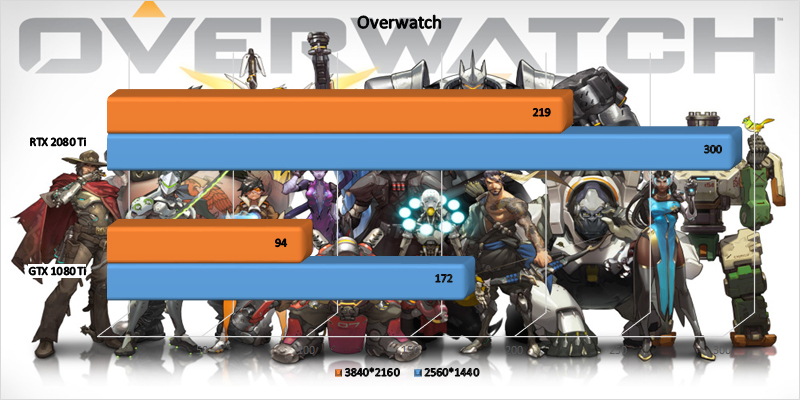 GTX 1080 Ti / RTX 2080 Ti 1440p: 172 / 300 FPS
GTX 1080 Ti / RTX 2080 Ti 2160p: 94 / 219 FPS
With the MSI GeForce RTX 2080 Ti Gaming X Trio, we're faced with a GPU that can create true 4K @ 60 fps gaming. But having tried 4K 60 fps, we're eager to see what will happen with RTX technology. Overall there's a nice performance lift from 1080 Ti to 2080 Ti.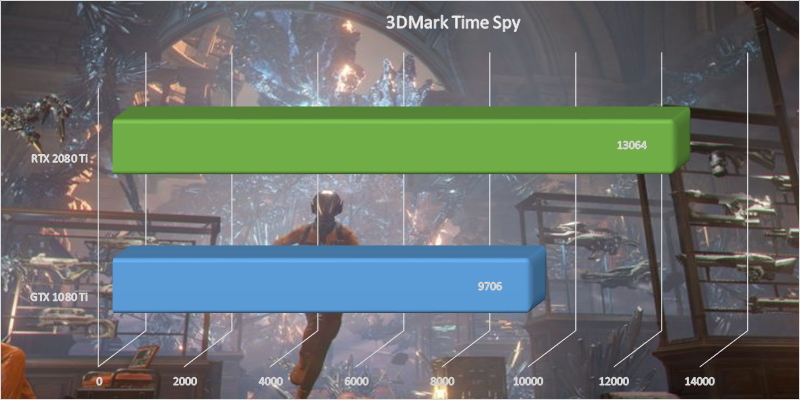 GTX 1080 Ti / RTX 2080 Ti: 9706 PTS / 13064 PTS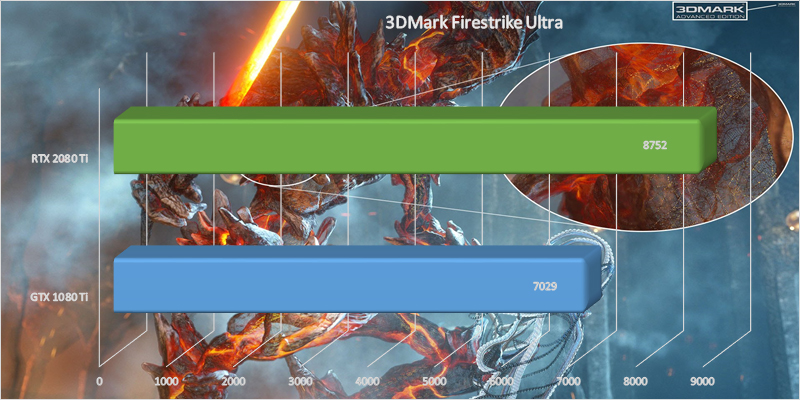 GTX 1080 Ti / RTX 2080 Ti: 7029 PTS / 8802 PTS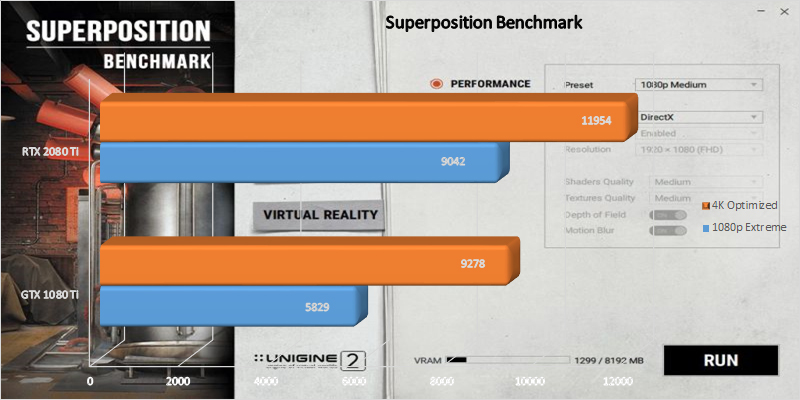 GTX 1080 Ti / RTX 2080 Ti 1080p Extreme: 5829 PTS / 9042 PTS
GTX 1080 Ti / RTX 2080 Ti 4K Optimized: 9278 PTS / 11954 PTS
Even in synthetic benchmarks we can see a clear improvement from 1080 Ti to 2080 Ti. There is a nice bit of performance to be gained with the 2080 Ti, but for most, a 1080 Ti will still be plenty powerful. If you are not looking to go full on RTX or true 4K @ 60 fps gaming, and if you're already equipped with a 1080 Ti, it's difficult to recommend an upgrade.
Price
Currently the MSI GeForce RTX 2080 Ti Gaming X Trio is priced at [PRICE] and up.
If you want to learn more about the MSI GeForce RTX 2080 Ti Gaming X Trio, follow the banner below to MSI's website.
Conclusion
We still have a lot to discover about the new RTX cards, as we haven't even seen the tip of the iceberg, when debating raytracing technology. This inevitably leads to a lackluster conclusion, because we have to evaluate this card without knowing what it can really do.
Given what we've seen, there's absolutely no doubt that the MSI GeForce RTX 2080 Ti Gaming X Trio is a great card, with solid performance gains over the GTX 1080 Ti. Over the course of the benchmarks we've seen solid framerates, and we can say that the RTX 2080 Ti is fully capable of True 4K gaming, without compromise. We've seen great performance without stutter or lag, even though we've hit the games with plenty of eye-candy.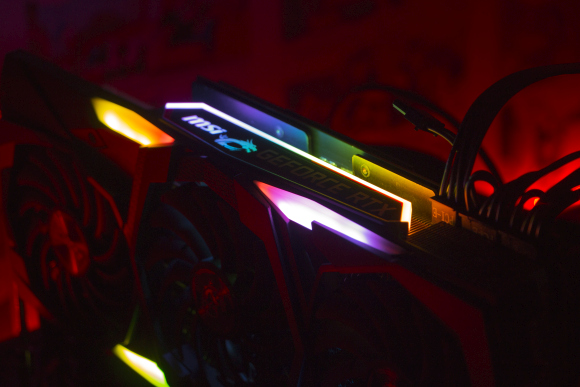 Currently we know very little about raytracing technology, but we do know from NVIDIA that raytracing requires massive computing power, and even though they're talking 1440p, we're probably thinking that 1080p 60 FPS is more the right ballpark with raytracing enabled. If that turns out to be true, there are troubles ahead, as many people today are equipped with 144 Hz monitors and completely in love with the smooth gameplay that comes with it. Compromises will be needed if you can only hit 1080p @ 60 FPS with raytracing enabled.
As we've mentioned earlier, MSI has decided on a different design path with the MSI GeForce RTX 2080 Ti Gaming X Trio. We love the new direction of the monochrome design. It makes perfect sense in a time where RGB is all the rage. Clean design sprinkled with RGB, should you wish for such.
MSI has been a master of cooling solutions for years, and the Tri-Frozr cooler is one of our absolute favorites. It has performed admirably, maxing out at 77 degrees C under full load, without the noise of a plane taking off in the background. In Idle all the fans came to a hold, and the card settled at 33 degrees C.
Now, there are always drawbacks, and one of these is the price. Auch! [INSERT PRICE] is a lot for a graphics card. If you're completely captivated by RTX technology, there's no other real way, then to buy an RTX 2080 (Ti). But if you're sitting stable with a 1080 Ti, and maybe a little on the fence about RTX, you should perhaps consider buying an additional 1080 Ti, if you're looking for performance gains.
Looking at the full impression. MSI receives a very solid 9, and an Enthusiast Only award. [PRICE] for a graphics card is NOT for everyone. However, spending that kind of money will get you an advanced and powerful card. Actually, so powerful that it has overtaken the Titan X, as the most powerful consumer card – considering benchmarks from several other credited international sources.
Good
Sublime performance
Capable of True 4K @ 60 FPS gaming
Solid build quality
Great design
Support brace included
Tri-Frozr cooling delivers great cooling with silent fans
Less good
Insane price (Generally all 2080 Ti cards)
Unable to test RTX properly, yet