AUTHOR : Berleburg
PUBLISHED : 2019-07-16 16:58
ASRock X570 Taichi ATX
In relation to the launch of AMD's new X570 chipset and the release of the Ryzen 3000 series, we've received an ASRock X570 motherboard, which we can't wait to show off.

We've had a long-standing relationship with ASRock, here at Tweak, and we've looked at a lot of their products over time. As such, they were also ready to provide us with a bunch of X570 motherboards, and the first of these that we'll have a look at, is the ASRock X570 Taichi, which is a motherboard that combines a nice design with all of the hot new features provided by the new chipset.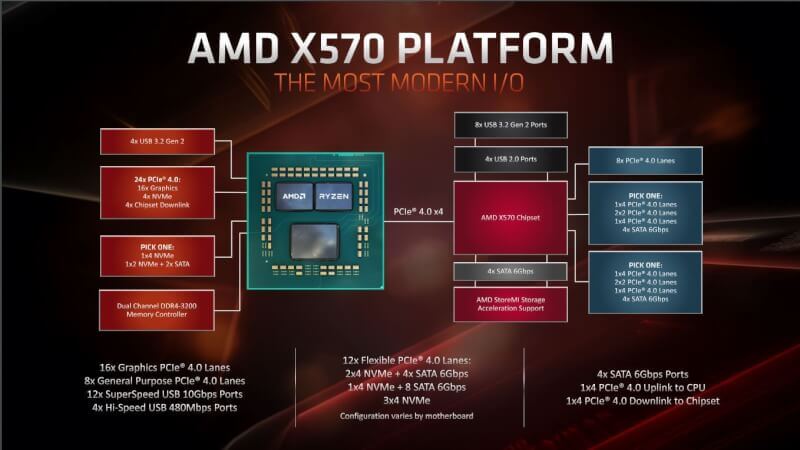 We've made a walkthrough of the Ryzen 3000 series and the new AMD X570 chipset that you can read here!
The Technical Specifications
Supports AMD AM4 Socket Ryzen™ 2000 and 3000 Series processors

Intel® Wi-Fi 6 802.11ax (2.4Gbps) + BT 5.0

Supports DDR4 4666+ (OC)

3 PCIe 4.0 x16, 2 PCIe 4.0 x1

NVIDIA® NVLink™, Quad SLI™, AMD 3-Way CrossFireX™

7.1 CH HD Audio (Realtek ALC1220 Audio Codec), Supports Purity Sound™ 4 & DTS Connect

8 SATA3, 2 Hyper M.2 (PCIe Gen4 x4 & SATA3), 1 Hyper M.2 (PCIe Gen4 x4)

3 USB 3.2 Gen2 (Rear Type A+C, Front Type-C), 8 USB 3.2 Gen1 (2 Front, 6 Rear)

Intel® Gigabit LAN

ASRock Polychrome SYNC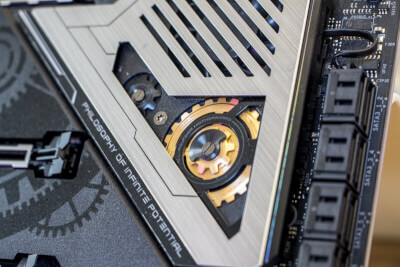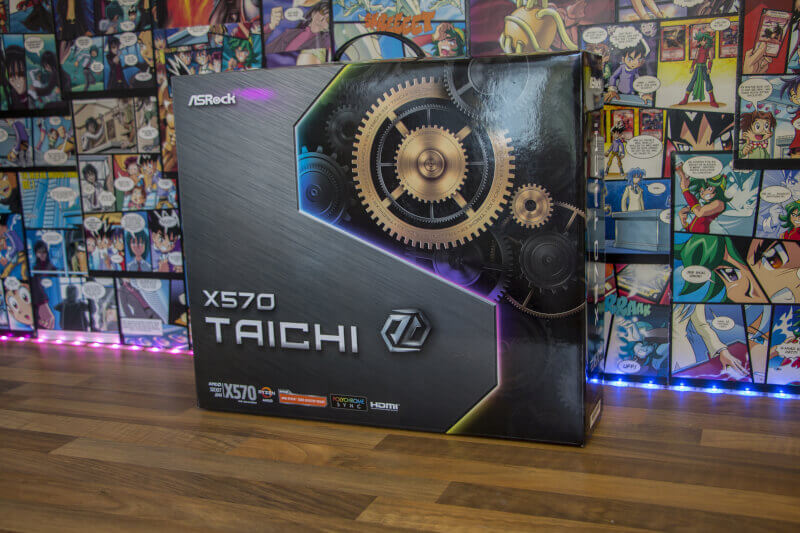 The ASRock Taichi series has always been a high-end series from ASRock, and it shows when simply looking at the packaging, which can be compared to a small suitcase. The new motherboards are stamped with AMD Ryzen 3000 Ready in order to make it easier for consumers to identify suitable motherboards for the new Ryzen 3000 processors.
The ASRock X570 Taichi has been tested with the new Ryzen 9 3900X, which you can read in a thorough review right here!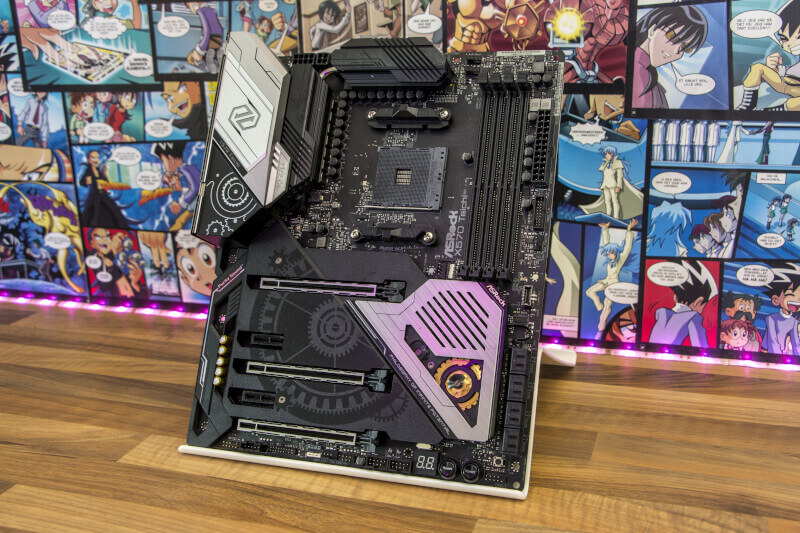 ASRock has really come a long way in terms of design, and the ASRock X570 is truly a magnificent achievement from a design perspective, in my opinion. The motherboard looks so awesome, no matter if you are into RGB lights, static lights or lights completely turned off, in case you simply want to enjoy the raw black design with its metallic industrial undertones.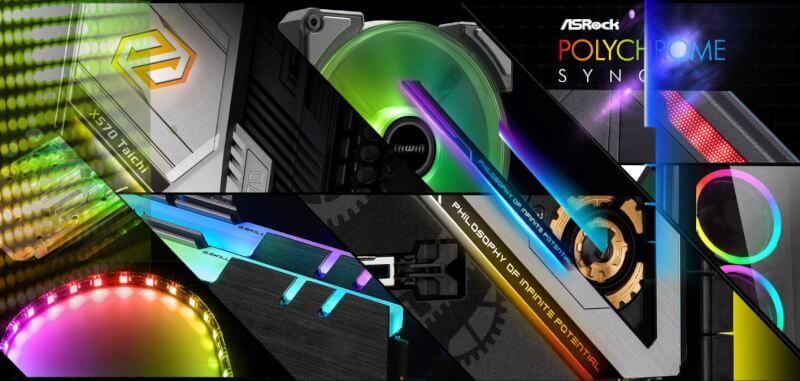 ASRock has their own Polychrome Sync software, which makes it easy to manage RGB lights in one's entire system similar to that of ASUS Aura and others.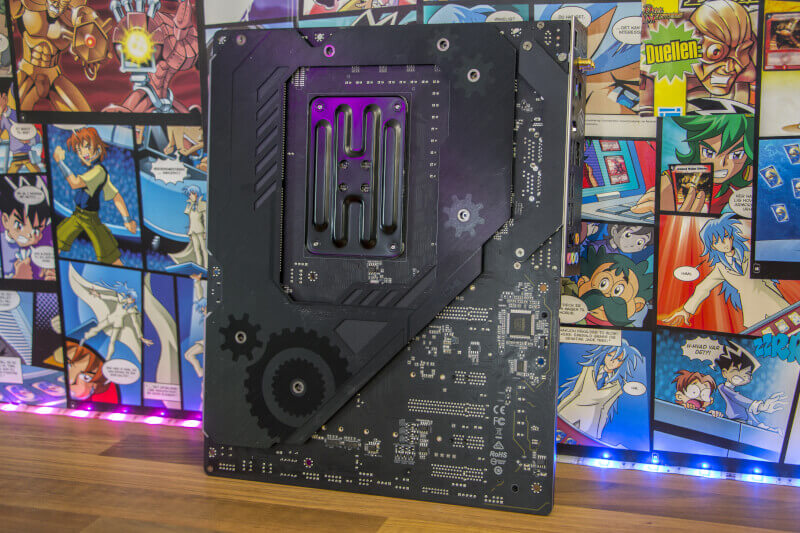 On the backside of the ASRock X570 Taichi motherboard, ASRock has attached a large backplate that apart from making the board look really great, also helps cool the board when needed.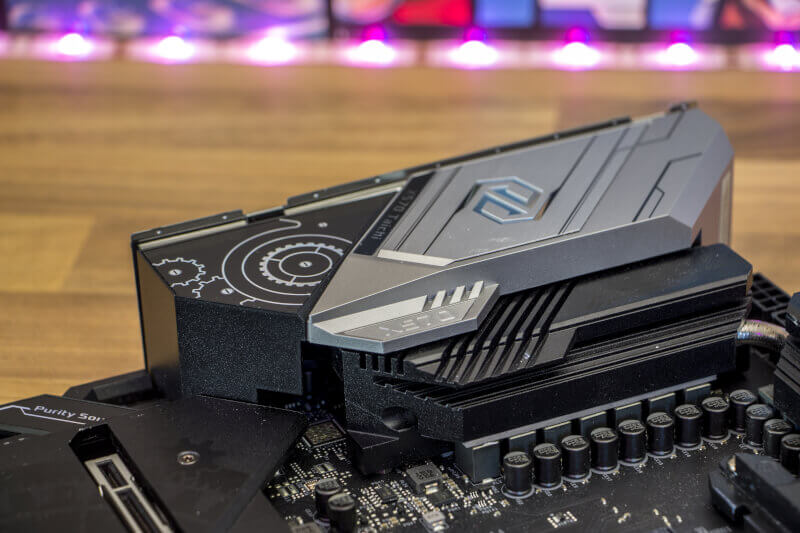 The VRM of the ASRock X570 Taichi is equipped with two large heatsinks that are connected by a heatpipe, which helps spread the heat between the two heatsinks, thereby ensuring an equal heat conduction.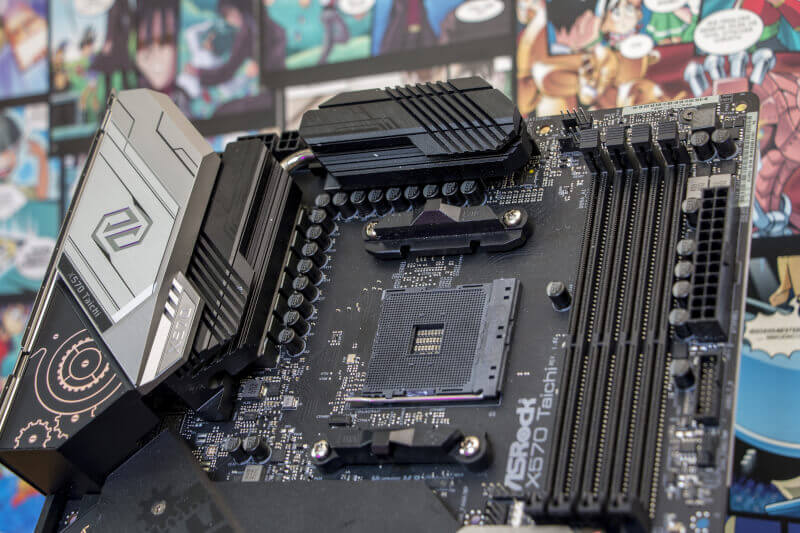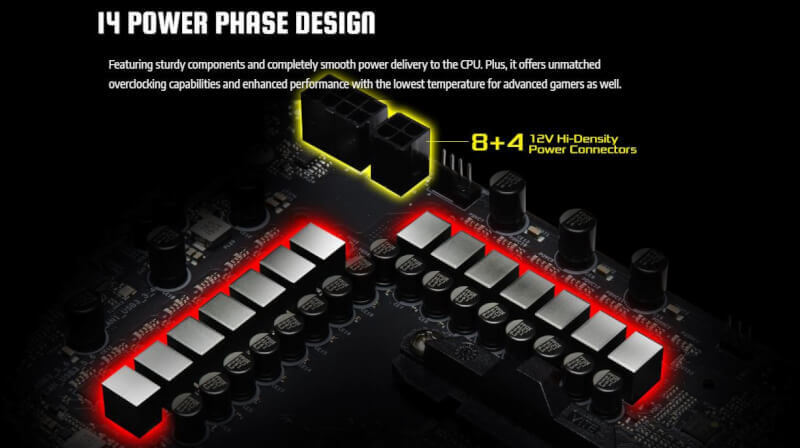 The ASRock X570 Taichi comes with a 14 phase VRM with 60 amps power choke that helps ensure a highly reliable system. To ensure a stable voltage under even the most hardcore overclocking scenarios, an additional four EPS pins have been added to the board. So, it seems that this board is really setting itself up for some awesome performance.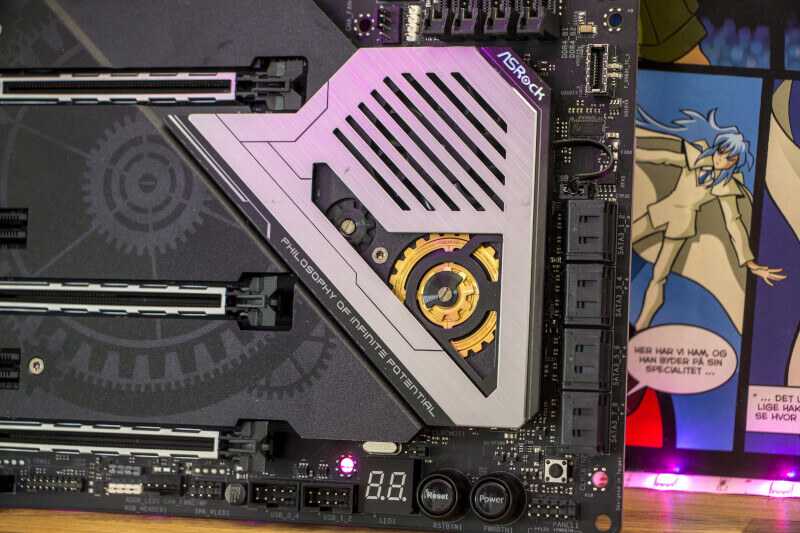 ASRock has added an active cooler to the X570 chipset, which my colleague, Kenneth, also mentioned in his article covering his attendance of the MSI Partner Convention, in which he explained that this was more or less the standard for the X570 chipset since the new PCIe Gen. 4 standard requires more power in order to maintain the high bandwidth.
From our press material, we learned that the Ryzen 3000 series would be backwards compatible with X470 motherboards, but we've since then also learned that some features won't make it to the older platform due to limitations provided by the size of the BIOS. An X470 chip has room for 128 Mb, whereas a new X570 BIOS chip has room for 256 Mb. Whether these are filled up, I don't know. The fact remains that the new ones are twice as large, and there's probably a good reason for that. So, exactly what features that will end up being available with an X470 combined with a Ryzen 3000 processor, I don't know, but it will be exciting to see.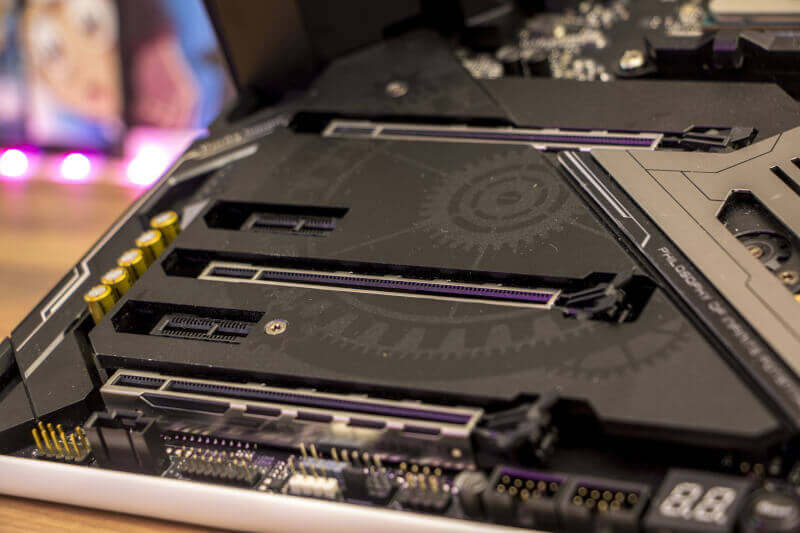 On the PCIe front, the ASRock X570 Taichi of course sports the Gen. 4 architecture, which, as mentioned already, allows for much larger bandwidths. In fact, 2 GB per x1, which means that x4 PCIe NVME SSDs, for instance, will have access to a bandwidth of 8 GB per second. On the graphics side, we have access to three-way GPU solutions. In single mode, we have a speed of x16, in dual mode we have x8/x8 and in triple mode we have x8/x8/x4. Aside from that, we have two x1 sockets for smaller expansion cards such as future Wi-Fi solutions.
In the case of the X570 Taichi, it's not as relevant with PCIe Gen. 4 x1 Wi-Fi since it already provides you with a 802.11ax Wi-Fi module installed, which is the newest standard that is up to 40% faster than the -ad technology. Wireless speeds of up to 2.4 Gbps is certainly not bad. However, we owe it to actually test this since we lack the equipment to support this technology. Other than that, the Taichi of course also supports Bluetooth 5.0. So, we find ourselves at the very forefront in terms of new technology.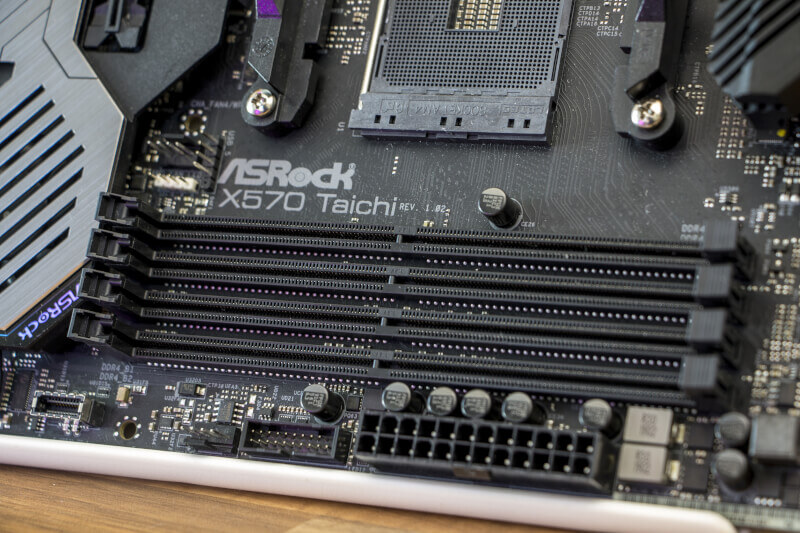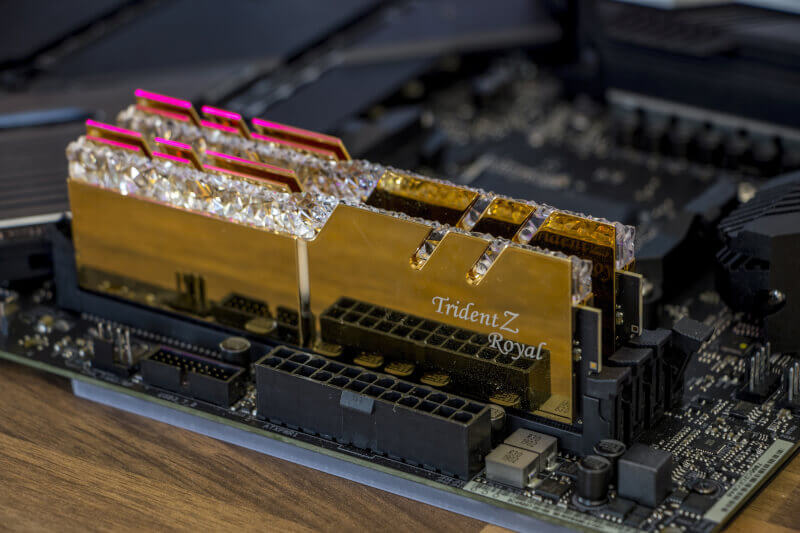 The DDR4 DIMM sockets support DDR4 RAM rated at up to 4666 MHz, and on the X570 motherboards, 3200 MHz is the new stock frequency, and anything above that is therefore considered an overclock. If you choose to run with a 1st gen. Ryzen CPU, you are locked to 3466 MHz and with a 2nd gen., 3600 MHz. This has to do with Ryzen 3000 having been redesigned with an all new memory controller, which handles higher clock frequencies better than the previous renditions did.
During our test run, we added a 2x 8 GB G.Skill TridentZ 3600 MHz DDR4 RAM kit to our Taichi motherboard.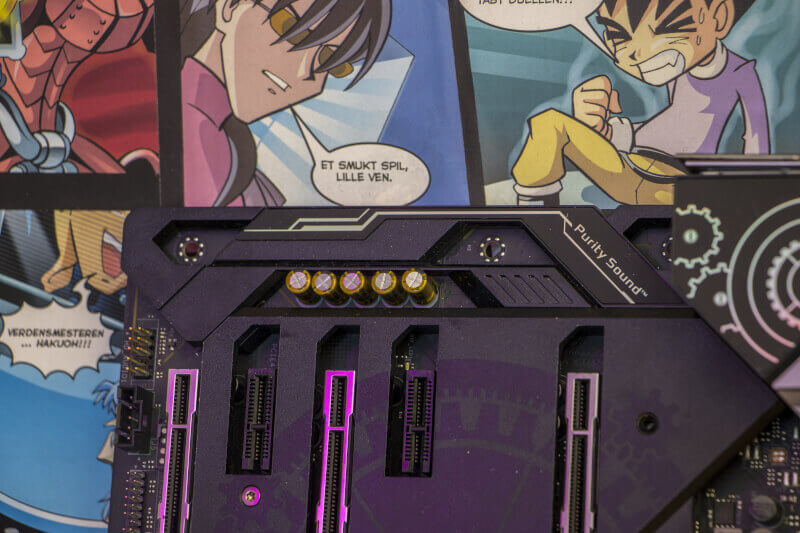 ASRock hasn't renewed their audio module, which makes sense since the existing Purity Sound 4 system already runs on the Realtek ALC1220S chip, and an NE5532 headset amplifier that supports up to 600 ohms headsets. So, we already have a high-end, top shelf component that would make no sense to upgrade further. The Audio DAC is still Nichicon Gold, which is optimized for good heat conduction and really good sound that is only surpassed by external DACs. This, however, would take us into a completely different price segment.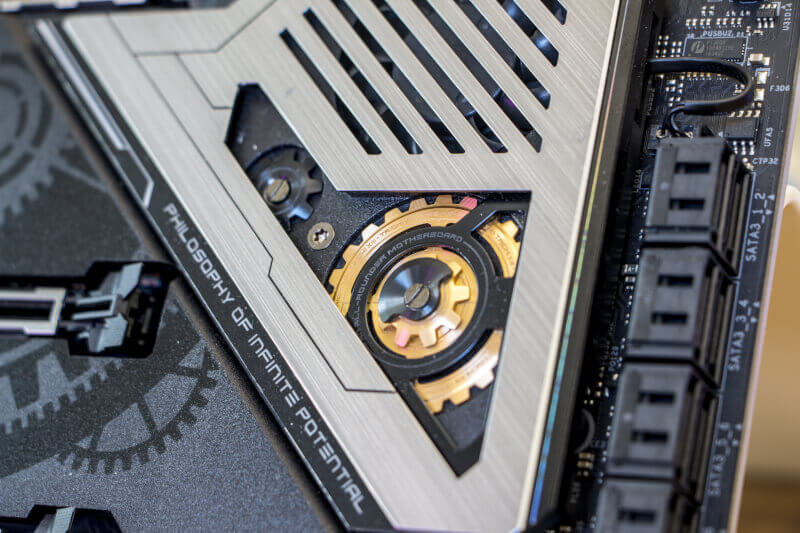 On the ASRock X570 Taichi there's room for eight SATA3 6 Gbps ports, however, the most interesting part here is of course the M.2 setup. Three M.2 sockets featuring the PCIe Gen. 4 architecture have found there way to this motherboard, and since we are certainly not leaving anything to be desired with this build, we'll throw in a 2 TB AORUS PCIe Gen. 4 NVMe SSD. This should give us a lot of bang for the buck.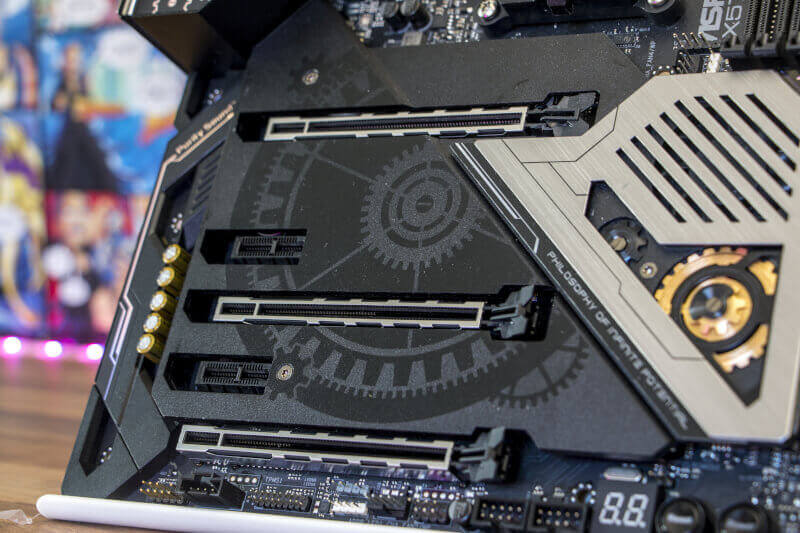 Since the ASRock X570 Taichi is equipped with a large stainless steel backplate we can't mount the AORUS cold plate onto the SSD unless we remove the plate from the motherboard. The backplate is just such a nice part of the design of the motherboard, and once you've seen it on, it's just not the same without it. Besides, it basically serves the same purpose, just across a larger surface, which should only make it even better at that.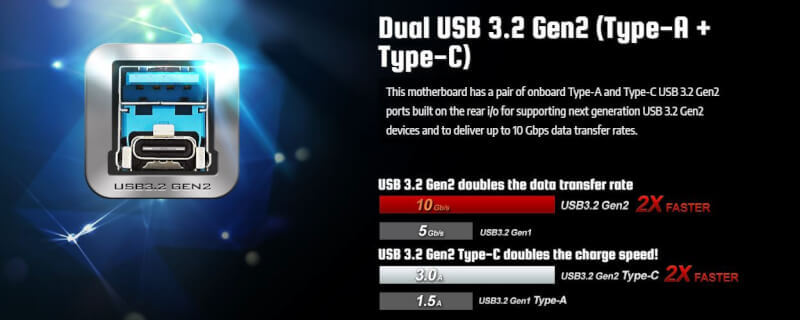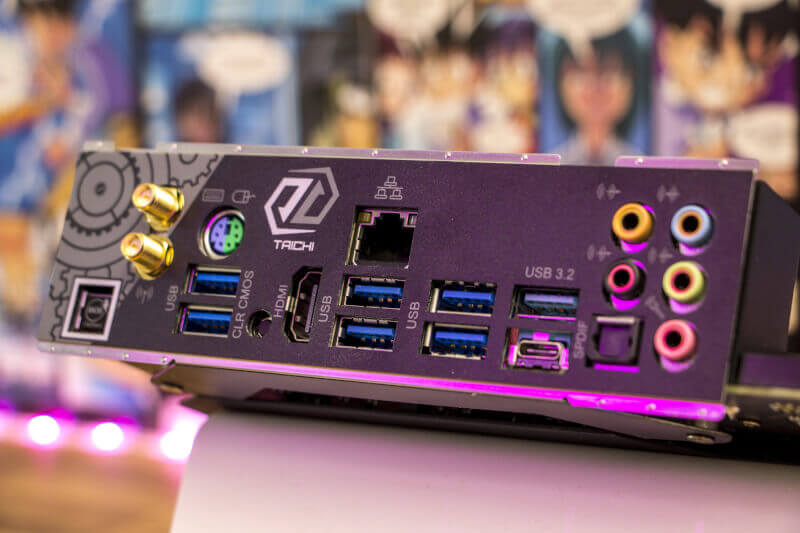 The ASRock X570 Taichi naturally comes with the newest USB 3.2 technology that delivers a transfer rate of 10 Gbps on the USB socket, and up to 3 amps for charging. This is an improvement in comparison to USB 3.1's 5 Gbps and 1.5 amps charging capacity. Aside from that, the I/O shield is pretty standard with the exception of it being flexible, which makes it easier to install in the case. It's also fixed to the motherboard, by the way.
The Test Phase
Since we've already conducted a thorough test of the X570 Taichi with the Ryzen 9 3900X and Ryzen 7 3700X, I've decided to include the CrystalDiskMark, PCMark 10, PassMark Performance Test and the stock power usage test. All future motherboards will include the same tests in order for us to be able to compare the results when swapping out the motherboard.
System
ASRock X570 Taichi

Ryzen 9 3900X

AMD Radeon RX 5700 XT

G.Skill TridentZ Royal DDR4 3600 MHz 16 GB kit

AORUS PCIe Gen 4 NVMe 2 TB SSD
PassMark Performance Test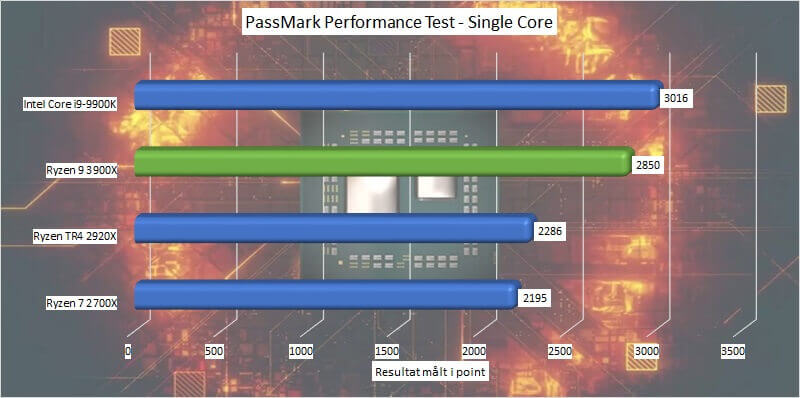 PCMark 10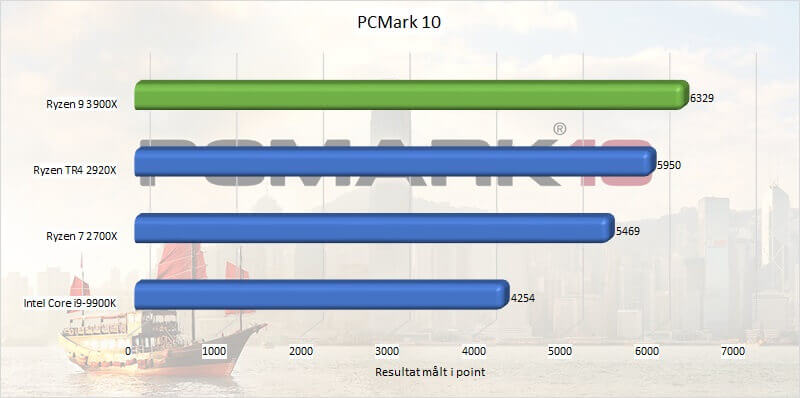 CrystalDiskMark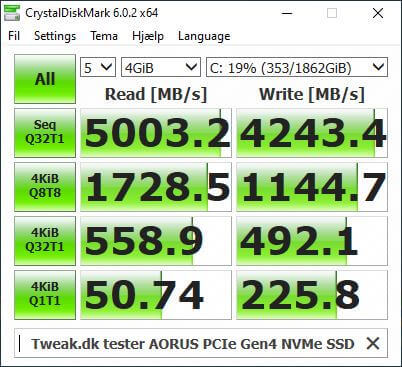 Power Usage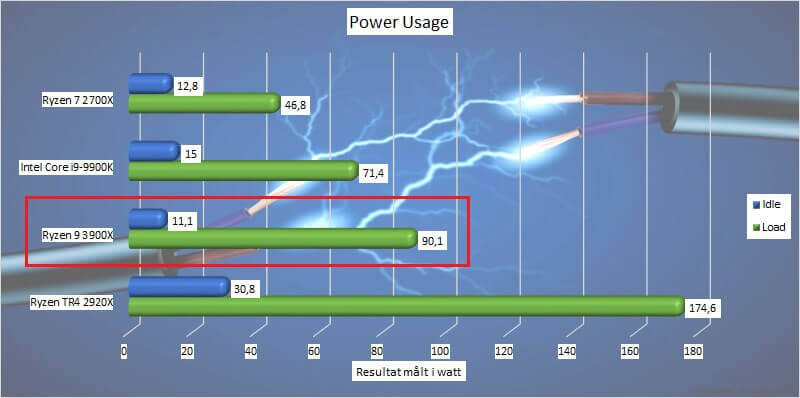 There's not much new here since the results are taken from our previous review of the Ryzen 9 3900X processor. However, now we have a baseline to work with for future X570 motherboard tests. If you want to see the complete test of the Taichi motherboard, then we highly recommend that you check out our review of the Ryzen 9 3900X.
Price
The ASRock X570 Taichi can, at the time of this writing, be had for $290, which is certainly in the higher end of the scale when it comes to X570s.
Conclusion
There's no doubt that with the ASRock X570 Taichi, we are starting in the deep end. It's a very high-end motherboard. It's also a very nice board that raises the bar from the very start, and we certainly have something interesting to compare with in future reviews, when some of the cheaper models will make their way to our test bench. The X570 Taichi is a very nice card with a really great design that certainly should meet one's wants of a future build. With the PCIe Gen. 4 technology, we are provided with enormous bandwidth, which can also be seen in our CrystalDiskMark test, and in general, the ASRock X570 has performed really well all the way throughout our test.
The price is still $290, though, and that puts it in the higher end of the price scale of an X570. On the other hand, we also get everything that the X570 chipset has to offer, and no expense has been spared. The cooling of the board has been optimized with some huge heatsinks, active cooling and a massive backplate. All things considered, ASRock deserves a score of 9 and the Great Product Award for the X570 Taichi. The only thing that takes away from this board is the price tag. Aside from that, I can't put my finger on anything.
Pros:
Really nice design

Power optimization is great

60 amps choke provides plenty of power to the CPU

Implementation of PCIe Gen. 4

Fine performance across the board
Cons:
Score: 9 + Great Product Award