AUTHOR : Berleburg
PUBLISHED : 2019-07-08 00:07
AMD Ryzen 9 3900X - 12-Core on a Consumer Level
The time has finally come when the NDA pressure from AMD has been lifted. Therefore, we can now present to you a number of reviews of both the Ryzen 2 processors and the two new AMD Radeon graphics cards. Firstly, we will check out the AMD Ryzen 9 3900X.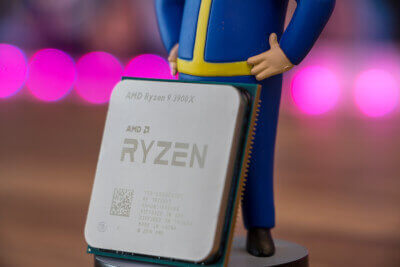 The AMD Ryzen 9 3900X is AMD's answer to a 12-core processor on a consumer level. Here, we get lots of performance and cores for both gaming and workstation needs without having to pay what equates to a limb or two. The new Zen 2 Ryzen 3rd generation processors are built with the new X570 chipset in mind, even though they are also backwards compatible with former chipset variants. However, when combined with an X570, you'll find yourself at the very technological forefront with support of PCIe Gen. 4 for one's NVMe SSD.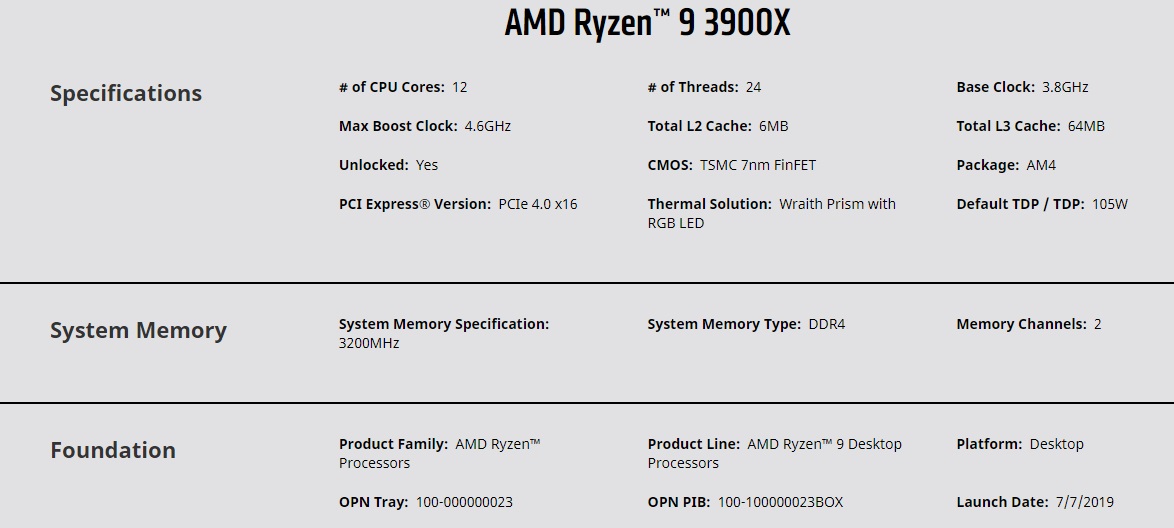 Click here to read our walkthrough of Zen 2 and the X570 chipset.
The Test System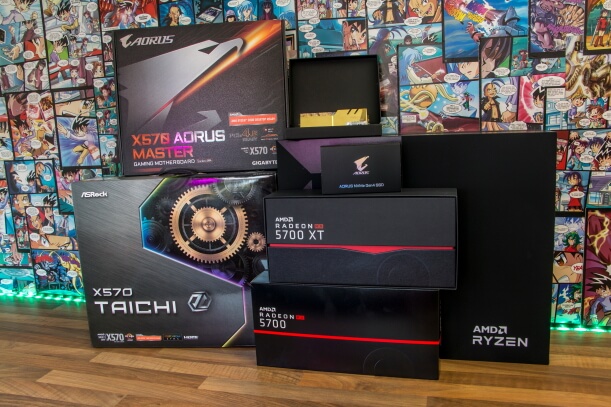 We've received a press sample from AMD, which consists of everything depicted above, and which we will go over in the following bit.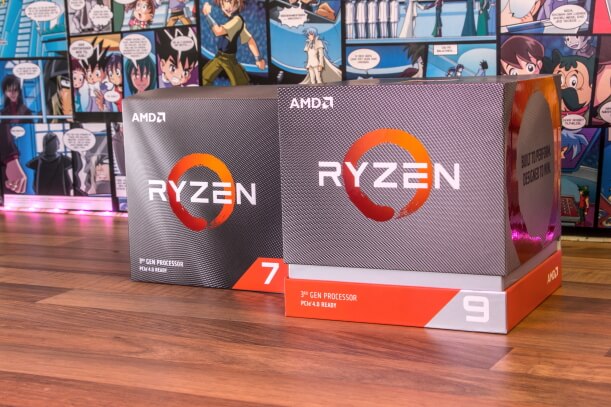 First and foremost, the two most interesting components are the Ryzen 7 3700X and Ryzen 9 3900X. In this review, we'll be spending our time primarily on the latter. Both processors were delivered in a boxed variant, in which the Wraith Prism cooler with RGB is included.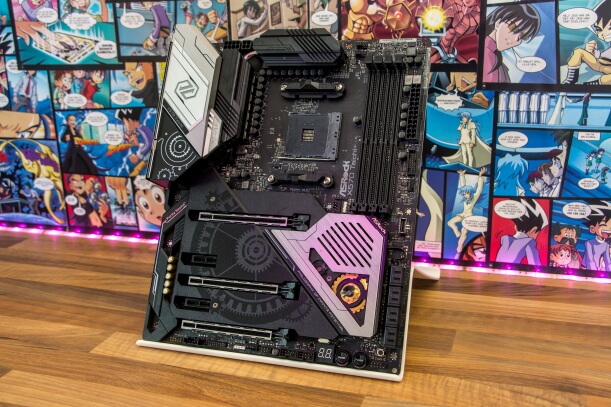 The system will be mounted on an ASRock X570 Taichi motherboard, which was also provided by AMD.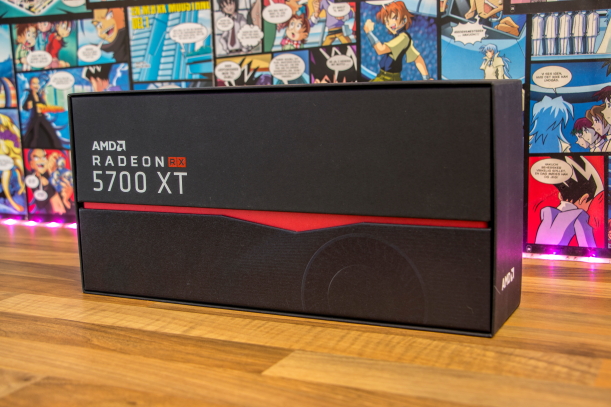 In terms of graphics, we'll be installing an AMD Radeon RX 5700 XT graphics card, which will be featured in a review of its own soon.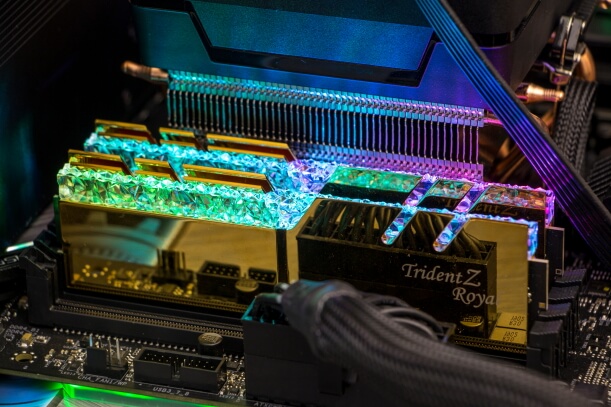 Speed is the name of the game, and in that spirit, AMD has provided us with a 2x 8 GB G.Skill TridentZ Royal 3600 MHz DDR4 RAM kit.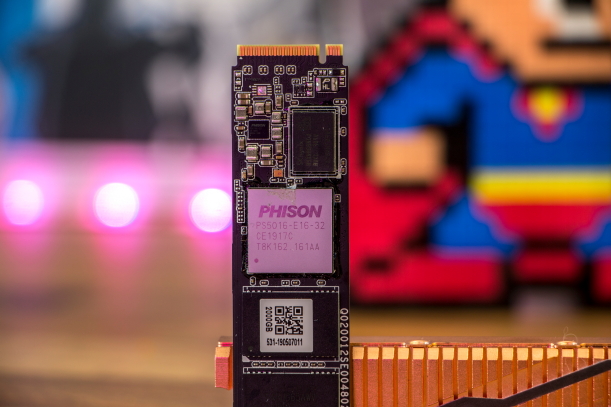 As for storage for our Windows installation and benchmarking software, we've received a 2 TB AORUS PCIe Gen. 4 x4 NVMe SSD, which fully utilizes the new standard.
Ryzen 9 3900X Examined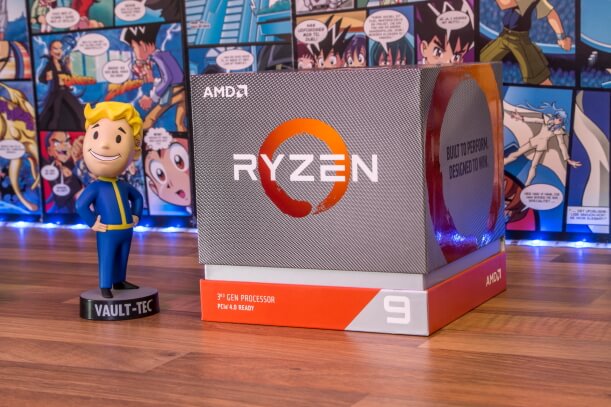 It's time to talk a bit more about the Ryzen 9 3900X processor. We're dealing with a processor with 12 cores and 24 threads, which comes in at an MSRP of $499. So, for this system we'll be getting lots of power, as well as the newest available technology from both the CPU and the motherboard that it will be placed on. We have a boost frequency of up to 4600 MHz and a core clock of 3800 MHz. In terms of caching, we get 6 MB L2 cache and 64 MB L3 shared cache, and on top of that the chip is based on a TSMC 7 nm FinFET die. One completely new feature is the support of PCIe Gen. 4, which provides us with a potential data rate of up to 5 GB per second as long as our SSD controllers can keep up. Lastly, AMD has renewed the memory controller which should prepare it for very fast DDR4 RAM modules.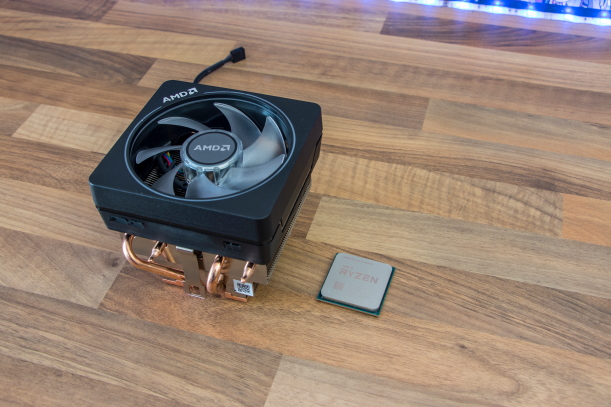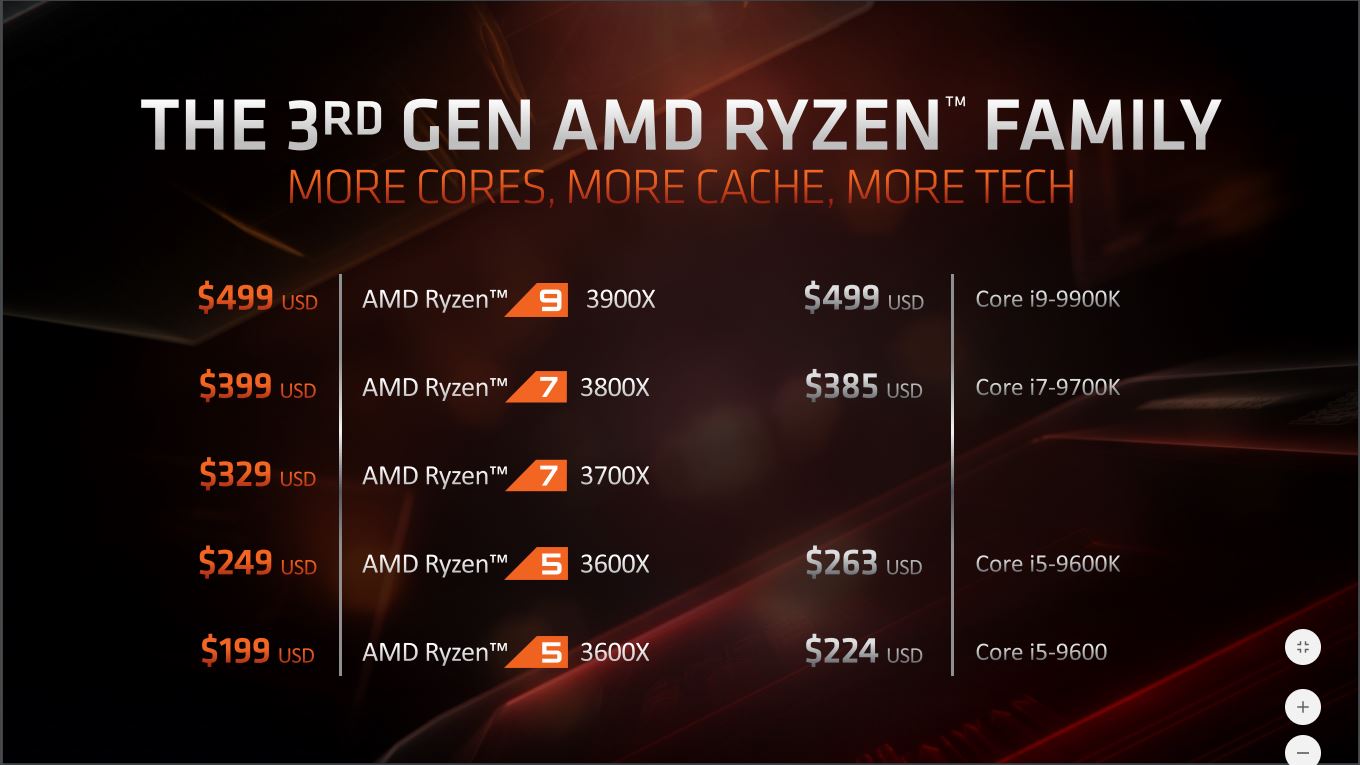 Here, we see that the AMD Ryzen 9 3900X is expected to retail at $499, which is a price that can be felt.
The contents of the box includes the typical documents, the Ryzen 9 3900X, of course, and finally a Wraith Prism RGB cooler. With everything out of the box, the time has come to build the system so we can get on with the testing.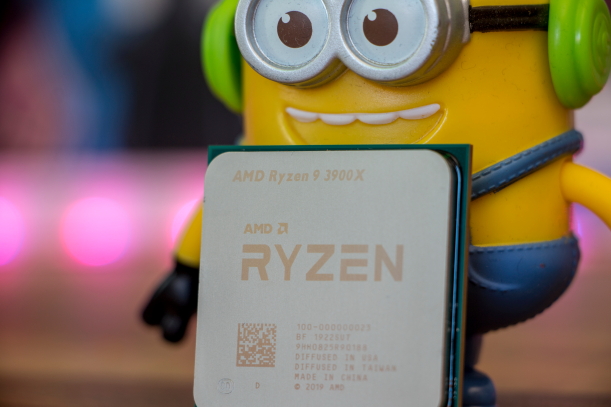 Even though we are down to a 7 nm chip die, AMD hasn't changed the outer dimensions of the CPU, which means that the AM4 socket lives on in this generation. This further means that this new series of CPUs is backwards compatible with older chipsets and also that older CPUs can be mounted on an X570 motherboard. However, in both cases, it will mean that some of the new features will not be available. It's always been one of AMD's strengths that they keep a socket alive for as long as possible so that cross-compatibility is as wide as possible.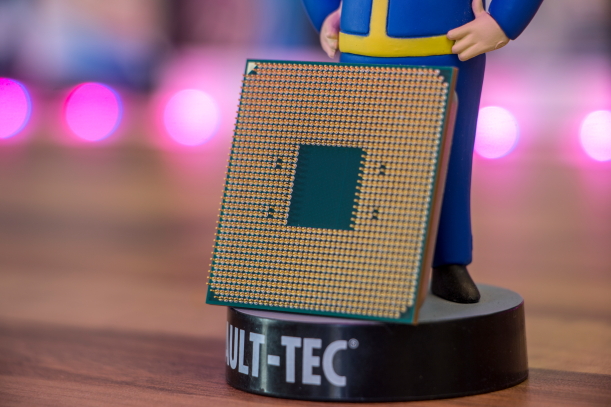 On the backside of the CPU we still find the many pins that will slide into the AM4 socket. The office here is now boiling with anticipation, so let's slot it in, and get this show on the road.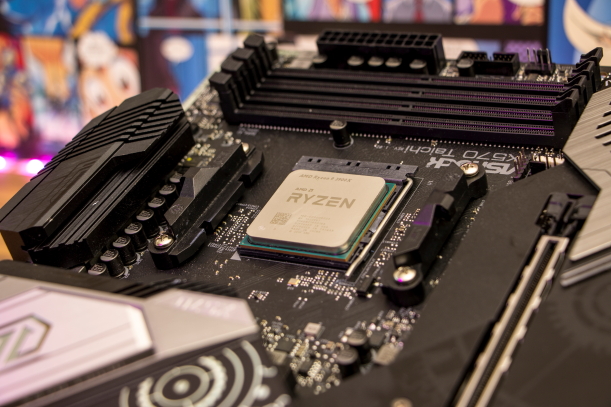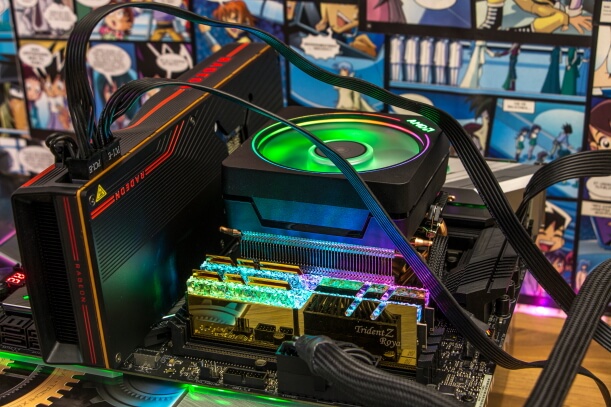 So, let's not waste more time. The system has been built and is now up and running. Windows has been installed, and so has our benchmarking software and games, and now we are as ready as we're ever going to be. We're ready for the big test run of the Ryzen 9 3900X!
Testing Phase
7-Zip Benchmark

AIDA64 Extreme CPU Benchmark

AIDA64 Extreme DDR4 Benchmark

Cinebench R15 CPU Benchmark

Cinebench R20 CPU Benchmark

PassMark Performance Test

PCMark 10

wPrime32 and -1024

Power Consumption

Temperatures with Wraith Prism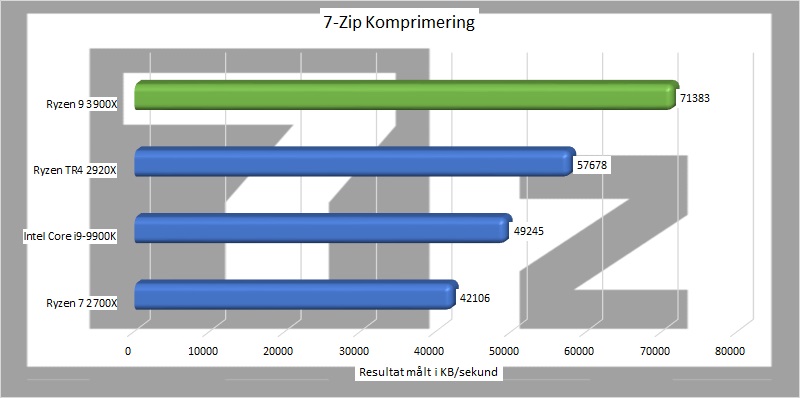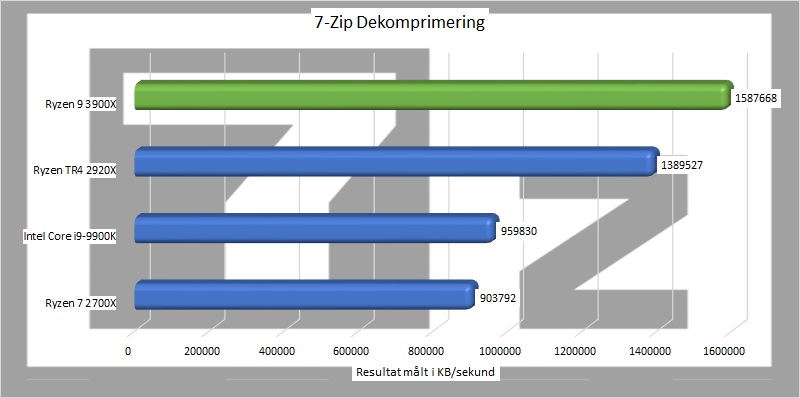 The 7-Zip Benchmark program provides a good overview in terms of the processor's ability to handle incompressible data, and here, the Ryzen 9 3900X shows that it really is fit for fight. The 12 cores are put to full use, and with a boost frequency of up to 4600 MHz it does not pull any punches.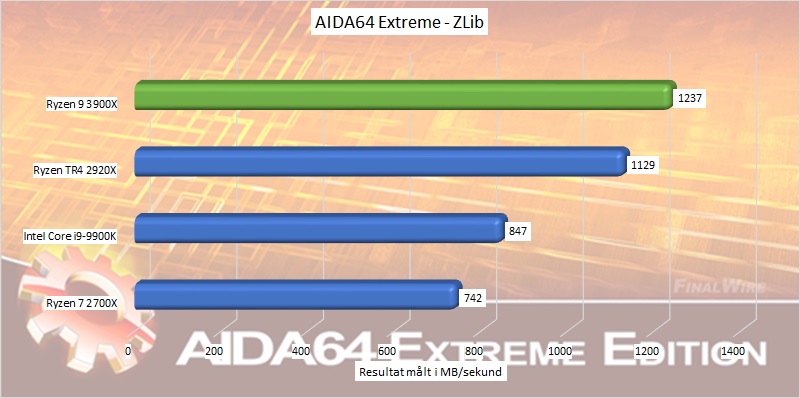 AIDA64 ZLib does exactly the same. It throws a lot of incompressible data at the CPU and it gives a good overview of the bandwidth of the CPU. Here, there's still plenty of bang for the buck and it's crazy to observe that it even overtakes the Threadripper 2920X. This is of course due to the high clock frequency since they feature the same number of cores.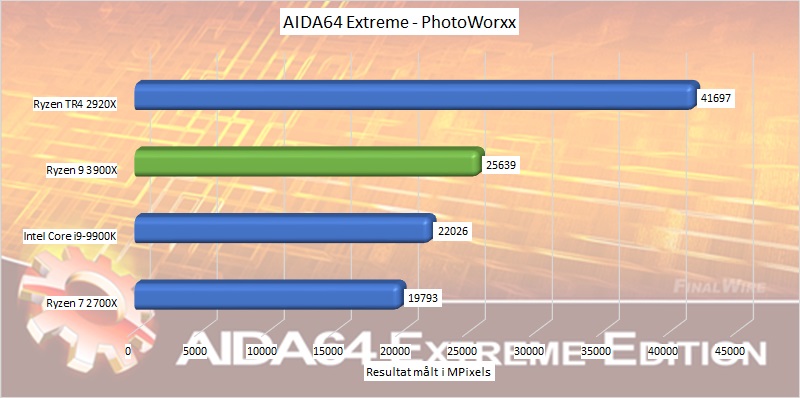 PhotoWorxx deals with image processing. Images are rendered by the processor, which givers an indication of what the CPU can accomplish in this regard. Here, the Ryzen 9 3900X does a brave job.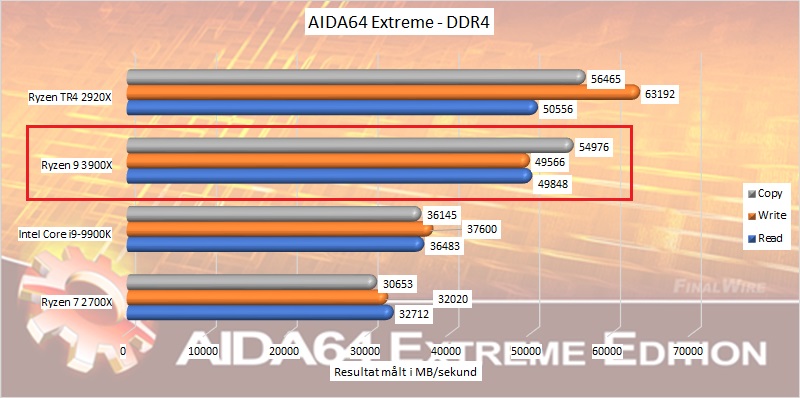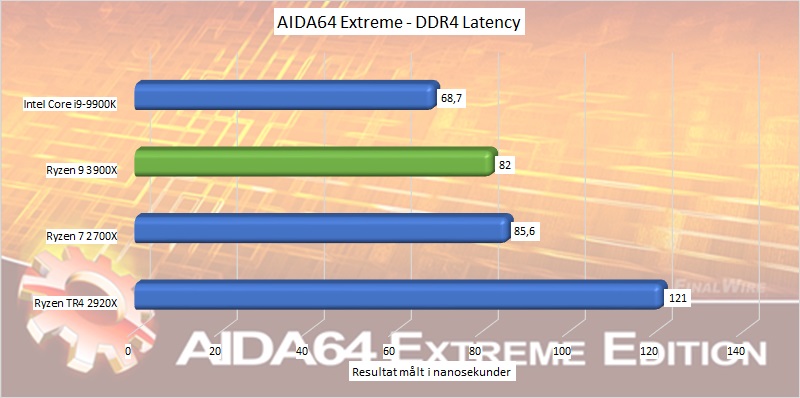 The memory controller of the new Ryzen 9 3900X easily manages to keep up, and there have been no problems at all running with the 3600 MHz RAM. So, the choice of renewing the memory controller has not been a bad one.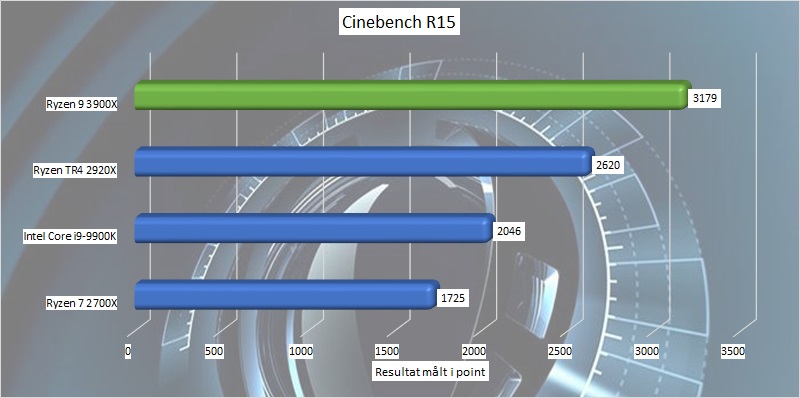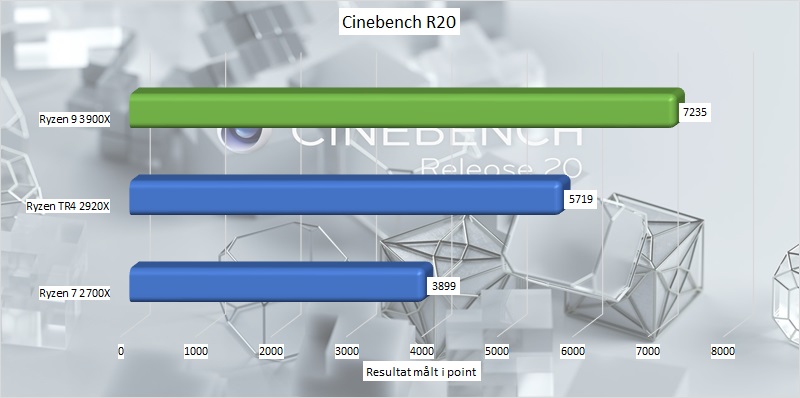 In Cinebench, the processor is put to the task of rendering a high resolution image across all of its cores, and here the Ryzen 9 3900X proves that the high clock frequency on all of its 12 cores really is worth it. It runs at full speed, and we get lots of raw computing power for workstation tasks.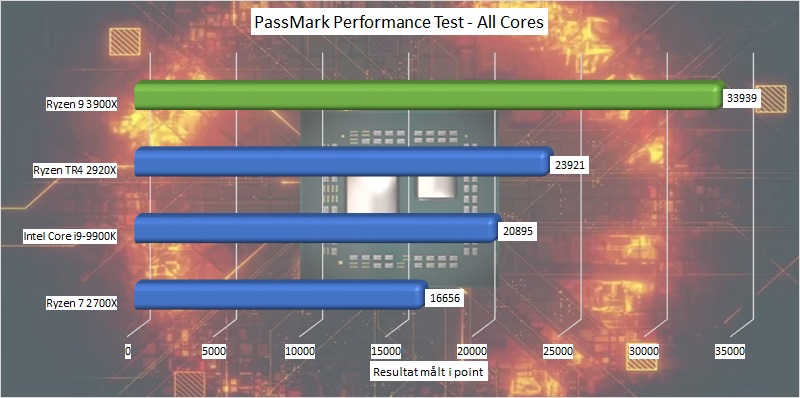 The PassMark Performance Test performs a number of CPU tasks and provides an average score. Here, we see that the 3900X pulls through with all of its 12 cores and there's not really much to note.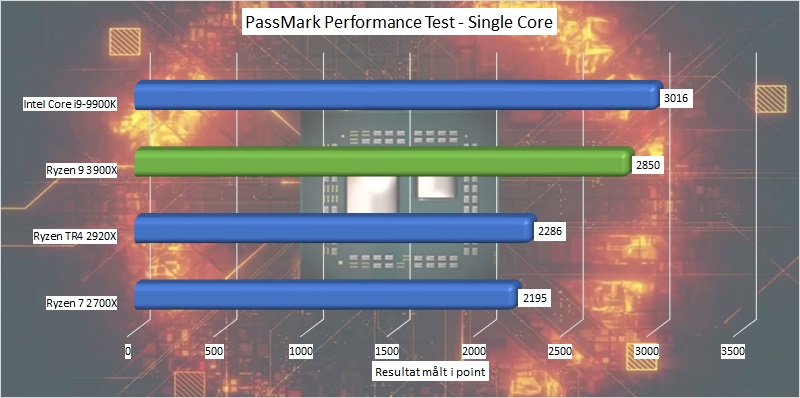 In single core performance, the Intel Core i9-9900K takes the lead, but this doesn't really come as a surprise given its boost clock of 5 GHz. Here, Intel shows that they take the leader's jersey when it comes to single core performance, but the Ryzen 9 3900X is right at its heels with just 400 MHz less to do well with.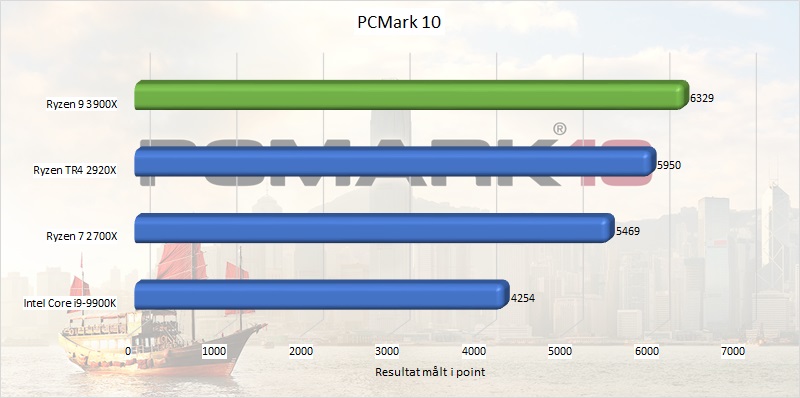 PCMark 10 is a piece of software that will put the computer through a bunch of tasks and it eventually arrives at an average calculation of the total performance of the whole system. The Ryzen 9 3900X receives an overall first place here, but it does also have an advantage with its PCIe Gen. 4 SSD which definitely pushes the score upwards. In general, we see a really nice performance which we can only be very satisfied with.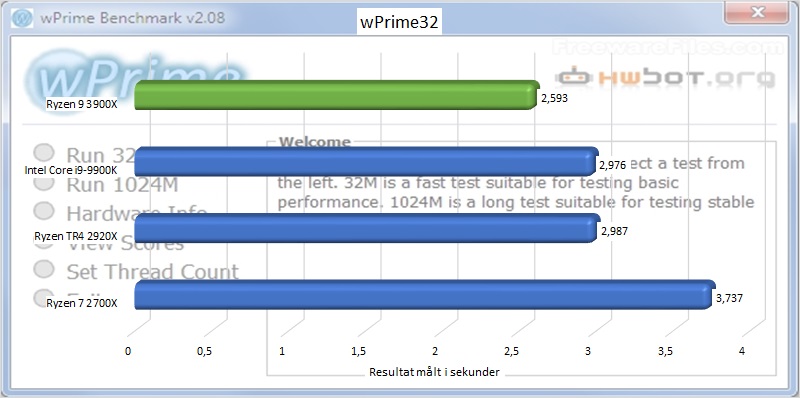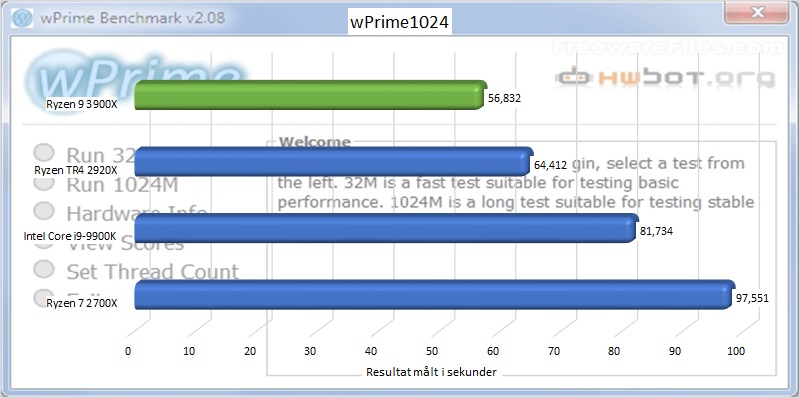 Raw computing power is important, and therefore, we also use wPrime, which puts the processor at work with crunching prime numbers over time. What's interesting here is that we find ourselves at less than a minute in the 1024M test. This is a very satisfying result. It really shows the benefit of many cores at a high clock frequency.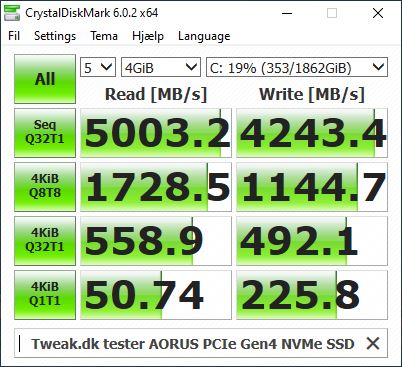 CrystalDiskMark is used to see if the PCIe Gen. 4 socket lives up to what it promises. Well, it certainly seems to do so. It displays some absolutely insane rates, and it essentially makes load times non-existent. We live in a time where POST takes longer than the actual boot time. It's a strong platform with a lot of potential in the future!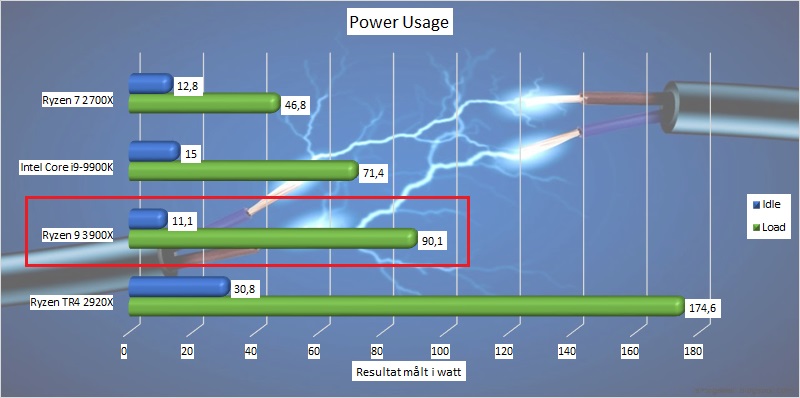 Good performance is one thing, and we've gotten lots of that so far during this test. Something else is the power draw in order to maintain that performance. Here, we see an average power consumption in full load, and after 30 minutes of torture testing in Prime95, of 90.1 W. That's almost 20 W more than the Core i9-9900K, which it has been competing side-by-side with. However, a 30% increase in power consumption spread out on 50% more cores is actually quite satisfying, and it's far from the power draw of the Threadripper 2920X.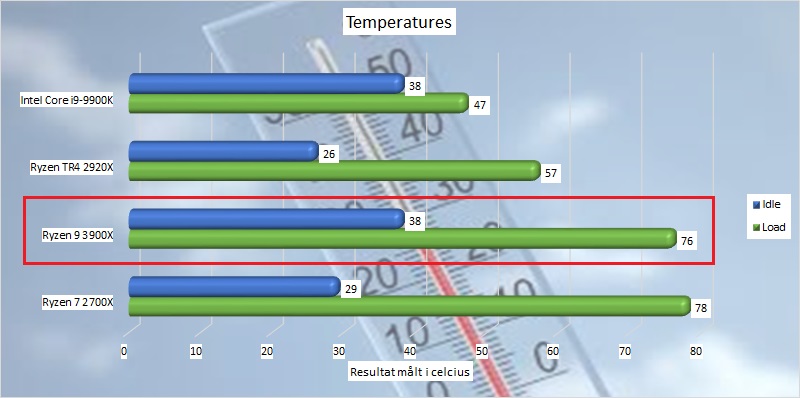 We're of course also interested in seeing what the Wraith Prism cooler could perform in terms of temperatures when we throw a 12-core processor with full load at it. This was again done with Prime95 for 30 minutes, and we saw an average temperature of 76 °C that spiked at over 90 °C. This of course raised my curiosity if better cooling would affect the boost clock, and thereby the performance. As such, I tried it out with a custom loop and gave it full throttle on both the pump and the fans, which resulted in a load temperature of no more than 41 °C. However, it had no noteworthy impact on the performance. But if you, like me, appreciate a silent system, I wouldn't recommend using the Wraith Prism cooler for a 12-core Ryzen processor. It can do the job, but it's noisy!
Overclocking
At this time, it didn't result in much when trying to overclock. As a matter of fact, I even struggled getting above the boost clock. I expect that we at a later time, with some BIOS optimizations, will be able to draw out more performance when overclocking, but for now, I'll wait with that.
Price
AMD has announced a price of $499 for the AMD Ryzen 9 3900X.

Click here to read about the Ryzen 9 3900X on AMD's website.
Conclusion
We are now done with the test of the Ryzen 9 3900X Zen 2 processor, and we are now ready to arrive at some conclusions based on today's experiences. In today's review, we've been given the opportunity to play around with PCIe Gen. 4 and the X570 chipset in order to see what these have actually brought with them. As such, this is a bit of a mixed conclusion. First and foremost, we can conclude that the PCIe Gen. 4 has increased the data rates significantly on our new NVMe SSDs. For the average user, it probably won't have the biggest impact whether you transfer data at 3,500 MB/s or 5,000 MB/s. However, for workstation tasks, where bandwidth is king, it truly makes a difference.
With that said, we're also done focusing on the new chipset, and we can now focus entirely on the Ryzen 9 3900X. In terms of performance, the new Zen 2 processor has done a really good job and the 12 cores have competed very well with both the Intel Core i9-9900K and the Threadripper 2920X. What's interesting here is of course the expected price of the 3900X, which is set to be quite a bit lower than that of the 2920X, whilst at the same time it consumes significantly less power. This makes a strong case in favor of the Ryzen 3900X. However, our PhotoWorxx test proved that the Threadripper still manages to be a winner when dealing with video or 3D rendering.
AMD has optimized that stroke of genius that they brought to the table with the Ryzen processors by giving us more cores at an affordable price. At the same time, they've raised the bar as to what Ryzen processors can pull off in terms of boost clock, which makes them even more relevant in both multi and single core performance. Combined with a new memory controller, which makes the processor capable of running with even higher clock frequencies on DDR4 RAM, and at the same time much more tolerable of various RAM modules, the new CPU series has become even more accessible and user friendly.
It's great that AMD provides a stock cooler in the shape of their Wraith Prism cooler. Especially since it actually manages to keep up in terms of cooling performance, which means that the system performance isn't held back - something one might have feared. However, one must consider if the noise level of it is acceptable. We found ourselves at around 1800-2000 RPM on the fan, and that produced a lot of noise. So, if the plan is to have the machine in an office or in the living room, where one might prefer a quiet atmosphere, even though the kids want to play games, or one's better half wants to encode some 3D material, then the Wraith Prism falls short when trying to cool 12 cores at the same time. Still, it's there, and it allows for you to get started right away without losing any performance.
Overall, the Zen 2, and in this case the Ryzen 9 3900X is a fine upgrade within the Zen series, and we are all of a sudden provided with really many cores, high clock frequencies and PCIe Gen. 4 at a consumer level. So, all in all, I find that AMD deserves a fine score of 9 and the Great Product Award. The score is high since they've managed to fix some known issues, increased the core and boost clock frequencies and given us 12-core performance at an affordable price. They match the Intel Core i9-9900K in terms of price, even though there are more cores included with the Ryzen 9 3900X.
Pros:
12 cores on a consumer level

Reasonable price tag

Really good performance

New and improved memory controller

PCIe Gen. 4 gives a sublime bandwidth on the NVMe protocol

Core and boost clocks have increased
Cons:
The i9-9900K still wins in single core performance

The Wraith Prism becomes too noisy when trying to keep up
Score: 9 + Great Product Award