AUTHOR : Berleburg
PUBLISHED : 2019-12-09 16:53
ASRock Z390 Steel Legend
ASRock are once again at it with yet a Z390 motherboard that goes under the impressive name of "Steel Legend" and is clad in urban camouflage.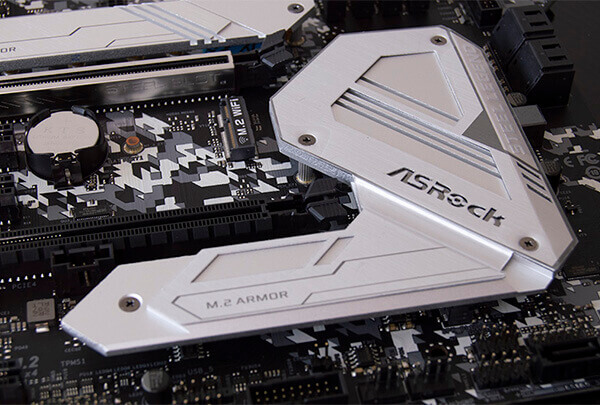 It's time to have a look at another motherboard from ASRock, which is an almost regular occurrence these days here at Tweak where we've looked at both their massive ATX beasts rich on features to their tiny ITX motherboards. Today, we'll be focusing on one of the former.

The Hard Facts:
Intel Z390 chipset supporting 8th and 9th gen Intel processors

6 / 2 Power/memory phase design

Supports DDR4 4266+ (OC)

2x PCI Express 3.0 x16 slots, 3x PCI Express 3.0 x1 slots

6x SATA3 6 Gb/s (w. RAID0, 1, 5, 10 support), 2x M.2 M.Type up to Gen3 4x speed

Gigabit LAN 10/100/1000 mb/s M.2 Wi-Fi slot support

ASRock Polychrome RGB support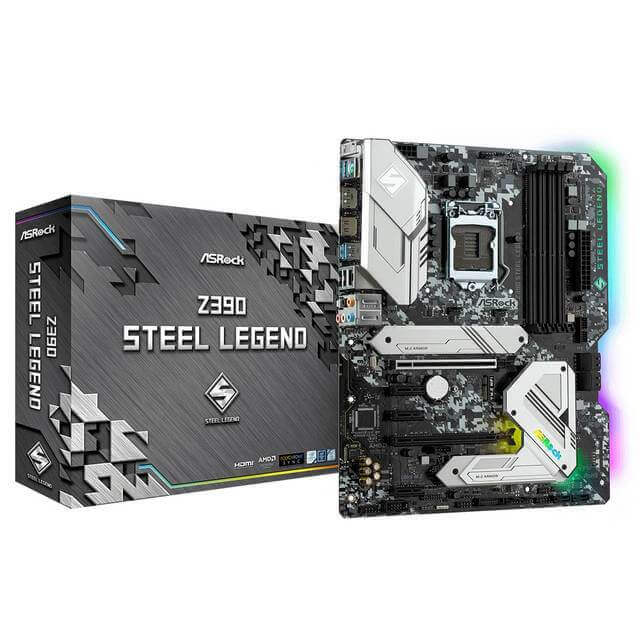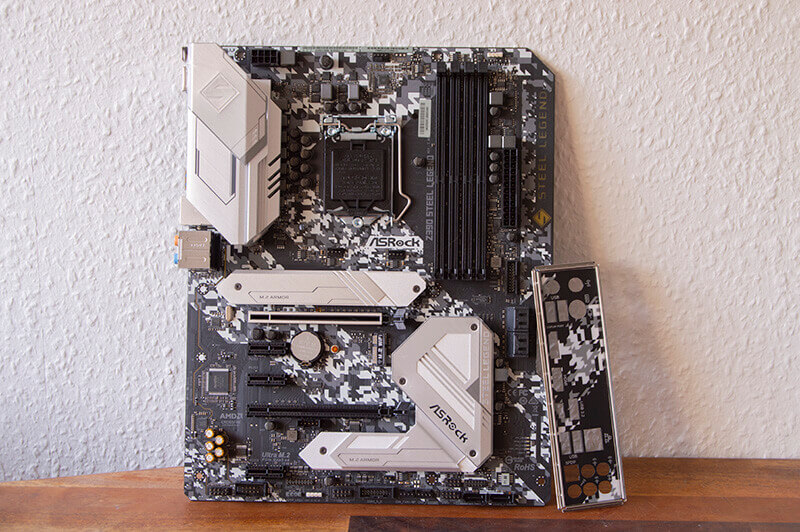 The Steel Legend, which ASRock has dubbed this board, features an ATX form factor with an interesting "urban camo" theme on the PCB. It's also topped off with a steel finish on all of the metal parts.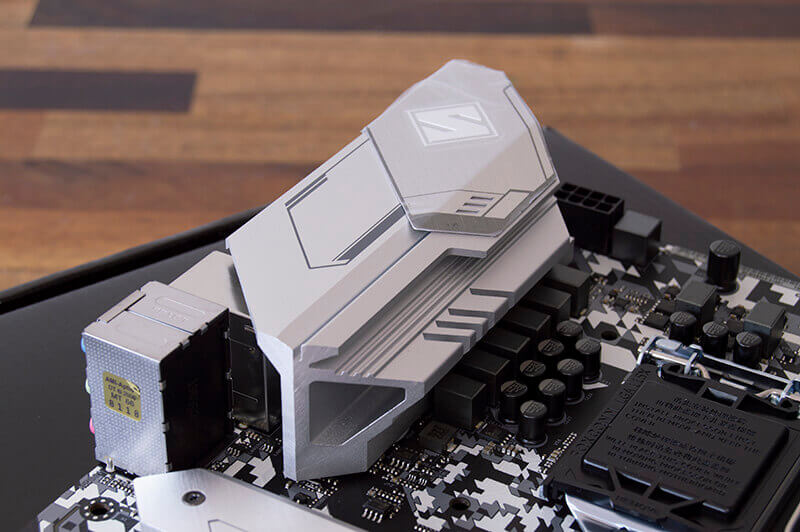 As the name suggests, there's a rather large VRM heatsink / IO cover. Still, ASRock has decided not to provide the board with a built-in IO shield, which might seem a bit strange. It wouldn't have taken that much effort to add that. The Steel Legend comes with "just" a 6-phase setup for the CPU, which is less than what you'll see on more expensive enthusiast boards. This, combined with the not greatly cooled VRM, means that one shouldn't expect the overclocking potential to skyrocket. It's not to say that the board won't allow for a bit of overclocking headroom for some casual gaming on a stock cooler.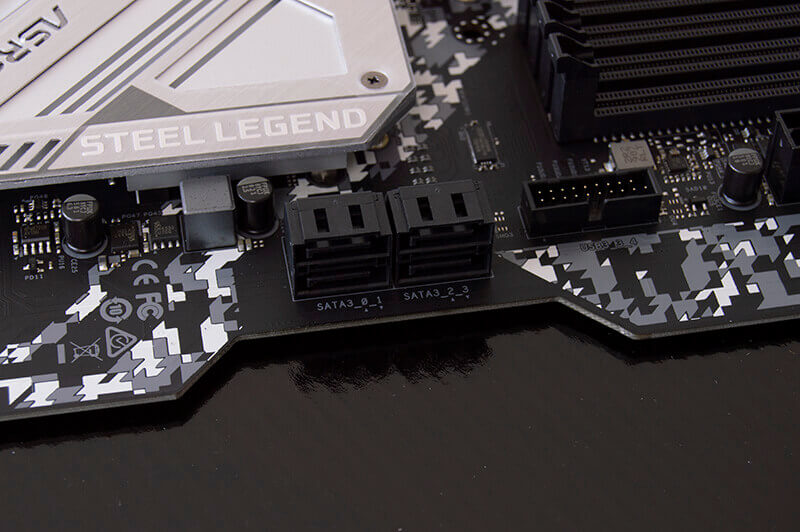 ASRock has decided to trim the PCB slightly along one edge, similar to what can also be seen on e.g. the TUF series from ASUS. The concept here is that it will make it easier for you to connect SATA and other connectors to the motherboard. However, it also means that it won't reach the outermost stand-off screws and therefore bends a bit when the connectors are attached.
It's a design choice that I've always had a hard time seeing the logic behind since the headers for the connectors could simply have been placed at the very edge of the board, like with so many other boards. The extra pressure on the PCB only means that the longevity of some of the smaller components on the board is compromised.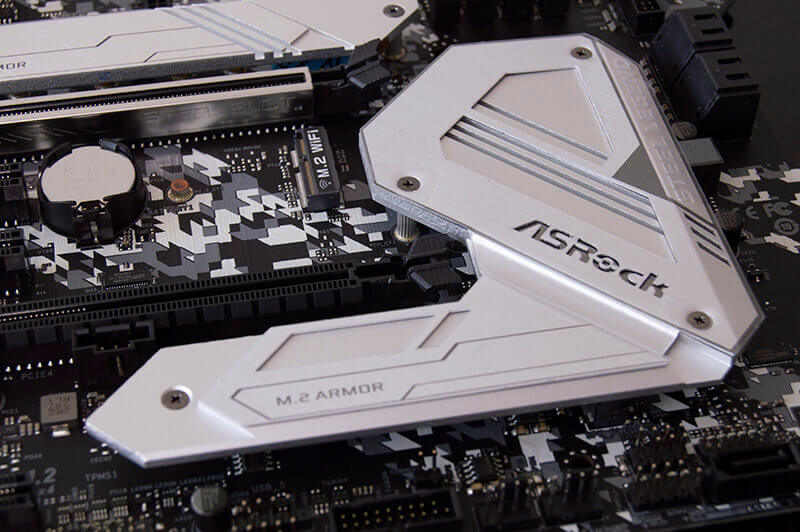 The upper PCI-E x16 slot is reinforced in order to better withstand heavier graphics cards without straining the port itself. This adds to the "Steel Legend" theme, but it's also something that you see more and more boards feature. One might wonder why this has only been applied to the topmost slot now that the motherboard supports AMD's Crossfire technology.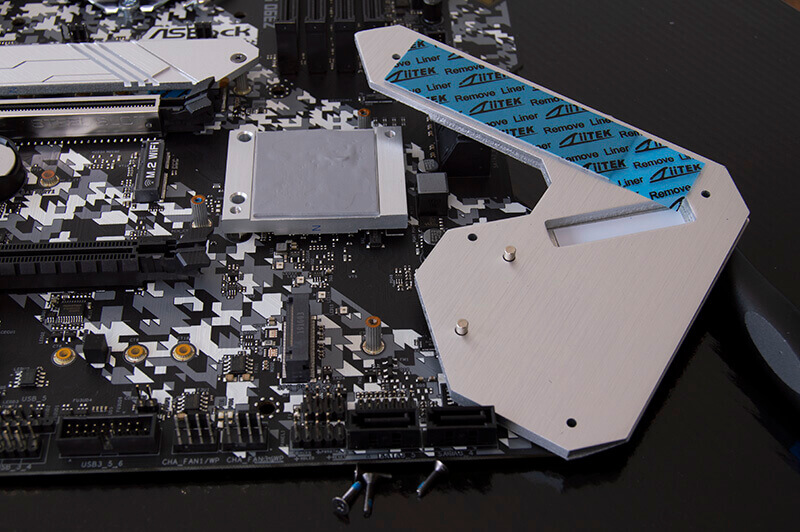 Both of the 2280 M.2 slots have passive cooling profiles that will help with keeping the temperature of the hefty NVMe drives at a minimum. They can get quite warm when being tasked for a longer period of time. There's also room for an M.2 Wi-Fi, if you should be so inclined. It's a shame, in my opinion, not to include these from the factory since many users won't necessarily be fully informed on this, and might end up throwing a card into one of the PCI-E slots instead.
The IO panel on the back holds few surprises. It has 5 USB Type A ports, a single Type C, and then the standard audio and video in and out. There's also a connector for Wi-Fi antennas, if one chooses to make use of the aforementioned M.2 slot.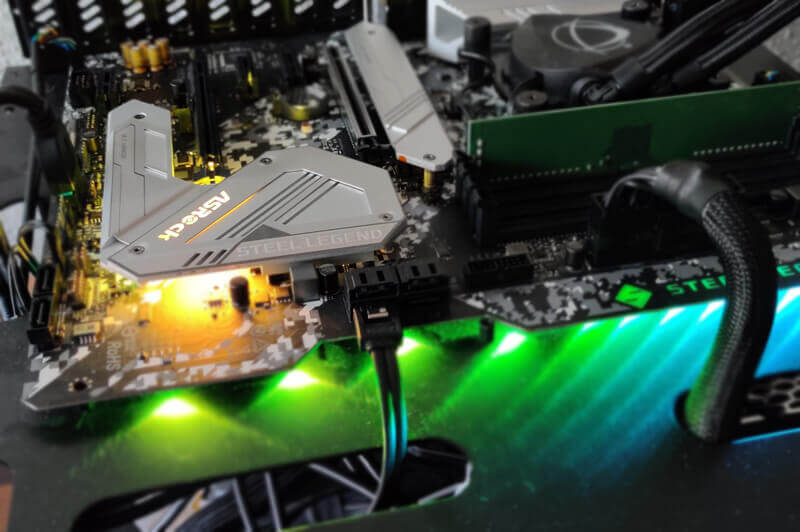 Naturally, one cannot manufacture a motherboard in 2019 without adding some RGBs to it. Here, ASRock certainly doesn't disappoint either. They've added adjustable lights in the logos as well as on the underside of the trimmed edge. There are also two analog 12V RGB headers as well as a 5V addressable RGB header, which will let you expand the lighting setup to include the surrounding case without the need of a separate controller unit.
Price
At the time of this writing, the ASRock Z390 can be yours for $134.99.

You can read more on the Z390 Steel Legend on the official product page right here.
Conclusion
With a price tag of just $135, the Steel Legend is solidly placed in the lower price segment of the Z390 boards. It doesn't have the most hardcore enthusiasts in mind, and the feature package, and price, also reflects this. Some extra features have been left out, for example the missing reinforcements on one of the x16 PCI-E slots, as well as the "missing" Wi-Fi card (which ASRock often include with the ITX motherboards).
The design is also familiar, but it's still nice to see something different to the commonly used black/red theme that many manufacturers have adopted. The urban camo look goes well with the steel finish, and if you spend a bit of time hand-picking your components, you will surely be able to compose a pretty awesome visual theme.
The Steel Legend is by no means a perfect board, but it's quite well balanced in terms of price and the consumer segment that it targets. It will fit well into a gaming build that features lots of flashy RGB.
Pros
Subjectively, it has a nice finish without too many bells and whistles

Reasonable price tag considering its feature package

Both analog and digital RGB headers
Cons
Lacking reinforcement of the PCI-E slots and missing Wi-Fi card

The trimmed design might introduce a strain on the PCB when cables are inserted

The VRM doesn't feature that good of a cooling solution compared to the massive heatsink they've used
With all that said, we award the ASRock Z390 Steel Legend a fine score of 8 out of 10. It's a budget-friendly option for those of you who can settle for a board with fewer features, but compensates for this with its affordable and manageable price tag.