AUTHOR : Berleburg
PUBLISHED : 2019-12-10 08:22
MSI MPG X570 Gaming Edge Wifi
We've just received two new MSI X570 motherboards, and the first one to hit the test bench is the MSI MPG X570 Gaming Edge Wifi.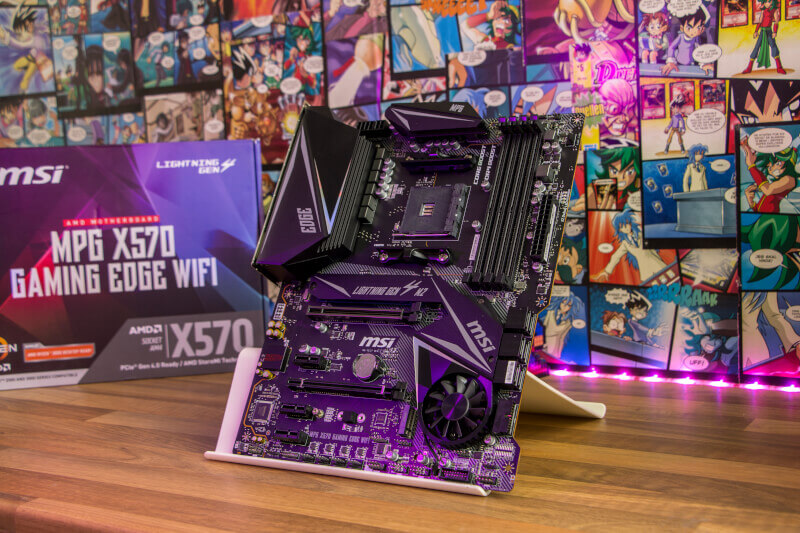 MSI is a familiar brand here at Tweak, and just like all the other motherboard manufacturers they spew out one after the other. This time around, we've been given the opportunity to play around with the MSI MPG X570 Gaming Edge Wifi. It's a mid-range motherboard that offers a lot of neat onboard components at an affordable price.

Specifications
SOCKET: AM4

CPU (MAX SUPPORT): Ryzen 9

CHIPSET: X570

DDR4 MEMORY: Up to 128 GB @ 4400 MHz

MEMORY CHANNEL: Dual

DIMM SLOTS: 4

PCI-E X16: 2

PCI-E X1: 3

SATAIII: 6

M.2 SLOT: 2

RAID: 0/1/10

LAN: Realtek 8111H Gigabit LAN Controller

FORM FACTOR: ATX

CROSSFIRE: Yes

OPERATING SYSTEM: Support for Windows 10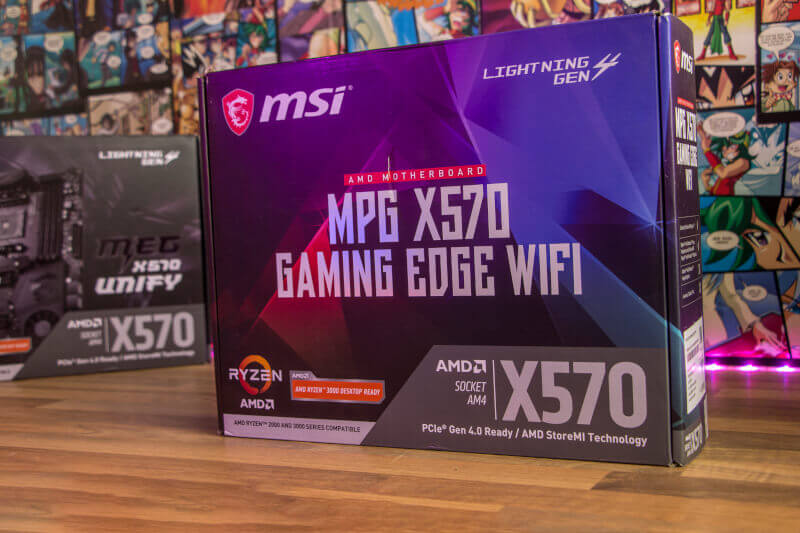 If you look at the packaging, you're not at all in doubt that the MPG X570 Gaming Edge Wifi, with all of its RGB features, is a flashy and colorful motherboard. The box also informs of the AM4 nature of the board and its support of the third generation Ryzen processors and 2nd generation Ryzen VEGA APUs.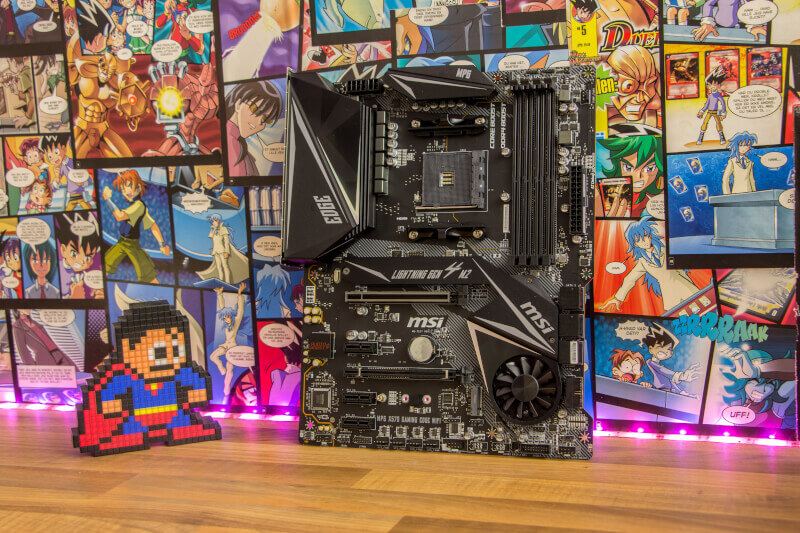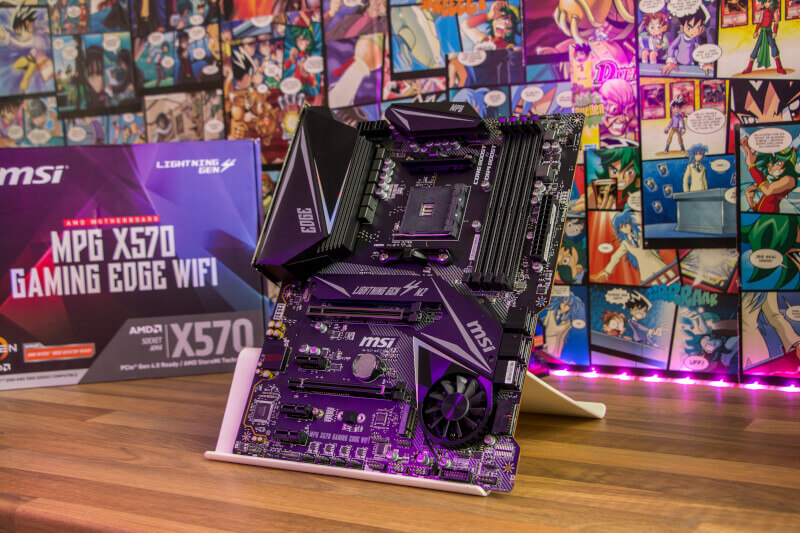 In and of itself, the Gaming Edge Wifi is a pretty stylish board with a black PCB and some gray highlights. It sports an ATX form factor, and as with all of the other AMD X570 boards, it comes with an active cooler. Just like with all of the other X570 boards, the fan is a bit loud upon startup, which can be quite rough on the ears. Luckily, you can adjust the fan curve and thereby dampen it a bit. Oh, and did I mention that the Gaming Edge Wifi is filled with RGB lights? Ah, I did. Yes, well it sure is.
On the Gaming Edge Wifi you'll also find a Wi-Fi module pre-installed. It features a dual-band wireless AC 3168 802.11ac module from Intel, which will run at a speed of up to 433 Mbps on the wireless interface. On the LAN side of things, MSI has added a Realtek 8111H Gigabit LAN controller.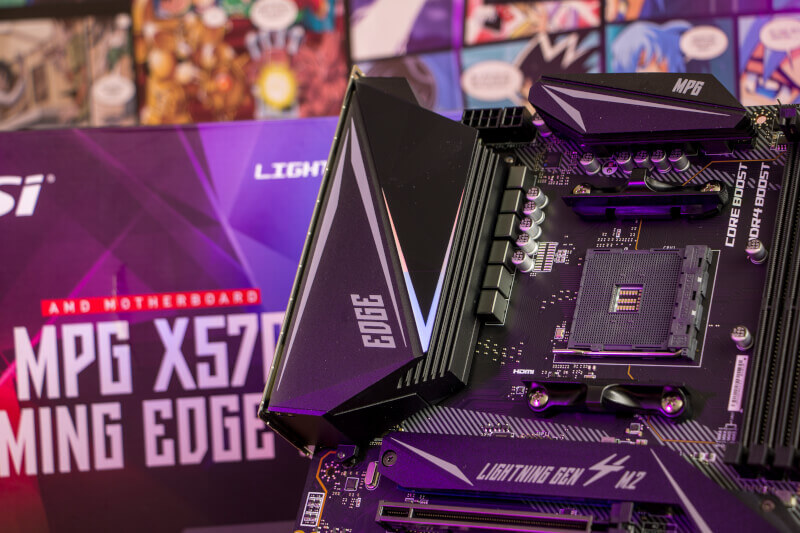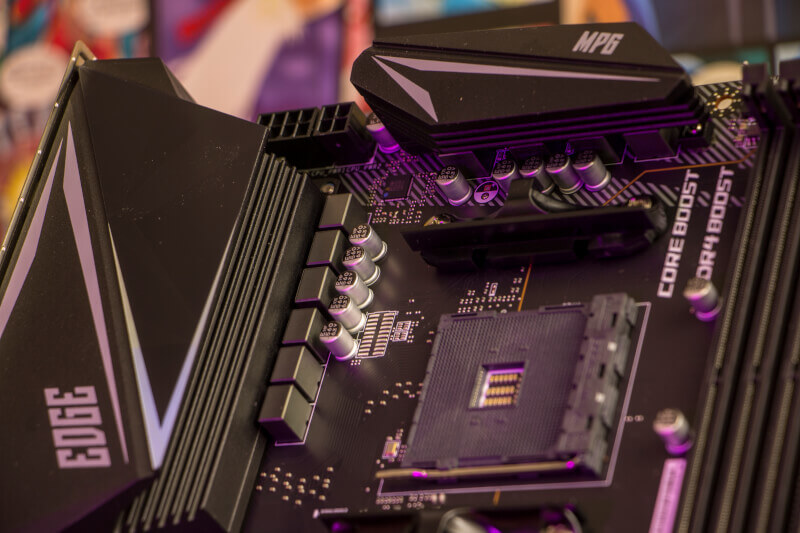 The power management for the CPU is constructed with ten 60A Nichion capacitors and with MSI's large thermal heatsink. This should definitely keep it cool. The south bridge is hidden underneath the M.2 heatsink right above the PCIe ports. The socket is, as most probably already know, AMD's AM4 for the massively popular Ryzen processors.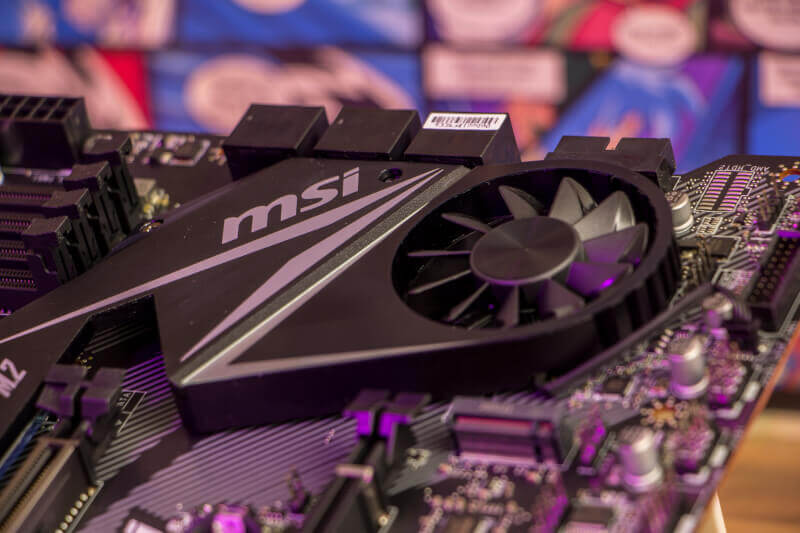 The AMD X570 chipset is also covered by a large heatsink, and this is also where we find the active chipset cooler, which has become the norm on the X570 series of motherboards.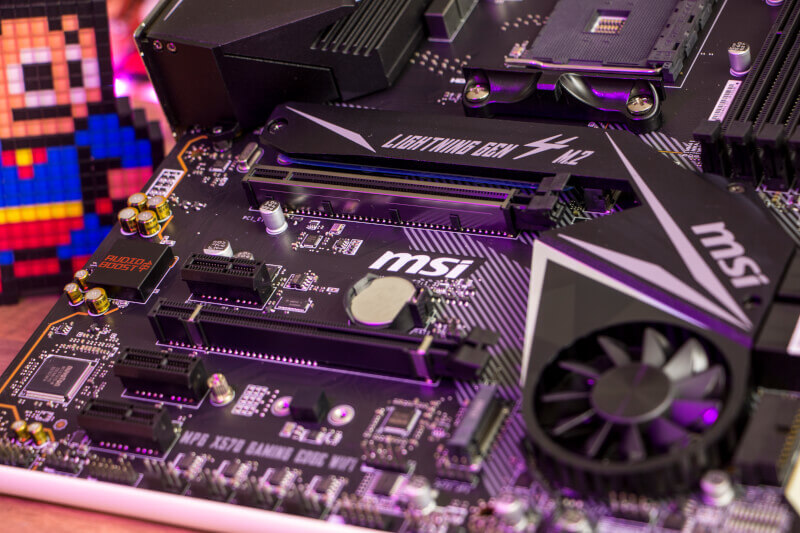 In terms of PCIe slots, we find a PCIe Gen. 4.0/3.0 x16 slot and a PCIe Gen. 4.0/3.0 x4 slot. In that way, we are able to run a CrossFireX multi-GPU setup, whereas there is "only" support of a single Nvidia graphics card. We also get three PCIe Gen 4.0/3.0 x1 slots for smaller cards. It's still only third generation Ryzen processors that support PCIe Gen. 4.0, which is why we've mentioned both 4.0 and 3.0 in the previous bit.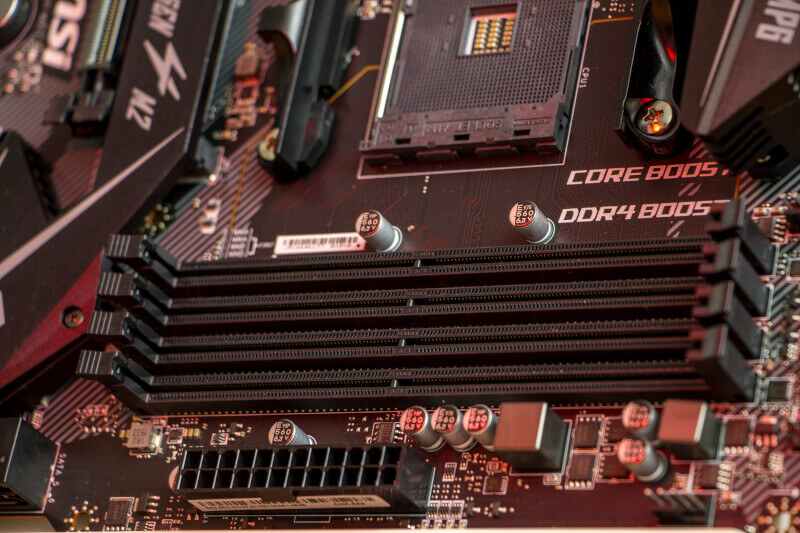 The DIMM slots of course support Dual Channel DDR4 RAM with a maximum clock frequency of 4400 MHz, if you run with a Ryzen 3000 CPU. Should you instead opt for a Ryzen 2000 CPU, the supported clock frequency is capped at 3466 MHz. The MSI MPG X570 Gaming Edge Wifi can support up to 128 GB RAM.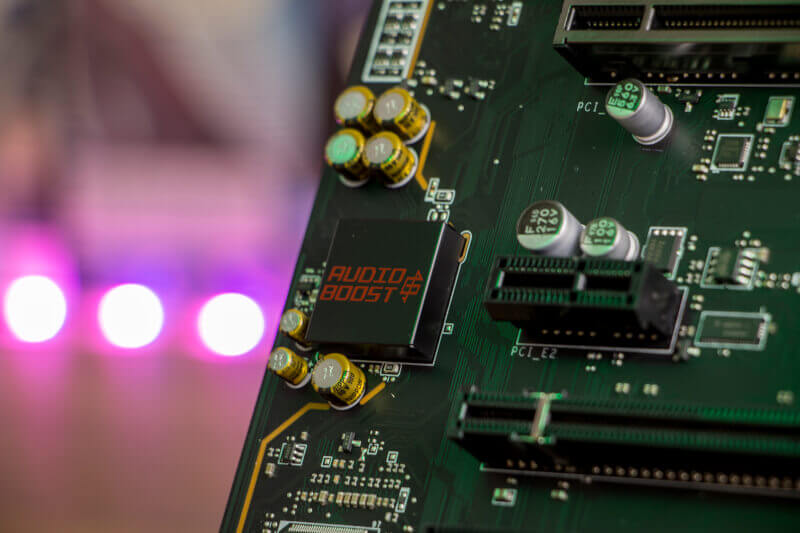 In regards to audio, MSI has equipped the X570 Gaming Edge with the Audio Boost system that consists of a Realtek ALC1220 sound chip and a separate 600 ohm headphone amplifier. The audio lanes are provided on a separate PCB in order to isolate them from electric interference that might lead to noise. The Realtek chip is similarly isolated in an enclosure in order to reduce noise interference. The Realtek ALC1220 is Realtek's newest chip and it supports all of the most common audio formats in 2019.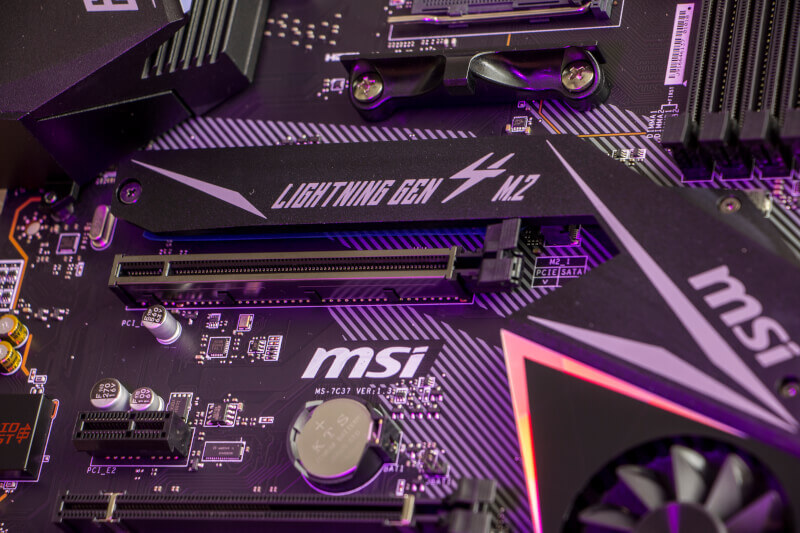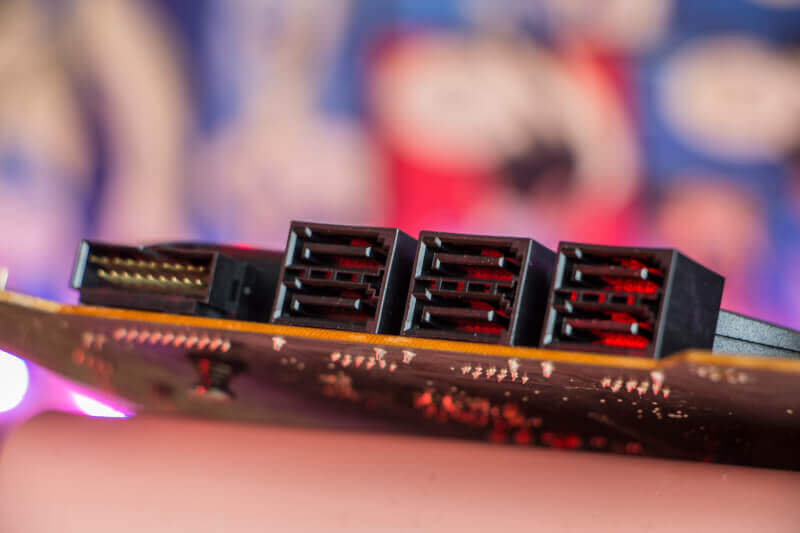 The MSI MPG X570 Gaming Edge Wifi can handle up to two Ultra M.2 SSDs and with the new AMD X570 chipset combined with a PCIe Gen. 4 x4 NVMe SSD, you'll be able to unlock the most ridiculous transfer rates of upwards of 5000 MB/second. On the SATA side, we get six SATA3 ports. Four of them are governed by the X570 chipset whereas the remaining two use their own ASMedia ASM1061 controller.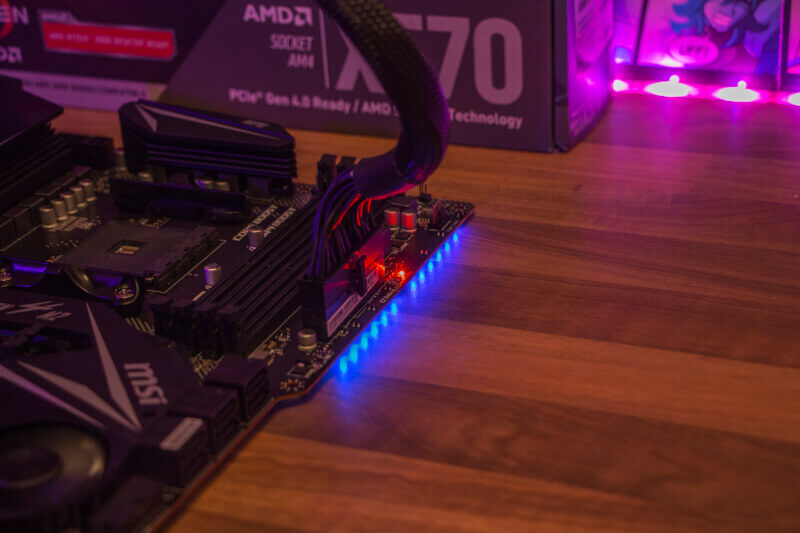 As mentioned earlier, you'll also be getting some RGB lights with the MSI MPG X570 Gaming Edge Wifi motherboard.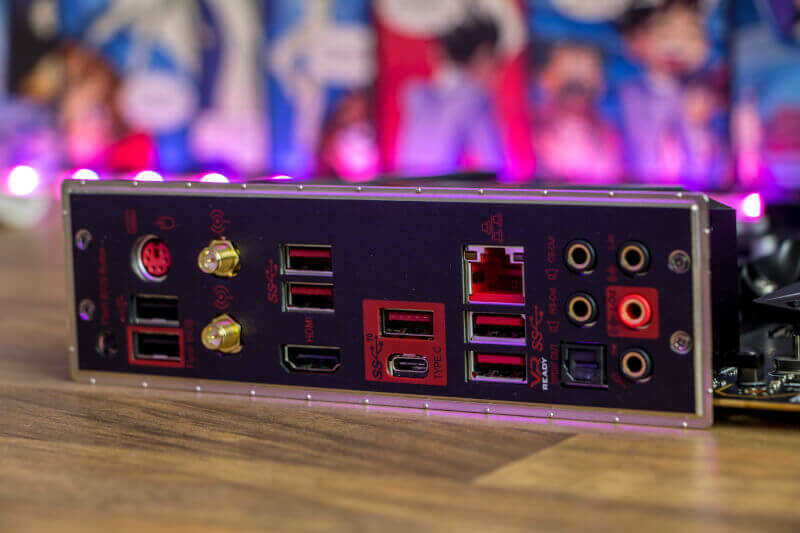 The IO panel speaks for itself. It features all of the common ports, including HDMI 1.4, in case you'll be using a Ryzen API with built in VEGA graphics. Other than that, there's really not much else going on here. This is also where the included Wi-Fi antennas are attached.
Price
At the time of this writing, the MSI MPG X570 Gaming Edge Wifi is priced at around $199.99, which is a fine price for a well-equipped mid-range motherboard from the X570 series.
Conclusion
The MSI MPG X570 Gaming Edge Wifi is a motherboard for those of you who aim to build a new system that supports all of the new technologies. Sure, you can add $150 or so, and get additional features such as a 2.5 Gbps LAN controller etc. Still, we get a motherboard that sports the Realtek ALC1220 sound chip, Gigabit LAN controller, PCIe Gen. 4.0 and of course RGB at the mere cost of $200. In that sense, you get a lot of value for your buck, and if you can do without SLI support and an extra M.2 socket, then you have a very viable choice here.
I appreciate the minimalist design that MSI has chosen, and that's despite the presence of RGB lights. Since RGB lights are essentially a subjective matter, I won't let those influence the verdict. I mean, you could simply turn them off. Anyways, the board is really well designed and MSI has even opted for a server grade PCB with a higher density, which in turn makes the motherboard more durable and gives you a nice feeling of quality. You get all of this for $200, which isn't an unusual price tag for an AMD X570 chipset motherboard.
All in all, I find MSI deserving of a solid score of 8.5 and a Safe Buy Award for their MPG X570 Gaming Edge Wifi motherboard.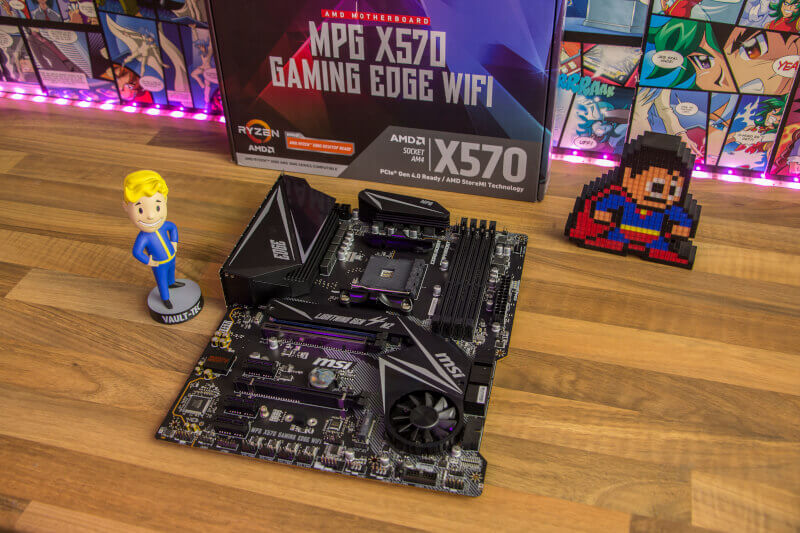 Pros:
Cons:
No SLI support

"Only" two M.2 sockets