AUTHOR : Michael Hermansen
PUBLISHED : 2019-02-25 13:02
AORUS Z390 XTREME Waterforce
The new AORUS Z390 XTREME Waterforce is out - and it is not for the regular Joe. With a price tag of $900, it will probably be the most expensive motherboard on Planet Earth – until someone decides to install a rocket launcher on their next flagship. We couldn't resist testing it.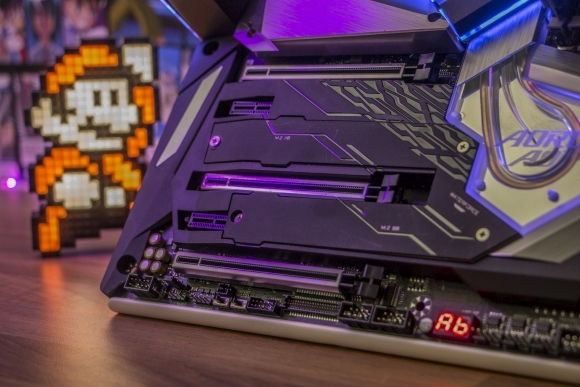 AORUS is a daughter company of GIGABYTE, a massive colossus on the global hardware scene. AORUS is targeted exclusively at gamers. Which means most of us, in full honesty.
Waterforce is their series of water-cooled hardware which also includes a couple of AIO and custom water block NVIDIA GPUs.
But today, it's not about graphics. It's about mothers. Specifically, E-ATX form factor motherboards, and to be a hundred percent precise: The AORUS Z390 XTREME Waterforce.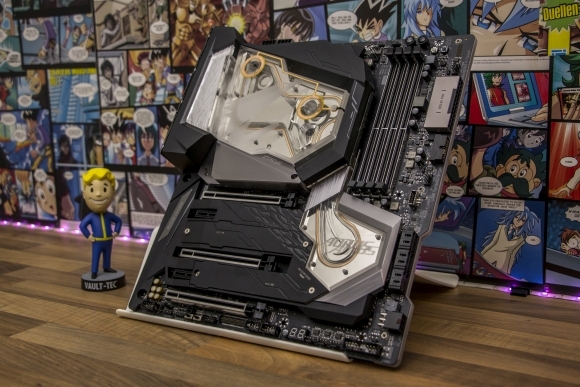 First look
This Waterforce is huge and contains a massive water block that makes you feel the gravitational pull in full extent when trying to carry the thing. So, let's start with the obvious and look at the liquids.
Water cooling
The water block is a full cover block, meaning that it covers all the hot components on the main board. On this AORUS motherboard, we talk about North- and South bridges, VRM capacitors, and an Aquantia 10Gbps NIC.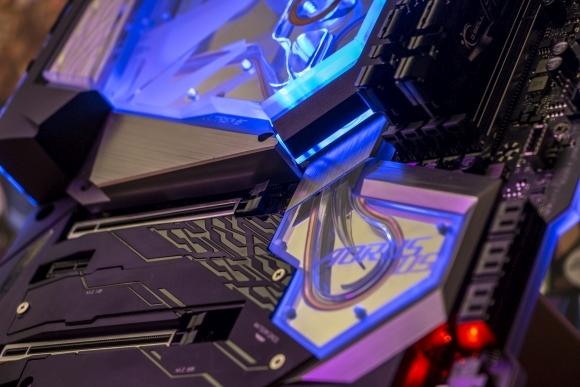 You install the water block on both sides of the motherboard using a bunch of screws luckily included in the box. Z390 XTREME Waterforce arrives with pre-mounted heat pads for VRM, bridges, and all three M.2 sockets. You only need to apply cooling paste to your CPU.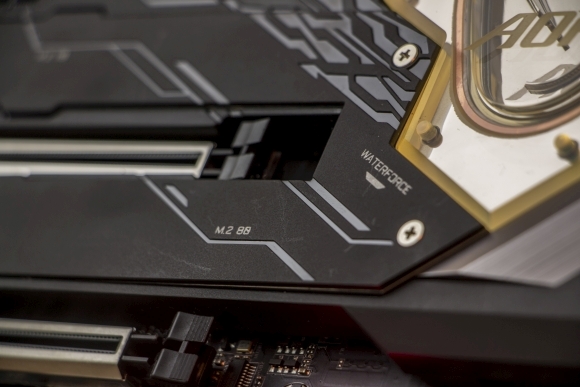 All Ultra M.2 sockets come with a full PCIe Gen. 3 x4 speed. This type is well-known for providing a 32Gbps bandwidth and fully support even the fastest NVMe SSDs out there.
The water block on the AORUS Z390 motherboard is equipped with a detection system that registers leaks in the water loop. You can see the circuit around the fittings and the edge of the block.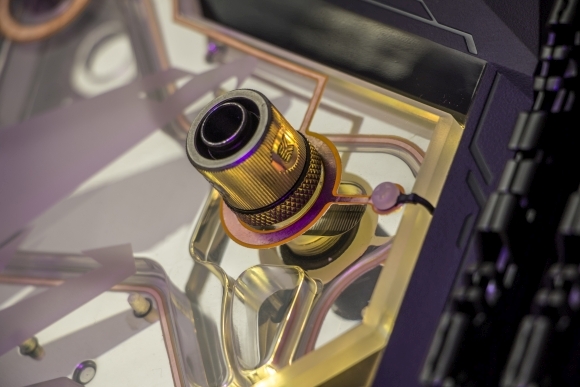 The full-cover block is equipped with G1/4" fittings that are rather standard in the world of liquid cooling. This gives us plenty of options for creating our own custom loops, for instance from EKWB.
RGB
AORUS have not been modest with the RGB lighting on this motherboard. Everything is lit like Times Square on New Year's. You can control every ray of light through AORUS' own software, of course, making the board fit your personal taste or vulgarity.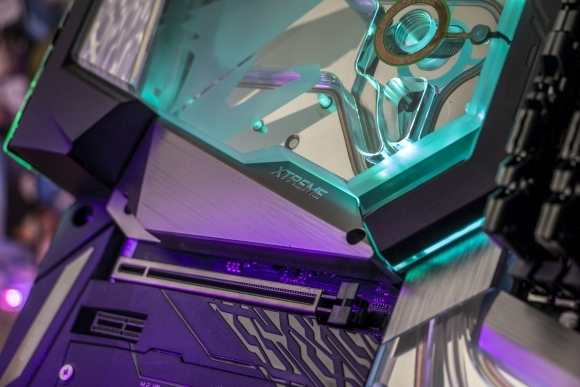 The only true minus here is the RGB cable that is supposed to be plugged into the motherboard right next to the CPU socket. It is unbearably short. This makes it unnecessarily hard to fit in place, especially when you simultaneously try to balance the heavy block.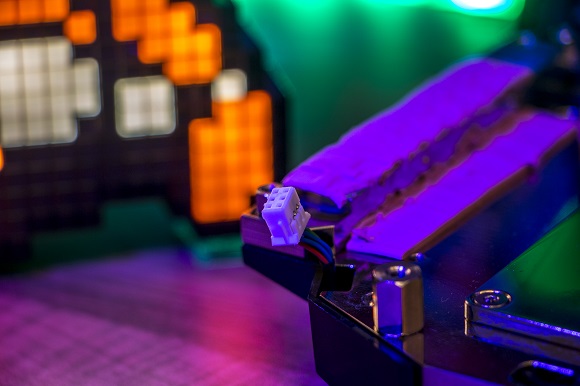 Besides that, I have no downsides to address here.
Expansion and memory
On the PCIe front, AORUS Z390 XTREME Waterforce gives us the following setup:
One PCIe Gen. 3 x16 slot
One PCIe Gen. 3 x8 slot
One PCIe Gen. 3 x4 slot
One PCIe Gen. 3 x1 slot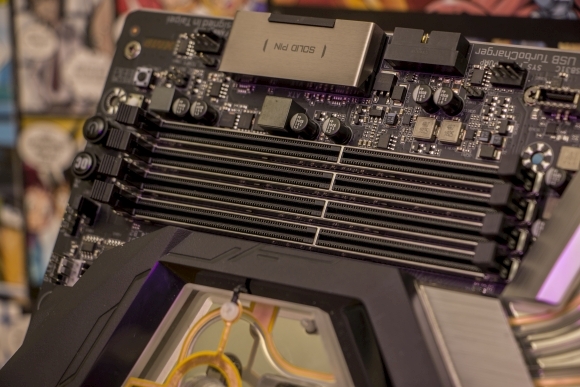 Furthermore, AORUS let us know that if slot two is in use, slot 1 runs with x8 speed. This means that we cannot run full throttle in a dual GPU setup. This is in line with the fact that the Z390 chipset only has 24 lanes.
I can't tell you why AORUS haven't been so kind to use a PLX chip which would have given us more lanes. It would've been a good gesture from their part – especially since this premium mastodon costs $900.
The motherboard runs in Dual Channel mode on the DIMM sockets. You can install up to 128GB DDR4 RAM with a maximum clock frequency of 4400MHz.
Audio
If we turn our ears towards the audio, AORUS Z390 XTREME Waterforce is furnished with an ESS Sabre Hi-Fi sound system which features the ALC1220-VB codec by Realtek. This comes by no surprise as the system is in the absolute high end of the Realtek product line.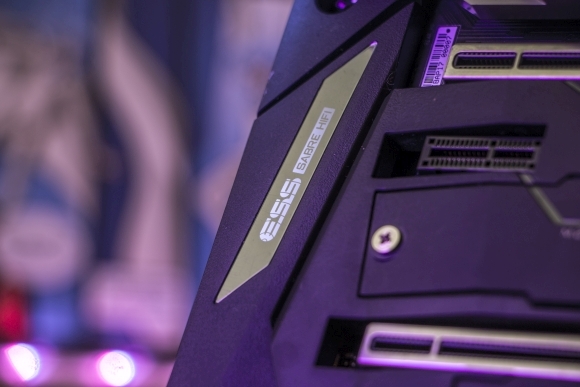 Furthermore, the system is paired together with an ESS ES9018K2M DAC and a TI OPA1622 amp for headsets. The system itself detects impedances between 6 and 600 Ohms. The front panel supports DSD audio and gives us options for stereo, 7.1 Surround Sound, and everything in between with S/PDIF (digital) line outs.
Power
As an extra crisp detail, AORUS Z390 XTREME Waterforce is equipped with dual 8-pin EPS and 24-pin ATX 12V reinforced power connectors. This is a part of GIGABYTE's patented Ultra Durable system and contributes significantly to the perceived quality of the motherboard.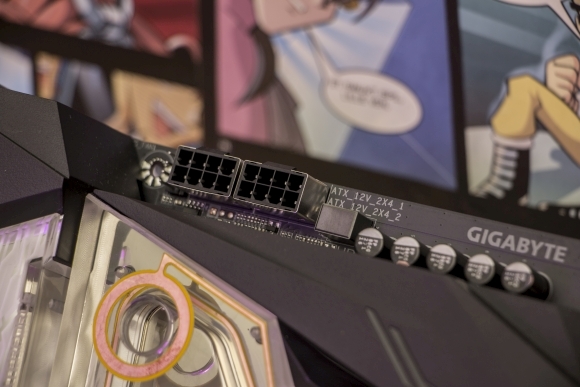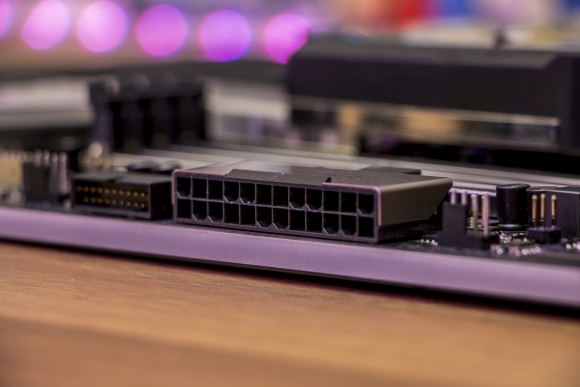 Other curiosities include both addressable and standard RGB headers, power switches for the motherboard, an OC button to install a predefined OC into the BIOS, and a Clear CMOS button.
Lastly, we have a debugging LED that shows the CPU temperature if everything runs smoothly. Oh, and we also find an internal USB 3.1 connector.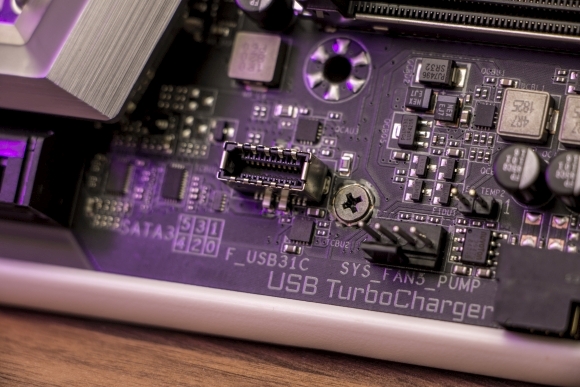 In other words, this AORUS motherboard doesn't have any connectivity issues. To highlight this, the board is also rigged with loads of fan headers that all support PMW fans.
Network
Besides the standard Intel Gigabit LAN chip, we are treated with an Aquantia 10Gbps LAN chip which happens to be cooled by the integrated water block. This ensures maximal performance. Some of you might think that 10Gbps seems overkill, just remember that not many years ago 1Gbit seemed impossible. The motherboard is just prepared for the future.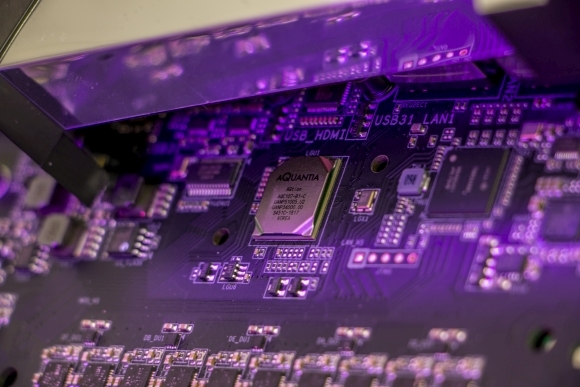 Furthermore, we have an integrated 2x2 Intel Wi-Fi module giving us some wireless options to say, "hello world". 2x2 speed seems like a small miss to me as it is initially limited to 866Mbps on the 802.11ac band. But, as the module is unlocked to run on the 160MHz frequency, we can still achieve 1733MHz given that our router can communicate on the 160MHz band.
The I/O cover is pre-mounted on the motherboard – and it is jam-packed with RGB if you don't have enough already. If for nothing else, this gives you some valued light for plugging in peripherals in a dark room. The pre-mounting eliminates the hassle with springs getting stuck in sockets on the I/O panel – we've all been there through inattention or haphazard planning.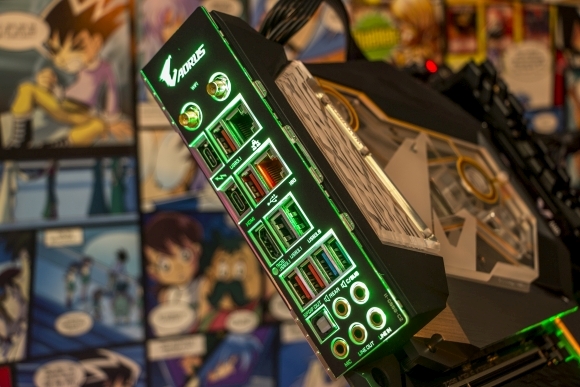 Price
AORUS Z390 XTREME Waterforce is a motherboard that will give your bank account a somewhat empty feeling inside. With the Waterforce liquid cooling block, the MSRP is set at $900. You can also acquire it without cooling for a "mere" $550.
Conclusion
AORUS Z390 XTREME Waterforce has been a tough act to judge. On one hand, we have a gorgeous product here. It combines a complete high-end component layout with a full-cover liquid cooling block. In other words, it's like a dream come true for every gaming educated, hardware unsatiated, water cooling dedicated case modder out there.
On the other hand, we have a motherboard prepared for liquid cooling that costs $900. For that price, many of us could get a whole complete system!
But let's backtrack for a moment. Every gamer or case modder constantly craving for the best high-end onboard components will love getting their hands on the AORUS Z390 XTREME Waterforce. You get a razor-sharp ESS sound system with high profile DAC and with the ALC1220 audio codec from Realtek supporting all the fanciest formats.
Furthermore, you get a lightning speed 10Gbps ethernet that secures your network demands now and in the future. No more buffering issues on streaming and downloading. If cables are off limits, you get Intel Wi-Fi that with the help of the 160MHz band can provide 1700Mbps wireless action with only two antennae.
Naturally, you also get the water block with all kinds of RGB and some good cooling skills.
All in all, a motherboard that contains enormous possibilities, although I dearly miss a PLX chip giving us some more PCIe lanes to play around with. I can't comprehend why AORUS decided to cut expenses right there…
All being said, my gusto is severely dampened by the price tag. Not only does the Waterforce edition cost $900, but you can also skip the cooler and pay only $550. That's a whopping $350 for a cooling block – terribly hard to justify.
If I should give out points for the price only, AORUS Z390 XTREME Waterforce would score as low as the 1977 Tampa Bay Buccaneers (Ok, a 70's sports reference might be pushing it, but they scored really few points that year!)
But the price is only part of the equation, and the performance is great, so my assessment must land on an 8.5 and an Enthusiasts Only Award.
Good:
Sublime cooling
Full cover water block that cools both the Aquantia chip, VRMs, and M.2 drives, besides the chipset and the CPU
Clean and slick design
The many RGB options make personalization easy
Ultra Durable connectors
The large backplate that helps cooling down the system
Room for a massive 128 GB DDR4 RAM
The potential for a killer onboard sound
The Aquantia 10Gbps NIC future-proofs the motherboard
Not so good:
The price is grotesque and will scare away most of us
No PLX chip or anything like it?
No option for PCIe Gen. 3 x16 speed with two GPUs
One of the RGB light cables is frustratingly short – a source of irritation when mounting the full cover water block