AUTHOR : Berleburg
PUBLISHED : 2020-05-09 14:13
AMD Ryzen 3 3100 and 3300X
AMD has come up with two new Ryzen 3 CPUs based on its Zen 2 architecture and are now ready to do battle with the 10th generation series from Intel.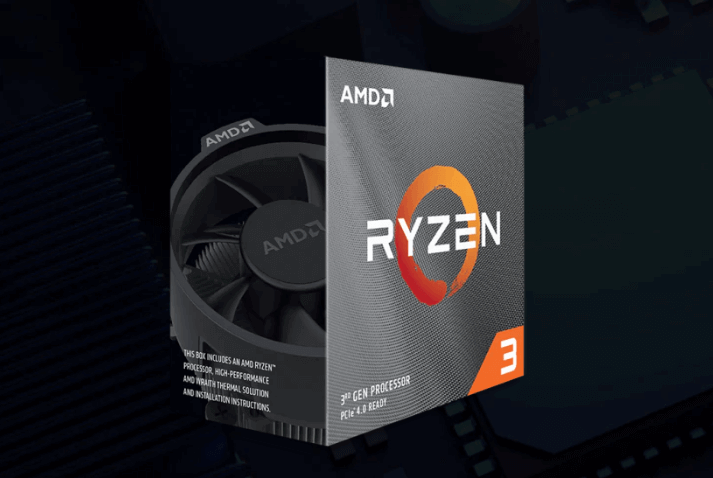 If you are, in just the slightest, a tech savvy, you'll know that AMD has been making a dent on the market over the last couple of years with its Ryzen series of CPUs. This also means that for the first time in years, Intel has met a worthy opponent in terms of performance, but even more so in terms of pricing.
With AMD's Zen 2 launch, this development has only been continuing, and the Ryzen 9 3950X with its 16 cores and 32 threads is truly a beast.
However, as impressive as the 3950X might be, this is not the segment that most consumers find themselves in and in terms of pure value, this might also not be the best option if you're looking to build a gaming rig on a budget.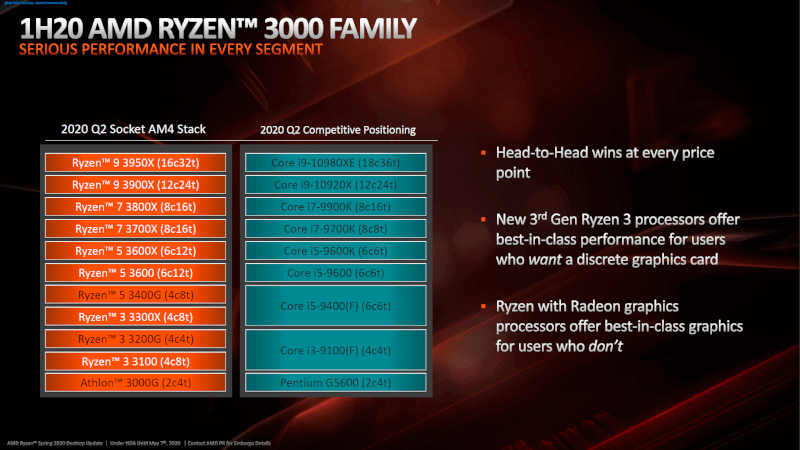 As such, in order to target the majority of consumers, AMD has released some quite reasonable options: the Ryzen 3 3100 and Ryzen 3 3300X.
These are processors that are aimed towards the cost conscious consumers that, according to AMD's own wording, are still looking for solid performance. The release of the new CPUs from AMD has happened somewhat quietly compared to some of its previous releases.
This is in large due to the fact that this particular segment isn't one that pushes the envelope of technology in the same fashion that some of its higher end offerings do.
This is truly ironic since a higher end CPU like the Ryzen 9 3950X doesn't belong to its most sold products. It is exactly the same that we see with graphics cards where we also find the majority of consumers investing in low- to midrange products. It's the exact same with these two new CPUs from AMD.
AMD Ryzen 3 3100 and 3300X Specifications
The two new processors from AMD are based on the 7 nm Zen 2 architecture. So it's essentially the same platform as the top end processors from AMD.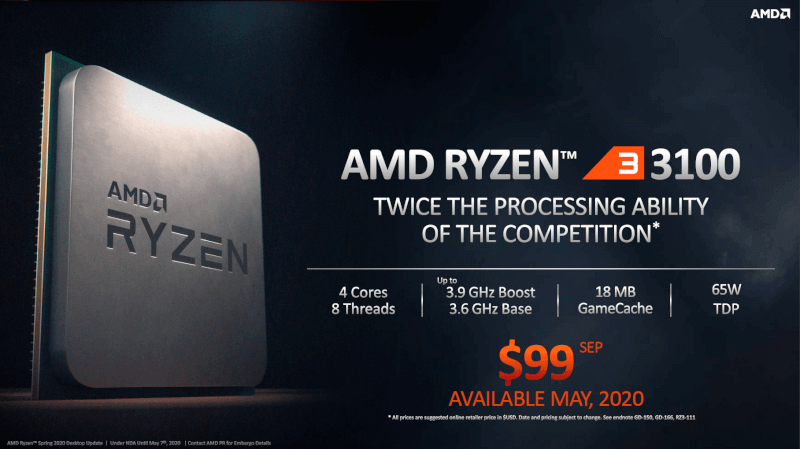 The AMD Ryzen 3 3100 comes with 4 cores and 8 threads, a base clock of 3.6 GHz and a boost clock of up to 3.9 GHz. The AMD Ryzen 3 3300X also comes with 4 cores and 8 threads, but with a higher base and boost clock of, respectively, 3.8 GHz and 4.3 GHz.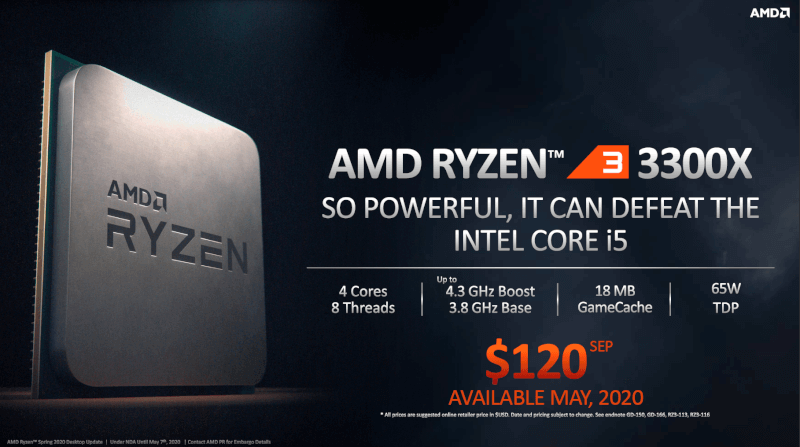 One thing that the Ryzen 3 3100 and Ryzen 3 3300X share in common is the 80% larger cache compared to previously released Ryzen CPUs. This means that they now sport a cache of 18 MB. On top of that, AMD has expanded its support of PCIe 4.0 to include its new Ryzen 3 series. This means that the 3100 and 3300X come with 24 PCIe Gen. 4 lanes.
Both the Ryzen 3 3100 and Ryzen 3300X have a TDP of 65 W and are bundled with a Wraith Stealth cooler.
Eco-Mode
A new feature that AMD has included on the Ryzen 3 processors is the cTDP technology which is previously known from its mobile CPUs. This means that you have the option of adjusting the TDP of the processors. For instance, if you are running it on a setup that is challenged in terms of cooling.

On the desktop version AMD has dubbed this feature Eco-Mode. It allows you to lower the TDP of the processor to merely 45 W. This might be useful if you, for instance, want to run the processor in an HTPC, NAS or similar system, where the demands in terms of pure performance are not as high, but you still want to be able to utilize the higher core and thread count. This is thereby done in a more energy efficient and quiet way using the Eco-Mode option.
In the video below, Eco-Mode is showcased.
B550 Chipset
In addition to presenting its new CPUs, AMD also presented its new B550 chipset, which is made with the new Zen 2 based Ryzen 3 processors in mind.
B550 is designed to bring some of the more exclusive features of some more expensive motherboards to this budget-friendly segment of the market.
It's a direct follow-up to the B450 chipset and it does bring with it some useful new features that you might be able to take advantage of.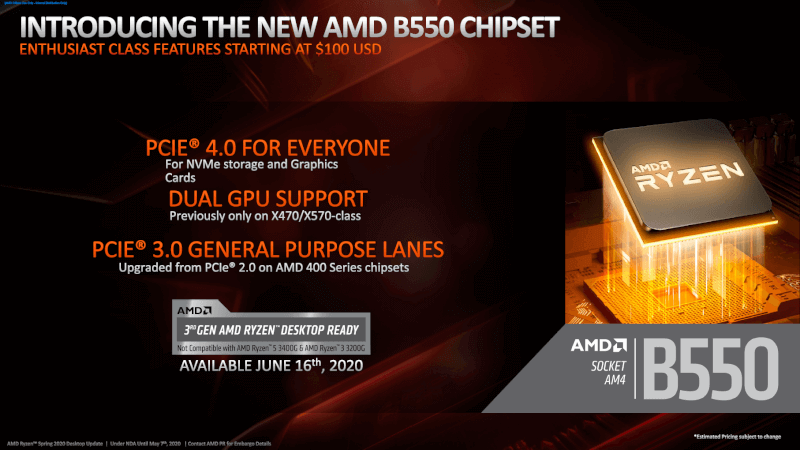 One of the most important improvements with the B550 is the support of PCIe Gen. 4 graphics cards and storage solutions, such as M.2 NVMe on the motherboard, with direct connection to the processor. Also, the USB ports have been upgraded too, which means that the USB 3.1 Gen. 1 ports have been upgraded to USB 3.2 Gen. 2.
If you belong to the select few consumers that are looking for dual graphics card support then you are also in luck with the new B550 chipset. There's also been an upgrade to the General Purpose and CPU Upload PCIe lanes so that they now both are PCIe Gen. 3.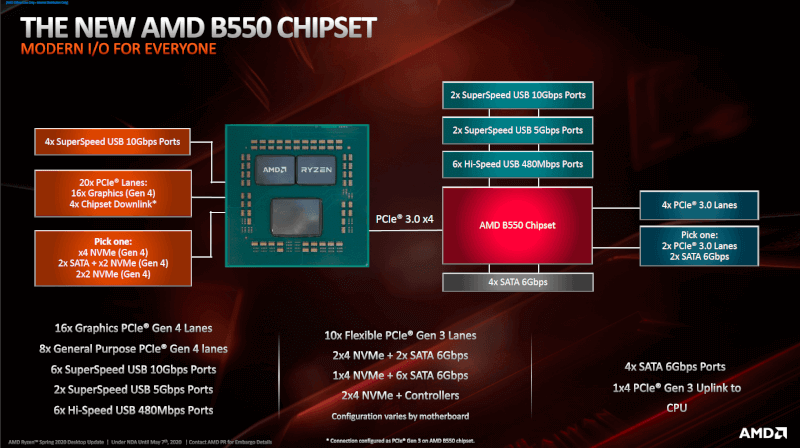 The B550 also follows the AMD Ryzen tradition of unlocking them for overclocking.
The new B550 chipset is expected to hit the market in June with boards being made from ASUS, Biostar, Colorful etc. This means that we haven't been able to test the new AMD Ryzen 3 processors on the new B550 chipset since it is simply not yet available.
Testing the Ryzen 3 3100 and Ryzen 3300X
In its promotion of the new Ryzen 3 series, AMD has been very gaming oriented, and therefore this is also the direction that we've taken with this test. This means we have focused less on the synthetic workloads and focused more on how the Ryzen 3 3100 and 3300X manages being a cornerstone of a gaming build.
On paper, the Ryzen 3 3100 and Ryzen 3300X specifications land them quite nicely in a low- to midrange system. So, today's test is done in a way that you'll get a sense of what performance you can expect from a budget-friendly gaming system based on these new CPUs from AMD.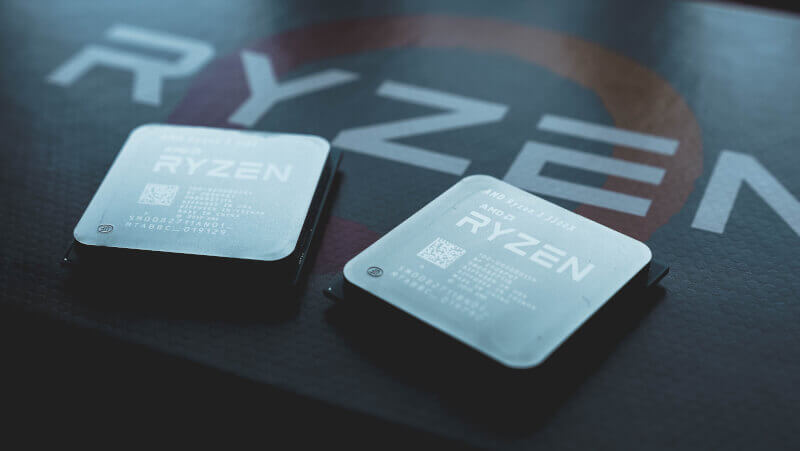 Due to the fact that the B550 chipset isn't yet readily available, and won't be until June, we haven't been able to test the CPUs on a B550 platform. Instead, we've tested on an X470 chipset, which is the most comparable option we have available. The basic differences between X570/X470 and B550 shouldn't make much of a difference in terms of what we'll be testing today.
There's no doubt that the upcoming B550 chipset will be an ideal match with the new Ryzen 3 CPUs, but functionally, it shouldn't make a difference in our benchmark testing.
The complete setup consists of:
ASRock X470 Master SLI

16 GB G.Skill FlareX 3200 MHz RAM

PowerColor Radeon RX 5600 XT
The above should make up for a quite reasonable gaming system that in terms of core components will cost you around $800 if you opt for the Ryzen 3 3100 and around $820 if you go with the Ryzen 3 3300X.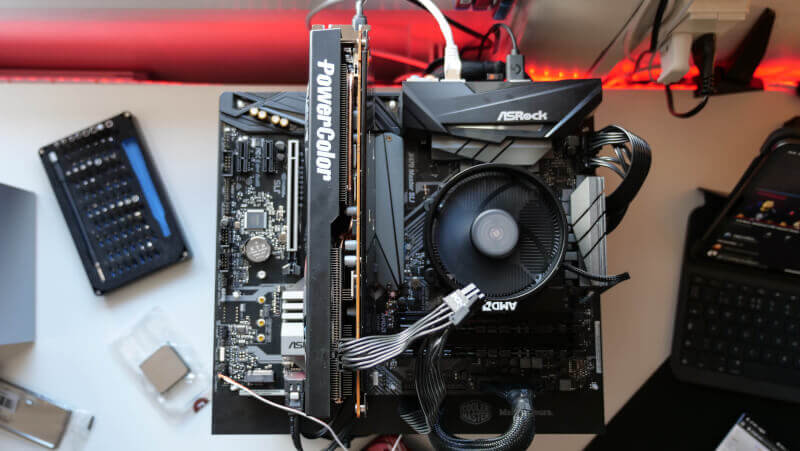 However, remember that you also need to add a power supply, storage, a case, monitor and so on, to the equation. So, it's only the core components we've looked at here.
During our test, Windows, various programs and games were installed on regular 2.5-inch SATA SSDs.
All tests have been performed on stock CPU and graphics card settings, and with all extra Radeon features disabled.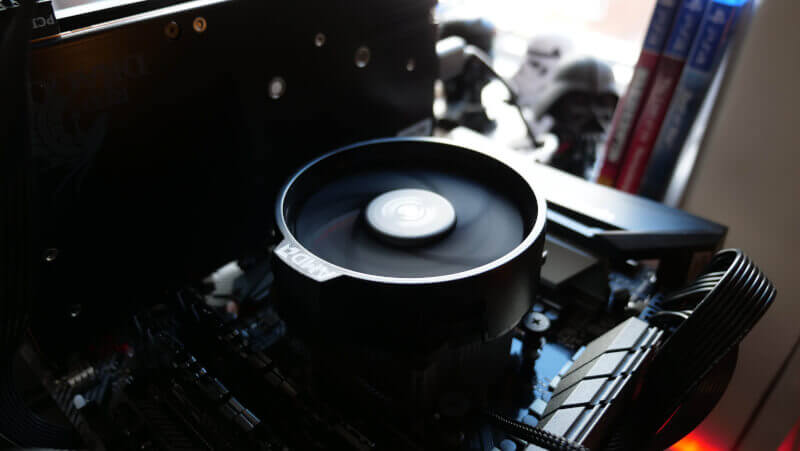 All of the tests have been performed using a Wraith Stealth cooler. The one that you'll get in the bundle when purchasing either of these new CPUs.
We start things off by throwing the Ryzen 3 3100 into our test bench.
A test with the system running at its full load quickly revealed that the processor was able to reach the specified boost clock of between 3.8 and 3.9 GHz.
The temperature topped at a stable 73 °C after 15 minutes of full load.
Under normal circumstances, it's unlikely that the CPU will encounter that kind of workload, but it's good to see that the Ryzen 3 3100 does reasonably well here.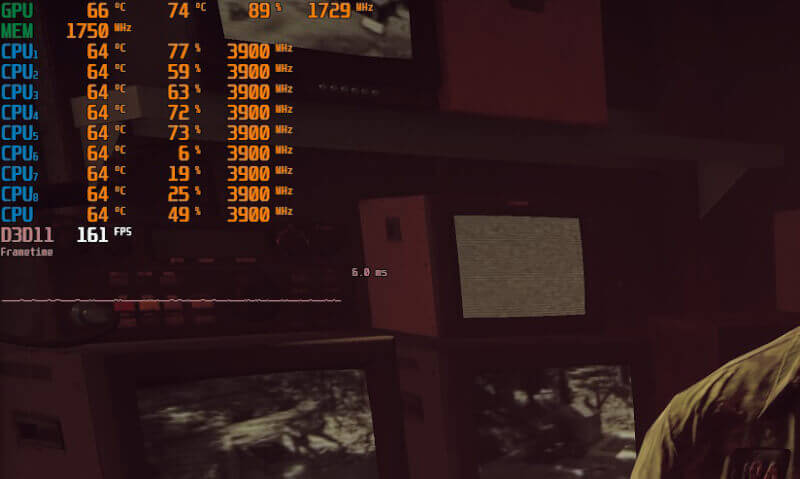 Subsequently, I tested the system under normal gaming load with an hour of Far Cry 5 gaming. Here, I also noted that the CPU ran at an average boost clock close to the specified 3.9 GHz. Also, the temperature reached a maximum of just 64 °C.
So, we are off to a very promising start and AMD seems to have fulfilled their promise quite well for the smaller of the two new processors.
When I ran the Ryzen 3300X through the same test, I reached a boost clock of 4.1 GHz under full load and a temperature that peaked at 80 °C. Here, it was evidently harder to maintain a high boost clock on average. However, it is still within the specifications provided by AMD, and it is most likely the high temperature that is the reason that we didn't experience the same stable boost clock as we saw with the Ryzen 3 3100.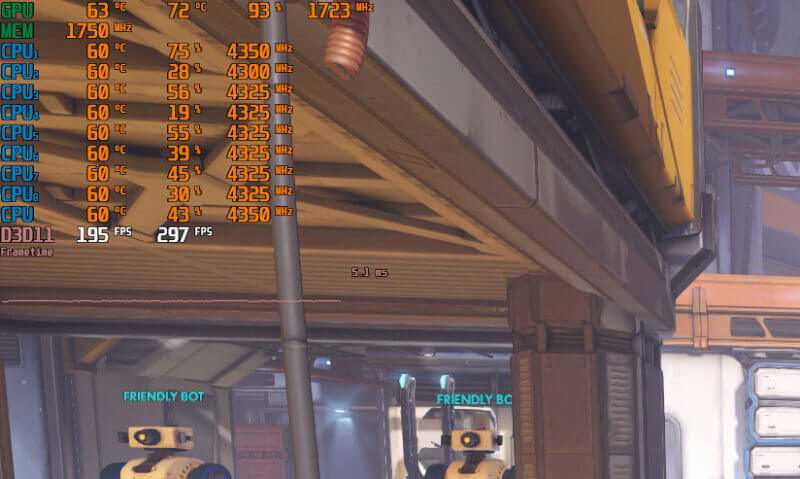 However, when I tested the processor in games, including Far Cry 5 and Overwatch, the results were better. Here, we saw an average boost clock barely beyond the specified 4.3 GHz and a temperature of merely 64 °C.
Sure, it was a boost clock of 4.35 to 4.45 GHz, but still a very fine result, and you won't ever hear me complain of a result that goes beyond the specifications provided by the manufacturer - however slight it may be.
In its review material, AMD compares its new CPUs to Intel's Core i5-9400F and Core i3-9100. We haven't had the chance to compare these CPUs, though, and therefore, we've used our normal test setup as a basis for comparison. Here, the processor is an Intel Core i7-8700K, which is a 6-core and 12-threads processor with a boost clock of up to 4.7 GHz. This might seem like an unfair comparison, which is kind of also is. But once we go over the results, it should still give you quite an idea of the value of the new CPUs.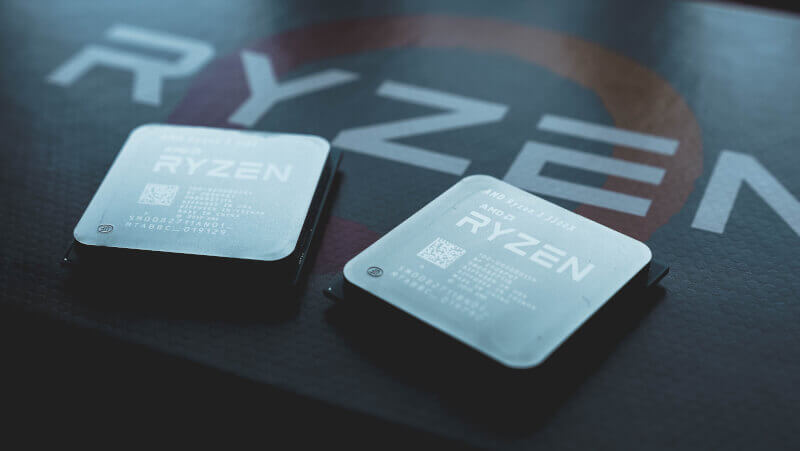 A 8700K processor is currently priced at around $425, when purchased as a tray processor (around $460 boxed), which is much more than what you have to pay for the new Ryzen 3 processors.
The three test systems are using the same hardware, apart from the CPUs and motherboards. If we compare them in 3D Mark Fire Strike Ultra, we see that the results are very close. Fire Strike Ultra gives us a total score based on graphical performance and the CPU's ability to manage more demanding physics calculations.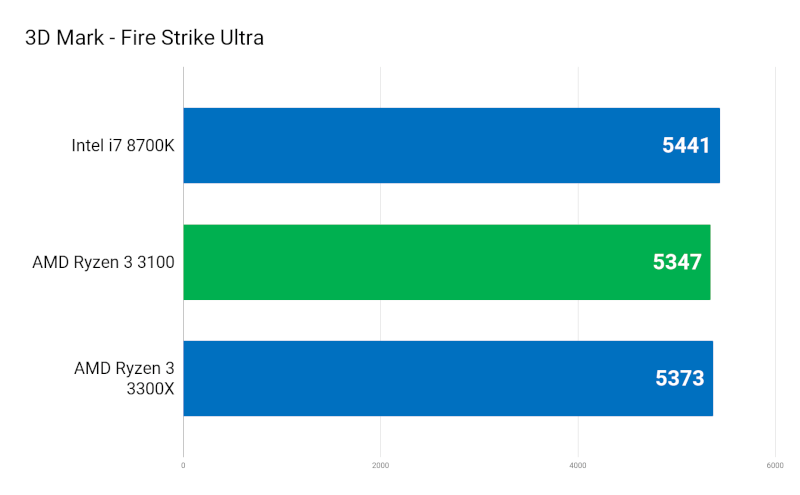 The difference between Intel and the Ryzen CPUs is in both cases less than 2%.
There's no doubt that Intel takes the lead if you look at the physics score isolated, where the extra cores and threads come in handy. But an overall score with that small of a difference actually surprised me quite a bit.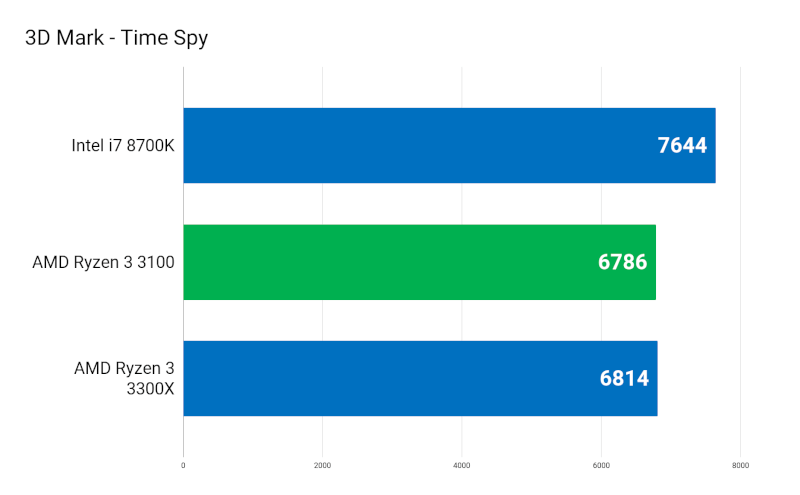 If we move on to the newer 3D Mark Time Spy test, the difference is a bit more evident since there is an even greater focus on the CPU in this test. Here, the difference between Intel and AMD is around 12%. It seems a bit more noticeable that the AMD processors are equipped with fewer cores and threads.
It's important to keep in mind, though, that the price of the Intel 8700K CPU is roughly four times higher than that of the Ryzen 3 processors. In that light, the results are actually quite impressive in AMD's favor.
I also indulged in actual game benchmarks, in order to see how the new CPUs from AMD would hold up against the technically superior Intel processor.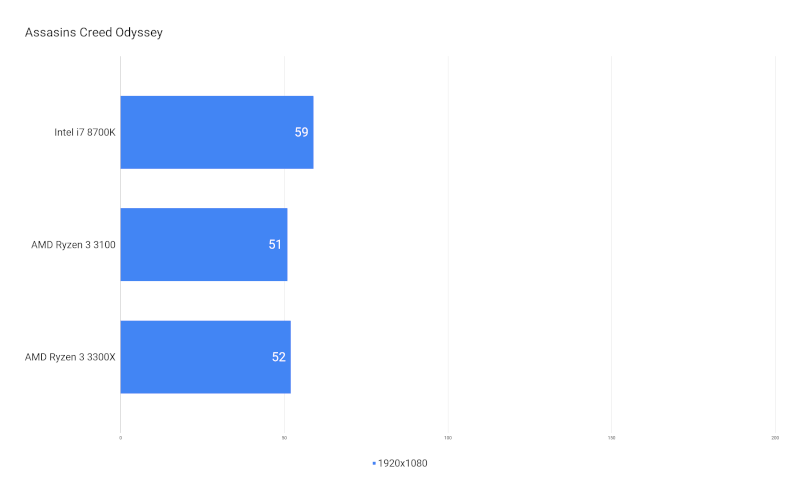 We start things off with the demanding Assassin's Creed Odyssey. To no one's great surprise, Intel takes the lead here. However, yet again, it was surprising to see just how well the two AMD CPUs were able to keep up, and how small the difference actually was.
There's no doubt that Intel is ahead, but I think that most gamers will have a hard time telling the difference in performance when playing the game.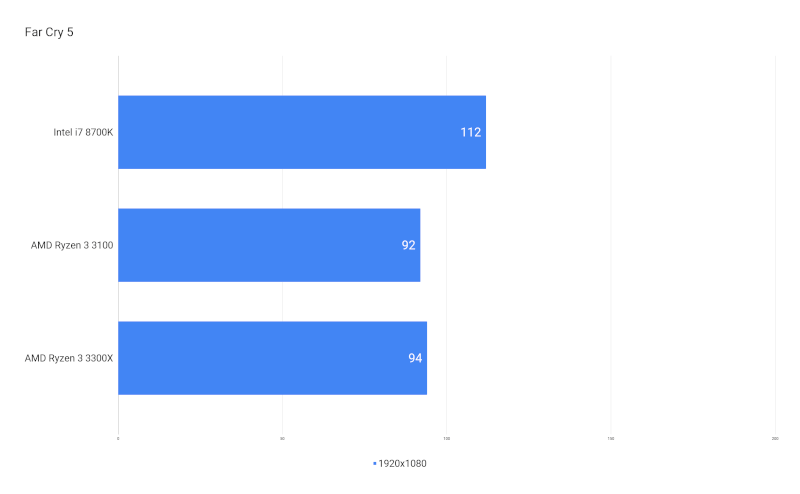 We move on to the next game, Far Cry 5, which is less demanding. Again, Intel takes the lead, but the overall narrative remains the same. Both of the AMD CPUs are very close, and when you consider the price difference, you cannot help but be impressed.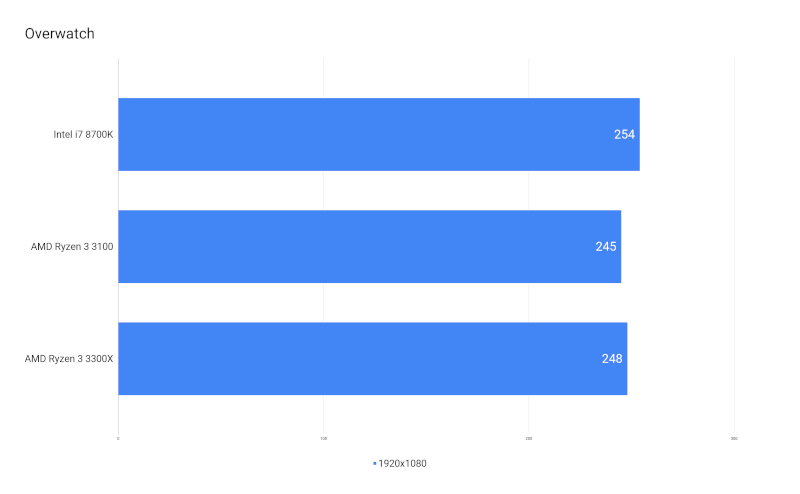 Lastly, we try out the systems in Overwatch, which is a popular and comparable esport title. Here, the gap is almost eliminated. Intel barely squeezes ahead, but the two Ryzen 3 CPUs are breathing down Intel's neck.
Price
The price of the Ryzen 3 processor is expected to be $99 and $120 and that is bundled with a Wraith Stealth cooler. These are both some very affordable prices. In my tests, the two new CPUs were able to handle 1920x1080 gaming without breaking a sweat.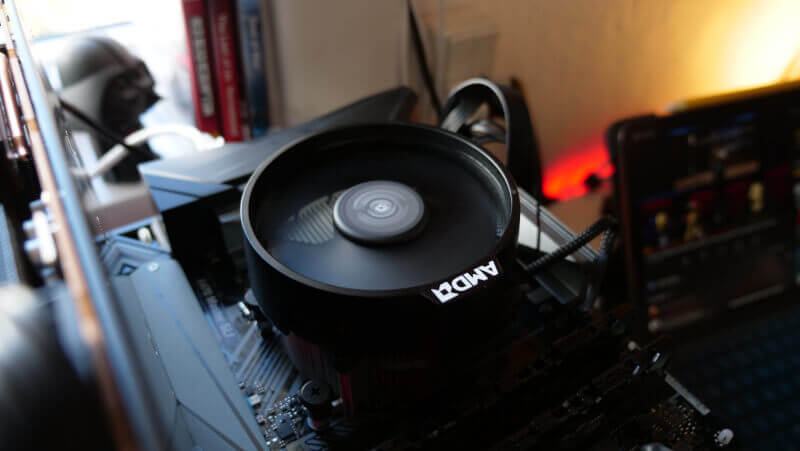 I also tested in 2560x1440, which also didn't give rise to any issues at all. One should also keep in mind that once you transition into the realm of higher resolutions and fidelity, the likelihood of your graphics card becoming the bottleneck is much higher.
It's really hard to complain about the pricing of these two new products, and when you compare them to the expected prices of Intel's new 10th generation i3 CPUs with comparable specifications, AMD clearly wins.
Conclusion
It has become quite common to see AMD bring solid entries into the market with its Ryzen series. Until now, most of the focus has been on the more expensive products, and the battle that AMD is fighting with Intel over the higher end segment.
I personally find that the more interesting battle is to be found with the more budget-friendly offerings. All things considered, this is the shelf from which the far majority of consumers pick their hardware. Spending $2,000 or more on a gaming PC is something that only a small percentage of buyers are capable or willing to do.
The new Ryzen 3 3100 and 3300X CPUs land perfectly into the huge market with prices in the range of $100.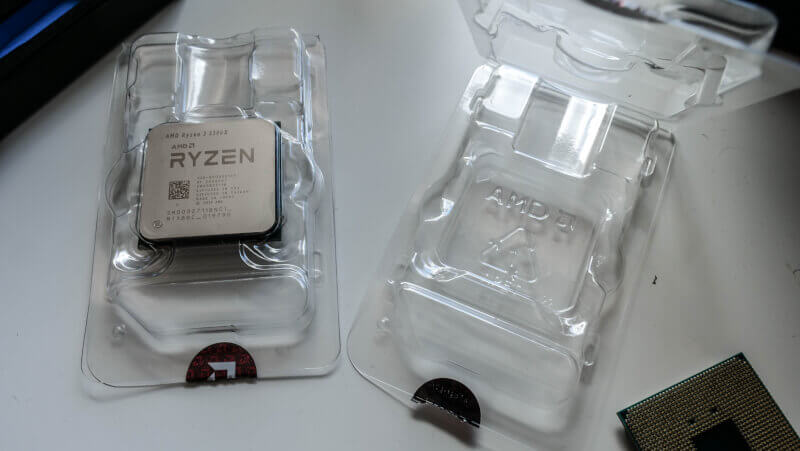 It needs to be mentioned that this test has been somewhat hindered since we haven't had any directly comparable CPUs from Intel at hand and we don't have the Core i5-9400F nor the Core i3-9100 at hand. These are the CPUs that AMD explicitly mentions as competing products to their new Ryzen 3 series.
Intel's upcoming 10th generation i3 lineup, with the i3-10320, i3-10300 and i3-10100 also feature four cores and eight threads with comparable clock speeds. They haven't been released yet, though, but are currently listed with prices substantially higher than those of the Ryzen 3 3100 and 3300X.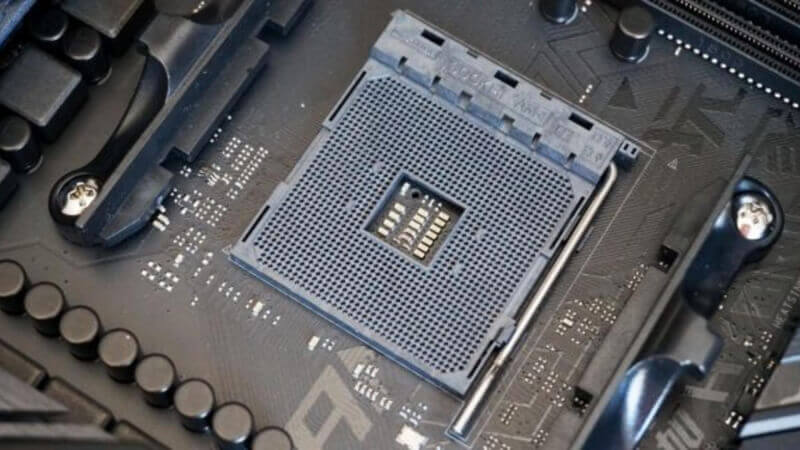 So, based on the test that I have been able to run here, AMD seems to be, quite convincingly, the victor within this budget-friendly segment.
On top of that, AMD's AM4 platform offers much more flexibility. Even though the Ryzen 3 3100 and 3300X are followed closely by the release of the B550 chipset, in contrast to the new LGA 1200 platform that Intel will transition to with the release of its 10th generation desktop CPUs, AMD does not require of you to invest in a new chipset.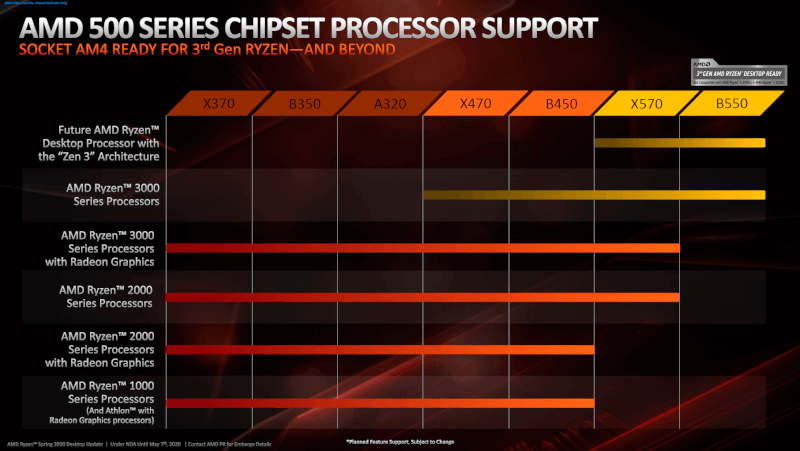 As such, the new Ryzen 3 CPUs will be compatible with a quite large selection of motherboards, all of which are based on the AM4 platform that AMD is continuing to support. As long as you have the option of updating the BIOS of your motherboard, they will continue to support the new CPUs. As a consumer, this is absolutely fantastic, as you are left with an abundance of hardware options. The new CPUs can be used on X470, B450, X570 and now also B550 chipsets.
If you decide to go with one of the newer chipsets, you also gain access to some features that you do not get with Intel. They've unlocked the processors in terms of overclocking. In addition, you get PCIe Gen. 4 support for both graphics and storage. Even though it on the graphical side doesn't really provide any practical difference it might make one in terms of storage, if you invest in a compatible M.2 NVMe SSD.
In any case, this means that the B550 motherboards are significantly future proofed, in case you decide to take advantage of PCIe 4.0 somewhere down the road.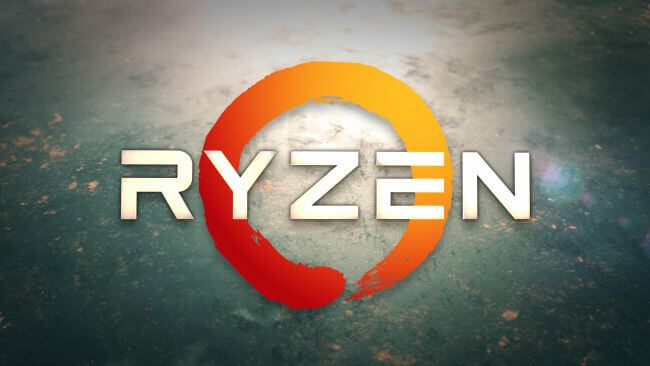 In general, I find that AMD's has made an incredibly strong case, with its new Ryzen 3 CPUs, within the budget-friendly segment.
They were able to handle the tasks we threw at them with ease, and even at higher clock speeds than specified. With the underlying 7 nm architecture, this allowed them to do so to perfection even with a simple Wraith Stealth cooler, which is the smallest of all of AMD's stock coolers.
If you spend a bit extra on the cooling, you should definitely be able to squeeze out even more performance.
Ryzen 3 3100 or 3300X?
If you were to compare the two processors, I'd have to say that I find the 3300X to be the most reasonable pick. This is largely due to the price difference between them being so small. You get quite a bump in clock speeds for only $20.
During a synthetic full load test, the Wraith Stealth cooler to some degree met its match with the 3300X CPU, but during normal gaming, the problem was unnoticeable and I even noted stable all core boost clock speeds of around the specified 4.3 GHz, with a few spikes above it, even during long gaming sessions.
If you want to save a bit in favor of other parts of your system, the Ryzen 3 3100 is only marginally behind its bigger brother.

If you plan on building a gaming system from a budget-friendly starting point, then I find the Ryzen 3 processors a very reasonable place to look. Both the 3100 and 3300X manage incredibly well, and with a wide range of AM4 motherboards out there, you have a very flexible platform to work with.
There are of course other options from both Intel and AMD that will give you even better performance, but if we consider just pricing, features and flexibility, then it quickly becomes very hard to beat the Ryzen 3 3100 and 3300X.
We arrive at a final score of 9 and a Great Product Award for two CPUs that will provide you with a very solid foundation in any budget-friendly gaming system.
Pros
Price

No new chipset requirement

AM4 compatibility

Stock coolers perform well
Cons