AUTHOR : Berleburg
PUBLISHED : 2019-03-14 19:17
Corsair Carbide 678C - Review
The Carbide series of computer cases from Corsair is not the newest of its kind, but the 678C case, which has just joined the Carbide-family, certainly is, and today we will take a closer look at it. We're dealing, here, with a full-grown mid-tower that focuses on sound dampening, but doing so in an aesthetically pleasing, yet low-key, fashion.
Among its more noticeable features we find a tempered glass side panel mounted on hinges, bucketloads of room for fans and radiators, an open and modular layout, and last, but not least, a front panel worthy of 2019, which includes a USB 3.1 Type-C port. These features, and a lot more, make the Carbide 678C an utmost exciting case, which we will be inspecting from all possible angles in this test. As usual, let's start with a technical overview by going over the specifications.

Specifications and Features
Given that I am writing this test under the NDA, which basically means that the Carbide 678C case hasn't officially been released yet, I took a dive down in my reviewers guide and fished out a bunch of technical details that I'll list below:
Type: Mid-Tower

Dimensions: 549 mm x 239 mm x 497 mm (LxWxH)

Materials: Metal, plastic and tempered glass

PCI-slots: 7+2 vertical

Motherboard support: Mini-ITX, Micro-ATX, ATX and EATX

Drive bays: 6x 3.5 in and 2x 2.5 in, possibility of 9x 2.5 in if no 3.5 in is installed

Maximum PSU-length: 225 mm

CPU-cooler maximum height: 170 mm

Graphics card maximum length: 370 mm

Dust filters: Front, bottom and top

Front panel: 2x USB 3.0, 1x USB 3.1 Type-C and sound in and out

Fan support (maximum):

Front: 3x 120 / 2x 140 (1x 140 included)

Top: 3x 120 / 3x 140 (1x 140 included)

Bottom: 2x 120 / 2x 140

Rear: 1x 120 / 1x 140 (1x 140 included)

Radiator support (maximum)
A Tour Around the Corsair Carbide 678C Case
Let's start our journey around the Carbide 678C case with a couple of overview shots (below). On the left-hand side, we find a large tempered glass side panel, and on the right-hand side, a clean metal side panel - your typical design similar to what can be found on many other cases. The first-hand impression screams of high quality and a clean, classy design.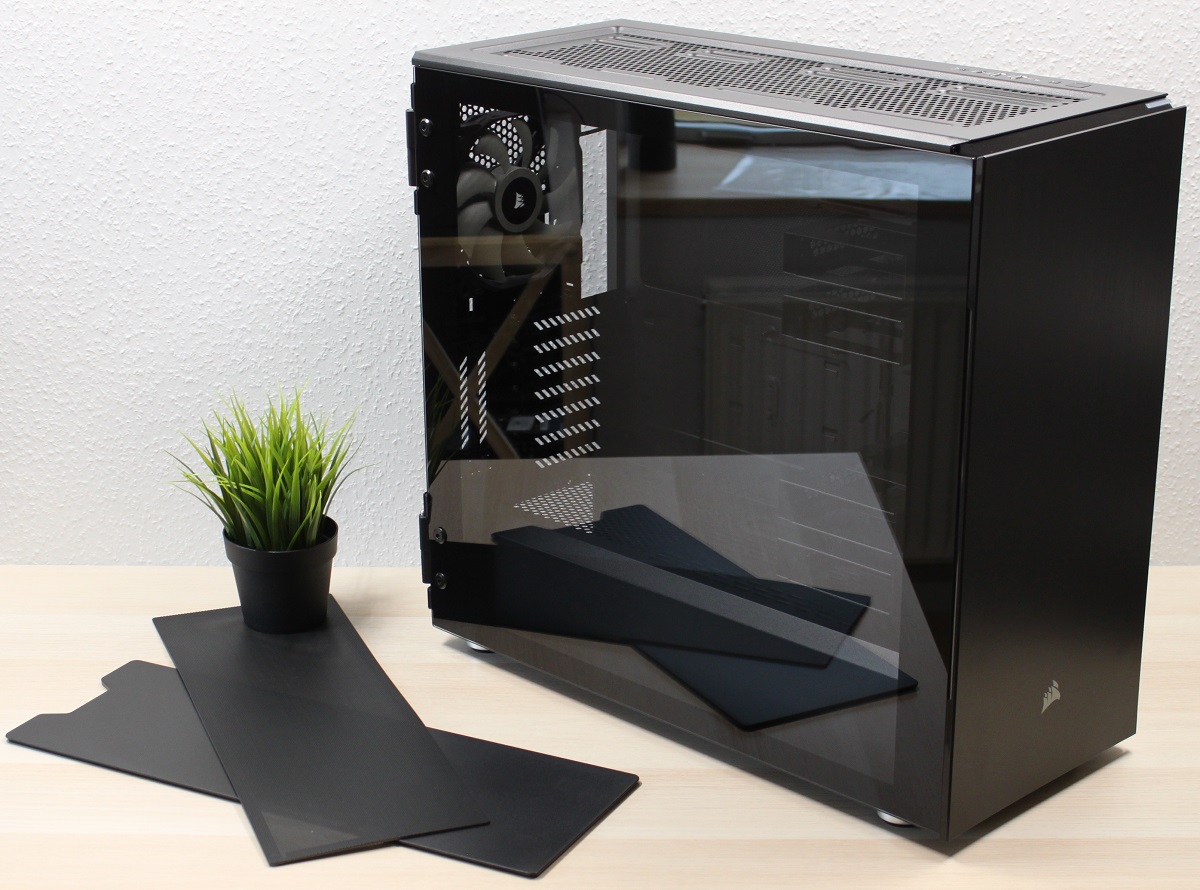 On the top of the case we find, not only a magnetic dust filter, similar to what you'll find on most other semi-high-end cases, but also an alternative solid panel that can be used, if one desires to achieve even higher levels of sound dampening. Both panels are installed with magnets, making it easy and very simple to clean them, and to alternate between the two. In terms of fan and radiator support, there's room for no less than three 120 or 140 mm fans or a 360 or 420 mm radiator. Corsair has pre-installed one of the three included 140 mm fans up here as well. Lastly, also on the top, we find the front panel that consists of two USB 3.0 connectors, one USB 3.1 Type-C connector and a single audio jack connector carrying both audio in and audio out.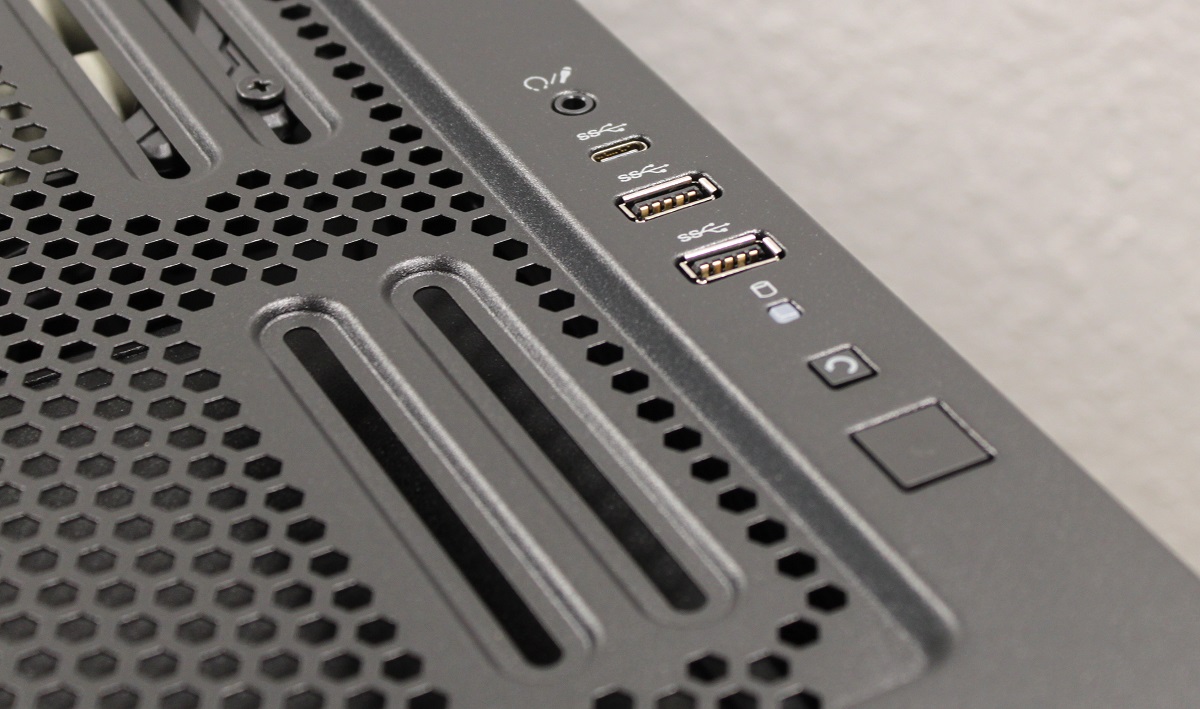 The front of the Carbide 678C consists of a magnetic door that opens to the left. Behind it, we find a dust filter that sits on top of yet another 140 mm fan. In the front we find room for a 280 and up to 360 mm radiator, which in reality means that the 678C can house two 360 mm radiators without any problems. Cool! Should one require it, the case can also room a 5.25 in drive.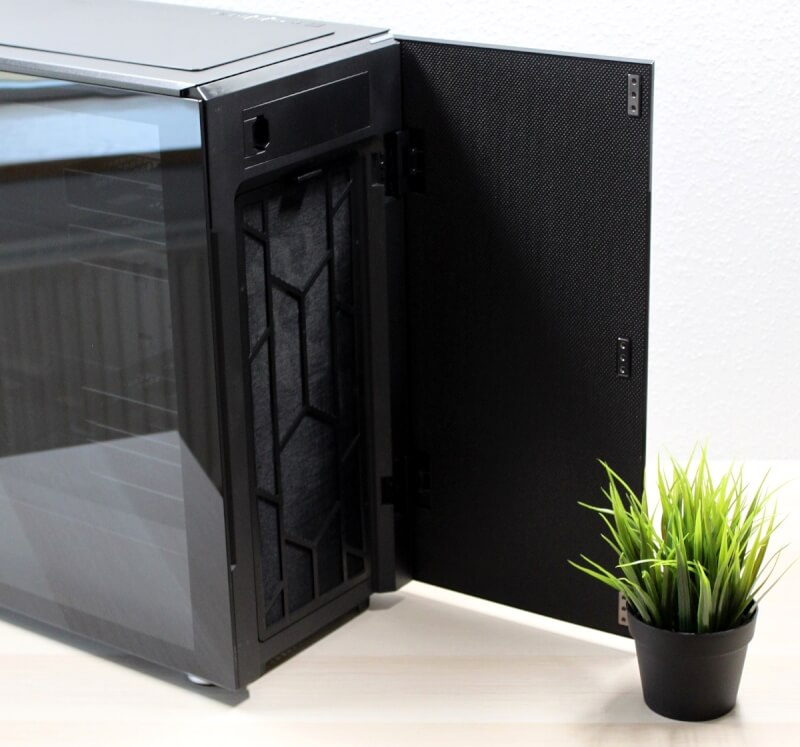 The rear of the case offers your typical layout with the power supply insert at the very bottom, above it we find the 7 + 2 vertical PCI-slots allowing for the graphics card to be raised vertically so that it may be seen clearly through the side panel. Further up, we of course find the mounting hole for the motherboard I/O panel, as well as the third 140 mm fan that is included with the case. It's installed on rails that allow for it to be easily positioned vertically.
In the bottom of the 678C we find four solid feet, in a metal look, and equipped with rubber bases in order to reduce vibrations. There's also a huge dust filter that can be drawn out from the front, in order to make it as easy as possible when it comes to cleaning it. Back in the day, these were typically extracted from the back side, which was impractical since it required one to move the entire computer around - not cool, when you're a nerd, right?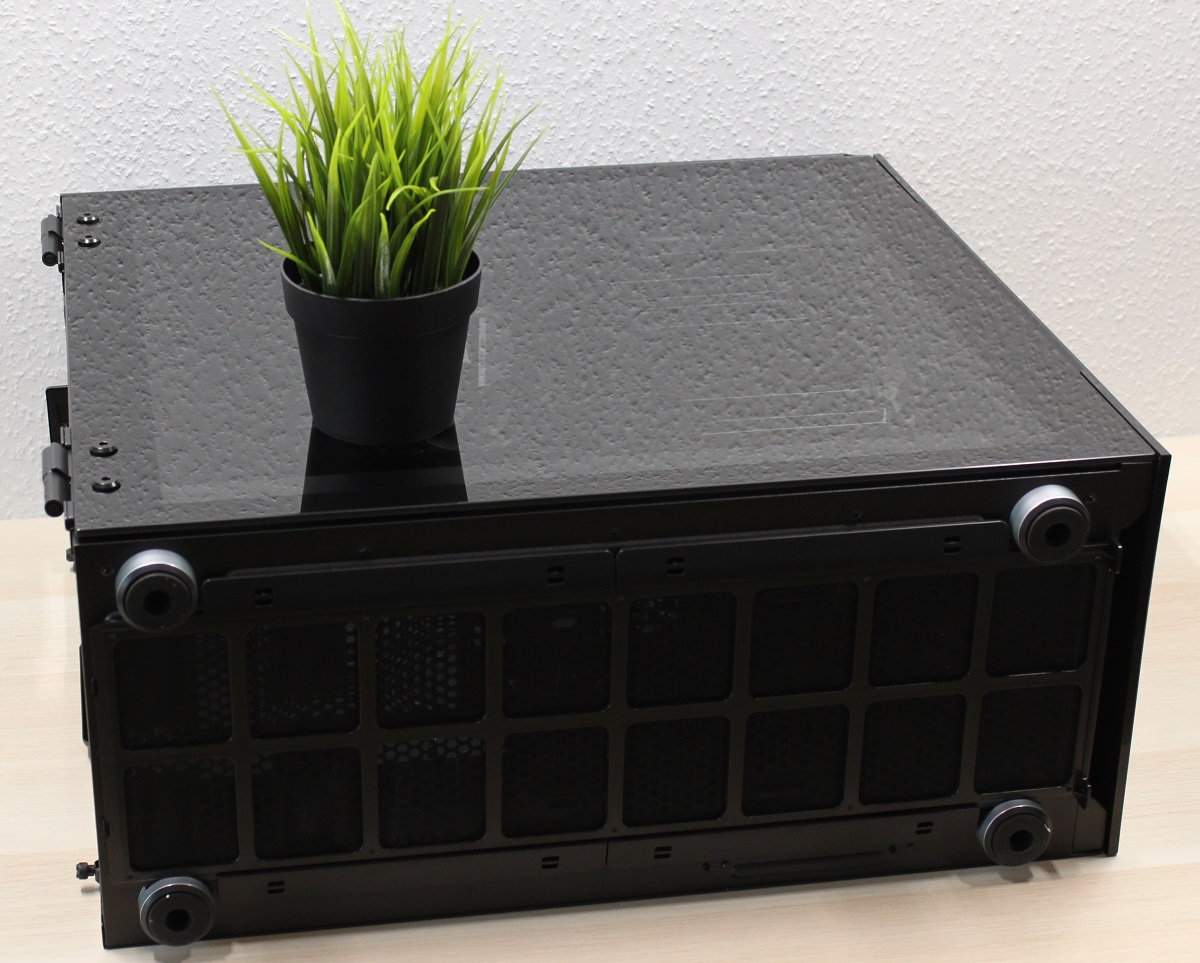 Where most other manufacturers make use of thumbscrews in order to attach glass panels to the case, the case is different with the 678C. Here, the glass is attached to two hinges, allowing it to swing open from the rear, and thereafter easily be lifted off. The window is held shut with two strong magnets, and it seems very secure and I strongly doubt that it would ever pop up by itself - even during transportation.
On the opposite side, which is a metal panel, we find a sound dampening material attached. The Carbide 678C aims at being as silent as possible, which is also why we find the same material on both the front door, as well as on the solid, magnetic panel in the top. Let's leave the panels for now, and have a look inside the case.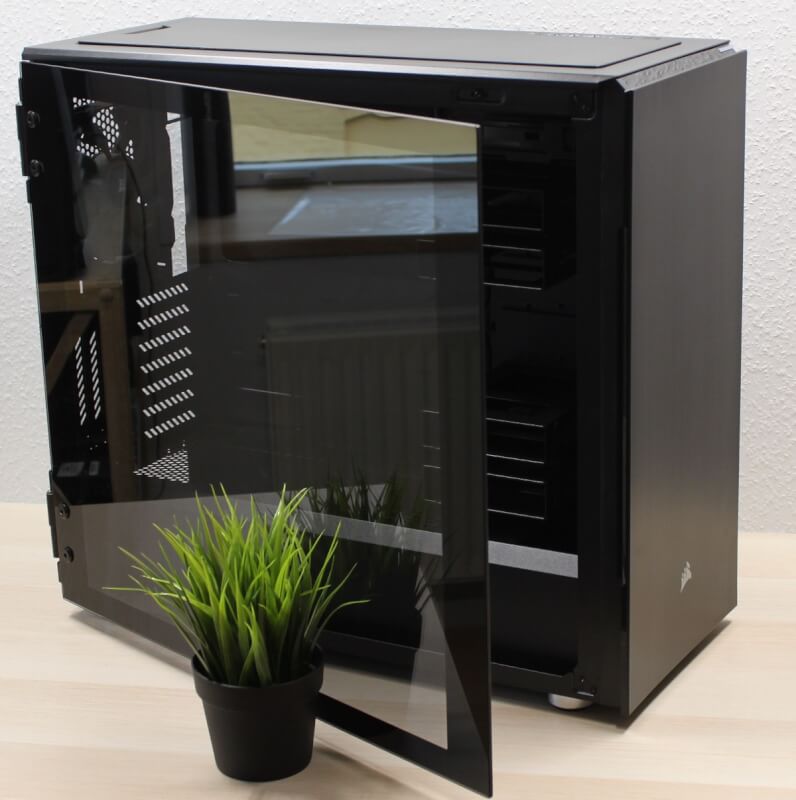 The Carbide 678C offers an open design that is only interrupted by some floating drive cages in the front section. There's a large PSU-shroud that runs along the entire length of the bottom and is ventilated and opened towards the front, allowing for radiator and fans to be installed. All the PCI-covers are naturally ventilated and fixed with thumbscrews so that mounting a graphics card, and such, can be done entirely without the use of tools. There's also a huge hole that makes it possible to swap out the CPU-cooler without having to uninstall the entire motherboard.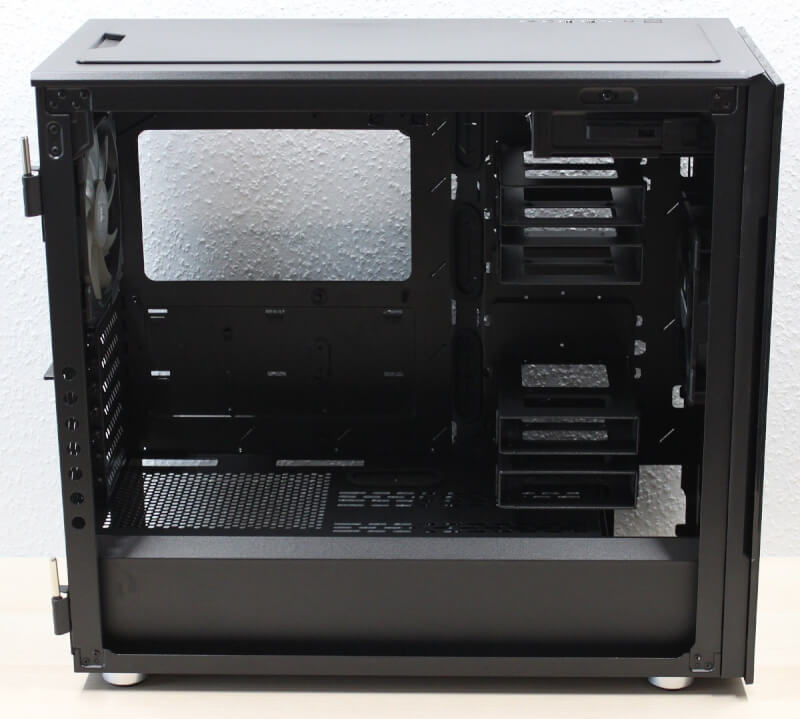 The PSU-shroud is permanently installed and cannot be removed from the case. There are three holes, of which one of them is equipped with rubber grommets, allowing for a more clean look when cables are drawn through it. This hole is ideal for the PCI-Express connectors for the graphics card, whereas the others are well suited for the front panel connectors.
In the top, we can easily see how much space of this open design that the floating drive cages are actually occupying, including the cage for the 5.25 in drive. However, all of these can easily be dismantled by simply loosening some thumbscrews.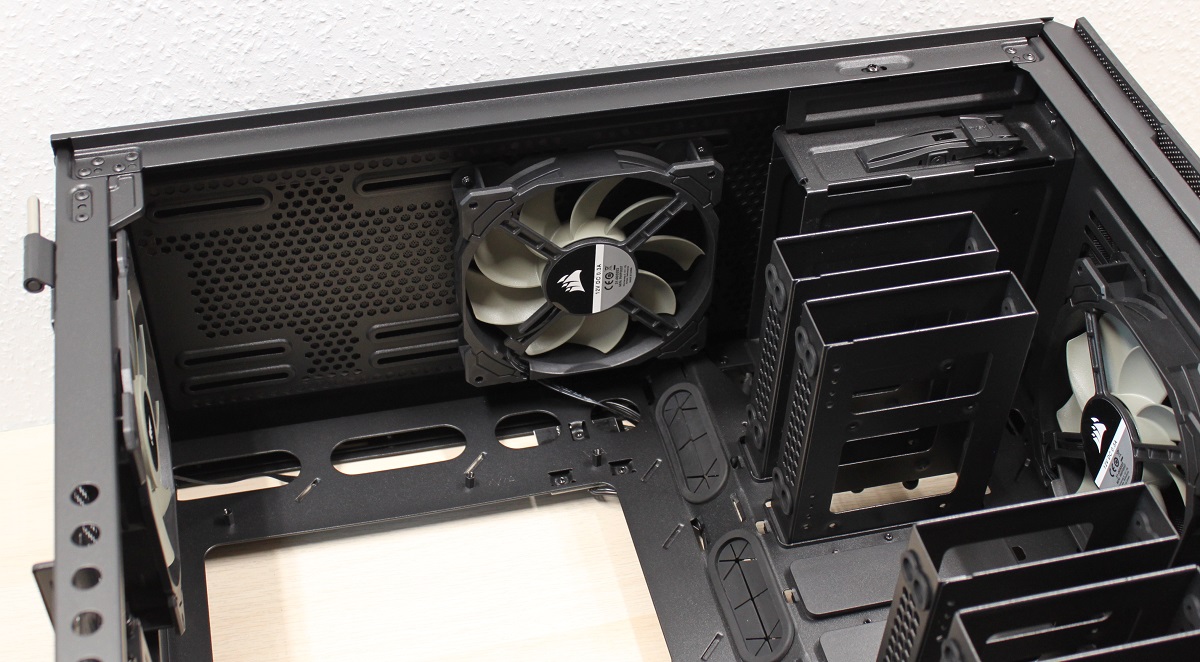 I've done that on the pictures below, where I've removed all four drive cages from the motherboard tray. The concept of a modular design is working well here, and it's both easy and straightforward to work with. However, should one wish to remove all the drive cages, and instead make use of the other mounting options (more on that in a minute), one will simply end up with four elongated holes in the front section. Corsair do provide two covers for these holes, but there are a total of six holes, in case you've removed all of the drive cages. I would therefore have preferred if Corsair had included four additional covers with this case. I prefer having leftover pieces rather than missing them.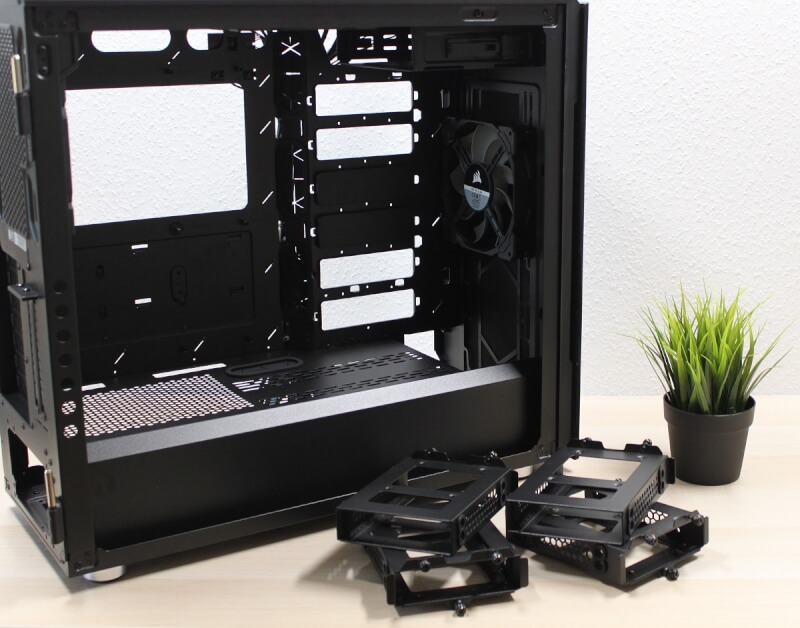 Let's put the drive cages back and turn the case around so we can take a look at the other side. On the back, there's a lot of interesting things to look at on the 678C. First and foremost, there's a dedicated mounting bracket for up to three 2.5 in disks. These can simply be clicked into place without the use of any tools.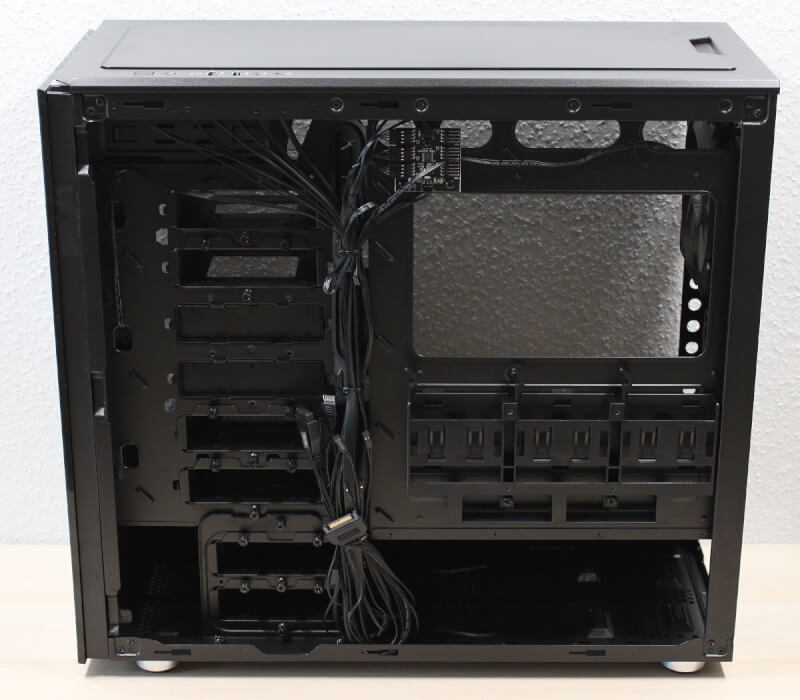 Apart from this, there's also a built-in PWM-splitter, allowing for up to six PWM-fans to be connected and controlled through a single header on the motherboard. There's also numerous places for zip ties to be attached. This, combined with the generous amount of space, makes cable management a breeze. In addition to the four floating drive cages, we also find two in the bottom that function in the same way, but cannot be seen from the other side. In other words, you'll be able to mount three 2.5 in disks, as well as two 3.5 in disks, all hidden and thereby allowing free passage of air in the front. Great!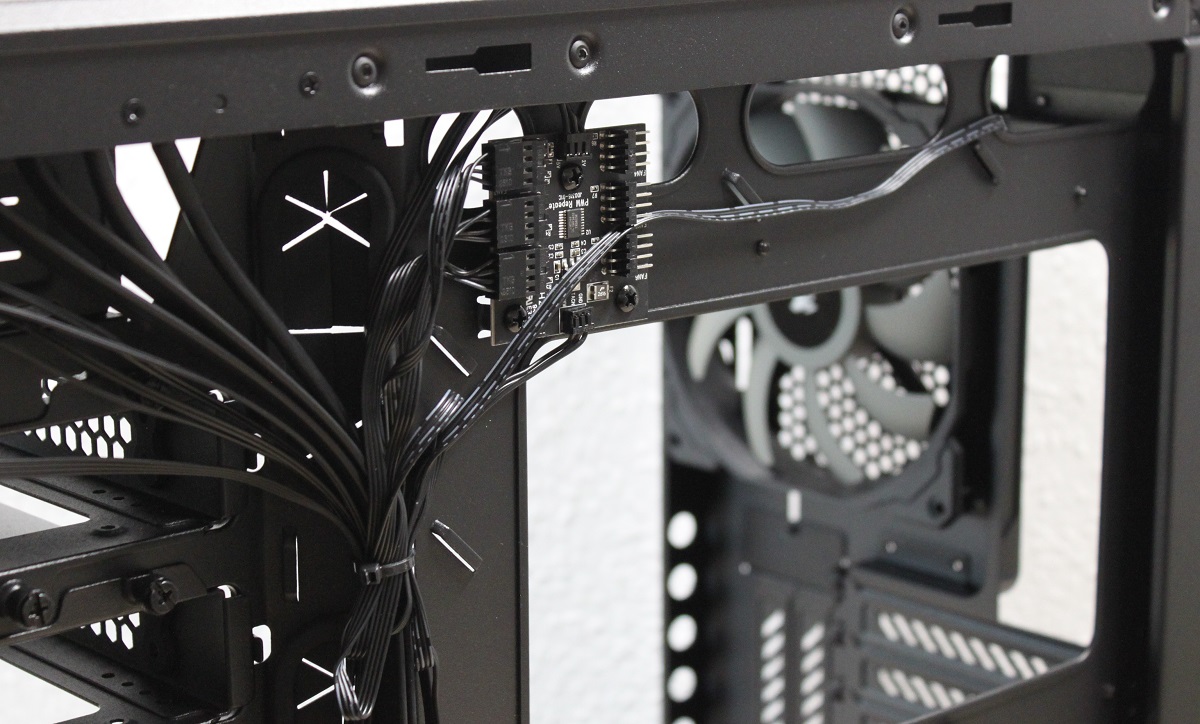 Hardware Installation
Let's throw some hardware into the 678C case, and have a look at how it actually is to build and work with. Whilst the installation of 2.5 in drives can be done without tools, the 3.5 in drives require the use of both screws and a screwdriver.
It's also from the back side that the power supply is installed into the case. As with any other cases that feature a PSU-shroud, it is recommended that you attach all the needed cables to the PSU before sliding it into place. The available room to work in can be very limited once the PSU is in place.
Below, you'll see the finished result of installing the hardware into the 678C, even though it's the boring side with all the cables. The whole process was very painless and straightforward thanks to the open design and lots of room for the cables on the back. Even if you decide to not use zip ties, in order to fix the cables, you'll have enough space to attach the side panel without any problems at all.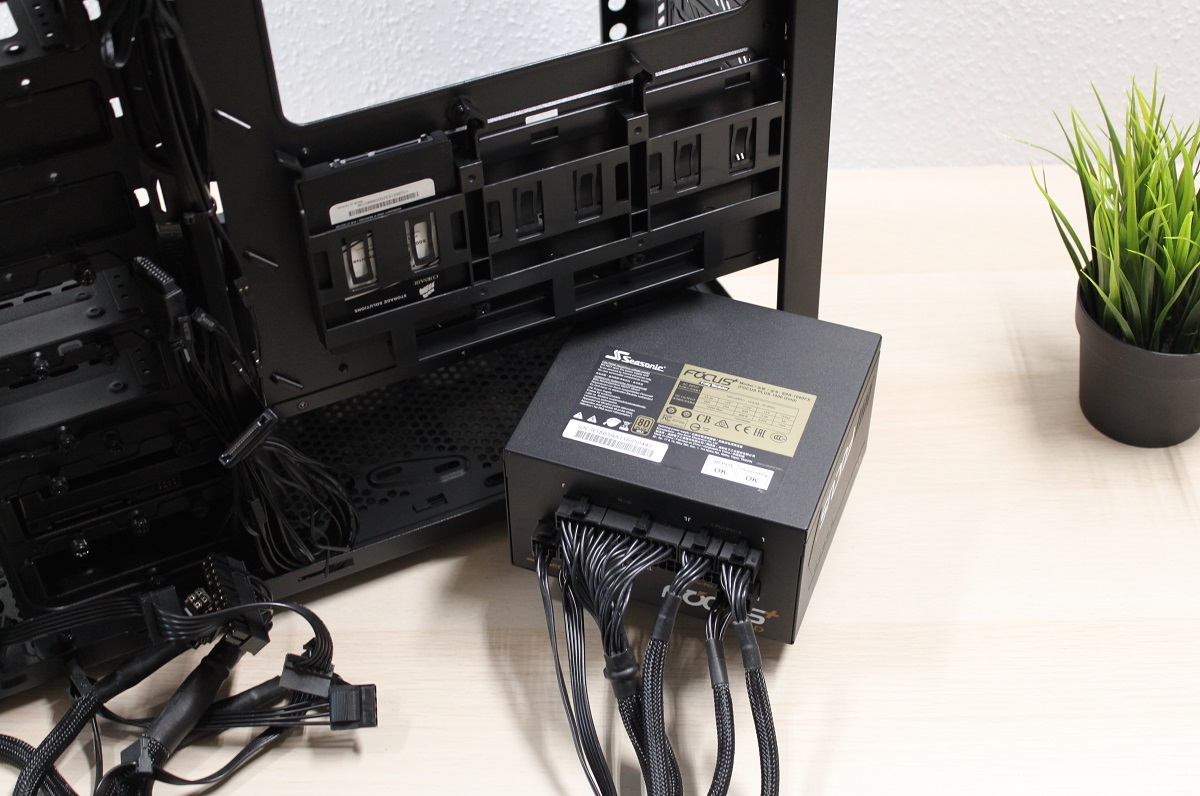 With the other side facing the camera, we can see the finished result in the Carbide 678C case. Even with the four drive cages mounted in the front, and a full size ATX motherboard and graphics card, there's still enough room to work with in the front and the rest of the case. If you happen to go components in a dark/grey color scheme, you'll be able to put together a very stylish build with this case.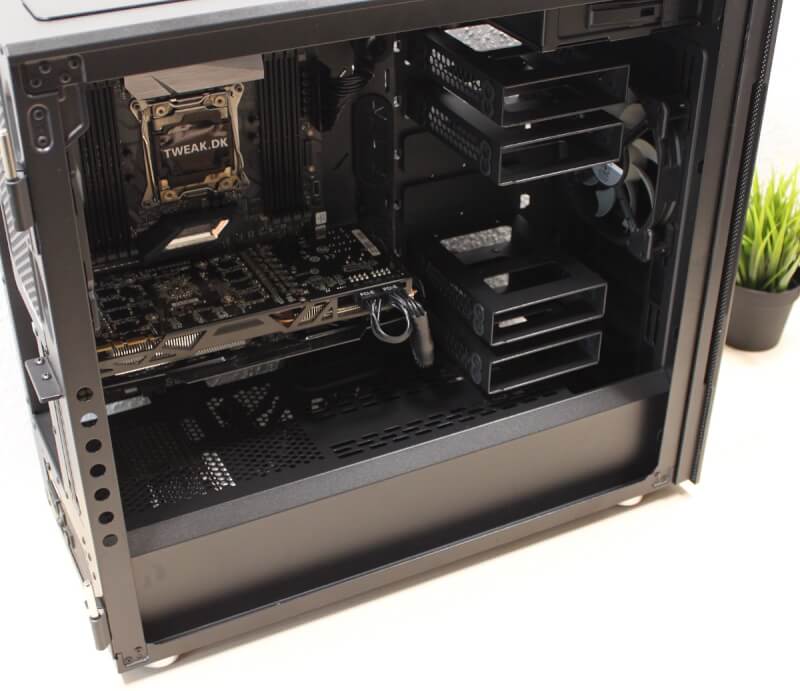 Even though it is possible to mount a graphics card vertically in the case, I wouldn't recommend doing so. It would be positioned very close to the side panel and it would also require investing in additional equipment in order to access this feature.
All in all, the Carbide 678C is a well carried out mid-tower, with a good range cool options and features that will satisfy the vast majority of builders. Anyways, let's talk about the price and my final thoughts down below, and wrap up this review.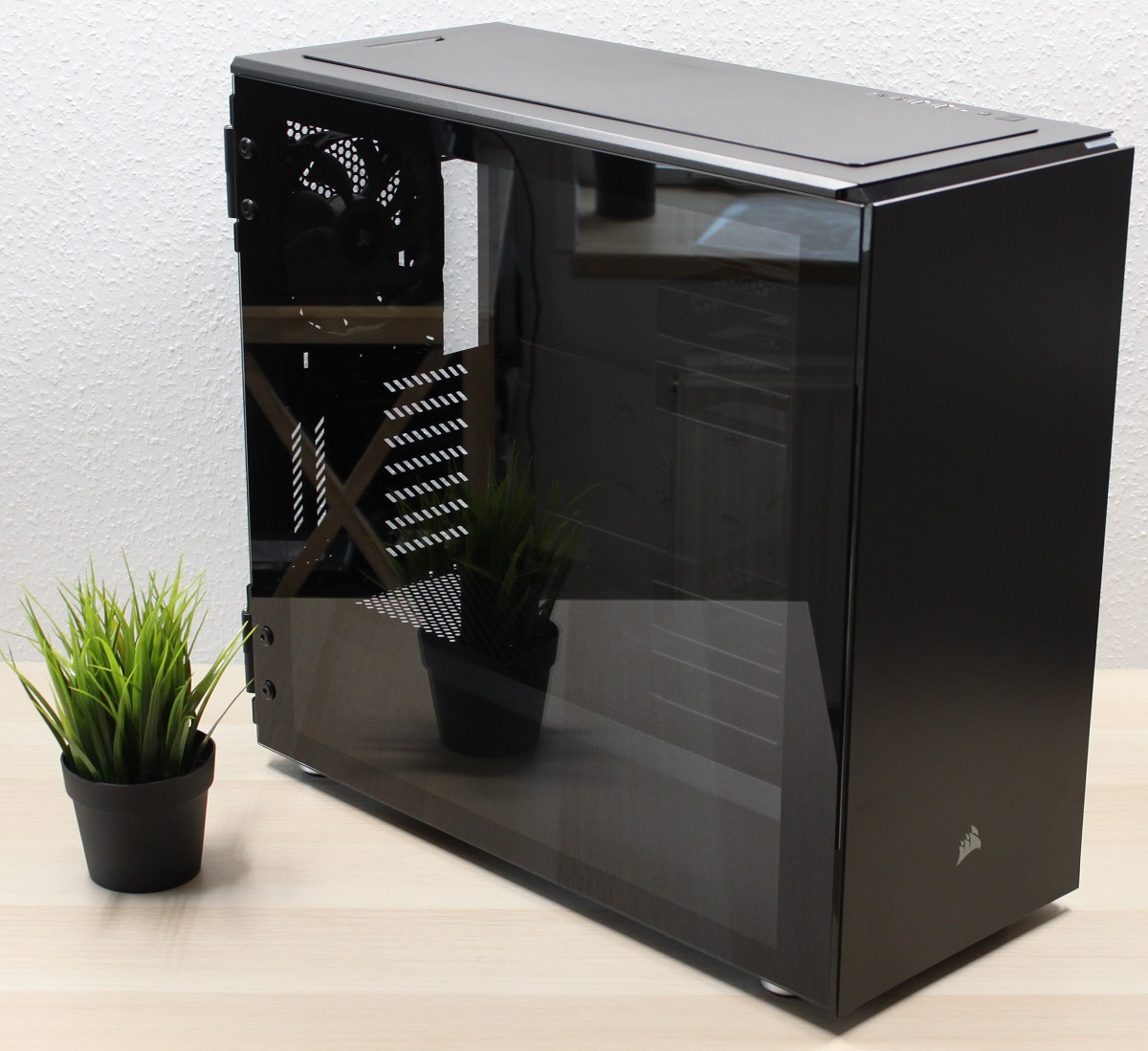 Price
Since this review was written before the official release of the Carbide 678C case, it also means that there are no retailers of this case at the time of this writing. However, we've been informed of the MSRP price by Corsair, which is around $240 incl. VAT. This is a rather steep price for a case that doesn't boast any exclusive nor extraordinary features. The Carbide 678C is admittedly a really attractive case, targeted at those, who seek a silent computer with a lot of nice features, but in my view, the price is a bit on the heavy side.
All the details of the Carbide 678C case can naturally also be found on Corsair's website. Click on the banner with their name, below, and you'll be taken directly to the produce page containing all available information on the 678C.

Conclusion
The Carbide 678C is the case for you, if you want a stylish mid-tower without having to compromise with neither function, design nor sound levels. This case accomplishes all of this with top marks. First and foremost, the exterior design is very anonymous and subtle so that it doesn't grab too much attention when placed in the office or any other room. The build quality is on point, and awesome details such as the tempered glass side panel, mounted on hinges, makes the 678C seem exclusive and expensive, which it somewhat is.
The good form is continued on the interior, with lots of open space for both hardware and cooling solutions, no matter if you're into air or water cooling. With room for a 360 mm radiator in both the front and at the top, or nine 120 or seven 140 mm fans, it's not the lack of cooling options that you'll be struggling with when building in the 678C. These aspects, combined with the dust filters in all thinkable places, the PWM-splitter for up to six fans and, not least, the USB Type-C on the front panel, makes the Carbide 678C a worthy 2019 release.
There are, though, a few things that could have been improved. Firstly, the price is, in my opinion, a bit too high, when compared to cases from e.g. Fractal Design that offer a similar set of features, but at a cheaper price. Also, one of the cooler features about the 678C is also one of its weaknesses. If you use all of the four floating drive cages, there really isn't any problem. However, if you wish to remove these, and open up the inside space, you'll end up with four elongated holes in the motherboard tray. Here, I would certainly have preferred if Corsair provided four additional covers to cover up these holes.
All in all, the Carbide 678C from Corsair is an extremely well-made case, with a lot of positives and only a few negatives. This means that we arrive at a total score of 9/10, as well as our Great Product award. If only the price had been a bit lower, and if only Corsair had thrown in the missing plastic covers, we'd been very close to a top score. That's how great the 678C case is. Over and out.
Pros
Stylish and subtle design

Hinged tempered glass side panel

Lots of space for cooling solutions and hardware

Front panel featuring USB Type-C

Dust filters in all thinkable places

Lots of room for cable management

Comes in two different colors

Built-in PWM-splitter supporting up to six fans

Optimised for sound dampening
Cons
No extra plastic covers for the drive cages

The price is a bit too high