AUTHOR : Berleburg
PUBLISHED : 2019-11-16 17:00
Razer Viper Ultimate - New Wireless King
Wireless technology has finally made its way into professional esports, and Razer is now ready with their hitherto best candidate, within this segment, in the shape of their Viper Ultimate.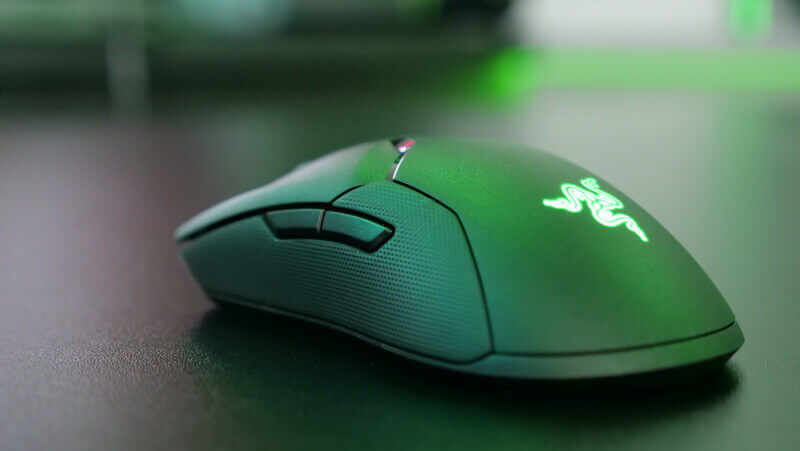 A few weeks ago, at a small event in Hamburg, Razer revealed a couple of new gaming mice as well as their new wireless technology. The first product that we were introduced to was the new Razer Viper Ultimate mouse, which aims to be the ultimate wireless gaming mouse.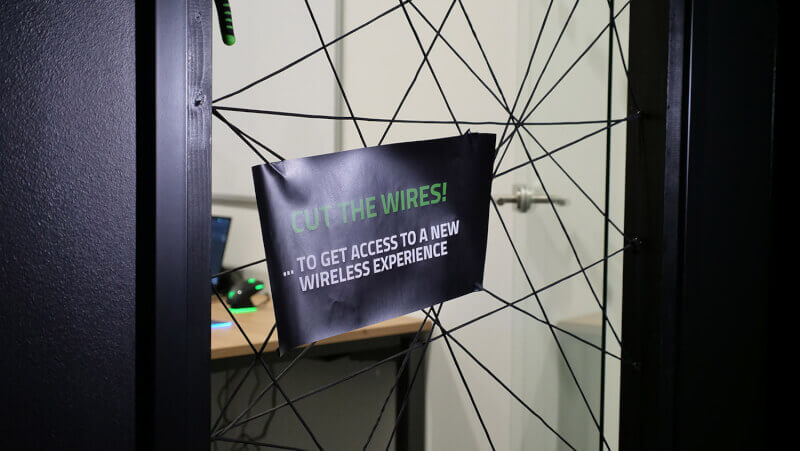 With the input of several professional esports teams, Razer has developed a new wireless technology that they have dubbed HyperSpeed Wireless. At a surface level, you'll only find minor improvements over that of competing brands, on the market, but in a professional gaming environment, it's those small things that make the difference.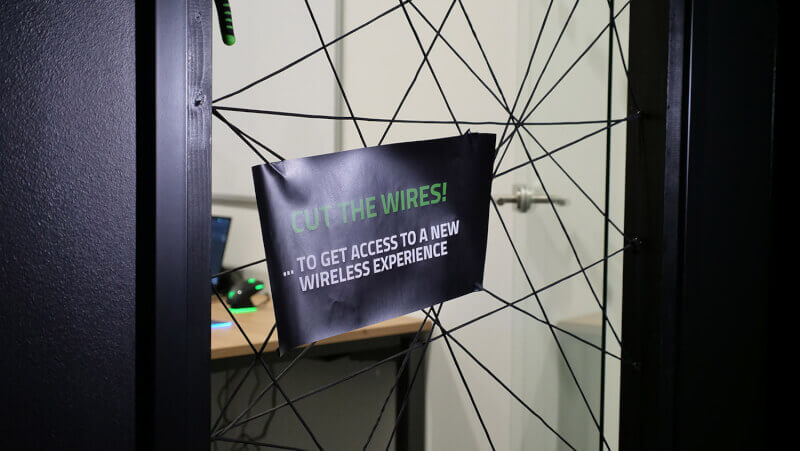 Among other things, the polling rate has been improved. It's specified to 1,000 Hz, but according to Razer, their new products should be both more stable, as well as better at truly delivering those promised 1,000 Hz. Razer compared themselves to Logitech, and claimed that the polling rates of their blue opponent's equivalent products would fluctuate between 990-995 Hz.
Razer further strengthened their case by having had their products tested by the renowned German test and certification company TUV SUD PSB, so their claims are not completely unsubstantiated, despite the differences being quite marginal in the end.
On top of that, the working range has been improved to a maximum of 18 meters (59 ft.), and the click latency has also been improved with its mere 2-3 ms. So, there's plenty of speed to be had, on all fronts, and in a wireless package that Razer has put every effort into when creating the Razer Viper Ultimate gaming mouse.
This new product, with its HyperSpeed technology, is targeted at the esporting crowd, and it features a subtle and synthetic appearance.
The Razer Viper, in its regular cabled version, was released earlier this year, and was well received for its lightweight design.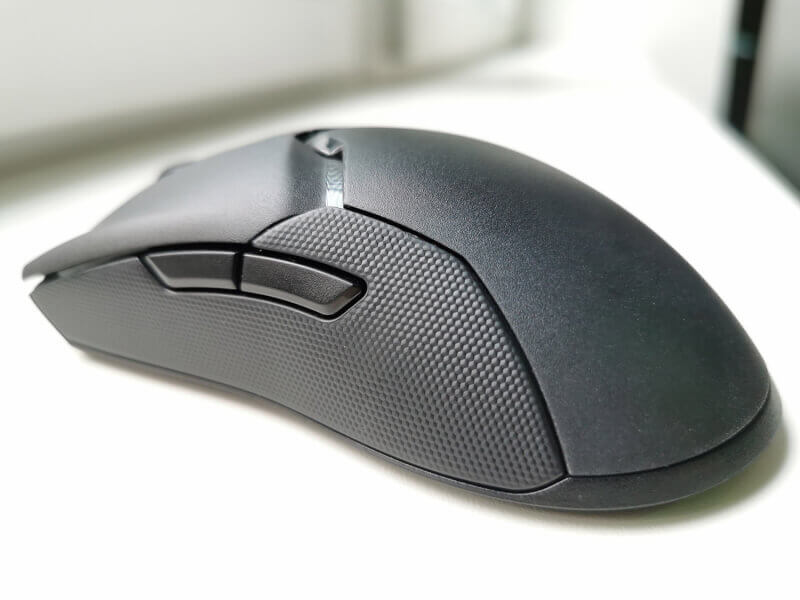 On the exterior, there's not much new going on since the design is exactly the same as that of the regular Viper. It's a subtle and symmetrical design that can be used ambidextrously.
The material is lightweight plastic, in black, with a lightly textured surface, which is really nice to touch. On the sides, there's textured rubber which improves your hold on the mouse.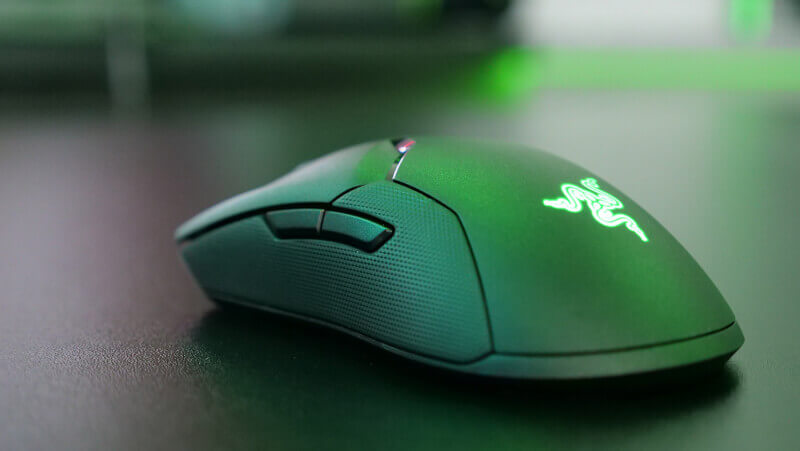 On the back of the mouse there's a single RGB zone showcasing the classic Razer logo. The light can be adjusted via Razer's software, but if you turn it off, it completely disappears and blends in with the surface of the mouse. That gives the Razer Viper Ultimate a more stealthy look, which actually works really well. It hides all Razer branding from the mouse, and of course improves the battery-life of the mouse.
The sensor, in the new Viper Ultimate, is Razer's Focus+ optical sensor, which is developed in collaboration with Pixart. It goes all the way up to 20,000 DPI, which is far more than what most users will ever need. Still, it's nice to have the option, if one can find a purpose for it, I guess.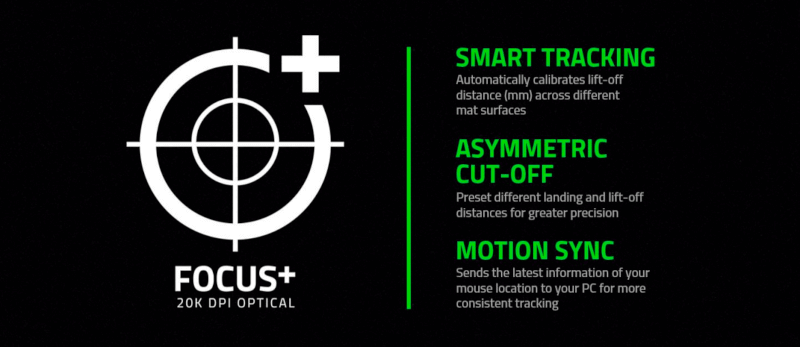 The sensor is capable of automatically calibrating itself to most surfaces for optimal tracking. In addition, there's also a new function that Razer has included, which they have dubbed Asymmetric Cut-off.
As with many other gaming mice, the Viper Ultimate can be adjusted in relation to its lift-off distance (LOD), which determines at what point the mouse stops tracking. However, something new here is that you can at the same time specify a separate distance when moving back towards the mousepad i.e. when the tracking will once again commence. This adds yet another dimension of customization in order to get the best possible experience when using this mouse.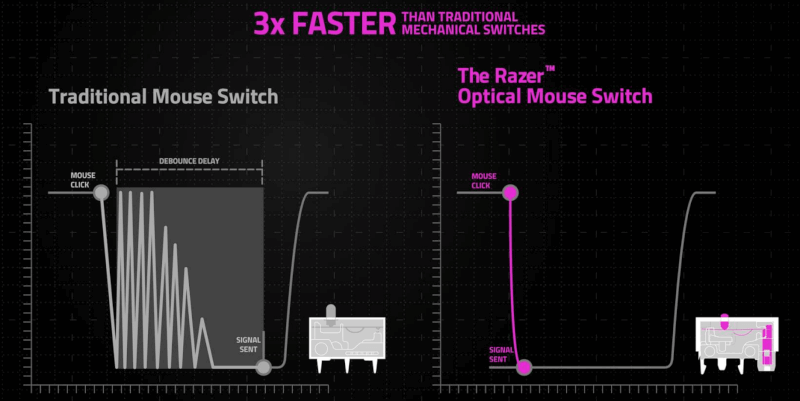 The primary buttons on the Viper Ultimate are optical switches, and as such, not your typical mechanical ones. This has the advantage of being more precise in registering clicks, and also prolongs the lifetime of it, as an optical switch won't be worn out as fast as a traditional mechanical one.
This also means that these switches, from Razer, are rated at 70 million clicks, compared to the 50 millions clicks that is the norm for mechanical switches.
There's a total of eight programmable buttons on the Viper Ultimate, but it's only the primary left and right click buttons that feature the new optical switches. All of the buttons can be programmed, just to one's liking, via Razer's Synapse software.
The software supports up to five individual profiles. They are stored locally in the internal memory of the mouse, which means that you can bring these profiles/settings with you without having to install any software when playing remotely.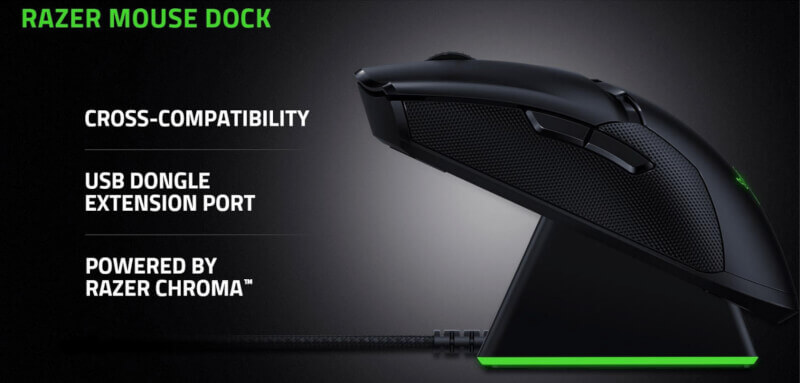 Razer has specified a battery-life of up to 70 hours, and the Viper Ultimate also comes with a practical dock that serves as a charging station, but also as an extender for the included USB dongle.
There's of course also RGB lights in the dock, which can be used purely as decoration and flash, but it also has a practical purpose in that it can show the remaining battery-life of the mouse. In that way, it's easy to keep an eye on that at all times.
Despite of all these new features, and an internal battery, Razer has managed to keep the weight of the mouse down to merely 74 grams. That's only five grams more than the regular version of the Razer Viper mouse, which is quite impressive.
The last aspect of this mouse, in which Razer has raised the bar, is in relation to the pads on the bottom. They are made from high quality PTFE Teflon, which further ensures a super smooth slide across your mousepad.
Test
I've used the Razer Viper Ultimate over the course of a weekend, and for quite a few hours in Overwatch, Doom and Call of Duty, and I've overall been quite satisfied with the experience.
I can with no hesitation say that it is the best mouse that I've used to this date, and the fact that it is wireless only makes things better.
The size is perfect for my semi-large hand, and the weight, combined with the great PTFE pads, makes the mouse fly easily across my mousepad.
So far, I've sworn to the Logitech G900 wireless mouse, the last couple of years, and until this point, I hadn't found anything that could beat it. However, now, the Logitech G900 feels both heavy and sluggish on my mousepad, compared to the Razer Viper Ultimate.
There's a couple of things that I miss with the Razer Viper. I find the scroll wheel to be a bit heavy to use, and I also miss the side scroll option that I've gotten used to in games.
These are, however, minor things, and this is certainly down to one's personal preferences and needs.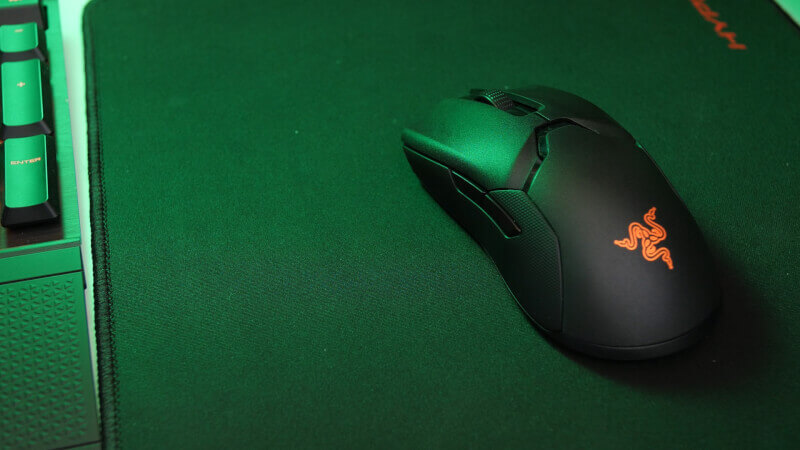 One thing that I really do feel that Razer needs to improve is the software. I continued to encounter issues with the RGB lights that changed, seemingly at random, and definitely not based on any settings that I had applied. Most of the time, this was solved by turning the mouse off and on again, or throwing it on the dock.
It didn't have any impact on the practical usage of the mouse, and was solely an aesthetical problem, but it still annoyed me a bit.
If you choose to include RGB lights, then it has to work properly. I hope Razer will amend this problem. Also, the software was a bit too intrusive in wanting to be installed. When connecting the dock and the dongle, it kept popping up with a message encouraging me to install the software.
It did this multiple times when I rebooted my system, and frankly, I find that a bit too much. I personally prefer being in charge of what software to install on my PC, and I don't care much for having to decline those kinds of notifications over and over again. If I need any software for my mouse, I'll be sure to install it at my own desire.
Price
The Razer Viper Ultimate is already available in stores, and it is priced at around $149.99, which means that we are definitely in the higher end. This might very well qualify this mouse as one of the most expensive ones available to gamers today.
The Logitech G Pro Wireless is by many considered one of the best wireless mice for the most fastidious of gamers, and with its current pricing at around $129, you won't be paying much more for the Razer Viper.
Conclusion
The Viper Ultimate by Razer is quite a stroke of genius. I've waited long for a replacement for my years old Logitech G900 mouse, and now I've finally found a worthy candidate.
The Razer Viper Ultimate is clearly the best and most comfortable mouse that I've had the pleasure of using. I'm doubtful as to how it will improve my limited skill level in the more competitive FPS games, but either way, it makes it a joy to play games.
The included dock makes it super easy to always have your mouse topped off in terms of power, and in addition, it helps securing a good connection by placing the USB dongle in close vicinity of the mouse.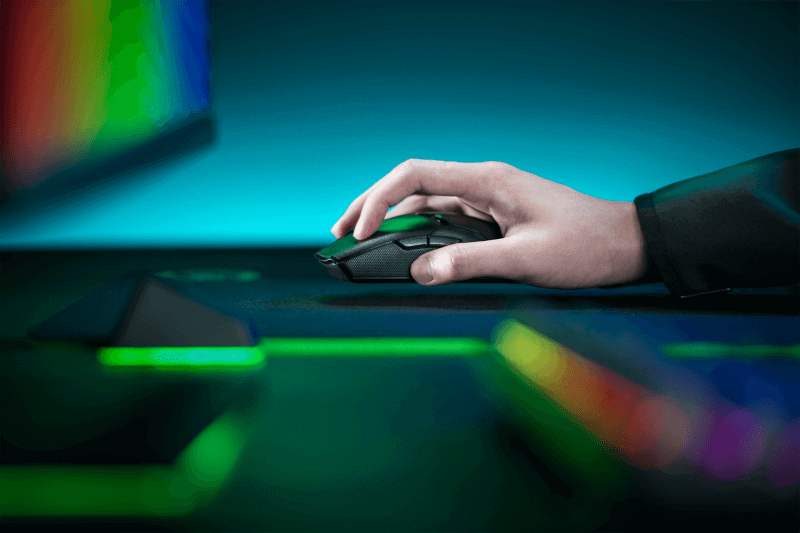 The only fly in the ointment was the software. Both in terms of the random changes with the lights, as well as the annoying pop-up message that kept showing up.
Obviously, the price might also scare off some potential buyers, and $149.99 might be quite a bit more than what many can afford when it comes to a mouse. The Razer Viper Ultimate is intended for the more picky segment of gamers that seek wireless freedom but with zero negative impact on the gaming experience.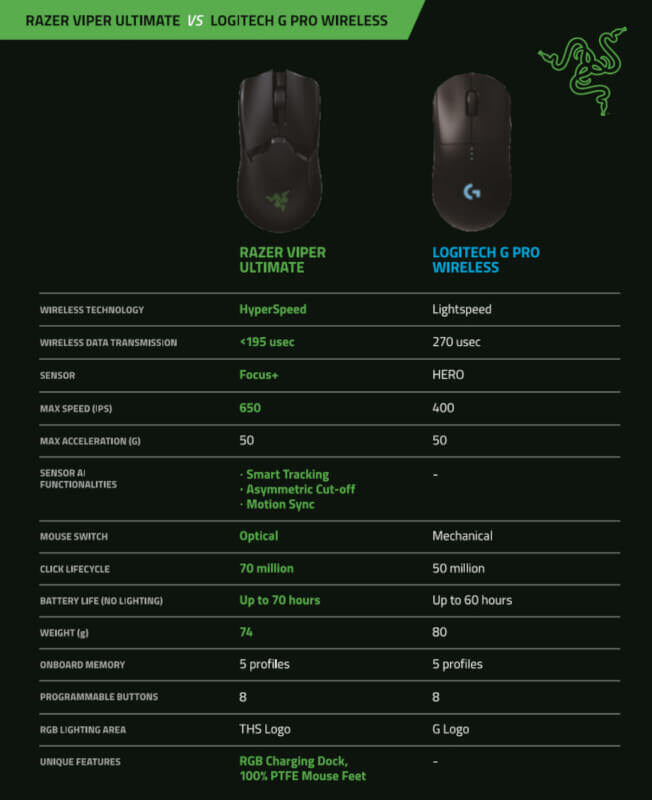 You get all of that with the Razer Viper Ultimate and the new wireless technology. The low weight, optical switches and several other things that Razer has developed come at a price. It's a product that aims at the professional gamers, or those of you who want to feel like one.
It's a price that I find to be fair, if you're a picky consumer who seeks the best from the wireless shelf. Aside from a few minuses on the software side, it's difficult, if even possible, to find something that will outperform the Razer Viper Ultimate.
We arrive at a final score of 9, as well as the Great Product Award, for a wireless mouse that surely will define the new golden standard within its field, moving forward.
If you seek many of the same features, and look and feel, then the regular Razer Viper with cable can be had for merely $79.99. It surely offers more than most will ever need, and it definitely warrants consideration too.
Pros
Lightweight mouse

Good sensor and optical switches

Good and responsive to use
Cons
The software can be a hassle

The price might be too steep for some