AUTHOR : Berleburg
PUBLISHED : 2019-07-08 00:36
AMD Ryzen 7 3700X - 8-Core Zen 2
In relation to our AMD Zen 2 Ryzen 3000 NDA lift, we've also been given the opportunity to play around with the AMD Ryzen 3700X processor. An 8-core AM4 CPU with lots of performance.
The AMD Ryzen 7 3700X is the successor to AMD's latest success; AMD Ryzen 7 2700X. We're dealing with an 8-core processor with a 7 nm chip die that, contrary to its predecessor, which it doesn't differ much from, actually, comes with a TDP of 65 W compared to the 105 W of the former version. As such, a hefty improvement in terms of efficiency that hopefully will also bring other improvements along with it.

Click here to read our walkthrough of Zen 2 and the X570 chipset.
One of the optimizations in terms of raw performance is that the Ryzen 7 3700X has seen an increase in its boost clock of 4.6 GHz, which is 300 MHz higher than the predecessor. Here, the reduced TDP comes out as a true victor.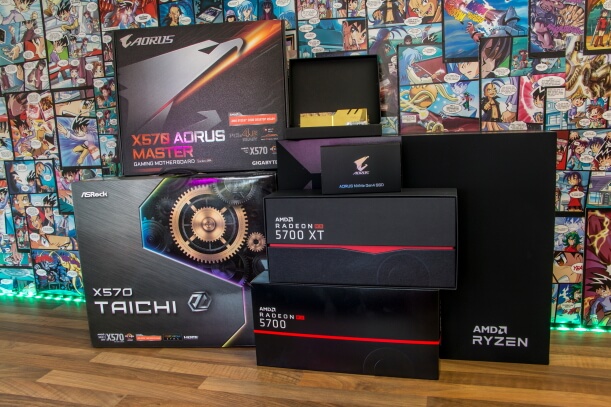 Since we've been through the whole test setup in our Ryzen 9 3900X test, we recommend checking out that review as well so that you can see some shots of the complete system build. For this review, we'll settle with listing the components below.
ASRock X570 Taichi

AMD Ryzen 7 3700X

AMD Radeon RX 5700 XT

G.Skill TridentZ Royal 3600 MHz 2x 8 GB DDR4 RAM

AORUS 2 TB PCIe Gen. 4 NVMe SSD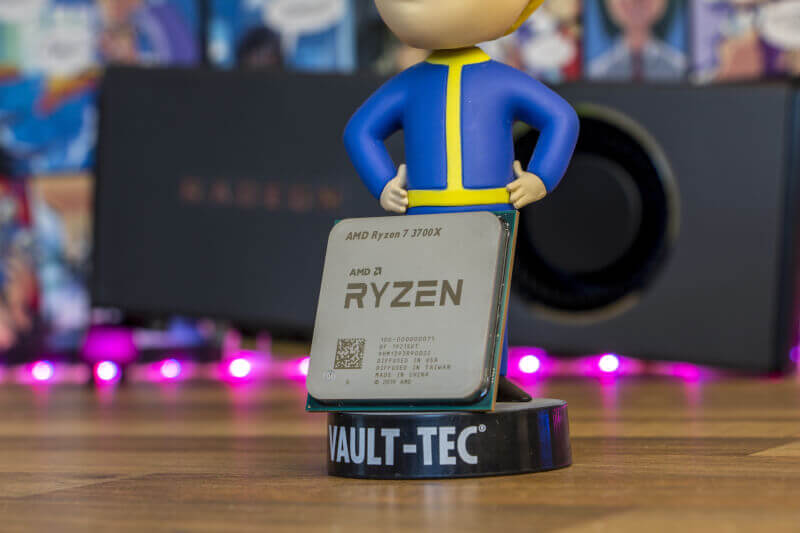 AMD Ryzen 7 3700X Examined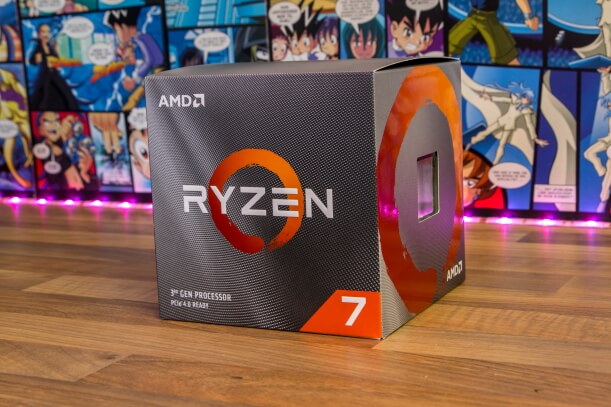 Our Ryzen 7 3700X also comes in a boxed version. That doesn't surprise me since both press sample processors arrived in the same box.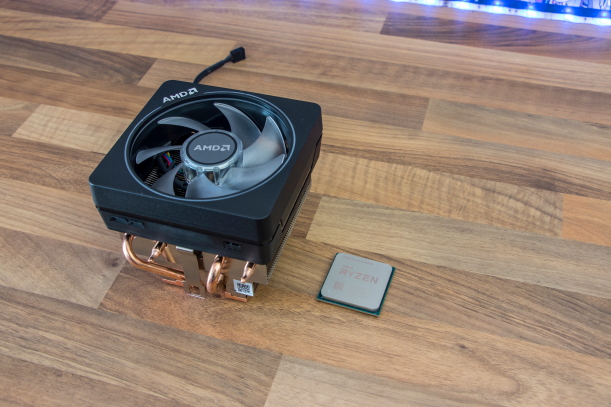 Here, we also find a Wraith Prism RGB cooler with the AMD Ryzen 7 3700X processor. The cooler comes with factory-applied thermal paste. The AMD Ryzen 7 3700X is, as I've mentioned earlier, an 8-core processor with 16 threads with a core clock of 3600 MHz and a boost clock of up to 4600 MHz. Here, the memory controller has also been swapped out since the Ryzen 2000-series, and we haven't experienced any issues running with a frequency of 3600 MHz on the DDR4 DIMMs, and the processor was similarly indifferent to the change that we made between various modules and flash types. PCIe Gen. 4 of course also makes an appearance here with its data rates of up to 5 GB per second.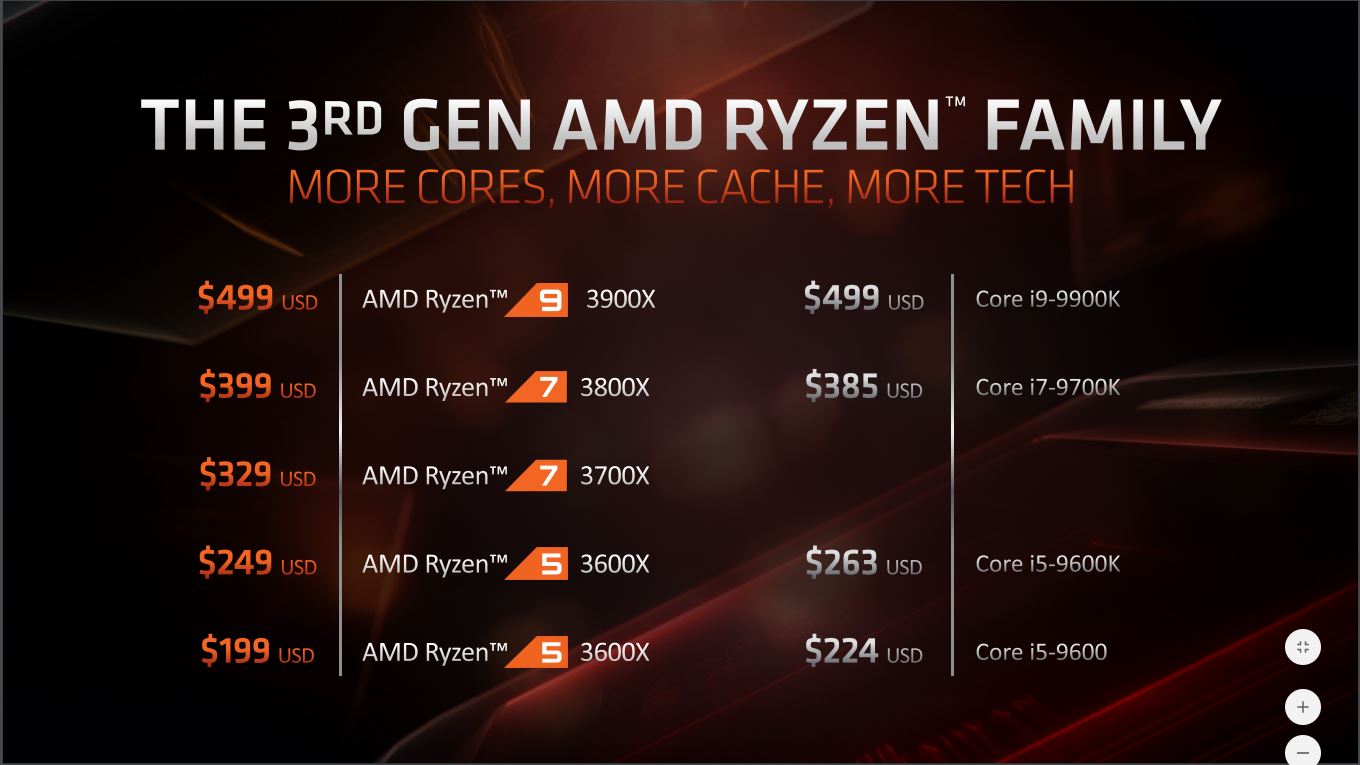 The AMD Ryzen 7 3700X is expected to be priced at $329. This is a very good price for an 8-core processor within its segment. In general, the third generation AMD Ryzen processors are hitting the market with some very consumer-friendly price tags.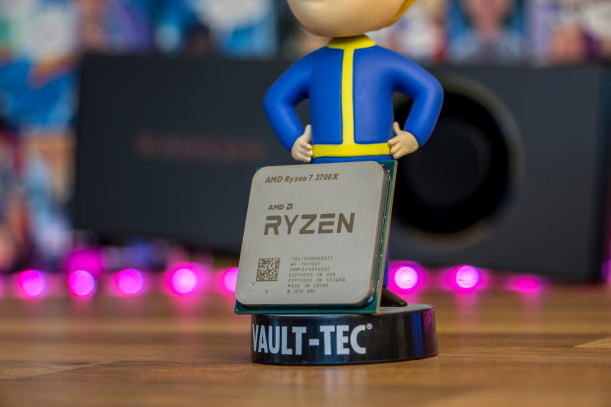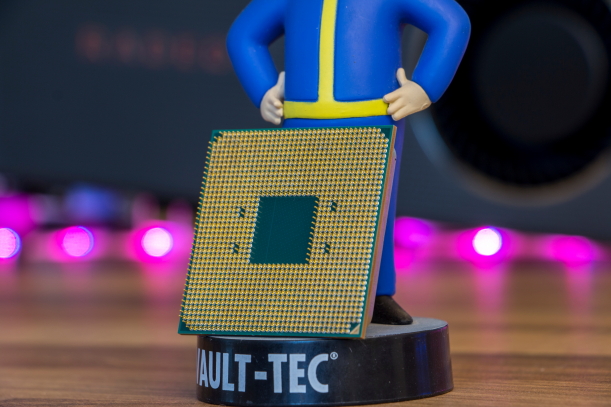 The new generation of Ryzen processors are running with the AM4 socket, and therefore, there's compatibility in both directions. The Ryzen 7 3700X can be mounted onto an X470 and an X370, and similarly, the previous generation Ryzen processors can be mounted in an X570 motherboard, if one would ever find oneself in such a situation. However, we wouldn't recommend any of those scenarios since there would be aspects such as the PCIe Gen. 4 that would be lost. Luckily, the PCIe Gen. 4 socket is backwards compatible, so it wouldn't be the end of the world.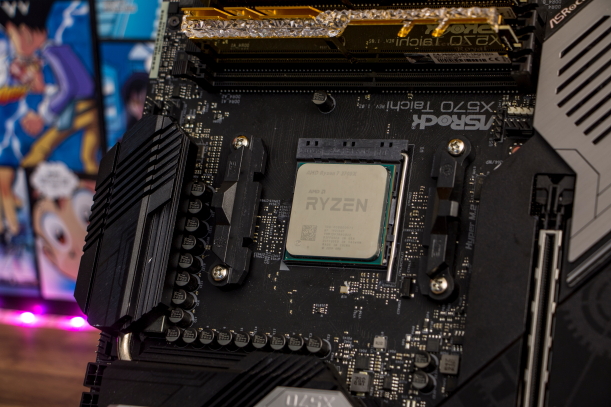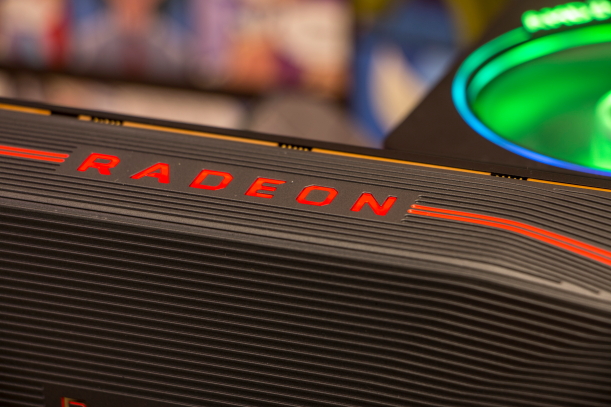 With the walkthrough done, it's time to mount the AMD Ryzen 7 3700X in our ASRock X570 Taichi motherboard, and to boot this baby up. We look forward to the testing phase.
Testing Phase
7-Zip Benchmark

AIDA64 Extreme CPU Benchmark

AIDA64 Extreme DDR4 Benchmark

Cinebench R15 CPU Benchmark

Cinebench R20 CPU Benchmark

PassMark Performance Test

PCMark 10

wPrime32 and -1024

Power Consumption

Temperatures with Wraith Prism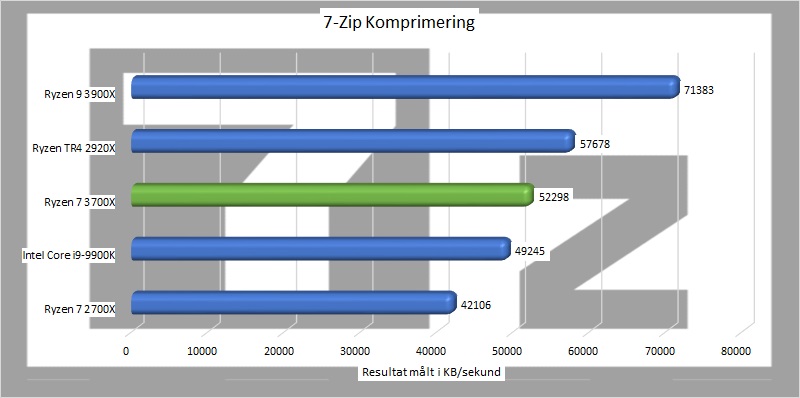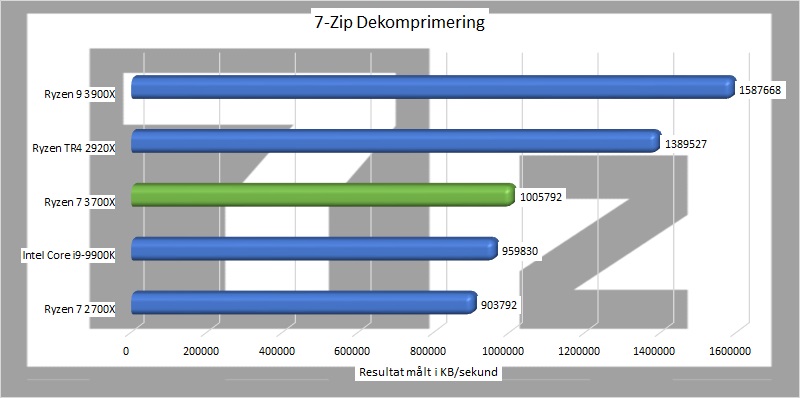 The extra 300 MHz in boost clock have proven to give the Ryzen 7 3700X quite a bit more performance when compared to the Ryzen 7 2700X. When we at the same time get less power consumption, this is certainly a fine result.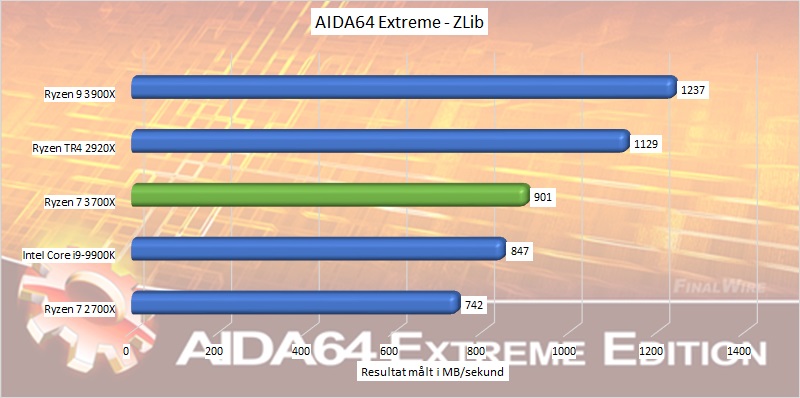 AIDA64 Extreme Zlib is, like 7-Zip Benchmark, a program that calculates the processor's ability to handle incompressible data, which gives insight to the bandwidth size of the processor. Here, things also look very good and given its price tag, the 3700X manages to compete with both the 2700X and the i9-9900K really well.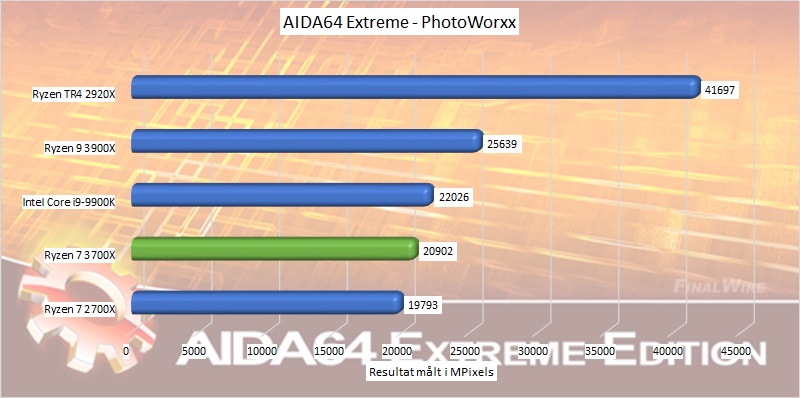 PhotoWorxx is all about image processing, and here, the Ryzen 3700X is put to the test. This is evidence that image processing plays well with a high clock speed, and this favors the i9-9900K since it can boost to 5 GHz.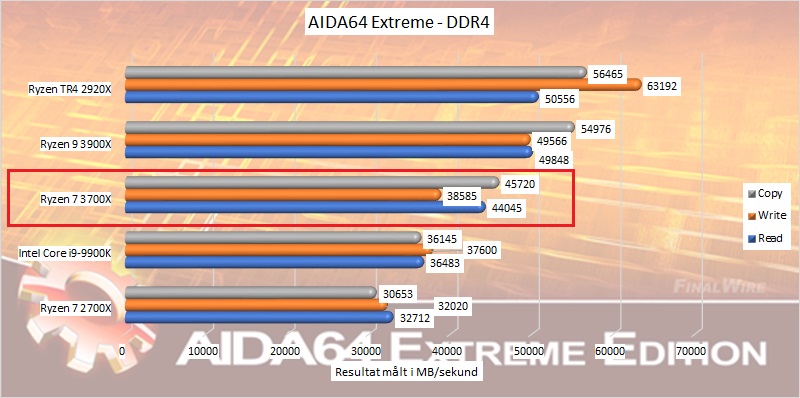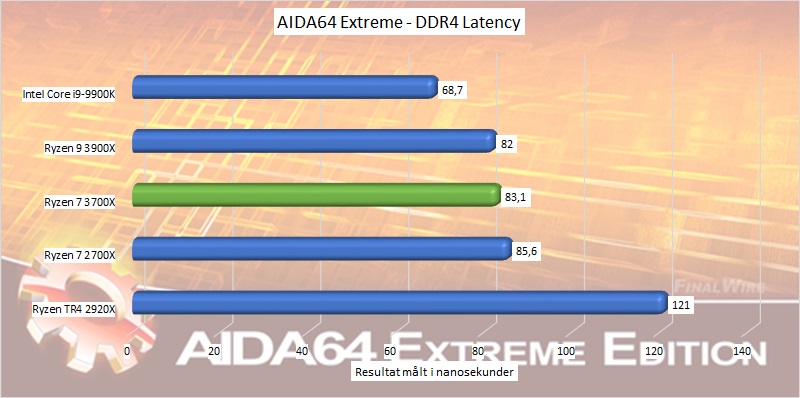 The memory controller of the Ryzen 7 3700X does its job really well. The 3700X once again takes the lead in comparison to the aforementioned competitors.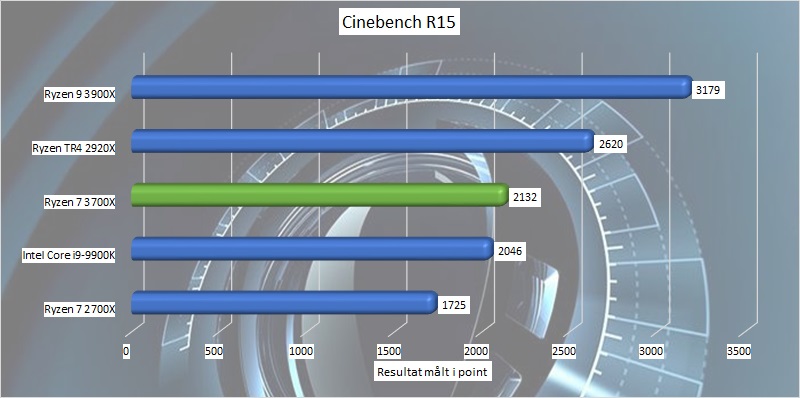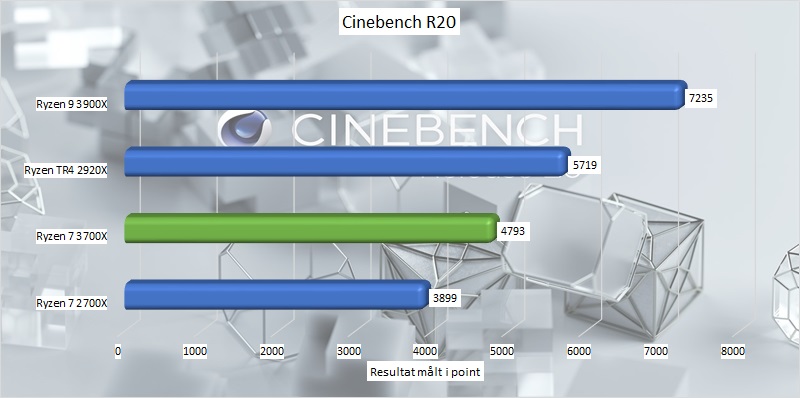 Cinebench tests deals with the rendering of high resolution images. Here, we see that there's plenty of speed under the hood of the 3700X and it certainly is up for the task when it comes to graphical challenges.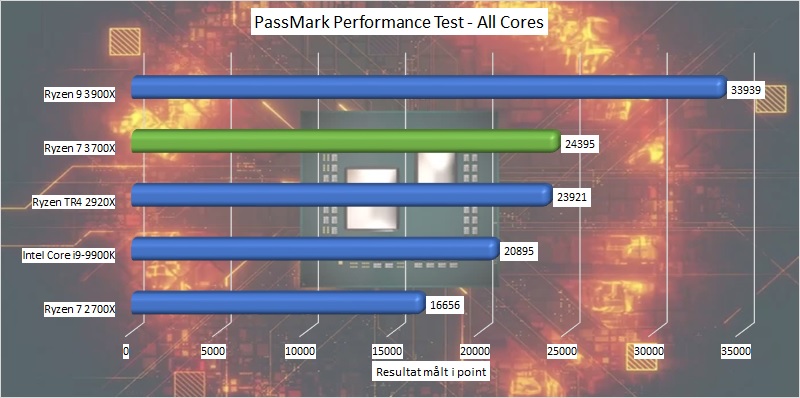 PassMark performs a number of CPU tasks and gives a score relative to a given standard. The Ryzen 7 3700X makes a fight for it, and speed is king in this test. We find that the two new Ryzen processors lay waste to the Threadripper. Quite impressive results.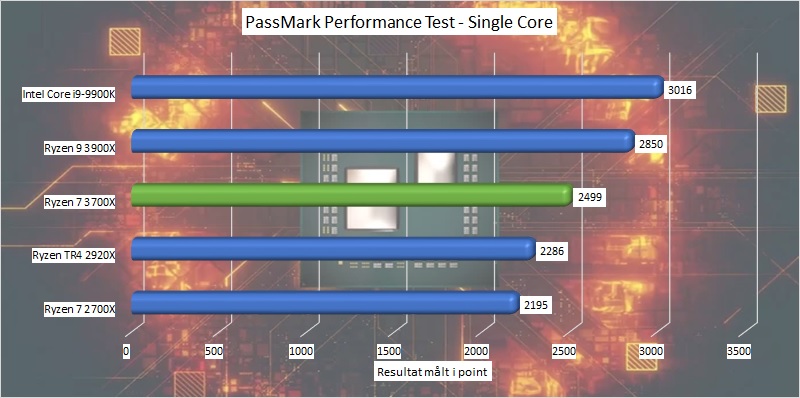 Single core performance, however, is a whole other matter, and here no one can beat the 5 GHz boost clock of the i9-9900K. Still, the results are in no way disappointing.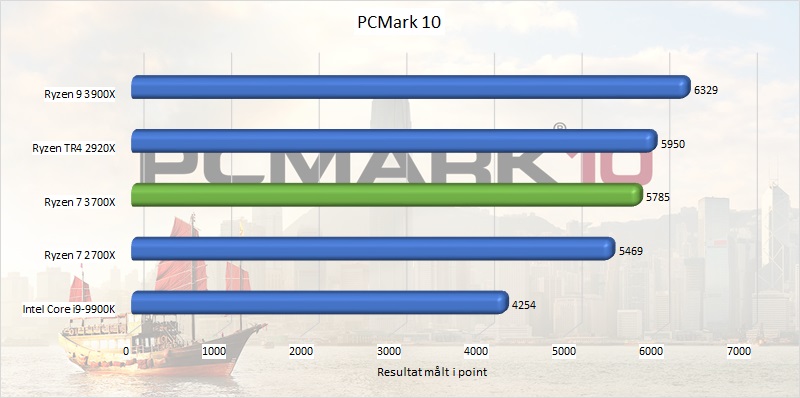 PCMark 10 shows an average score of the total performance of the system, and our AMD system does it quite well. There's not really much to add here. The Ryzen 7 2700X is an interesting player here since it's tested on the same system.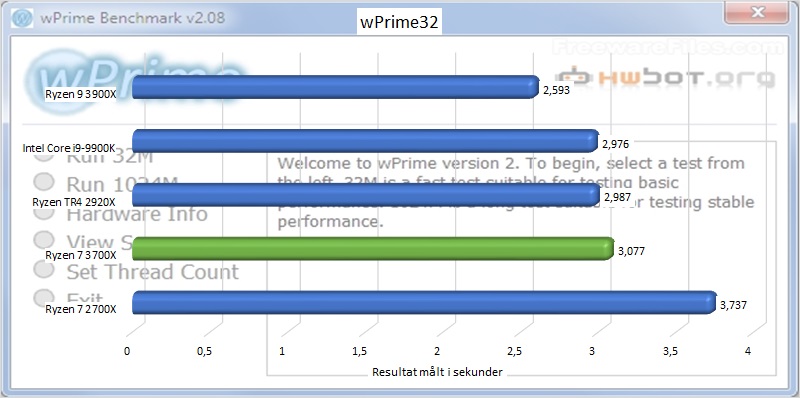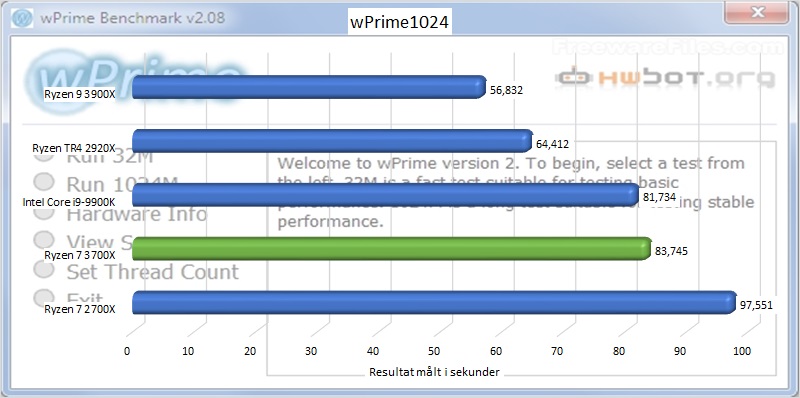 wPrime is a raw calculation of prime numbers, and it depends a lot on clock speeds. This also means that the Ryzen 7 3700X falls short of the Intel Core i9-9900K even though it's a close race between the two. In everyday use, the difference between them will hardly be noticable. Instead, we do find that the 3700X takes a nice lead in comparison to the 2700X.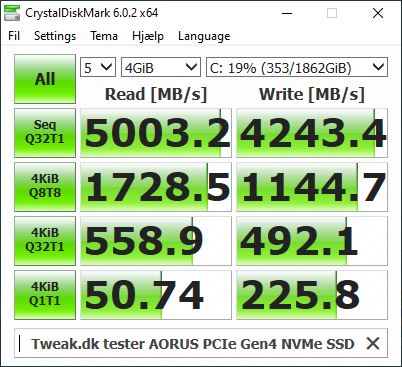 We use CrystalDiskMark to see if the PCIe Gen. 4 socket lives up to its promises. Well, it surely does. It offers some insane speeds, and essentially eliminates load times. We live in a time where POST takes longer than the actual boot time. It's a strong platform with a lot of potential in the future.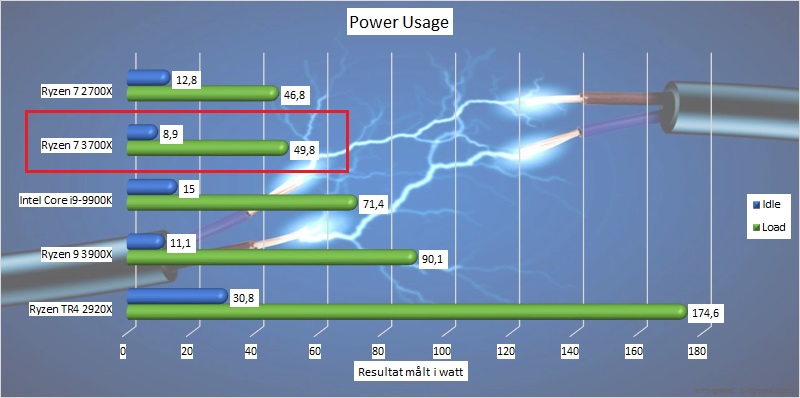 Under full load, I managed to reach an average power consumption of around 50 W, which is wonderfully satisfying when we look at the performance that is provided by the Ryzen 7 3700X.

The Ryzen 7 3700X doesn't offer as many cores as the Ryzen 9 3900X, and therefore, the Wraith Prism is not faced with the same challenge as we saw in the Ryzen 9 3900X test. This means that we arrive at a load temperature of 69 °C. The Wraith Prism manages to do the job with reasonable temperatures. However, it comes at the cost of noise, just as I found it to be the case with the Ryzen 9 3900X. I wouldn't personally consider running with the Wraith cooler for that many cores and threads.
The overall performance of the Ryzen 7 3700X is really good. It fights hard, side-by-side, with the Core i9-9900K, and for the most part, it comes out as the winner. This is even with a price tag that is around $150 less. So, in general, it's difficult not to be happy with the Ryzen 7 3700X. It's affordable and powerful. This is something we look for in a CPU when we want to build our next AMD system. It all just comes together really nice, if you ignore the Wraith cooler for this many cores.
Overclocking
At this time, it didn't result in much when trying to overclock. As a matter of fact, I even struggled getting above the boost clock. I expect that we at a later time, with some BIOS optimizations, will be able to draw out more performance when overclocking, but for now, I'll wait with that.
Price
AMD has announced a price of $329 for the AMD Ryzen 7 3700X.

Click here to read about the Ryzen 7 3700X on AMD's website.
Conclusion
Right off the bat, for this conclusion on the Ryzen 7 3700X, allow me to repeat myself. This is actually a direct copy and paste from the Ryzen 9 3900X review. In today's review, we've been given the opportunity to play around with PCIe Gen. 4 and the X570 chipset in order to see what these haven actually brought with them. As such, this is a bit of a mixed conclusion. First and foremost, we can conclude that the PCIe Gen. 4 has increased the data rates significantly on our new NVMe SSDs. For the average user, it probably won't have the biggest impact whether you transfer data at 3,500 MB/s or 5,000 MB/s. However, for workstation tasks, where bandwidth is king, it truly makes a difference.
I've now had the chance of playing around with the Ryzen 7 3700X, and in the same breath, I included the Ryzen 2700X in order to test them against each other on the exact same system. Power and clock optimizations have put the new 3700X well in the lead, which also means that it finds itself side-by-side with Intel's Core i9-9900K. However, given that the Ryzen 7 3700X is quite cheaper than the Intel i9-9900K, it becomes the formidable competitor in terms of price vs. performance. The eight cores are worth it, and no matter if we are talking gaming or workstation tasks, I would at any time consider the Ryzen 7 3700X, if we were to keep things within a reasonable budget.
In terms of the Wraith Prism cooler, I don't have much else to say than what I already mentioned in my Ryzen 9 3900X review. There are simply too many cores and threads here that I cannot recommend using the stock cooler. However, it's great that you can make use of your new processor right out of the box, without having to invest in a third-party cooler, in case you're on a tight budget. But if there's even the slightest room within your budget, then I'd definitely recommend that you look for something else. There's plenty of alternatives available at quite cheap costs.
Overall, AMD has made themselves worthy of a fine score. It's a nice improvement on the previous generation Ryzen 7 2700X, and it makes a very good run for the money compared to the Intel opponent. There's been some significant optimizations in terms of power consumption, and this is particularly due to the 7 nm chip die. It all comes together very well, and it just works. So, I find that I have to give a score of 9 with a Safe Buy Award. In an effort to avoid confusion, since the Ryzen 9 3900X also received a score of 9, I want to add a bit of explanation. They have both done a really great job, but that is within each their own segment. As such, no parallels should be drawn between the scores of these two processors since they fit two different types of systems, in my opinion. The award in a way also illustrates this difference.
Pros:
8 high-performance cores

Reasonable price tag

Really good performance

New and improved memory controller

PCIe Gen. 4 gives a sublime bandwidth on the NVMe protocol

Core and boost clocks have increased
Cons:
The i9-9900K still wins in single core performance

The Wraith Prism becomes too noisy when trying to keep up
Score: 9 + Safe Buy Award