AUTHOR : Berleburg
PUBLISHED : 2019-08-17 07:59
Ryzen 5 3600X - The New Mid-Range King
We of course also have to take a look at what the 5-series of Ryzen is capable of when we throw the Ryzen 5 3600X onto our test bench.

It's time for the final Ryzen 3000 review this time around. We'll be having a look at the Ryzen 5 3600X, which comes with 6 cores and 12 threads.
Specifications:
CPU Cores: 6

Threads: 12

Base Clock: 3.8GHz

Max Boost Clock: 4.4GHz

Total L2 Cache: 3MB

Total L3 Cache: 32MB

Unlocked?: Yes

CMOS: TSMC 7nm FinFET

Package: AM4

PCI Express Version: PCIe 4.0 x16

Thermal Solution: Wraith Spire

TDP: 95W

Memory Clock: 3200MHz

System Memory Type: DDR4

Memory Channels: 2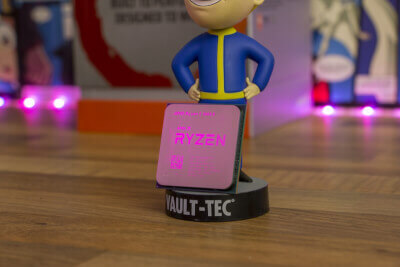 Read our walkthrough of the X570 chipset here.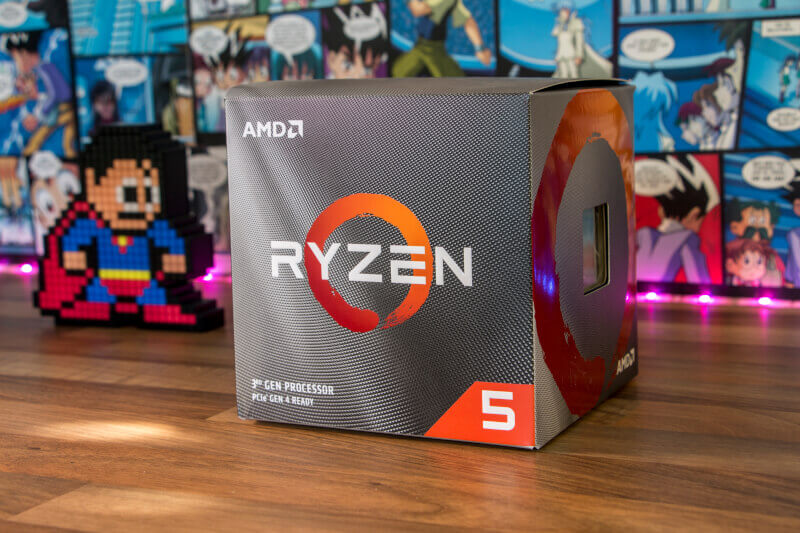 There's nothing new about the packaging. Inside the box, we find the Ryzen 5 3600X and a Wraith Spire cooler similar to the one that came with the Ryzen 5 3400G. You can read our review of that here.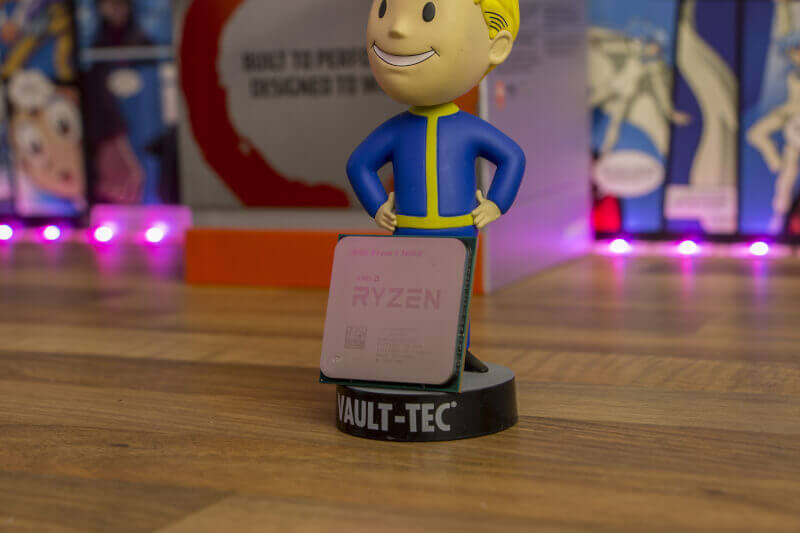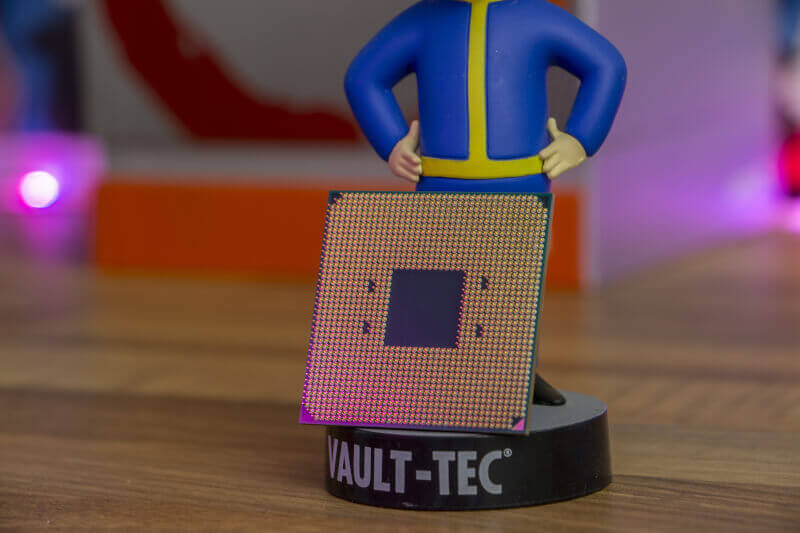 Another thing that hasn't changed is the use of the AM4 socket. As mentioned, under the hood, or the IHS, if you like, we find the 6 cores that are ready for battle.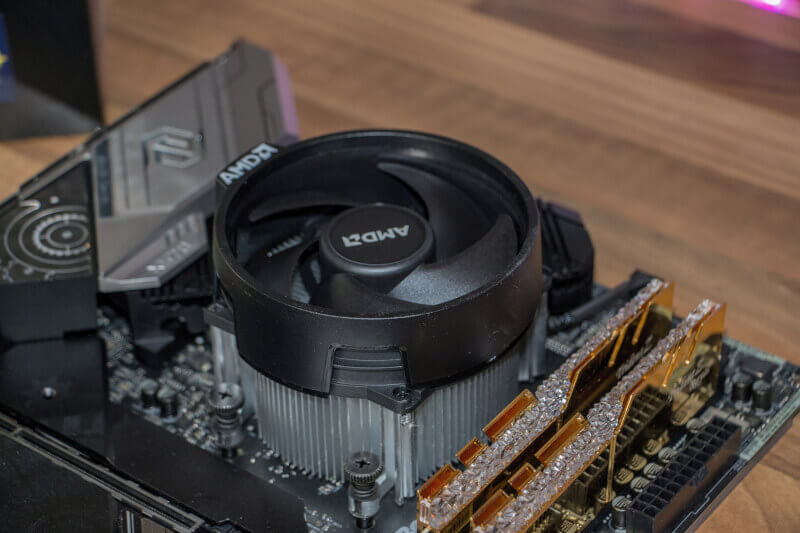 With the Ryzen 5 3600X mounted onto our ASRock X570 Taichi motherboard, and with the Wraith Spire cooler strapped on, we are now ready to add the AMD Radeon RX 5700 XT and get on with the benchmarking process.
The Test Phase
7-Zip Benchmark

AIDA64 Extreme CPU Benchmark

AIDA64 Extreme DDR4 Benchmark

Cinebench R15 CPU Benchmark

Cinebench R20 CPU Benchmark

PassMark Performance Test

PCMark 10

wPrime32 og -1024

Power Draw

Temperatures with the Wraith Spire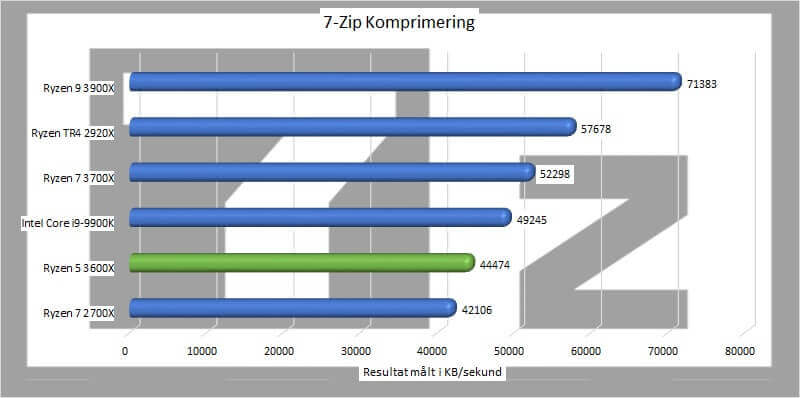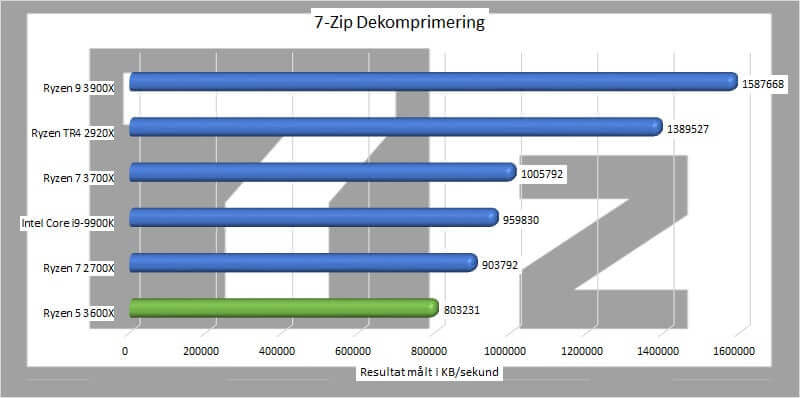 We start by examining the bandwidth size of the Ryzen 5 3600X and its capability when processing incompressible data. The results reflect that we are now down to a 6-core, 12-thread setup, but other than that there's nothing negative to remark here.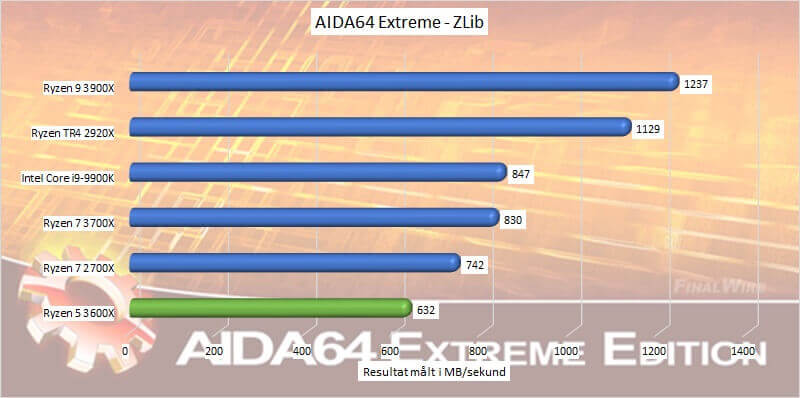 Our AIDA64 Zlib benchmarks shows how the processor handles incompressible data, and PhotoWorxx shows how well it handles graphical image processing. The results here reveal that we are indeed dealing with the smaller brother of the lot of 3000-series processors that we've received this time around.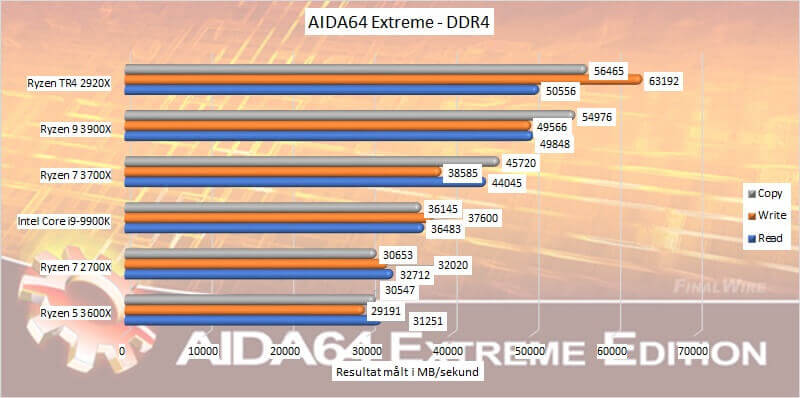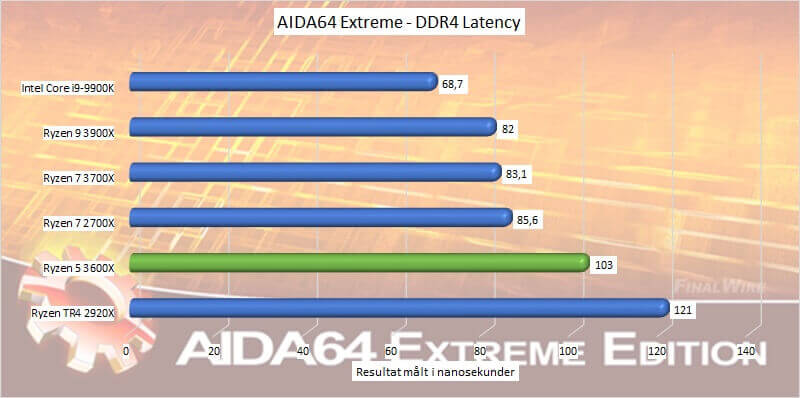 The memory controller of the Ryzen 5 3600X lacks a bit behind when compared to the other larger processors, which of course has to do with the less amount of cores.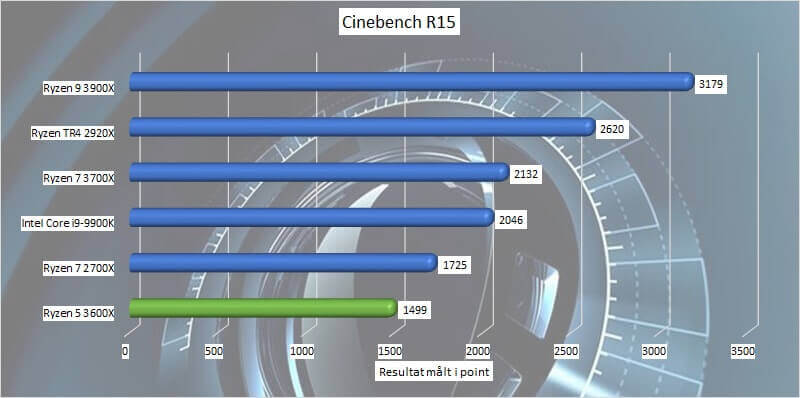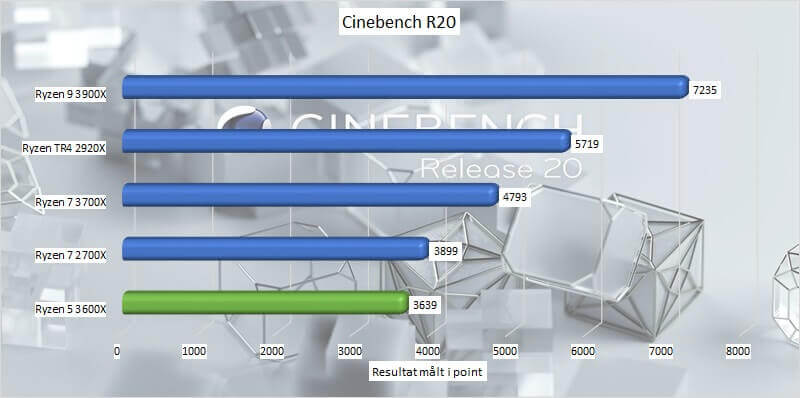 Cinebench R15 and R20 has to do with rendering a high resolution image in time, thus providing us with a final score. The result here clearly shows that the Cinebench applications love cores and clock frequencies.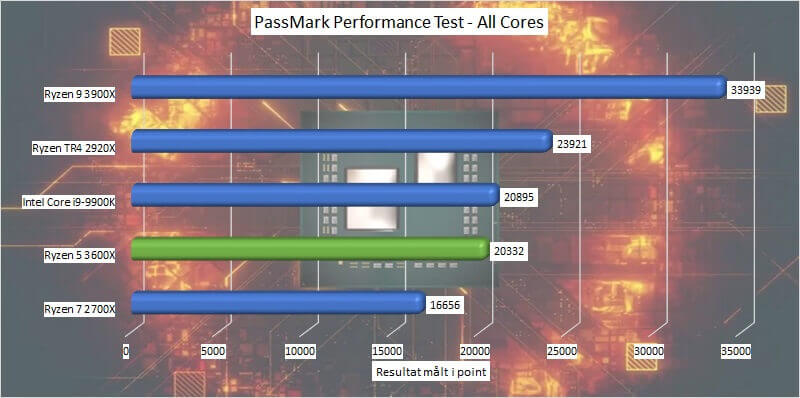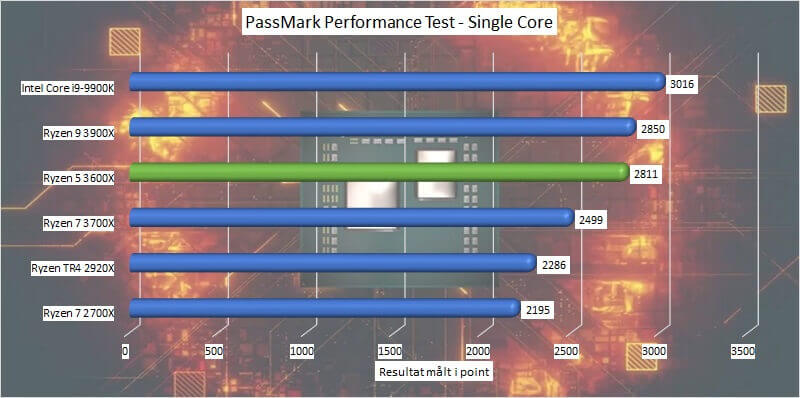 The PassMark Performance test shows an average score of one's CPU performance based on a range of different instructions. It looks quite reasonable, and in single core performance, we end up with such a good score because of the Ryzen 5 3600X's high boost clock frequency.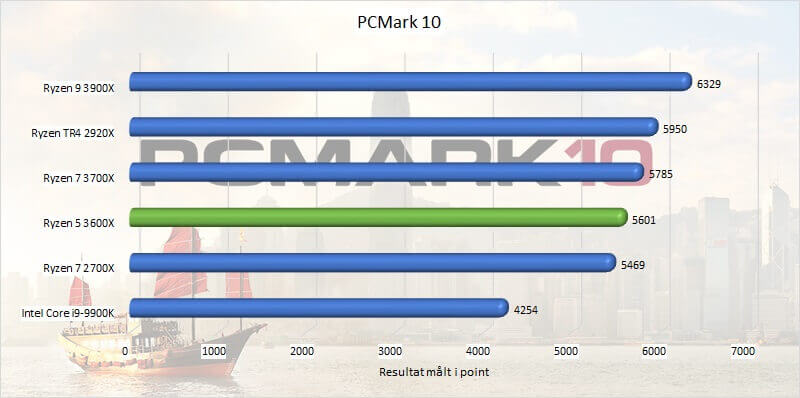 PCMark 10 also shows an average score of the PC's performance compared to a set standard, and here the Ryzen 5 3600X manages to attain a very fine placement on the scale.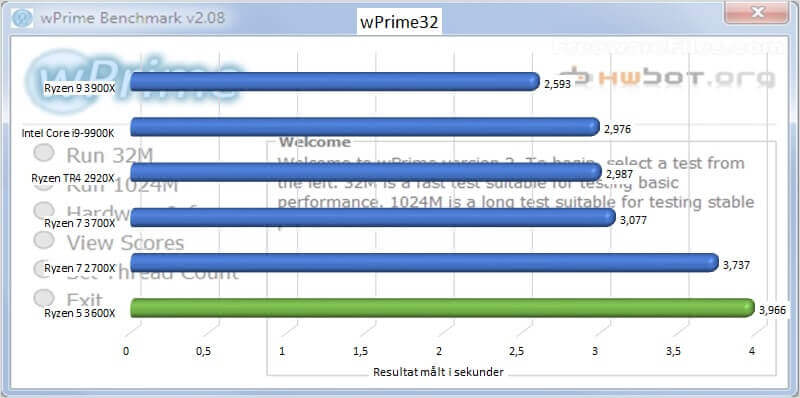 In wPrime it's all about crunching prime numbers in time, and it's a process that usually benefits from a high core count. This also shows on the results. They aren't bad, but it shows that we here have less cores to deal with.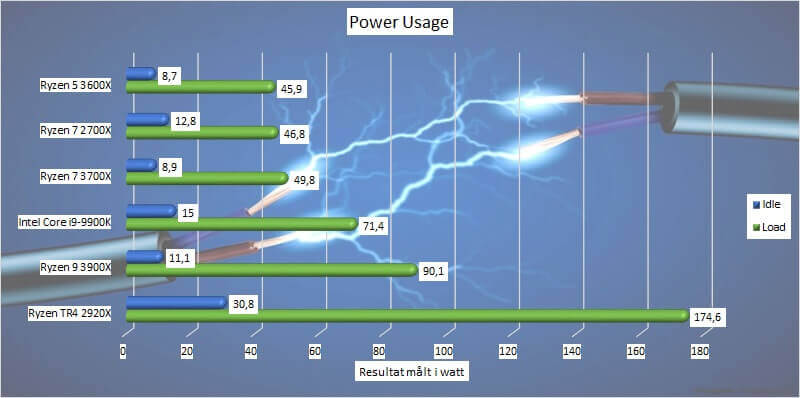 The Ryzen 5 3600X is the least power hungry CPU this time around, but it's with a marginal difference to the other contenders on the scale. A power draw of merely 46 watts in load is still a very fine result.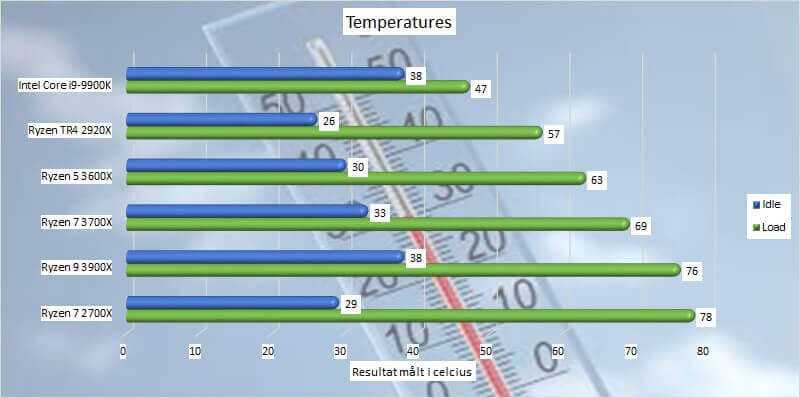 The less amount of cores also mean that there is a less amount of heat generation in the processor, which can be seen in this benchmark of the temperature measurements. The temperature is measured after 15 minutes of Prime95 running.
Game Tests
We've written an article containing a test of all of the Ryzen 3000 processors that we've tested at the office. You can see the results of our tests by clicking on the link below.
Check out our benchmarks of all of the tested Ryzen 3000 processors in games here.
Price
At the time of this writing, the price of the Ryzen 5 3600X is $239.99.
Conclusion
The Ryzen 5 3600X is a really great processor for an entry-level or mid-range system, when it comes to gaming rigs. It is reasonably priced at $239.99, and it performs excellently. Even though it is one of the smaller members of the 3000 series family, it still features 6 cores and 12 threads, which is well beyond what most games will be able to utilize anyways. In terms of gaming, this processor should of course not be paired with the most powerful of graphic cards since that would no doubt lead to bottlenecking. But you probably won't do that anyways. It also does well in other tasks, but if you know already that you'll be using the processor for a lot of heavy rendering tasks, I'd recommend going with the Ryzen 7 3700X as a minimum since it has two more cores at its disposal.
Still, the Ryzen 5 3600X is a fine CPU in the lower end of the price scale, and it will satisfy a lot of gamers, if it is combined with, for example, a Radeon RX 5700 or an RTX 2060 (SUPER) graphics card. For that reason, we arrive at a final score of 8 and a Safe Buy Award.
Pros:
Price friendly

6 cores on a budget

Performs reasonably in games

The stock cooler does a fine job, but it's a bit noisy
Cons: