AUTHOR : Berleburg
PUBLISHED : 2019-07-24 15:06
AMD Ryzen 5 3400G: Ryzen 3000 with VEGA graphics
With their release of Ryzen 3000, AMD has also relaunched their APUs with VEGA graphics. We start in the higher end with the Ryzen 5 3400G.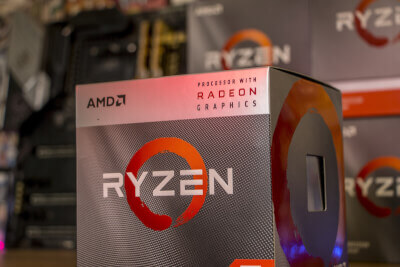 AMD has released their Ryzen APUs in two new versions: Ryzen 3 3200G and Ryzen 5 3400G. We've been given the opportunity to review the Ryzen 5 3400G, and we have of course agreed to do so. Here, we're dealing with a Ryzen CPU with Radeon VEGA graphics implemented. How well this new model does the job is exactly what we'll find out today.

The new Ryzen 3 and 5 APUs from the Ryzen 3000 series have not received any PCIe Gen. 4 support. This is probably because they want to keep the price as low as possible since these CPUs are meant for very budget-friendly entry-level machines. Still, it runs beautifully on the X570 chipset, which we've made a full walkthrough of here.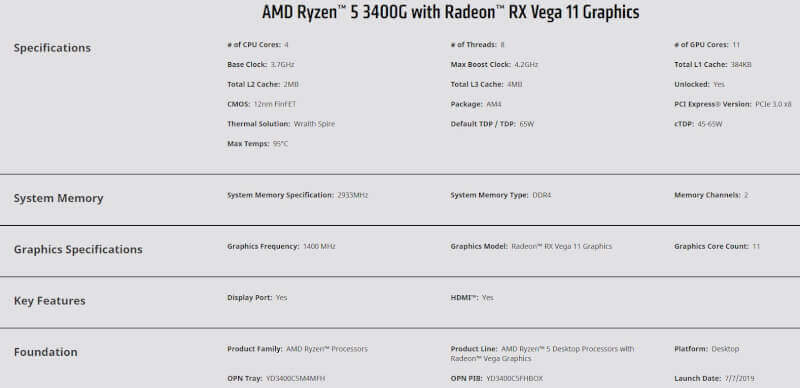 The AMD Ryzen 5 3400G is, as we can also see from the above image, a 4-core APU with multithreading as it as 8 threads. It comes with a base clock of 3700 MHz and a boost clock of 4200 MHz, which is fine little upgrade compared to the Ryzen 5 2400G APU's 3600/3900 MHz. As its predecessor, the 3400G comes with 11 Radeon RX VEGA cores, and as such, we don't expect to see any huge upgrade on the graphical side. However, it might give us a bit extra that the CPU has a higher clock. We've gone from a 14 to a 12 nm FinFET CMOS, which leaves us with a smaller chip surface thus a lesser demand for thermal conduction. Whether this means an improvement to performance, time will tell.
As mentioned, the Radeon RX VEGA part consists of 11 cores and it has a clock frequency of 1400 MHz. There are 2 GB GDDR5 VRAM attached to the VEGA part of the Ryzen 5 3400G.
In total, it has a TDP of 65 watt and an expected power consumption of between 45 and 65 watt.
Read our test of the AMD Ryzen 9 3900X.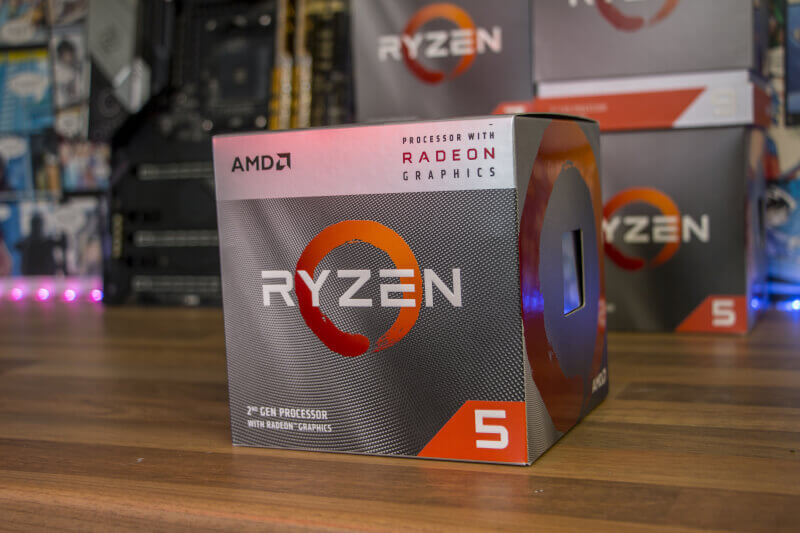 The Ryzen 5 3400G comes boxed with the Wraith Spire CPU cooler. As such, you don't get any RGB lights here, as we've seen it with some of the other Ryzen 3000 CPUs.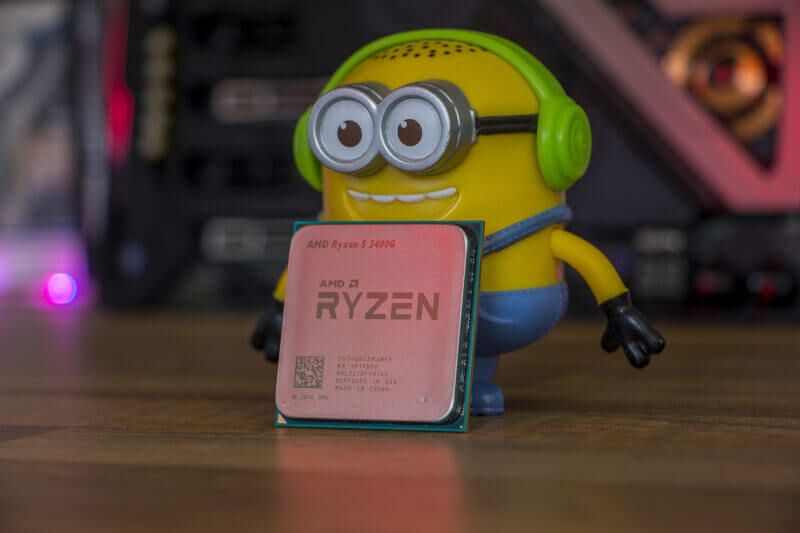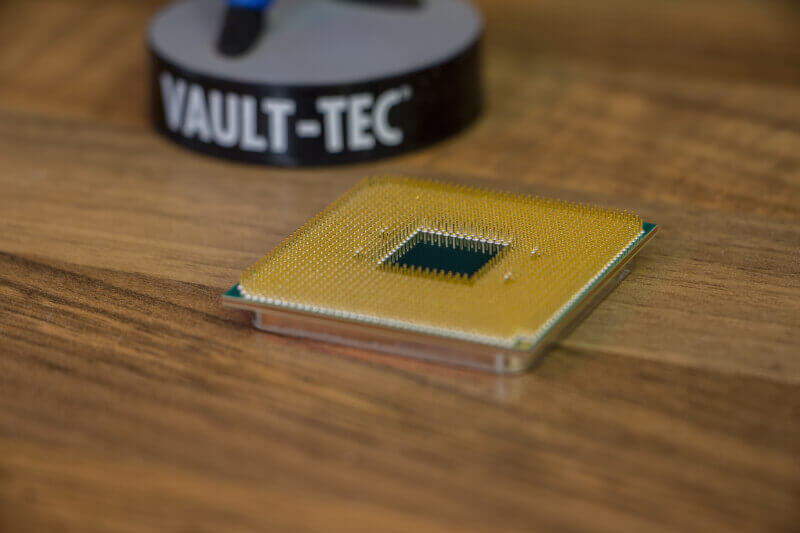 There's not much to say about the APU itself. It of course runs on the AM4 socket, so in that sense, it looks just like any of the other Ryzen CPUs that we've tested in recent memory. However, this little fellow contains both a Ryzen CPU and RX VEGA graphics under the hood.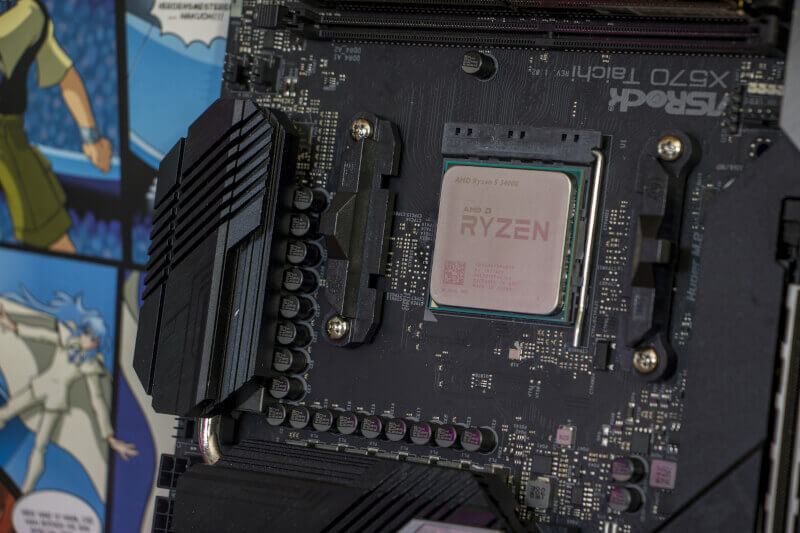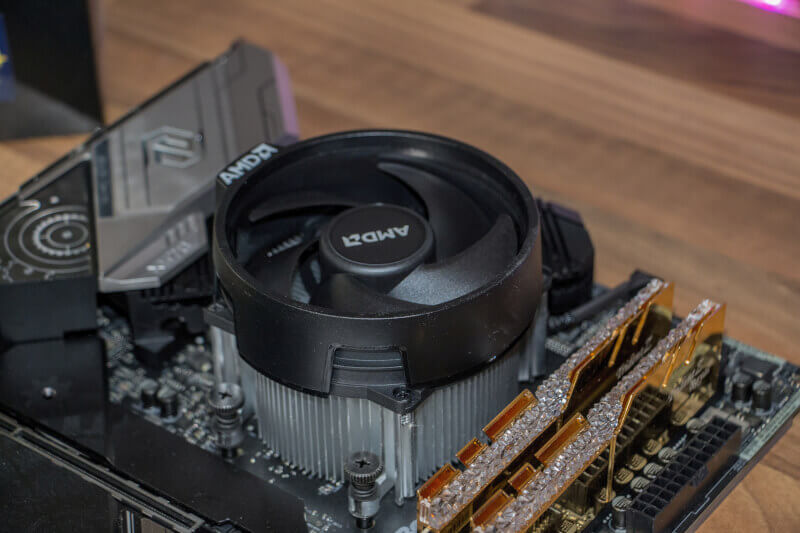 Let's set up the AMD Ryzen 5 3400G in our ASRock X570 Taichi ATX motherboard so we can have a look at what the new Ryzen APU can handle. We test with the Wraith Spire cooler so that we can see what the AMD Ryzen 5 3400G is capable of right out of the box without further expenditures.
Test System:
ASRock X570 Taichi

AMD Ryzen 5 3400G

AMD Radeon VEGA 11 iGPU

G.Skill TridentZ Royal 3600 MHz 16 GB kit

AORUS PCIe4 NVMe SSD (on the PCIe Gen. 3 architecture)

Seasonic Gold 1300 watt PSU
Test Software:
7-Zip Benchmark

AIDA64 Extreme CPU Benchmark

AIDA64 Extreme DDR4 Benchmark

Cinebench R15 CPU Benchmark

Cinebench R20 CPU Benchmark

PassMark Performance Test

PCMark 10

wPrime32 og -1024

3DMark Firestrike Extreme/Ultra

Assassin's Creed: Odyssey

Far Cry 5

Deus Ex: Mankind Divided

Overwatch

Counter Strike: Global Offensive

Power Consumption

Temperatures with the Wraith Spire
Read our test of the AMD Ryzen 7 3700X.
The test phase contains a comparison to the previous generation Ryzen APUs since it, in my opinion, makes no sense comparing to either the Ryzen 7 or 9.
Ryzen Performance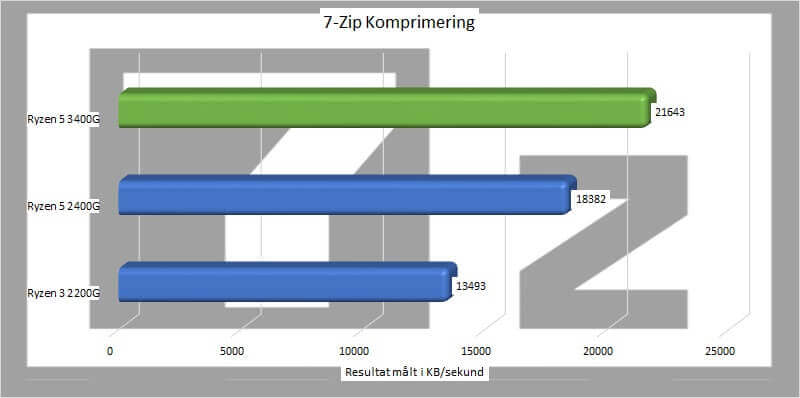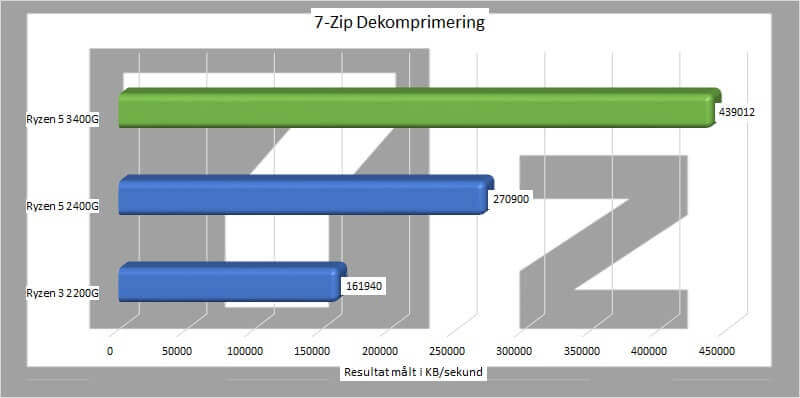 7-Zip Benchmark deals with handling as much incompressible data as possible within a given duration, and here the Ryzen 5 3400G does excellent compared to the previous generation. It should be noted that the Ryzen 3 2200G doesn't come with multi-threading, but even so, it's quite a fine display of performance of the Ryzen 5 3400G. The higher clock frequency seems to pay off.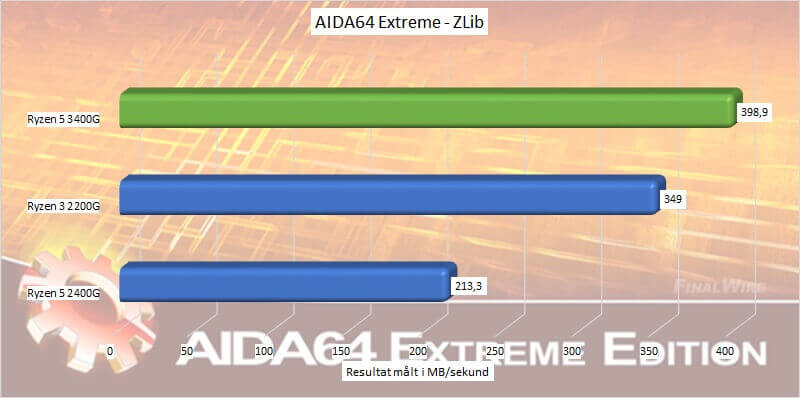 AIDA64 ZLib more or less does the same, and a pattern is seemingly emerging. The bandwidth of the Ryzen 5 3400G is simply bigger than that of the previous generation.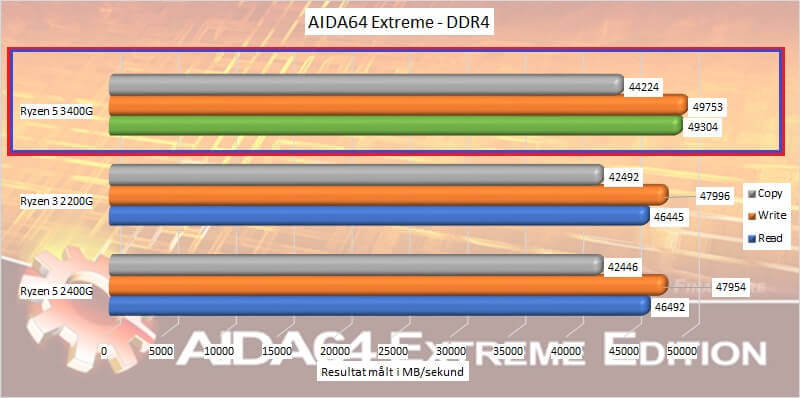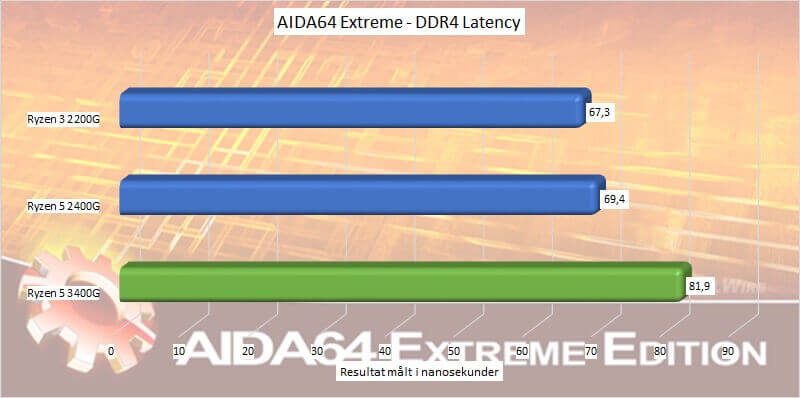 We tested the original Ryzen APUs using DDR4 RAM with similar ratings and timings, which also is reflected in the measured speeds. However, the latency has increased by a slight margin, which detracts a bit. Otherwise, things are looking quite reasonable.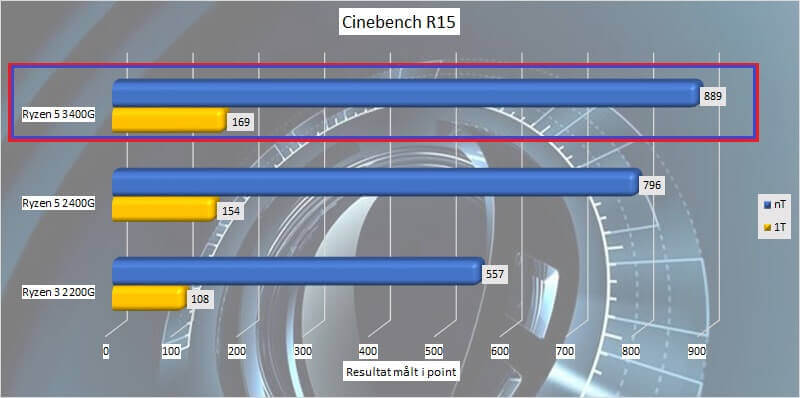 Cinebench R15 renders a high resolution image across all of the cores and threads in order to see how good performance a CPU can dish out when it comes to graphical 3D tasks. We also test the single core performance (1T) so that we can get an idea of where the processor is situated from a performance point of view. The 3400G takes a reasonable, yet humble, lead over the 2400G.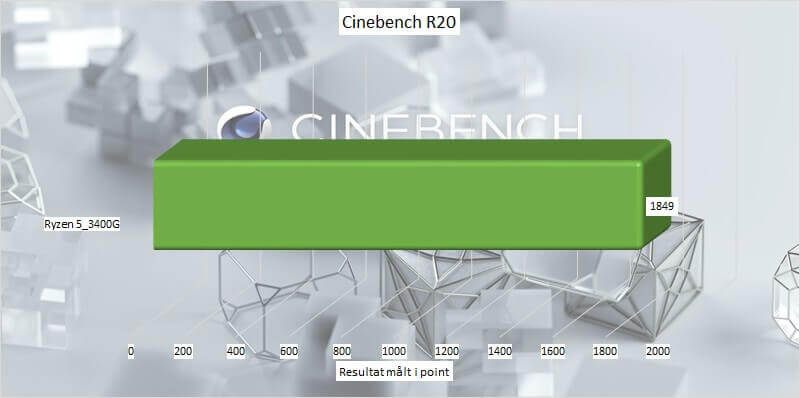 Cinebench R20 does the same, but we don't have a score available to compare with. The performance is pretty good, though, which I had also expected it to be.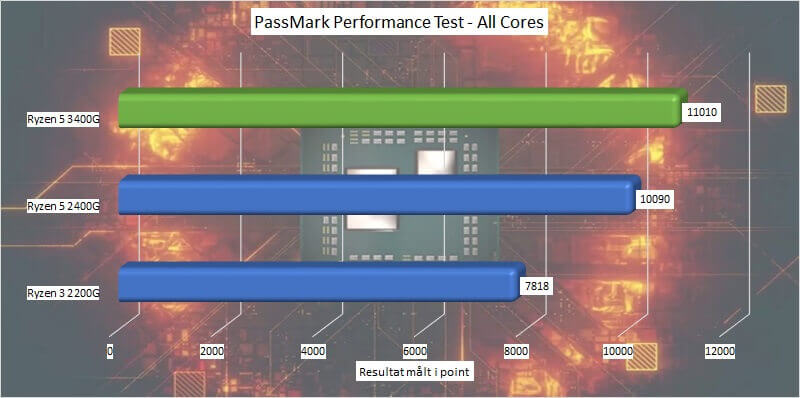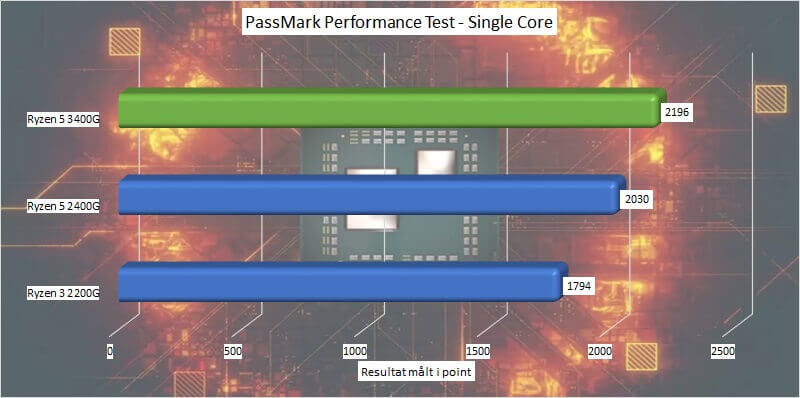 The PassMark Performance Test runs a series of different CPU tasks and calculates an average based on these. We see an improvement here in both the multi and single core tests, but when compared to the 2400G, the difference isn't that substantial.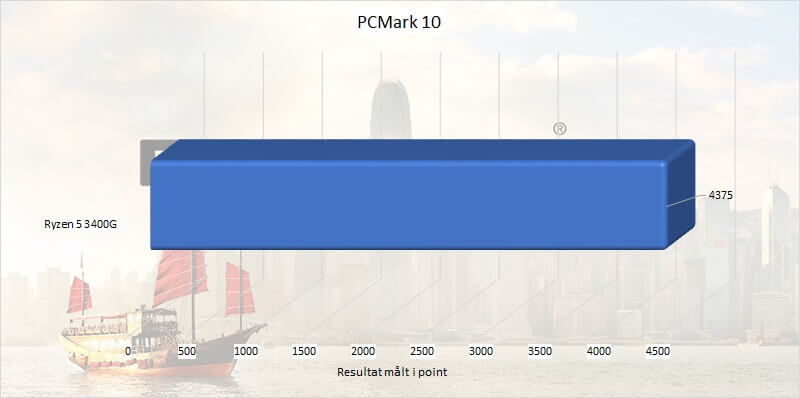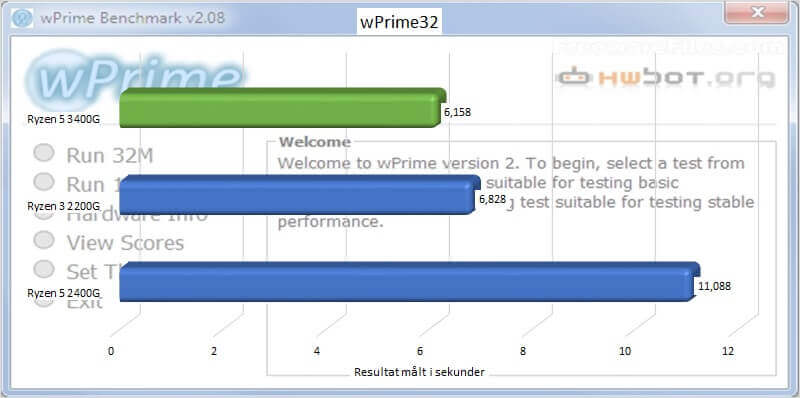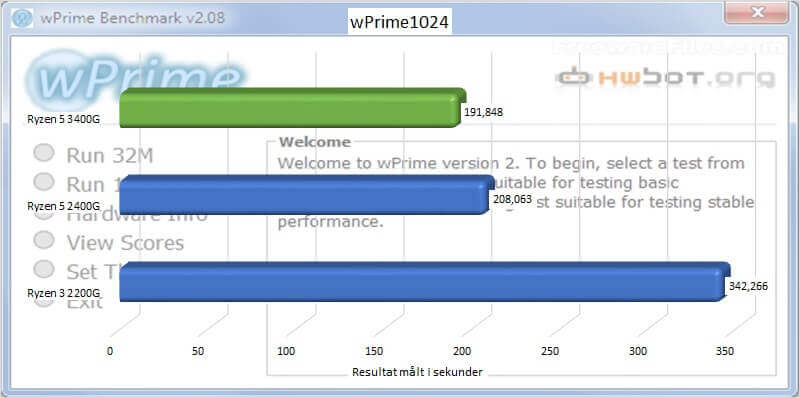 wPrime is all about raw calculating power, in which a lot of prime numbers are being crunched within a given duration. Here, we see a small improvement, when compared to the 2400G, and this is of course due to the higher clock frequency. wPrime loves cores and speed.
Radeon RX VEGA 11 Performance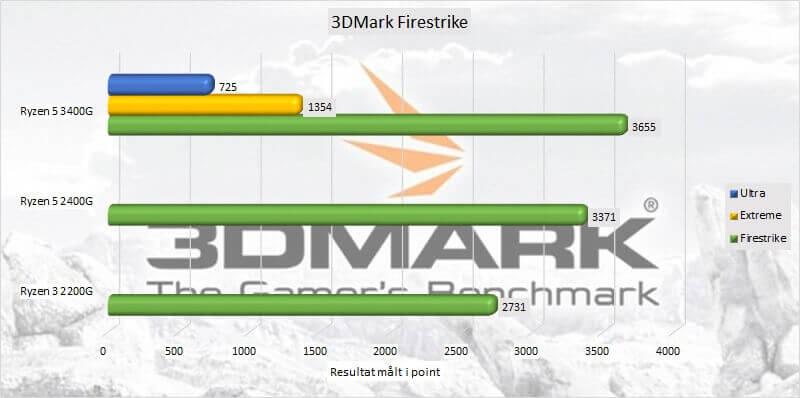 The 3DMark Firestrike test seems to indicate that the Ryzen 5 3400G has a bit more to offer despite the fact that it uses the same graphical solution as its predecessor. This probably has to do with the Ryzen part having a higher clock frequency. Time Spy isn't part of our benchmark menu today since the 3400G simply isn't powerful enough to handle it.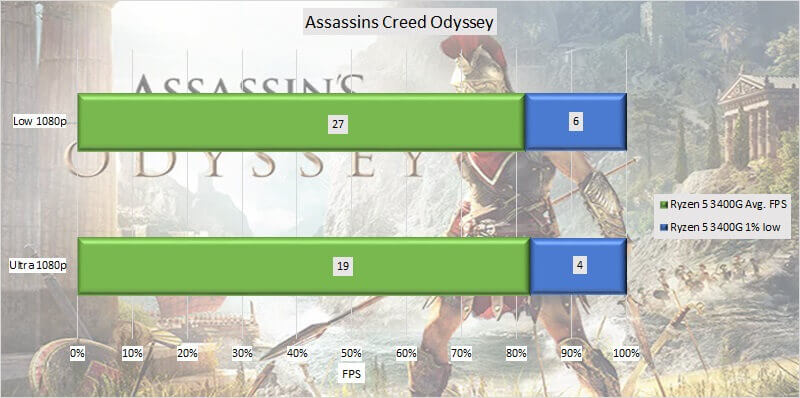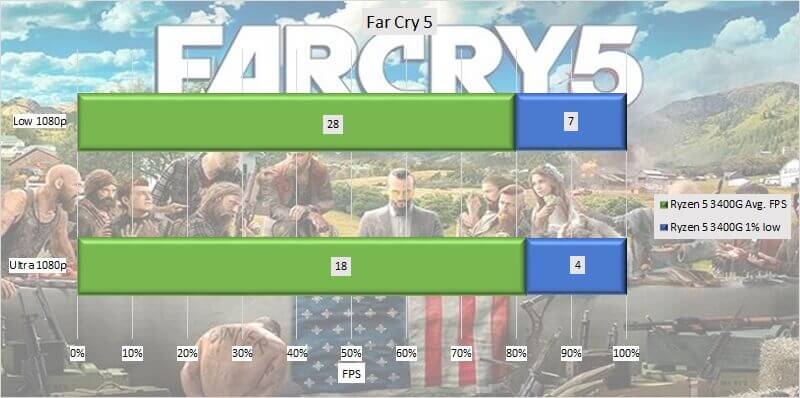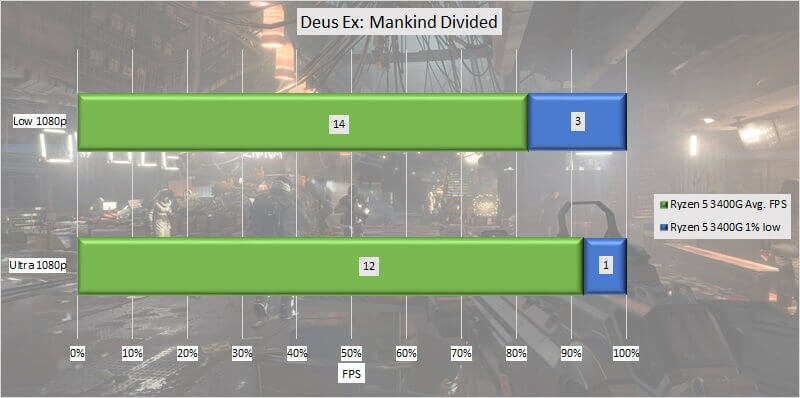 I've started by testing the Ryzen 5 3400G in some heavy AAA titles, and here we see that the RX VEGA 11 solution isn't powerful enough to deliver a satisfying result. If you plan on playing these games, there's no way around investing in a dedicated graphics card, such as the GTX 1660 Ti, to assist the Ryzen CPU with accomplishing the task.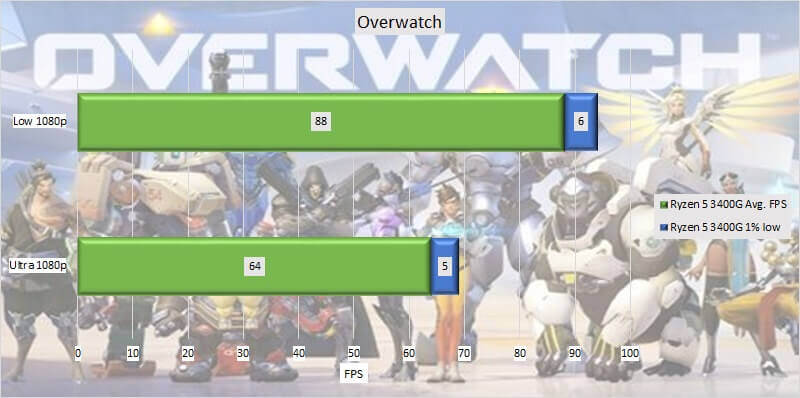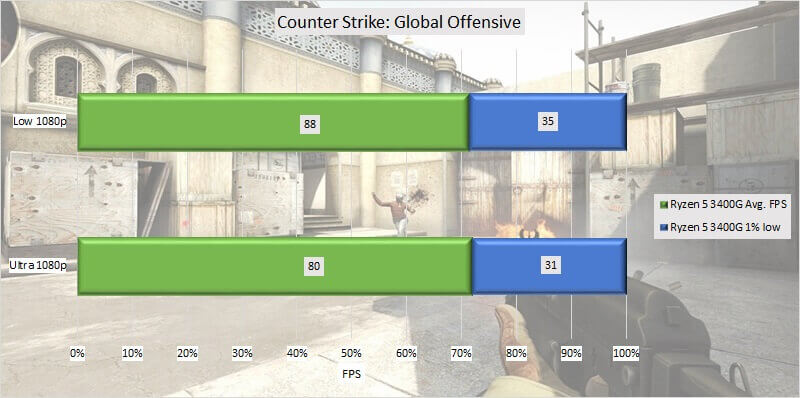 Obviously, we threw a couple of eSport titles at the Ryzen 5 3400G, and this seemed to be the right decision. Here, you're not in doubt that it is precisely these kinds of titles that the 3400G is targeted at, if you want to run a system with no dedicated graphics card.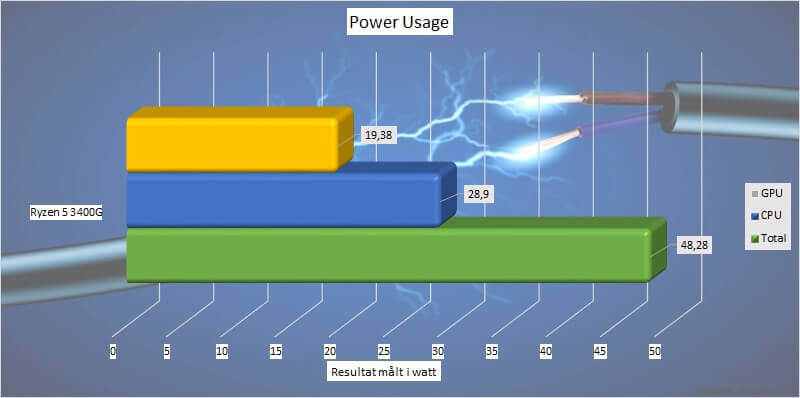 In order to measure the power consumption of our Ryzen 5 3400G, I ran the system through Prime95 and FurMark torture tests at the same time, so that the APU would be brought to its full capacity. Here, I noted a power consumption of 49 watt with a few spikes to 60 watt. As such, we stay within the promised 45-65 watt margin promised by AMD.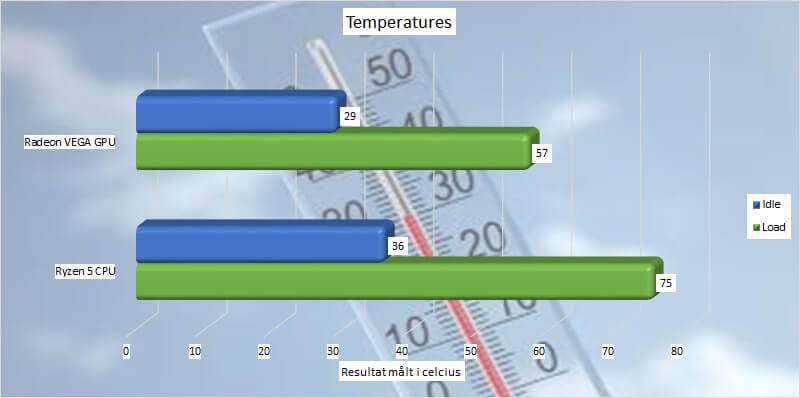 During the same double torture test, I also measured the temperatures in HWInfo, and here we saw that the Ryzen 5 3400G runs perfectly fine, out of the box and equipped just with the Wraith Spire cooler. However, in case you have plans of putting this APU through tougher tasks, a different cooler is recommended, if you wish to have a relatively quiet system.
Overclocking
Even though the Ryzen 5 3400G is doing well, in terms of my expectations, I still wanted to see if it would be possible to squeeze out even more performance from this APU. It didn't amount to more than a fixed clock of 4300 MHz. However, this was a fixed clock, which meant that it at no time dipped below this clock speed. As such, I was hoping to see at least some performance improvement. I didn't really get anything out of overclocking the Radeon RX VEGA chip.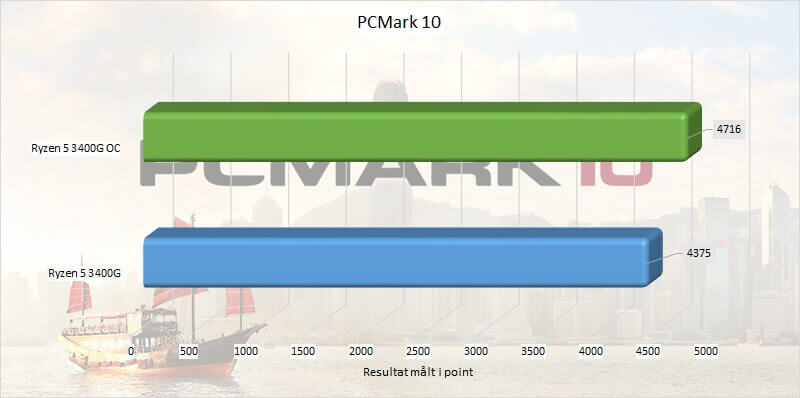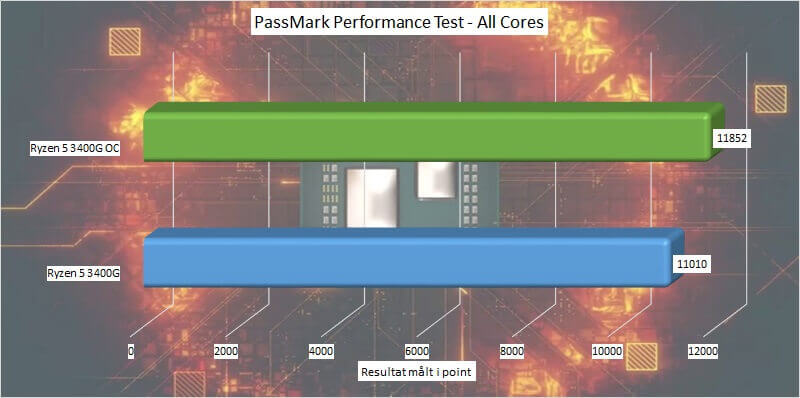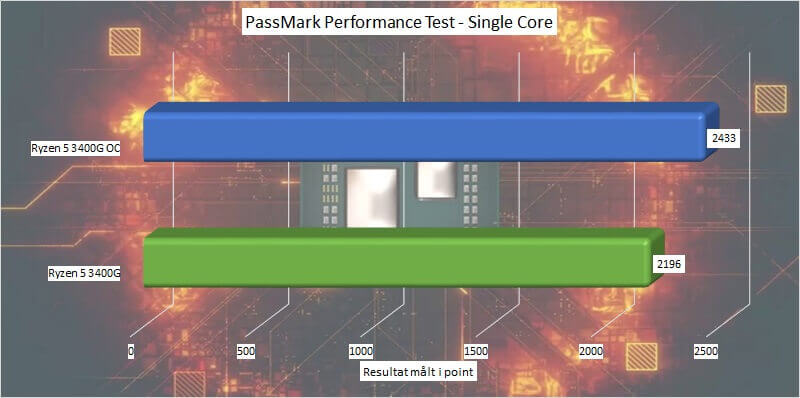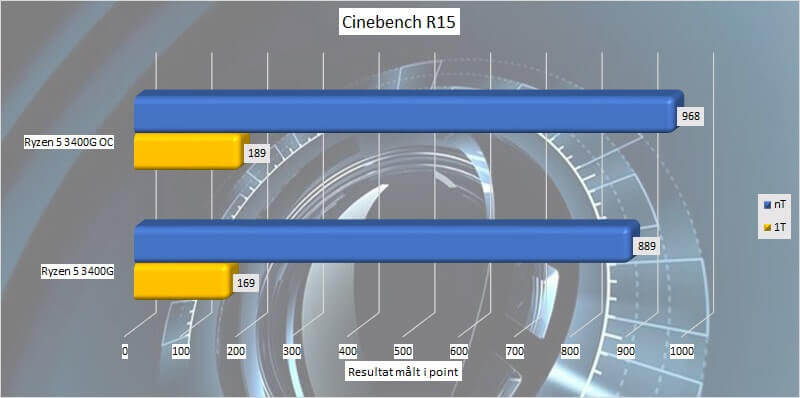 The extra 100 MHz didn't give us any substantial performance gain, but it did give us a slight amount. In turn, it required more power, which meant that we ran at a power consumption of 57 watt instead of 49 watt, and that of course meant that the Wraith Spire produced a bit more noise. So, my recommendation here would be to look somewhere else, if you want to overclock. The Ryzen 5 3400G simply isn't strong enough, out of the box, and a Ryzen 5 3600X isn't all that expensive. This would of course also require that you invest in a graphics card, but I am of the conviction that APUs are meant for out-of-the-box use, which it does really well.
Price
At the time of this writing (July 24, 2019) the Ryzen 5 3400G is listed at $150.

If you want to learn more about the Ryzen 5 3400G, check out AMD's website by clicking here.
Conclusion
The AMD Ryzen 5 3400G is the direct successor to the Ryzen 5 2400G APU, and we'll be evaluating if it does its job properly. Here, I have to admit that I am a little torn. On the Ryzen end, it did the job quite well in that we noted an improvement in performance and thermal conduction. This is largely provided by the higher clock frequencies and the smaller 12 nm FinFET CMOS chip instead of the former 14 nm one. However, the performance wasn't overwhelmingly better than that of the 2400G, and the Radeon RX VEGA 11 solution hasn't been updated, apart from a slightly higher clock frequency. A couple of additional cores would've been in order now that we've gone down to a 12 nm chip die. So, all in all, you pay $25 extra when compared to the Ryzen 5 2400G for a rather small performance gain and a chip that doesn't even support the new PCIe Gen. 4 architecture. Basically, nothing much has really happened in terms of the specifications.
The higher clock frequencies gave the RX VEGA a bit more to offer, but I would have liked to see an even bigger performance gain here. It would have been appropriate and would have made the upgrade more reasonable. Additionally, it doesn't really make sense to go for the X570 chipset since you won't be able to take advantage of PCIe Gen. 4 anyways. You might as well invest in e.g. a B450 chipset, which would fit the budget and specifications much better.
It's not all bad, though, and $150 for a combined GPU and CPU is a low price to pay when the Ryzen 5 3400G is capable of handling eSport titles, right out of the box, just fine without having to pay for a dedicated graphics card or better cooling. If we are talking about an entry-level system, the Ryzen 5 APUs are hard to ignore, no matter if you look at the 2400G or the 3400G. When we tested the Ryzen 5 2400G, I was hugely impressed with performance potential squeezed into an APU, which back then warranted it a score of 9.5. This time, however, I find that the improvement, when upgrading, is too little. Therefore, we end up at a score of 9 with a Safe Buy Award. If you want to build a new machine, and not just upgrade an existing one, I would certainly recommend the AMD Ryzen 5 3400G. It's a fine SoC solution that will meet the demands of many young novice gamers that want to get started with Fortnite, LoL and so on.
Pros:
Affordable

Higher clock frequencies than the predecessor

Can easily handle eSport titles straight out of the box

The Wraith Spire efficiently cools even under load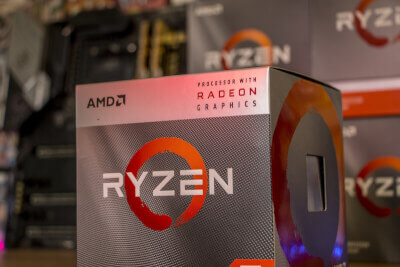 Cons:
The improvement from 2400G isn't that big

A couple of extra RX VEGA cores would've been a welcome addition
Score: 9 + Safe Buy Award